Chocolate Andes Mint Cupcakes are flavorful cupcakes that taste like they came from a bakery! These cupcakes are one of my most requested flavors, are quick to create and loved by any Andes Mint lover!
This post contains affiliate links.  If you click on an affiliate link and make a purchase, I will make a small percentage on your purchase. This helps keep this website running! Thank you!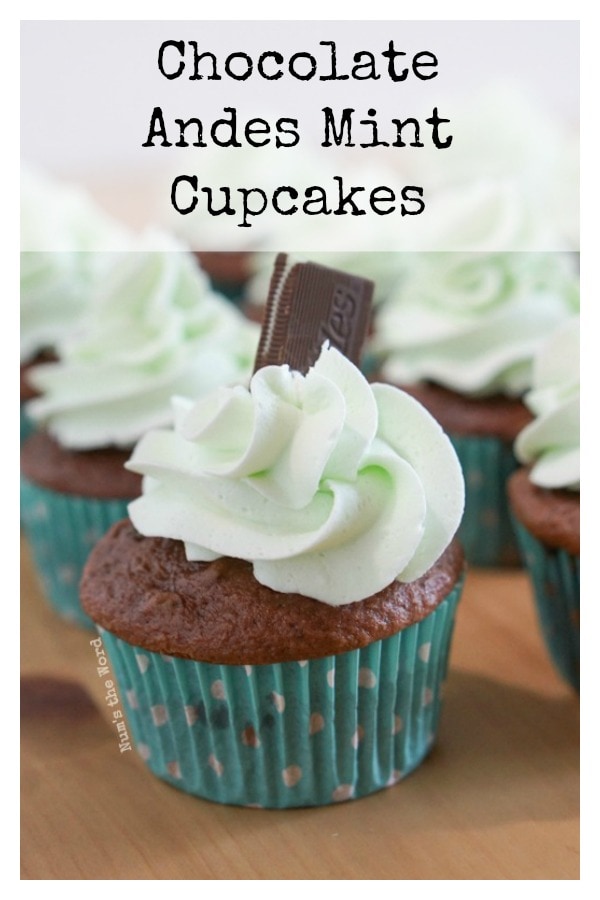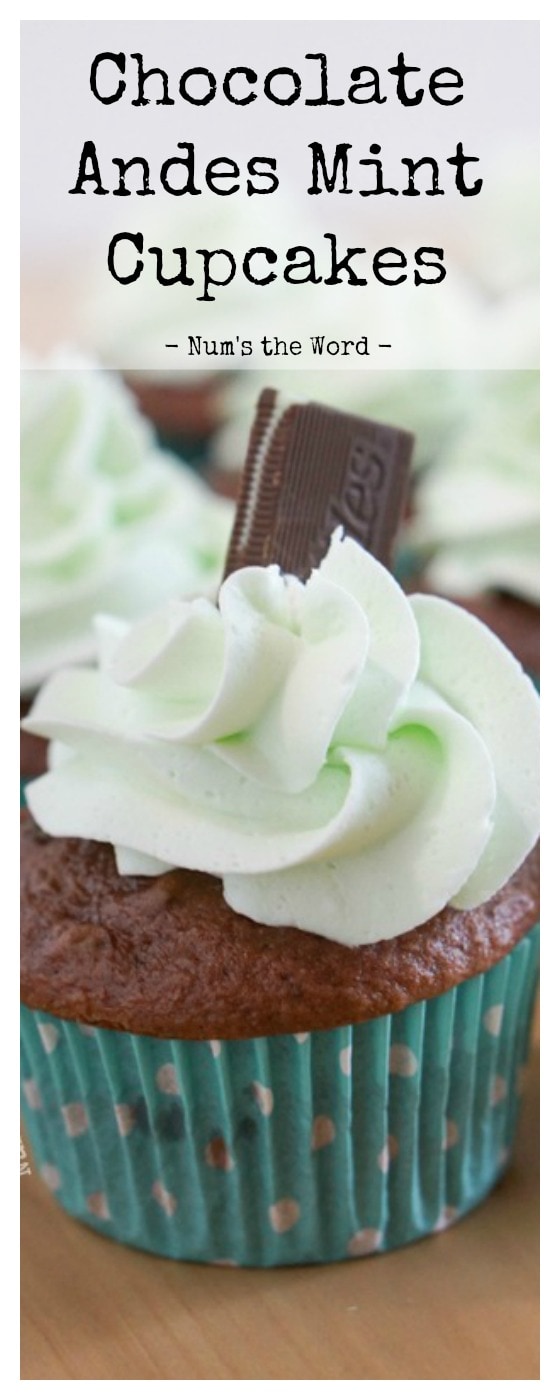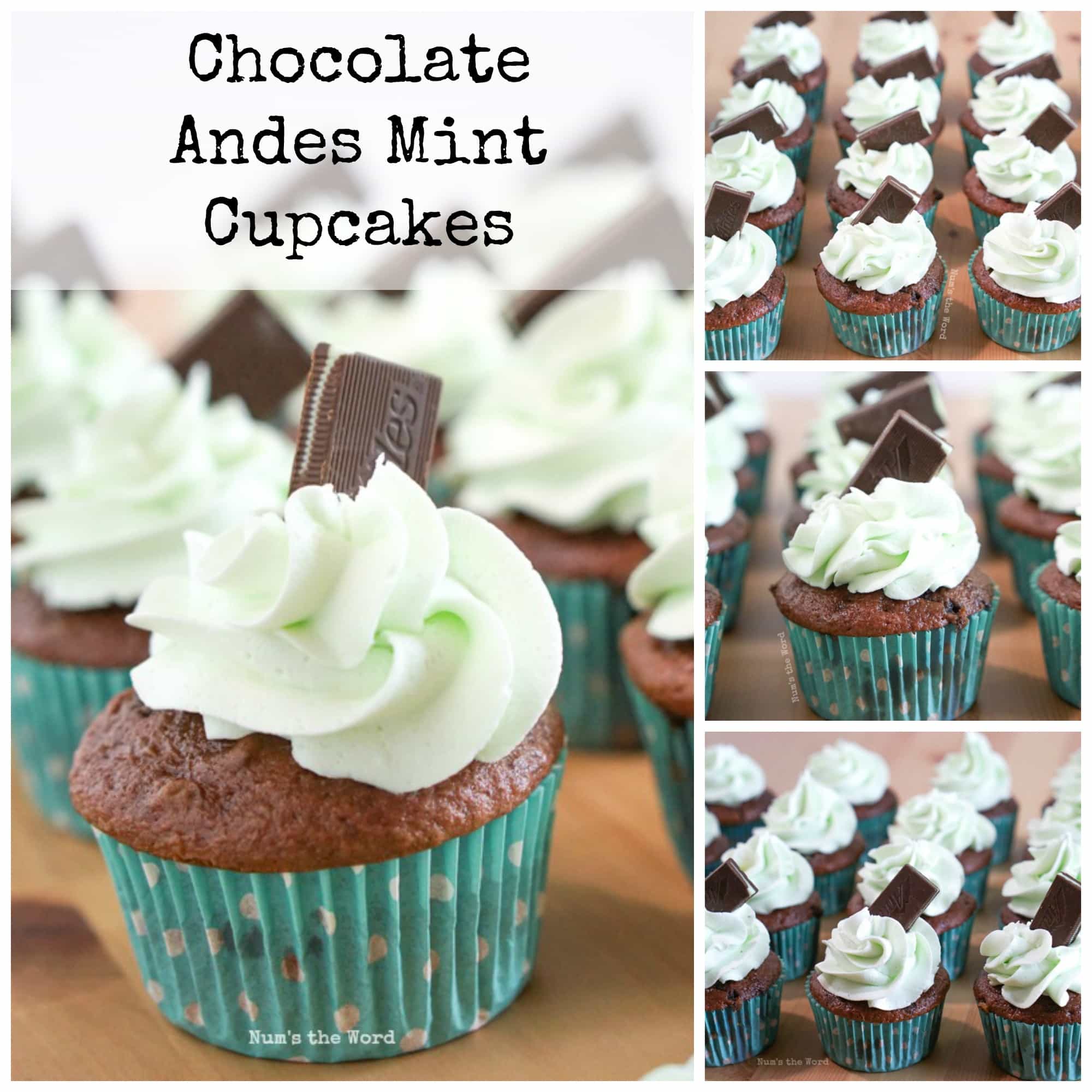 Are you tired of hearing me talk about cupcakes on Num's the Word?
Cupcakes are a staple of this website.
Every year I bring new tasty recipes to you that have been tested by a large group of taste testers.
The funny thing is that people pay us to taste test our cupcakes!
Now before you go off getting wonky ideas, it's because my kids run a cupcake and lemonade stand in our front yard every summer.
They set up their stand every Wednesday night and it's not unheard of for us to tell out of 70+ cupcakes in a single evening.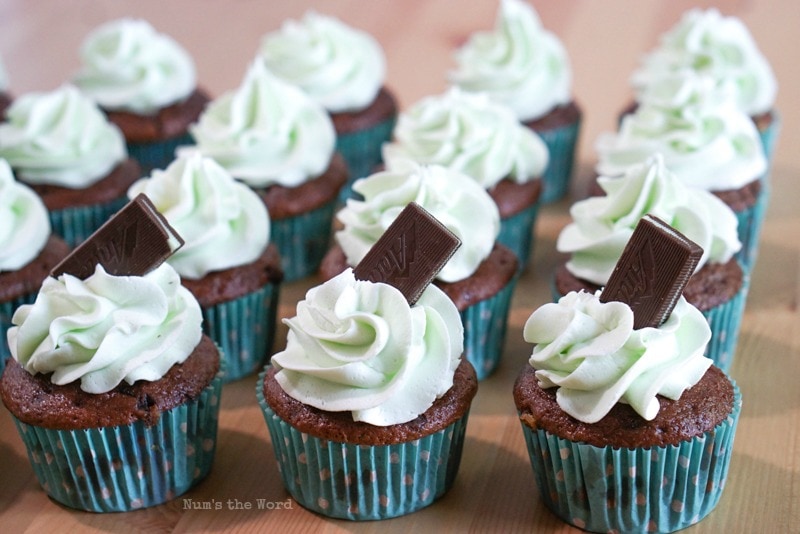 Interestingly enough, I was just talking to some of our cupcake customers about our Chocolate Andes Mint Cupcakes.
We were discussing how tasty they were when we offered them last year and how they'd love to see them again this year.
Each week we offer a new mystery flavor of cupcake.
In order to find out what flavor we are offering, you have to show up.  No exceptions.
This is our 4th year we've run our cupcake stand and so we've had a chance to get to know our regulars and their likes and dislikes in terms of cupcakes.
We have some who only like chocolate based cupcakes.
And others who insist that a white base is the best kind.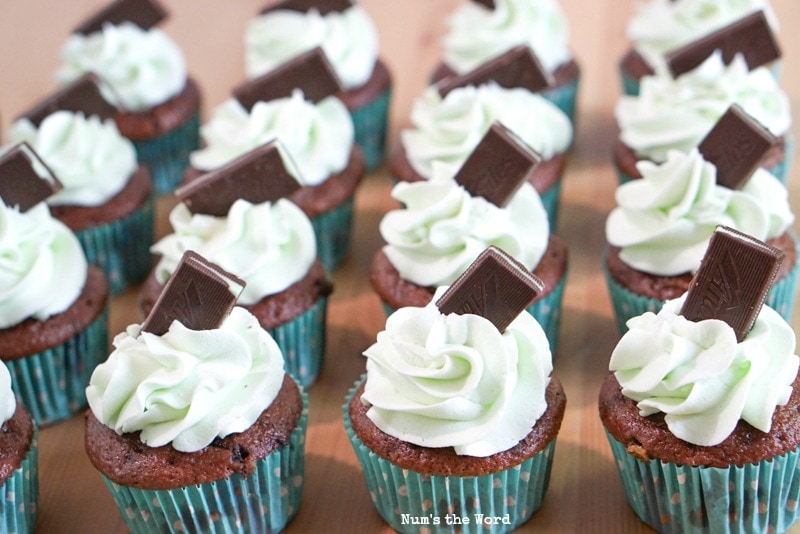 Of these customers, we have one who brings his daughters each week to the lemonade stand and buys everyone cupcakes and lemonade.
The trick though is that he is not a fan of cherries.
So when we've offered our Black Forest Cupcakes in the past I've known he wasn't going to get one.
I tend to feel guilty over silly things like this.
So last year I decided to do a split batch of cupcakes.
I made the chocolate cupcakes and then turned them into two different flavors.
It was really quite easy since they both had the same base.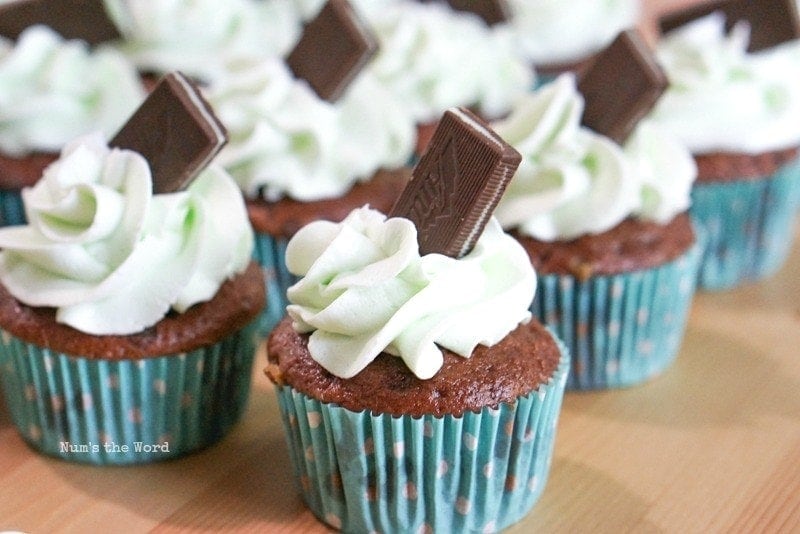 Half the cupcakes were Black Forest Cupcakes – since we have several customers who request that each year, and the other half we turned into Chocolate Andes Mint Cupcakes.
It is a rare day that someone doesn't love Andes Mint and so I felt quite confident that this would satisfy my non-cherry loving customers.
To my utter surprise and amazement, this loyal customer we learned, who doesn't like cherries, also doesn't like Mint.
What are the chances?!
Oh man…I laughed pretty hard when he told me.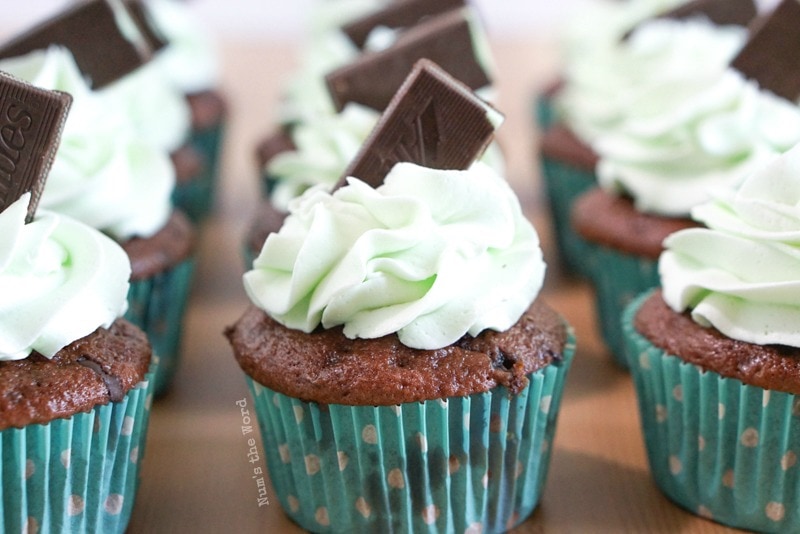 Out of kindness, he did buy a Mint cupcake, popped off the top to give to his daughter and ate the bottom non-mint half.
If you think that would cure me from doing split batches of cupcakes again, you're wrong.
It's still something we do when we know a loyal customer doesn't care for a specific flavor, because we love our customers.
I will say however, that I'm not all crazy.
I will only do a split batch if they have the same base.
I'm not willing to do half white and half chocolate batches.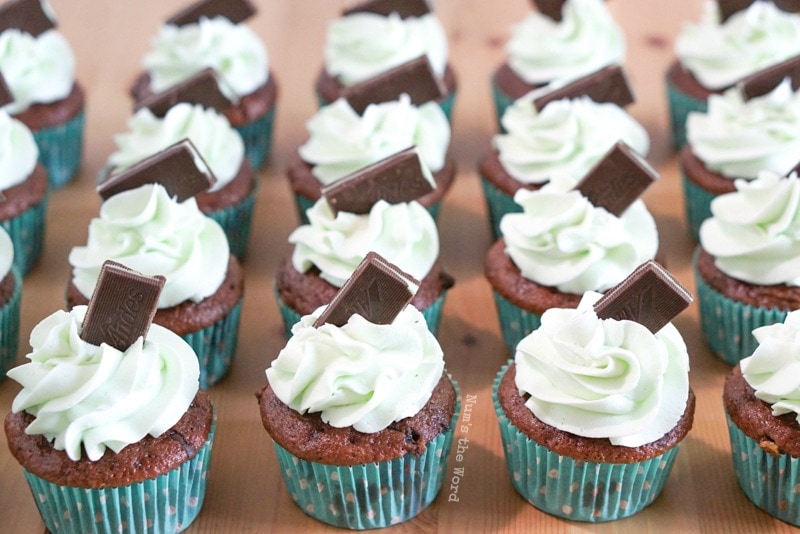 That is just too much work.
However it's because of this Cupcake and Lemonade stand that every year I bring you some of our favorite flavors from that year!
These Chocolate Andes Mint Cupcakes were a hit with everyone but one and are still talked about even a year later.
These were simple and quick to make and had the minty flavor we were looking for!
If you love Andes Mint and chocolate cupcakes, then whip up a batch for your next party!
Yield: 30 Cupcakes
Andes Mint Cupcakes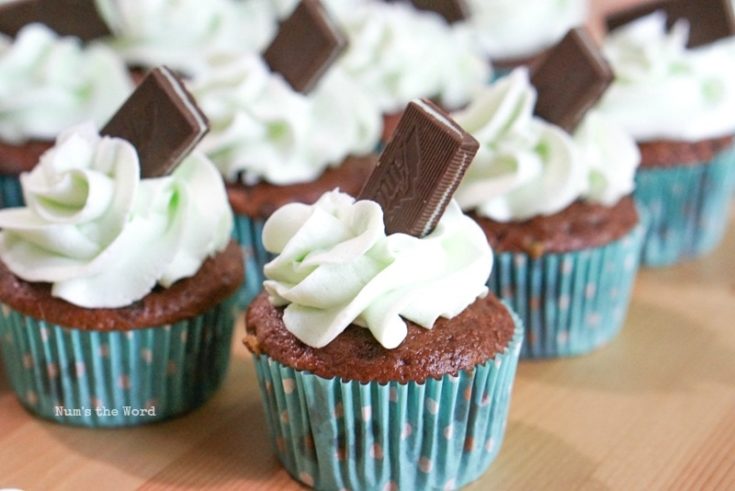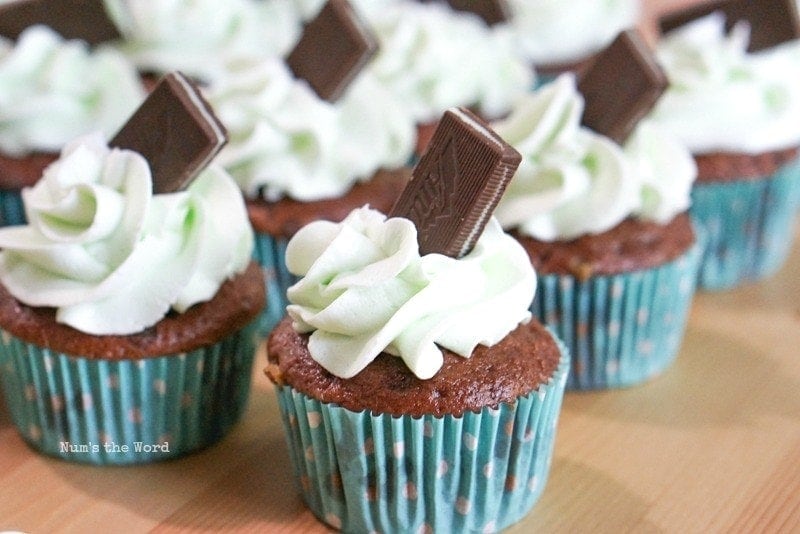 Ingredients
1 (16 - 18 ounce) box of chocolate cake mix (do not use Devil's Food, it's too light)
1 cup all-purpose flour
1 cup white sugar
3/4 teaspoon salt
1 1/3 cup water
2 Tablespoons vegetable oil
1/4 teaspoon vanilla extract
3/4 teaspoon peppermint extract
1 cup sour cream
2 large eggs
--------------------------------
1 cup of butter, softened
3 cups powdered sugar
1/2 teaspoon peppermint extract
2 - 3 drops green food coloring
2 Tablespoons heavy whipping cream
Andes Chocolate Mints
Instructions
Preheat oven to 325*F
Line cupcake pans with cupcake liners.
Using a stand mixer or hand mixer, combine cake mix, flour, sugar and salt. Mix to incorporate.
Add water, oil, vanilla, sour cream and eggs. Mix well until mixture is smooth.
Using a large 3 Tablespoon cookie scoop, fill each liner 3/4 full with cake batter.
Bake for 16 minutes or until toothpick inserted into center comes out clean.
Allow cupcakes to cool completely.
Once cupcakes are cooled, make frosting.
Using a stand or hand mixer, blend butter until smooth & creamy.
Add powdered sugar 1/2 cup at a time until fully incorporated.
Add peppermint and food coloring and mix well.
Add heavy whipping cream and blend well until full mixed in.
Fill pipping bag and pipe onto cake or cupcakes.
Top with a chocolate Andes mint for decoration.
Other Cupcake Recipes You'll Love...