Making a Crock Pot Ham doesn't have to be difficult or complicated. In fact, I'm going to show you just how easy it is to make this crock pot brown sugar pineapple ham! Follow along for step by step directions and tips for picking out the best ham for your family!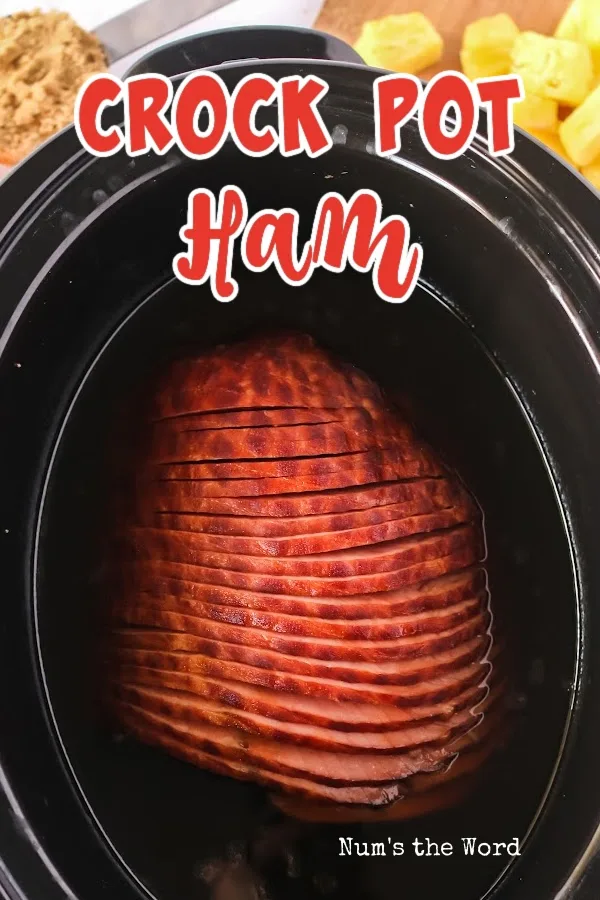 Is Spiral Cut Ham Always Precooked?
A spiral cut ham is usually cooked – however not always, so be sure to check. If the ham has been cooked beforehand, it will have a "precooked" label somewhere on the packaging.
Precooked hams can come in both boneless and bone-in styles. Bone-in hams tend to taste better, because the bone itself adds extra flavor and moisture to the dish. However some find it more difficult to cut an unsliced ham and prefer to buy a sliced ham.
This is where the spiral cut comes in! This cut is when you slice a bone-in ham in one continuous spiral. These cuts are typically made by a machine at the processing plant or by a butcher, though you can choose to cut it yourself if you know how.
For this brown sugar ham recipe, though, I went with a boneless spiral cut ham.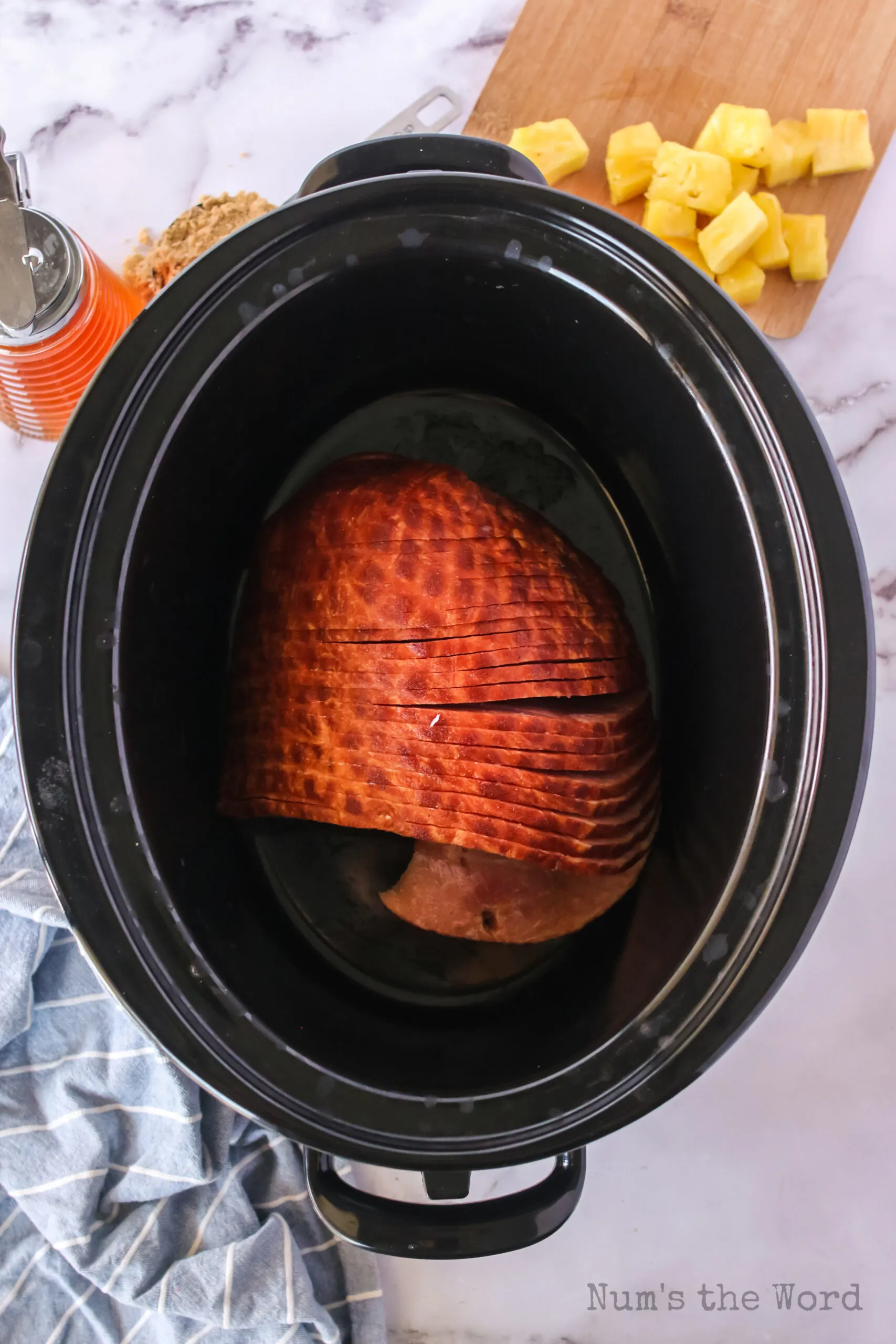 Do You Have to Cook a Precooked Ham?
Nope. In fact, most ham sold in the united states is pre cooked or smoked before being sold. Let's be honest, who doesn't love a leftover cold ham sandwich? However if you want your precooked ham to have that pineapple ham glaze, then you definitely want to cook it!
Most large hams are cooked again once brought home with a lovely crust or glaze added. Don't worry, cooking a precooked ham will not dry it out. All you're doing is adding flavor to an otherwise plain tasting meat.
Precooked vs. Uncooked
Buying an uncooked ham isn't very common. But in case you do find one and buy it, you'll want to cook it until the internal temperature of a digital thermometer reaches 165*F. Once that temperature is reached, your ham is fully cooked and ready to be enjoyed! Just remember to include a yummy ham glaze like this recipe before you cook the ham.
If you're cooking a precooked ham with a glaze, you'll want to heat it up until the internal temperature reaches 145* F. Once your ham reaches that temperature, your glaze should be perfect and ham flavorful!
Uncooked hams need to be cooked to a minimum internal temperature of 145 ̊ Fahrenheit.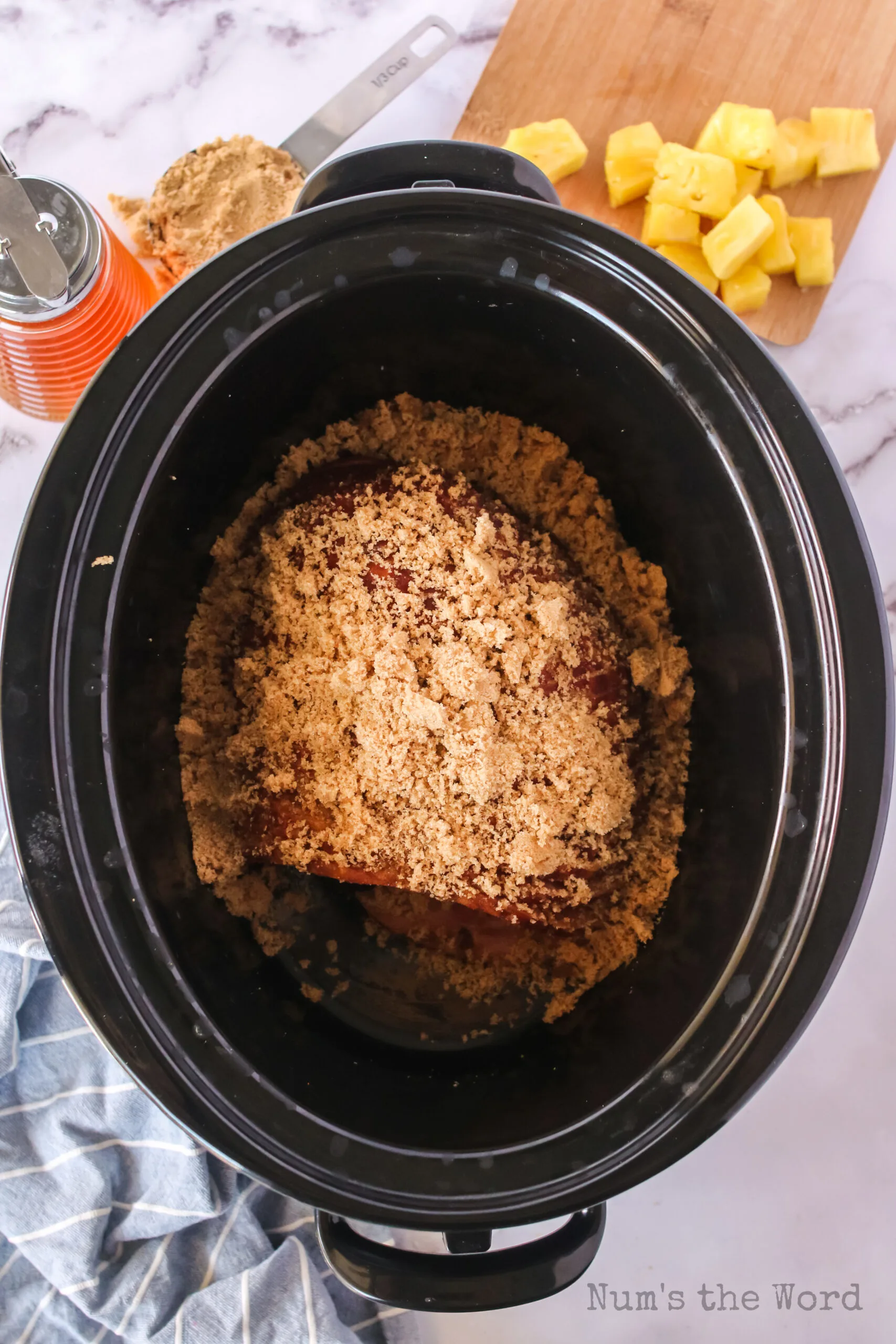 What kind of ham should I buy?
There are 5 choices when it comes to buying a ham. The brand and particular seasoning packet or glaze that comes with the ham aren't important as we are making our own glaze. However you do need to decide from the following choices:
Boneless Ham

– A boneless ham literally means that there isn't a bone in the center of your ham. Boneless hams are easier to cut and slice as you don't have to work around a large bone. These come in either sliced, or unsliced. Choose the one that best suits your needs.

Bone In Ham

– A bone in ham will have a large bone in the middle of your ham. A ham cooked with the bone tend to be more flavorful.

Sliced Ham

– A sliced ham is generally boneless and the slices are thicker than a spiral cut ham. Because it's presliced it makes serving a breeze with equally cut pieces of ham.

Spiral Sliced Ham

– Traditionally a spiral cut ham has a bone in the center. Because you can't cut through the bone, a machine at the processing plant will slice all the way around the bone in a spiral pattern, leaving the bone untouched. These slices are a bit thinner than a sliced ham, but that means you just need two pieces of ham instead of one!

Unsliced Ham

– An uncut ham is literally just a large hunk of meat. If you've ever seen photos of a scored ham – with a diamond pattern, that ham started off as unsliced. If you choose not to buy a sliced ham you can but this and make your own cuts into the ham so your maple syrup ham glaze can seep into the cracks and flavor the inside of your ham.
Pro Tips:
The bone itself is great to save for this Ham & Vegetable Soup later! A bone in ham can be found in spiral sliced and unsliced varieties. Choose your favorite and enjoy!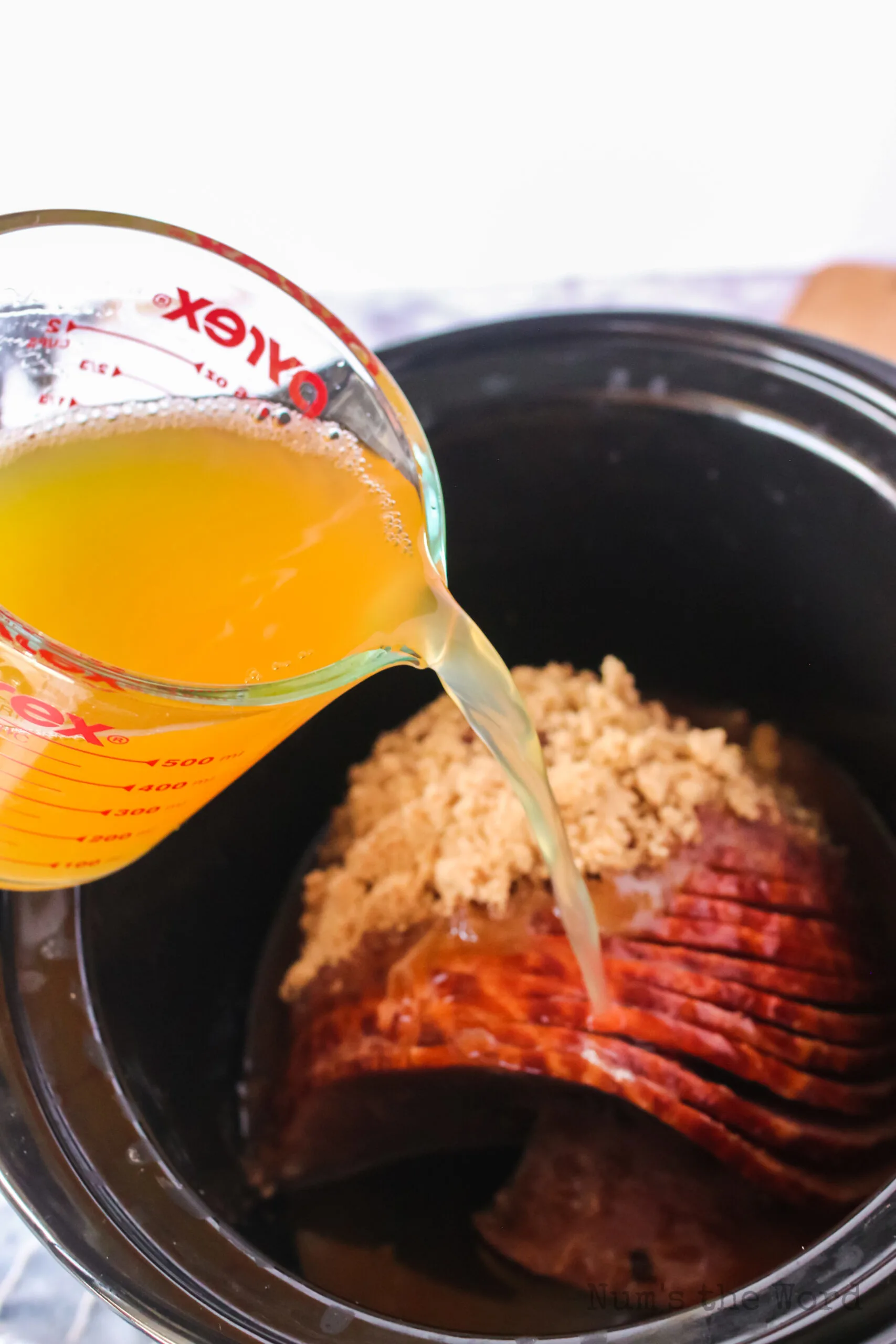 How to make an easy brown sugar glaze for ham?
In order to make your easy ham glaze, let's break down each ingredient you'll need!
Spiral Cut Ham

– For this recipe I've chosen a bone in spiral cut ham.

Brown Sugar

– The molasses found in brown sugar will help add not only a sweetness to your ham but flavor! Do not substitute brown sugar for white sugar.

Pure Maple Syrup

– There are two types of maple syrup in this world. The real stuff and the fake stuff. For this recipe you want to use 100% REAL maple syrup.

Pineapple Juice

– Save yourself time and use canned pineapple juice. You've already got plenty going on in your kitchen there is no need to squeeze a fresh pineapple!
Pro Tips:
Personally I like the ease of not having to cut my own ham and the beauty of perfectly cut portions! Y

ou'll need ¼ – ⅓ pound per person for a boneless ham and ⅓ – ½ pound per person for a bone in ham.

Imitation maple syrup is made with a base of corn syrup and maple extract flavoring. Because we've added in the brown sugar we do not need the added corn syrup. So stick with the real stuff!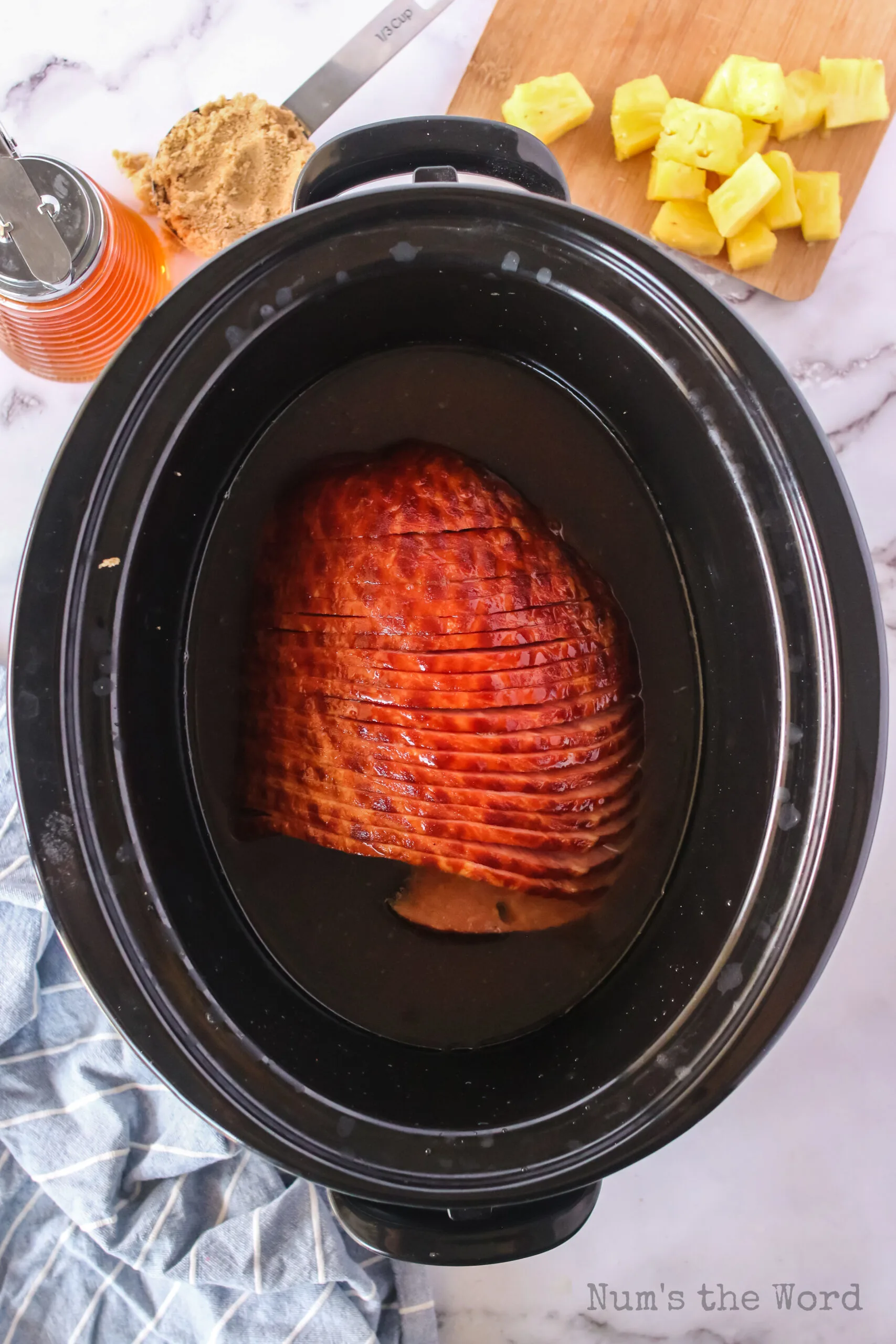 How to cook a fully cooked ham in a crockpot?
Cooking up the BEST spiral ham in crock pot is easy. So easy it's difficult to mess this recipe up! Trust me, this is the perfect recipe for a first time cook to make!
Open your ham and discard any seasoning or glaze packets as well as any juice. You do not need to clean your ham. Simply place your ham in crock pot.

Wash your hands and rub brown sugar all over your ham. Do not skimp. Make sure that pig is nice and coated!

Pour your maple syrup and pineapple juice over the top of your ham.

Place your lid on and walk away! Once every hour baste your ham with the yummy glaze on the bottom of the crock pot.

Cook for 3 – 4 hours on low. When internal temperature of ham reaches 145*F your ham is ready to eat!

If you'd like to create a thicker glaze for your final ham, pour ham juices into a pot and place it on the stove.

In a small bowl combine 2 teaspoons of water and 1 teaspoon cornstarch. (OPTIONAL). Add to hot juices and stir. Your mixture should thicken slightly. If not thick enough repeat the water and cornstarch slurry. When ready to serve, remove from stove and spoon over the top of your ham.
Pro Tips:
If you don't have a baster, use a long handled spoon. Spoon the yummy juice over your ham, making sure to get into the slices if possible.

If your lid doesn't fit, then don't panic. Just grab some tin foil and wrap it over your ham creating your own lid.
Just note that when you remove the tin foil to use an oven mitt and to open it away from your face as hot steam may come out.
After basting, fold foil back down over crock pot – remember the crock pot WILL be hot so use an oven mitt or gloves!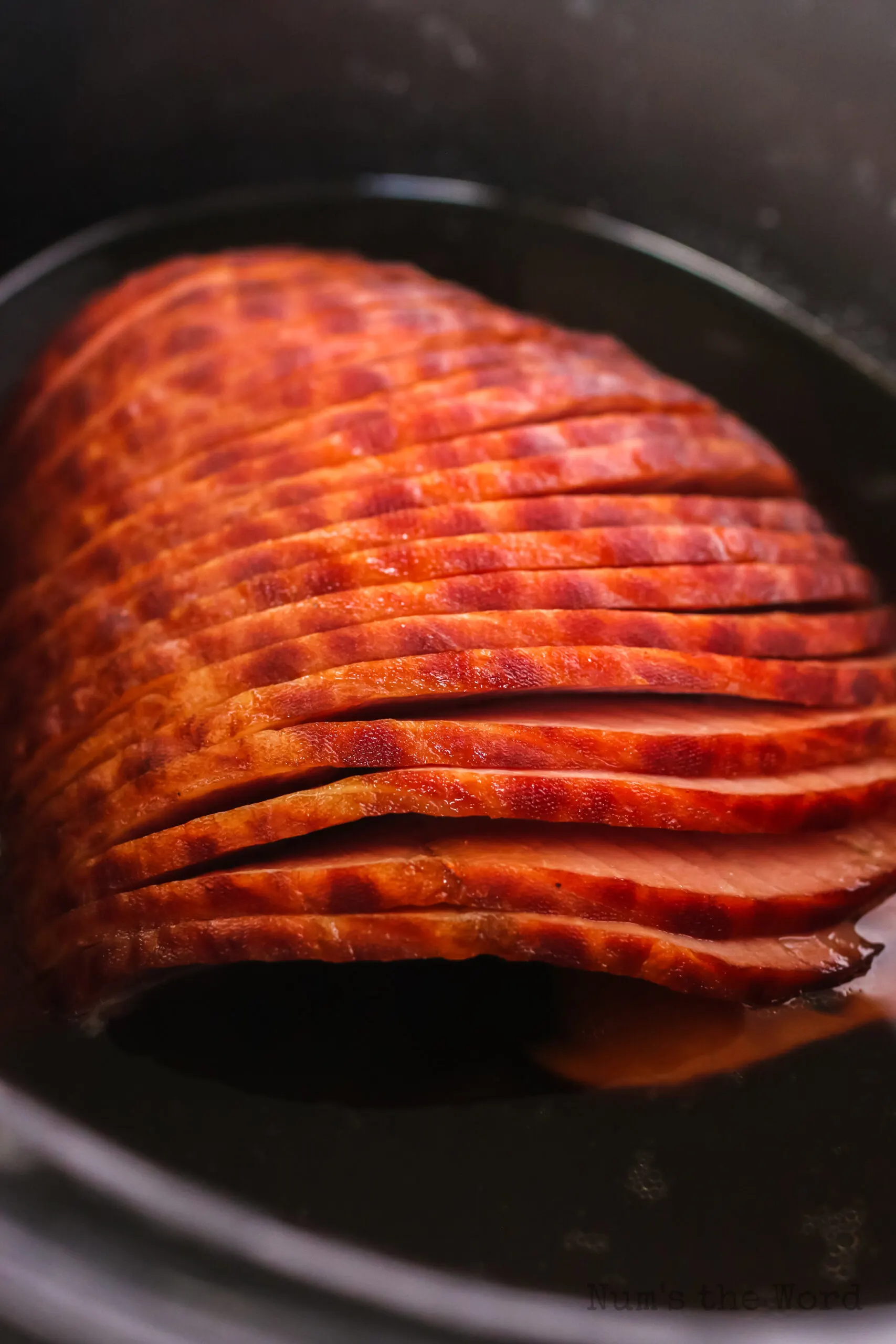 What size of ham should I buy for this crockpot ham recipe?
Bone In Ham:

It is recommended to buy ⅓ – ½ pound serving. This is to cover the weight of the bone.

8 People – 2 ½ – 4 pound bone in ham

12 People – 4 – 6 pound bone in ham

16 People – 5 ½ – 8 pound bone in ham

Boneless Ham:

It is recommended to buy ¼ – ⅓ pound of ham per serving for a boneless ham.

8 People – 2 – 2 ½ pound boneless ham

12 People – 3 – 4 pound boneless ham

16 people – 4 – 5 ½ pound boneless ham.
Pro Tip:
Buy an extra ⅓ – ½ pound per person so you have leftovers!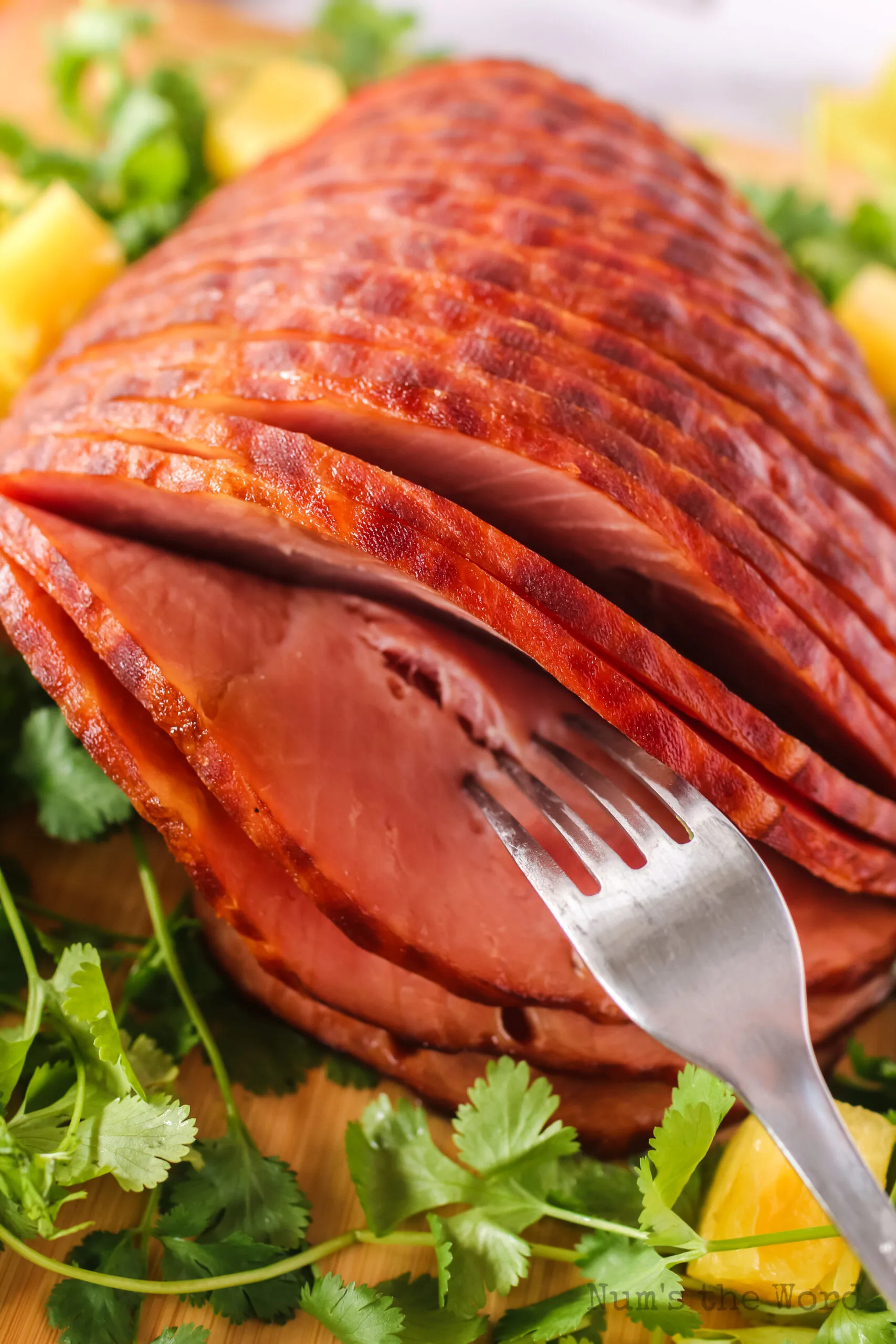 What side dishes to serve with ham?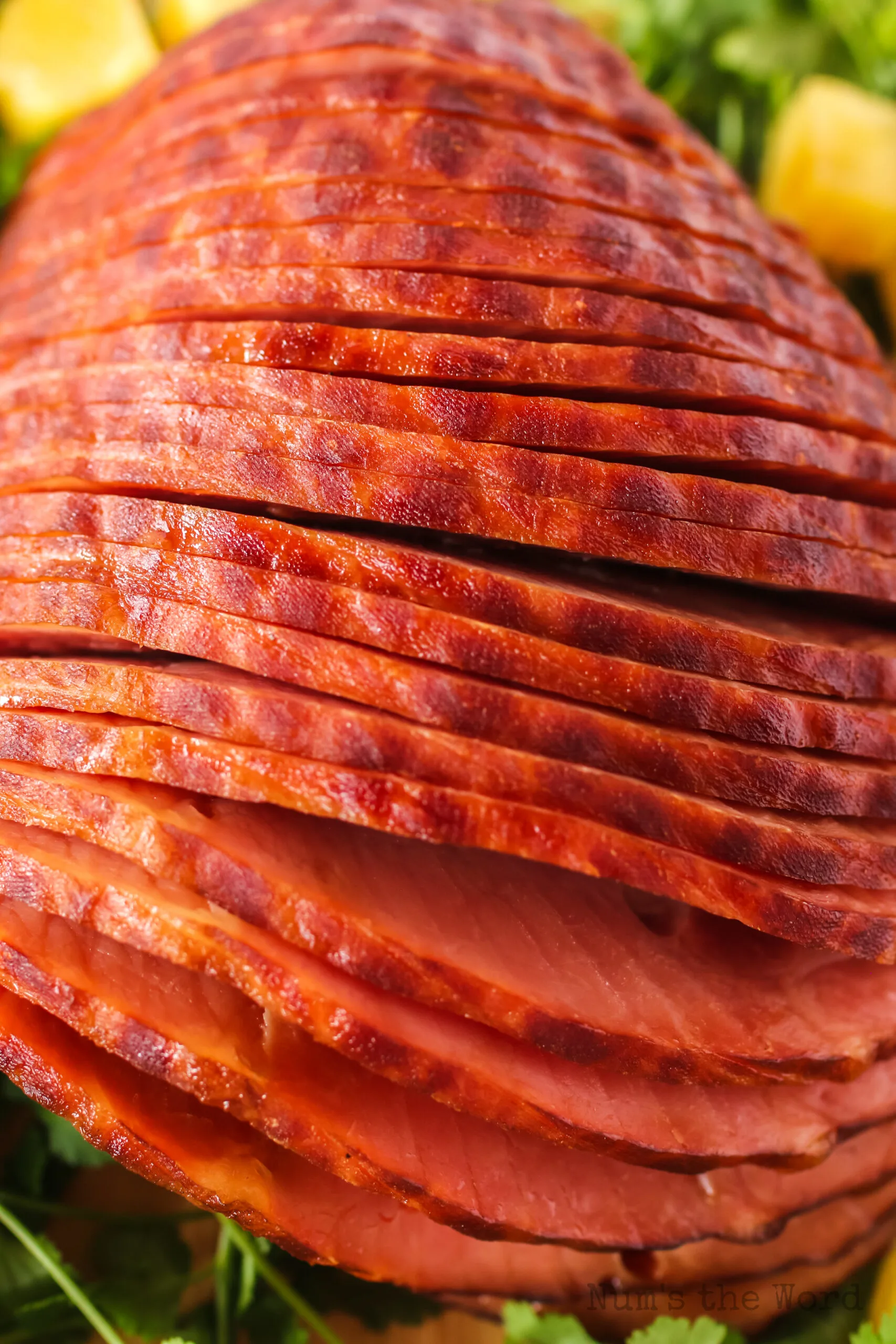 Leftover ham recipes: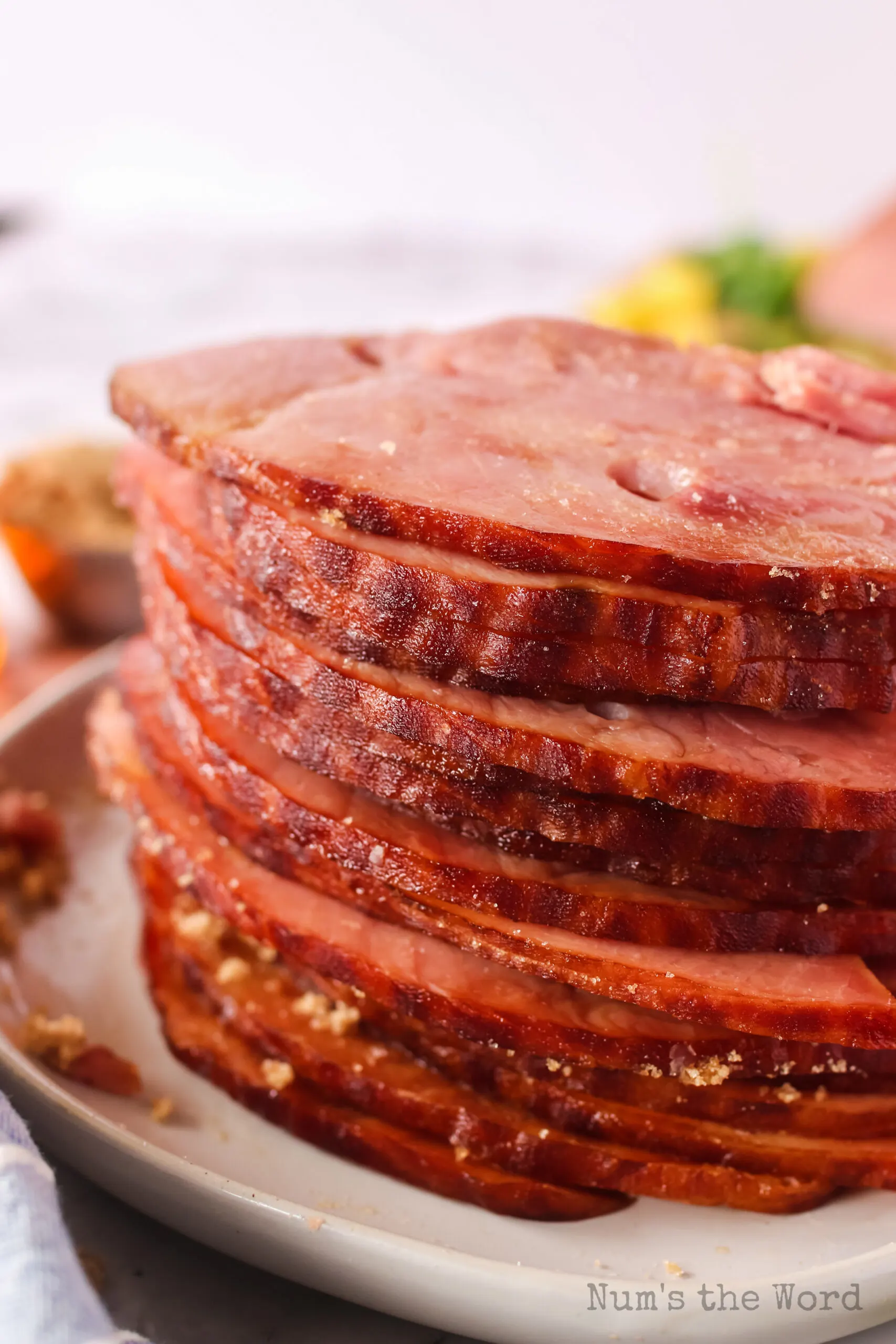 This Brown Sugar Ham has become a family favorite recipe! Try it this year for Thanksgiving, Christmas for Easter and you'll see just why it's requested!
Yield: 12 Servings
Crock Pot Maple Brown Sugar Ham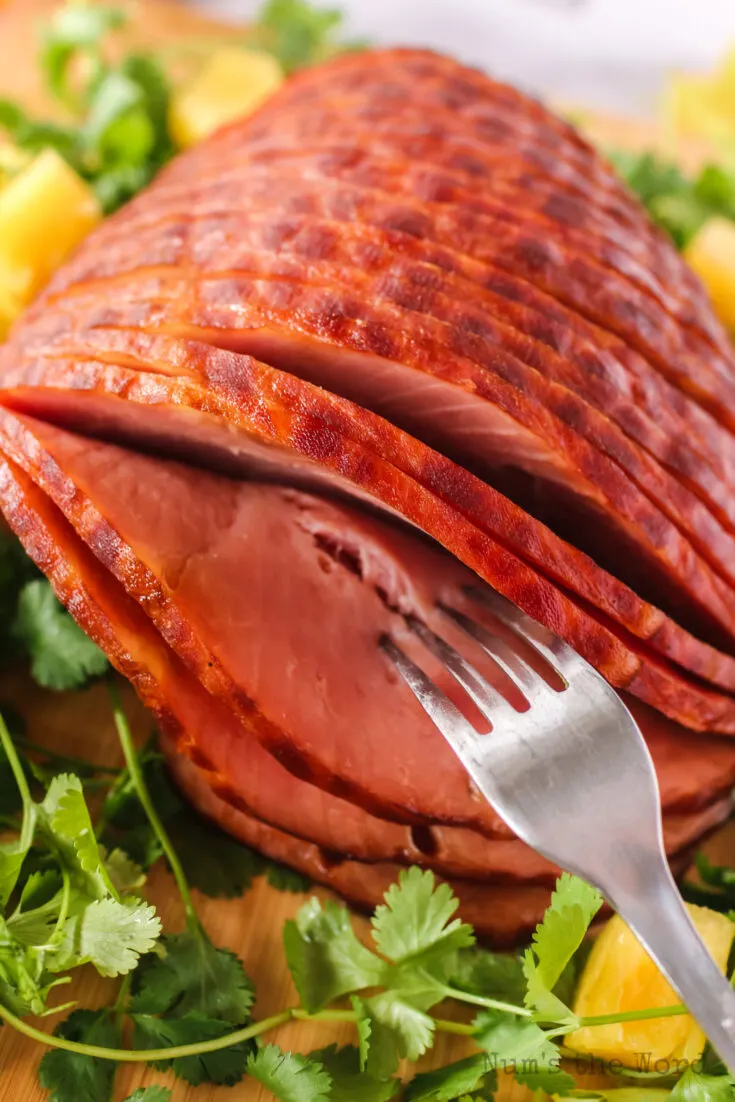 This Crock Pot Maple Brown Sugar Ham has become one of our favorite crock pot hams! With only 4 ingredients, this slow cooker ham has become a regular menu item at our house! Thanksgiving, Christmas and Easter are all top choices for this easy ham recipe!
Total Time
4 hours
10 minutes
Ingredients
7-8 lb spiral cut bone in or boneless ham (I used boneless)
1 cup brown sugar
1/2 cup pure maple syrup
2 cups pineapple juice
Instructions
Unwrap ham and discard flavor packet.
Rub brown sugar all over the ham and make sure to get into the slices. We want them extra tasty!
Pour on maple syrup and pineapple juice.
Cover and cook for 4-5 hours on low.
Baste ham every 30 minutes and make sure to get in between the slices (though not required, I did do this).
When ham is done, remove ham from crock pot and allow to rest on cutting board for 10 minutes before slicing.
Notes
One thing that we really enjoyed (fresh or leftover) was to eat it with a little extra brown sugar sprinkled on top - but then again, I love most things with a little extra sugar!
Originally Posted: April 7, 2014
Photos & Text Updated: November 6, 2019
Photos Updated: 8/10/22