This Cheesy Ham Dip in a Bread Bowl is one that party guests go crazy for! A great way to use up leftover ham, this hearty dip is easy to make and packed with flavor. Make it in a bread bowl or casserole dish and serve with your favorite crackers!
This post contains affiliate links.  If you click on an affiliate link and make a purchase, I will make a small percentage on your purchase. This helps keep this website running! Thank you!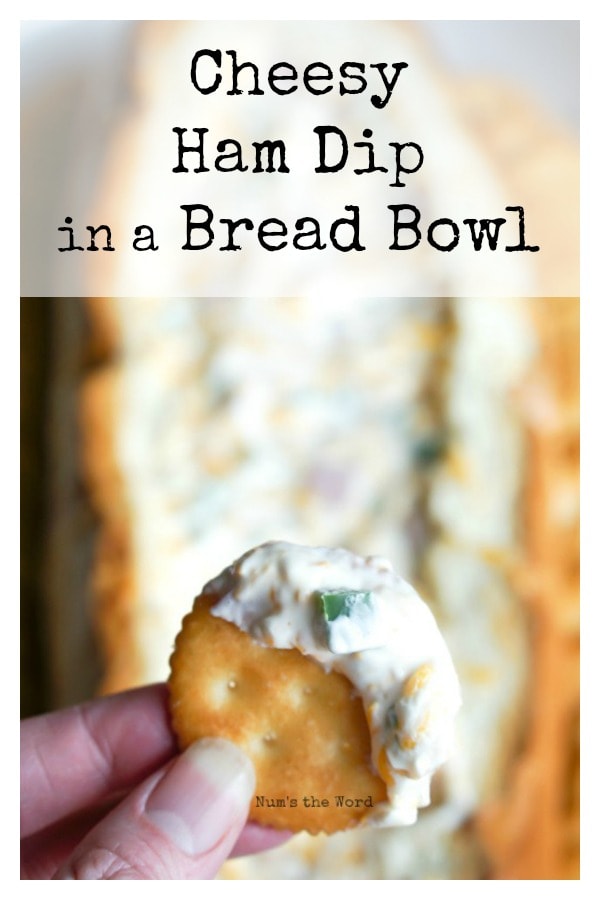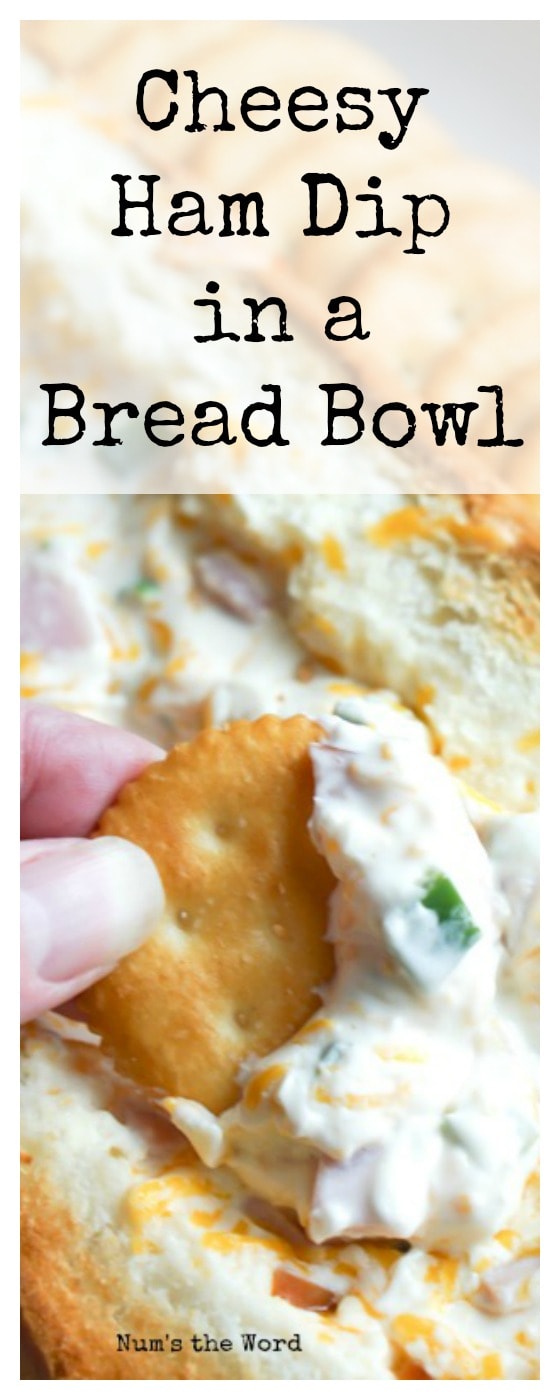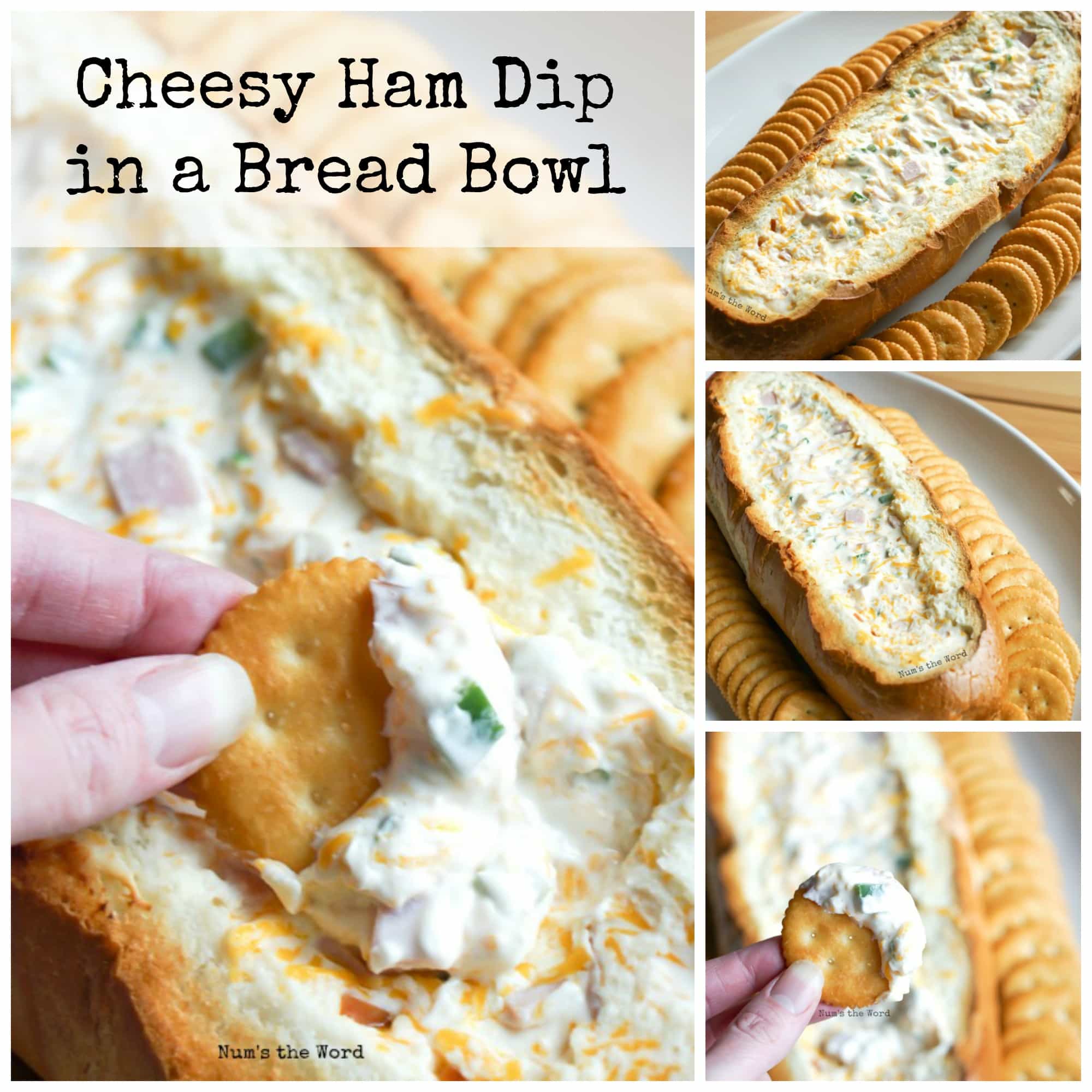 Do you ever find yourself with leftover ham?
Perhaps you served ham for dinner one night or maybe it's leftover from Thanksgiving, Christmas or Easter.
One of my favorite parts of making a ham is using up the leftovers in fun, tasty and creative ways!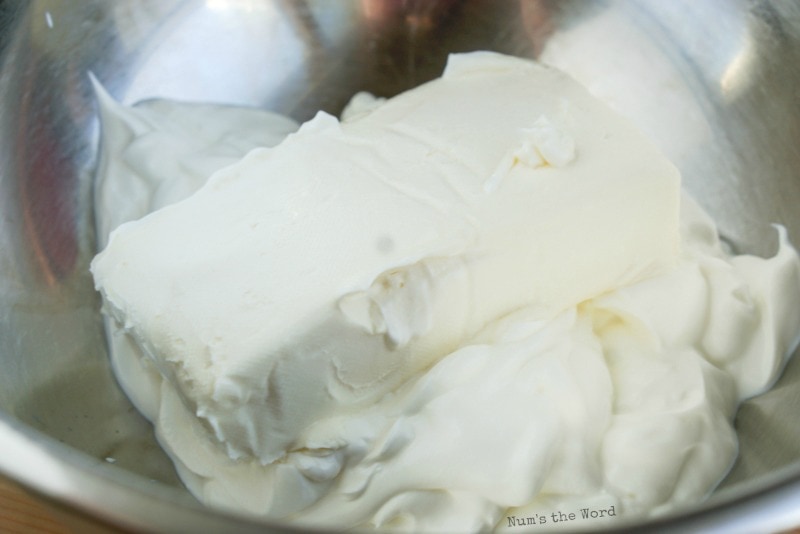 This Cheesy Ham Dip in a Bread Bowl is a new favorite of ours!
We found this to be a great way to use up leftover ham and loved the flavor combinations.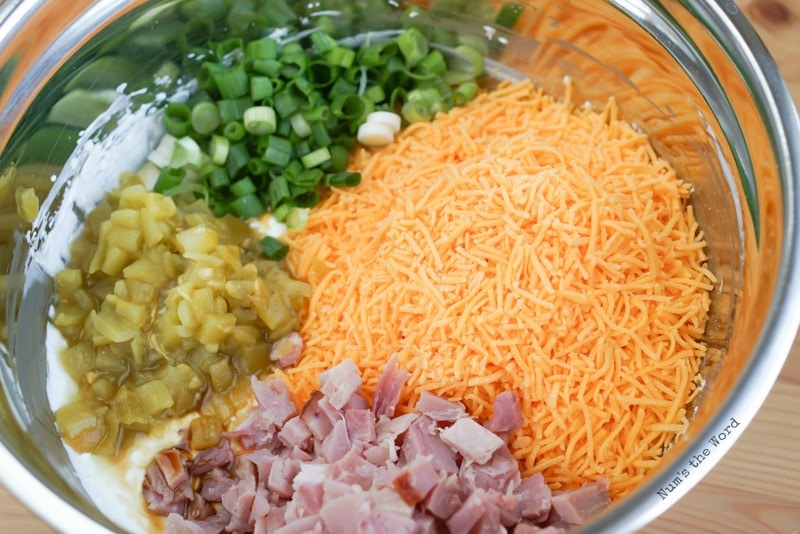 Now you could just serve this in a casserole dish instead of a bread bowl and no one would be the wiser.
But I'm a sucker for bread bowls.
I love soup served in a bread bowl and I really like this dip in a bread bowl.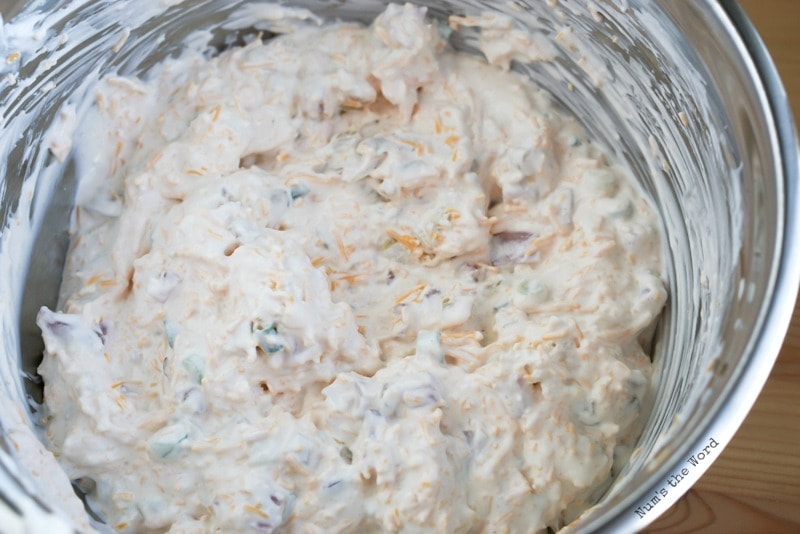 The dip tastes the same no matter what it's served in.
However, we love to break off hunks of bread and eat them after the dip is all gone.
Plus it's fewer dishes for me to wash later!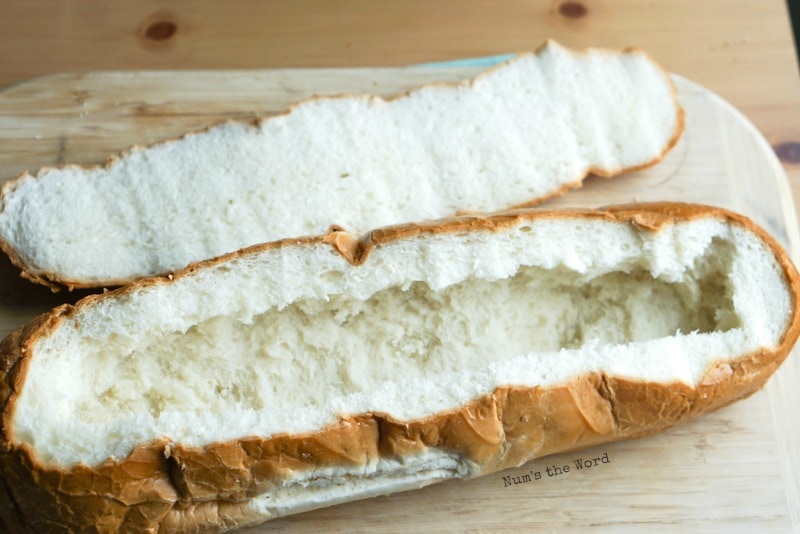 I've made this recipe a few times, experimenting with a variety of ingredients and the combination here is our favorite.
Now because my family CANNOT eat an entire loaf of this dip, I spoiled the teachers at my daughters school by giving it to them to taste test.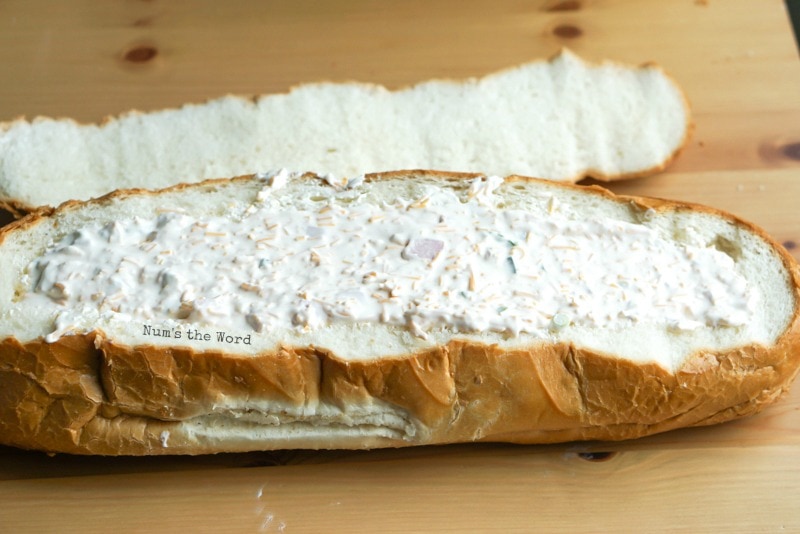 This was a big hit by all.
So much so that there was some debate on who would get to take the bread bowl home to consume later!
This Cheesy Ham Dip in a Bread Bowl would be perfect for a game day party, birthday party, baby shower or really any night you have friends over!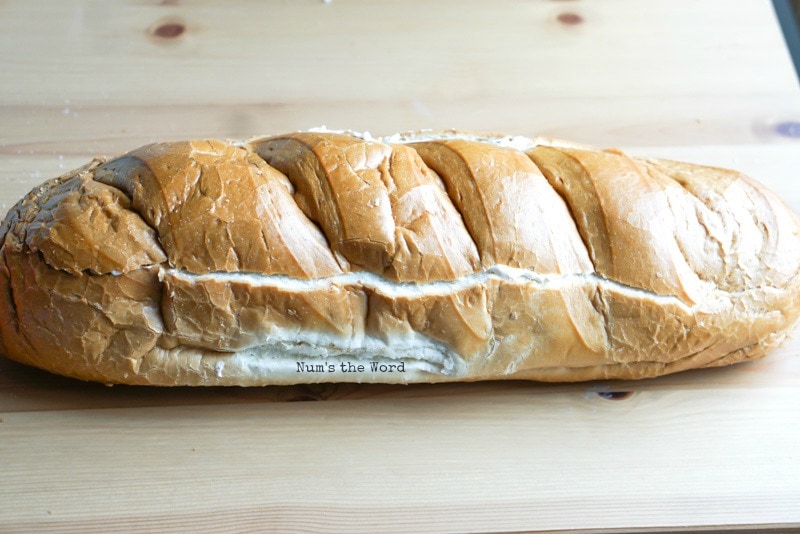 And don't forget about Movie night!
Who says you can't have snacks other than candy and popcorn!
We are all fans of this creamy dip and think you will be too!
For those of you who like to play with recipes (yes I know you're reading this!), then you will love this dip!
This is a VERY EASY to customize dip.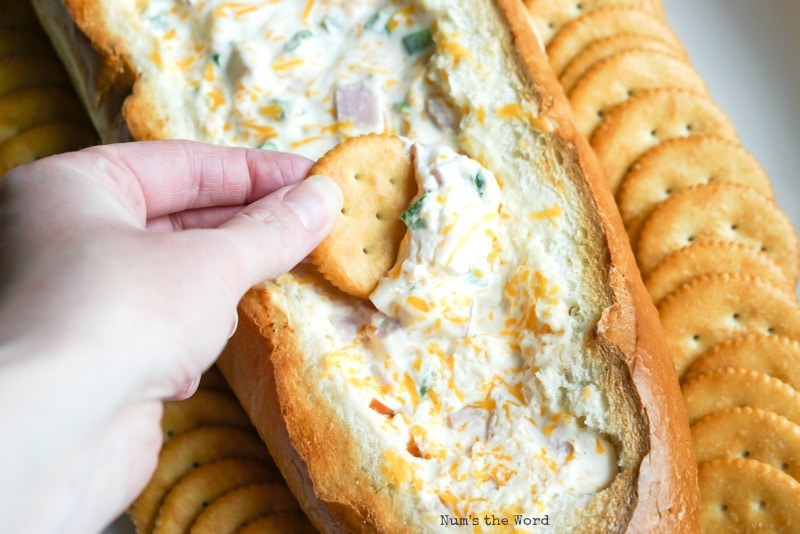 Just add your favorite veggies or ingredients and enjoy!
I hope you like this as much as we did.
We couldn't get enough and can't wait to make another ham just for this dip!
Other Dips You'll Love...
Yield: 15 Servings
Cheesy Ham Dip in a Bread Bowl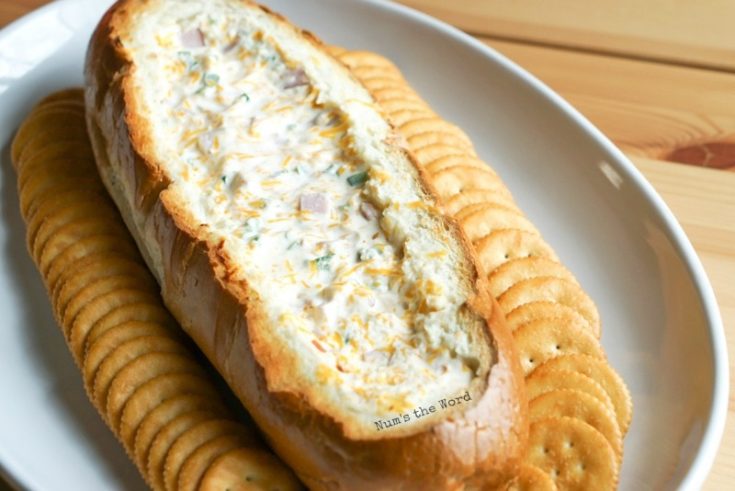 Cook Time
1 hour
2 minutes
Total Time
1 hour
17 minutes
Ingredients
1 large french bread
8 ounces cream cheese
1 1/2 cup sour cream
2 cups shredded cheddar cheese
3 green onions, diced
1 cup diced cooked ham (leftovers work great)
1 (3 ounce) can of diced green chiles
2 jalapenos, diced and seeded. Keep the seeds if you like spice, remove them if you do not.
1 teaspoon Worcestershire sauce
1 box Ritz Crackers
Instructions
Preheat oven to 350*F
Slice off the top of the French bread and hollow out the center, leaving about 1/2 inch along the edges. Discard internal bread, eat it, or save for another recipe. You will not need it.
In a bowl blend cream cheese and sour cream until smooth.
Add cheese, green onions, ham, green chiles, jalapenos and Worcestershire sauce. Mix well.
Spoon this mixture into hollowed out bread bowl.
Place top back on bread bowl and wrap in foil.
Place bread bowl on a cookie sheet and bake for 1 hour.
Remove from oven, open from foil (careful it will be hot!) and remove top. Place back in oven and broil for a minute or two. Watch this closely as you do not want it to burn, just crisp the bread up a bit.
Remove from oven, place on a serving platter with crackers and dive in!