These easy Ham & Cheese Sliders are the perfect way to use up your leftover ham. Yummy ham and Swiss cheese inside a flaky buttery croissant with a yummy topping make for a great lunch, dinner or appetizer!
Serve these at your next picnic, potluck or game day party!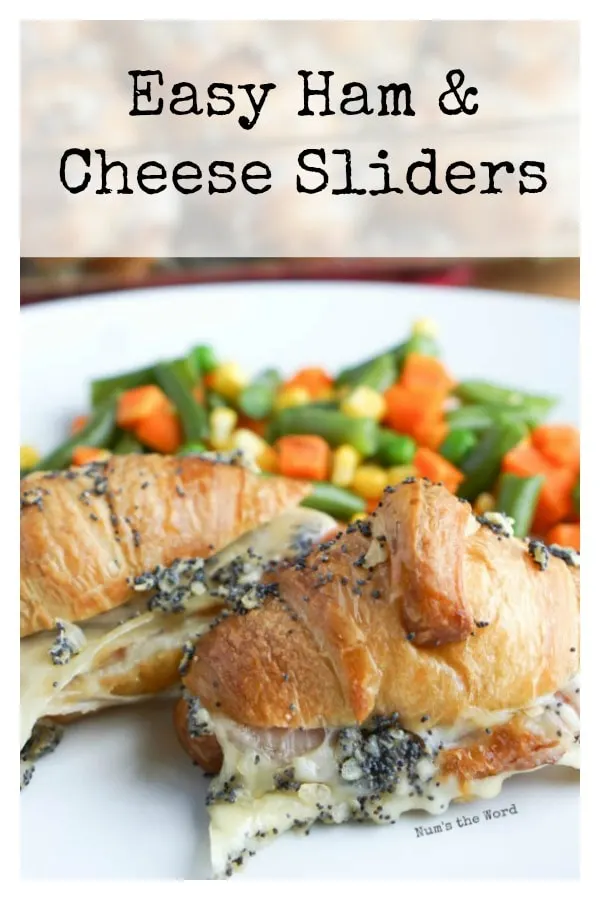 Several years ago, my mother was telling me about Hawaiian ham and cheese sliders that was served at an event she attended. She also said that there was a poppy seed dressing on top that really added some great flavor.
Having never had these poppy seed ham & cheese sliders before, I retold the account to my Mother-in-Law to see if she had ever heard of them. She too tells me that she's had them before and that yes indeed they were tasty.
So I got thinking. Am I the only person who has never heard of these Ham & Swiss Cheese sliders before?
Because I wanted to see what all the hype was, I got the recipe from my mother. After looking it over I quickly upgraded the bread to my favorite croissant and whipped up a large casserole dish full.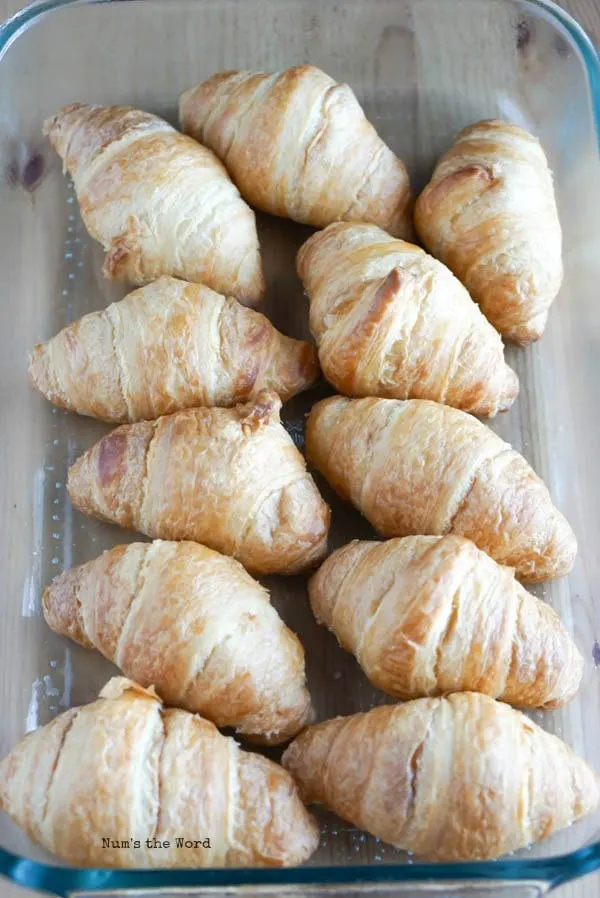 That night we my husband and I gobbled up three sandwiches each. We then ate 3 more for lunch the next day too.
Call us piggies if you must, but we really loved the flakiness of the crust and the yummy poppy seed dressing too.
Because we ate so many, I'm pretty sure that means they are good. Wanting to make sure it wasn't just us who loved these sandwiches, I whipped up another batch for a group of taste testers to try.
Every person who tried these said they would definitely eat them again. At first I was worried about the flavor combination of poppy seeds and mustard. Not to mention how those two flavors would mix with the ham and Swiss cheese too.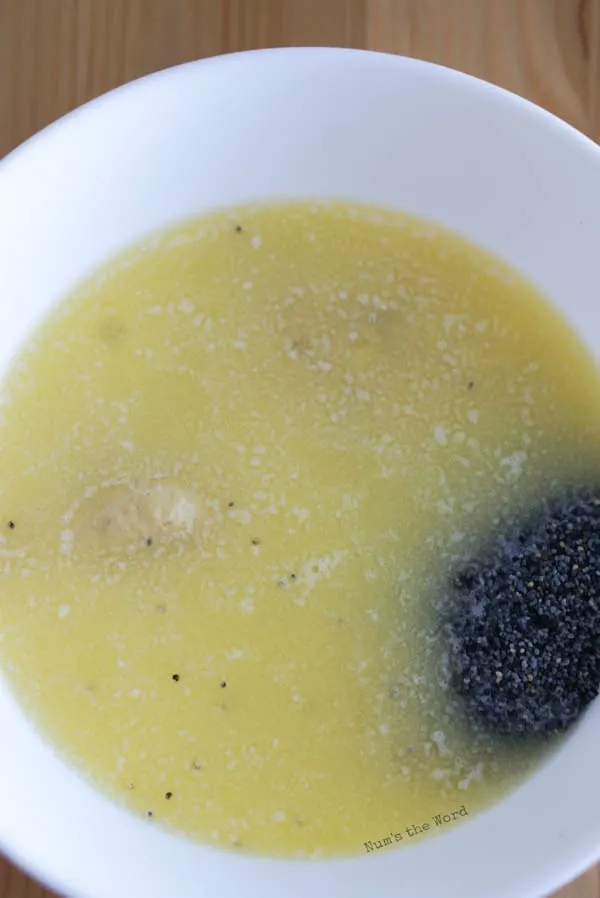 I had nothing to worry about because the flavor combination was a hit. Each of the flavors compliment each other, making these something we all love.
These baked ham & cheese sliders are one of our favorite go-to recipes when we have leftover ham.
Rather than freezing our leftover ham from Thanksgiving, Christmas or Easter, we like to transform it into a variety of recipes.
These Deluxe Ham & Cheese Sandwiches are ALWAYS on the menu the day after making a ham. These taste great with any flavor of ham and are so quick to toss together!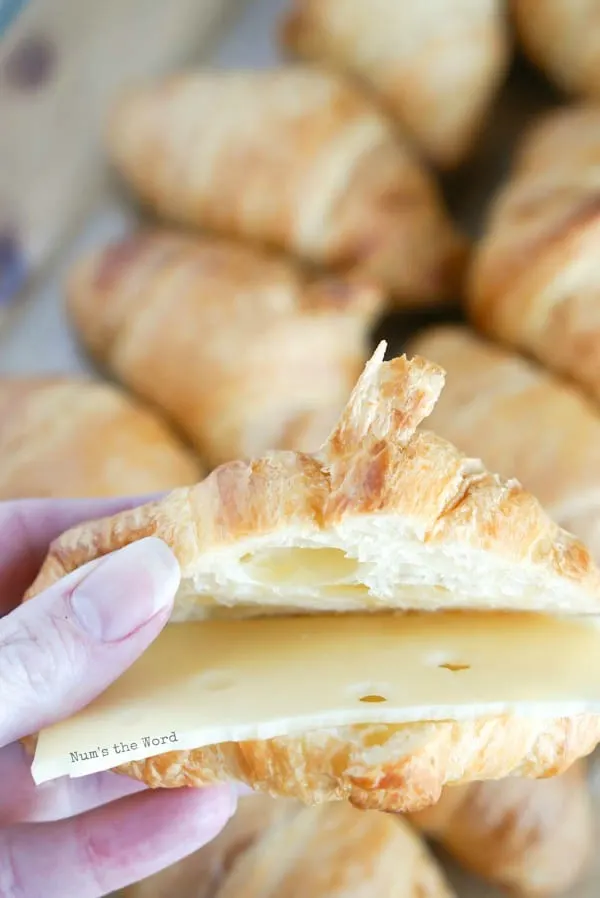 If you don't have leftover ham, then don't sweat it. Instead you can buy carving board ham in the packaged deli meat section or you can use deli ham too.
We prefer thicker slices of ham for these sandwiches but there is no right or wrong way.
I should also mention that you can use any kind of bread too. Obviously, our favorite is a rich buttery croissant.
However we know many people who prefer to use Hawaiian Rolls or even traditional store bought rolls too. We love them and so far everyone we serve them to do as well!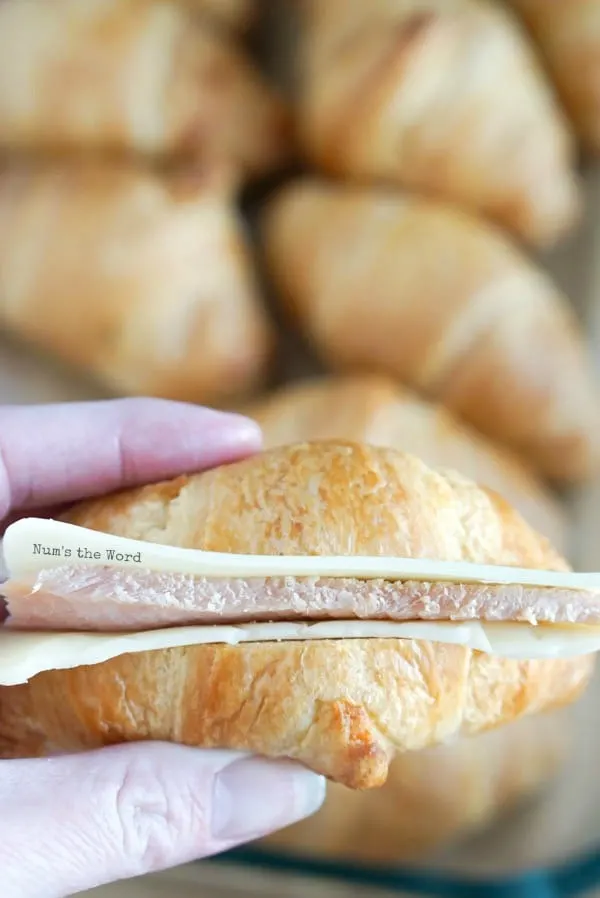 What Cheese Goes Well with Ham?
Depending on what you are making, there are a variety of cheeses that go well with ham so you'll want to choose your cheese carefully.
For example, Swiss, Cheddar, Provolone and American are all popular favorites on ham sandwiches. Instead of going with a strong cheese, I make this baked ham & cheese sliders recipe with Swiss Cheese.
It's mild but nutty flavor compliments the ham, mustard and poppy seeds. Using Swiss Cheese also helps balance the saltiness of the ham.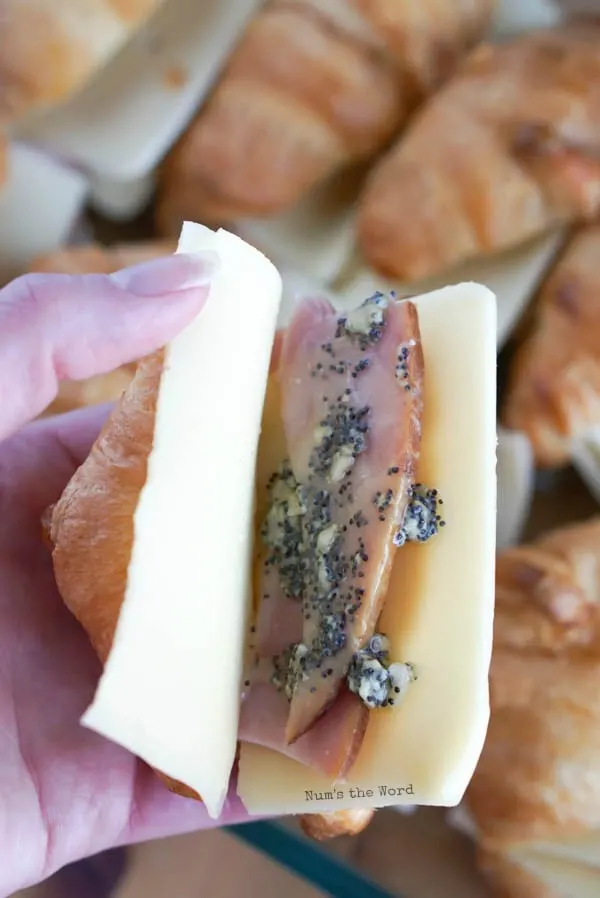 What goes good with Ham Sandwiches?
Picking the perfect side dish is never an easy task. However, that shouldn't stop you from trying one of these sides that go great with hot ham & cheese sliders.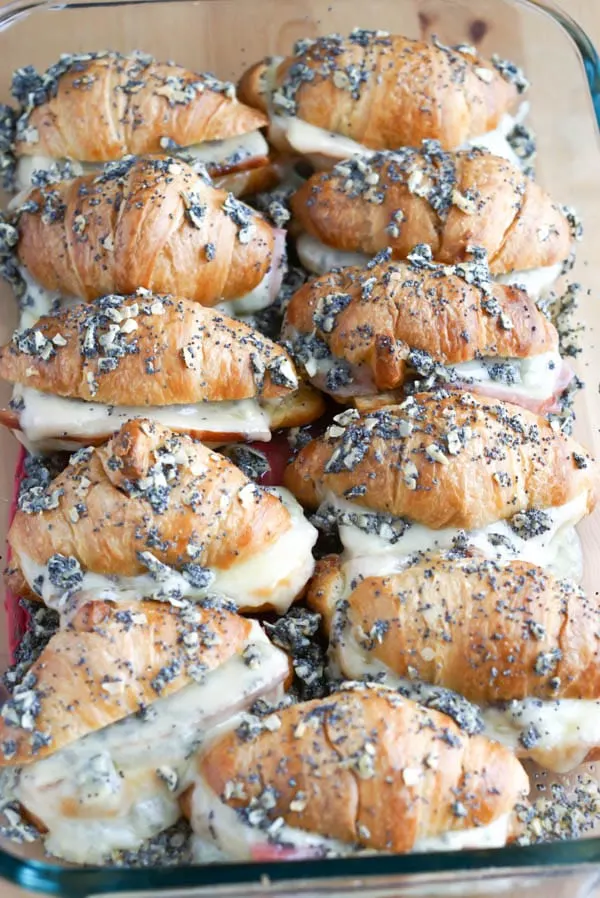 Is Ham a Processed Food?
I didn't know the answer to this question. As a result, after a bit of research I've come to discover that the term 'ham' is a tricky one.
It refers both to a cut of leg meat as well as cuts of meat that have been formed together. A solid cut of the leg is preserved by either a wet or dry curing which may or may not include smoking the meat. Because it has been altered, it is then considered a processed food.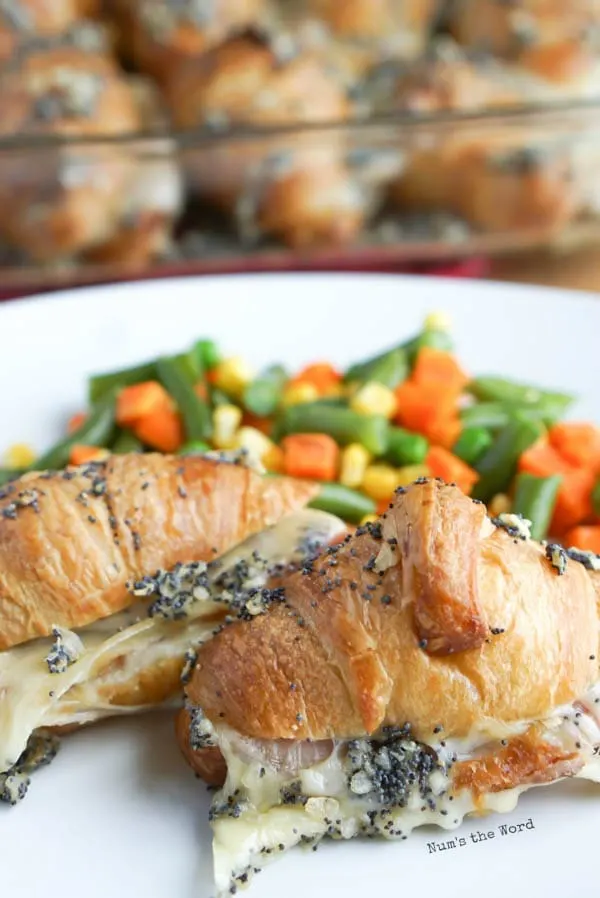 How Long Does Cooked Ham Last?
When purchasing ham, check the date on the package. This will give you an idea of how soon you need to cook the ham.
However the harder question is how long does cooked ham last? That answer is shorter than you'd think. Cooked ham is only good for 3-5 days, however watch for bad smells and mold as first signs of it going bad.
If you don't plan on using it within that time frame, you could freeze it for 1 – 2 months but make sure to write the date on your container. However once thawed, you must use it immediately.
Yield: 10 croissants
Deluxe Ham & Cheese Sandwiches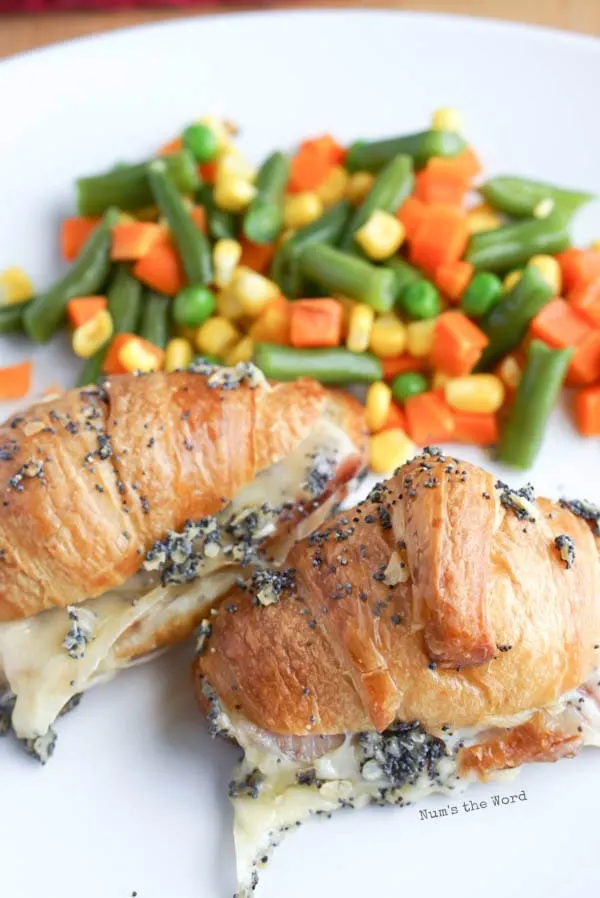 These Deluxe Ham & Cheese Sandwiches are the perfect way to use up your leftover ham. Yummy ham and Swiss cheese inside a flaky buttery croissant with a yummy topping make for a great lunch, dinner or appetizer! Serve these at your next picnic, potluck or game day party!
Ingredients
2 Tablespoons dried minced onion
1 Tablespoon prepared mustard (we used yellow and the flavor was very mild)
2 Tablespoons poppy seeds
1/2 cup butter melted
10 small croissants
1/2 pound of sliced ham - Leftover or sandwich ham works great!
1/2 pound Swiss cheese - or favorite cheese!
Instructions
Preheat oven to 325*F
In a small bowl combine minced onion, mustard, poppy seeds and melted butter - let sit for 5 minutes.
Slice each croissant in half, not all the way so it hinges open.
Place 1 - 2 slices of ham inside each croissant.
Place 1/2 slice of Swiss cheese (or 1 slice folded over) on top of ham.
Place sandwiches into a 9x13 baking casserole dish close together. you'll want them touching but not on top of each other.
Spread 1 teaspoon of prepared poppy seed dressing inside each croissant
With remaining dressing, drizzle and smear it on top of each croissant.
Bake for 20 minutes or until cheese has melted.
Serve immediately while warm.
Nutrition Information:
Yield:
11
Serving Size:
1
Amount Per Serving:
Calories:

396
Total Fat:

27g
Saturated Fat:

15g
Trans Fat:

1g
Unsaturated Fat:

9g
Cholesterol:

87mg
Sodium:

652mg
Carbohydrates:

23g
Fiber:

2g
Sugar:

5g
Protein:

16g
Originally Posted: April 9, 2014
Photos & Text Updated: July 9, 2019
Other Ham Recipes You'll Love...
If you have leftover ham and aren't sure what do make with it, try one of these delicious recipes!