Chocolate Cobbler is a heavenly dish of ooey-gooey goodness. It's a chocolate lover's dream and super easy to make!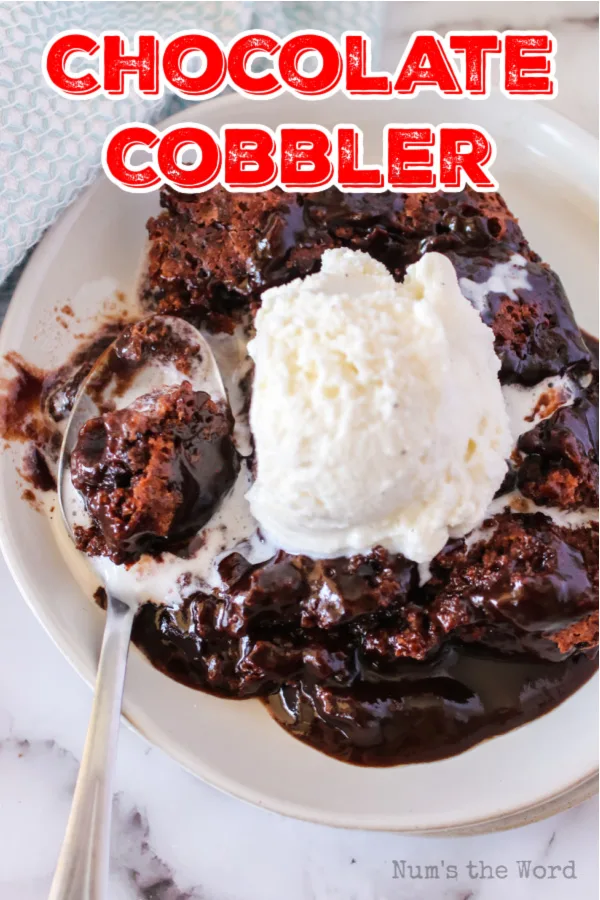 It's like two desserts in one! Chocolate cake and hot fudge combine to literally be the best chocolate dessert on the planet.
This is an incredibly easy recipe that also goes by the name chocolate cobbler. Requiring very little stirring, mostly you just toss things in and cook!
We love the yummy flavor of this dish. When served with ice cream, it's one of the hardest desserts to resist.
It's very filling too which means it can serve a big group of people!
Made with all pantry ingredients, I bet you've already got everything you need to make it.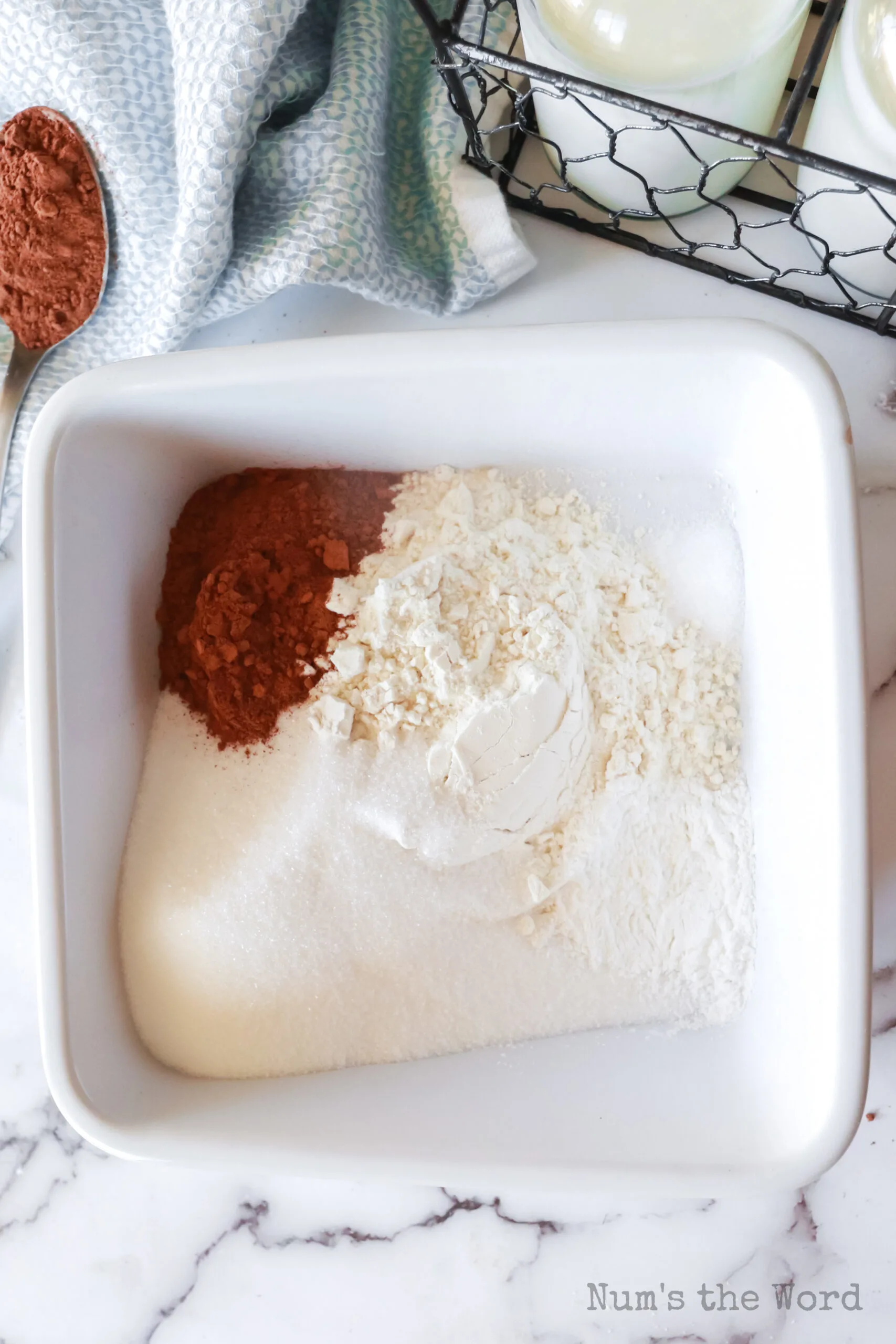 What is a Chocolate Cobbler?
This recipe goes by many names, maybe you've heard of one:
Chocolate Fudge Cake

Devil's Float Cake

Chocolate Cobbler

Hershey's Hot Fudge Pudding Cake
Woah, that's a lot of names! If you aren't familiar with it, I'll give you some basics.
First, there's a cake layer. This is a chocolate cake that actually gets mixed right in the pan, so no need for another bowl.
Next is the chocolate fudge layer. This get's baked right on top of the cake and when it comes out of the oven…yum!
It's gooey in the center and perfect for serving with a big scoop of vanilla ice cream.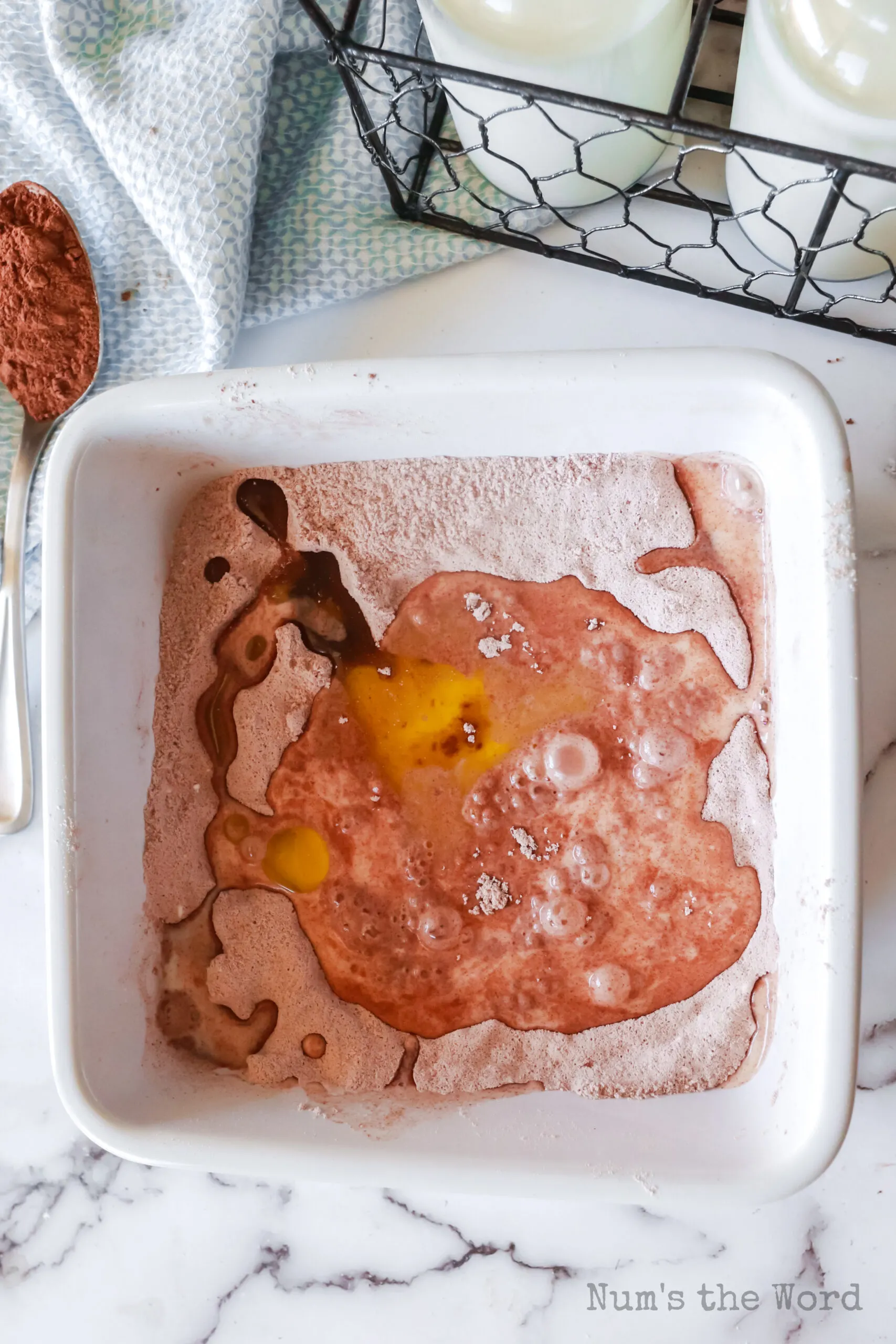 What Ingredients are in Chocolate Cobbler?
Here's what you're going to need to make this easy chocolate cobbler.
Flour:

All purpose flour. Don't even try any healthy substitutes. This isn't that kind of recipe.

White Sugar:

This is used to sweeten the cake layer.

Cocoa Powder:

Used to give you the chocolate and fudge flavors in both layers.

Baking Powder:

This helps the cake to rise.

Salt:

For flavoring, be sure not to leave it out.

Milk:

Use whatever kind of milk you have on hand.

Oil:

Use vegetable oil or another kind of light cooking oil.

Brown Sugar:

This helps to create the sweet fudgy flavor of the topping.

Water:

The water should be hot. Not quite boiling, but hot.
Pro Tips:
Use good quality ingredients for good quality foods. If it's past its prime, toss it and grab fresh.

Vanilla ice cream isn't technically on the list but don't forget it! YUM!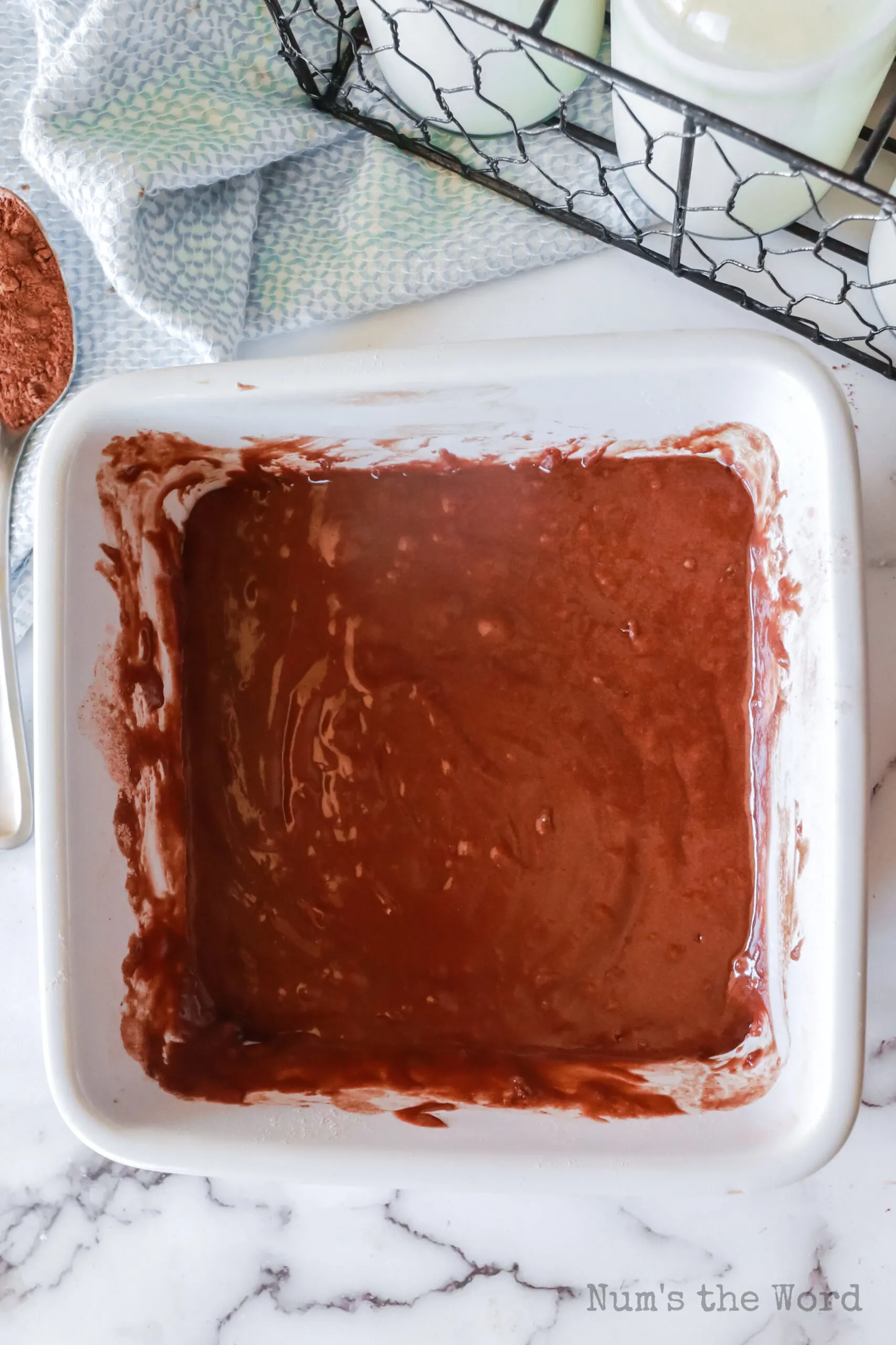 How to Make Chocolate Cobbler?
Chocolate cobbler is super simple to make!
Cake:

Mix the cake ingredients in the bottom of an ungreased casserole dish.

Fudge:

Layer the fudge ingredients on top of the cake layer being careful not to mix in.

Bake:

Make this in secret and everyone will know as it nears doneness. Ahhh that smell.
Pro Tips:
This cake will not be able to be poked with a toothpick. It's supposed to be gooey!

Allow cobbler to sit for 15 minutes on the counter before serving.

Eat it warm. It's a must. Promise you'll thank me for it later.

This can easily be doubled and baked in a larger casserole dish if desired.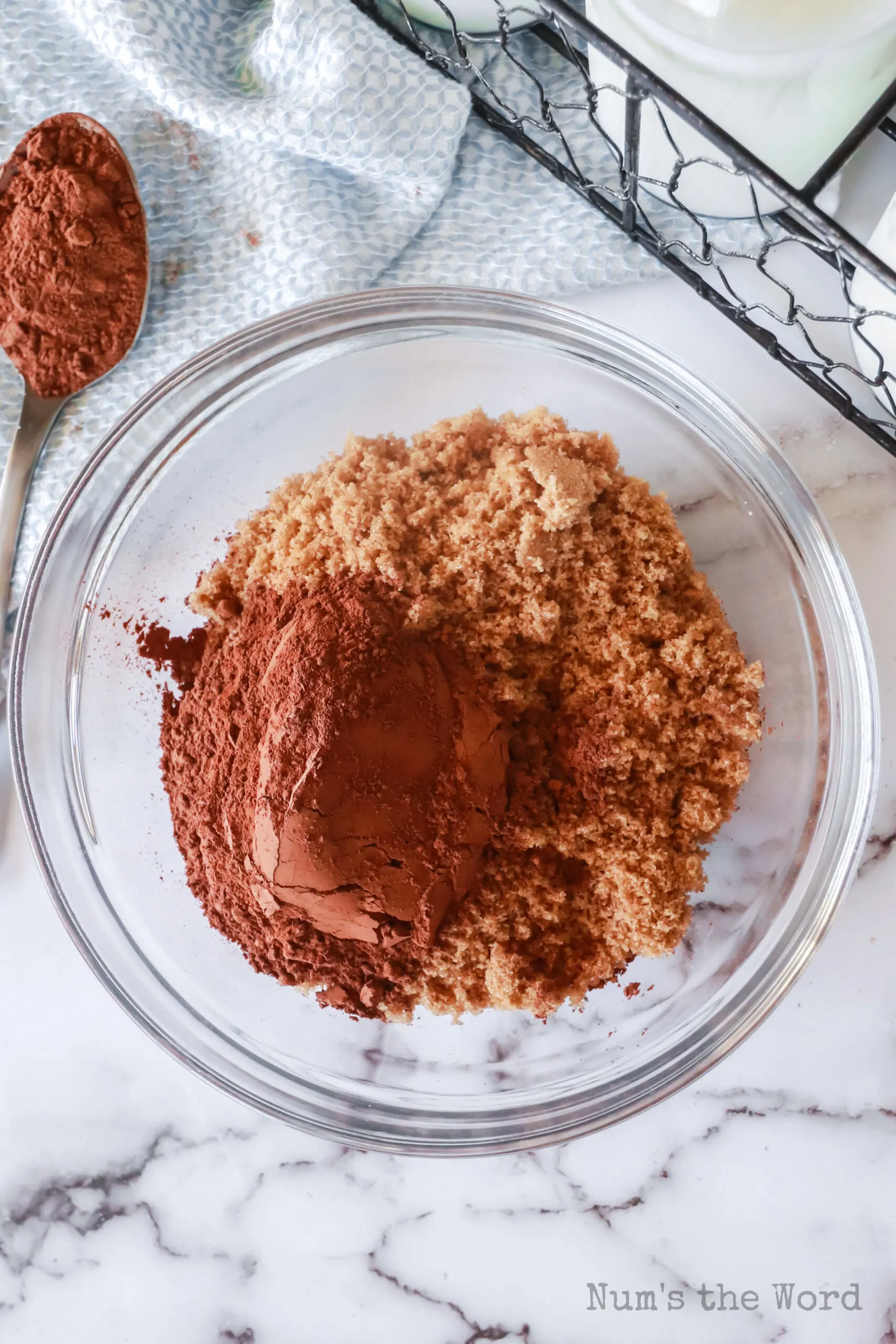 Why is it Called Chocolate Cobbler?
So cobber is normally a layer of goodness (typically fruit) that is covered or mixed in a crispy batter or biscuit before being baked.
Cobbler can be savory but most frequently it's sweet. This is called chocolate cobbler because of the consistency and similarities.
Though it's not technically a cobbler by the fruit definition. Instead it's a chocolaty batter that is covered in a fudgy, rather than fruity layer.
Do You Refrigerate Chocolate Cobbler?
Before eating? Never. You want that gooey consistency. And honestly, a warm bite of chocolate cobbler mixed with slightly melted vanilla ice cream? That's the best way to eat to eat it.
However, any leftovers should be kept in a closed container in the fridge. You can continue to eat this hot fudge cake for up to a week after making it.
Though we've always eaten it long before that week mark over here.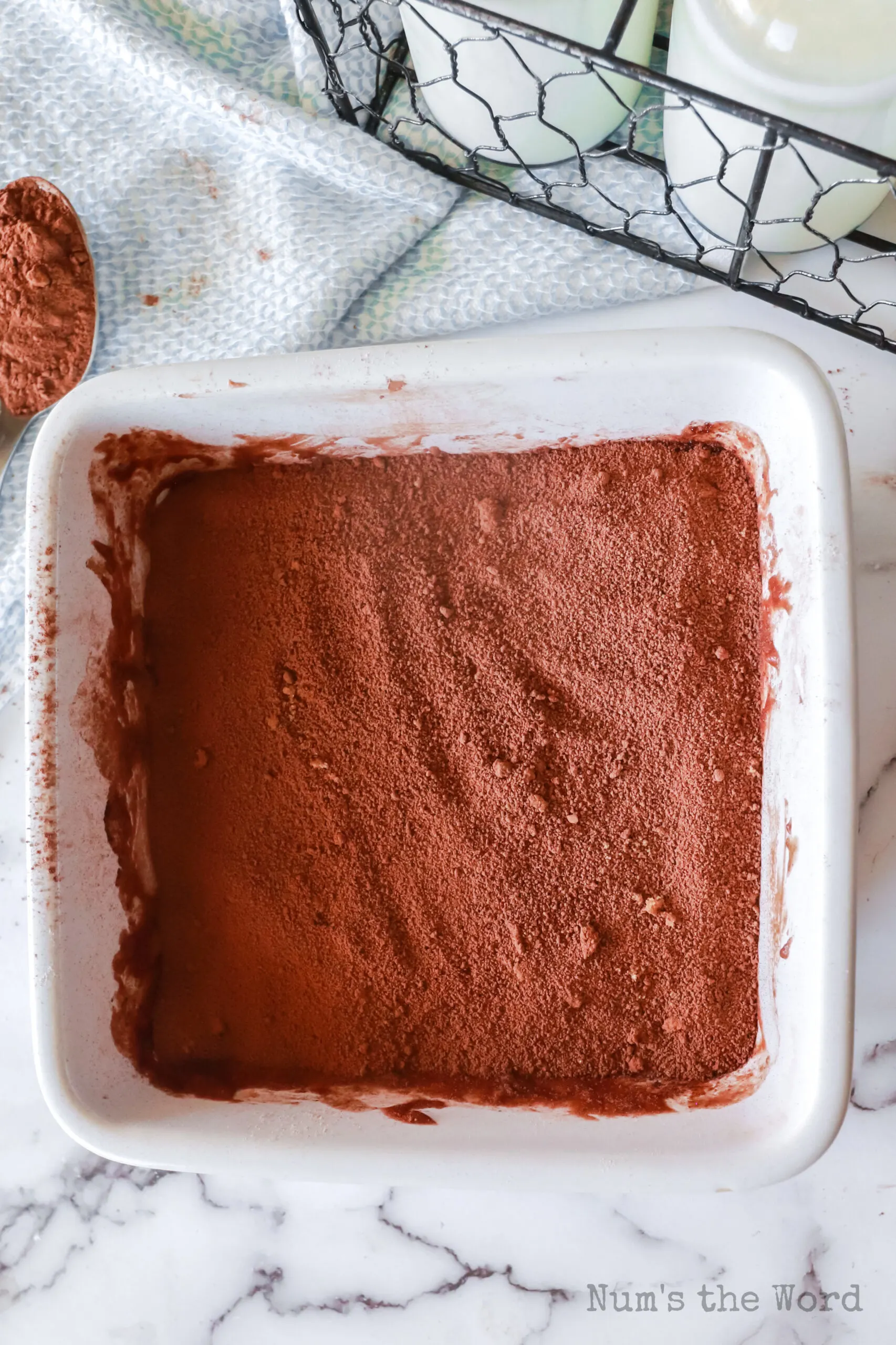 Are There Eggs In Chocolate Cobbler?
No! There are no eggs in this recipe. This is gooey and fudgy. More like a cobbler and less like a fluffy cake.
So if you or someone you know has an egg allergy, try making chocolate cobbler. You'll never notice the lack of eggs.
How to Store Chocolate Cobbler
If you're making this for only yourself or maybe a couple of people, you'll likely have leftovers. It's very filling!
To store this pudding cake, first allow it to cool completely. Don't place food in the fridge before it's cooled. Then wrap the casserole dish tightly using aluminum foil.
Keep it in the fridge for up to a week.
To reheat, scoop out a serving and reheat in the microwave in 30 second bursts until heated through. You can also reheat the entire dish in the oven until just heated through.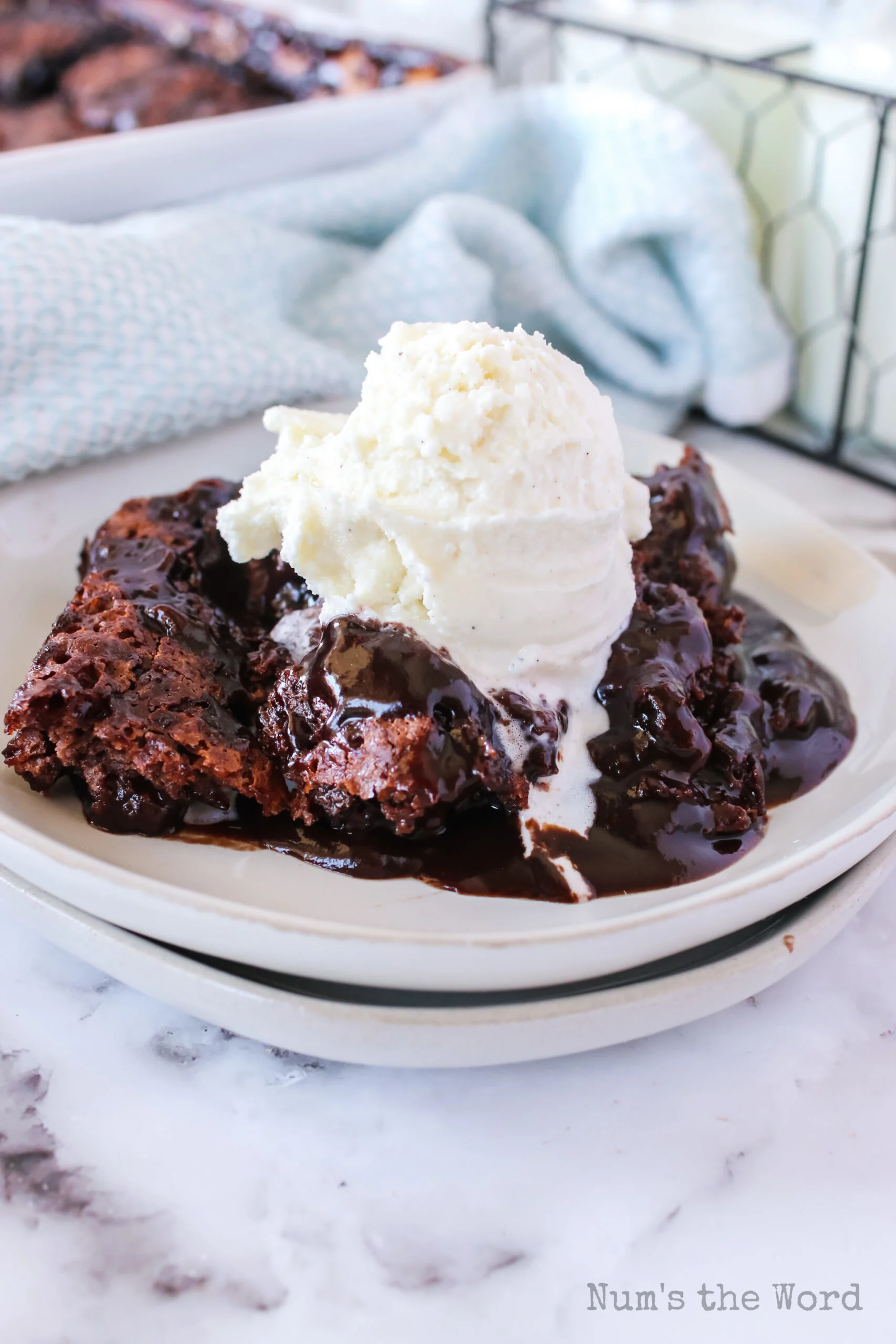 Can You Make Chocolate Cobbler Ahead of Time?
Sure! Just be sure to reheat it before serving.
Go ahead and make the entire chocolate cobbler according to directions. You don't need to make any changes.
Then wrap tightly in the fridge and reheat when you're ready. I like to not make it more than a day before I'm ready for it. I find the flavor best in that 24 hour window.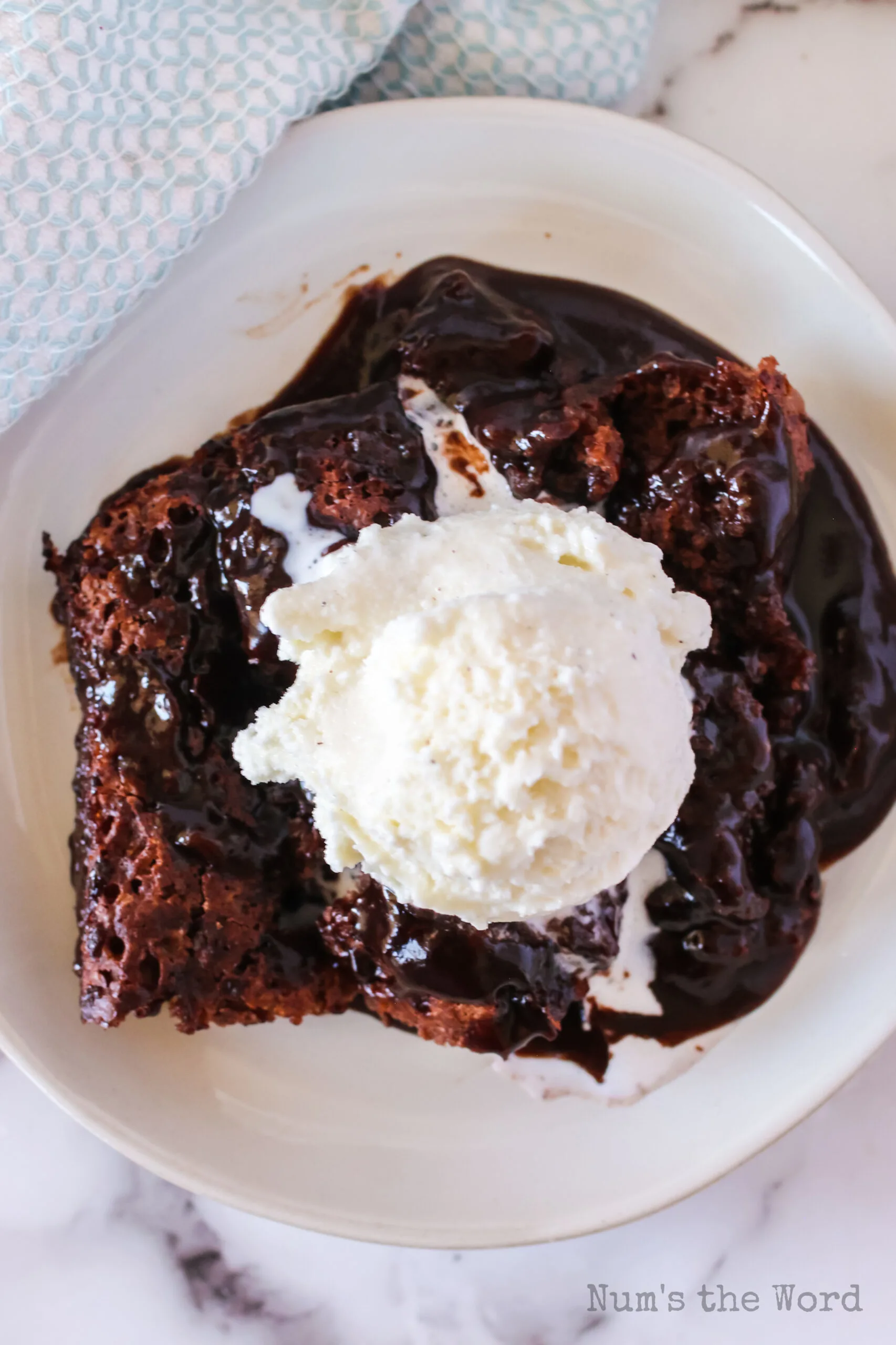 Can You Freeze Chocolate Cobbler?
Chocolate Cobbler freezes and thaws beautifully. To freeze it, wrap the cobbler tightly twice with aluminum foil.
It can then be kept in the freezer for up to 3 months. Thaw in the fridge overnight when you're ready to eat. Then reheat in the oven at 350 until heated through.
Pro Tip: Write the name, reheating directions, and date on the chocolate cobbler to keep it from getting lost in the freezer.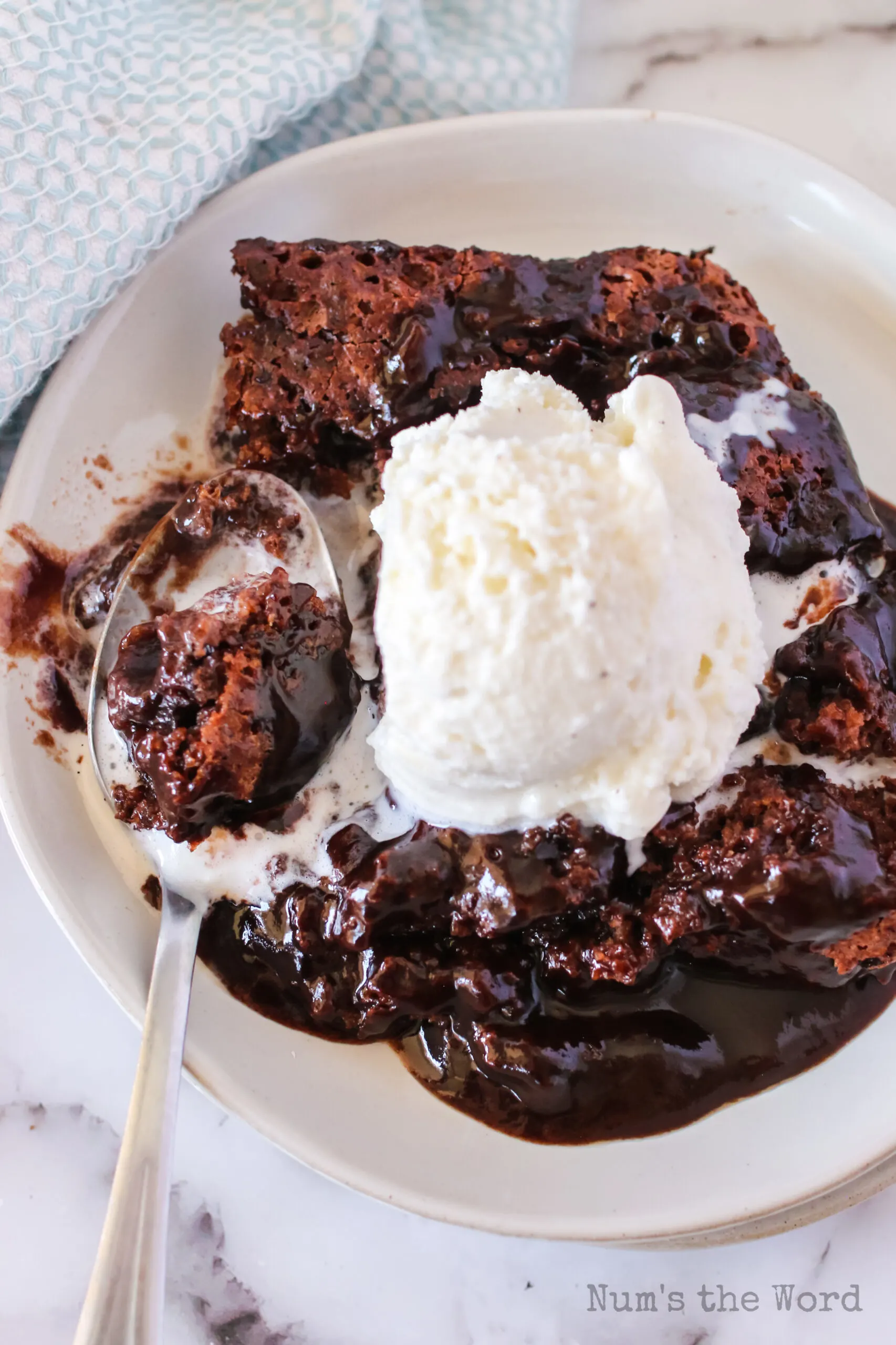 More Chocolate Recipes You'll Love…
Chocolate cobbler or whatever you want to call it is a super easy and delightful dessert. Not just a chocolate cake and not just hot fudge, but the best of both worlds!
Enjoy this chocolate cobbler with your friends and family today. Let me know in the comments what you think!
Yield: 9 Servings
Chocolate Cobbler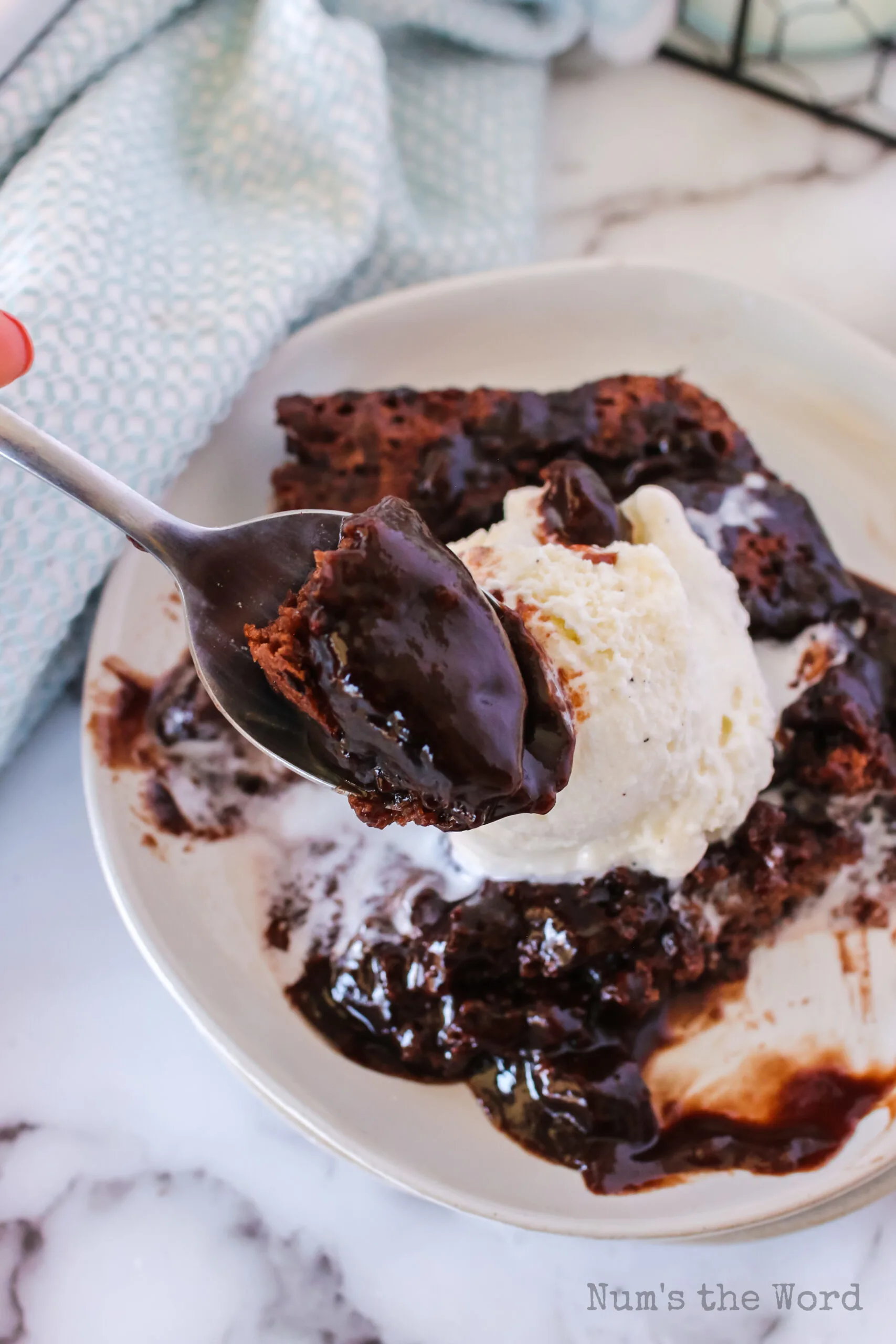 Chocolate Cobbler is a heavenly dish of ooey-gooey goodness. It's a chocolate lover's dream and super easy to make!
Ingredients
1 cup all-purpose flour
3/4 cup white sugar
2 Tablespoons cocoa powder
2 teaspoons baking powder
1/4 teaspoon salt
1/2 cup milk
2 Tablespoons vegetable oil
1 cup light brown sugar
1/4 cup cocoa powder (in addition to the previous amount)
1 3/4 cup hot water
Instructions
Preheat oven to 350*F
In an ungreased 9" casserole dish add flour, sugar, cocoa powder, baking powder and salt. Mix.
Pour milk, and vegetable oil over dry ingredients and mix.
In a small bowl combine 1 cup brown sugar and ¼ cup cocoa powder.
Sprinkle brown sugar mixture over the top of the cake - do not mix.
Pour hot water over the cake - do not mix.
Bake in the oven for 40 minutes.
Once the cake is done, remove from the oven and let it stand 15 minutes before serving.
Serve with vanilla ice cream.
Nutrition Information:
Yield:
9
Serving Size:
1
Amount Per Serving:
Calories:

239
Total Fat:

4g
Saturated Fat:

0g
Trans Fat:

0g
Unsaturated Fat:

3g
Cholesterol:

1mg
Sodium:

73mg
Carbohydrates:

50g
Fiber:

1g
Sugar:

37g
Protein:

3g