This is the BEST Chocolate Cheesecake in the whole world. And I'm not kidding. When you combine the delicious, rich flavor of chocolate with the full flavor of cheesecake, you can't go wrong.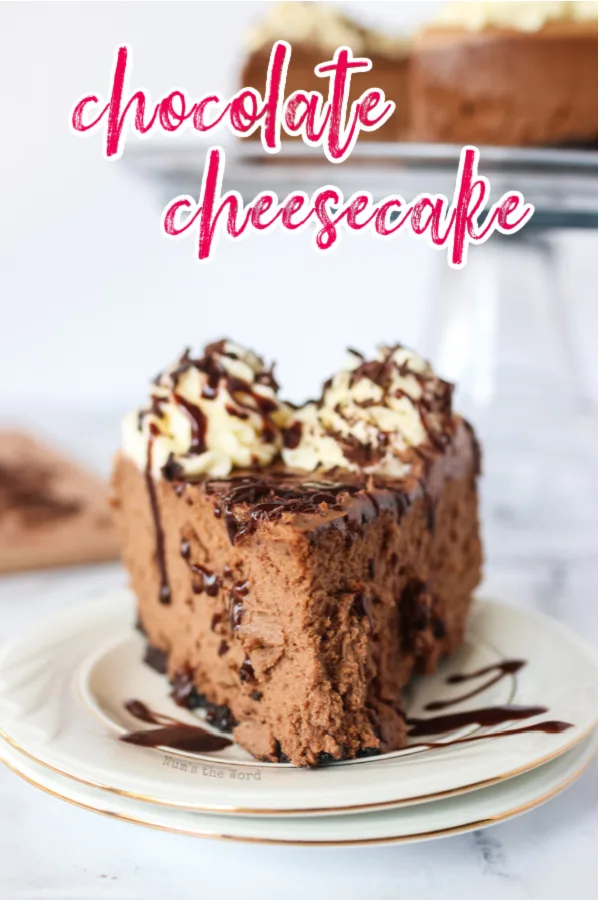 You know those people who don't like cheesecake? And those who don't like chocolate? Well… I'm not one of those people.
I can only guess that they don't like chocolate or cheesecake because they haven't tried this recipe. Because it's like a little burst of chocolate heaven in every bite.
I love that this easy chocolate cheesecake recipe is straightforward. There is no finicky water bath to mess with.
It is way less intimidating if it is your first time making cheesecake. And it's easy! It takes time to cook but it's not too hard to make.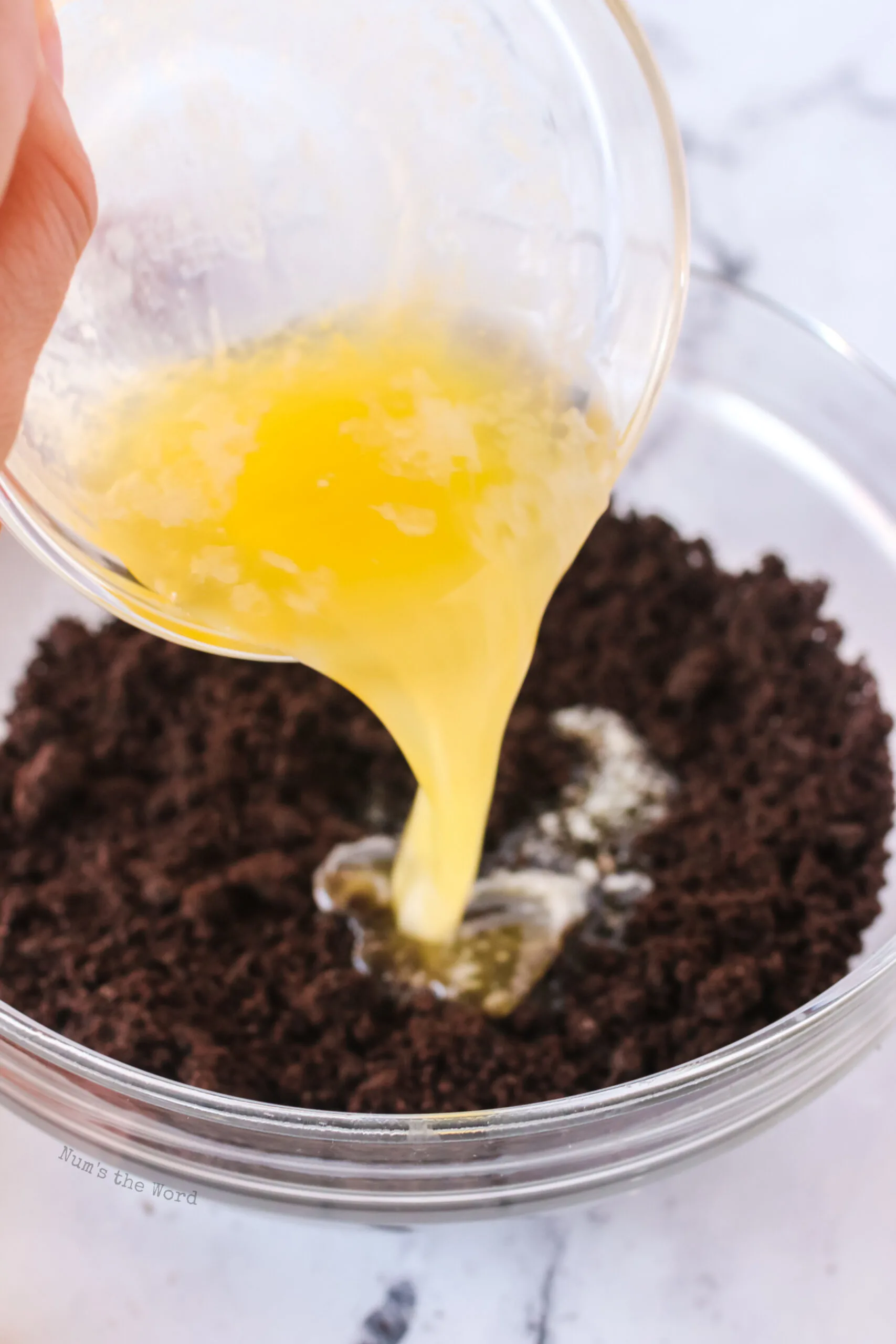 Where Did Cheesecake Originate?
Anthropologists believe cheesecake comes from ancient Greece. It makes sense though, right? When I think of ancient Greece, I think of a lot of half clothed people eating some of the best food they could think of, served to them on a platter. Whoever served them the cheesecake definitely won the best food tray ever award.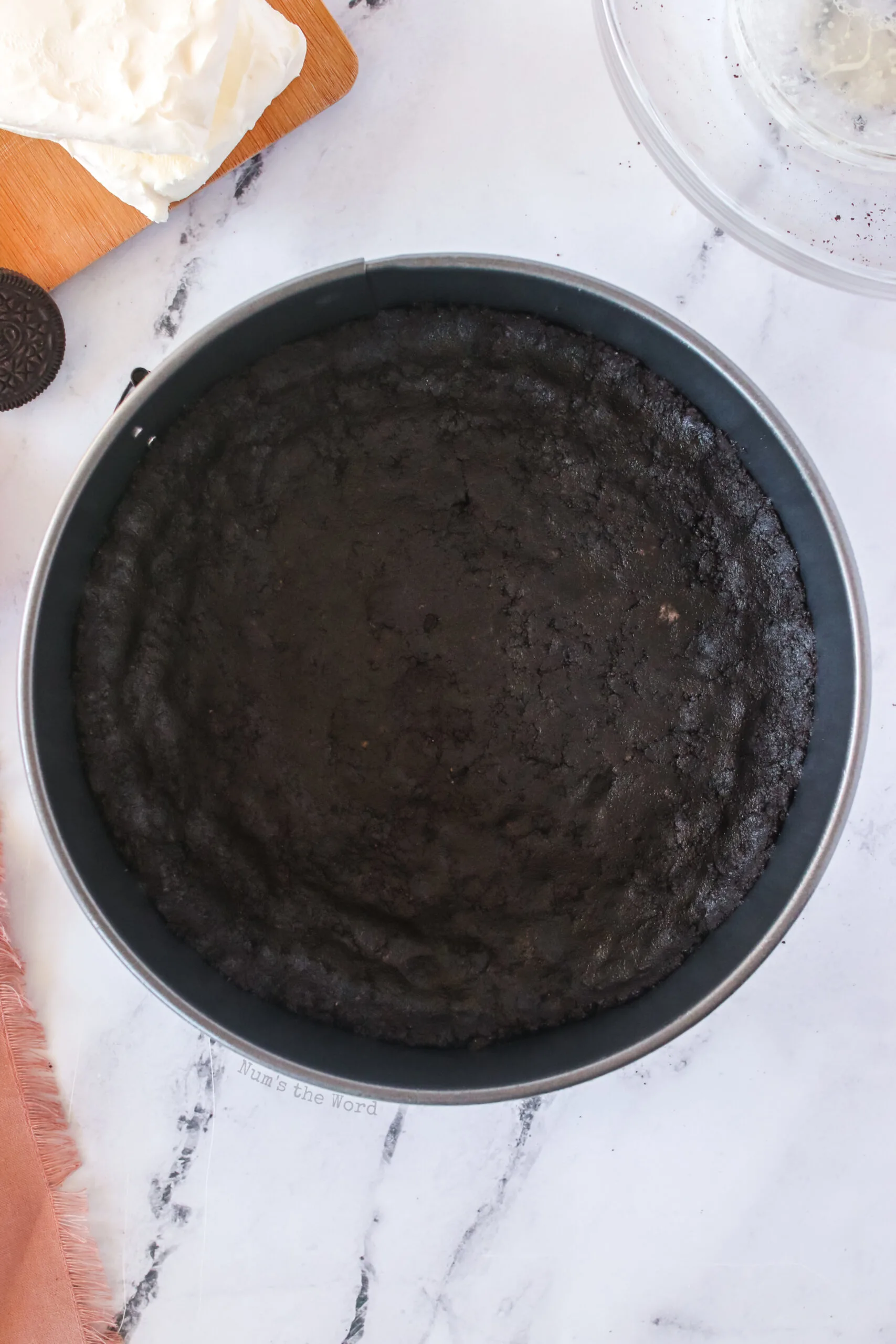 Ingredients Needed For Chocolate Cheesecake
Oreos:

The Oreos need to be crushed but leave the filling in them. I like to use my food processor. Put the Oreos in, pulse a few times, and done!

Butter:

The butter needs to be melted. If you are melting in the microwave be sure to keep an eye on your butter as it heats up very quickly. I recommend heating in 5 second intervals and stirring in between each interval.

Cream Cheese: If you have never made cheesecake, you might be surprised by the amount of cream cheese you need. It is rich, delicious, and the main ingredient in all cheesecakes. You'll need five packs of this!
Eggs: Use whole eggs, they act as your binder.
Egg Yolks:

This chocolate cheesecake recipe also needs egg yolks, separated from the whites. One of the ways I think works well for separating them is to crack the egg over a bowl and run it through your hand. It might be messy but all the egg whites will slip through your fingers and you can put the yolk into a separate bowl.

Sugar: Adds a hint of sweetness to offset the sour from the cream cheese.
Heavy Whipping Cream:

Heavy Whipping Cream is the high fat layer of milk that is skimmed off the top before packaging. In this recipe you cannot substitute for milk. It just wouldn't have the same effect.

Chocolate Chips:

The chocolate! You aren't adding any other chocolate so don't skip the chocolate chips. I use semi-sweet chocolate chips. If you don't have chocolate chips and don't fancy a trip to the store, try this

New York Cheesecake

or

Lemon Cheesecake

instead.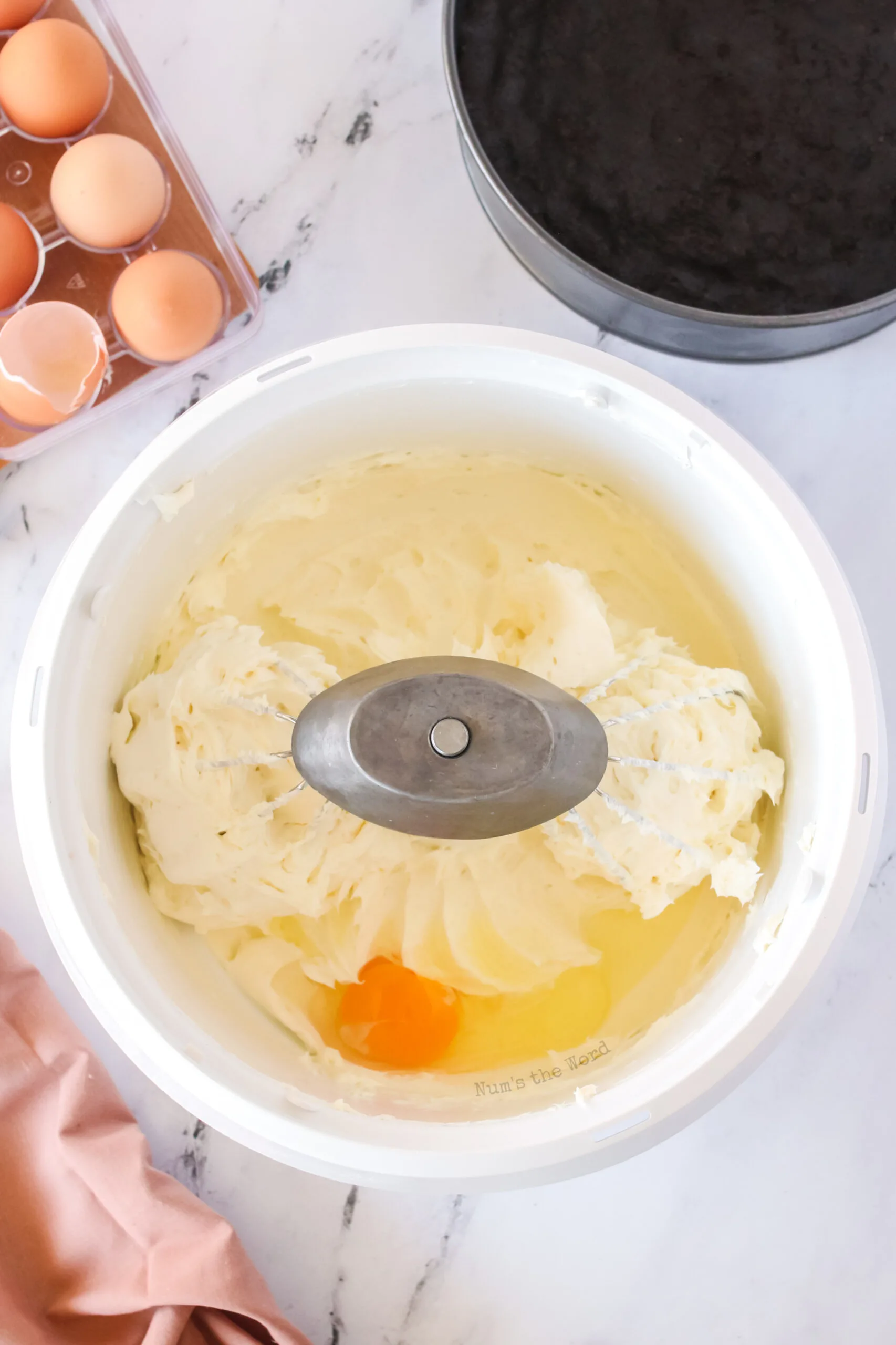 How to Make Chocolate Cheesecake
Crust:

The crust is made of butter and oreos. You can gently push the crust down into the springform pan using your fingers.

Filling: Simply blend each ingredient one at a time to ensure a smooth, non lumpy cheesecake.
Cook:

This step is really a "follow the directions and it will all turn out ok" step. The cheesecake needs to go into the oven when the oven is still COLD. WHAT? Yeah, just go with it. Oh yeah and once the timer goes off, DO NOT OPEN THE DOOR? Wait… WHAT? Yeah. This is what most people think is so finicky about cheesecake. But I promise, "follow the directions and it will all turn out ok."

Eat:

Chocolate cheesecake will probably not be eaten the same day as you make it. I wouldn't even try it. If you want cheesecake, plan on making it the day before you need it. This actually makes it perfect for parties because it's one less thing to worry about on the day of. The wait is worth every single bite.
Pro Tip: Drizzle with some chocolate syrup and pipe with swirls of whipped cream just before serving. The effect is mouthwatering.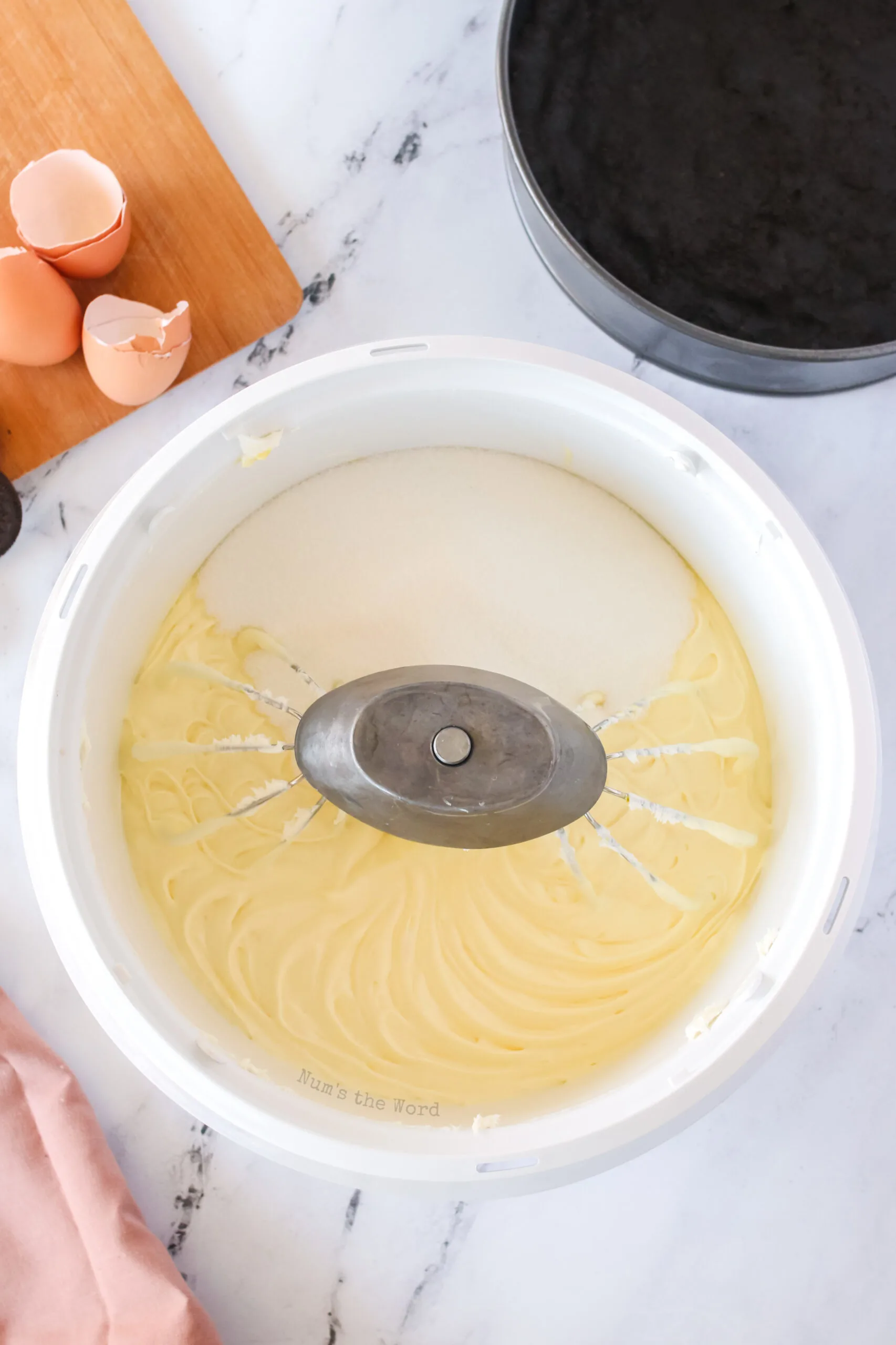 How To Tell If A Chocolate Cheesecake Is Done?
Here's how- you can't. Don't open the oven. Don't stick a toothpick in it. You'll ruin it.
The only way to make sure the cheesecake is done is to follow the recipe. If you follow the recipe, exactly as it is written, your cheesecake will turn out perfect every time.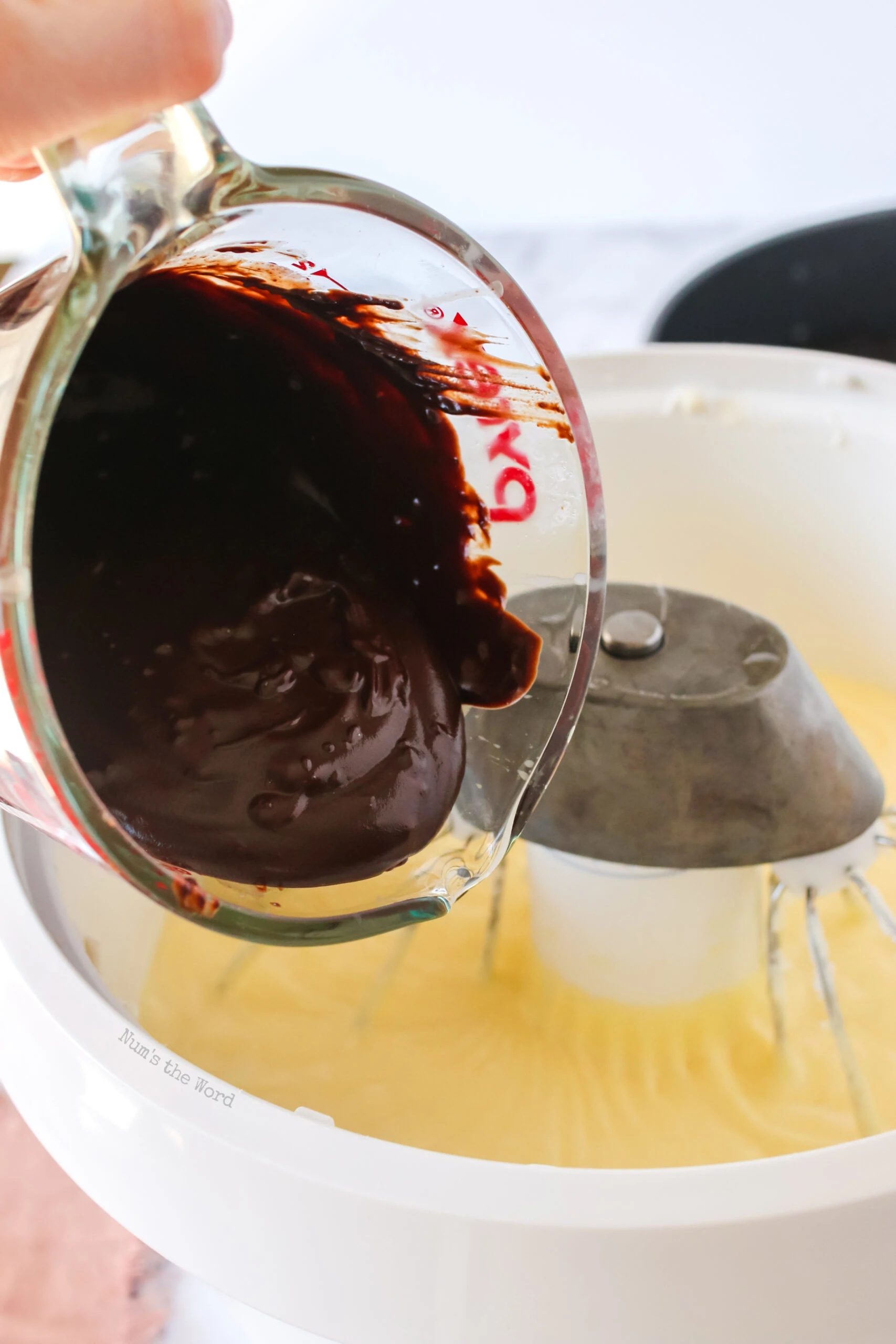 Is Chocolate Cheesecake Gluten Free?
Yes- except for the crust. An easy fix is to use gluten free Oreos, which are totally a thing by the way. Yay for easy fixes!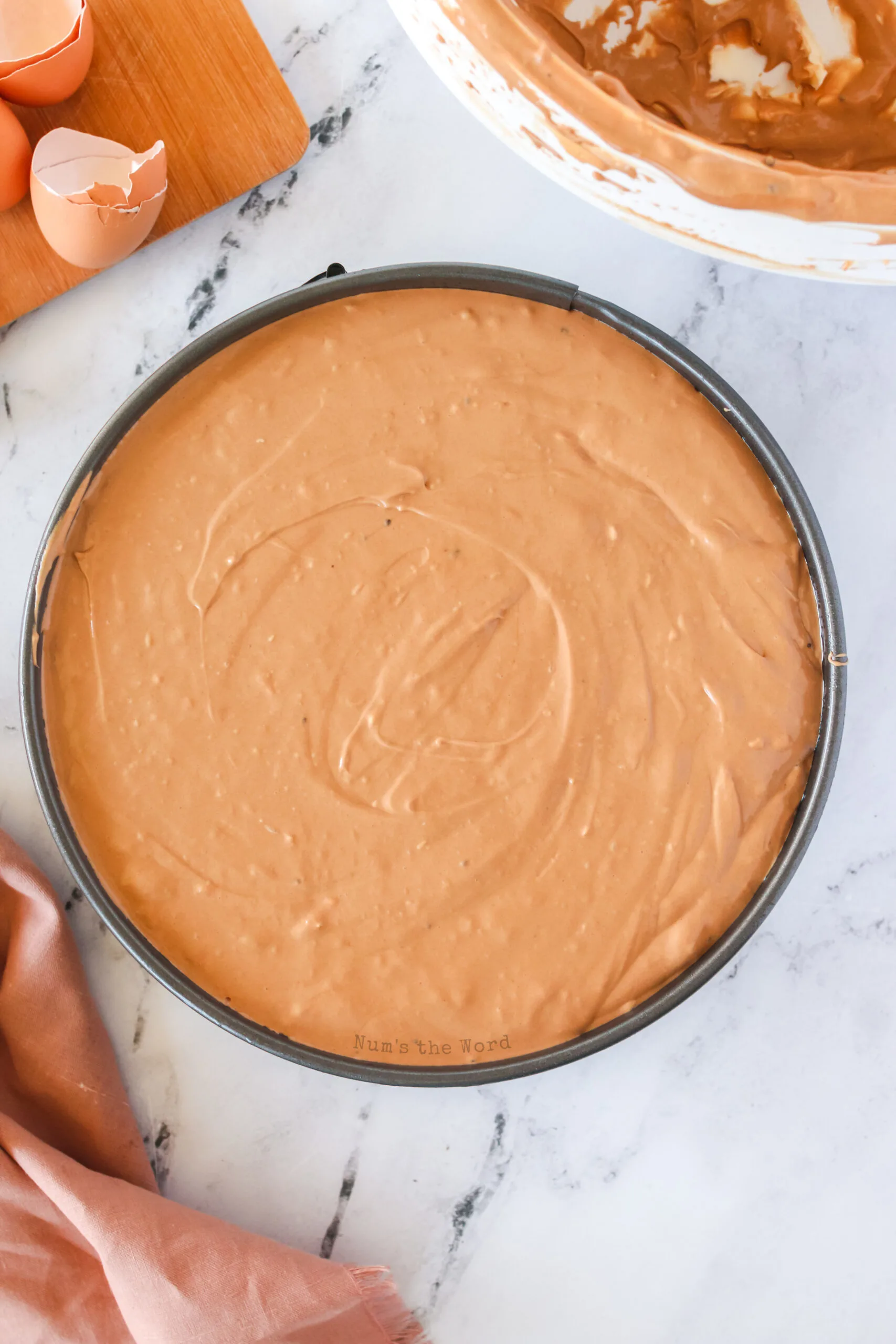 How Long Does Chocolate Cheesecake Last in The Fridge?
If you keep the cheesecake covered, it should last for up to a week in the fridge. Although- my kids have made it impossible for me to ever actually hit the week mark. I get it though. This chocolate cheesecake is very tasty.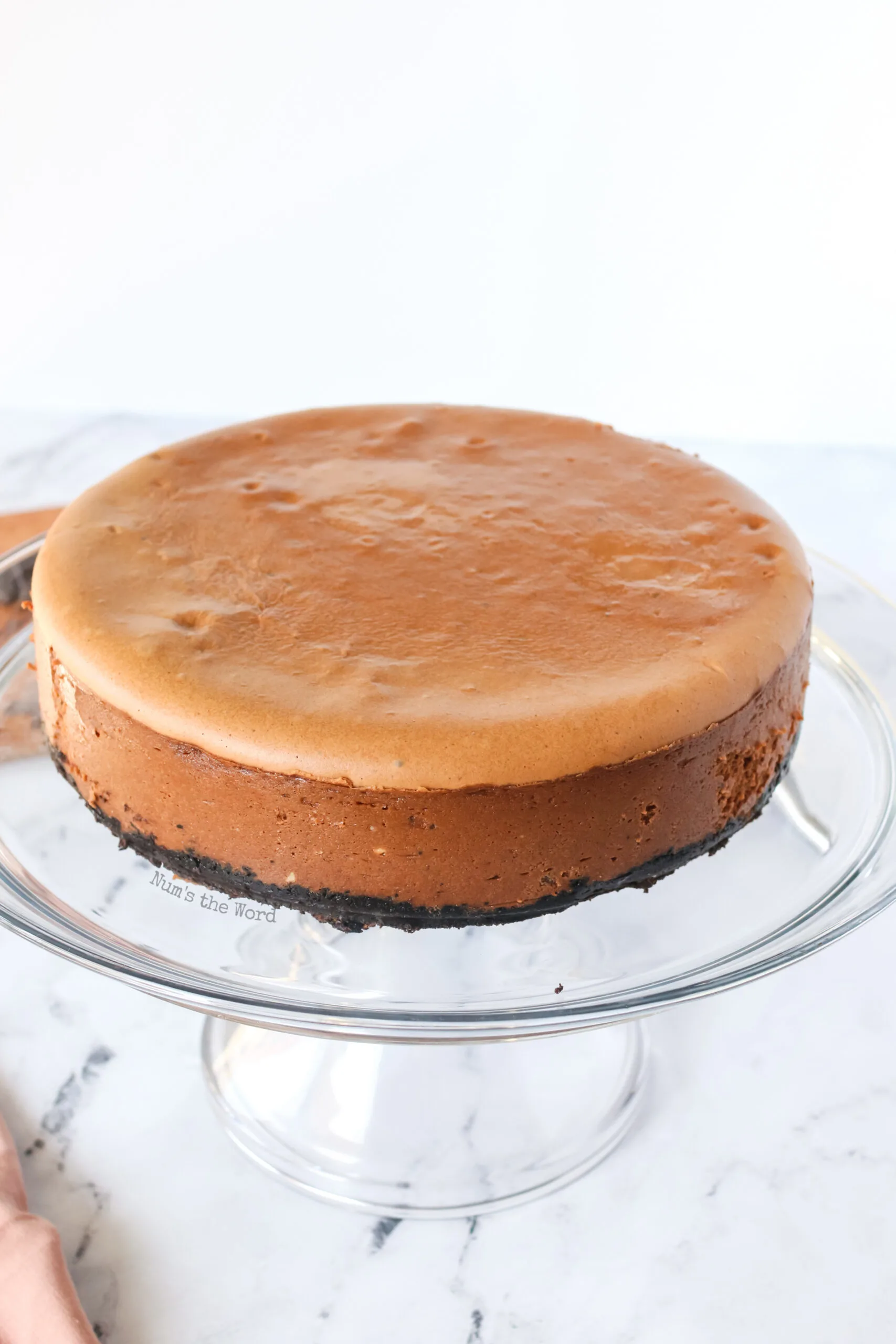 Can You Freeze Chocolate Cheesecake?
You can! Let the cheesecake cool completely in the fridge for 8-24 hours. Once it is cool, wrap it up tightly, keep it in a freezer friendly container, and keep for up to 3 months.
Once you are ready to eat, thaw in the fridge overnight, or just eat it frozen. Frozen cheesecake is like a sweet, secret treat that more people should be eating. Seriously. Try it.
Plus it's easier to keep away from your kids if it's in the freezer. Unless you have a bottom freezer. How everyone with a bottom freezer hides their treats I'll never know.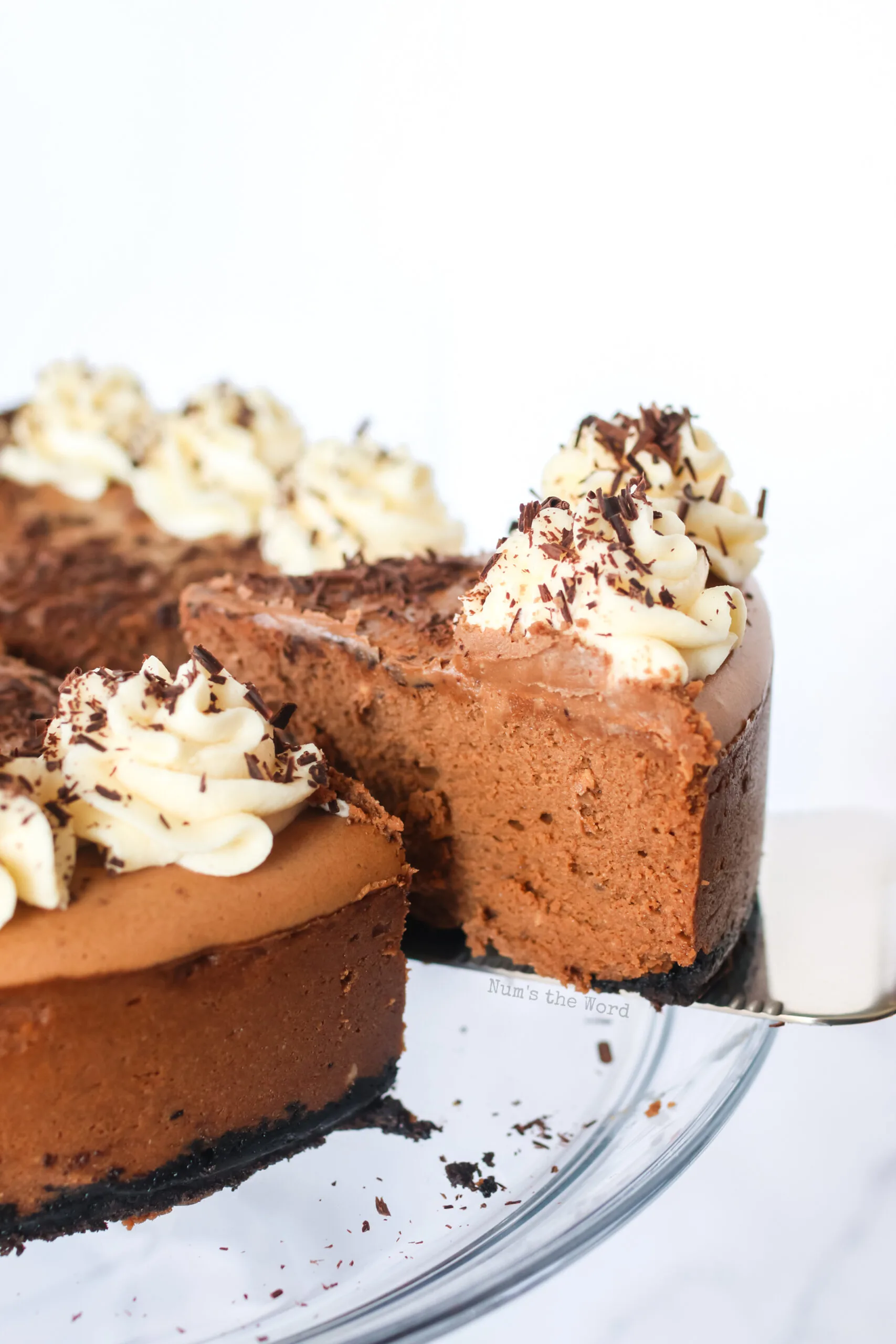 This rich, sweet, enjoyable chocolate cheesecake is absolutely one you are going to love. Let me know what you think!
Yield: 10 Servings
Chocolate Cheesecake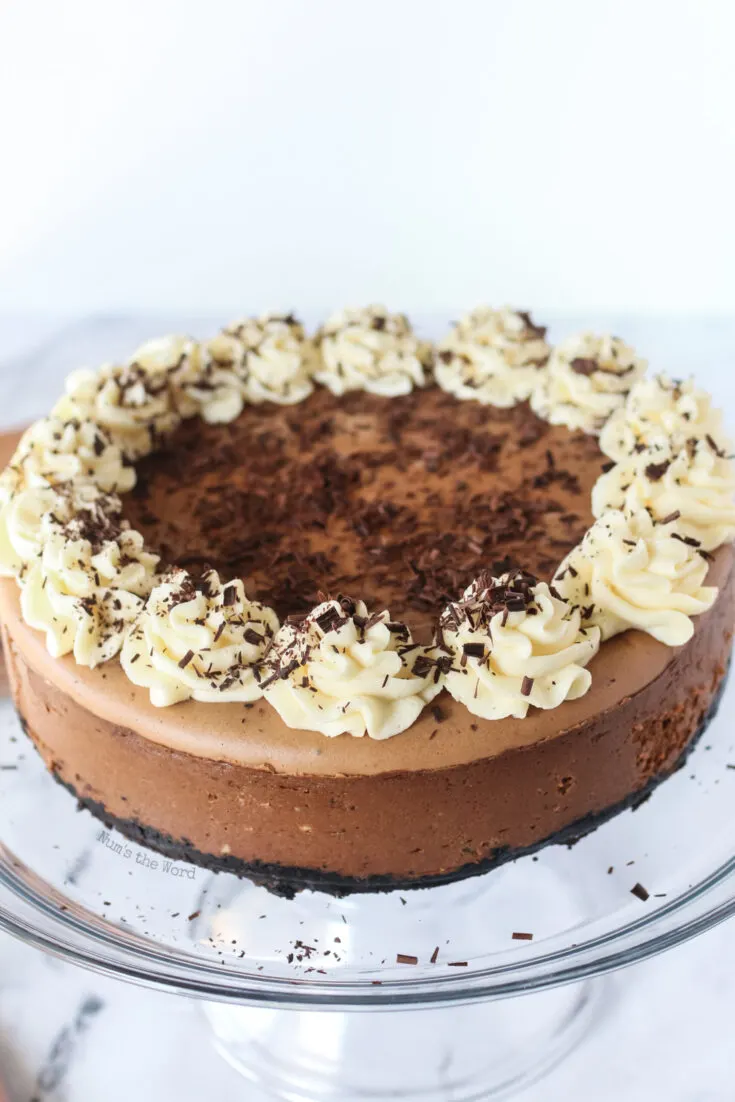 This is the BEST Chocolate Cheesecake in the whole world. And I'm not kidding. Delicious, rich chocolate with cheesecake, you can't go wrong.
Cook Time
3 hours
10 minutes
Total Time
14 hours
40 minutes
Ingredients
24 chocolate Oreo cookies, crushed in food processor. Leave filling inside cookies.
1/4 cup butter, melted
5 (8 ounce) packages cream cheese
5 whole eggs
2 egg yolks
1 1/4 cup white sugar
1/4 cup heavy whipping cream
1 1/2 cup semi sweet chocolate chips, melted
Instructions
In a bowl mix butter and crushed Oreos.
Spread Oreo mixture along the bottom and gently up the sides of a 9" spring form pan. Set aside.
In a large mixing bowl, blend cream cheese until smooth.
Add eggs and egg yolks one at a time, blending well after each addition.
Add sugar, scraping sides as needed.
In a small microwavable bowl add chocolate chips and heavy whipping cream. Melt in the microwave for 30 seconds, mix then 30 more seconds. Continue doing this until chocolate chips have melted.
While the mixer is on, slowly add chocolate to cream cheese mixture, making sure not to curdle the eggs.
Scrape sides, mix again and then pour mixture into cheesecake pan.
Place the pan in the COLD oven.
Turn oven to 200*F and let cook for 3 hours 10 minutes.
Once the timer goes off, turn off the heat for the oven but DO NOT OPEN DOOR. Leave the cheesecake in the oven for an additional 3 hours - overnight. Then gently cover cheesecake with foil (still in pan) and palace in the fridge for 8 - 24 hours.
Once completely chilled, decorate cheesecake with desired toppings. I used whipped cream, chocolate shards and then later chocolate sauce.

Nutrition Information:
Yield:
10
Serving Size:
1
Amount Per Serving:
Calories:

636
Total Fat:

40g
Saturated Fat:

21g
Trans Fat:

0g
Unsaturated Fat:

12g
Cholesterol:

192mg
Sodium:

338mg
Carbohydrates:

68g
Fiber:

2g
Sugar:

54g
Protein:

9g