If you're looking for the best fudge recipe, then this one will not disappoint. Smooth creamy fudge that will melt in your mouth and make you rethink sharing! This fudge recipe is fool proof and delicious! If you love this recipe, then you'll also love my Peppermint Fudge and Walnut Fudge recipes.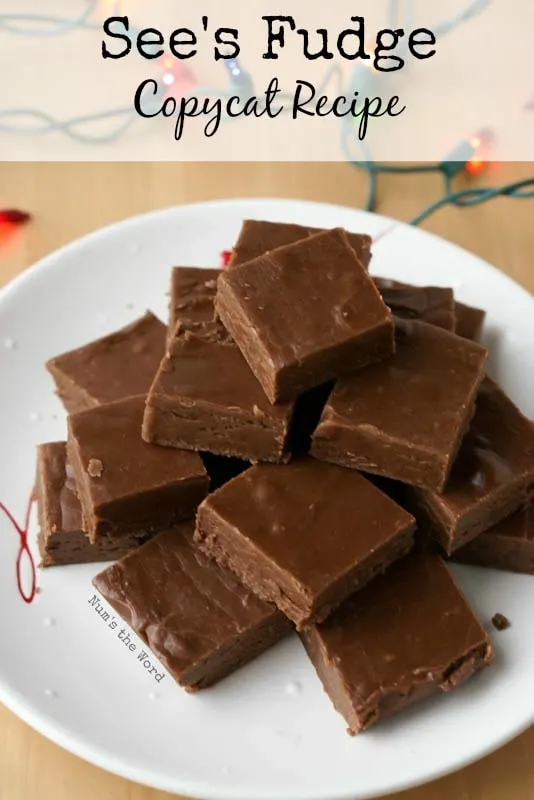 When it comes to dessert, I can't resist chocolate fudge. Personally, I am a sucker for See's Candies fudge. Their fudge, candy and well…everything… is hands down my all time favorite gift! If you've never had it, you're really missing out.
However you may faint at the sticker price. So why buy it when you can make it at home. This recipe is so easy with only 6 ingredients! Trust me, I've tried lots of ways to make it; this is the best fudge and tastes just like See's.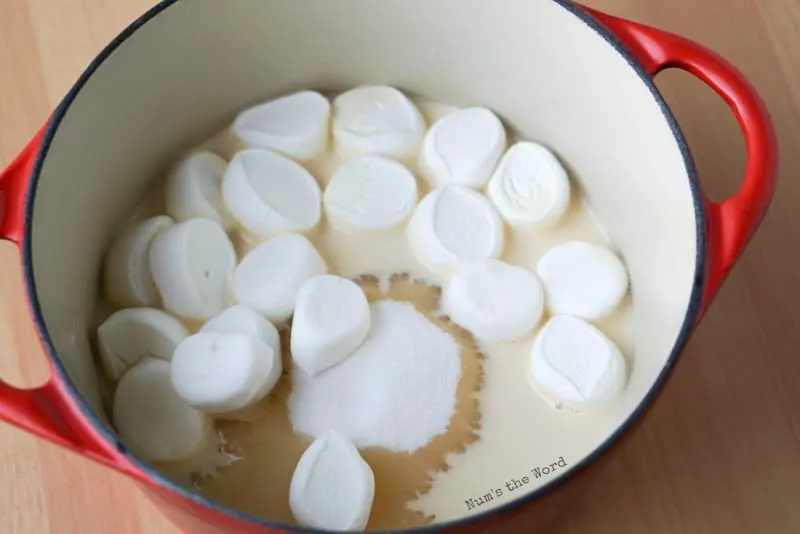 What is Fudge Made of?
Salted Butter

–

I use salted butter for everything. There is so little salt that I personally do not find enough of a taste difference to justify keeping unsalted butter in the house.

Vanilla

– You can use real or imitation. Your guests will never know the difference!

Semi Sweet Chocolate Chips

– The quality of chocolate you use WILL affect your overall flavor and texture of your fudge. So the higher the quality chocolate chips – the better the fudge.

Sugar

– White granulated sugar will sweeten this fudge right up. You'll cook the sugar which will dissolve the crystals giving you a silky smooth fudge!

Evaporated Milk

– Sorry but you cannot substitute this for any other milk. Evaporated milk in the can will give you the best results and flavor.

Marshmallows –

My secret ingredient!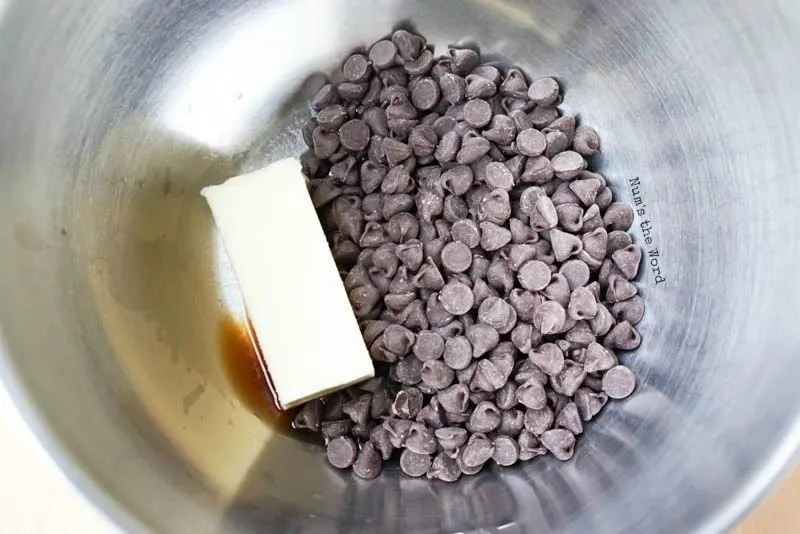 How to Make Fudge:
Line your 8×8 casserole dish with parchment paper or non-stick foil. Trust me on this one. Lining your pan makes it easy to remove your fudge from the pan to cut and you'll get perfect squares each time.

In a medium sized bowl add butter, vanilla and chocolate chips. Set aside.

In a medium sized pot, add your sugar, milk and marshmallows. Cook mixture over medium heat stirring regularly until the marshmallows are melted and mixture reaches 230*F. Make sure to whisk mixture regularly so the sugar doesn't burn on the bottom of the pot.

Once your marshmallow mixture reaches 230*F remove from stove IMMEDIATELY and pour over your chocolate chips. Using a spatula mix this until chocolate chips are melted. Mixture should thicken almost immediately so work quickly.

Once chocolate chips are melted and mixture is creamy, pour into prepared pan. Your fudge will set quickly at this point. However make sure it's 100% at room temperature before cutting as it may not be fully set in the middle.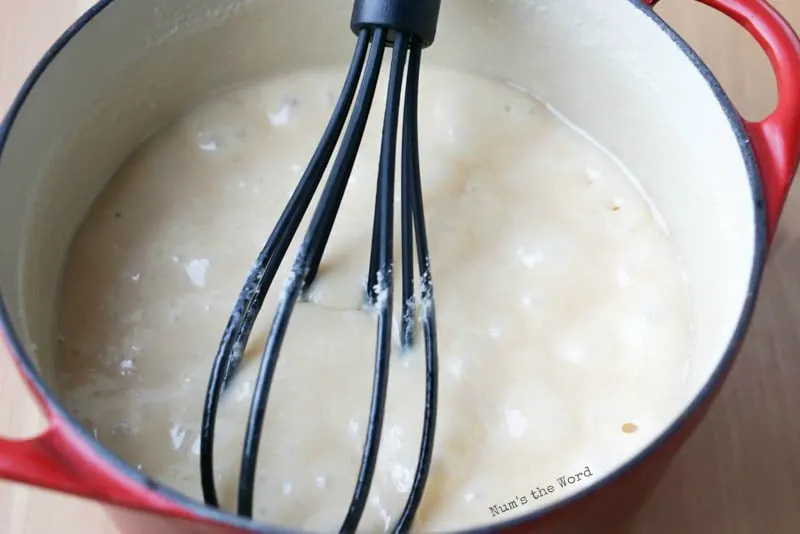 How to Store Fudge:
Once you've made your plate of fudgy deliciousness you may want to try to keep it around. There are two ways you can store your fudge.
Place fudge in an airtight container for easy access later! You can leave the fudge whole or cut into squares. Note that if you choose to cut into squares it does dry out quicker than a large fudge brick does.

Wrap it in foil or plastic wrap. Make sure to use at least two layers to ensure that no air can get into your fudge.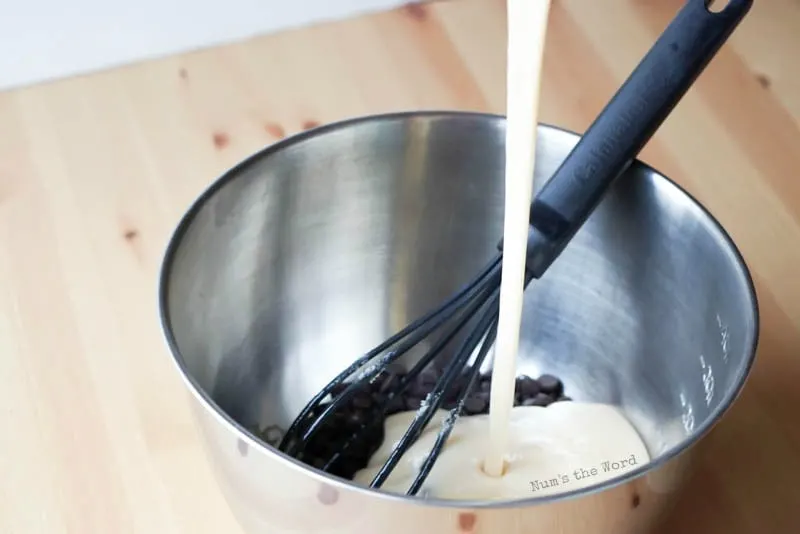 How Long Does Fudge Last?
If stored properly this fudge recipe will last up to 1 week. However if your house is like mine, it will be gone within a day or two!
Can You Freeze Fudge?
To freeze this fudge wrap it tightly in two layers of plastic wrap. Then in a plastic freezer bag with as much air squeezed out as possible, or wrapped in heavy foil.
Fudge will stay good in the freezer for at least a month. I always write on the plastic bag or on the foil with a Sharpie pen what is in it and the date, because no matter how much I think I will definitely remember what's in there, I inevitably forget and the date. By writing the date, it helps me rotate through the various food items that get stuffed in the freezer.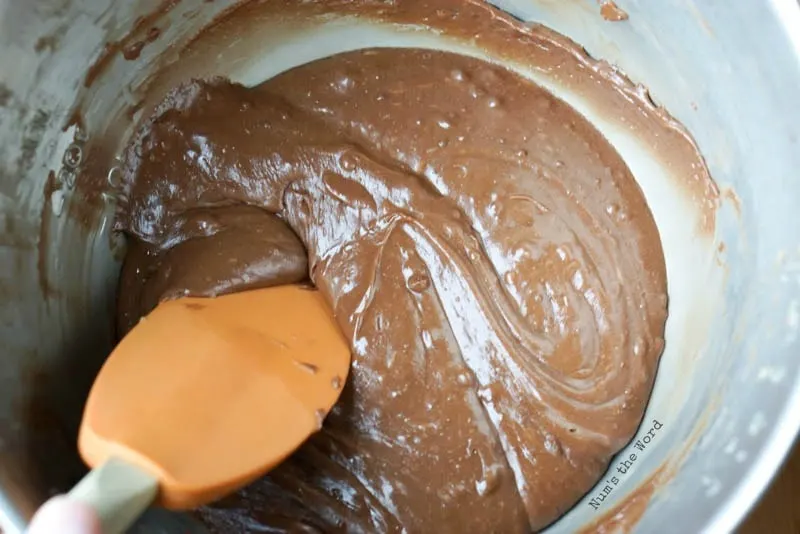 Is Fudge Gluten Free?
Yes. You need to check the ingredients on the marshmallows, but Kraft and Jet-puffed brands (the most common brands found in supermarkets) are gluten-free. The other concern here is the vanilla extract, since the alcohol in the extract is distilled, research indicates that it is safe for those who avoid gluten.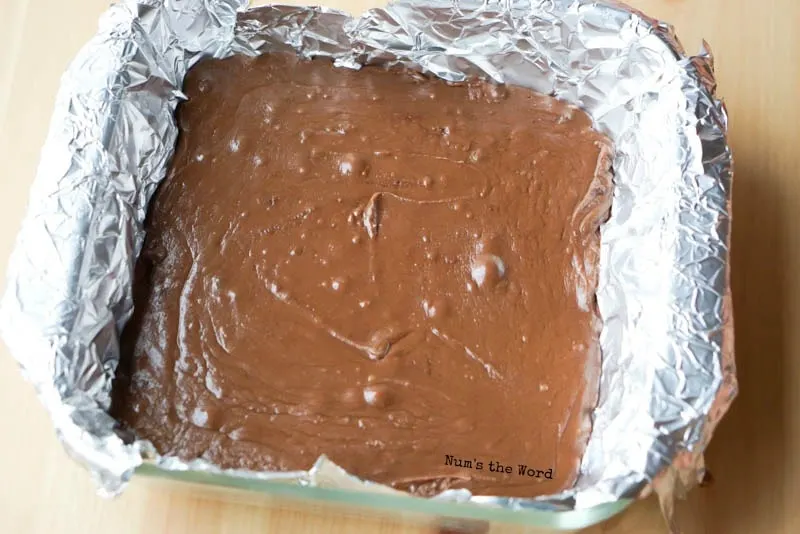 Should I Refrigerate Fudge?
Though some recipes may require you to refrigerate fudge, this sees candy fudge recipe does not. In fact, you'll notice it start to set as soon as you pour it into your pan.

After you've cut it up, you can store it properly in an airtight container on the counter. Storing it in the fridge will make it harder, however it may extend the life of the fudge a few extra days if you chose to refrigerate it.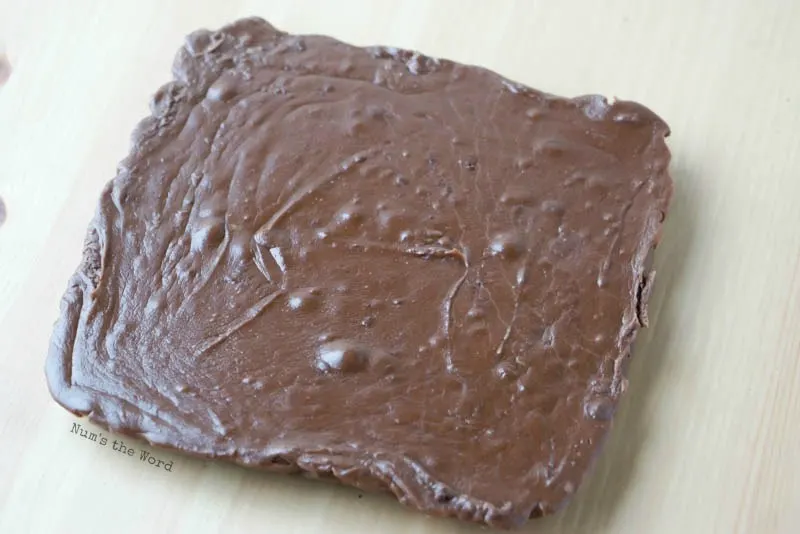 What Causes Fudge Not To Set?
Sometimes fudge doesn't get firm (or doesn't "set" as we say in the baking world). Although it has never happened to me with this recipe, if it does happen it's probably caused by not boiling the sugar/marshmallow mixture properly; this is where that candy thermometer can help.
One thing you need to realize is that boiling at 230*F is really hot. Remember water boils at 212*F so make sure to watch your thermometer and check often.
Pro Tip: Be sure to pour the hot ingredients out of the pot right away as the pot will retain heat and keep cooking the mixture. You want to be sure that the hot marshmallow mixture is poured over the chocolate/butter mix right away so it all melts together nice and gooey.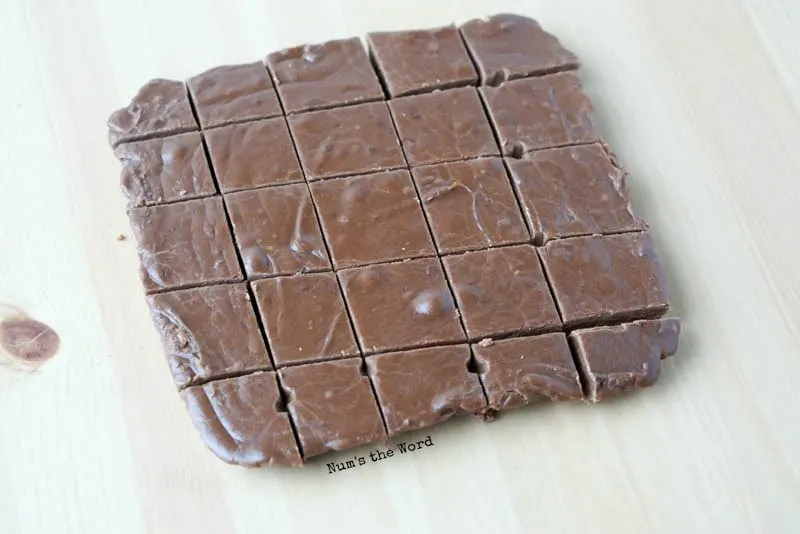 My Fudge Didn't Set – What do I do?
If by some VERY RARE chance your fudge didn't set, don't panic! This just means it's time to get creative. You know that stuff is still going to taste good so why not re-brand or re-purpose it? Here are some ideas.
Use softer fudge for icing between cookies for fudge filled sandwich cookies.

Serve it in big fancy tasting spoons with a spot of whipped cream and call it fudge cream bites.

Fill an ice cube tray full of fudge and stick a spoon in the middle of each cube. Once frozen remove from freezer and use for flavoring and cooling down hot chocolate!

Add it on top of your ice cream or favorite treat!
Re-branding can save the day believe me! So don't fret if a recipe doesn't go exactly as planned – you may end up with something even better!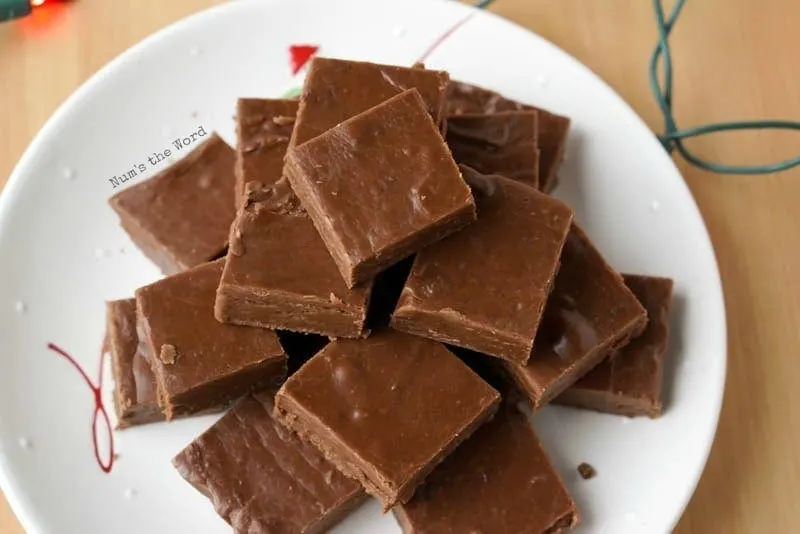 What are the health benefits of chocolate?
While this easy fudge recipe may not be considered a health food, there are some nutritional benefits to be gained from eating chocolate. What better way than to get those benefits than from eating a piece of creamy dreamy fudge?
Dark chocolate contains antioxidants, which experts say help fight cancer and the effects of aging. Studies claim that chocolate stimulates endorphins (feel good chemicals in our brains) and that it also contains serotonin another feel good chemical.
So keep in mind that you don't want to overdo it, but you can feel a little better knowing there are some good things about eating fudge. Well, besides being just downright scrumptious.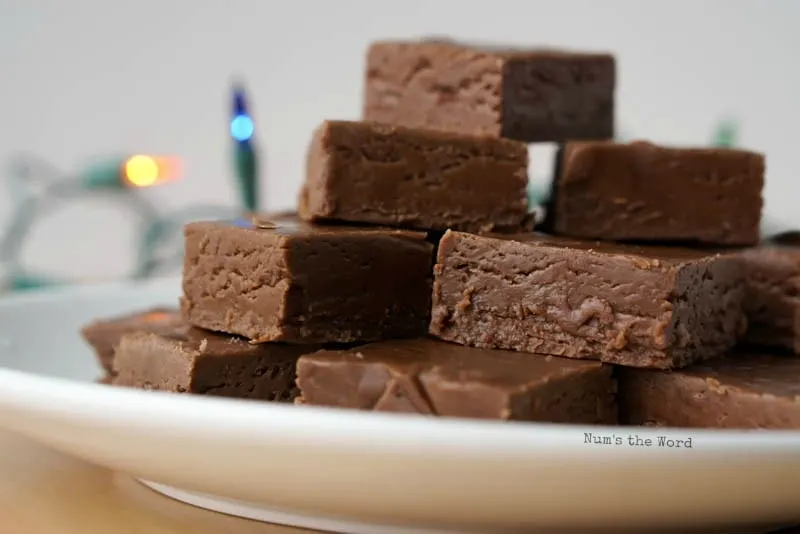 More Christmas Treats You'll Love:
Recipes Perfect for

Christmas

Dinner

:
If you love Sees Candies as much as I do, then this copycat recipe is the one for you! With only 6 ingredients, and 30 minutes of your day, you'll have an entire pan of this creamy marshmallow fudge recipe!
Yield: 16 pieces
See's Fudge, A Copycat Recipe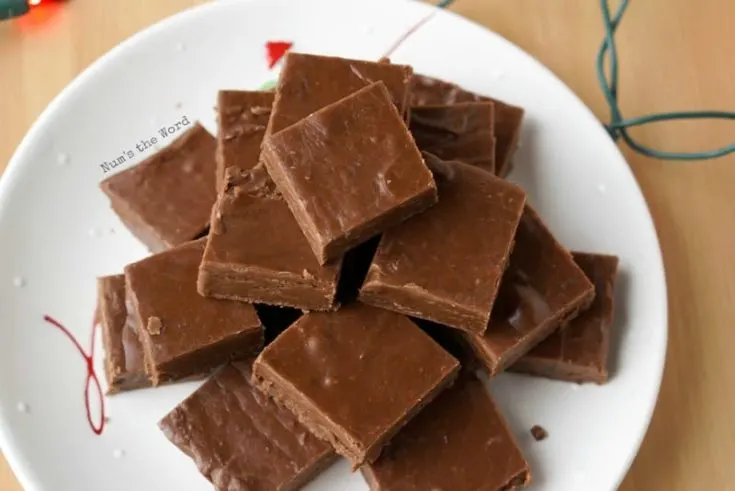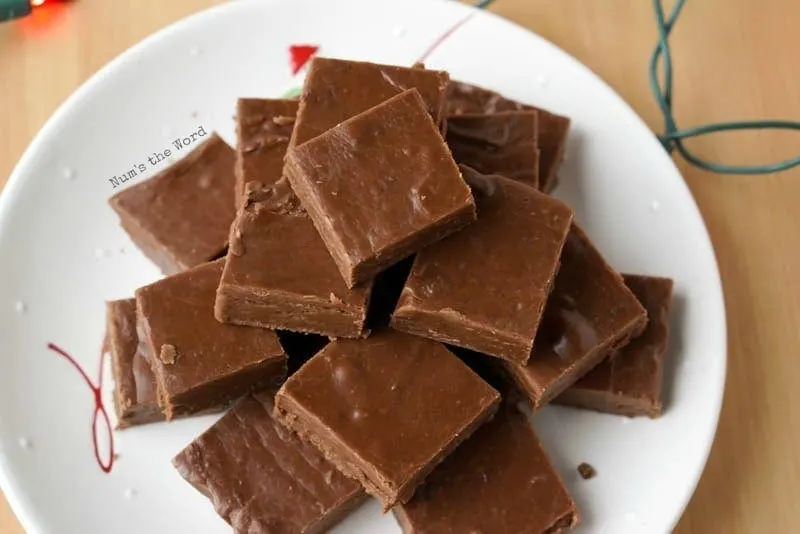 If you're looking for the best fudge recipe, then try this easy fudge recipe made with marshmallows, chocolate chips and evaporated milk. A true copy cat recipe, this fudge recipe tastes just like See's Candies!
Ingredients
6 Tablespoons salted butter
1 teaspoon vanilla extract
1 cup leveled semi sweet chocolate chips
2 cups sugar
1 (5 ounce) can (or 2/3 cup) evaporated milk
10 large (not giant, just normal large) marshmallows cut in half.
Instructions
Line a 8x8 baking dish with parchment paper or non stick foil, making sure to cover edges. Set aside.
In a large bowl add butter, vanilla and chocolate chips, set aside.
Put sugar, milk and marshmallows in a heavy 6 quart sauce pan.
Over medium heat, bring mixture to a rapid boil and boil until mixture reaches 235*F (approximately 5 minutes) whisking continuously.
Immediately pour hot mixture over chocolate chips & butter.
Using a spatula, mix together until butter and chocolate is melted and mixture is well blended.
Pour fudge into prepared dish.
Allow fudge to set for 1 hour or until it is hard and no longer soft. This will depend on where you live. You can place it in the fridge to speed up the process.
Remove from pan and slice up.
Store extras in an air tight container.
Nutrition Information:
Yield:
20
Serving Size:
1
Amount Per Serving:
Calories:

157
Total Fat:

6g
Saturated Fat:

4g
Trans Fat:

0g
Unsaturated Fat:

2g
Cholesterol:

10mg
Sodium:

35mg
Carbohydrates:

26g
Fiber:

1g
Sugar:

25g
Protein:

1g
Originally posted December 8, 2016
Photos & Text Updated: November 22, 2019