Hello Rainbow Jello! An easy dessert or side dish that you can take to parties, gatherings, and is perfect for the holidays!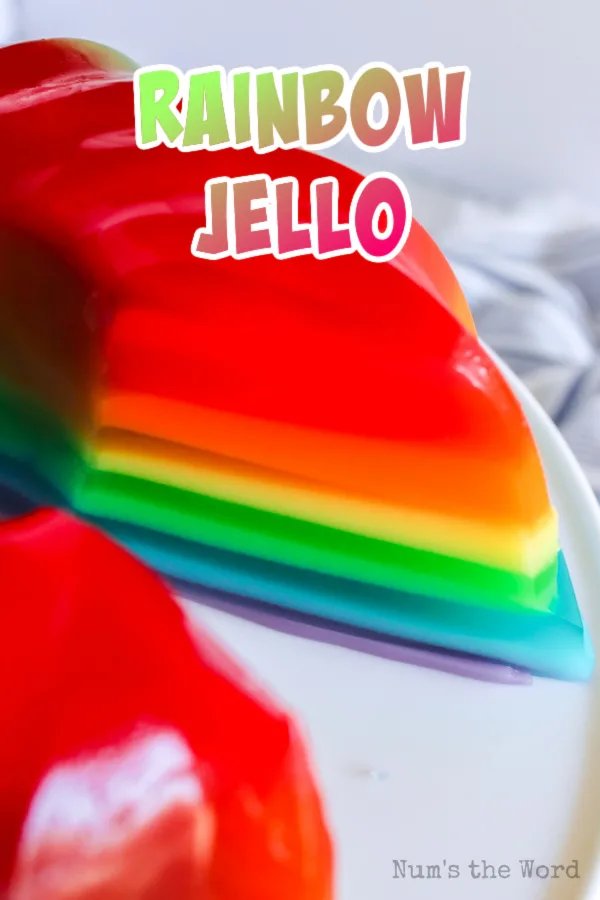 Rainbow Jello is all the rage over here! And why not? It's beautiful, delicious, and one of the most fun foods we've ever made!
So here's the scoop. This rainbow Jello recipe is easy. But… It is time consuming!
Don't let the time fool you though. It isn't complicated. I've got your back on this one.
I love taking rainbow layered Jello along to school parties and birthday parties because it's always a hit! And it doesn't require any forks or knives! Finger food Jello is actually a thing. And it's awesome.
With only a couple ingredients you'll really have a show stopping Jello dish!
What Ingredients are in Rainbow Jello?
Jello:

Grab all the colors of the rainbow- red, orange, yellow, green, blue, and purple.

Yogurt:

This is what makes those creamy layers in between each solid color.

Water:

The water needs to be boiling hot when added to the Jello.
Pro Tip:
Use a tea pot or electric kettle to boil the water and pouring will be a cinch.

You can skip a color in the rainbow but you might have a mutiny on your hands.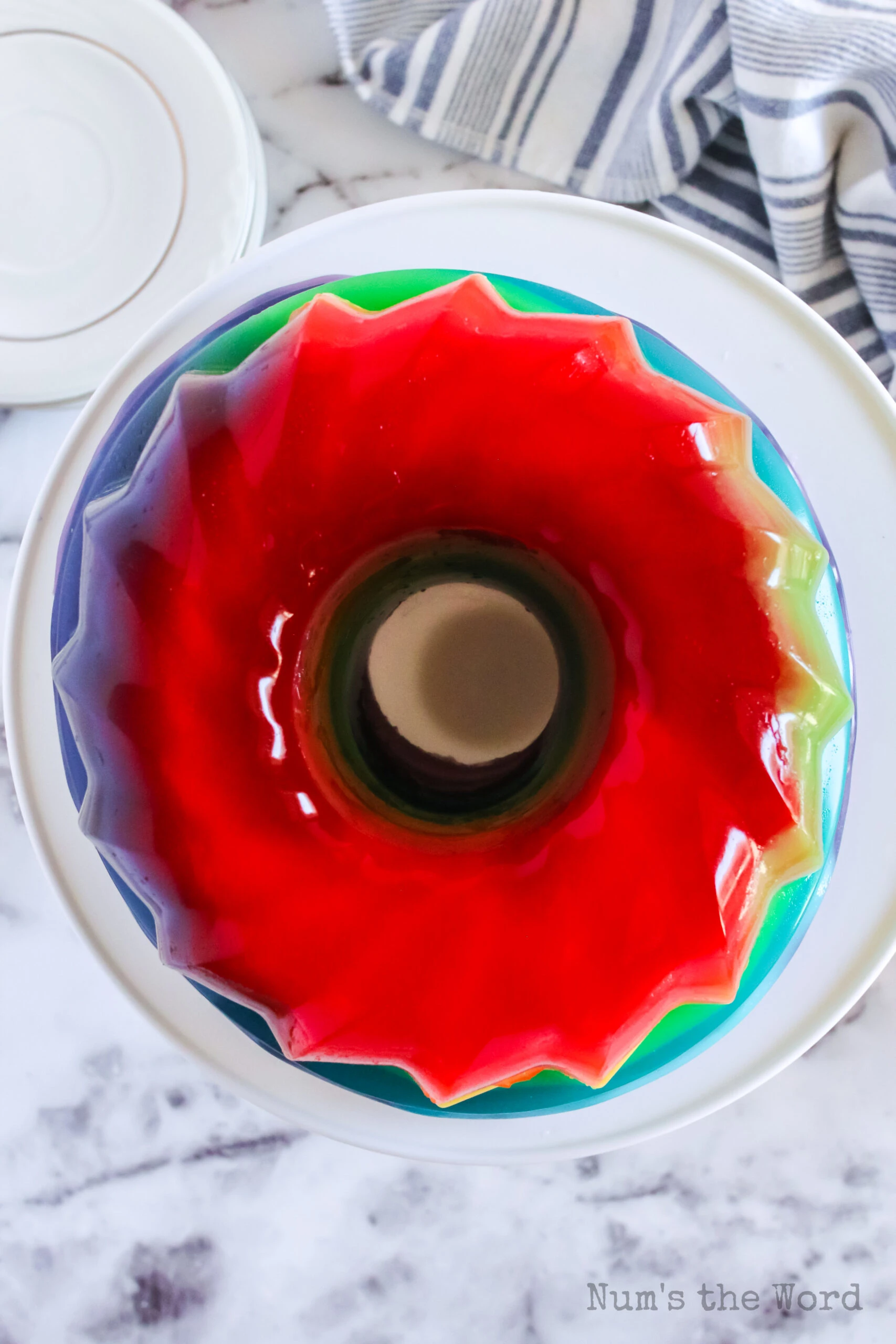 How to Make Rainbow Jello
Making rainbow Jello is simple but requires a lot of time! Here's the steps:
Mix:

Each color of Jello will need to be mixed with boiling water at seperate times in order to set up.

Chill:

Then you'll need to allow the Jello time to set up in the mold.

Mix:

Mixing some of the same Jello color with yogurt will give you a creamy in between layer.

Chill:

The yogurt layers will also need to be chilled before adding any additional layers.

Repeat:

Keep going, following the steps above until you have a complete rainbow!
Pro Tips:
Don't try and make this the same day you need it or you'll be pressed for time. Make it the day before and serve the next day.

The order is important! Red, Orange, Yellow, Green, Blue, and Purple. That's the order of the rainbow. And my children will not touch it if it's in the wrong order. And as we all know, kids rule.

Chill overnight after the final layer to allow everything to set completely.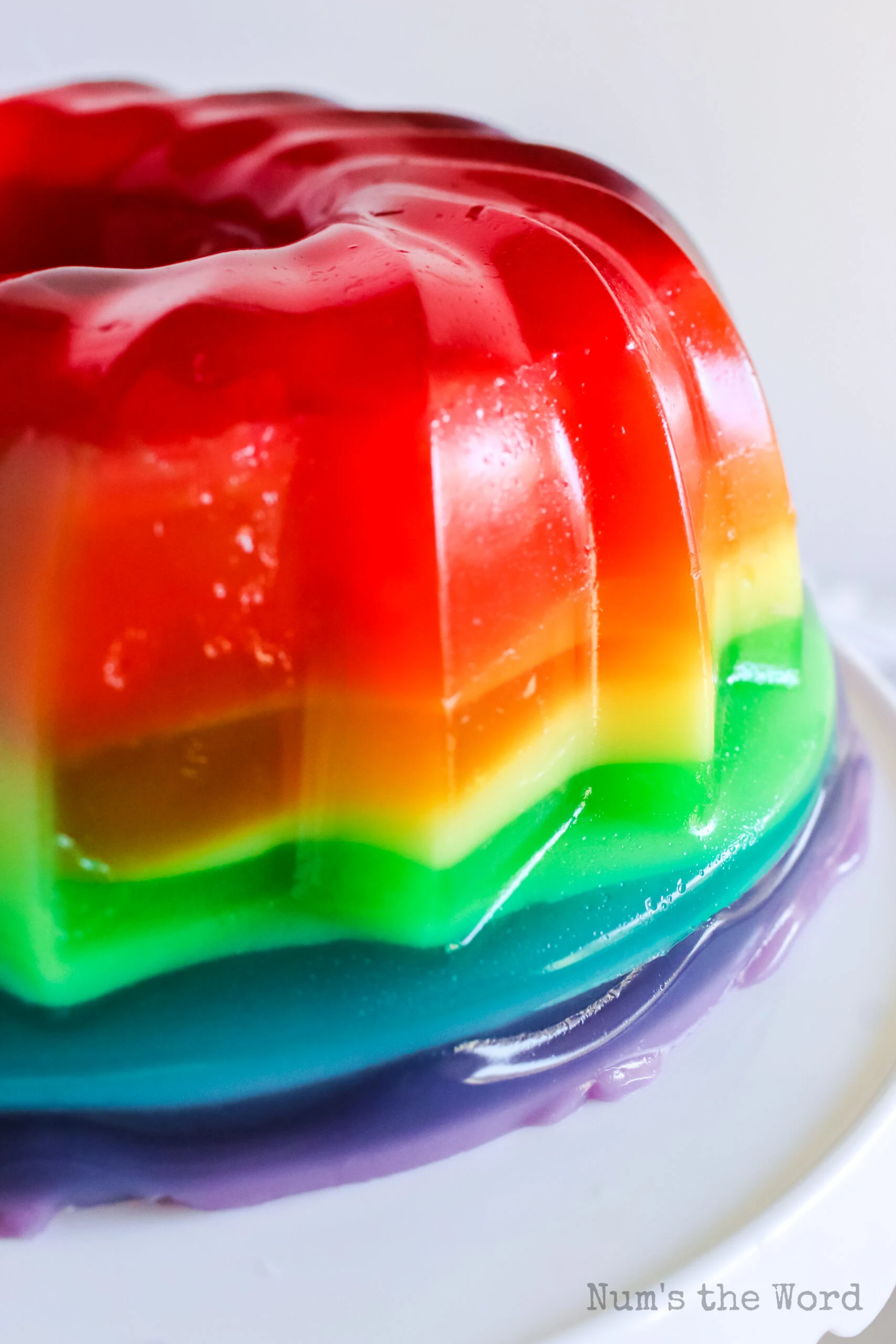 Is Rainbow Jello a Side or Dessert?
We've served rainbow Jello as both a side dish and dessert!
For holidays, we tend to serve it as a side as we typically have other desserts planned.
For parties we often serve it as a dessert. Rainbow birthday parties made easy!
At potlucks it's been put on the dessert table sometimes and on the side dish table other times.
There is nothing standing in your way, serve rainbow Jello however you want!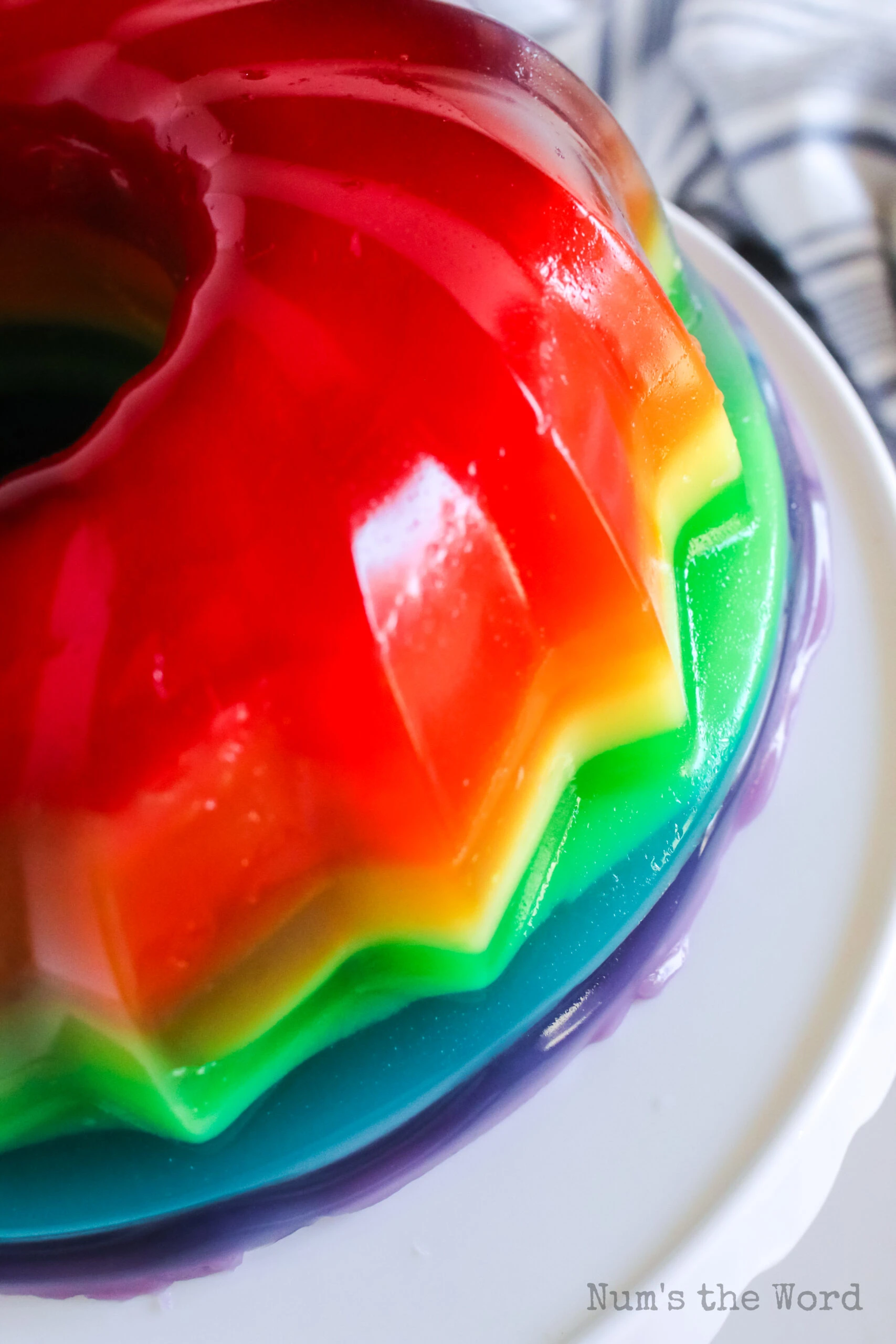 How to Store Rainbow Jello?
Once you're done with all the layers of rainbow Jello, place the lid on your Jello mold and store in the fridge overnight.
Or if you didn't use a Jello mold, simply wrap your pan with plastic wrap and wait for morning.
Any leftover rainbow Jello can also be wrapped in plastic wrap and stored in the fridge.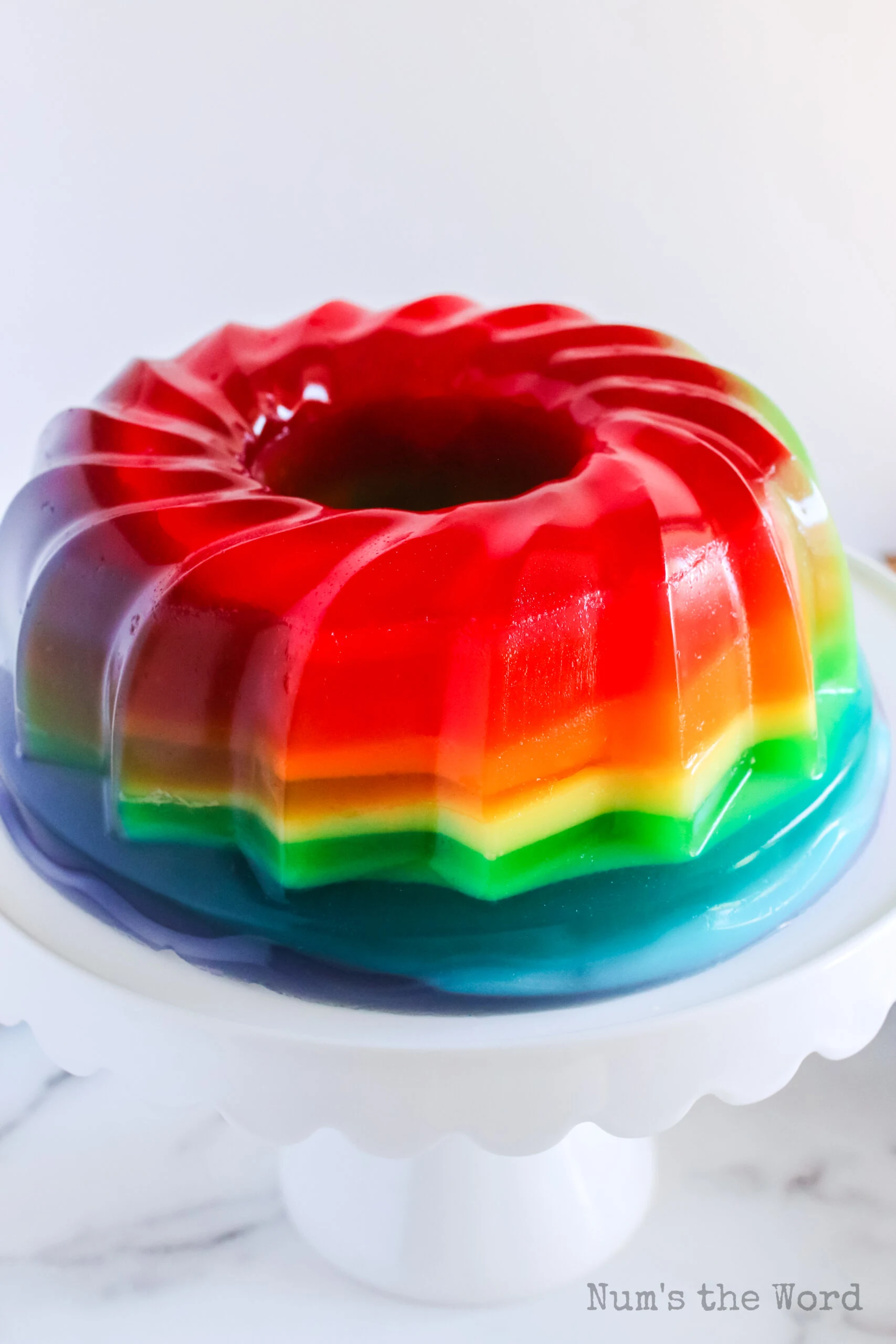 How Long Does Rainbow Jello Last?
Jello can actually stay good in the fridge for up to 7 – 10 days after making it! That's a much longer shelf life than most other prepared foods!
However, the texture and taste will begin to decrease after that first 24 hours. I recommend eating it within the first 7 days for the best texture and flavor.
How Do You Get the Lighter Layer in Rainbow Jello?
That layer is created by mixing the Jello layer you just completed with a bit of yogurt.
This makes it so the layer is not completely white but instead creates a real rainbow effect.
Each layer is slightly lighter than the layer below it.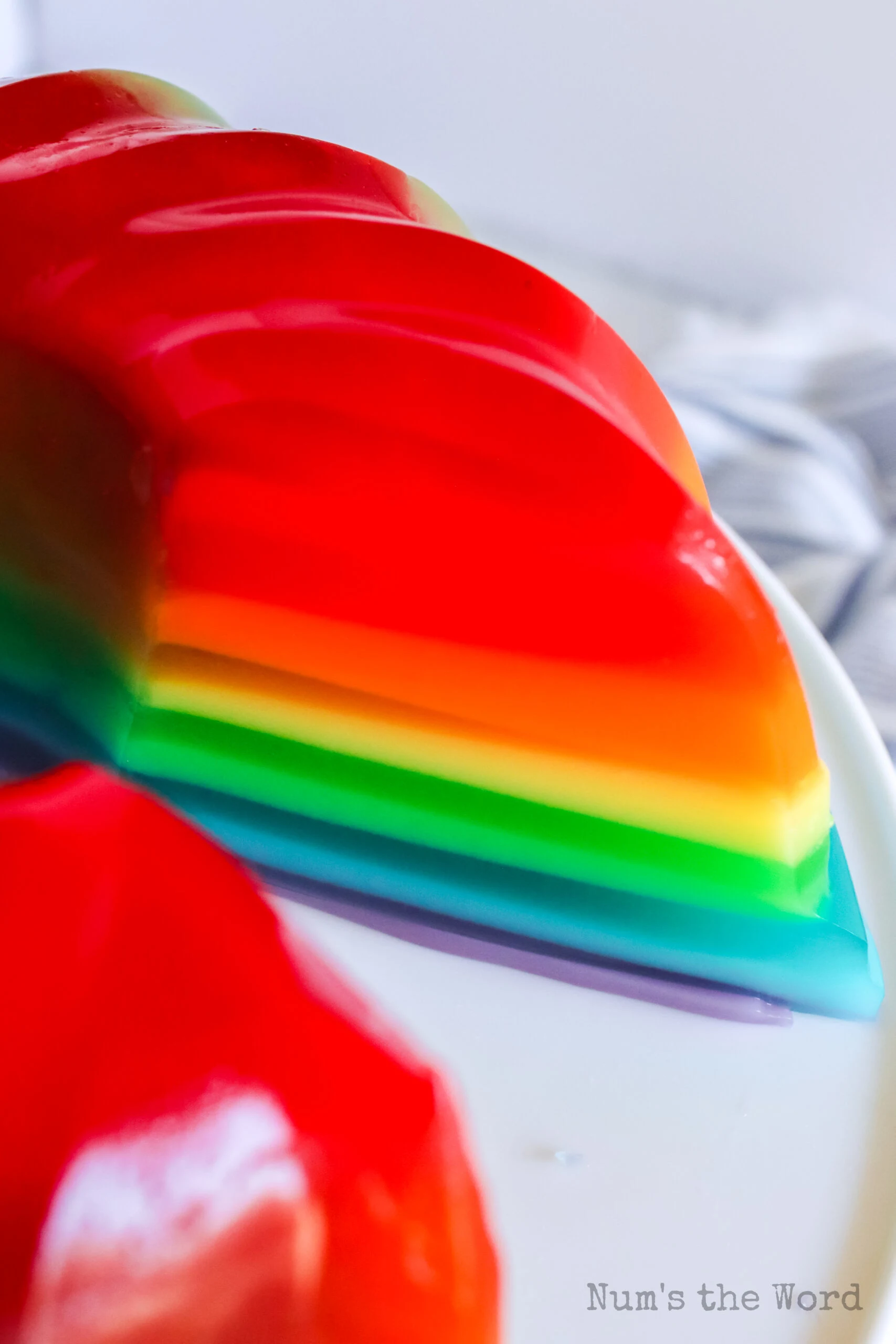 How to Make Variations of Rainbow Jello
Rainbow Jello is the perfect holiday food! With so many variations, it's perfect for everything!
Valentine's day:

Think pink and red! Cherry, raspberry, watermelon, and strawberry flavors will all achieve this look.

St. Patrick's Day:

You can use layers of green and white, though really I like just sticking with the rainbow. It's already perfect!

Fourth of July:

Alternate the layers of red, blue, and creamy white layers.

Halloween:

Purple, orange and black! To get the black layers just add food coloring!

Christmas:

Red and green are easy to layer to get that iconic Christmas look!
Pro Tip: Always chill on a flat surface! If you put the dish in sideways, the Jello won't turn out!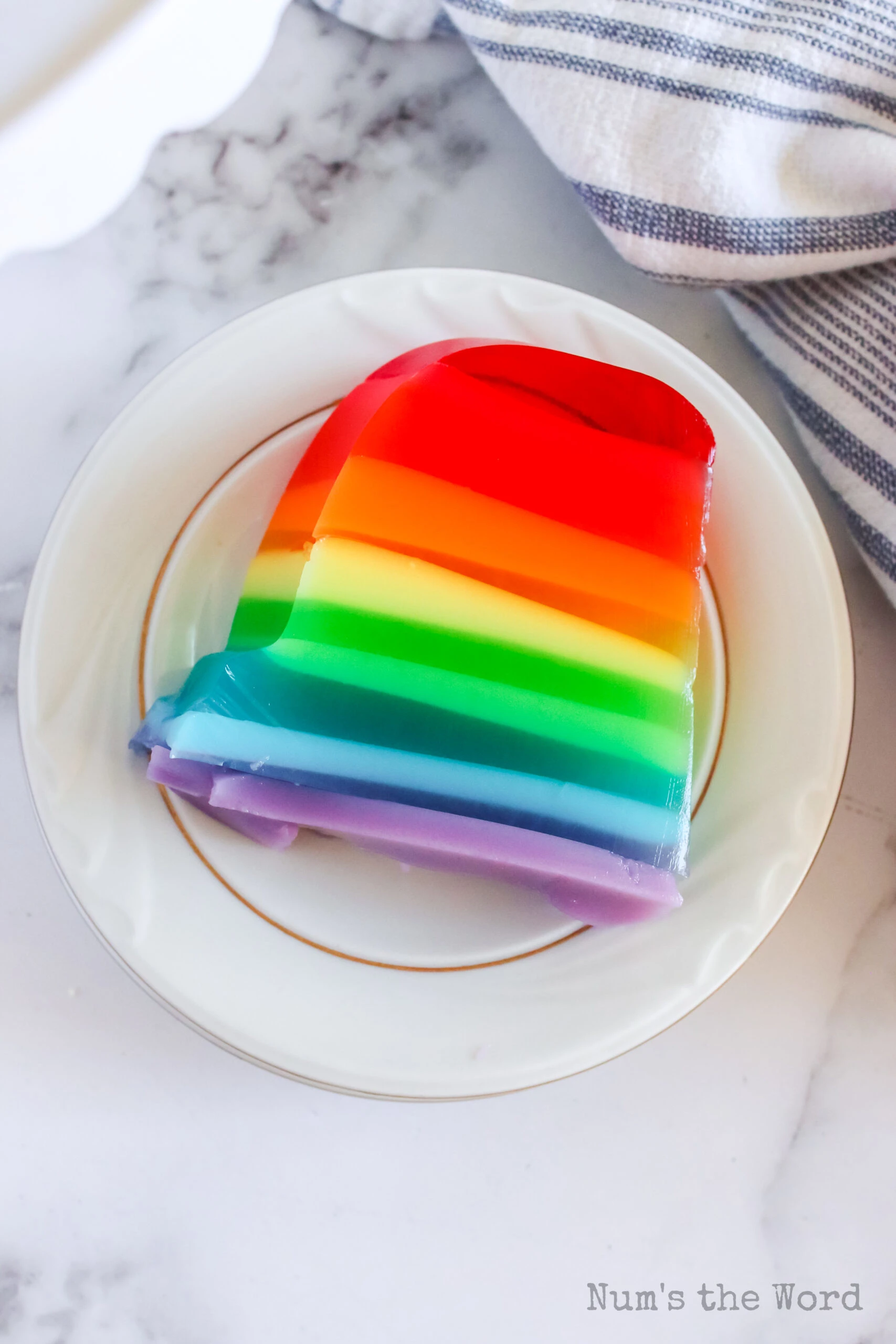 Rainbow Jello Stuck in Mold
To easily remove the rainbow Jello from the mold, dip the mold into warm water for about 10 seconds. This should slightly melt the sides enough for the entire dish of Jello to be flipped out onto a plate.
Most molds are already nonstick and you shouldn't need to add any grease to the mold.
How to Make Rainbow Jello Without a Jello Mold
If you're operating without a Jello mold, your steps are going to be a little different.
First, Grease. The. Pan. Jello will often get stuck in your pan and you'll be very sad if it doesn't turn out!
Use vegetable oil. Though in Hawaii I hear they use mayonnaise! What? I haven't tried it myself.
Second, reverse the colors.When using a mold, you flip it over, letting the red be on top and going down the order of the rainbow.
When using a pan, you won't be flipping the rainbow Jello mold out, but instead cutting pieces out. In order to get the red on top, you'll need to reverse the colors of the rainbow.
Starting from the bottom pour purple, blue, green, yellow, orange, and then red.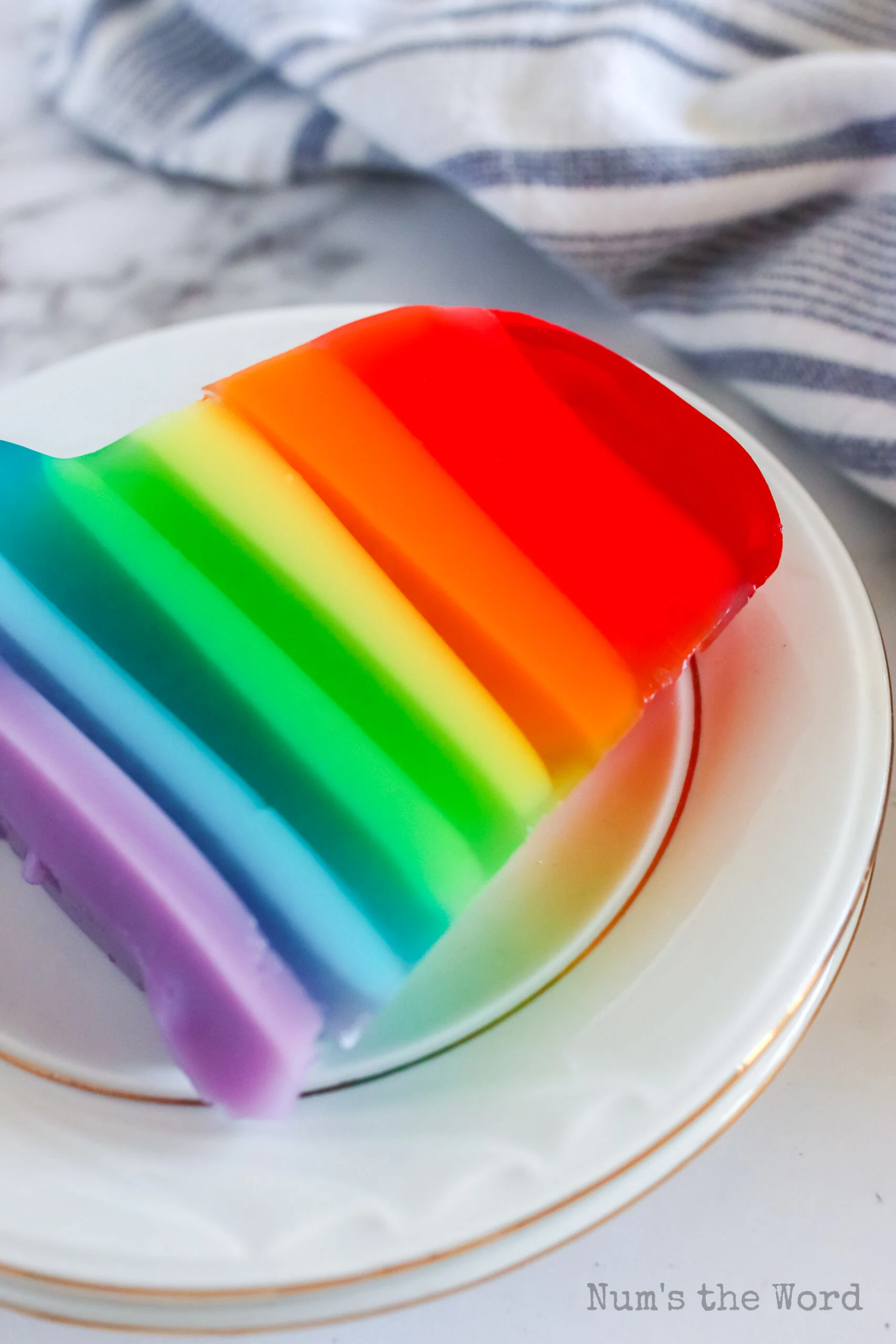 What If the Creamy Layer Has Begun to Set?
If the creamy in between layer of the rainbow Jello begins to set before you can get it in the mold, no worries!
Warm the layer back up again by dipping it into a bowl of warm water before pouring.
Rainbow Jello is the perfect dessert or side dish. It gets wows every time we serve it and I know you will too!
More Jello Recipes You'll Love…
Yield: 20 Servings
Rainbow Jello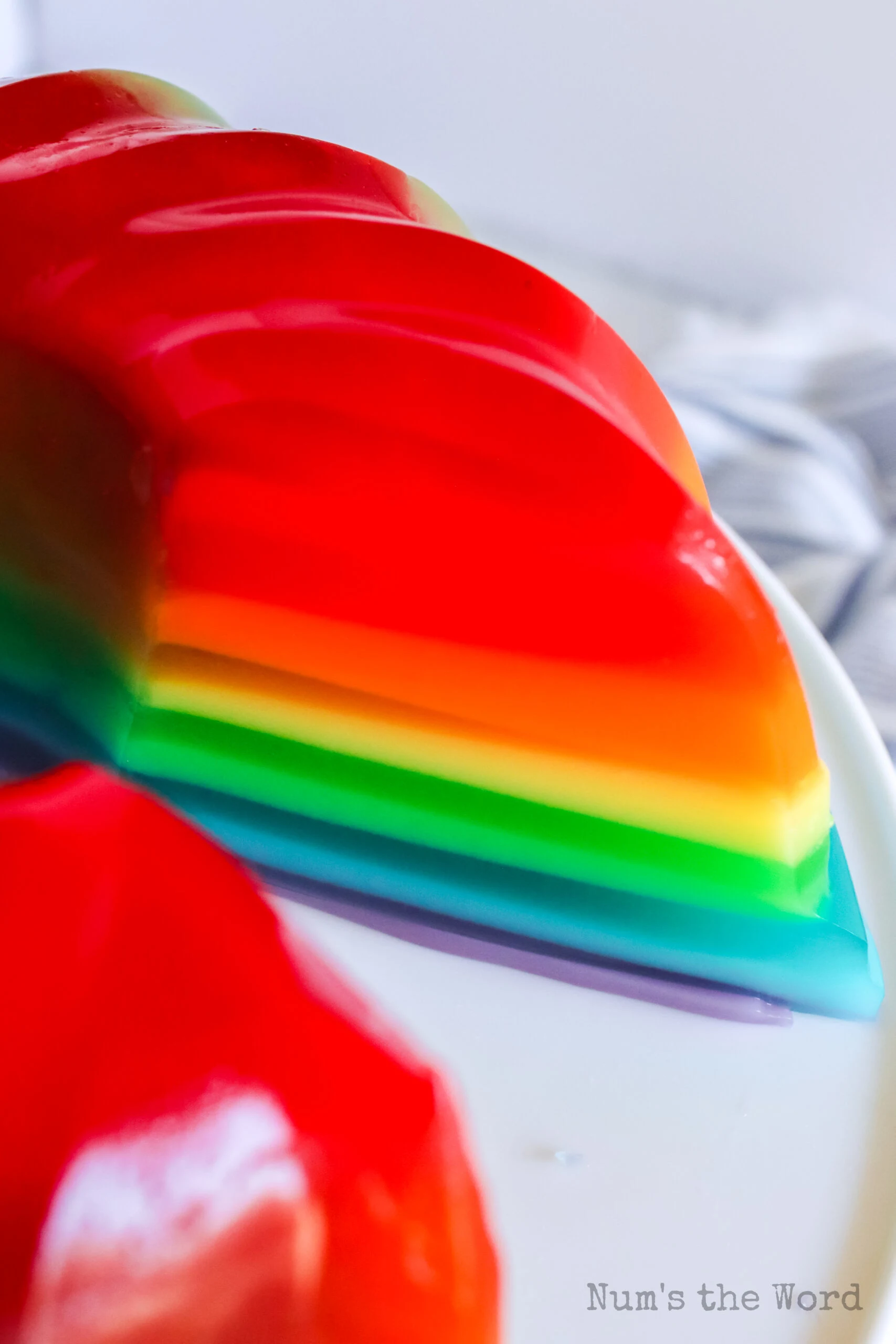 Hello Rainbow Jello! An easy dessert or side dish that you can take to parties, gatherings, and is perfect for the holidays!
Ingredients
1 (3 ounce) cherry Jello
1 (3 ounce) orange Jello
1 (3 ounce) lemon Jello
1 (3 ounce) lime Jello
1 (3 ounce) berry blue Jello
1 (3 ounce) grape Jello
7 1/2 cups boiling water, divided
18 Tablespoons vanilla yogurt (1 1/4 cups)
Instructions
In a small bowl, dissolve red gelatin in 1 ¼ cup of boiling water. Mix well.
Pour ¾ cup of the red Jello into a ring Jello mold.
Chill 15 minutes.
With remaining red Jello (which has NOT been refrigerated), add 3 Tablespoons of vanilla yogurt. Mix well.
After the red Jello has set, pour creamy red Jello over the top and return to the fridge for about 20 minutes.
Repeat with orange, yellow, green, blue and purple layers.
The color scheme in this order is a must have with kids. This way when you flip it over the red will be on top.
Once the entire Jello mold is filled, chill overnight.
To unmold, dip mold in warm water for about 10 seconds.
If using an old Tupperware style mold with two lids, Remove the LARGE lid first. Place a plate on top and flip.
Once flipped, and on a plate/platter, remove the smaller inner lid. Then lift up and the mold should stay.
Now congratulate yourself because you are a BEAST!
Nutrition Information:
Yield:
20
Serving Size:
1
Amount Per Serving:
Calories:

11
Total Fat:

0g
Saturated Fat:

0g
Trans Fat:

0g
Unsaturated Fat:

0g
Cholesterol:

1mg
Sodium:

12mg
Carbohydrates:

2g
Fiber:

0g
Sugar:

2g
Protein:

1g