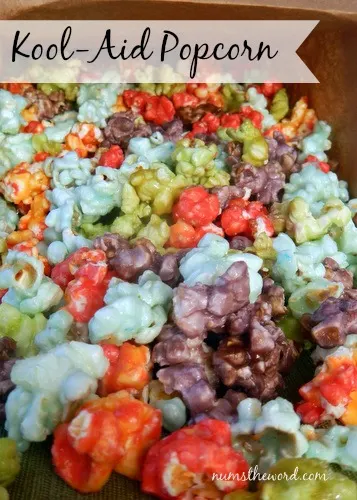 I am a popcorn nut. I especially like caramel corn.
I enjoy it both in the gooey form and in the hard crunchy form and love making it at home.
The other day I was looking for something new and fun that my kids would enjoy and ran across a recipe for Kool-Aid Popcorn.
I loved the idea! Not only would I get colorful popcorn, but popcorn that actually tasted like different flavors!
And so I hashed out a plan to make Rainbow popcorn to give to friends during the month of March. At first I was just going to do lime popcorn. But then thought that it might look a bit too much like my popcorn balls, even though they are totally different.
So I decided that we'd make rainbow colored Kool-Aid Popcorn.
We used Grape Kool-Aid for purple, Orange Kool-Aid for orange, Raspberry Blue Lemonade for Blue, Fruit Punch for red and Lemon-Lime for green.
Not only did these turn out with amazing color, they also turned out delicious. As in the grape popcorn tastes JUST LIKE grape! Our favorite flavor was Fruit Punch.
So aside from cool looking Kool-Aid Popcorn for St. Patrick's day, this would be perfect for a baby shower, gender reveal, party, movie night snack that everyone would love.
I think I'll be making the invisible mystery flavor for April Fools Day for my kids – how fun does that sound.
Just figure out what your favorite flavor of jello is and make that!
Yield: 4 Servings
Kool-Aid Popcorn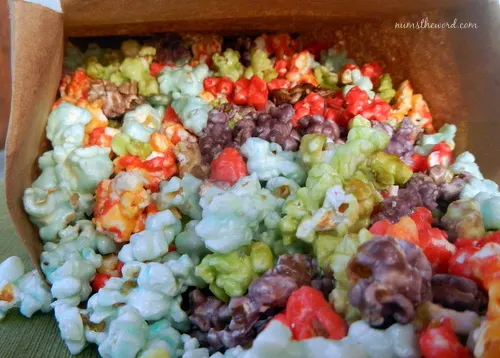 Ingredients
1 bag of kettle corn per color/flavor.
1 cup white sugar
1/3 cup butter
1/2 cup Karo Syrup
1 package of Kool-Aid - Any Flavor
1/2 teaspoon baking soda
Instructions
Preheat oven to 225*F
Pop kettle corn according to microwave instructions - filter out the seeds and pour kernels into a large bowl.
In a medium sauce pan over medium heat, combine butter, sugar & Karo Syrup. Mix well until butter is fully melted.
Let mixture come to a boil and boil for 3 minutes.
Remove from heat.
Stir in Kool-Aid packet until full combined.
Add baking soda to Kool-aid mixture - mixture will double in size and become thick and fluffy.
Pour this mixture over popcorn. Mix well. Mixture will be VERY hot. Do not allow mixture to touch your skin.
Once popcorn is well coated, pour contents into a large baking dish with high sides. If you do not have one, a large disposable baking pan will work too.
Bake for 10 minutes, then remove from oven & stir well. Return to oven for another 10 minutes. Repeat this until popcorn has been baked 4 times.
After all 4 cycles have finished, remove from oven and continually mix popcorn until it cools. Break up any big clumps as you stir.
Serve cooled.
Repeat with other flavors if desired.
Inspiration:
Tasty Kitchen