This is the easiest White Cheddar Popcorn on the planet! Only three ingredients and the flavor will leave you coming back for more and more!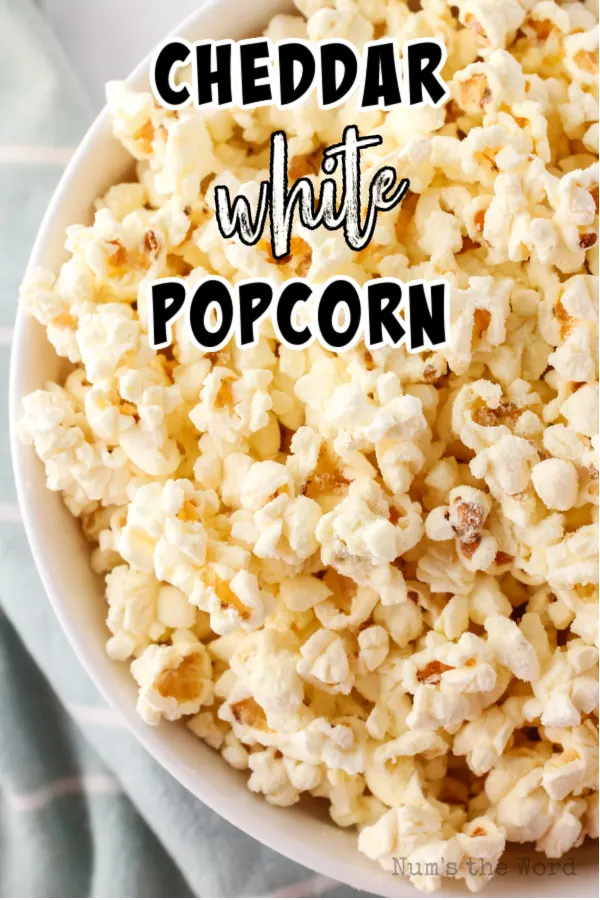 Popcorn coated in rich butter and tossed with white cheese popcorn seasoning? Yes, please!
Now here's what you need to know. White cheddar cheese popcorn is much easier to make than you thought.
And although I love Smartfood Popcorn and Skinny Pop Popcorn, this one is just that much better.
With only 3 ingredients, it takes mere minutes to make. And since it's a cheap snack I can let all the teenagers chow down without breaking the bank.
Once you try the best white cheddar popcorn, you'll never go back. Trust me.
Ingredients in White Cheddar Popcorn
These ingredients are easily sourced from pretty much any store!
Popcorn:

We love Pop Secret Homestyle Butter Popcorn. Feel free to substitute if desired.

Butter:

All this rich butter adds so much flavor and goodness.

White Cheddar Powder:

It's cheese powder you don't have to grate yourself! Best of all worlds!
How to Make White Cheddar Popcorn
Making white cheddar popcorn is so simple!
Pop Popcorn:

Each microwave is going to require different times. Ours always takes an extra 30 seconds.

Remove Seeds:

This keeps the seeds from soaking up all your yummy butter and flavor.

Toss:

Now add that butter and powder.

GOBBLE!:

Self explanatory but YUM!!!
Pro Tip: I like to use two bowls. It's easier to separate the seeds from the popcorn if you have two bowls.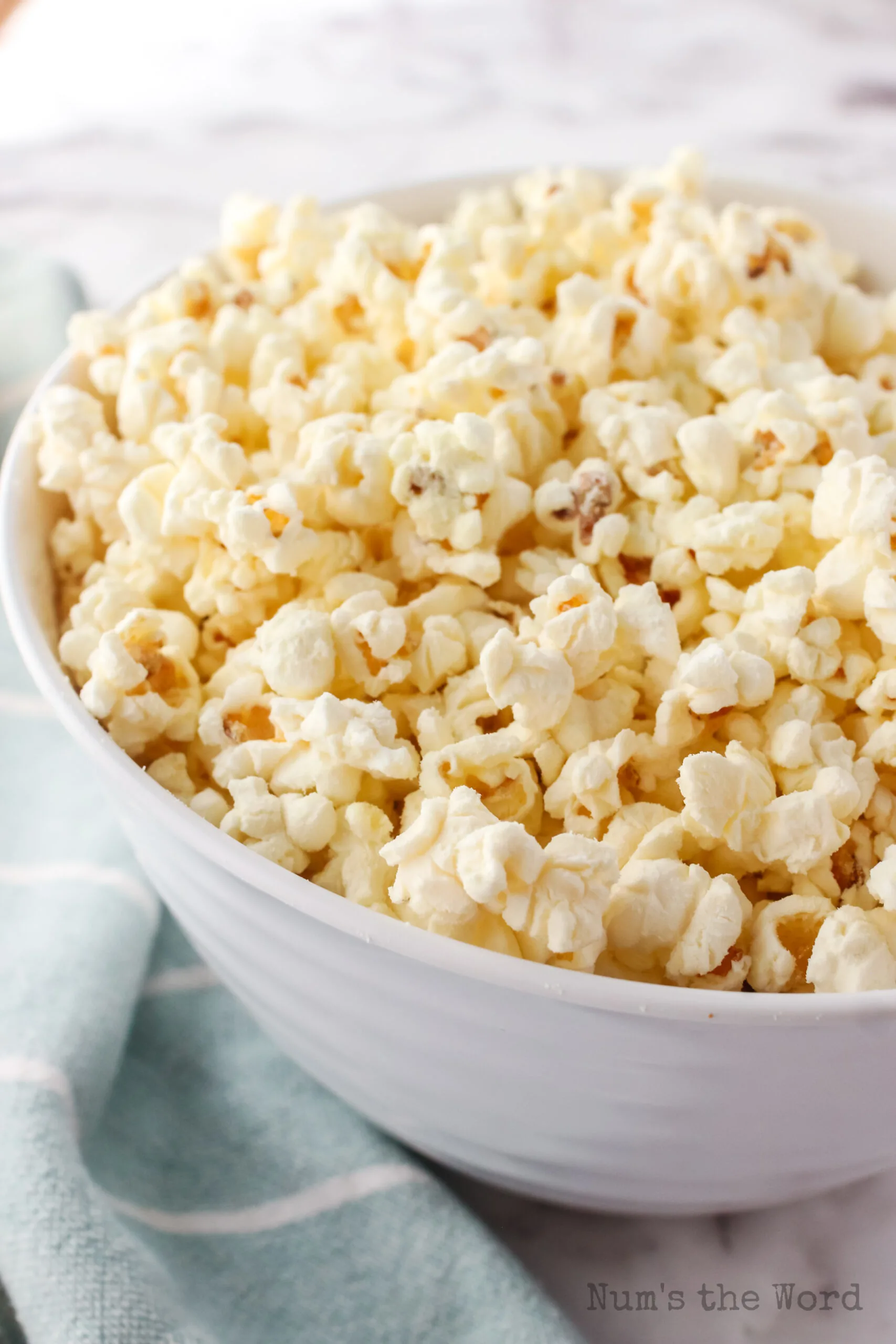 Is White Cheddar Popcorn Healthy?
The popcorn itself is a whole grain, high fiber snack. Making it a super healthy choice. The butter also comes with many benefits.
You see, our bodies need fat in order to function properly. And without healthy fats, they just don't.
Pure butter is a wonderful choice for healthy fat. Now, you probably shouldn't eat white cheddar popcorn for every meal. But you shouldn't eat anything for every meal.
Don't be afraid of eating it. Live your life. Enjoy it. A little popcorn is a good thing.
Pro Tip: If I can't talk you into the butter you can always spritz with a little oil to help the seasoning stick to the popcorn.
Can Dogs Eat White Cheddar Popcorn?
Unfortunately, dogs shouldn't eat white cheddar popcorn. Salt and lactose can both be harmful to dogs and many are intolerant.
Since popcorn usually contains butter or salt or both, it's best to keep your dogs away from popcorn.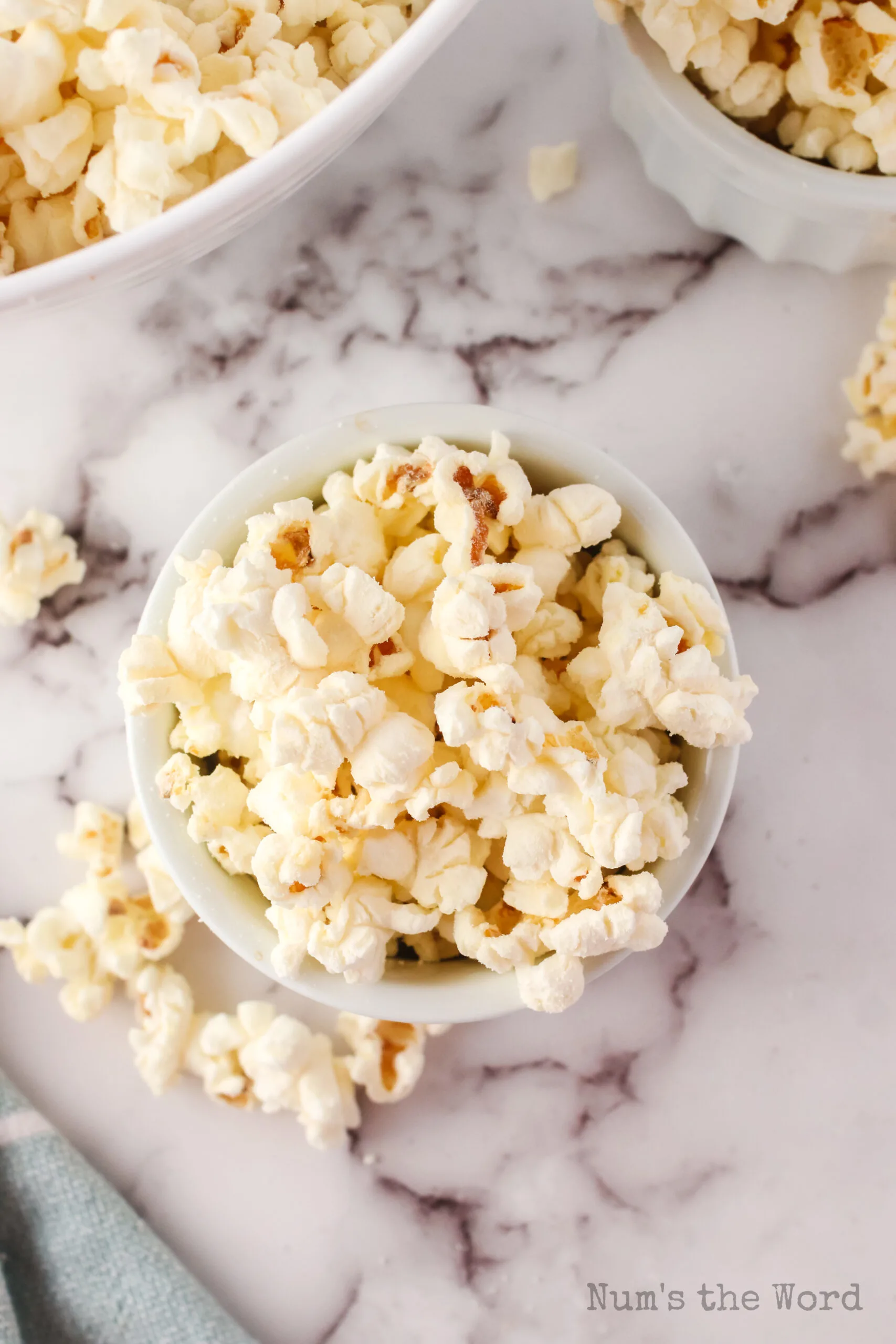 Can Cats Eat White Cheddar Popcorn?
No, cat's shouldn't eat white cheddar popcorn either.
First the salt. Cats just can't process that much salt. They aren't meant to.
Then the fat. All the fat can actually make your cat MORE hungry, not less.
Which can lead to overeating and all sorts of problems. Keep your cats out of the popcorn.
Is White Cheddar Popcorn Gluten Free?
Popcorn, cheddar cheese, and butter are all naturally gluten free! That means that white cheddar popcorn is a gluten free snack.
However, you will want to check your powder label. While white cheddar contains no gluten, occasionally a manufacturer will add ingredients that do contain gluten.
Always read your labels if you need to keep your snacks and meals gluten free.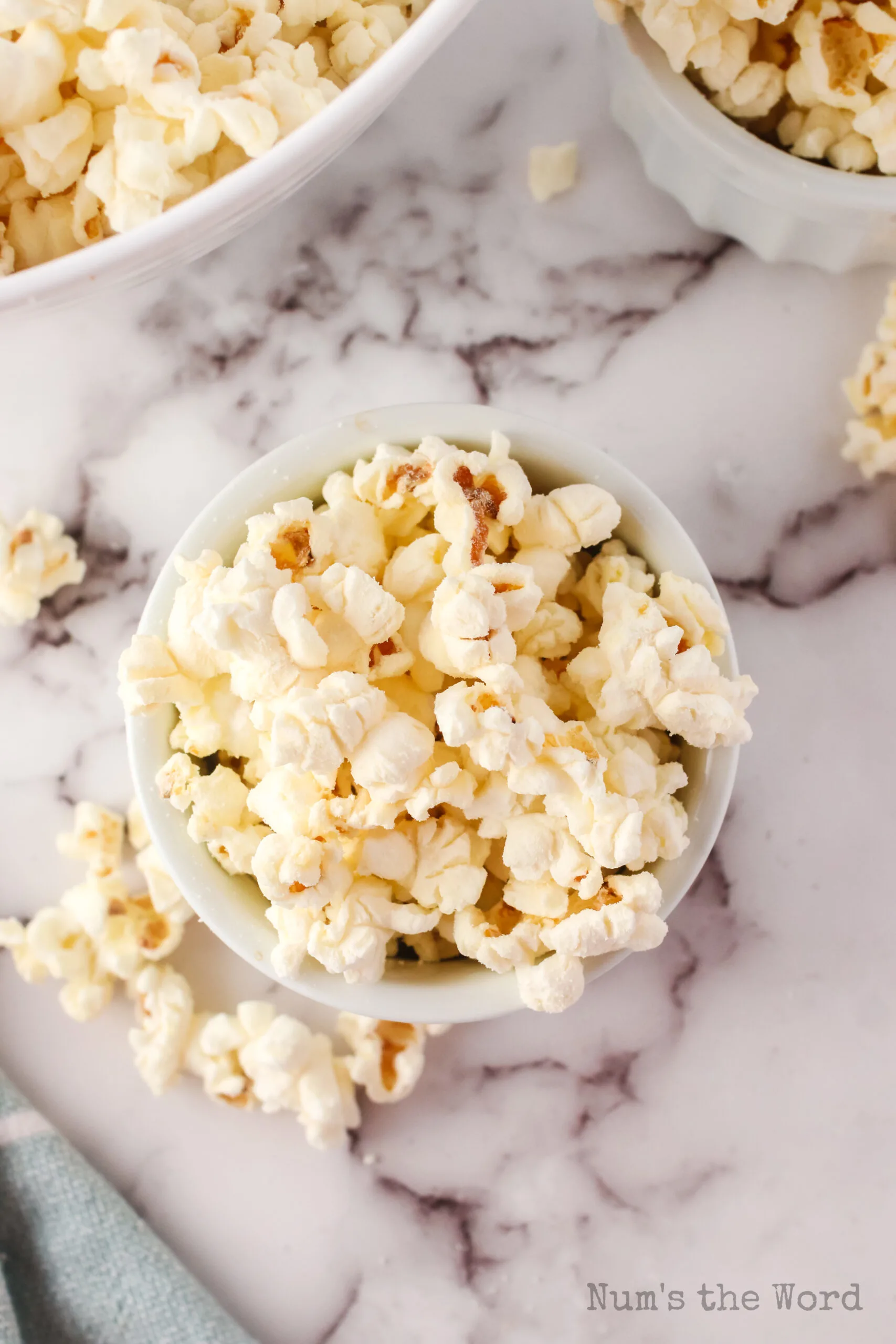 Can You Eat White Cheddar Popcorn While Pregnant?
Yes, it is completely safe to eat white cheddar popcorn while pregnant.
All of the ingredients in the popcorn are pasteurized and processed in a way to prevent any bacteria growth.
In addition, all the fats and fiber are necessary to help a growing baby. So eat that cheddar popcorn and keep rocking it mama!
Can You Use Popcorn Kernels for White Cheddar Popcorn?
Yes! You all know me. I like my foods to be quick and easy. Popcorn conveniently comes in quick and easy microwavable packages.
However, if you want to do the extra work of popping the kernels on the stove, you do you. If you find the popcorn to be lacking in flavor, just add a little more butter and seasoning.
However, I think it should work just fine popping your own kernels.
Is White Cheddar Popcorn Keto Friendly?
Popcorn is actually pretty high in carbs and can quickly knock someone off the keto diet.
While popcorn is healthy for anyone not trying to stay in ketosis, it's best avoided if you are. Chow down instead on some Air Fryer Asparagus. Also coated in butter and salt but no carbs.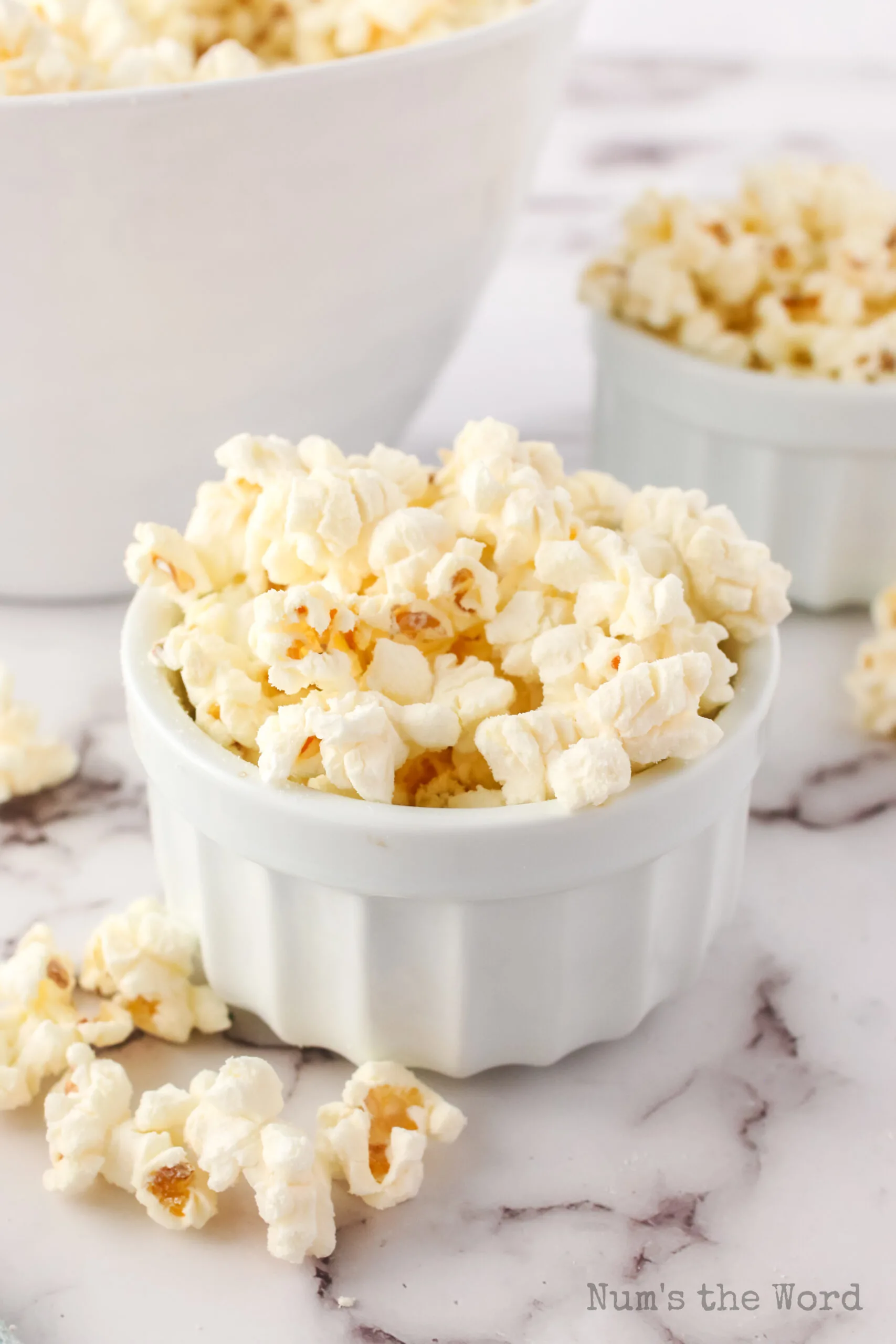 How Long Does Popcorn Last?
White cheddar popcorn will stay good in an airtight container for about a week. Since it is already buttered and seasoned, you'll be sure you want to eat it up before it goes bad.
Pro Tip: Always check all food before you eat it for signs of mold or bad smells.
White Cheddar Popcorn Variations
Craving something new and different? Try these fun variations!
Spicy:

Add a spicy kick with a dash of cayenne or a handful of hot tamales.

Sweet:

Crushed up Oreos or M&M's! Yum!

Salty:

Toss in some pretzels for an extra salty snack.
How to Spice Up Microwave Popcorn
White Cheddar Popcorn not your thing?
Just a dash of any of these seasonings might be just the ticket!
Cinnamon

Taco Seasoning

Red Pepper Flakes

Cayenne Pepper

Parmesan Cheese

Garlic and Rosemary

Paprika and Onion

Barbecue Sauce

Ranch Dressing

Peanut Butter and Honey
Or try any of these Popcorn Recipes from my website.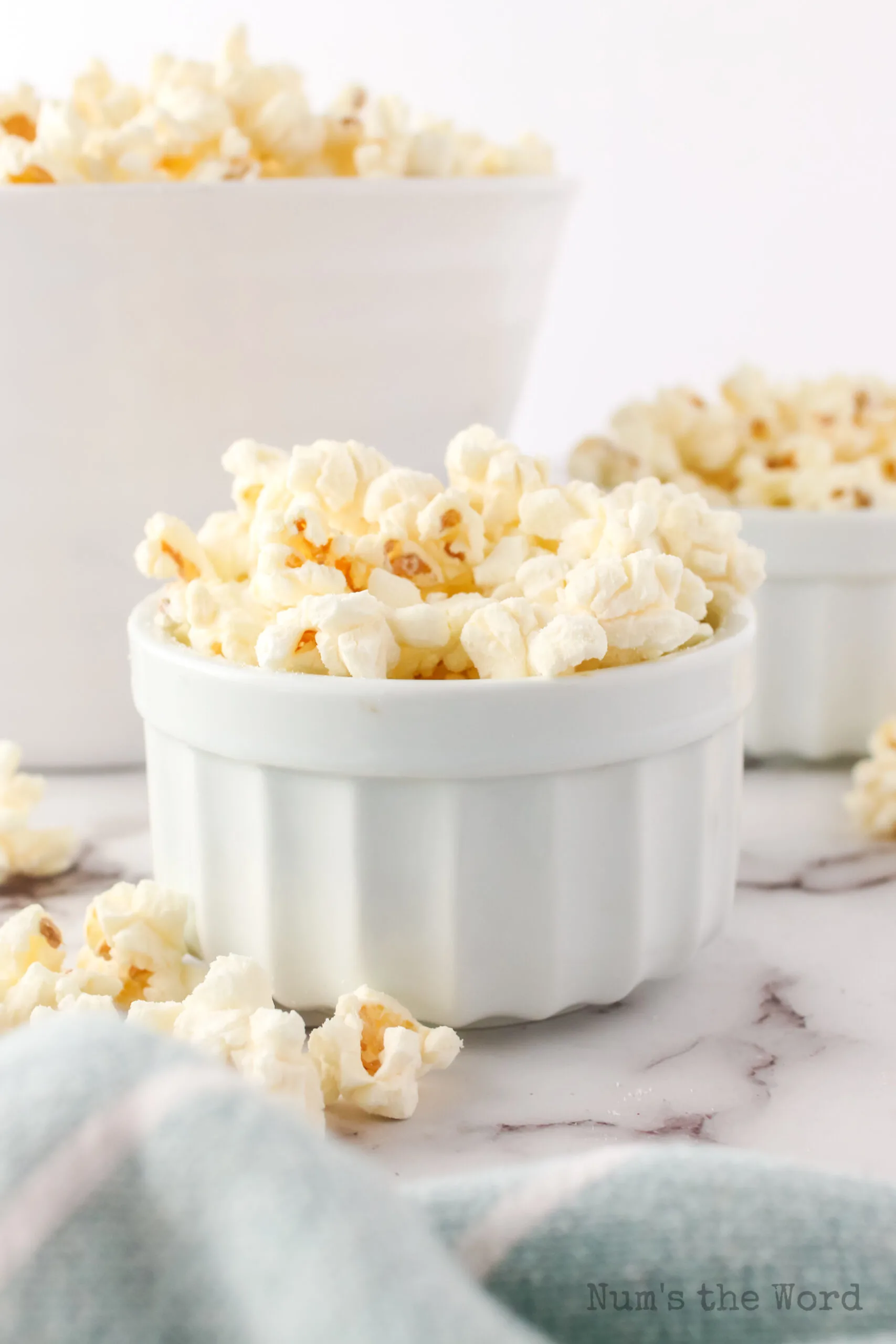 Why Is White Cheddar Popcorn So Good?
White Cheddar Popcorn has all the flavors we truly love. The butter, the cheese, and the popcorn.
It's kind of like a comfort food we didn't even realize we were missing. Honestly, a whole bowl could be eaten very quickly and we'd be left wondering why there's no more.
White Cheddar Popcorn is the thing you need! Quick and easy, super nummy, and full of good things.
It's cheap and the perfect snack for your at home date night. Serve a batch today and then sit back and watch the compliments roll in.
Yield: 4 Servings
White Cheddar Popcorn
This is the easiest White Cheddar Popcorn on the planet! Only three ingredients and the flavor will leave you coming back for more and more!
Ingredients
2 bags Homestyle Butter microwave popcorn
1/4 cup butter, melted
1/4 cup white cheddar powder
Instructions
Pop popcorn according to package directions.
Have two bowls ready.
Pour popped popcorn in one bowl.
Gently Shake the bowl to get the seeds to the bottom of the bowl.
Remove popped popcorn slowly into the second bowl leaving seeds in the 1st bowl.
Toss the seeds. Repeat with the second bag.
Pour melted butter over the popcorn. Mix well.
Sprinkle ¼ cup of white cheddar cheese powder over popcorn. Gently stir.
Serve immediately or put in an airtight container for later!
Nutrition Information:
Yield:
4
Serving Size:
1
Amount Per Serving:
Calories:

300
Total Fat:

26g
Saturated Fat:

16g
Trans Fat:

1g
Unsaturated Fat:

7g
Cholesterol:

53mg
Sodium:

353mg
Carbohydrates:

13g
Fiber:

2g
Sugar:

0g
Protein:

4g