These Bacon Wrapped Water Chestnuts are a delicious appetizer! They are quick and easy to whip up for every holiday or gathering!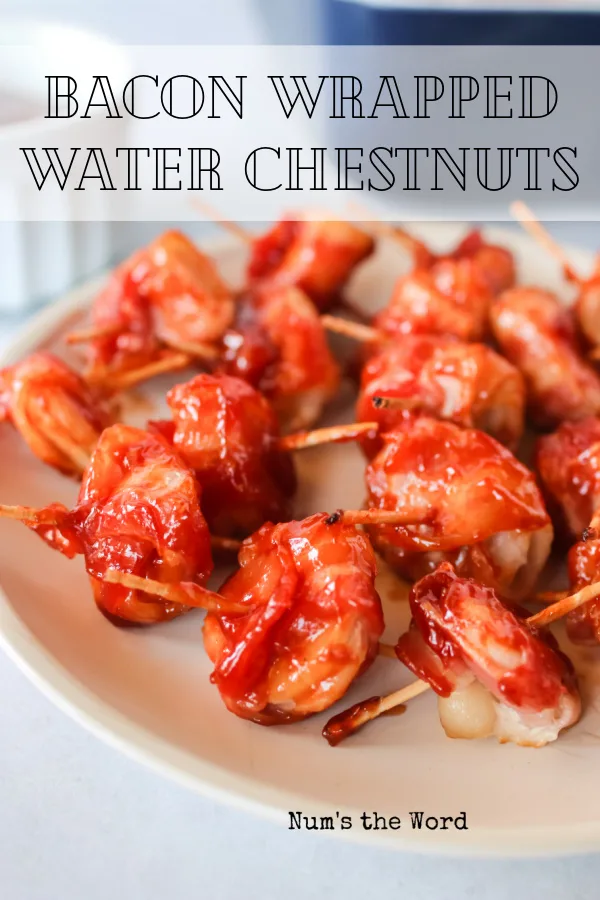 Crispy water chestnuts are wrapped in savory bacon and coated in a mouthwatering sweet brown sugar glaze. Holy. Buckets.
As one of my most requested appetizers during the holidays and during all tailgating events, I know this is a recipe you're going to love.
So what do you want out of a bacon wrapped water chestnuts recipe? You want it to be easy right? Done!
Maybe you also want the brown sugar glaze to be made from all pantry ingredients? Done!
Would you like to be able to make wrapped water chestnuts ahead of time and freeze them until you're ready? Done!
Oh and let's not forget. The entire recipe only calls for six ingredients!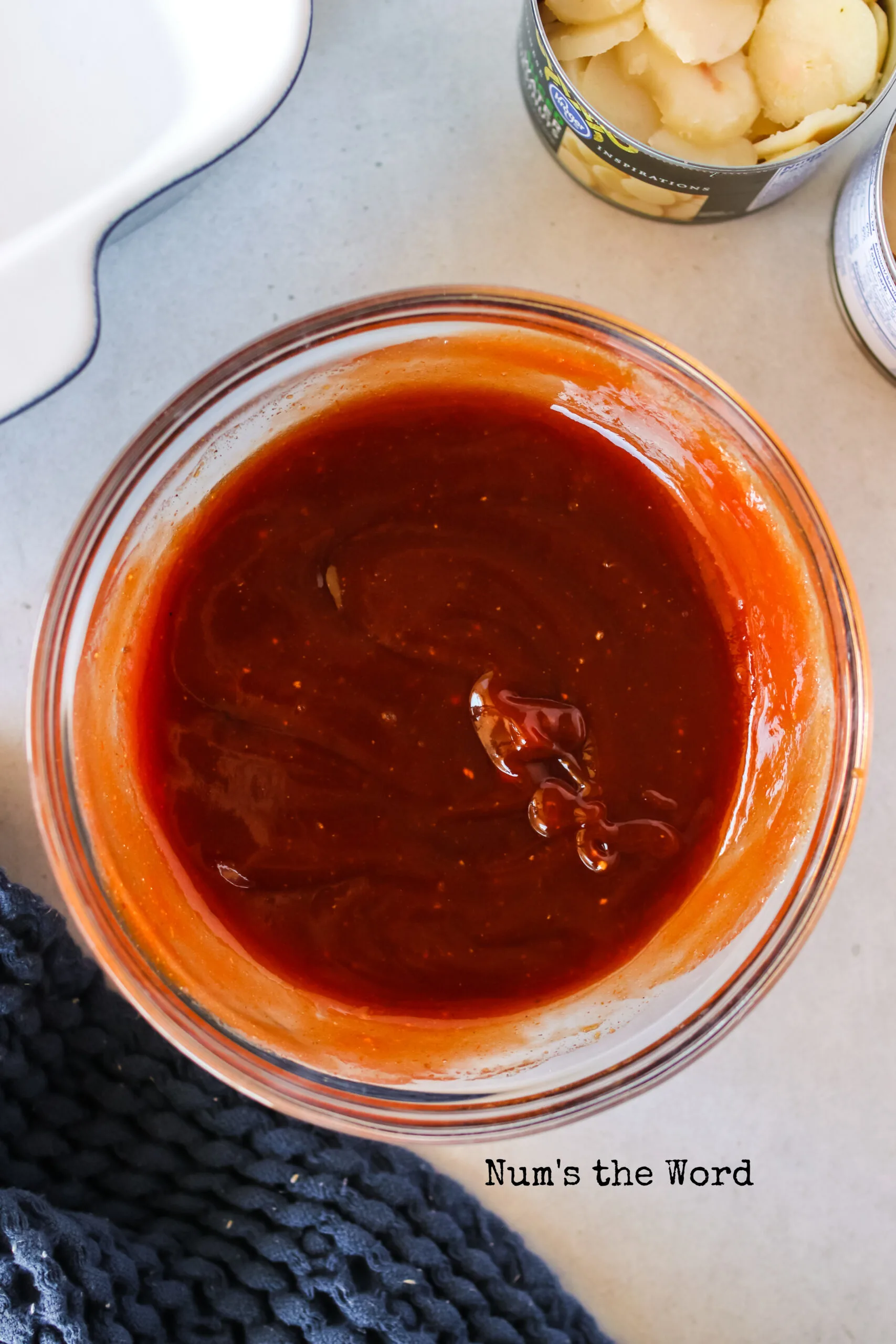 What are Water Chestnuts?
"Chestnuts roasting on an open fire…" Uh wait, no. Wrong kind of chestnut!
There are actually two kinds of chestnuts.
The first chestnut, as indicated in the song, is roasted. It is actually a type of nut.
The second chestnut, water chestnuts to be exact, are a type of tuber.
Water chestnuts stay crispy when cooked and you'll often find them in stir fry or other Asian foods.
You can typically find cans of them near the other Asian foods at the supermarket.
Water chestnuts tend to be a little sweet but mostly take on the flavor of whatever you cook them with.
Since you'll be cooking them with bacon and brown sugar, anticipate them tasting DELICIOUS.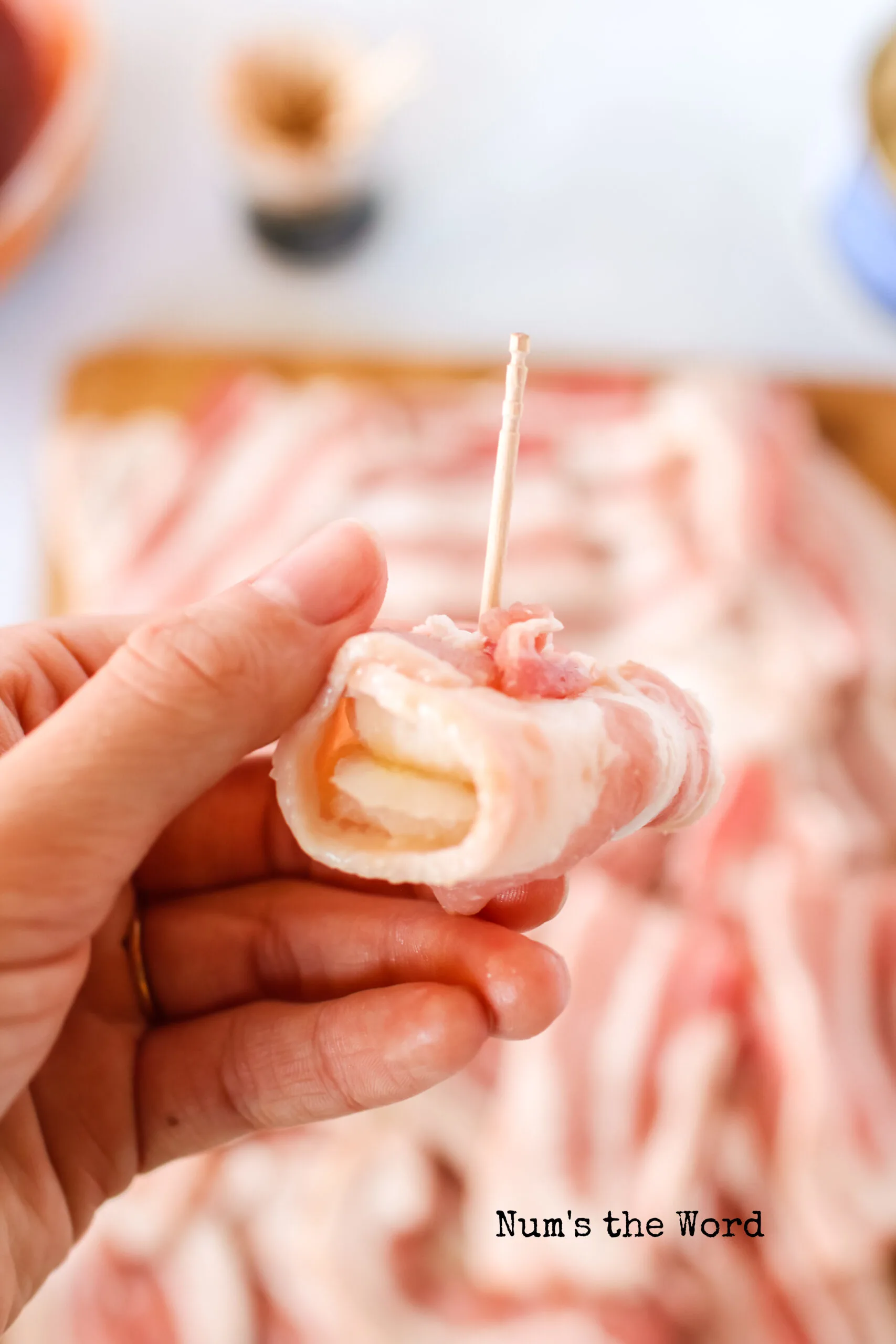 Ingredients for Bacon Wrapped Water Chestnuts
As promised, here's your list of only six ingredients.
Brown Sugar:

The brown sugar gives the glaze a deep, slightly molasses-y flavor.

Worcestershire Sauce:

This adds a strong, complex sort of sugary flavor to the dish.

Ketchup:

The tomato-y flavor is perfect when mixed into the glaze!

Mustard Powder:

You could also substitute with prepared mustard in a pinch.

Bacon:

You don't want the bacon to be overpowering to the water chestnuts so don't choose the thick cut.

Water Chestnuts:

Drain the can of water chestnuts as you won't need the liquid.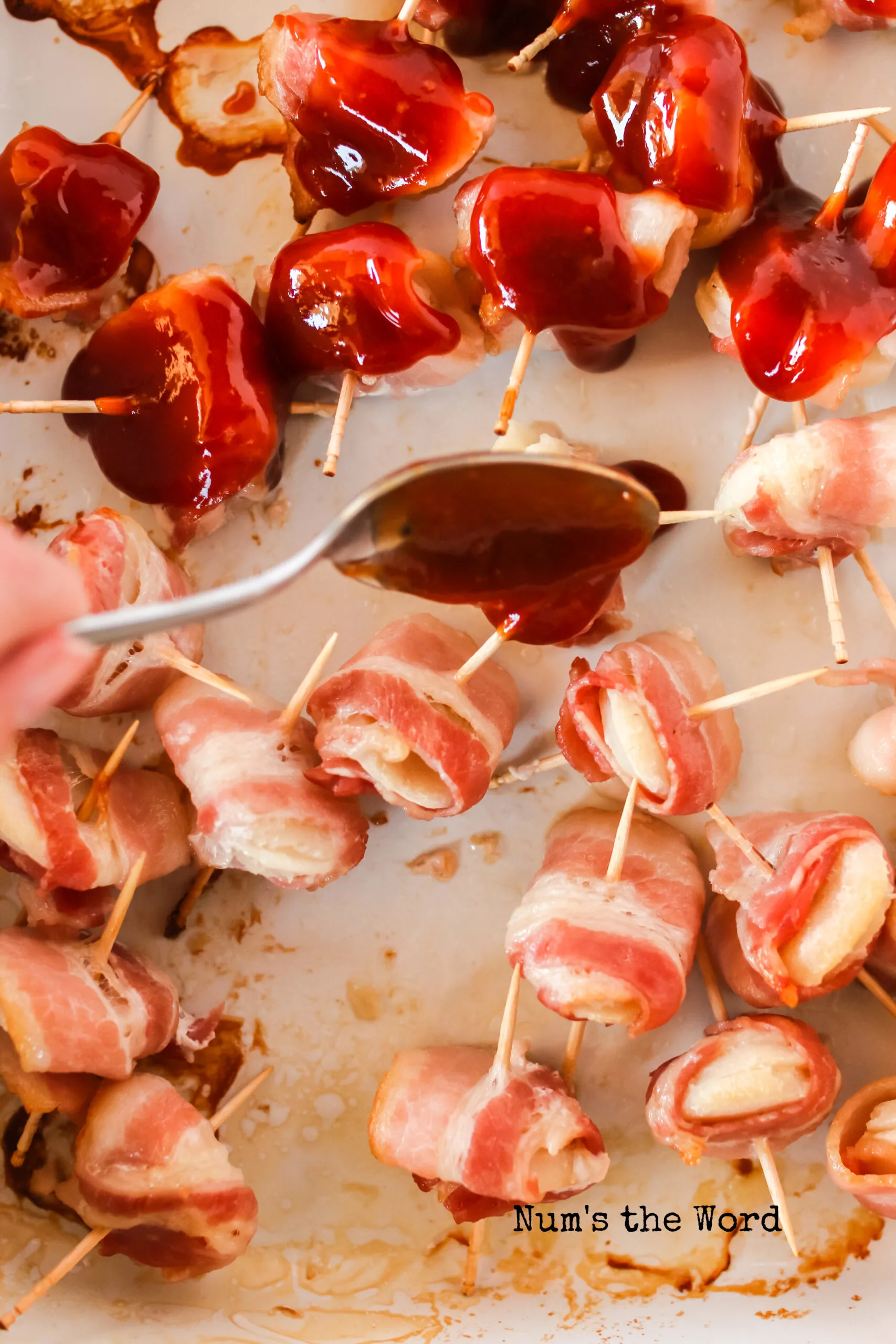 How to Make Bacon Wrapped Water Chestnuts
Cut Bacon:

The bacon is too long to put around the chestnuts until it's been cut to size.

Wrap Chestnuts:

wrap bacon around the chestnuts and secure with toothpick.

Bake:

Prep your glaze now if you haven't done so already.

Glaze:

Pour off any excess grease before coating in the delicious sauce.

Bake:

This second bake lets everything finish cooking and also melds the flavors together.
Pro Tip: Do not use colored toothpicks! They will bleed the dye from the toothpicks all over your water chestnuts.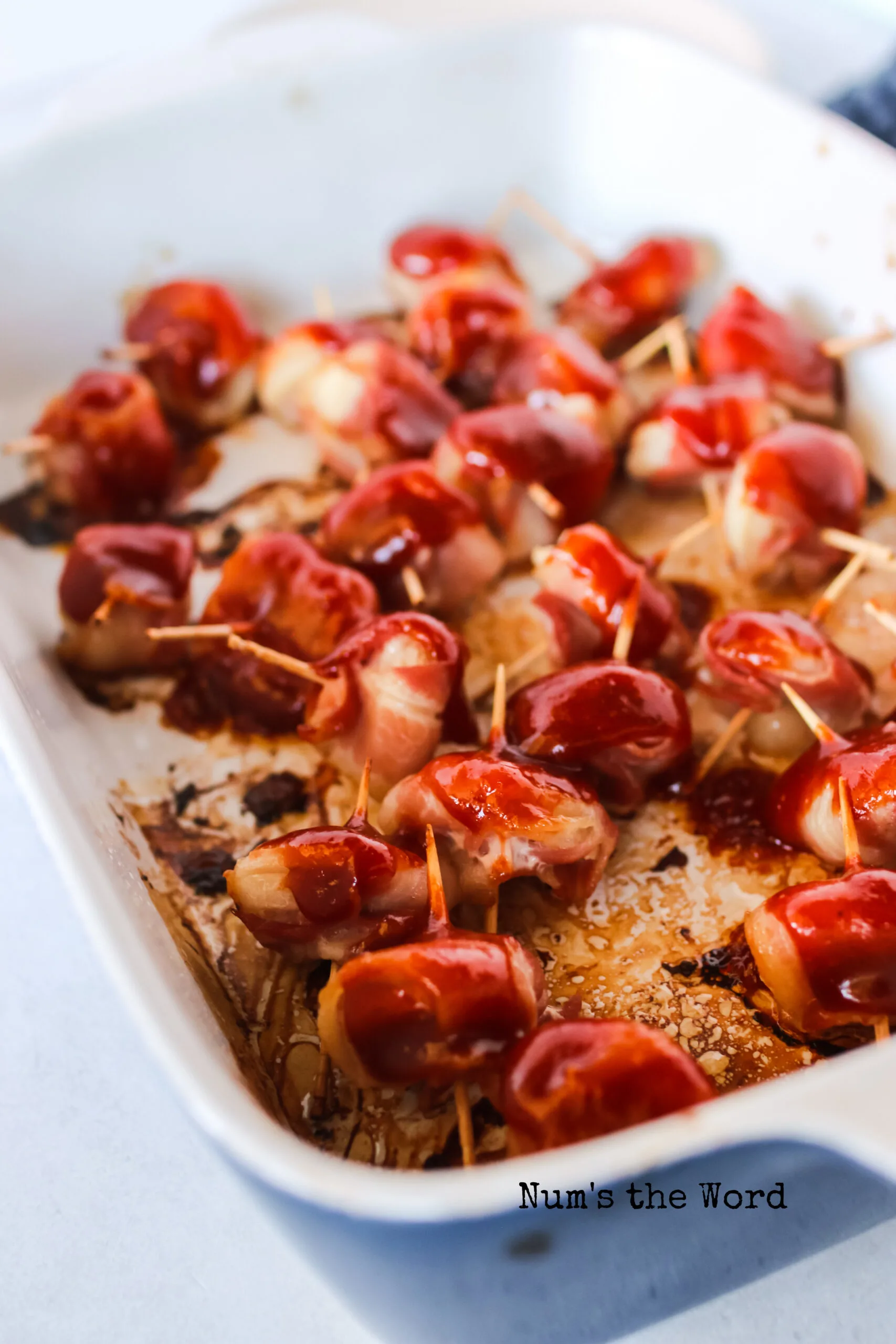 Can You Freeze Bacon Wrapped Water Chestnuts?
Yes! Not only do bacon wrapped water chestnuts taste delicious but they freeze beautifully too!
To freeze ahead of baking day, simply cut the bacon and wrap around the water chestnuts.
Place the wrapped water chestnuts in a single layer on a baking sheet and put the entire thing in the freezer for 30 minutes.
Remove the wrapped water chestnuts from the freezer and place them in a freezer safe bag.
When you're ready to bake them, remove them from the freezer the night before and let them thaw in the fridge overnight.
As they haven't been cooked yet, follow the directions starting from the first bake from there.
These will stay good in the freezer for two months.
Pro Tips:
Write the name and date on the bag! You never want something to go into your freezer and not know what it is when you pull it back out!

If you really want to be fancy write the recipe too so you don't have to go looking for it when it's time to bake!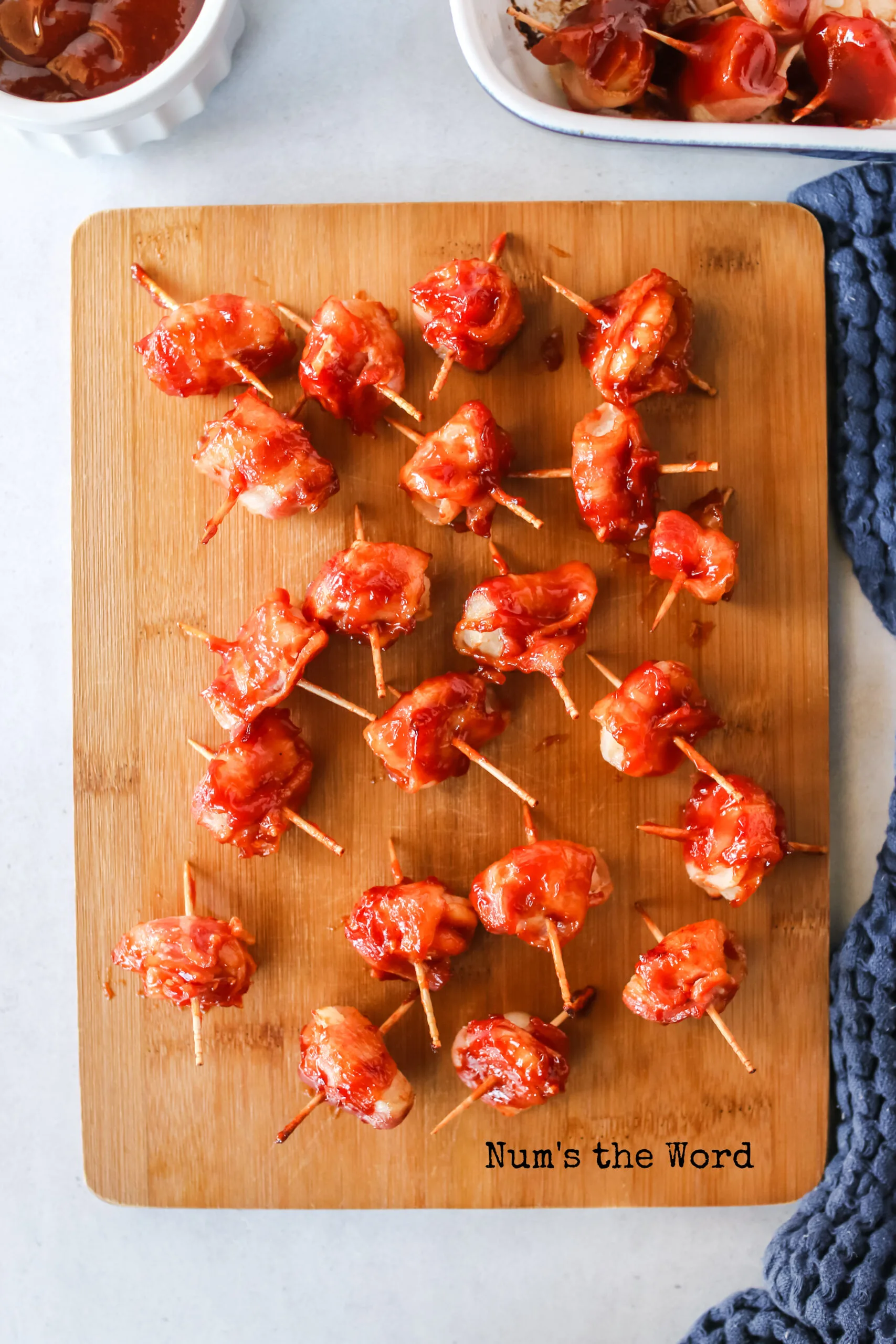 How Long Do I Cook Bacon Wrapped Water Chestnuts?
Overall baking time for bacon wrapped water chestnuts is 40 minutes.
You'll need 25 minutes for the first bake and 15 minutes for the second.
As you want to serve these immediately for best effect, plan accordingly.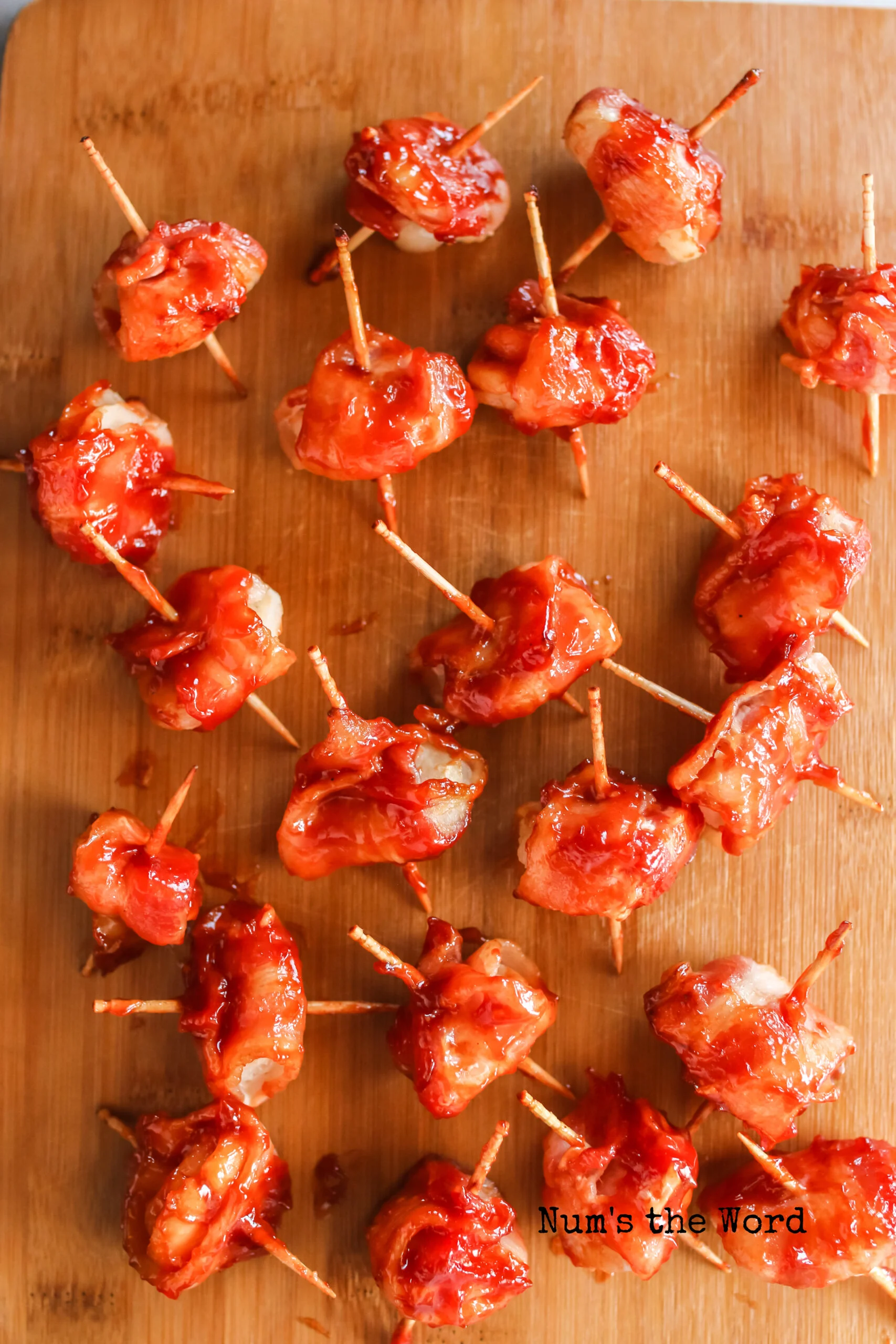 Can You Make Bacon Wrapped Water Chestnuts Ahead of Time?
Yes! If you want to prepare them up to 24 hours before cooking, simply cut, wrap, and then let the bacon-wrapped water chestnuts sit in the fridge overnight.
Bake according to directions afterward.
If you want to prepare them more than 24 hours in advance then follow the directions above for freezing them.
Either way they will taste great!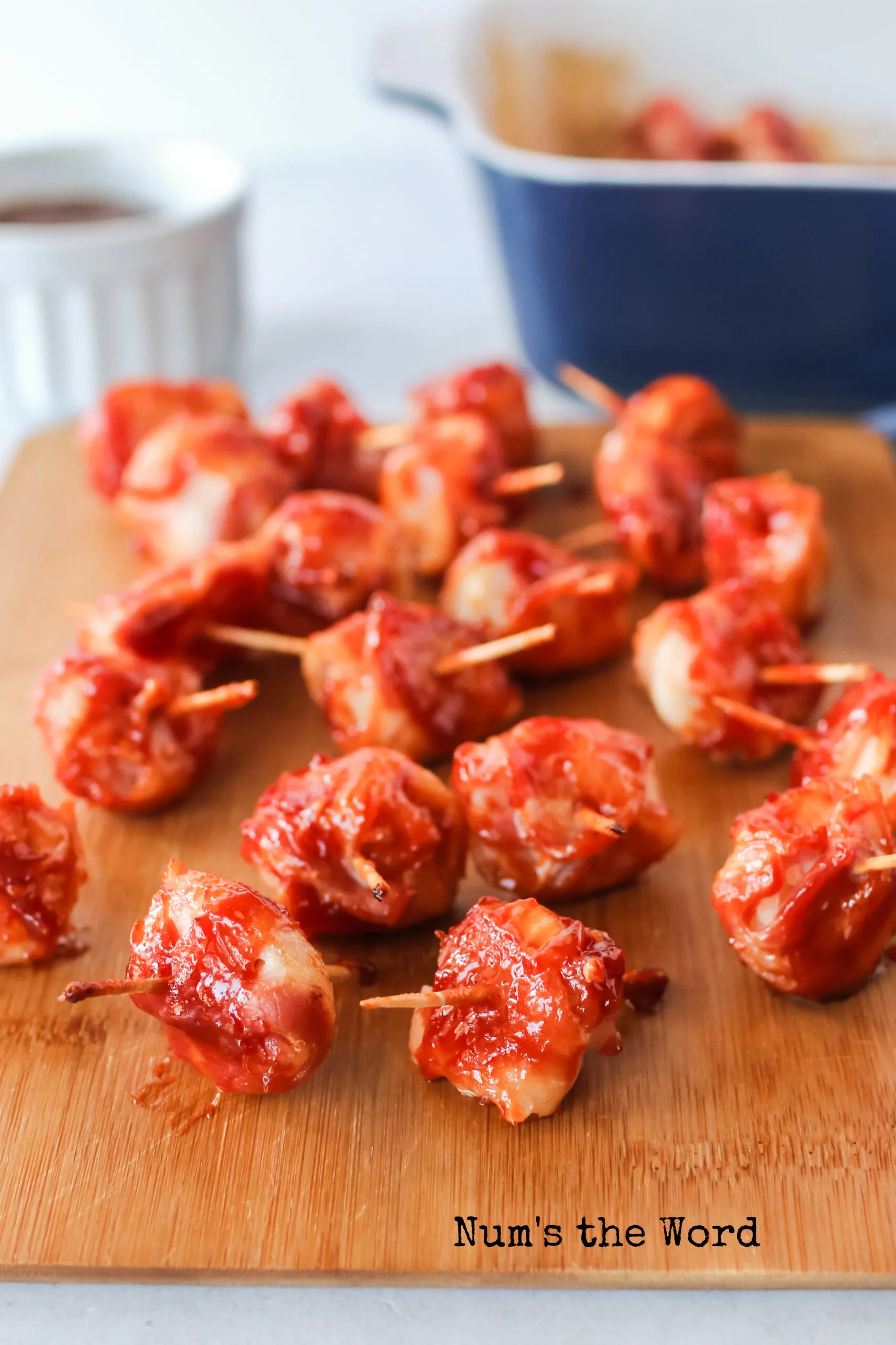 Can You Reheat Bacon Wrapped Water Chestnuts?
Yes! When reheating you have two options.
Microwave:

This option isn't my favorite as the bacon is not nearly as crispy. Heat in 5-10 second bursts until heated through.

Oven:

Warm the oven up and then bake for 10-15 minutes until your water chestnuts are warmed. I like this option for keeping the bacon nice and crispy.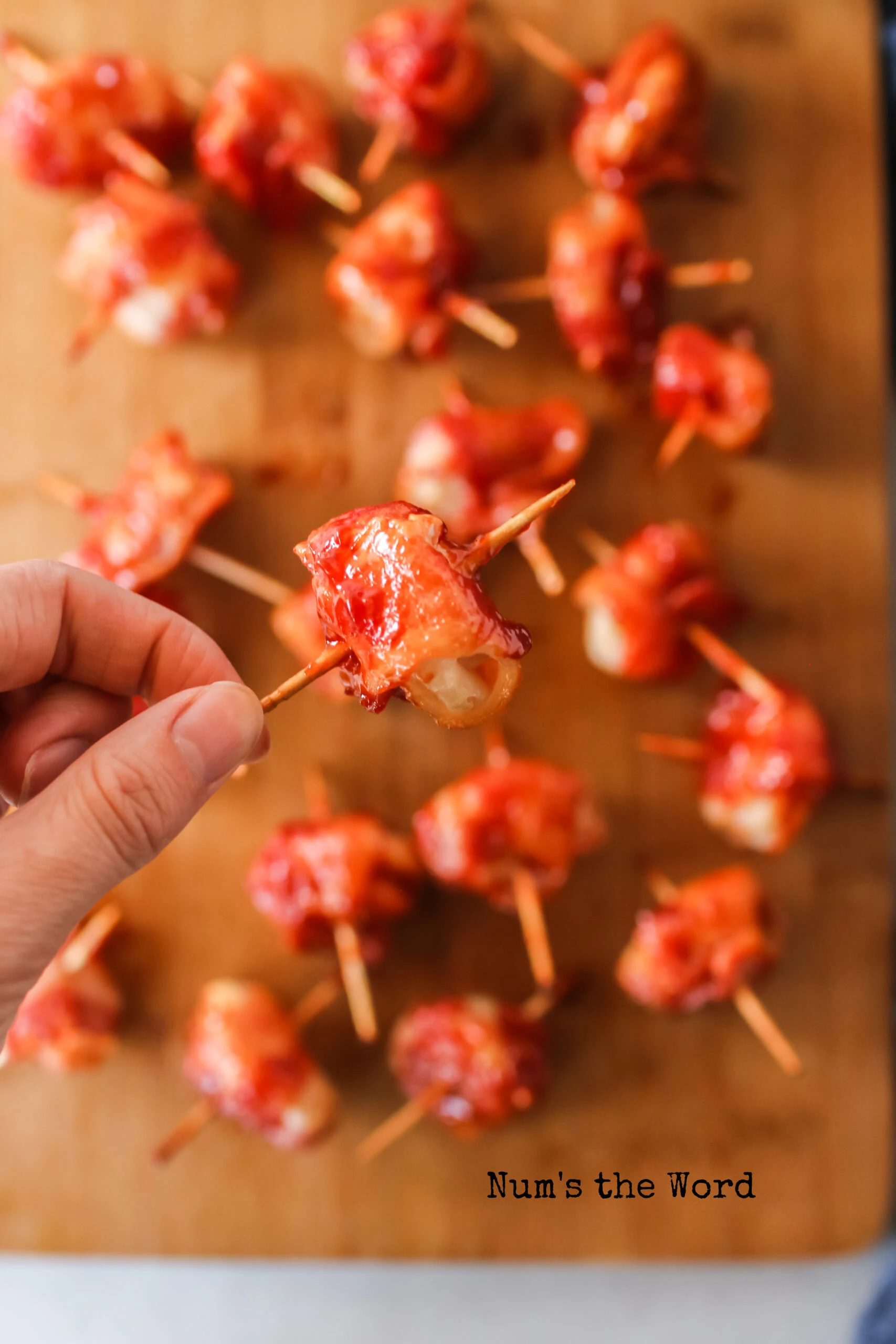 Do You Precook The Bacon for Bacon Wrapped Water Chestnuts?
No. You want the bacon to cook at the same time as the water chestnuts.
Not only does cooking them at the same time flavor the water chestnuts, but it also saves you time!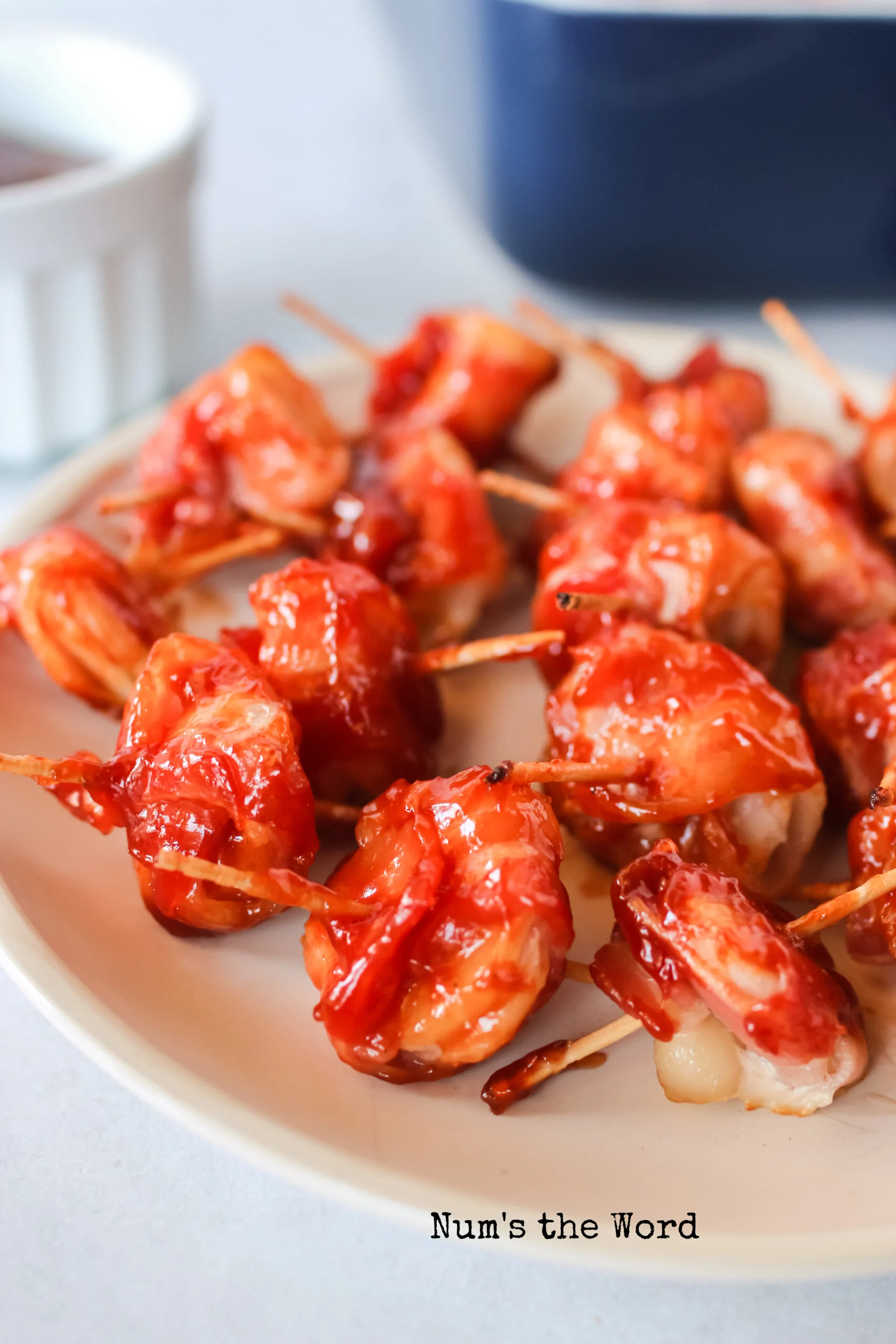 Are Bacon Wrapped Water Chestnuts Gluten Free?
Yes, bacon wrapped water chestnuts are gluten free.
However, check your ingredients!
Many ingredients you may not expect, such as soy sauce, contain gluten.
If you need your bacon wrapped water chestnuts to be gluten free, look carefully.
Use ingredients that specifically say gluten free or do not contain gluten on the label.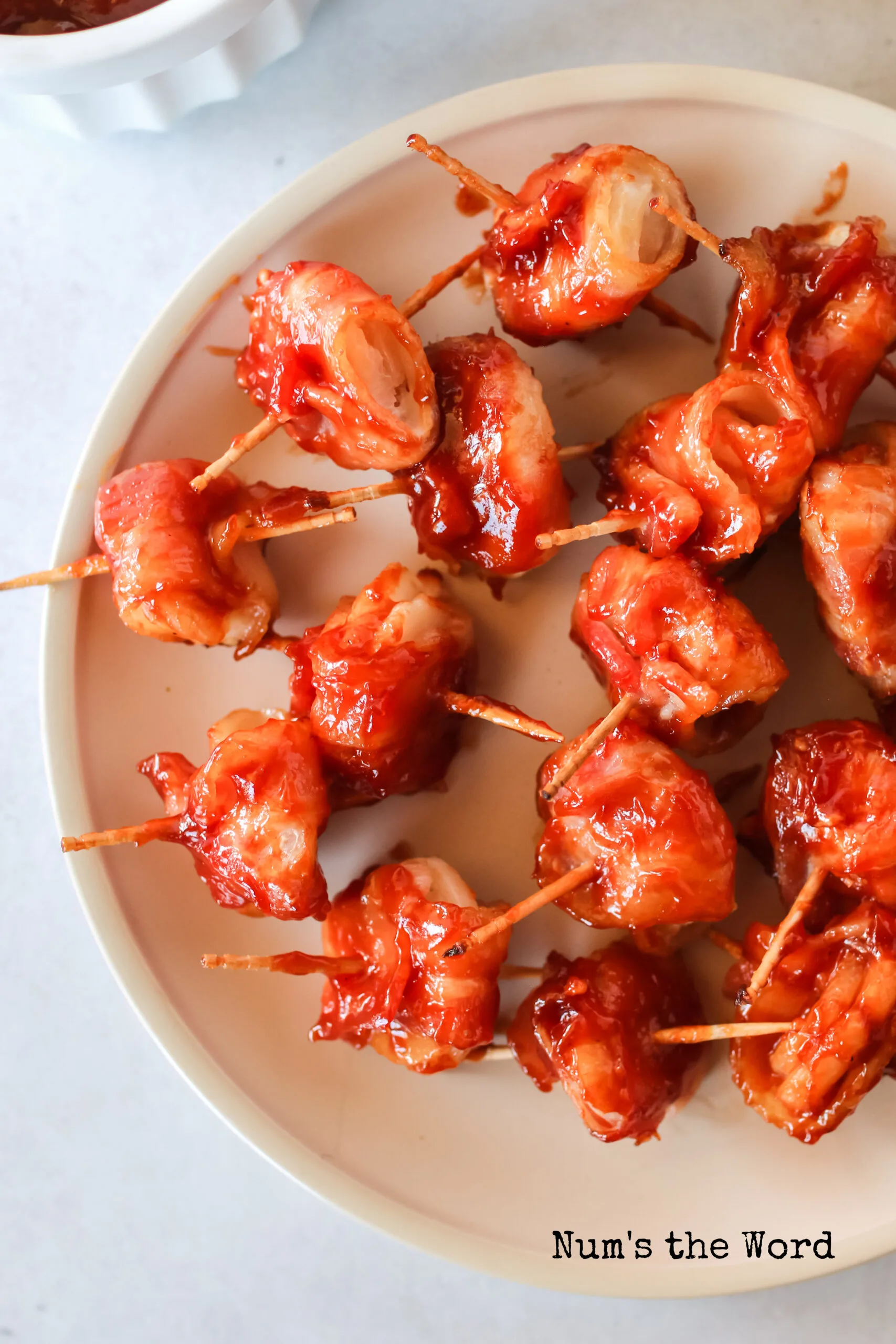 Can You Make Bacon Wrapped Water Chestnuts in the Slow Cooker?
I recommend baking the bacon wrapped water chestnuts in the oven. It crisps the bacon and cooks everything perfectly.
However, you may transfer them after baking to a slow cooker and keep them warm on the counter for up to 4 hours.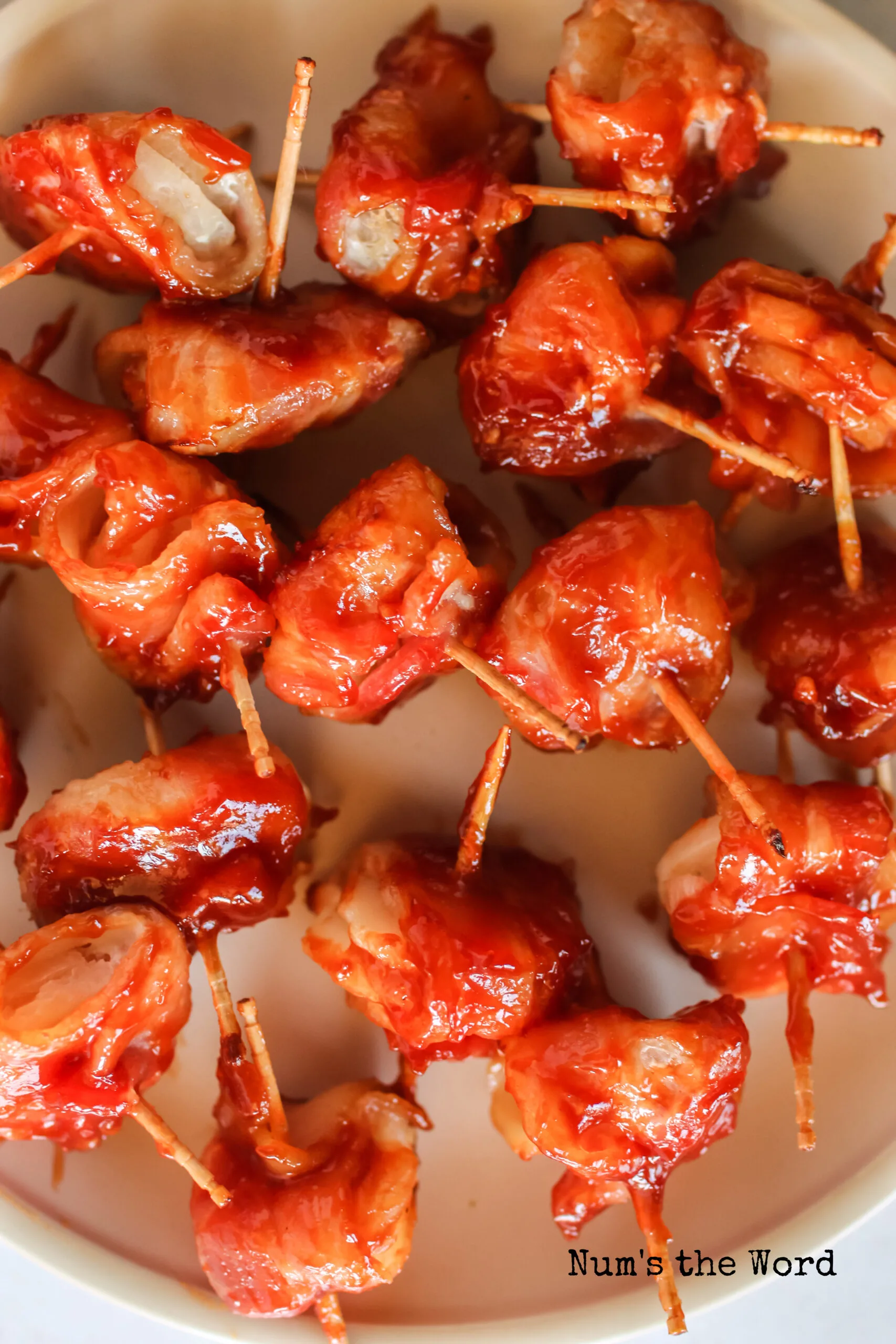 Bacon Wrapped Water Chestnuts are a quick, easy and delicious appetizer. They are perfect for holidays, parties, and the big game on TV!
Crispy bacon, sweet brown sugar, crunchy water chestnuts, and flavorful soy sauce make this one of my most requested dishes!
Yield: 15 Servings
Bacon Wrapped Water Chestnuts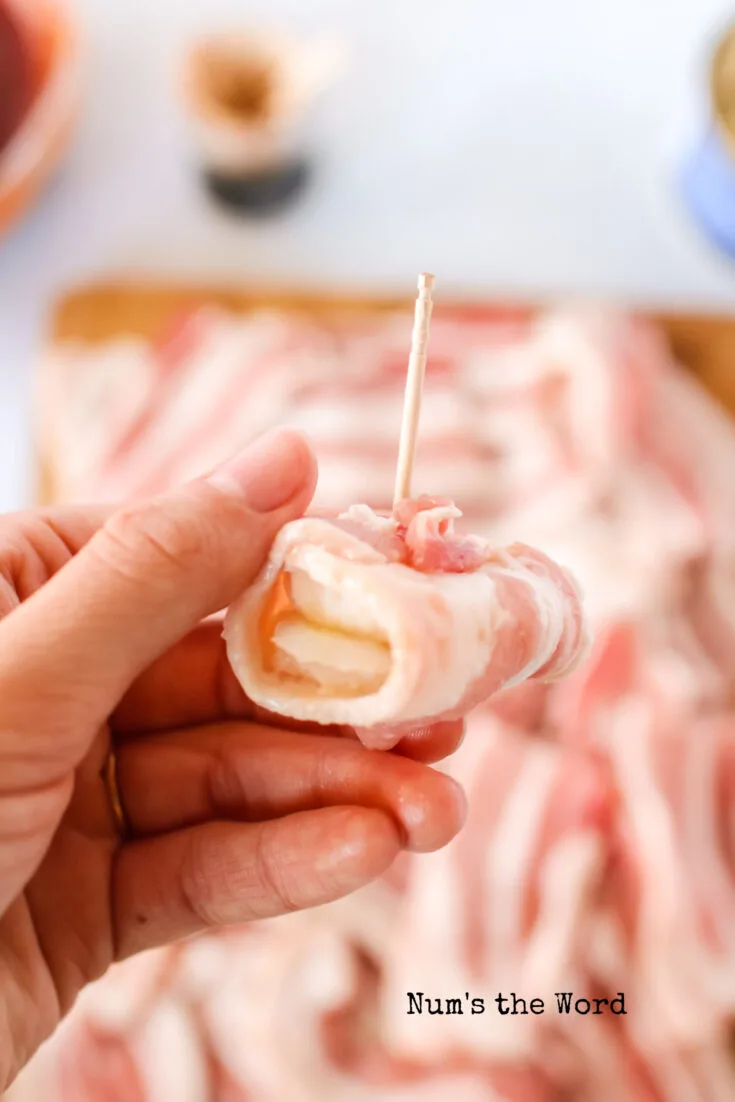 These Bacon Wrapped Water Chestnuts are a delicious appetizer! They are quick and easy to whip up for every holiday or gathering!
Ingredients
1/2 cup brown sugar
2 Tablespoons Worcestershire Sauce
1 cup ketchup
1 teaspoon mustard powder
1 pound bacon, not thick cut
2 (8 ounce) cans sliced water chestnuts, drained
Instructions
Combine brown sugar, Worcestershire sauce and ketchup in a bowl. Set aside.
Cut each strip of bacon into ⅓ pieces width wise.
Wrap 1 large or 2 small slices of water chestnuts in each ⅓ slice of bacon.
Use a toothpick to secure bacon to water chestnut. Use a nice thick round toothpick, NOT COLORED.
Place prepared chestnuts in a 9x13 casserole dish.
Bake at 375*F for 25 minutes.
Remove pan from oven.
Carefully Drain bacon grease from the pan.
Carefully spoon brown sugar glaze on top of the bacon water chestnuts.
Bake for 15 minutes more.
Serve immediately.
Nutrition Information:
Yield:
15
Serving Size:
1
Amount Per Serving:
Calories:

187
Total Fat:

11g
Saturated Fat:

4g
Trans Fat:

0g
Unsaturated Fat:

7g
Cholesterol:

30mg
Sodium:

679mg
Carbohydrates:

12g
Fiber:

0g
Sugar:

10g
Protein:

11g
Nutritional information is estimated, not exact.