Two words you absolutely need to try: Donut Muffins! Cinnamon-y and buttery, they taste just like a classic sweet donut with much less work!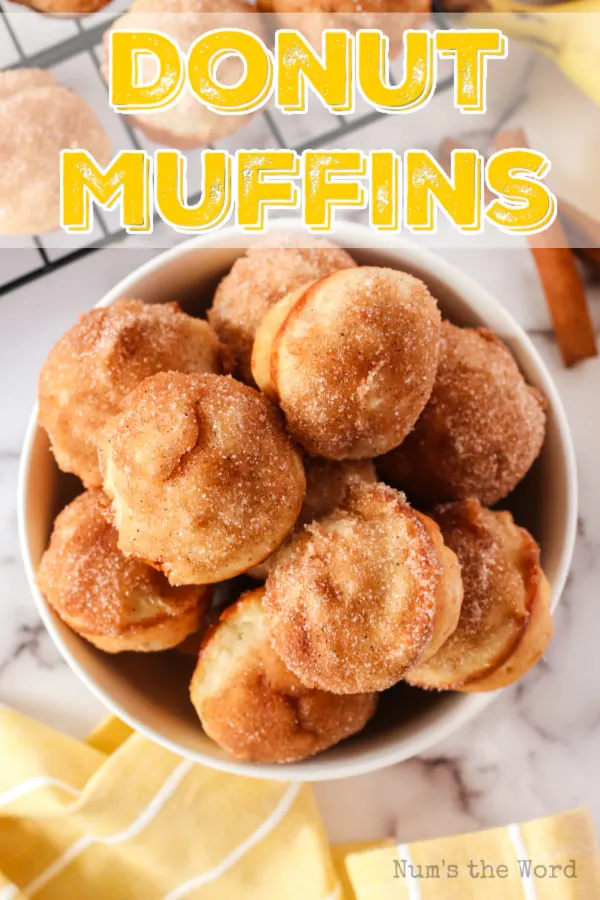 Sometimes, we all just need a donut. But the ones you're gonna run out and buy? Probably loaded with fat and a laundry list of ingredients you can't pronounce. Yikes.
Donut Muffins solve that problem. They're light and fluffy just like a donut with a nummy cinnamon sugar coating. Yum!
You'll love this donut muffin recipe because it's really easy. Mix together and then cook and top with an easy topping. Done!
And muffin donuts require no frying in oil. Which means no oil splattered around the kitchen and no extra fat either.
Cinnamon donut muffins are also a favorite with everyone and can be eaten as a yummy breakfast or a quick afternoon snack! I have yet to meet a person who doesn't love these.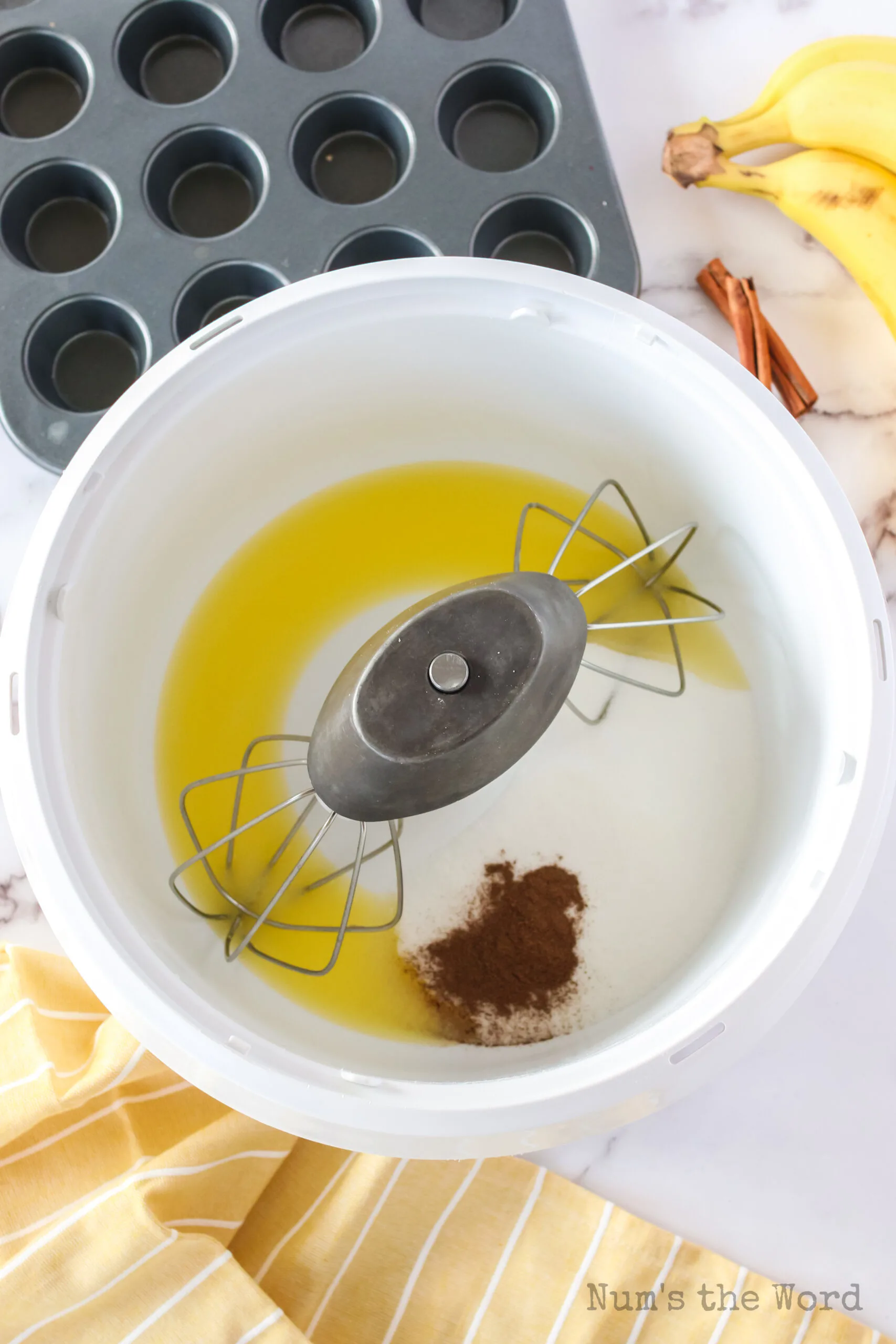 What is a Donut Muffin?
It's not a donut. But it's not a muffin either. A classic donut is typically round, with a hole in the center. But donuts can come in many shapes and sizes.
Muffins are usually much heavier and have more dense foods in them. So donut muffins are usually donuts, made in muffin tins.
This is much easier than trying to get the right shape of regular donuts when cooking. However, donut muffins will taste just like a regular cinnamon sugar donut. They'll just look like a muffin.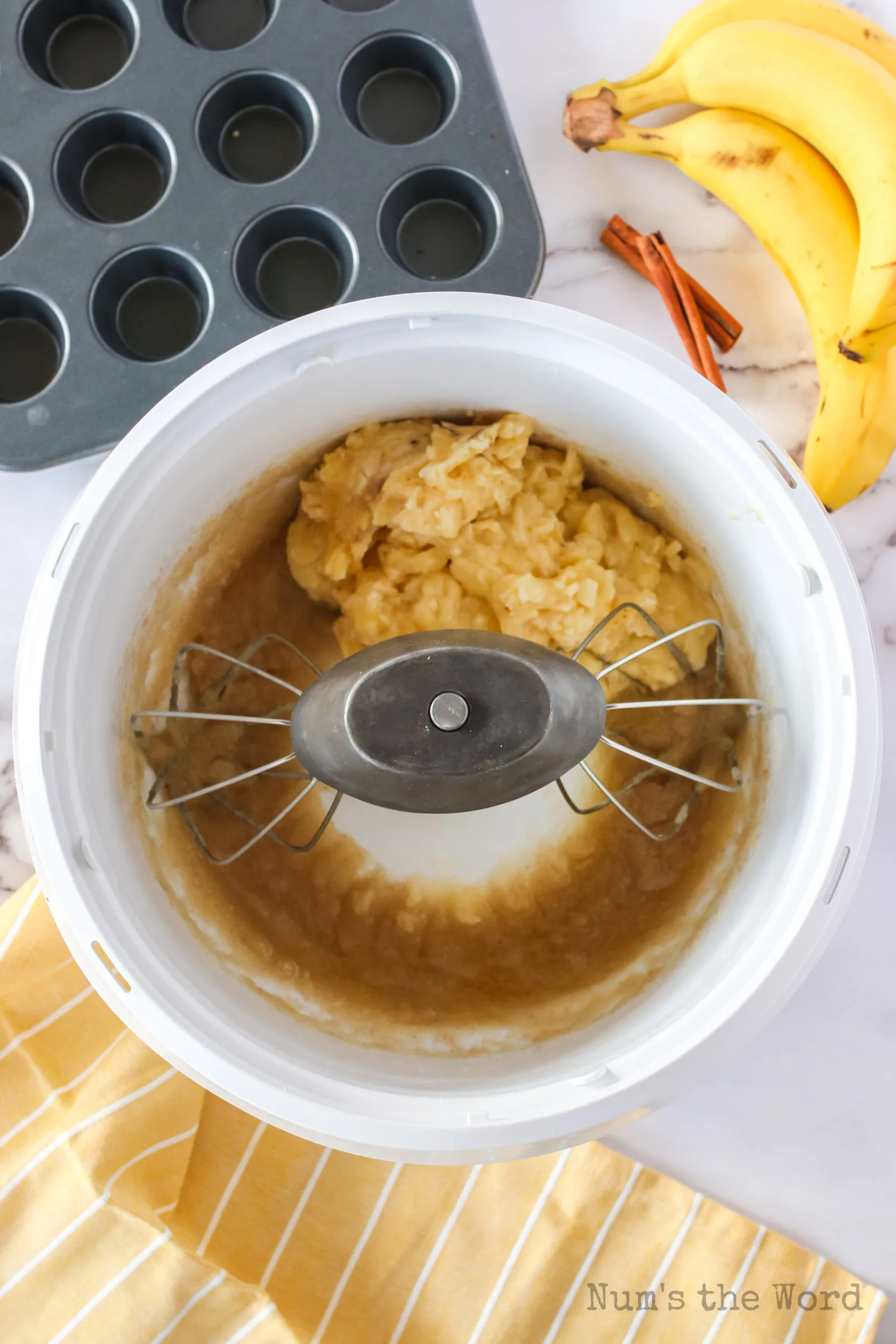 What Ingredients are in Donut Muffins?
Here's what you'll need to get a perfectly light and fluffy donut muffin:
Sugar:

I've only used white sugar. Brown sugar would give you a darker, maple type flavor.

Butter:

I wouldn't substitute with any other oils or margarine as it will change the flavor.

Nutmeg:

The nutmeg pairs really well with cinnamon topping.

Bananas:

You don't need eggs in this recipe as the bananas hold the donut muffins together.

Baking Powder:

The addition of baking powder gives these muffins a distinct cake-y texture.

Flour:

I've only used all purpose flour. Cake flour may be substituted but I wouldn't try any other flours.
And for the delicious cinnamon topping, be sure to have these ingredients on hand:
Butter:

Again, no substituting! The butter just melts on top of the donut muffins.

Sugar:

You could try other sugars here again, just be sure to get the right amounts.

Cinnamon:

Cinnamon sugar mixture! Is there anything better on top of donuts?
Pro Tip:
The butter needs to be melted for both the muffins and the topping but melt it separately.

Use bananas that are over ripe. They're much sweeter than under ripe bananas.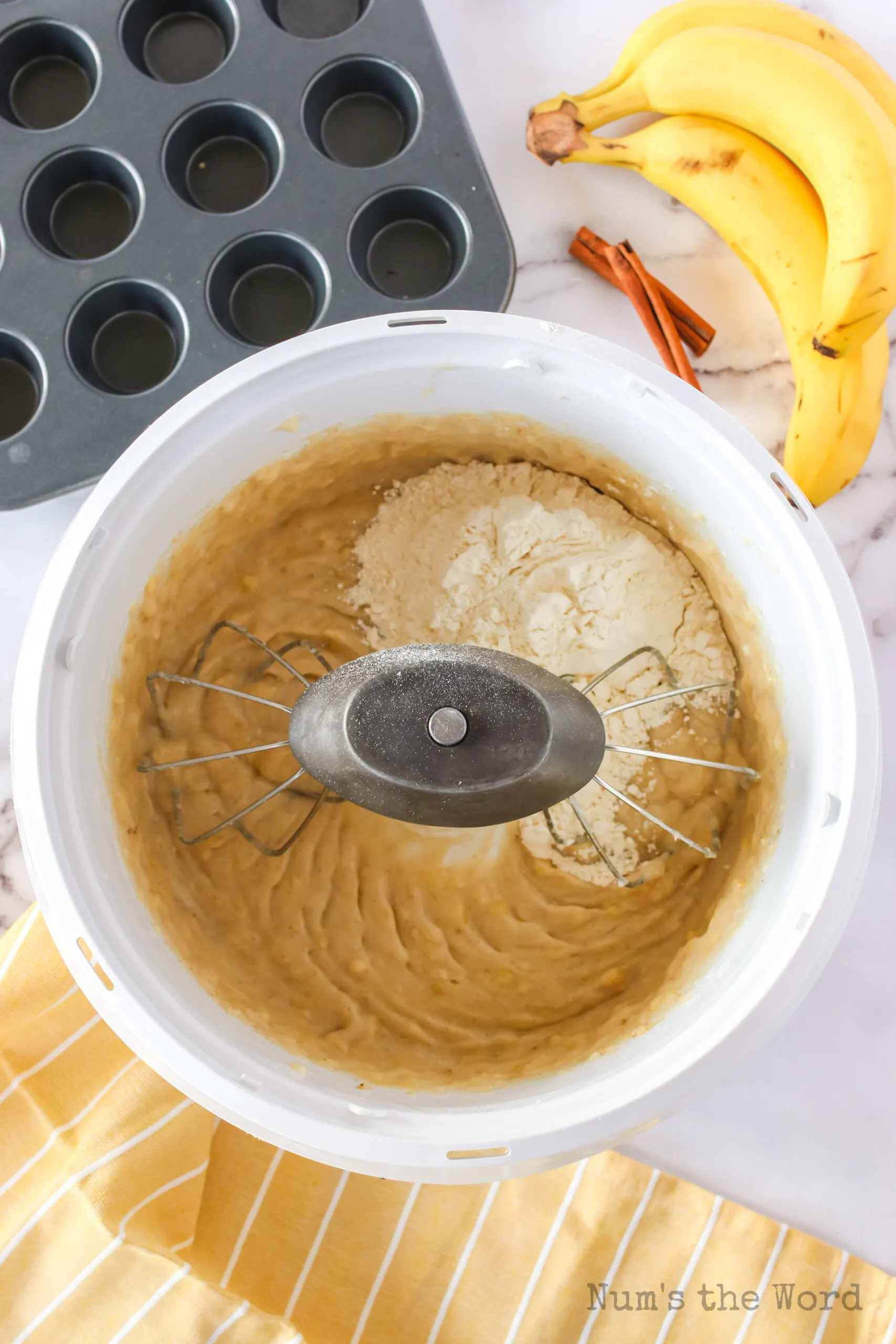 How to Make Donut Muffins
It's pretty simple to make donut muffins so you can make them for your busy weekday mornings.
Mix:

Each ingredient needs to be mixed in completely before adding more ingredients so go slowly.

Bake:

The muffin donuts will be golden brown and cooked through when done.

Top:

Dip each muffin in butter and then cinnamon sugar for a perfect finish!
Pro Tips:
Cool the muffins slightly before adding the topping or they'll be too hot to dip.

Spray the pan well or use muffin cups to keep the donut muffins from sticking.

This recipe is for mini muffins. For larger muffins be sure to cook longer to get them fully cooked.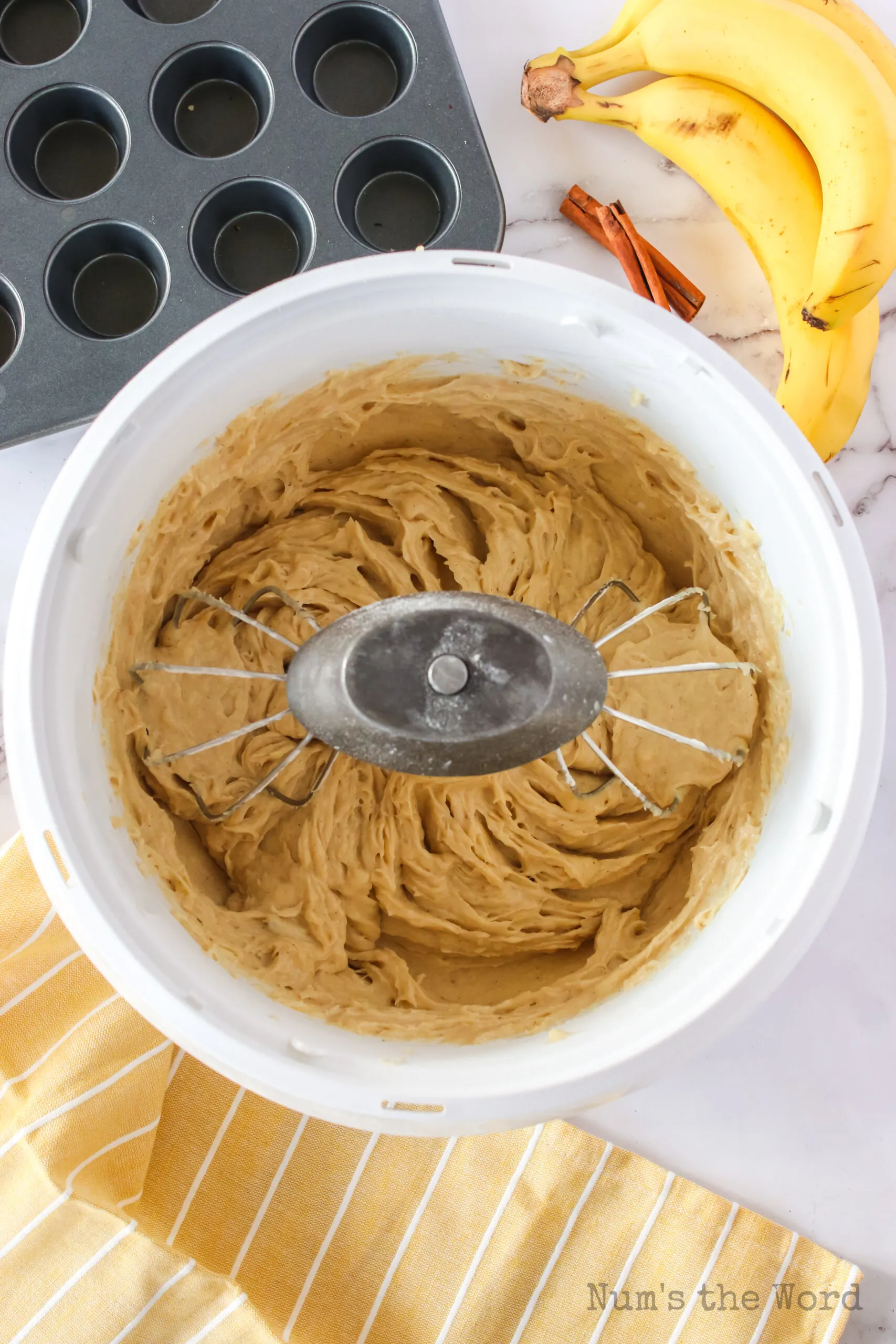 Are Donut Muffins a Breakfast or Dessert?
I can understand the confusion! Muffins are typically eaten as breakfast or a snack, but not usually as a dessert as they are heavier than a cupcake.
Donuts can be eaten for breakfast but are frequently eaten as a dessert. So where does that put donut muffins?
That puts them wherever you want them!
Donut muffins can be eaten for breakfast, as muffins and donuts are eaten for breakfast regularly. They can also be eaten for dessert as they are sweeter than a regular muffin thanks to that cinnamon sugar topping.
So eat them however you want them and throw that rule book aside.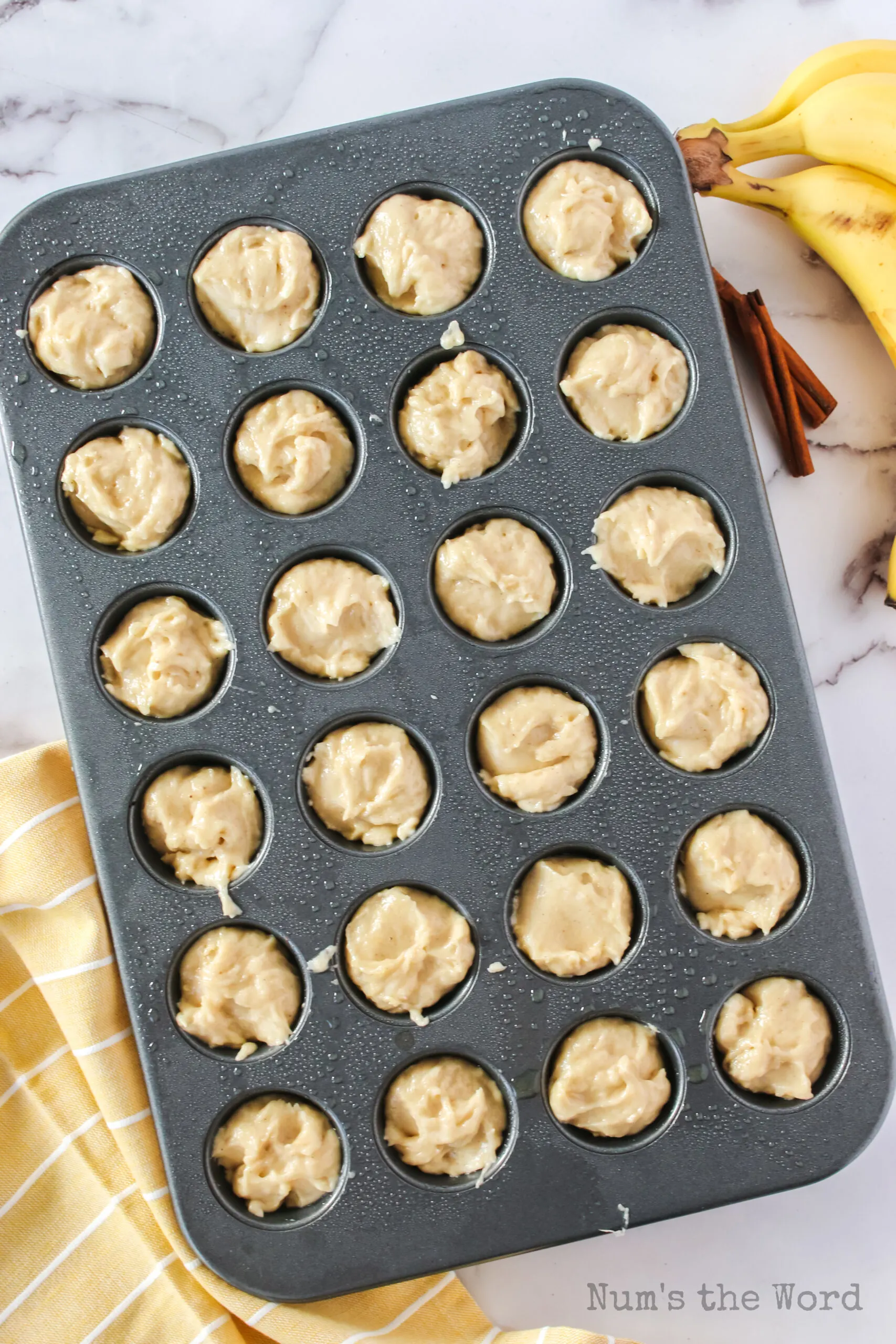 Are Donut Muffins Healthy?
When compared to a regular donut, donut muffins are much healthier. They do contain many similar ingredients, such as sugar and flour.
But they also contain less sugar than a regular donut due to the addition of bananas. And they aren't fried in any vegetable oils, so they are much lower in fat and calories too.
That being said, they're not as healthy as asparagus. But as far as desserts go, don't feel too guilty when you eat the whole pan. They're that good.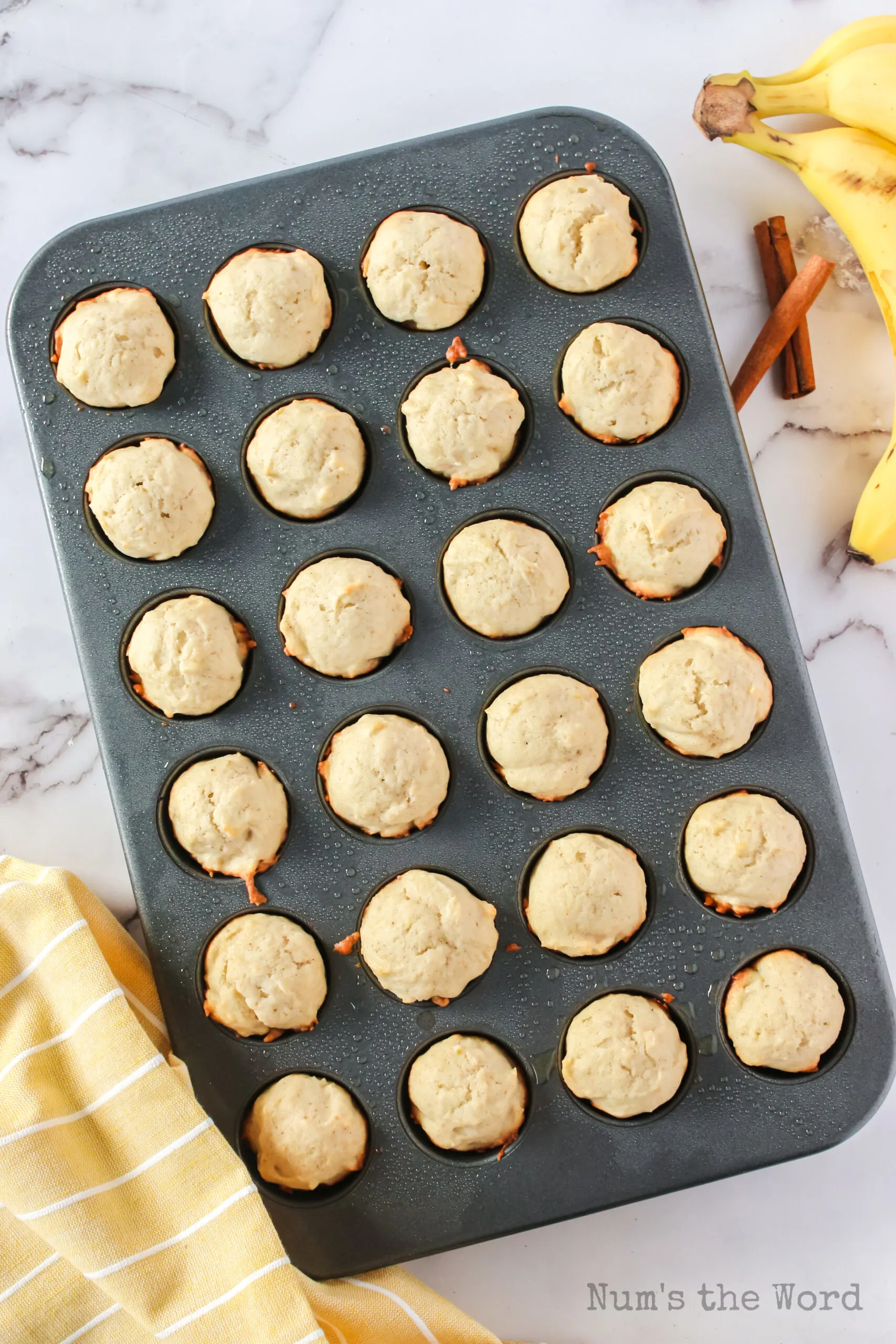 How to Store Donut Muffins
Donut muffins should be stored in an airtight container or bag to prevent them from drying out. Be sure to wait until they have cooled however to prevent condensation on the inside of the bag.
Then they can be kept on the counter for up to 4 days. Though we've never had them last that long because they're super hard to resist.
Pro Tip:
If you're stacking the muffins, place a layer of parchment paper between the layers to keep them from sticking.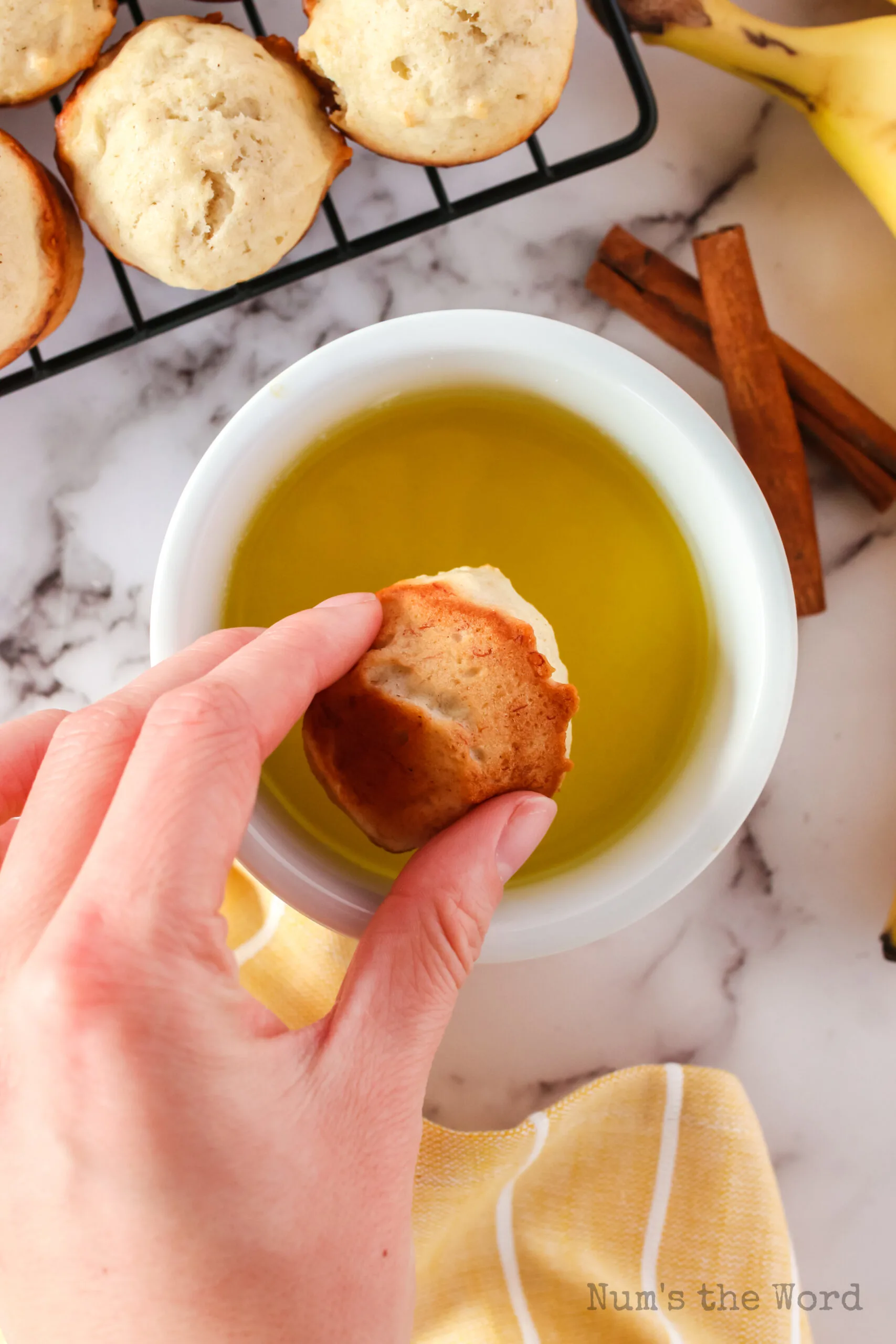 Can You Freeze Donut Muffins?
Donut muffins can easily be frozen! We like to make a double batch. One to eat now, and one to pull out later.
Bread tends to dry out in the freezer, so for best results, wrap each donut individually in plastic wrap. Then place them in a freezer safe bag and zip closed.
When you're ready to eat them, simply pull out the bag or individual muffins and let them thaw on the counter. Donut Muffins can be kept in the freezer for up to two months.
After that, the texture and flavor will begin to degrade.
Pro Tip:
Write the name and date on the bag. Then you'll know how long they've been in there and what they are.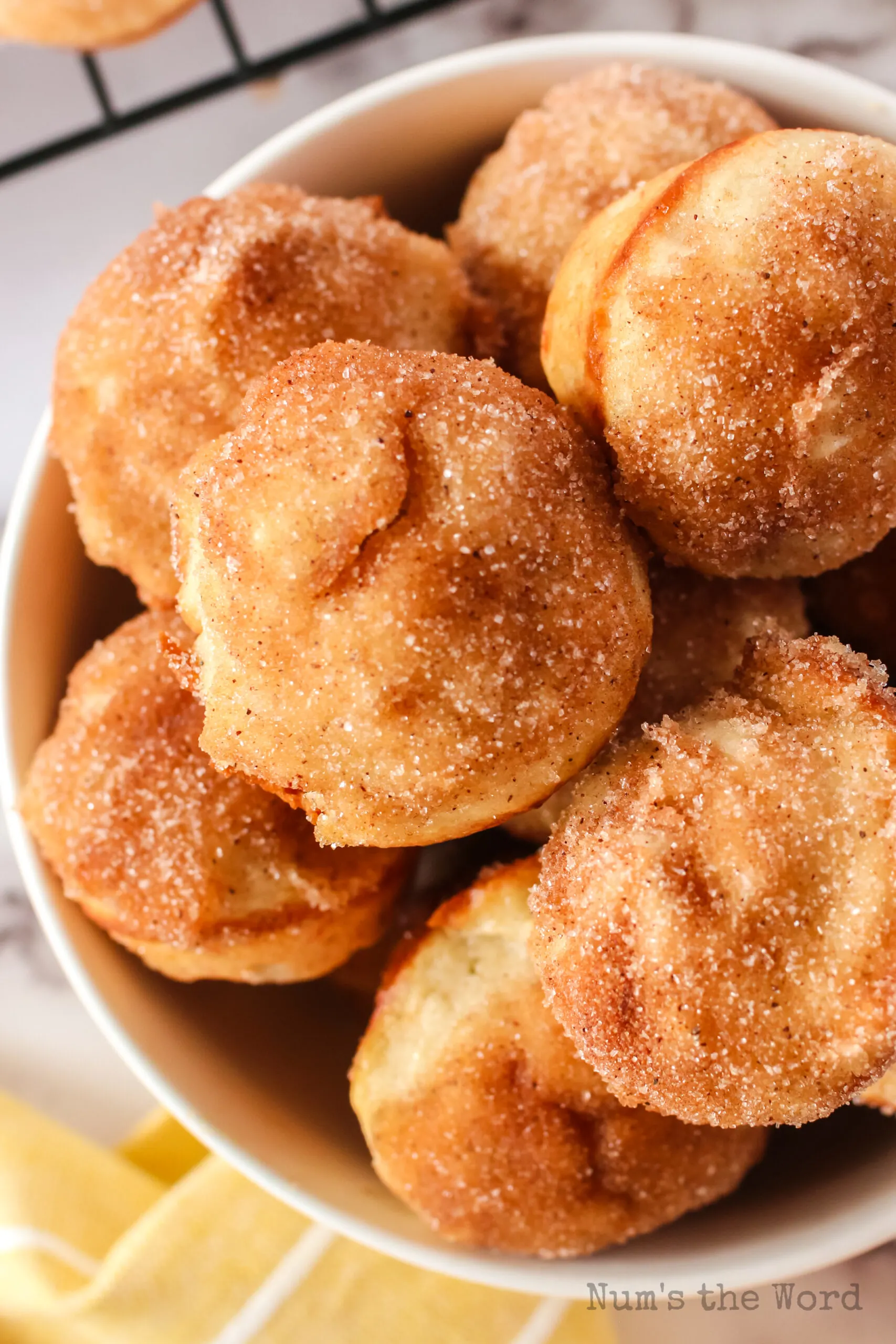 More Recipes with Bananas You'll Love…
Donut Muffins are a delicious and easy breakfast, snack, or dessert. They taste just like regular donuts but for a fraction of the work.
Enjoy these donut muffins with a slathering of butter, a heap of jam, or on their own!
Yield: 24 Muffins
Donut Muffins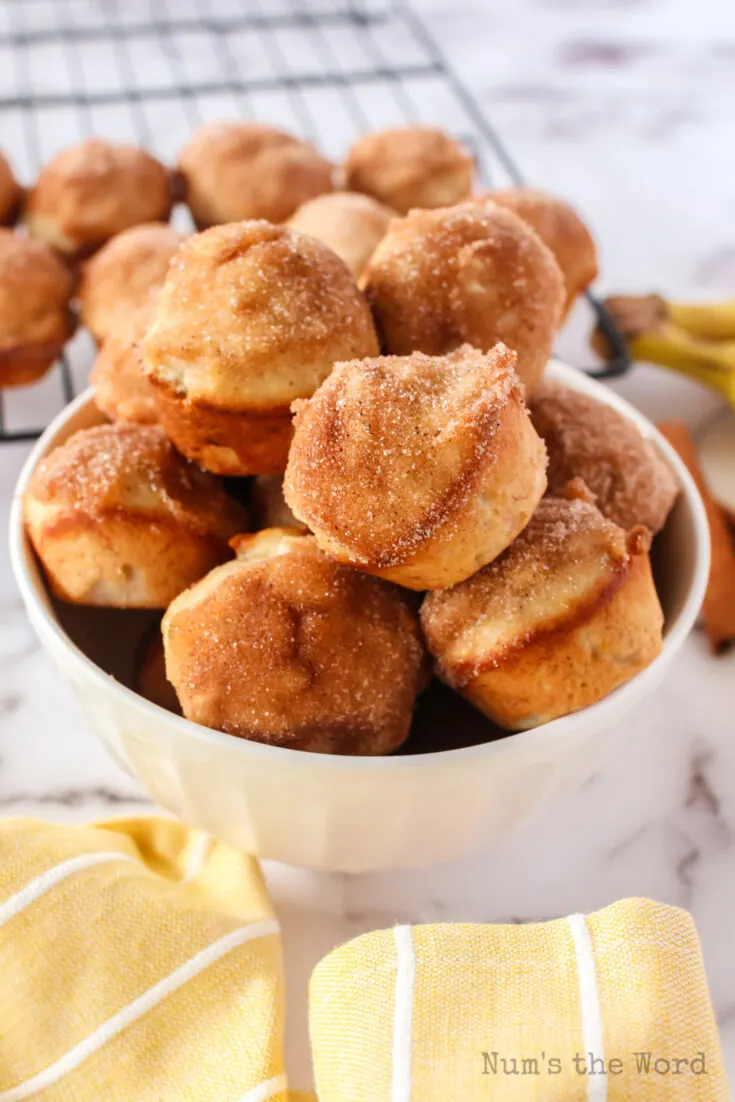 Two words you absolutely need to try: Donut Muffins! Cinnamon-y and buttery, they taste just like a classic sweet donut with much less work!
Ingredients
1 cup white sugar
1/2 cup butter, melted
1/2 teaspoon ground nutmeg
4 over ripe bananas, mashed
2 teaspoon baking powder
2 cups all-purpose flour
1/4 cup butter, melted (topping)
1/2 cup white sugar (topping)
1 teaspoon ground cinnamon (topping)
Instructions
Preheat oven to 375*F
Spray a mini muffin tin with cooking spray, making sure to get all sides. Set aside.
In a stand mixer, combine 1 cup white sugar, 1/2 cup melted butter and nutmeg. Mix well.
Add mashed bananas and mix well.
Add baking powder and flour, 1 cup at a time, mix well between each addition.
Add banana mix to each well, filling ¾ full.
Bake in oven for 15 - 20 minutes (My oven 15 was perfect)
Remove from the oven and let cool for 5 minutes, before removing them to a cooling rack.
While muffins are cooling, in a small bowl combine the topping mix of 1/2 cup white sugar and 1 teaspoon cinnamon.
In a second bowl, melt 1/4 cup butter.
Once muffins are cool, dip the tops of each muffin in the butter, then the cinnamon sugar mixture.

Nutrition Information:
Yield:
24
Serving Size:
1
Amount Per Serving:
Calories:

155
Total Fat:

6g
Saturated Fat:

4g
Trans Fat:

0g
Unsaturated Fat:

2g
Cholesterol:

15mg
Sodium:

87mg
Carbohydrates:

25g
Fiber:

1g
Sugar:

15g
Protein:

1g