Instant Pot Roast Chicken produces a juicy, mouthwatering rotisserie chicken with minimal prep and minimal cook time! It's perfect for those busy weeknights!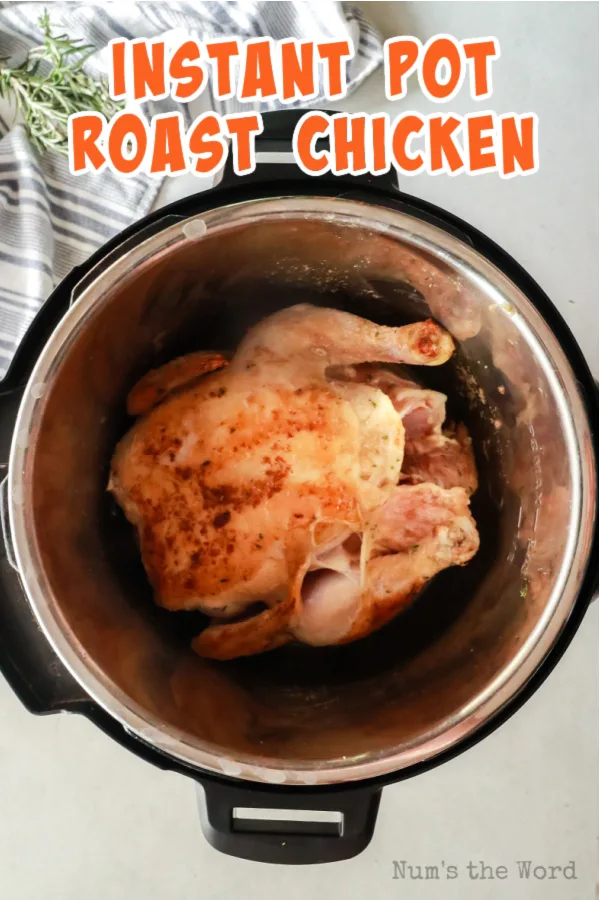 Juicy, flavorful, with a crispy skin. Instant pot roast chicken is everything you want out of a chicken and more.
You'll love that roasted chicken in an Instant Pot takes almost no work. There's no crazy steps or checking on it every few minutes.
Instant Pot roasted chicken also produces a perfect chicken every time. The pressure cooker just locks all that juice in the meat.
And you can cook potatoes at the same time as the chicken, which means it's a one pot meal!
Since you aren't running to buy a rotisserie chicken, you get to control the ingredients too. Don't like a certain spice? Use what you love! It's flexible!
Plus whole roast chicken in the instant pot is fancy enough for Sunday dinner but easy enough for Wednesday. Yum!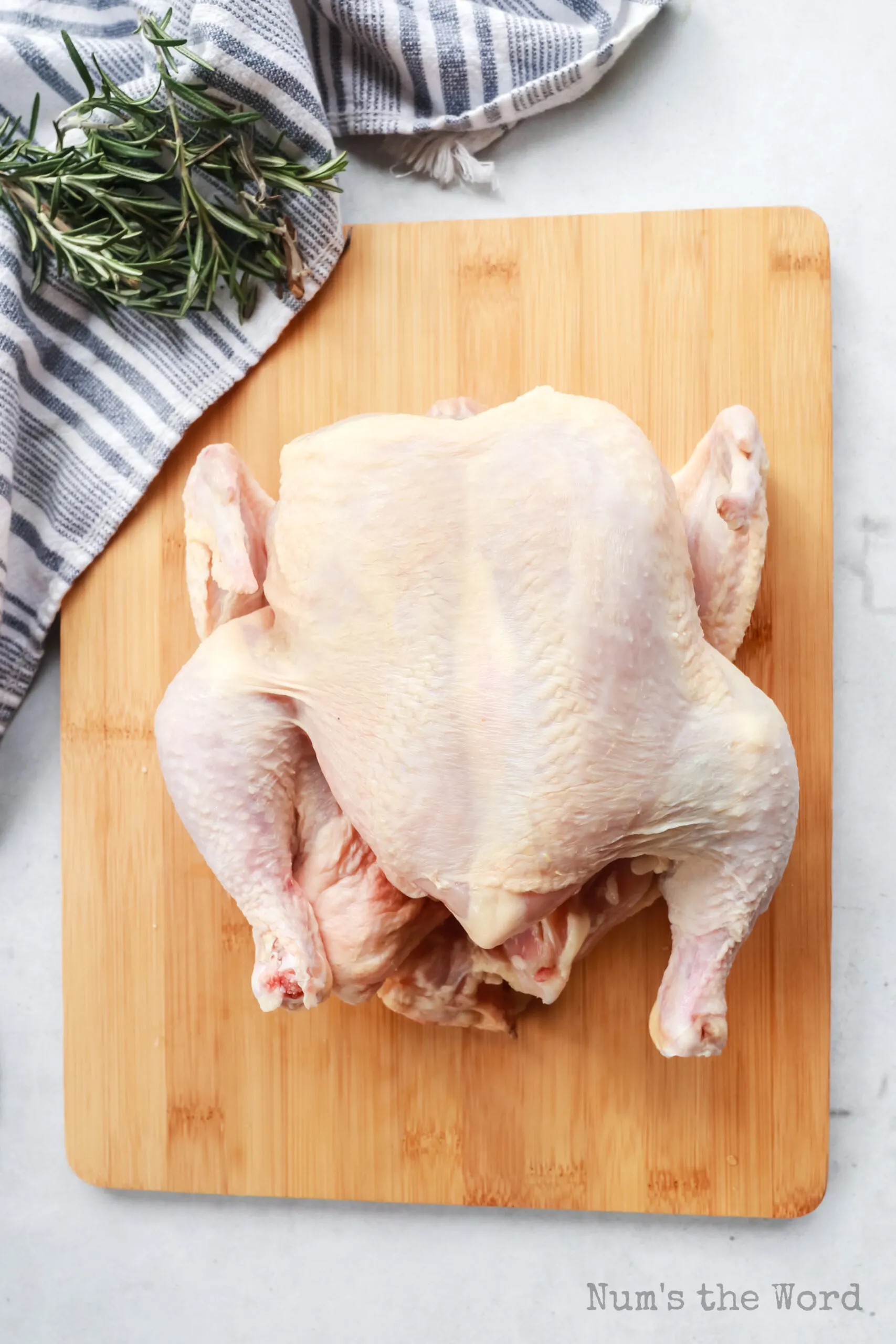 What is Roasted Chicken?
A roasted chicken is a chicken that has been cooked by roasting.
A chicken can be boiled, sautéed, fried, etc. Roasting is a very popular method of cooking chicken.
If you go to the store, you'll often find those quick and easy rotisserie chickens. Rotisserie is a type of roasting that involves spinning the chicken until it is cooked completely.
Cooking in the oven is another way of roasting chicken.
Using an instant pot to roast a chicken gives you the same great flavor as the other ways of roasting, but it is less messy.
It's also easier as it is timed exactly and you don't need to be rotating it or even turn on the oven.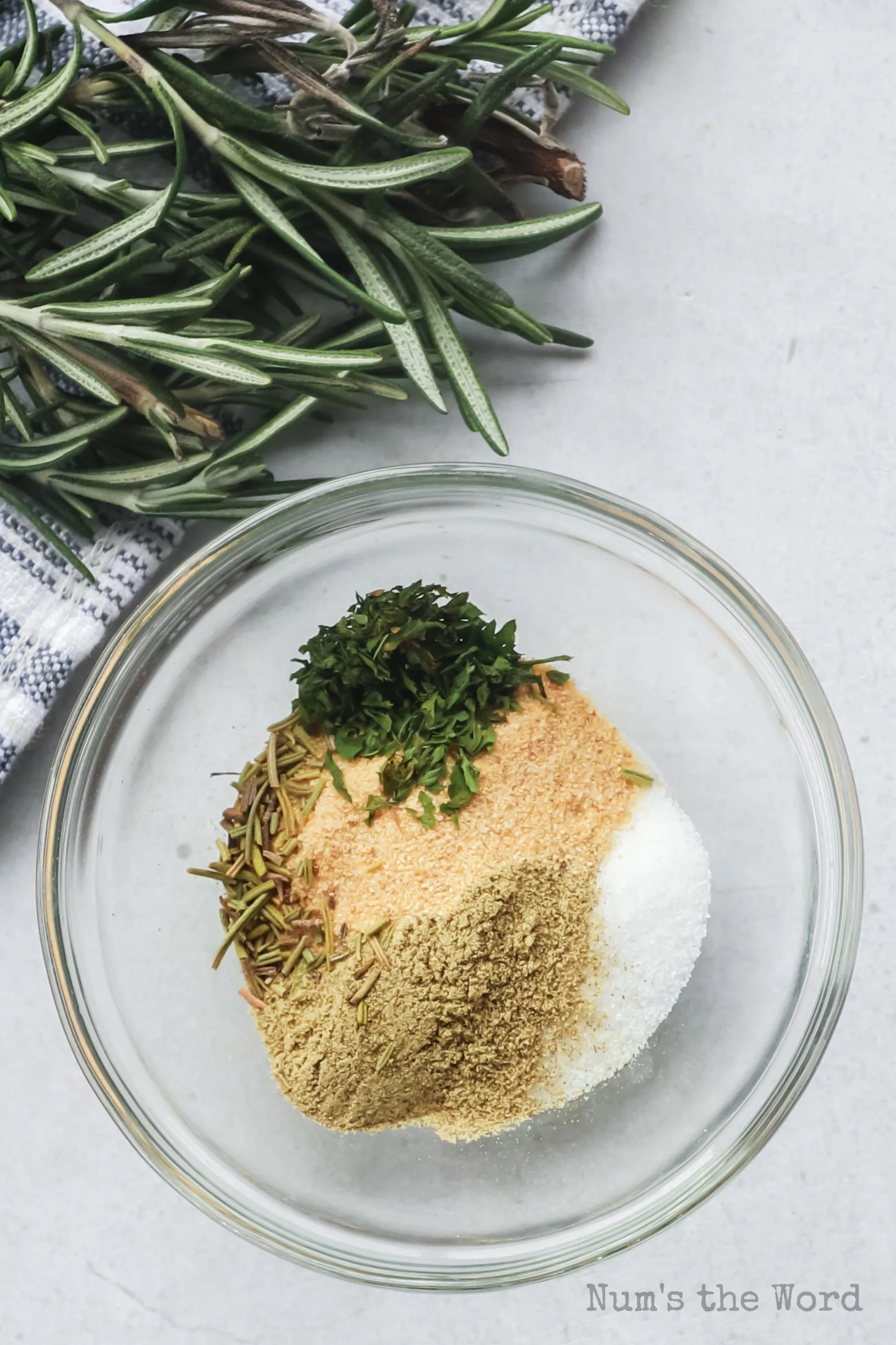 What Ingredients are in an Instant Pot Roast Chicken?
Most of these ingredients are pantry ingredients, so you've probably already got them on hand.
Salt and Pepper:

This is your basic seasoning but it tastes really yummy on chicken.

Garlic Powder:

The garlic isn't overpowering but powerful and subtle.

Rosemary:

Chicken and rosemary is an excellent combination. If you haven't tried it, you'll love it.

Parsley:

If you substitute for fresh, be sure to adjust the amounts accordingly.

Roasting Chicken:

I use a 4.5 lb chicken for this recipe. The cook times vary by size.

Olive Oil:

This will keep the skin of the chicken from sticking to the instant pot.

Chicken Broth:

The chicken broth adds a nice flavor and helps to cook the potatoes too.

Potatoes:

Use small creamer potatoes that can sit below the chicken and absorb all it's juices.
Pro Tips:
Rinse the chicken off and remove giblets before beginning.

Use a thawed chicken, not frozen.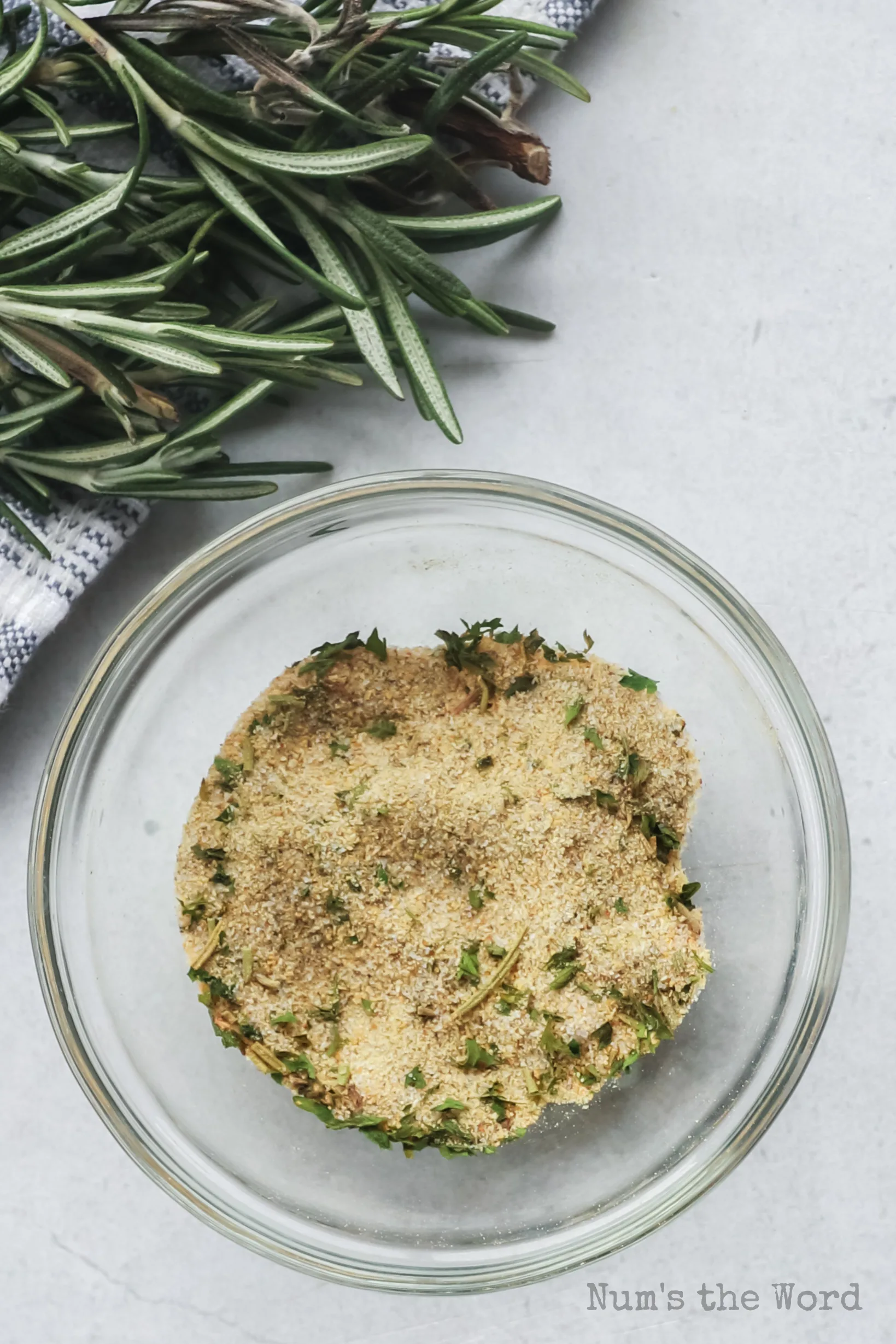 How to Roast a Whole Chicken in the Instant Pot
Rub:

Rub those spices right into the chicken meat to flavor.

Sear:

Searing will give you a nice crispy outer layer of skin and meat.

Roast:

Allow the instant pot to naturally release for 5 minutes before opening.

Enjoy!:

You can serve this up right away!
Pro Tips:
Pat the chicken off so that it is dry when you add the spices.

Using the instant pot to sear the chicken saves you extra pots and dishes.

Be careful when turning the chicken while searing so you don't rip that delicious skin!

The chicken is fully cooked when it reaches an internal temperature of 165.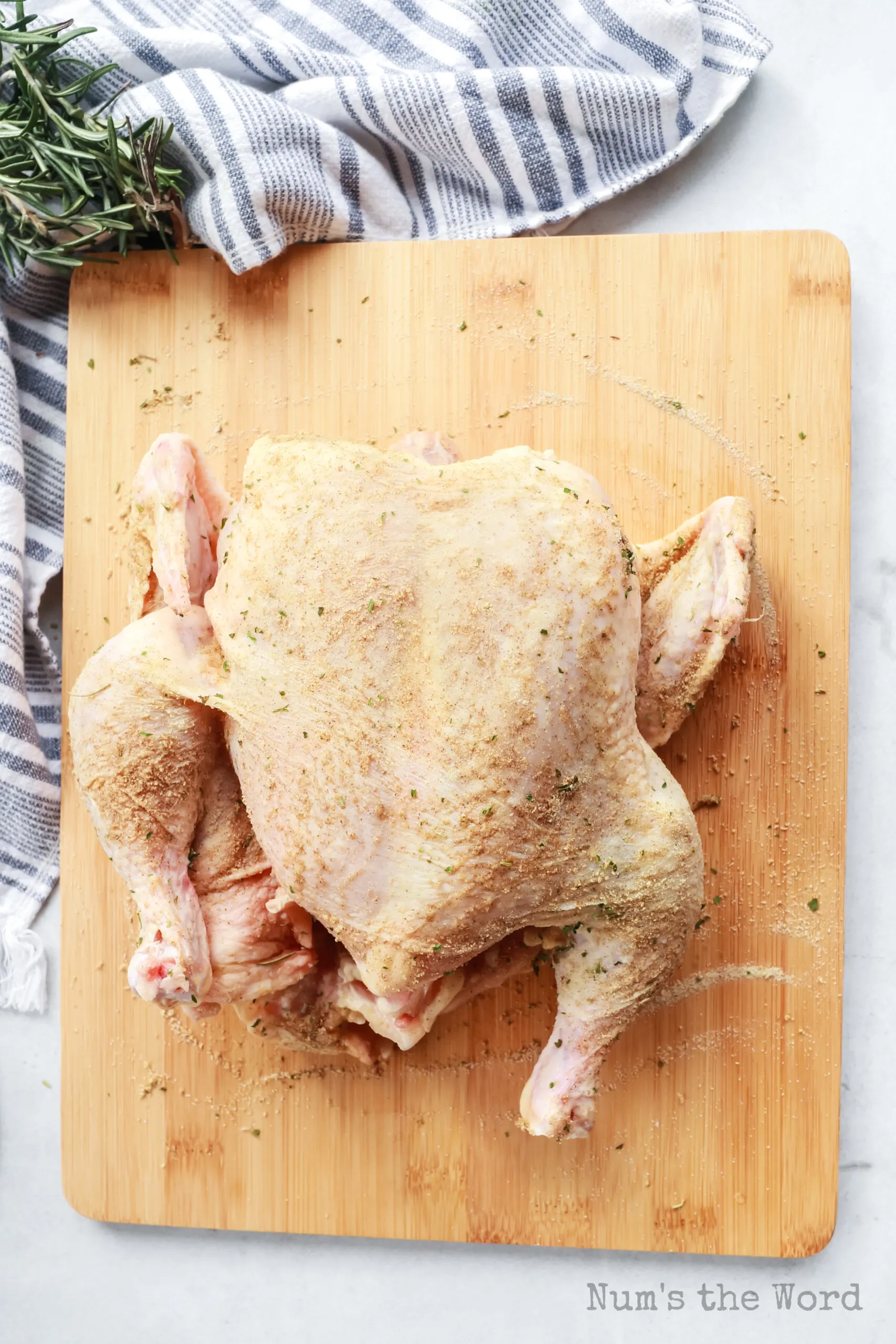 Is Roasted Chicken Healthy?
It sure is!
Loaded with spices, herbs, and healthy carbs, roast chicken is a super easy and healthy meal.
Of course, I'm referring to the homemade roast chicken. If you're picking up a batch from the store, well, take a look at the ingredients and decide for yourself.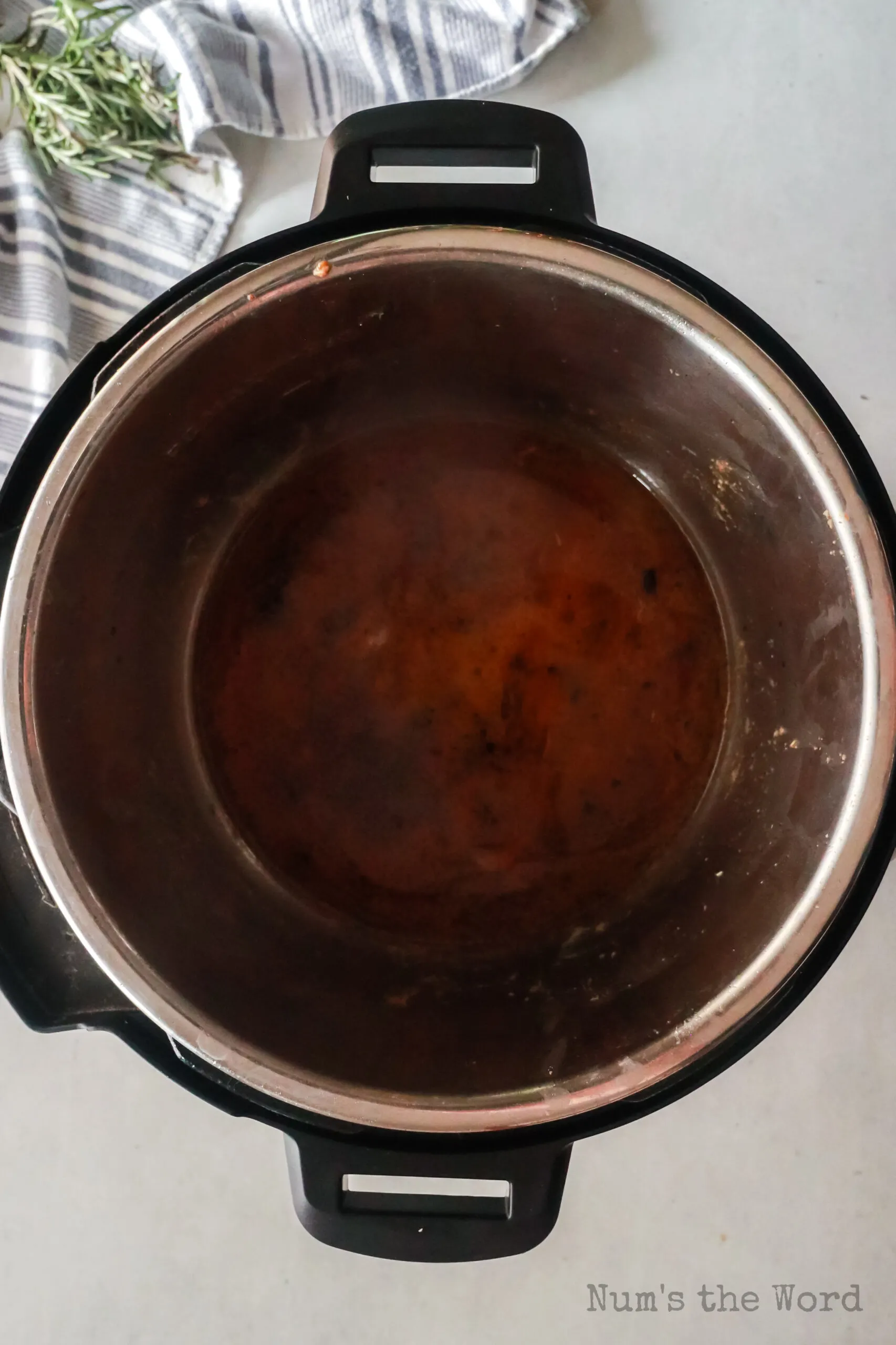 What to Serve with Roast Chicken
You've already got the roast chicken and potatoes. Here's some other things that will complete this meal: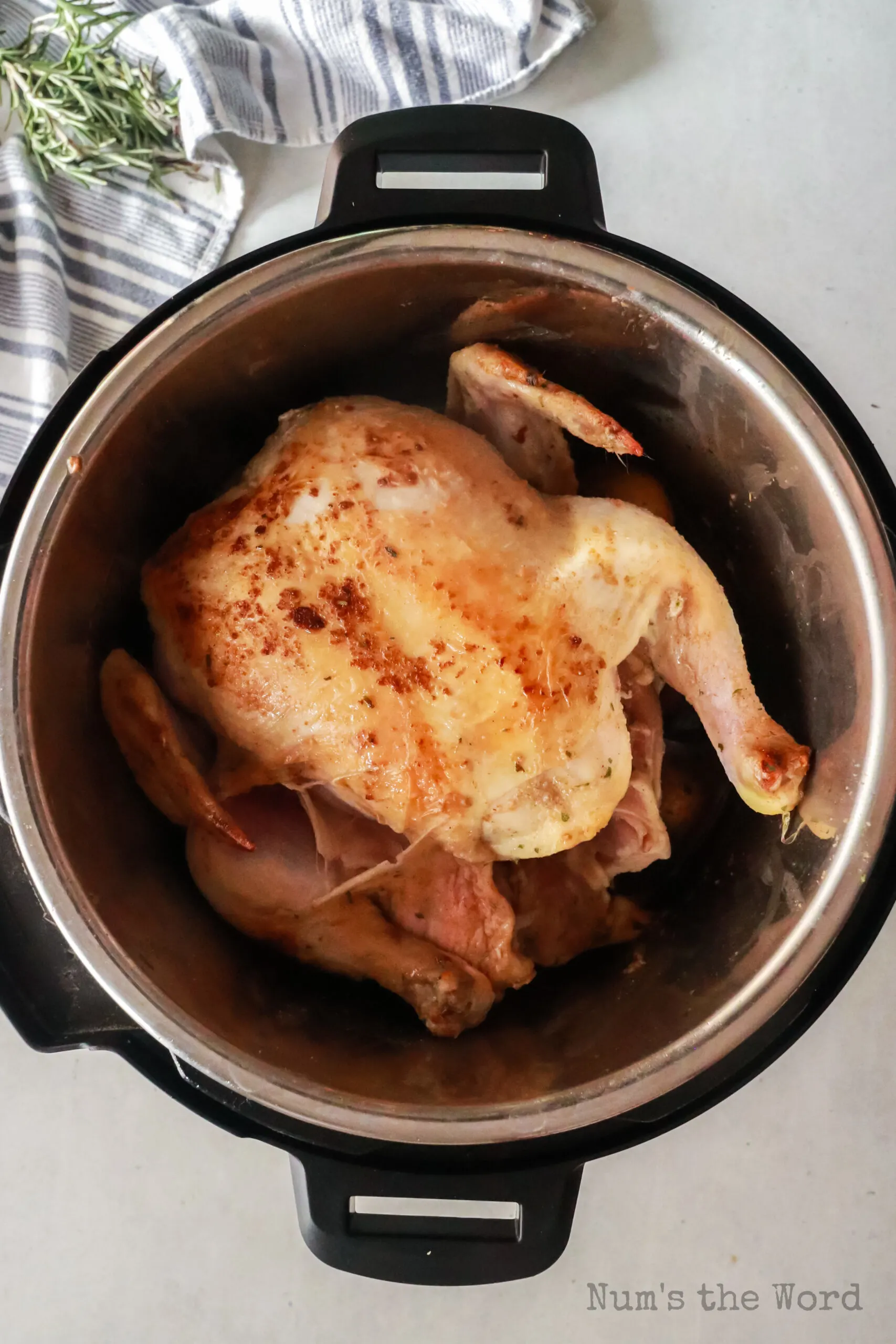 How Long is Roast Chicken Good For?
You can safely store leftover roast chicken in the fridge for up to 5 days. Always be sure to check the smell and look of leftover food to be sure it's still good.
And if you need a way to use up any leftover chicken, try:
Don't forget leftover chicken is also great served on top of a bed of lettuce like in this Chicken and Avocado Salad.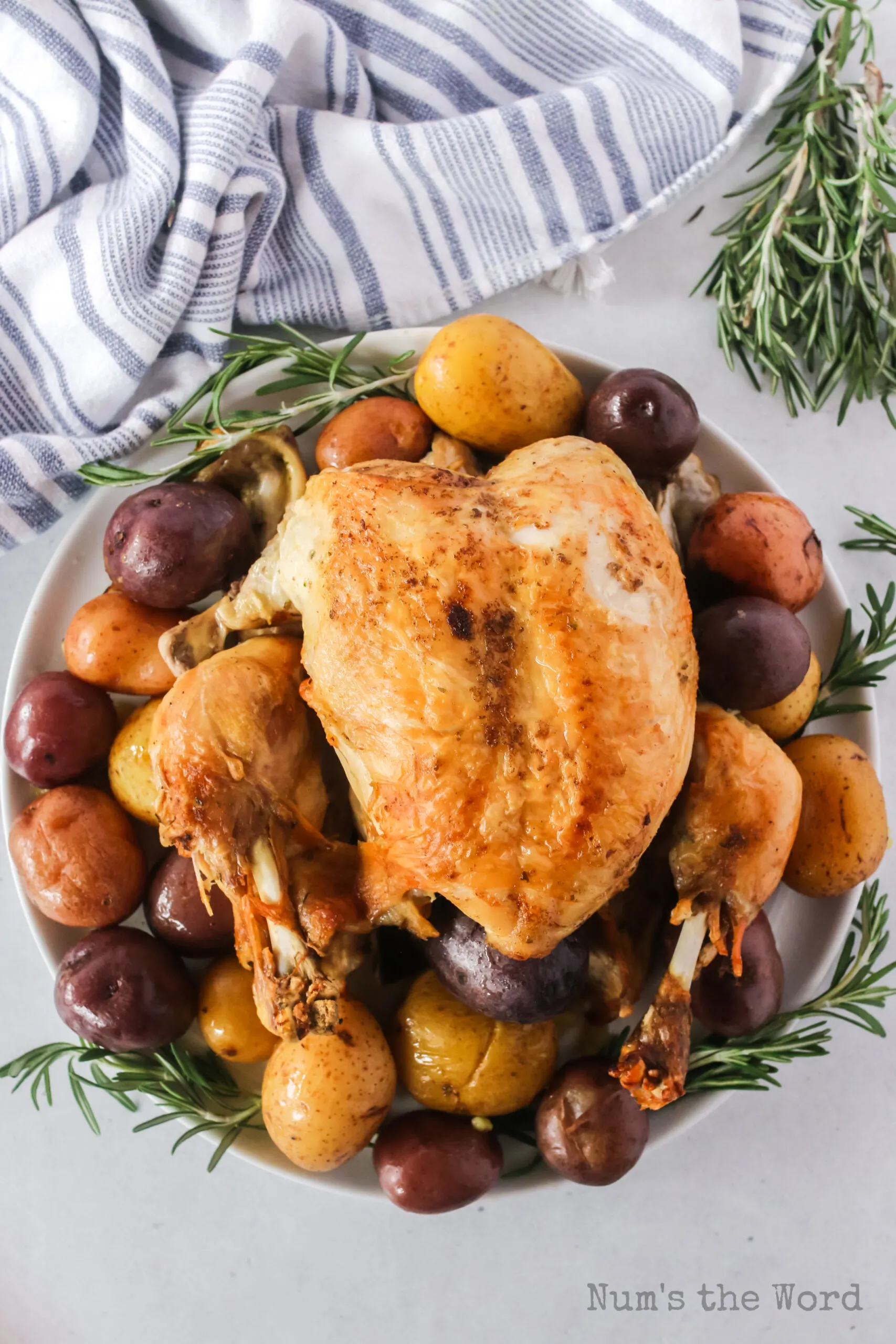 How to Reheat Roasted Chicken
Roasted chicken is great reheated in the oven or instant pot. It helps to crisp up the skin.
You'll want to be careful not to cook the chicken again though. Just heat the chicken until heated through.
If you cook the chicken again, it's really common to have it dry out.
You can also simply cook the chicken in the microwave, but be sure to cook in very small bursts to prevent it from drying out.
I find tossing leftover chicken into another creamy recipe is a great way to use it. That way it doesn't dry out and I get an extra use out of that yummy roasted chicken.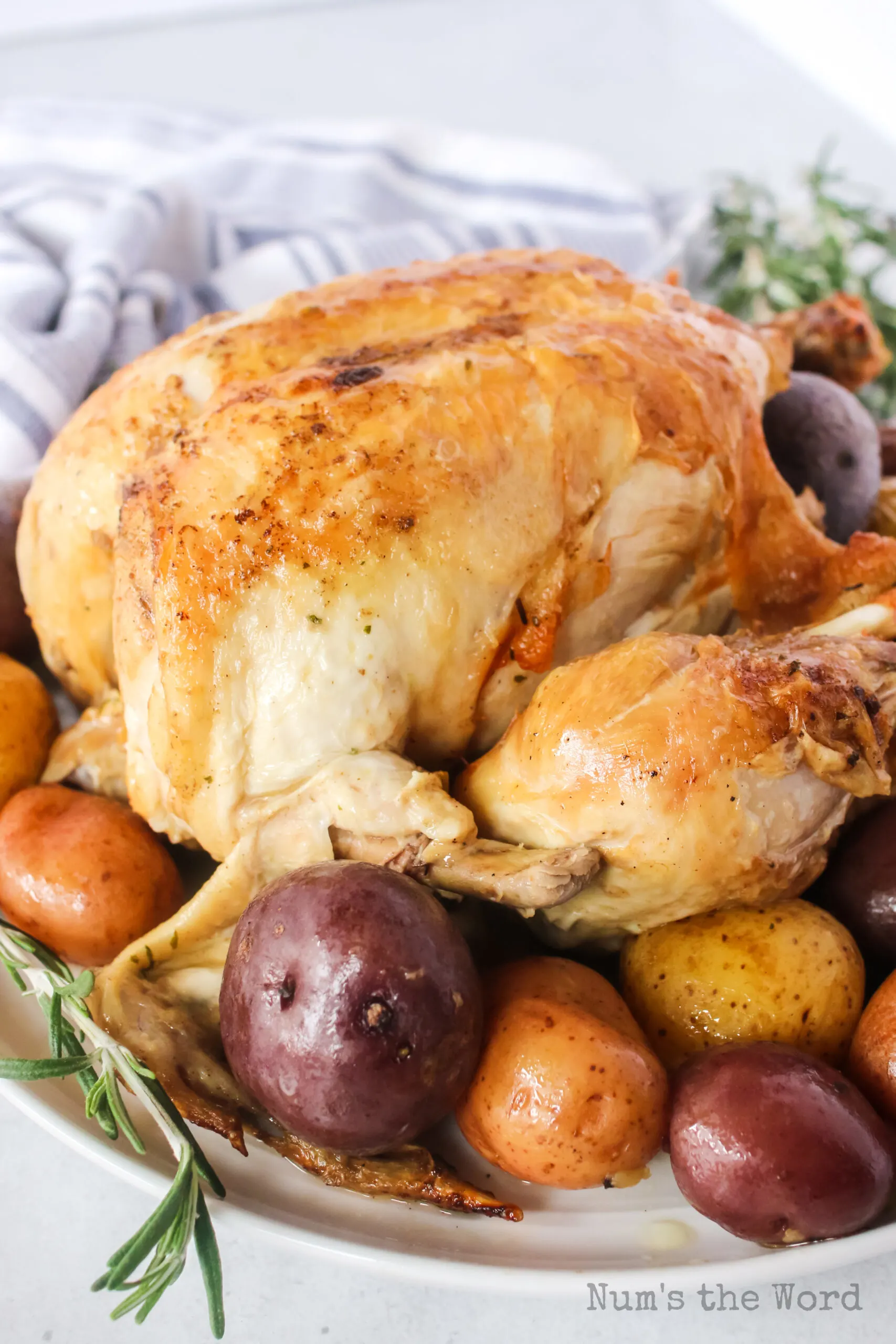 How to Carve a Roast Chicken
There are many ways to carve a roast chicken and no real wrong ways to carve one. I've seen people just go at them with two forks and shred the meat.
Others like to slice right down the center of the bird and the slice down each side. That's the way that will give you nice big slices of meat.
However you decide to slice it, you can be sure it'll be delicious.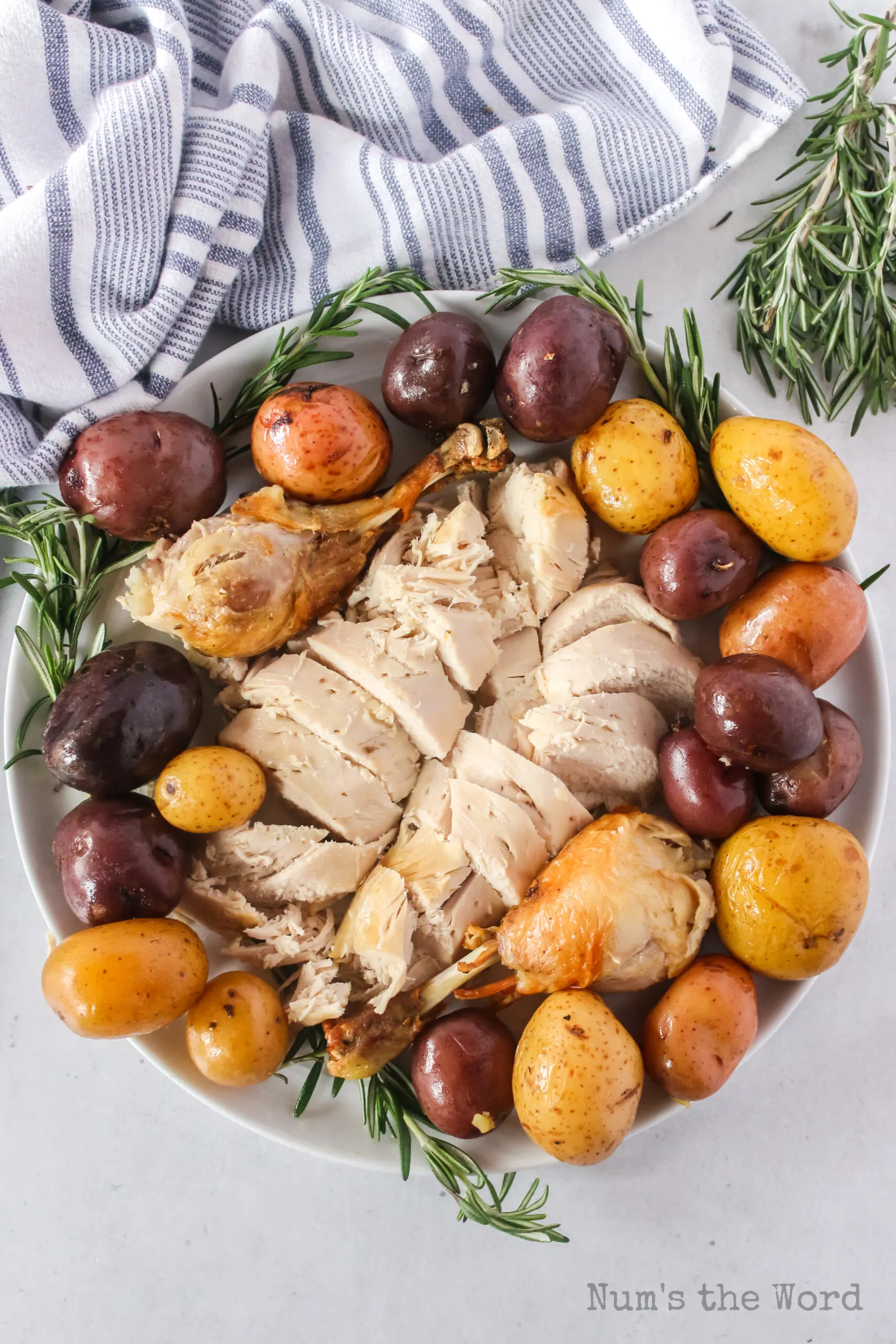 How Long to Cook a Whole Chicken in the Instant Pot
Each pound of chicken requires 6 minutes of cooking in the Instant Pot. Always be sure your chicken can fit inside your particular instant pot and try not to buy a bird too big.
If you're concerned, check for doneness with a meat thermometer.
Instant Pot Roast Chicken is juicy, tender, quick, easy, and perfect for busy nights or lazy Sundays.
Yield: 6 Servings
Instant Pot Roast Chicken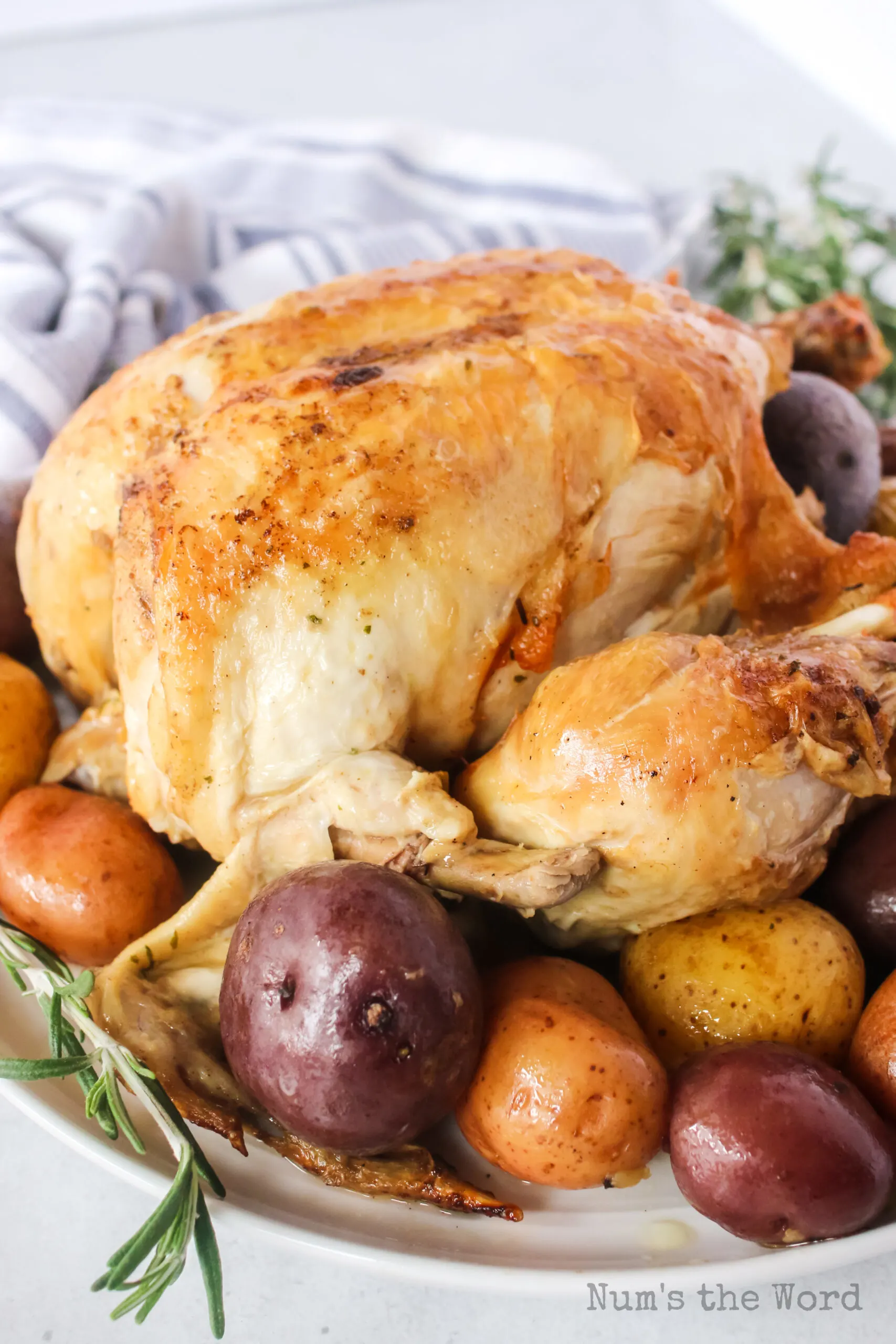 Instant Pot Roast Chicken produces a juicy, mouthwatering rotisserie chicken with minimal prep and minimal cook time! It's perfect for those busy weeknights!
Additional Time
10 minutes
Total Time
1 hour
20 minutes
Ingredients
1 teaspoon salt
1 teaspoon black pepper
1 teaspoon garlic powder
pinch of dried rosemary
1/4 teaspoon dried parsley
1 (4.5 pound) roasting chicken, rinsed with giblets removed - if included.
2 Tablespoons olive oil
1 (15.4 ounce) can of chicken broth
10-15 little creamer potatoes
Instructions
In a small bowl add salt, pepper, garlic powder, rosemary, and dried parsley. Set aside.
Remove chicken from bag and remove giblets if included.
Rinse chicken off, ensuring you also rinse out the cavity.
Pat dry with paper towels.
Turn the instant pot to simmer and add olive oil.
Sprinkle the seasoning over the top and bottom of the chicken. Patting it on and rubbing into place.
Gently place chicken in the hot instant pot breast side down and sear for 5 minutes.
Using a set of long tongs, gently remove and flip chicken and sear backside for 5 minutes.
Careful not to tear the skin, remove chicken and set aside for a few minutes.
Add chicken broth to the instant pot and scrape up any stuck pieces.
Place potatoes in the instant pot. You want a single layer. Add enough potatoes to fill the bottom.
Place chicken on top of potatoes, breast side up.
Put the lid on the instant pot, move the valve to seal.
Press the Poultry button and set the timer for 25 minutes.
When the timer goes off, let the instant pot sit for 5 minutes, as it naturally releases pressure.
After 5 minutes, flip the seal valve and let any additional pressure release.
After pressure has released, open the instant pot.
If you don't have a want a crispy bird, you can carefully remove chicken from the instant pot and place in a casserole dish. Broil in the oven for 3-5 minutes - watch carefully so you don't burn the chicken.
If you have an Instant Pot Air Fryer lid, Place the Instant Pot Air Fryer lid on instant pot and "air fry" at 400 for 8 - 10 minutes. Watch it so that you don't burn your chicken. We want golden, not burnt. So check it after 8 minutes.
Remove chicken CAREFULLY so as to not tear the skin and set on a serving tray. Place potatoes around it.
Let rest for 10 minutes, then carve.
Internal temperature of chicken should be 165F for food safety.
Nutrition Information:
Yield:
6
Serving Size:
1
Amount Per Serving:
Calories:

181
Total Fat:

11g
Saturated Fat:

5g
Trans Fat:

0g
Unsaturated Fat:

5g
Cholesterol:

97mg
Sodium:

568mg
Carbohydrates:

11g
Fiber:

1g
Sugar:

1g
Protein:

9g