Air Fryer Egg Rolls are the ultimate effortless dinner! They are delicious, easy, and can be ready in mere minutes!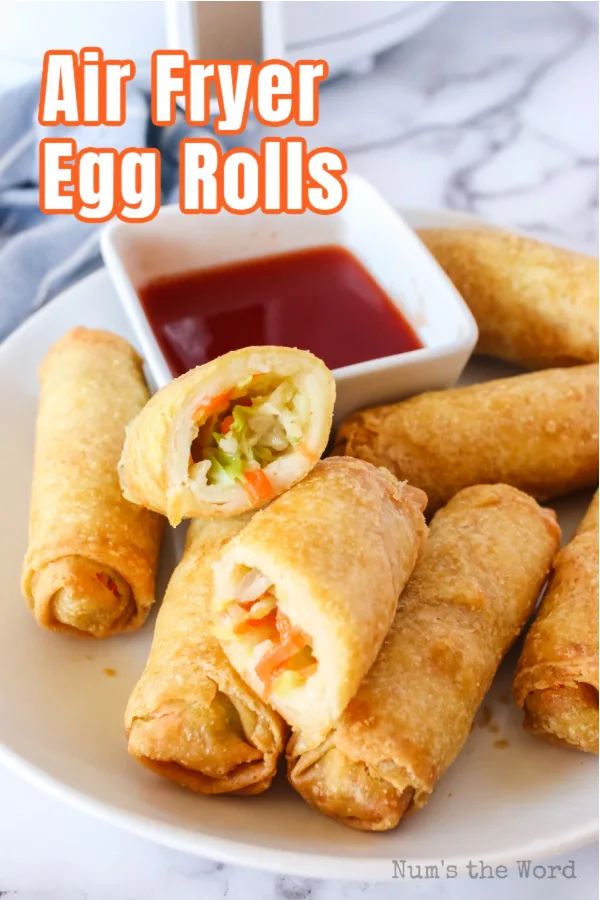 Made from store bought frozen egg rolls, making air fryer egg rolls has never been more simple.
Frozen egg rolls in the air fryer turn out crunchy and perfect every time! Score! And egg rolls in the air fryer can be served as an appetizer, snack, or meal. So you've got options!
They're healthier for you than their deep fried versions too. Which is a total win. But I think the best thing about them is how easy they are.
Don't want to spend the night babysitting a pan of splattering grease? You don't have to! These egg rolls are so fast and perfect for busy weeknights. Enjoy a batch today!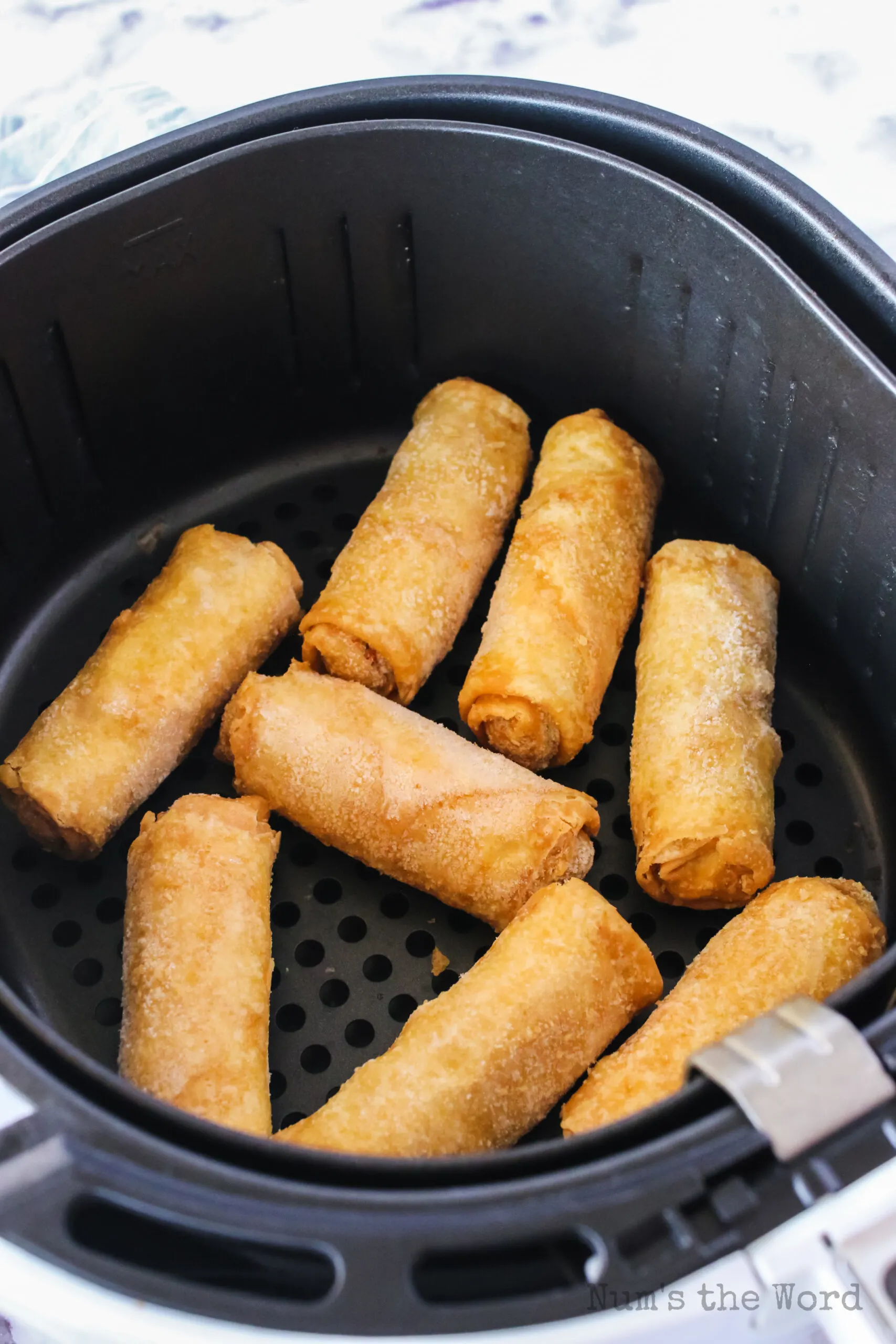 What Ingredients are in Air Fryer Egg Rolls?
All you're going to need to get perfect air fryer egg rolls is your egg roll of choice! The supermarket has lots of egg rolls options including:
Pork Egg Rolls

Chicken Egg Rolls

Vegetarian Egg Rolls

Shrimp Egg Rolls

Etc.
If you've already got a favorite brand of frozen egg rolls then you should definitely use that brand. If you don't have a favorite, try Tai Pei Frozen Vegetable Egg Rolls. Holy. Moly.
They are so good! I've tested them lots of times, and they always turn out perfect in the air fryer. You can also try spring rolls, though with the thinner wrappers, they may require less time to cook.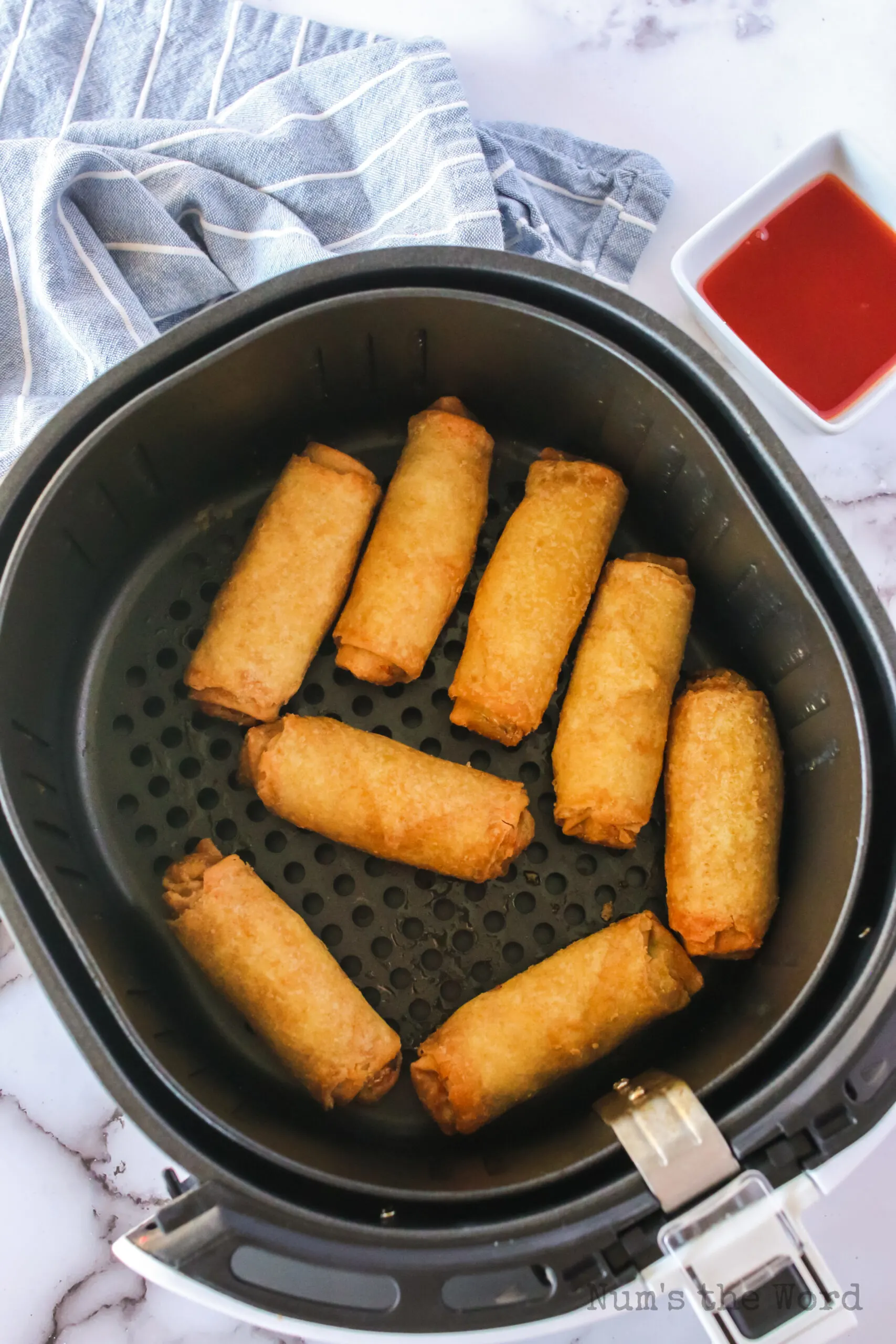 Can You Cook Frozen Egg Rolls in an Air Fryer?
Yes! And it's not complicated either. Just put the egg rolls in, push the button, and let it do its thing. I cannot imagine another way of cooking egg rolls that is so easy.
Pro Tip:
Don't crowd the air fryer! Too many egg rolls will cause them to cook unevenly.
How Long to Cook Egg Rolls in the Air Fryer
Air fryer egg rolls only take 11 minutes to cook to perfect crunchiness. I haven't found that I need to turn them at all.
If your air fryer runs extra hot on top, you may want to turn them halfway for even baking.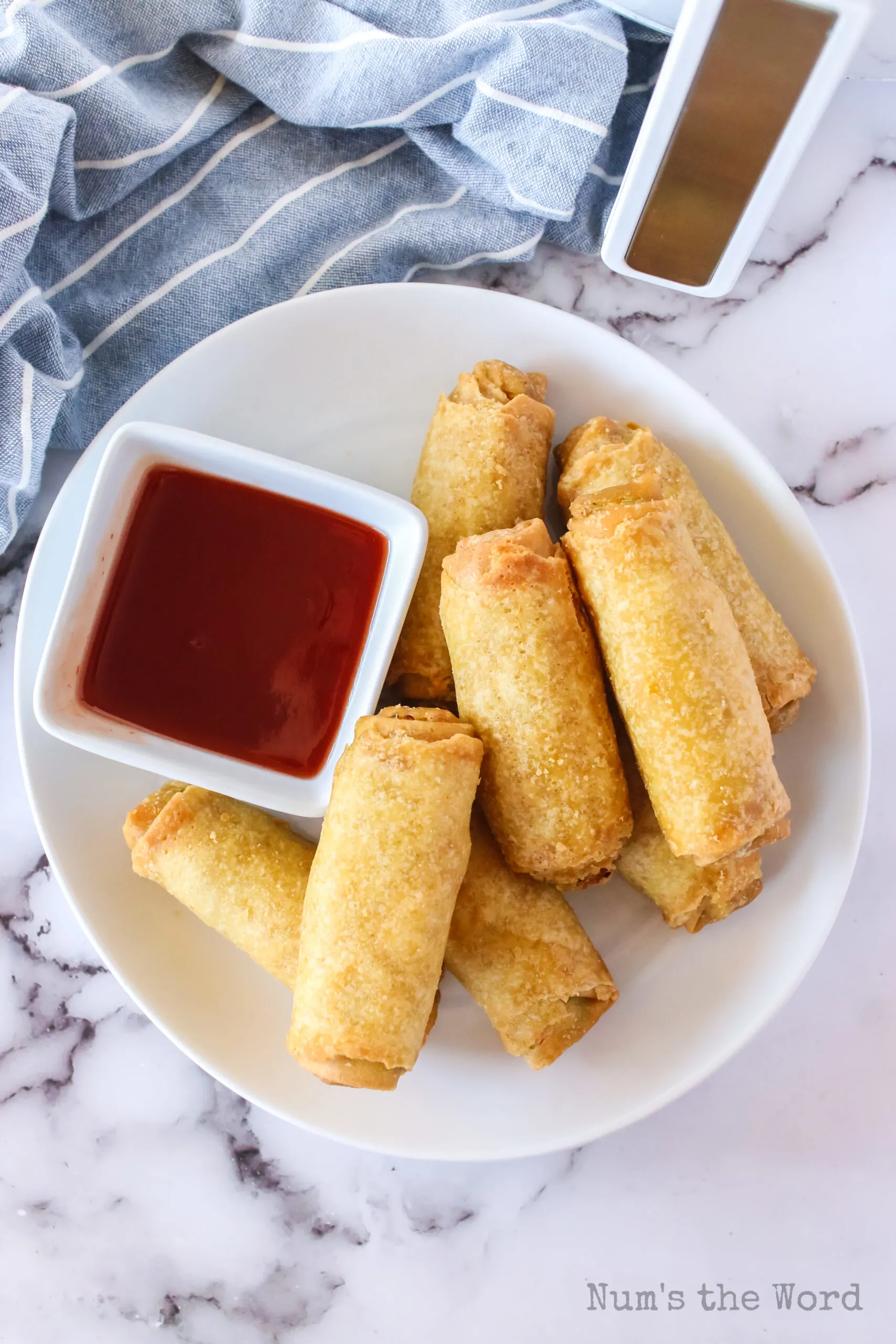 Are Air Fryer Egg Rolls Crispy?
This is the number one concern for most people and I know why! Ever eaten a soft egg roll? How disappointing!
Egg rolls need those crispy outsides with their soft insides to even be called egg rolls. So, let me put your fears aside, air fryer egg rolls are super crispy!
You won't be able to tell the difference between the air fryer and deep fried egg rolls. Except your deep fried egg rolls are much more messy and the air fryer version are much cleaner.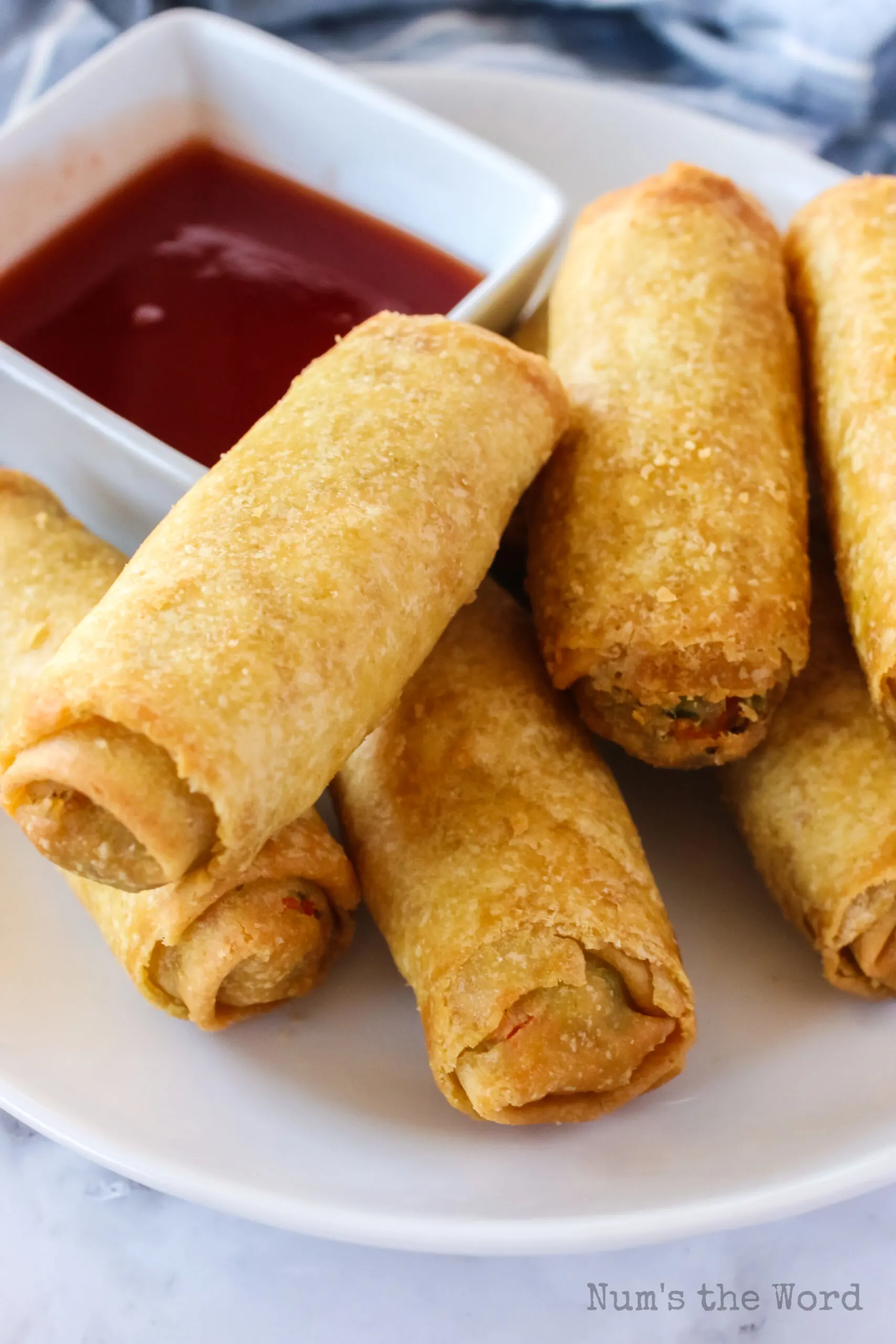 Are Air Fryer Egg Rolls Healthy?
For those health conscious people, yes, air fryer egg rolls are healthy! Egg rolls themselves are typically already pretty healthy.
Made with a mix of vegetables and meat, their ingredient list isn't too shabby. However, when you dip those egg rolls in a vat of boiling fat?
Well…let's just say their health value decreases. That's what's so great about air frying. No fat. No grease. Just air.
It still tastes great and is a much healthier option.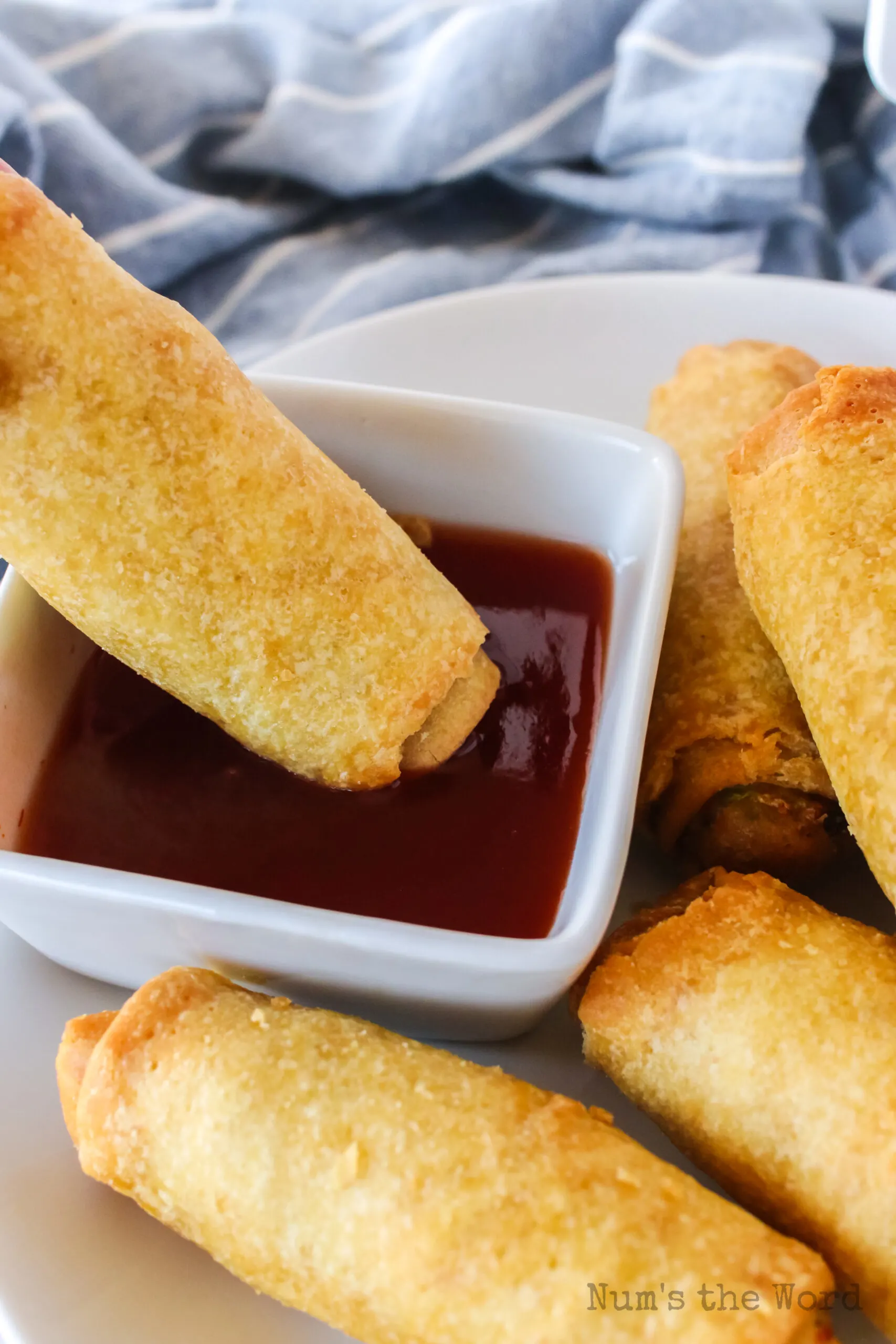 What Dipping Sauce Goes Well with Egg Rolls?
Tai Pei Frozen Vegetable Egg Rolls already come with a dipping sauce. It's really yummy and so simple to warm up.
If you want to make your own sauce, here's some options for you:
Soy Sauce
Sweet and Sour Sauce
Honey Mustard Sauce
Spicy Peanut Sauce
Chili Sauce
Teriyaki Sauce
Duck Sauce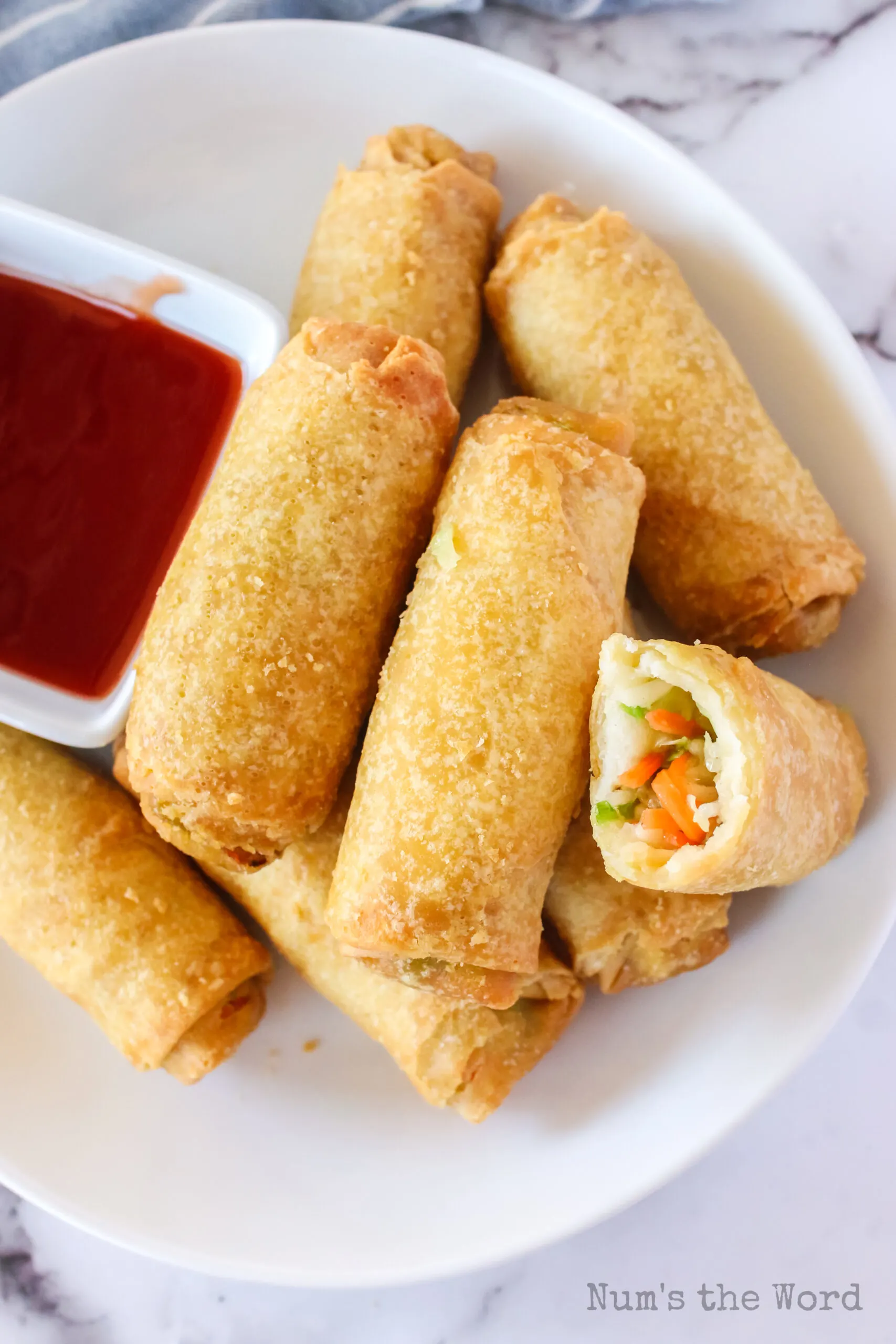 What's the Difference Between Egg Rolls and Spring Rolls?
Egg Rolls and Spring Rolls are similar, but there are some distinct differences. Egg rolls have a thicker wrapper and are almost always fried.
Spring Rolls have a thin wrapper and are usually fried or baked. They are also not quite as crispy.
There you go! While the ingredients inside are pretty similar, the outside and preparation is different.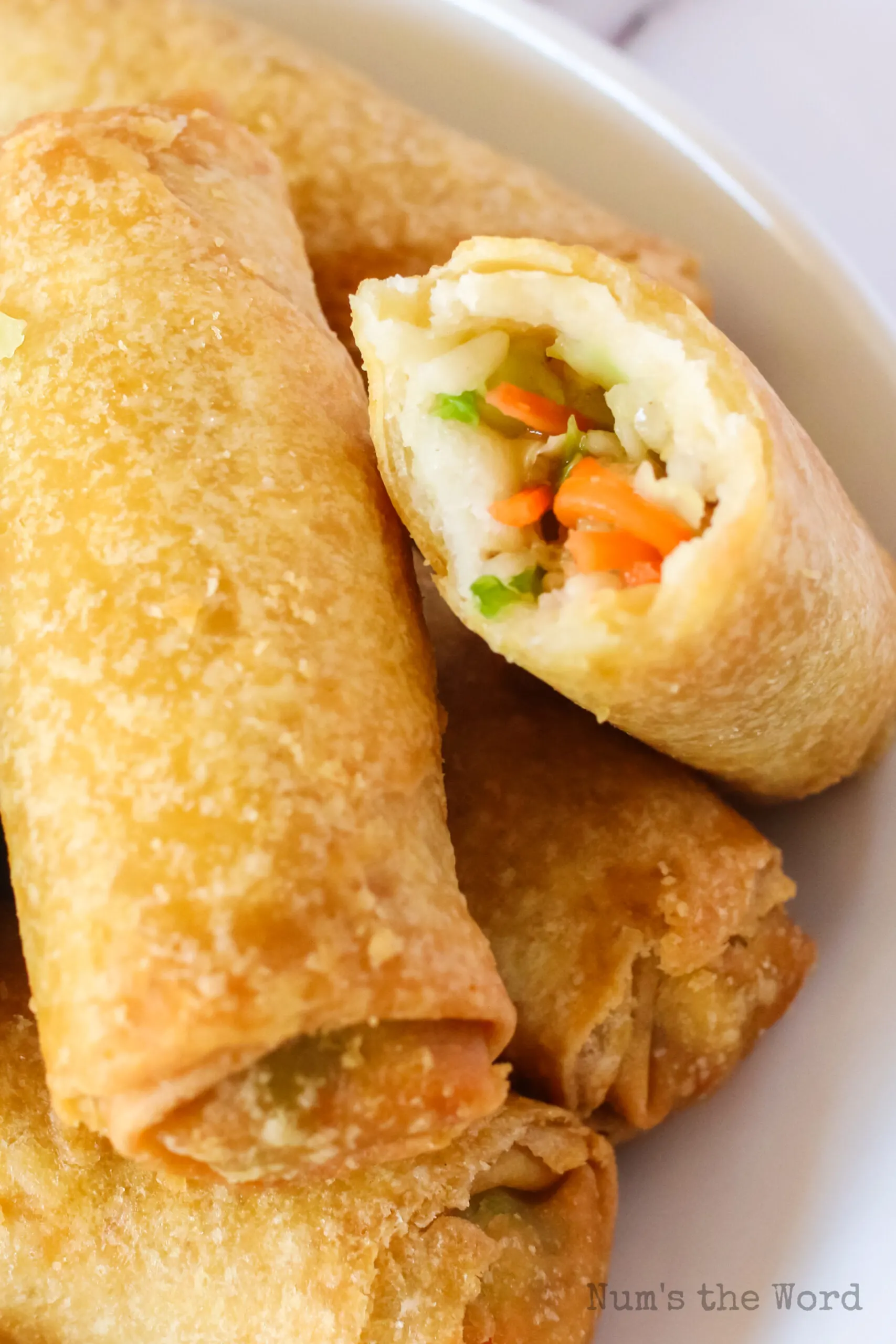 How Long Do Air Fryer Egg Rolls Last?
Typically, when you're making air fryer egg rolls, you aren't planning on having a lot of extra. The reason is that you can pull out exactly how many you need, instead of making a bunch for a recipe.
But, sometimes your eyes are bigger than your stomach or your guests eat less than you thought. In that case, don't despair! Just store the egg rolls in the fridge for up to 2 days.
Be sure to keep them in an airtight container. When you're ready to reheat, put them back in the air fryer until heated through. Reheating should only take 2-3 minutes!
Can You Freeze Egg Rolls?
I don't recommend refreezing these egg rolls. They were already frozen when uncooked. After they have been cooked, and then frozen, and thawed again? They'll be way too soft.
Their crispness will diminish after thawing and they just won't taste as great. Try to only cook as many as you plan to eat so you don't have so many you need to refreeze.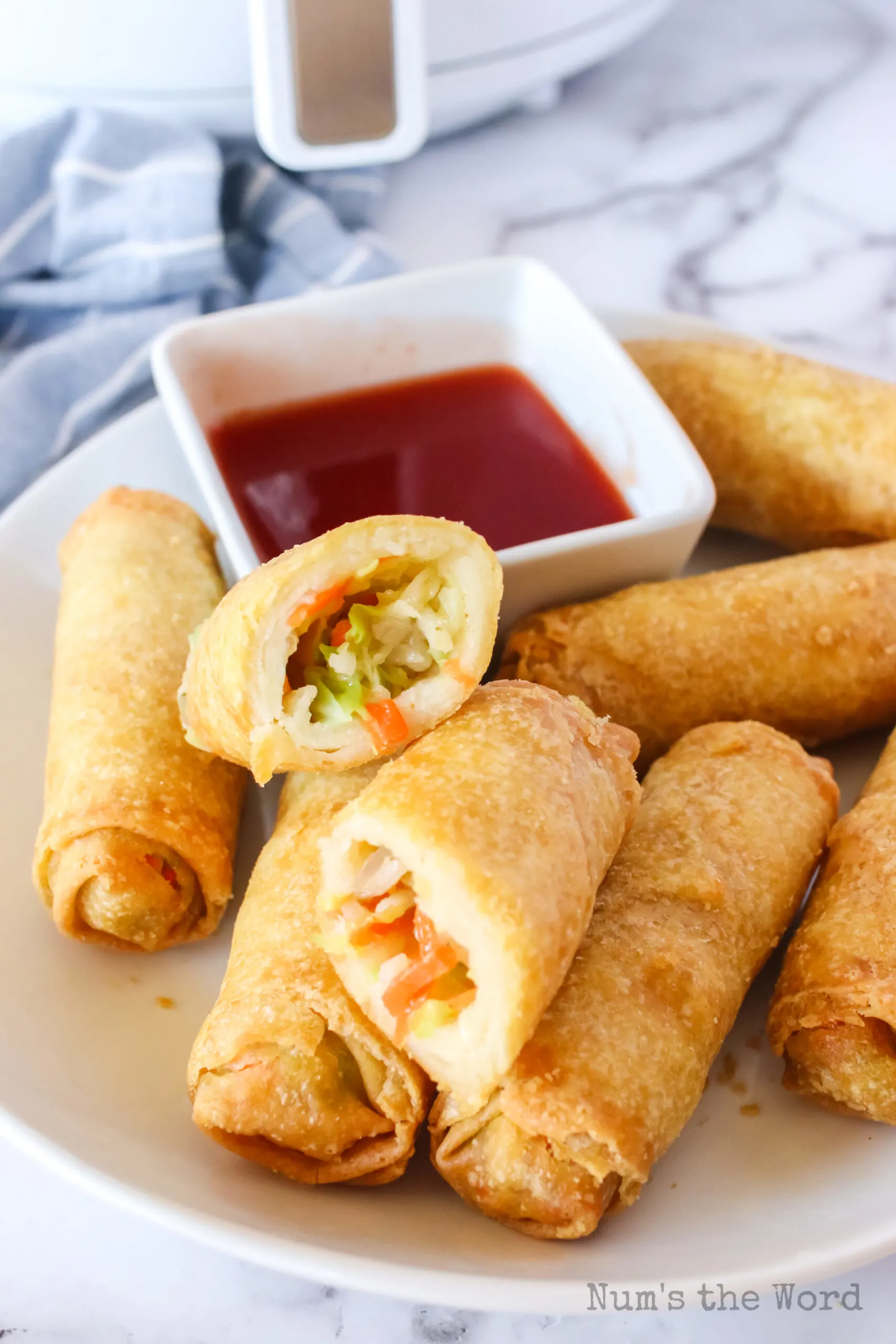 What to Serve with Air Fryer Egg Rolls
Here's a roundup of some of the best foods to serve with air fryer egg rolls.
If you want other things quick and easy, be sure to check on the Asian aisle in your grocery store. That way your quick air fryer egg rolls can be served up quickly with some other easy dishes.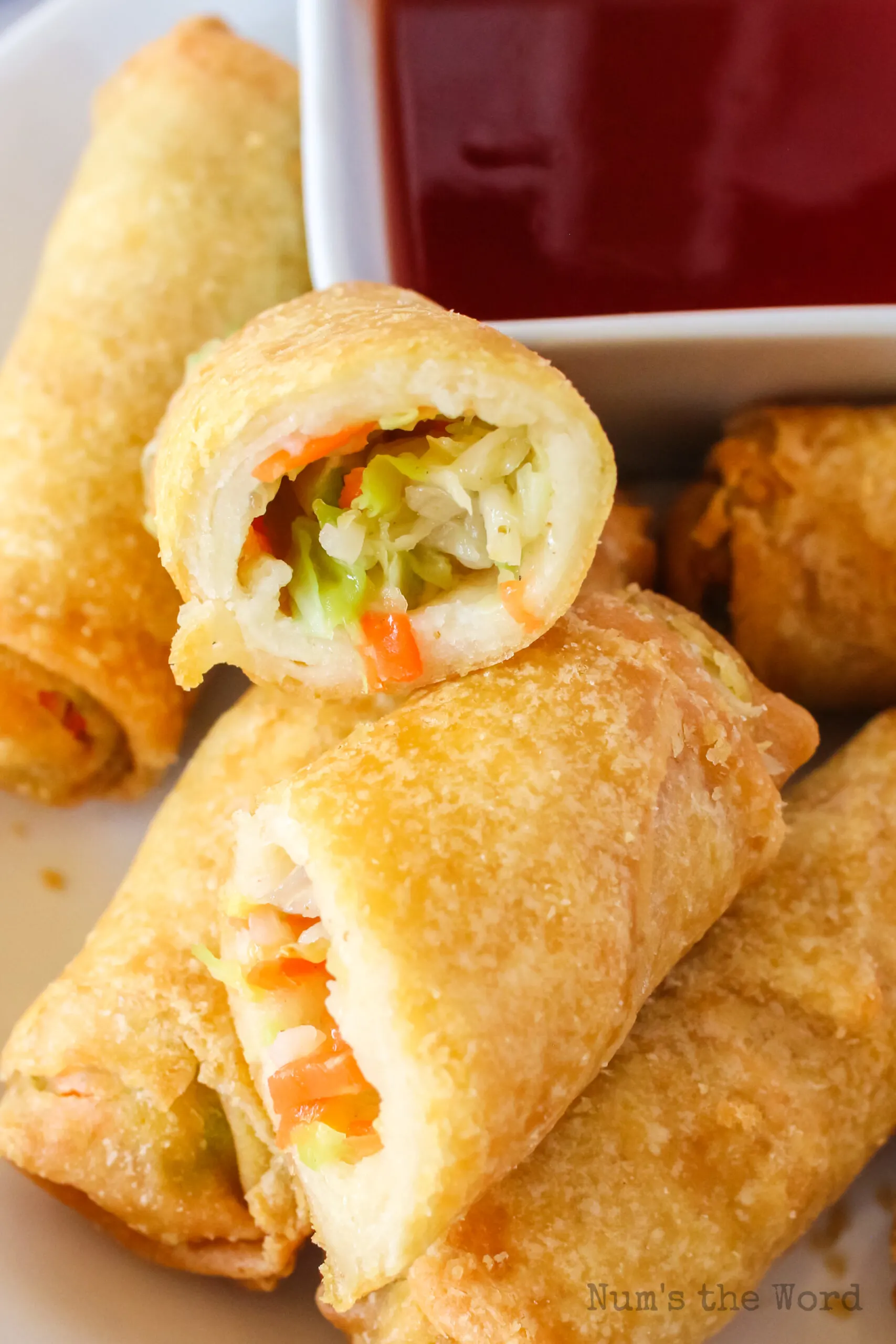 Air Fryer Egg Rolls are the perfect appetizer, snack, or main meal. You can serve them up in mere minutes and they turn out crispy every time.
I recommend making some whenever you've had a hard day and need a pick me up. Let me know in the comments how they turn out!
Yield: 8 Egg Rolls
Air Fryer Egg Rolls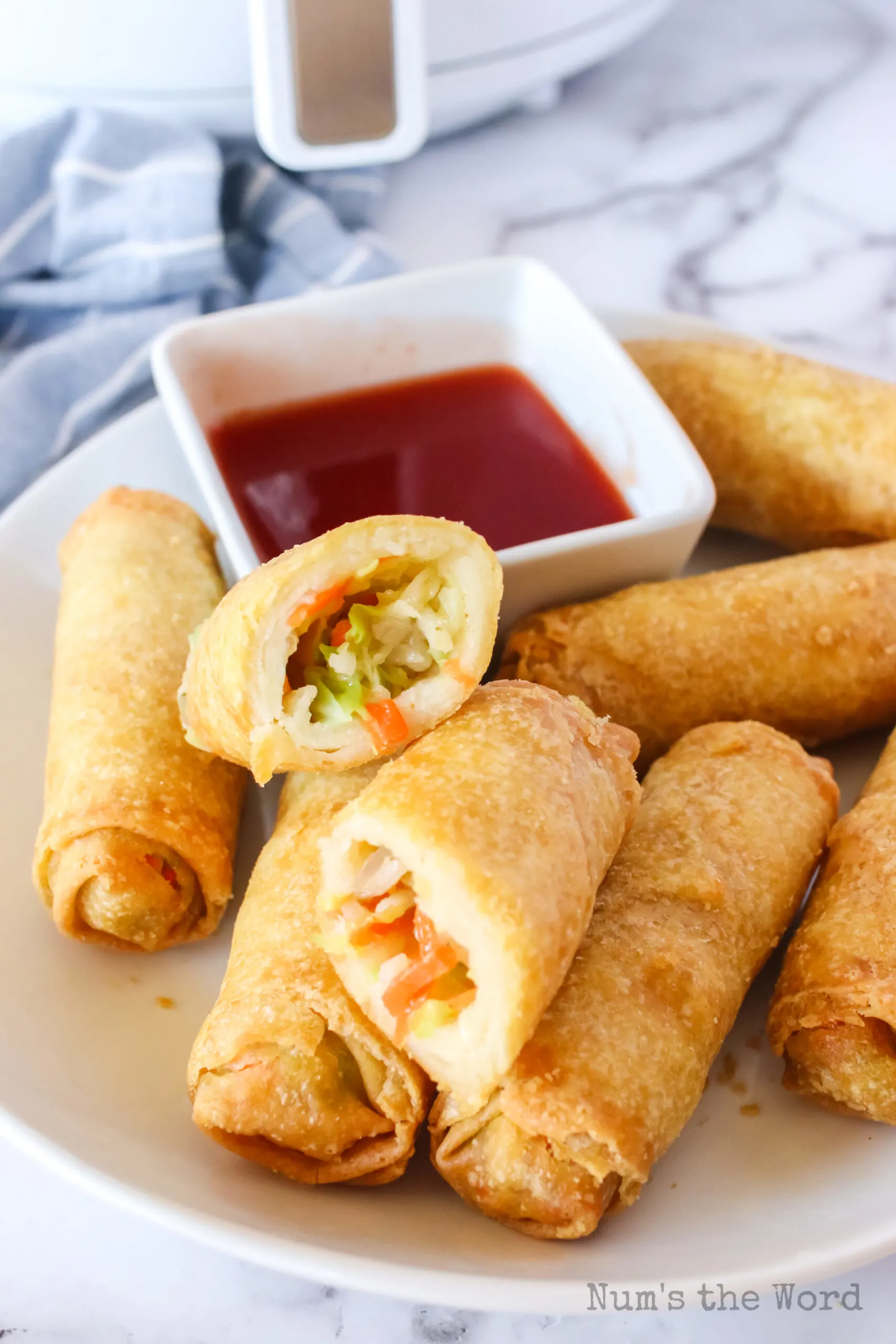 Ingredients
1 box of Tai Pei Frozen Vegetable Egg Rolls (pork and chicken work well too!)
Instructions
Place frozen egg rolls in the air fryer basket - space them out and do not stack them.
Cook at 350*F for 11 minutes.
Remove from the air fryer with tongs and dip in the warmed sauce packet that comes with egg rolls.
Nutrition Information:
Yield:
8
Serving Size:
1
Amount Per Serving:
Calories:

22
Total Fat:

1g
Saturated Fat:

0g
Trans Fat:

0g
Unsaturated Fat:

1g
Cholesterol:

0mg
Sodium:

59mg
Carbohydrates:

2g
Fiber:

0g
Sugar:

0g
Protein:

1g