Chocolate Covered Potato Chips are the ultimate sweet and salty snacks that are quick, easy and delicious!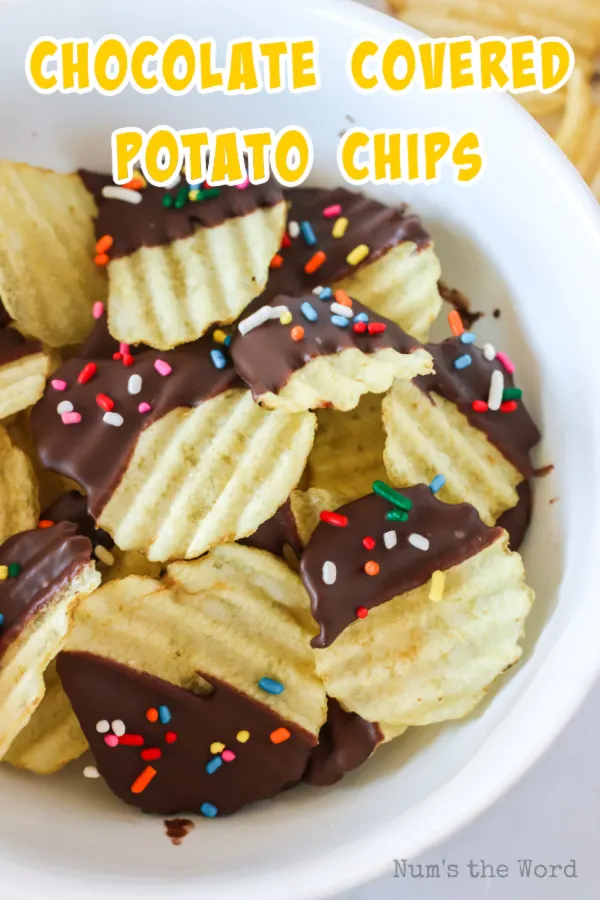 Most people who haven't tried chocolate covered potato chips have this hesitation. Like… really? Chocolate covered potato chips? Those who have tried them however, are going to tell you how gross they are, just so they can eat them all!!
They're pleasantly sweet, while being salty, and they're so just so good. If you like chocolate covered pretzels, you'll love chocolate potato chips.
I love how easy chocolate potato chips are to make. I cannot think of something that is easier. They only require three ingredients! Make them fancy with a dash of sprinkles.
These make great gifts for a neighbor, teacher or even as wedding favors. A yummy treat for any chocolate lover.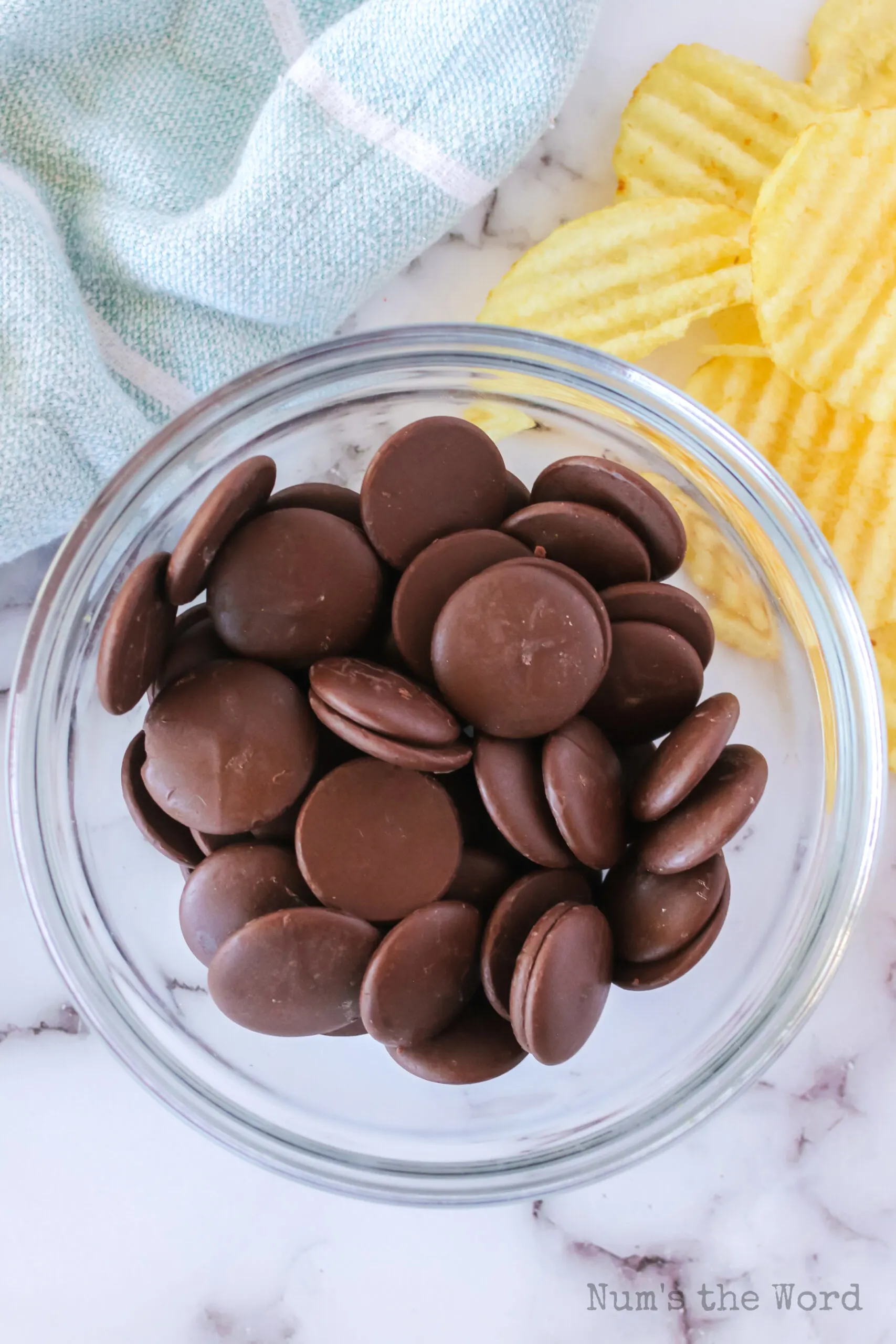 What Ingredients are In Chocolate Covered Potato Chips
Don't be too scared by these ingredients, I know the list is long (wink, wink)!
Potato Chips: Ruffles are salty potato chips making the sweet and salty combo a winner. Plus they offer a delicious thick-cut chip, perfect to hold enough chocolate to enjoy.
Chocolate: Buy the melting wafers. They melt much better than chocolate chips.
Toppings: Sprinkles and crushed Heath candy bars are two of our personal favorites.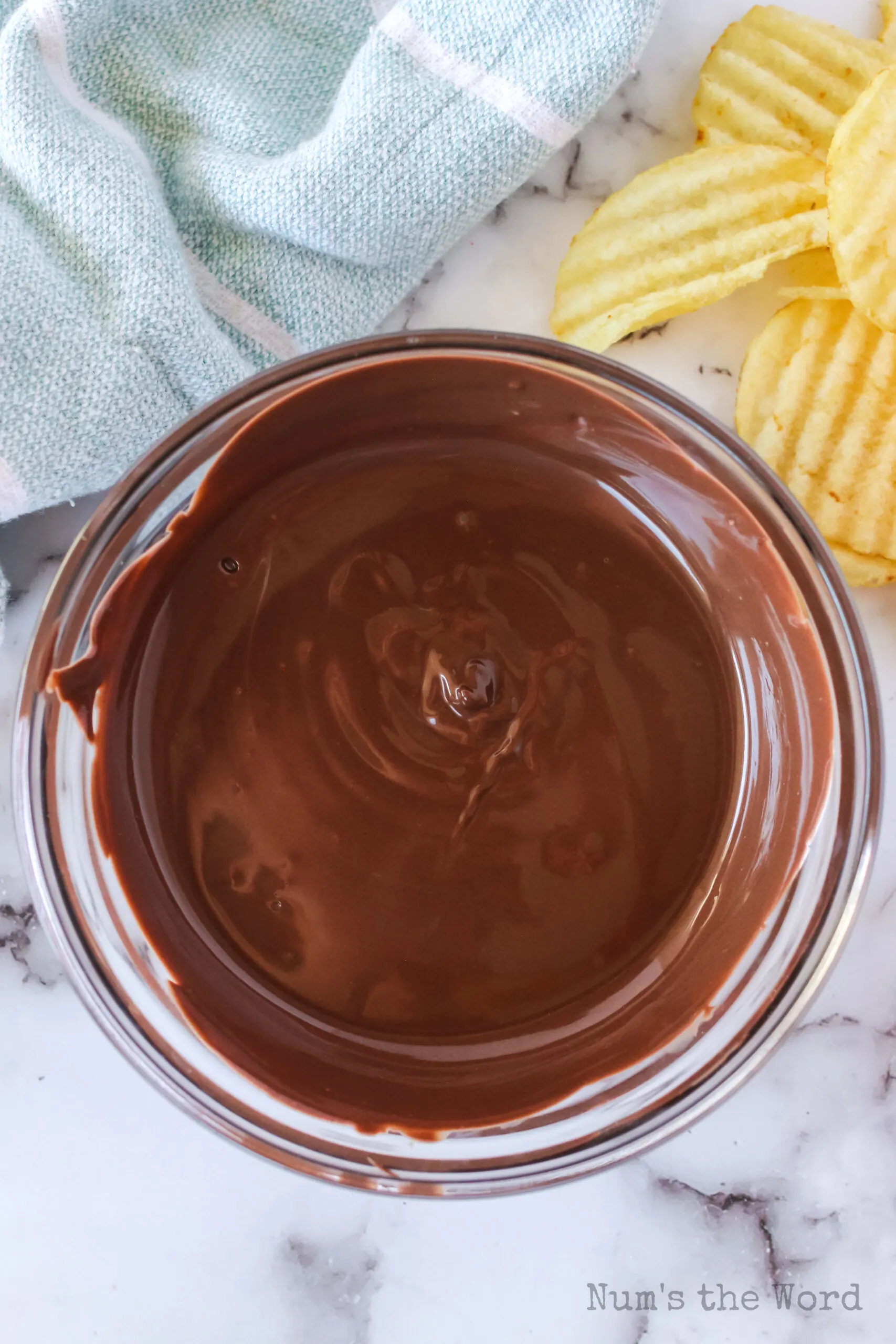 How to Make Chocolate Covered Potato Chips
Three steps to perfect chocolate dipped potato chips.
Melt: Follow the directions on the package to melt your chocolate. I've used both the microwave and a double boiler.
Dip: Try not to cover your fingers while dipping the chocolate. Gently shake off the excess chocolate back into the bowl.
Dry: Don't forget to lay them on wax paper so they don't stick.
Pro Tip:
If you want to add toppings, add them before the chocolate has fully set.
Line a baking sheet with wax paper so you can move it around as needed.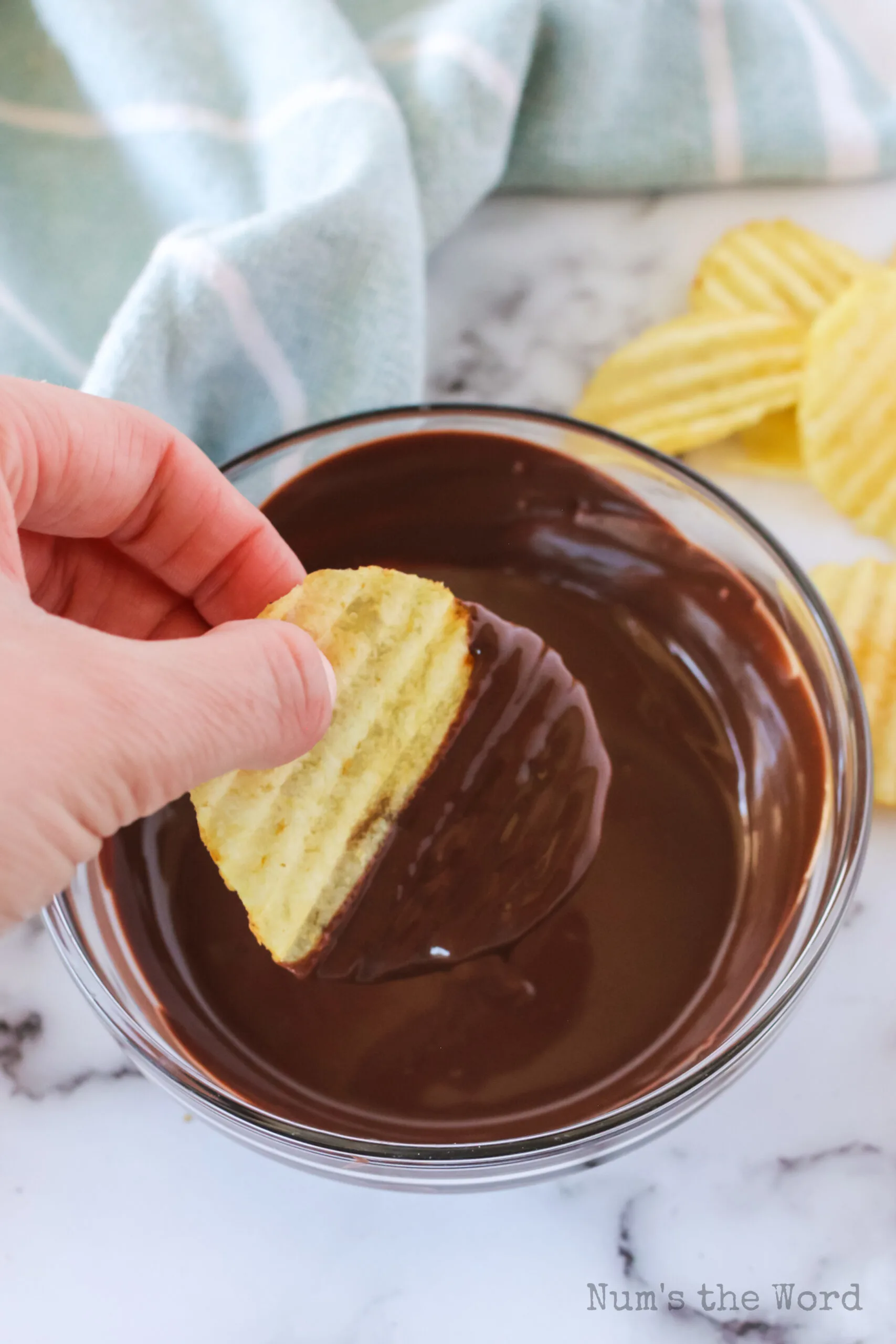 How to Store Chocolate Covered Potato Chips
If you just can't eat another bite, it's time to store them. If not stored properly, they will become stale or soggy instead of crunchy and tasty. You'll want to store them in an airtight container at room temperature.
How Long do Chocolate Covered Potato Chips Last?
As long as they are sealed, chocolate covered potato chips should last for 5 days, making them the perfect treat to make ahead!
After 5 days, they won't go "bad" as in make you sick, but they won't be as great. They tend to get soggy, soft, and stale. We recommend you consume within 5 days for best eating pleasure.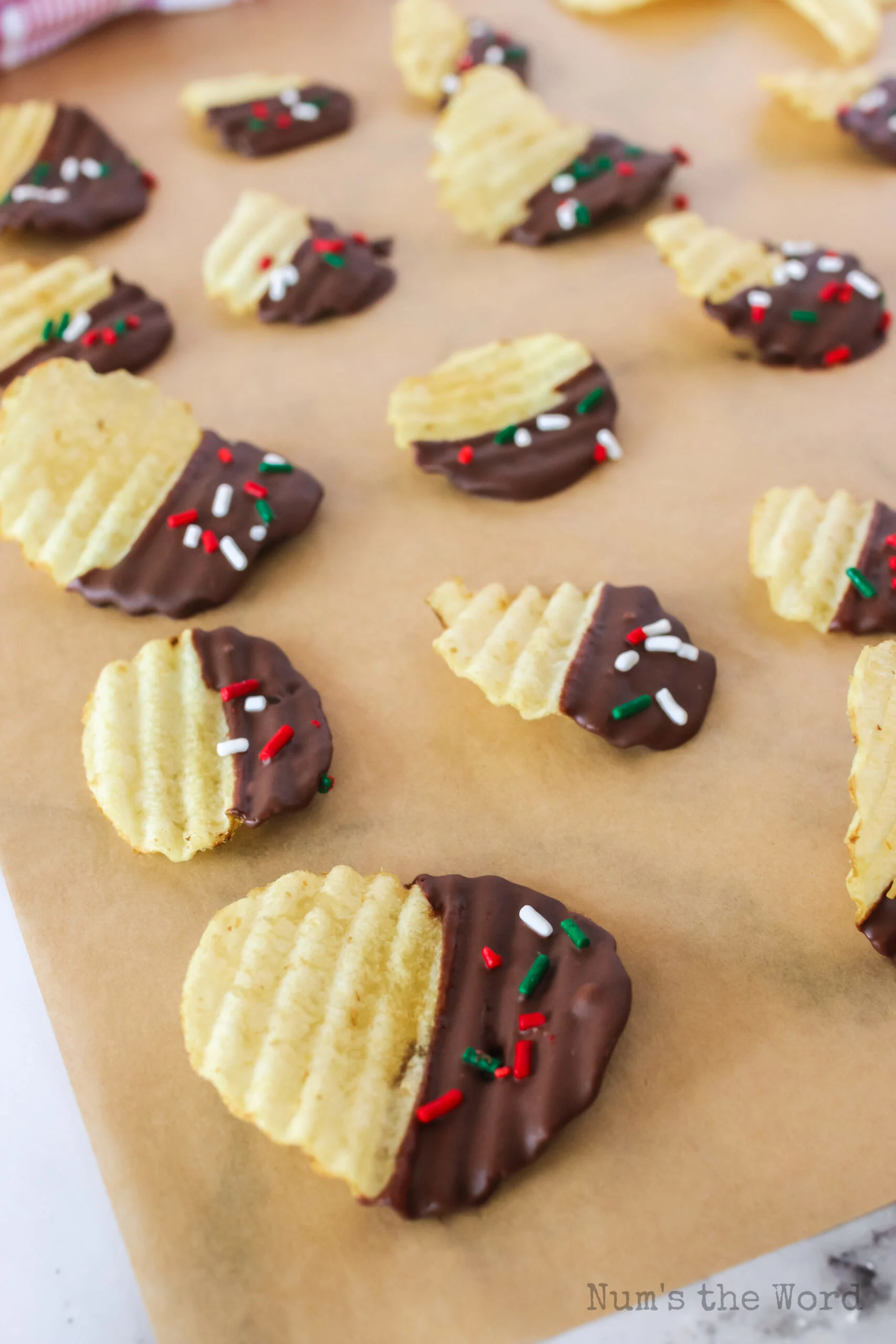 Can You Freeze Chocolate Covered Potato Chips?
I'm all for freezing as much food as possible to save for later. Meal plans are a life saver!
However, chocolate potato chips are a no-go when it comes to the freezer. Unless you are planning on eating them frozen, they will become very soggy once thawed. And no one wants to eat a soggy potato chip.
Are Chocolate Covered Potato Chips Healthy?
Chocolate dipped potato chips definitely fall under the dessert/snack category. The perfect treat to occasionally enjoy.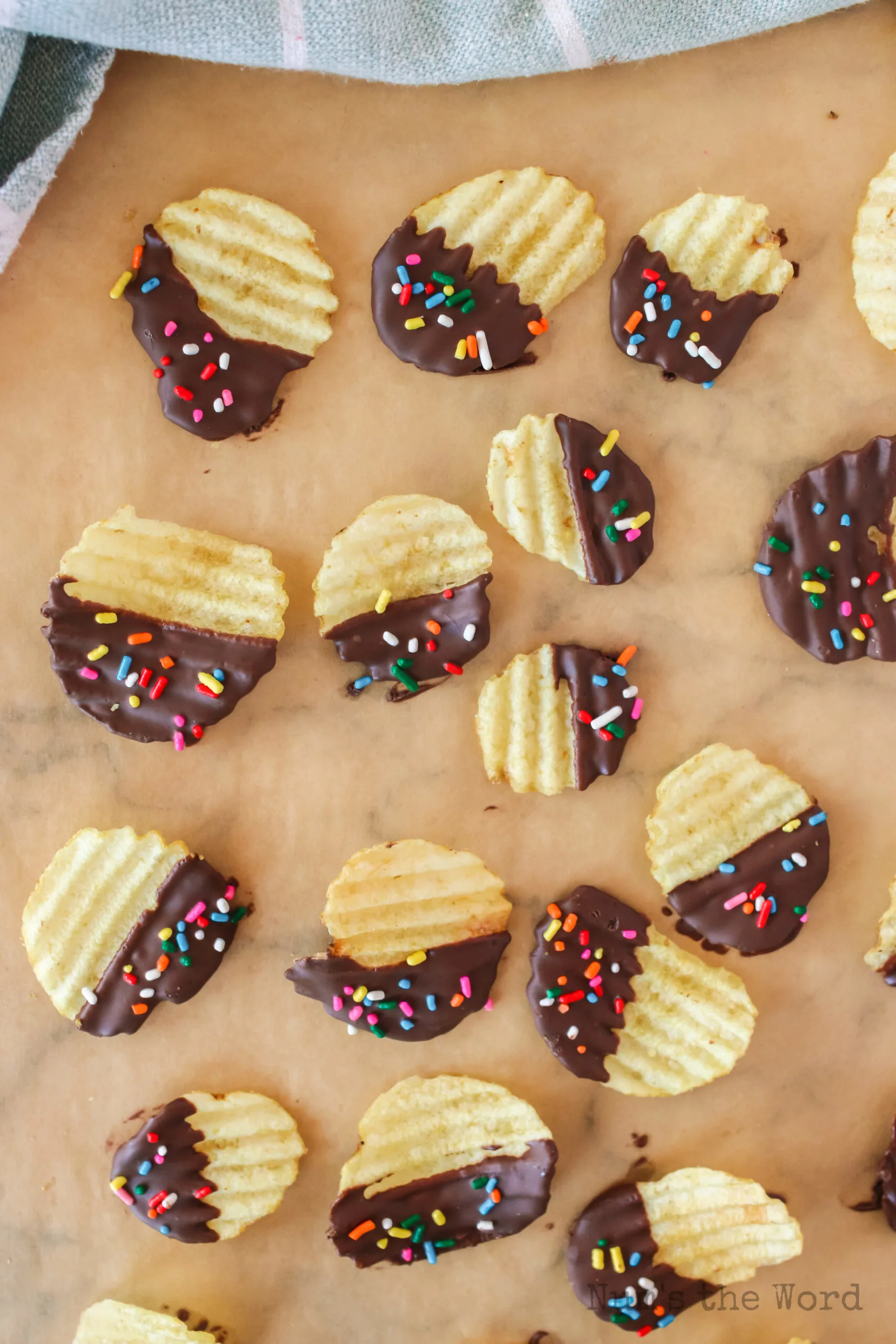 Chocolate Covered Potato Chip Toppings
Don't be afraid to play with the chocolate covered potato chips. There are so many ways to customize this easy recipe.
Here's a few of your chocolate options:
White Chocolate
Milk Chocolate
Semi-Sweet Chocolate
Dark Chocolate
And for toppings, I love doing sprinkles with heath bars. But you can always customize for the holidays as well.
Valentine's Day: Pink and red heart sprinkles
St. Patrick's Day: Shamrock or green sprinkles
4th of July: Red white and blue sprinkles or star sprinkles
Halloween: Green, orange, and purple sprinkles
Christmas: Red and green sprinkles
Baby Showers: Baby blue and/or pink sprinkles
Birthdays: Party stores often sell themed sprinkles or check amazon.
And for the everyday chocolate potato chip snacks:
Chopped Nuts
Crushed Oreos
Shredded Coconut
Mini Chocolate Chips
Sea Salt
Chocolate Drizzle in a Different Flavor
Crushed Butterfingers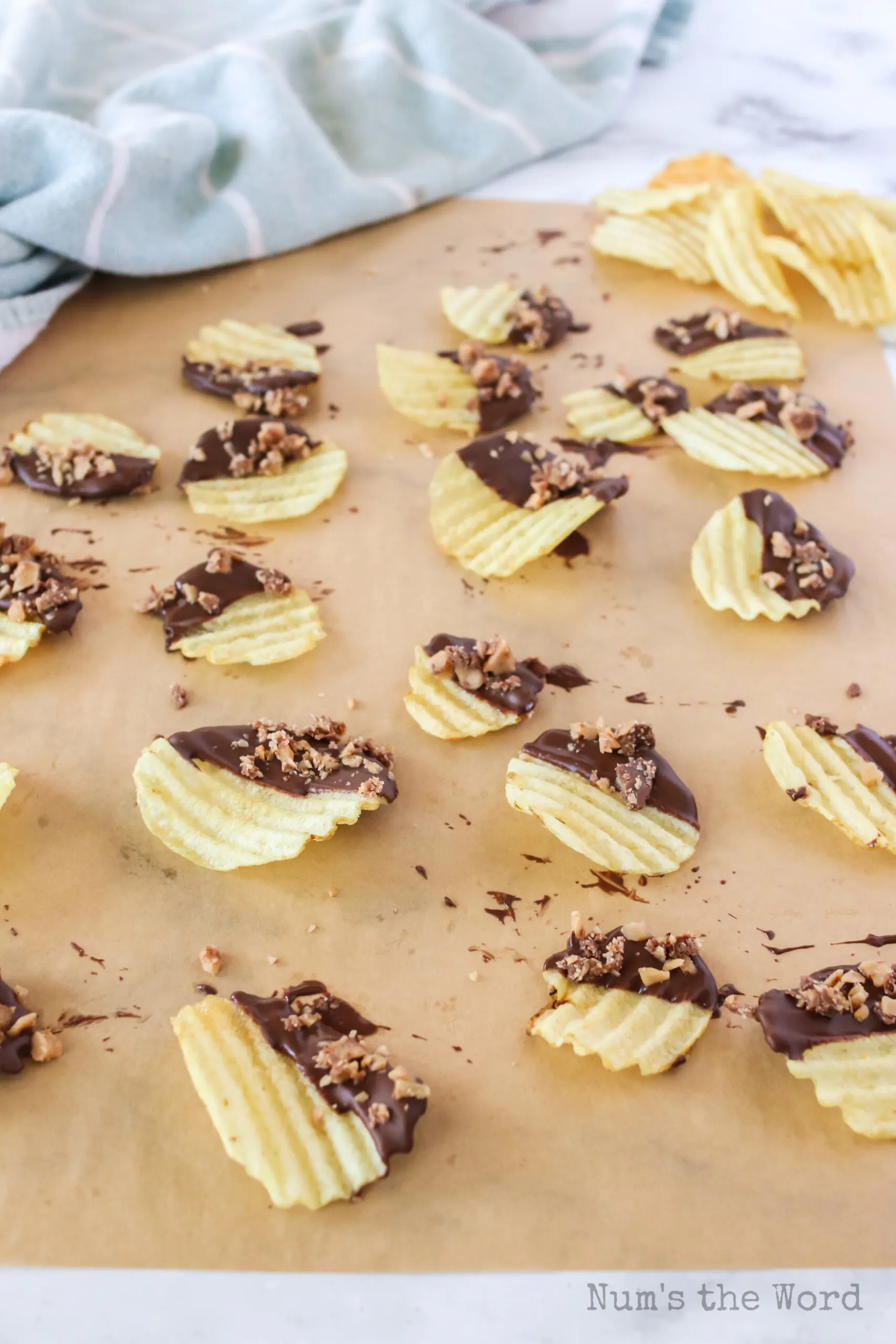 Where did Chocolate Covered Potato Chips Originate?
Chocolate covered potato chips hail from the land of North Dakota. Originally created in 1985, they are now popular and can be found in a lot of grocery stores across the country.
What are Chocolate Covered Potato Chips Called?
Chocolate covered potato chips are actually known by another fun name: Chippers. If you're ever passing through North Dakota, be sure to stop by Wigman's Candy Company in Grand Forks or Fargo.
The small candy company invented chippers and they still sell them today.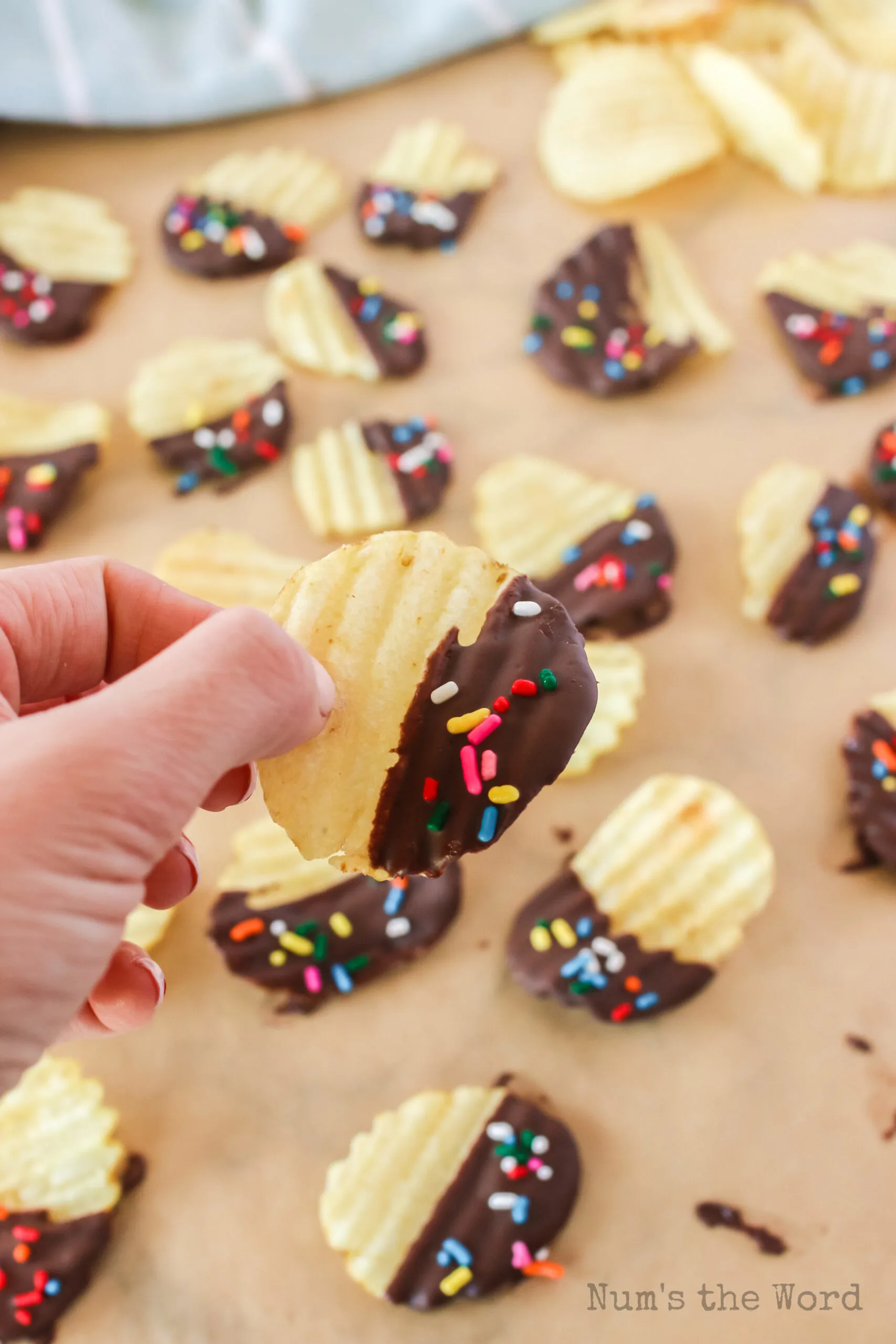 Can You Use Regular Chocolate Chips for Dipping?
Here's why I don't recommend using regular chocolate chips. Melting chocolate has much more cocoa butter in it than regular chocolate chips. So it melts quicker and easier.
To get regular chocolate chips to melt, they need to be heated for longer and at a lower temperature so it doesn't burn. You'll also need to add a bit of oil to the chocolate to make it runny instead of clumpy.
Plus when they dry, they have a streaky/swirly sort of appearance. Of course, in a pinch, you can use regular chocolate chips. They still taste great.
If you're running to the store for the Ruffles anyway, might as well grab the melting chocolate while you're there.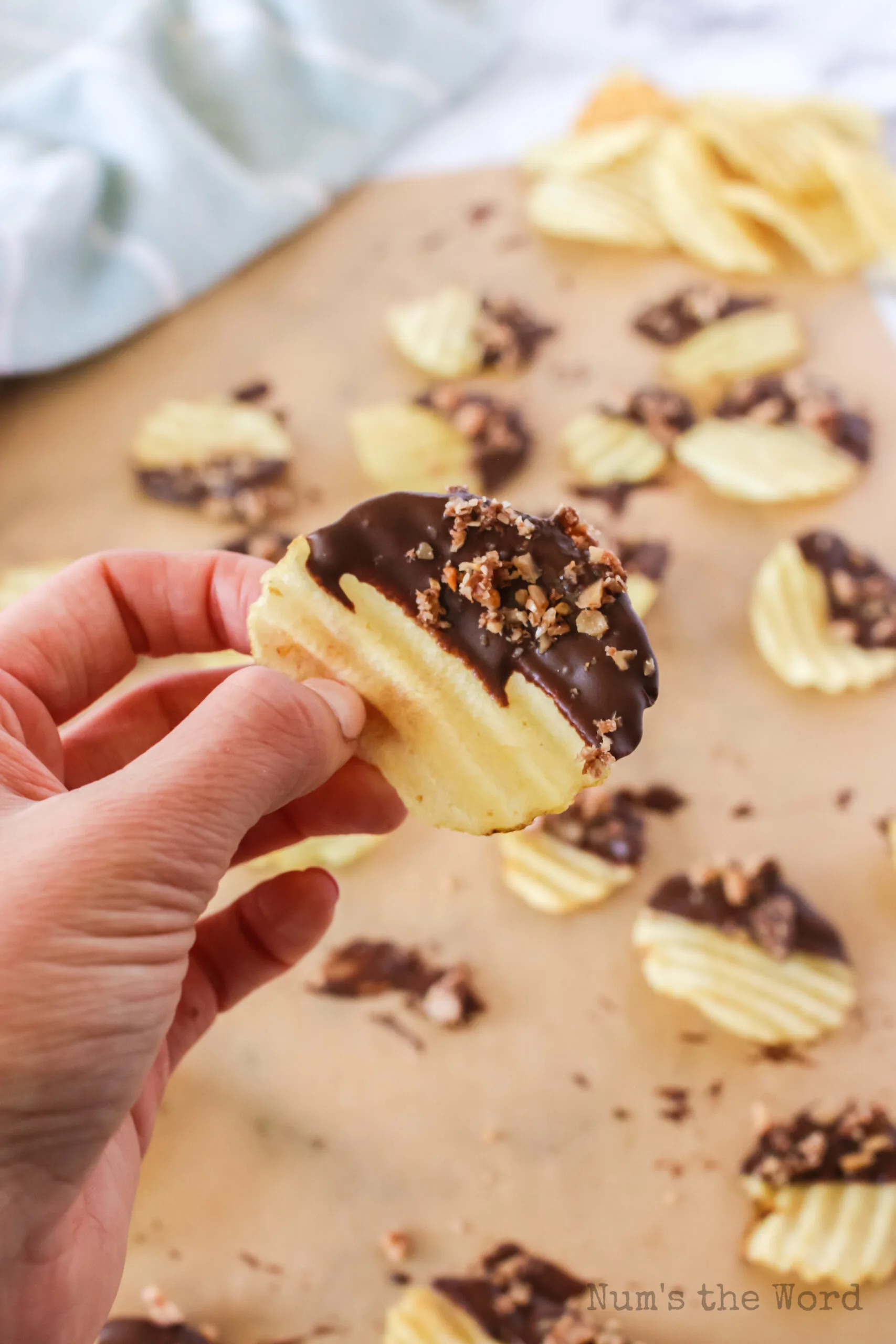 Can Dogs Eat Chocolate Covered Potato Chips?
No, dogs can NOT eat chocolate covered potato chips. I'll start with the big one: chocolate.
Chocolate can be toxic for dogs. Especially if eaten in high amounts. Dogs shouldn't be eating chocolate, even in small amounts, because it's not good for them.
Aside from that, there's also all the salt and oil in the chips which also isn't good for dogs. So keep your dogs away from this tasty treat.
And if you think they've ingested a lot already, be sure to talk to your vet.
Can I Use a Different Chip for Chocolate Covered Potato Chips?
We love Chocolate Covered Pringles over here and have eaten them with great success. And while you can really choose any chip you desire, be sure to stay away from chips with a lot of seasoning.
When the seasoning mixes with the melted chocolate, it creates a gritty texture which is undesirable. Kettle chips, potato chips, pringles, and similar chips hold up the best.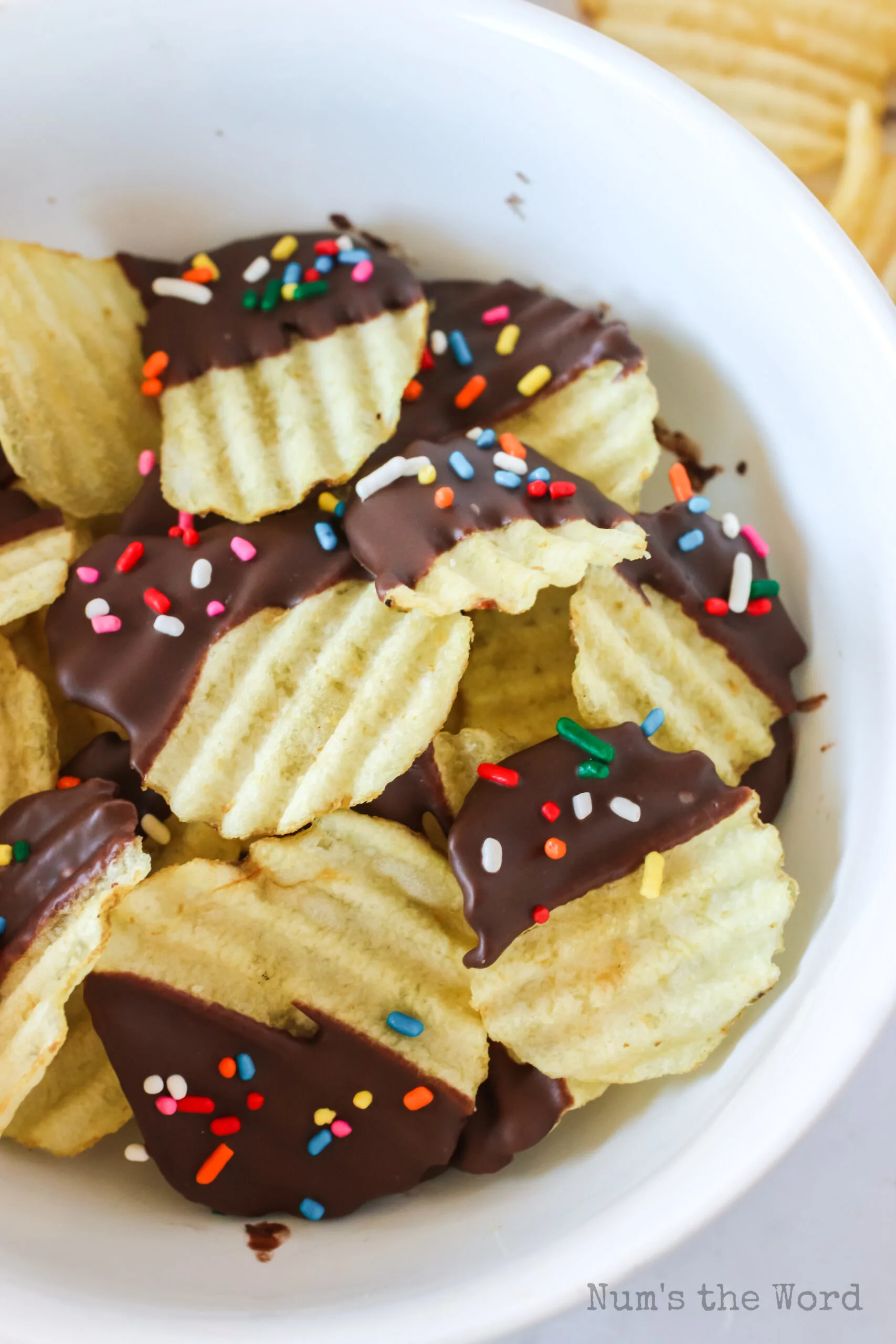 More Chocolate Recipes You'll Love…
Chocolate Covered Potato Chips are the perfect sweet and salty snack that take minutes to make. They are perfect for the holidays and for the everyday after work snack. Enjoy!
Chocolate Covered Potato Chips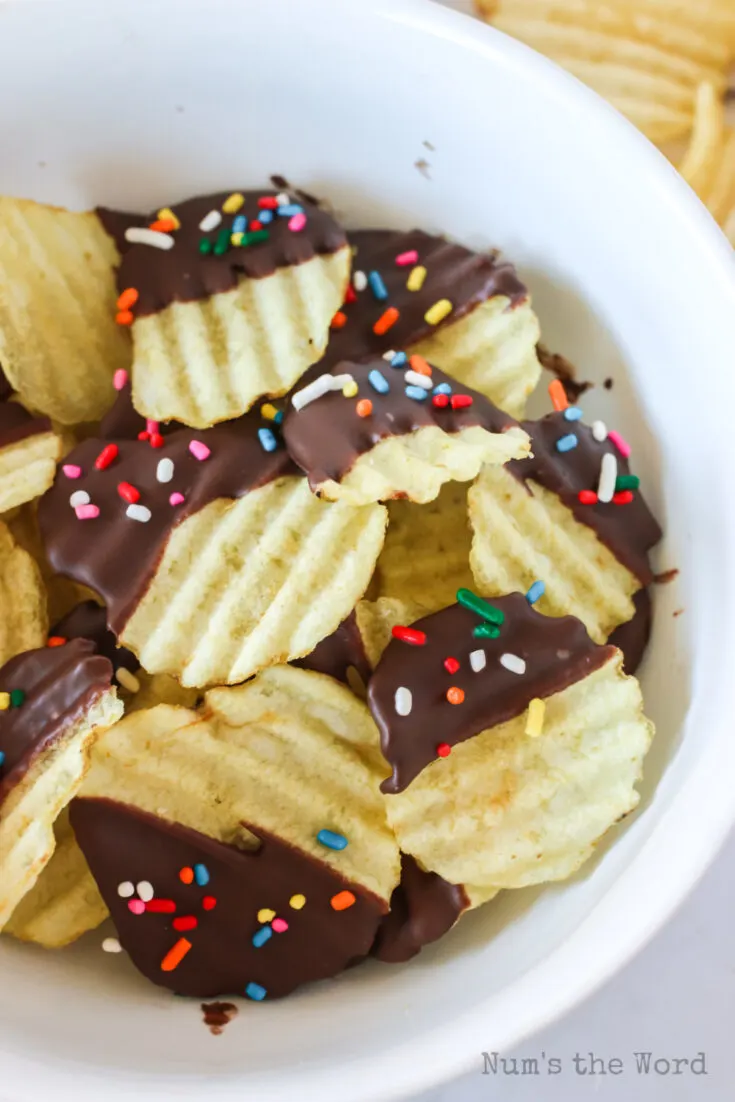 Chocolate Covered Potato Chips are the ultimate sweet and salty snacks that are quick, easy and delicious!
Ingredients
Ruffles Potato Chips
Dark Chocolate Melting WAfers
Sprinkles or crushed candy
Instructions
Lay out wax paper or parchment paper on the counter.
Melt chocolate according to package directions.
Dip potato chips ¾ of the way into the chocolate.
Set potato chips on wax paper to dry.
Before chips fully set, top with your favorite sprinkles or crushed candy bars.
Notes
We love using crushed Heath Bars to sprinkle on top of the chocolate potato chips
Nutrition Information:
Yield:
8
Serving Size:
1
Amount Per Serving:
Calories:

61
Total Fat:

3g
Saturated Fat:

1g
Trans Fat:

0g
Unsaturated Fat:

2g
Cholesterol:

0mg
Sodium:

35mg
Carbohydrates:

8g
Fiber:

0g
Sugar:

4g
Protein:

1g