Yummy Pretzel Crusted Chicken is a hit with everyone. Juicy on the inside and extra crunchy on the outside makes this a perfect meal every time.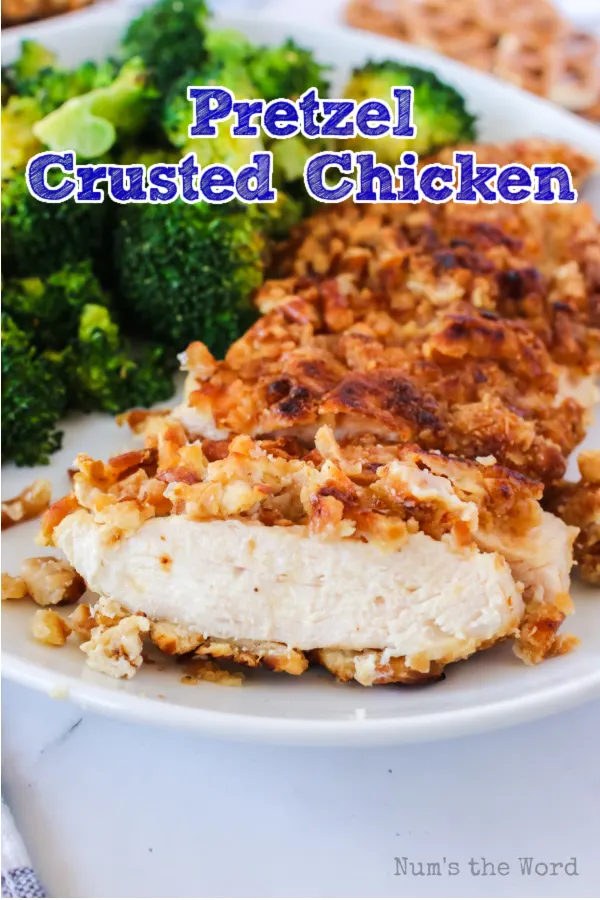 You know that feeling when you bite into a chicken and the outside is soft when you were expecting crunchy? Sad.
Luckily, fried pretzel crusted chicken doesn't have that problem. It's delicious. And crunchy. Always.
What you're going to love about this pretzel chicken recipe is that it's an easy recipe. All you need are 8 ingredients. One of which is chicken.
You're also going to love that pretzel coated chicken tenders are fast. Who wants to be slaving away at dinner after a busy day? Not me!
That's what we have this crispy chicken recipe with a pretzel coating. A fun twist on a classic dish that even picky eaters love.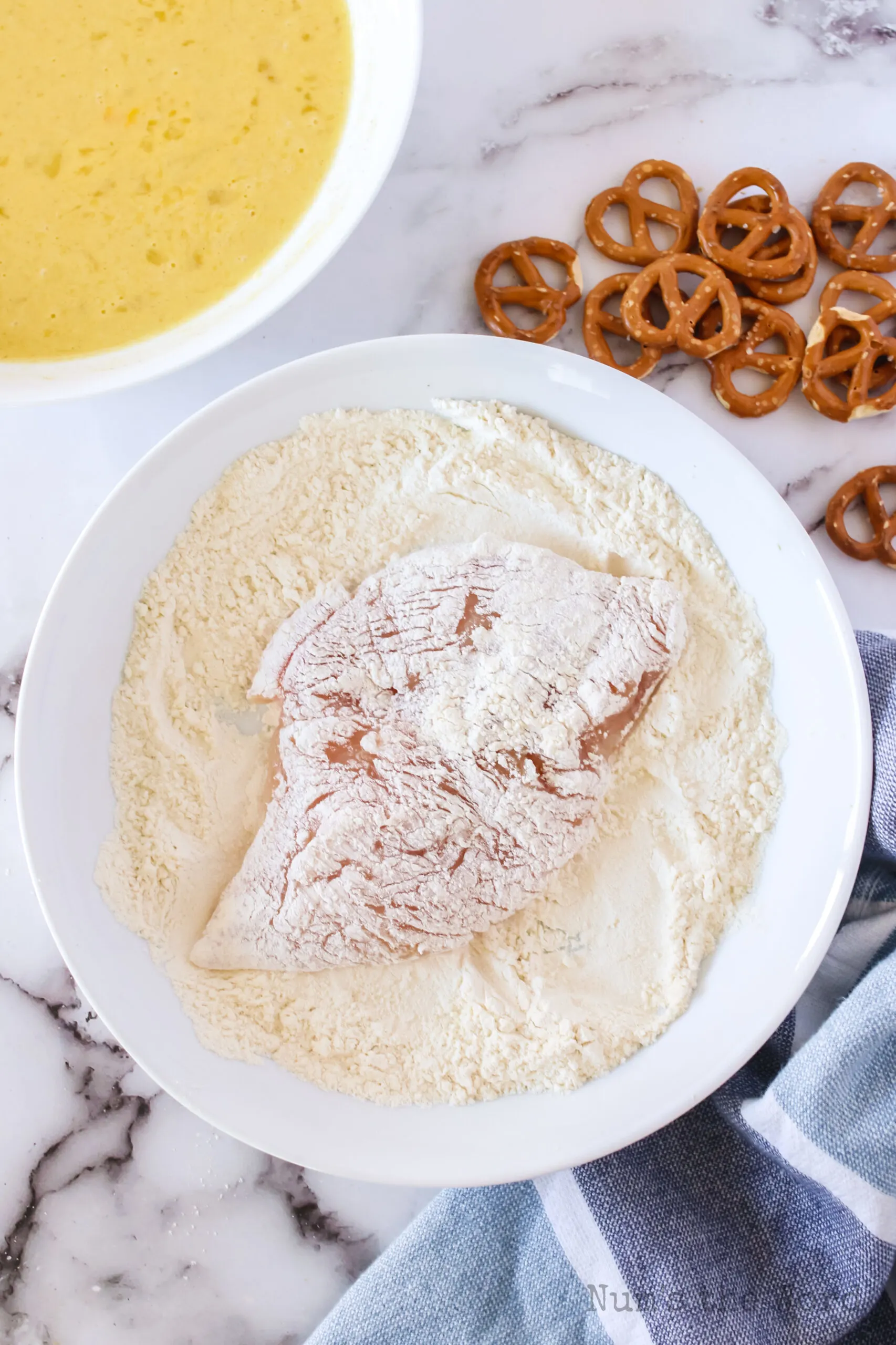 What Ingredients Are In Pretzel Crusted Chicken?
Here's what you're going to need to rock your table tonight.
Flour: Use all purpose flour for best sticking ability or gluten-free flour if going for a gluten free recipe.
Eggs: This lets the pretzels stick to the chicken batter.
Buttermilk: Buttermilk always gives your chicken a super juicy and delicious flavor.
Black Pepper: You'll notice there's no salt. Pretzels are already typically salty. Stick with the pepper.
Pretzels: You'll start with regular pretzels and break them down. Not powdered but crushed. Like very small pieces of pretzel.
Oil: I use olive oil but feel free to use vegetable or avocado oil instead.
Chicken: Cut the chicken breasts down the center to get thinner slices of chicken or use chicken tenders or chicken fingers as my kids like to call them.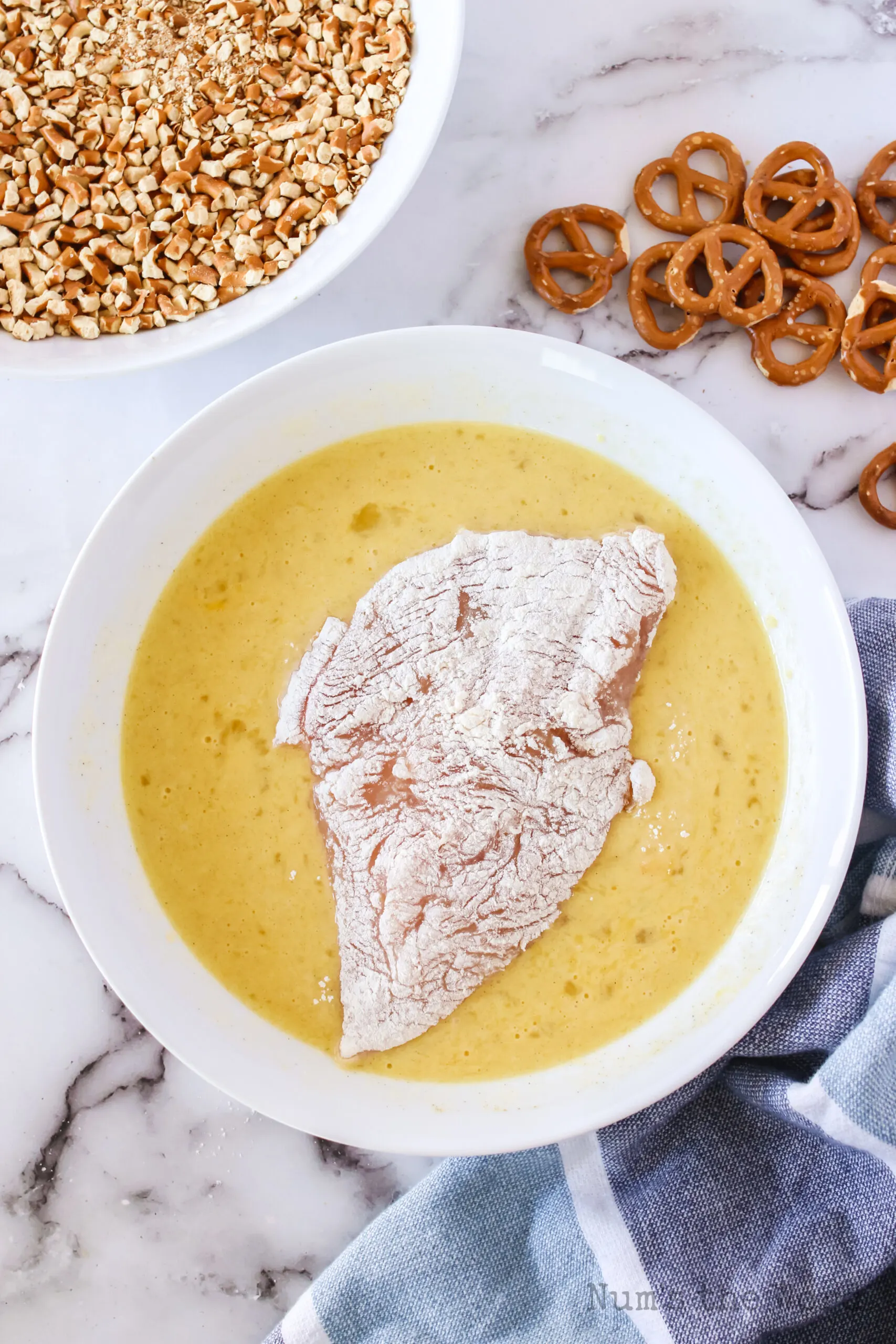 How to Make Pretzel Crusted Chicken
It's actually not too complicated to make pretzel crusted chicken. Here's how.
Prep: You'll want three bowls each containing a different layer to put on the chicken.
Dip: Dip the chicken in the shallow bowl of flour, then eggs and buttermilk, and finally the crushed pretzels.
Fry: When the chicken reaches an internal temperature of 165, they are done. I like to fry mine at medium heat to medium-high heat in hot oil in a large skillet. Once cooked, transfer to a large plate with paper towel after cooking.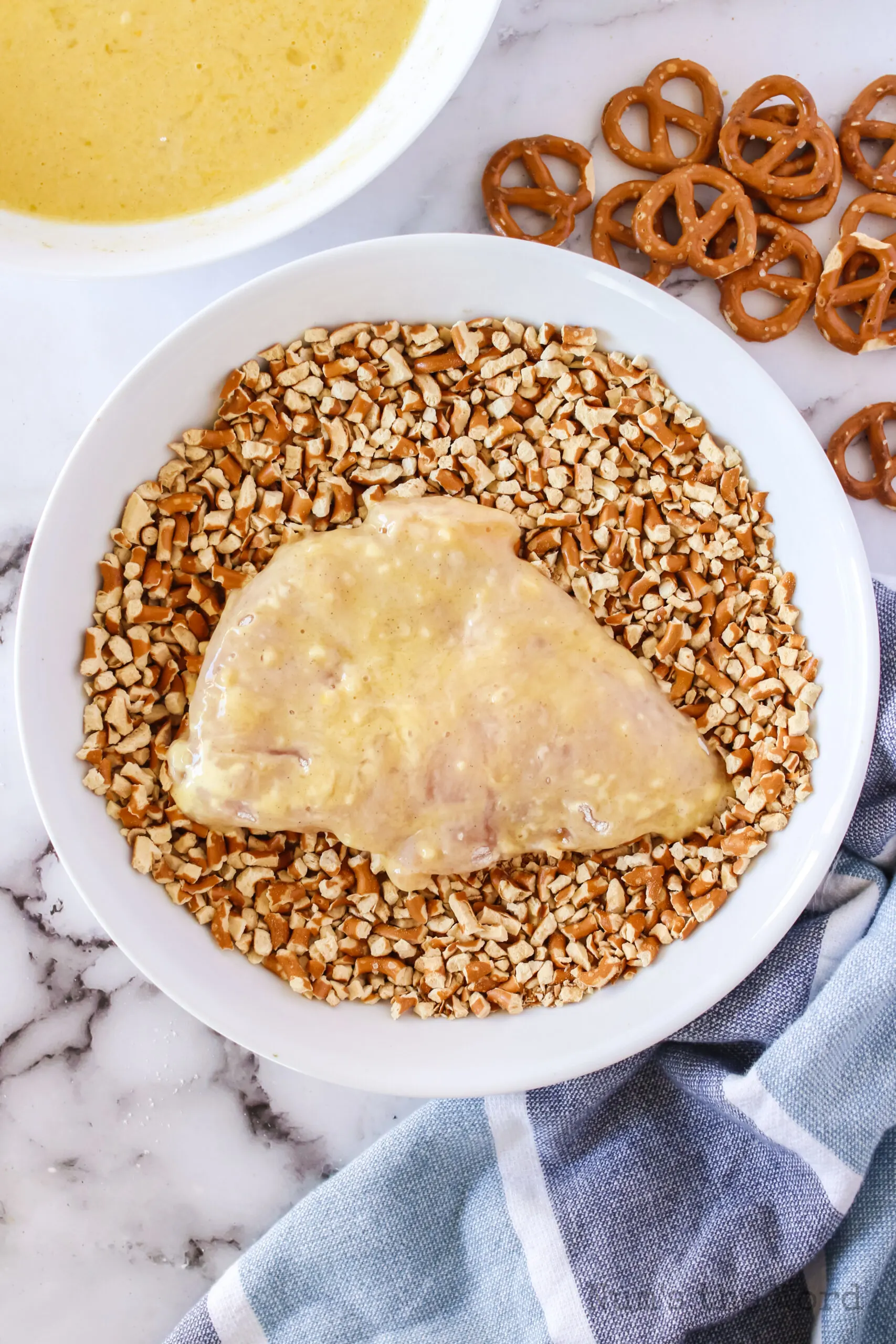 How to Crush Pretzels for Pretzel Crusted Chicken?
Ever try chopping pretzels? I don't recommend it unless you want to be sweeping them off the floor!
Here's your options for easier ways to crush those pretzels:
Food Processor: Place pretzels in the bowl of your food processor. Go easy on the speed here. A few pulses should do the trick.
Plastic Bag: Make sure it's sealed tight and then hit it with whatever heavy thing you've got lying around the kitchen.
One of those options is faster but one is the fun way, much more stress relieving. You pick what kind of day you're having. Both will produce the pretzel crumbs you need to make this tasty recipe.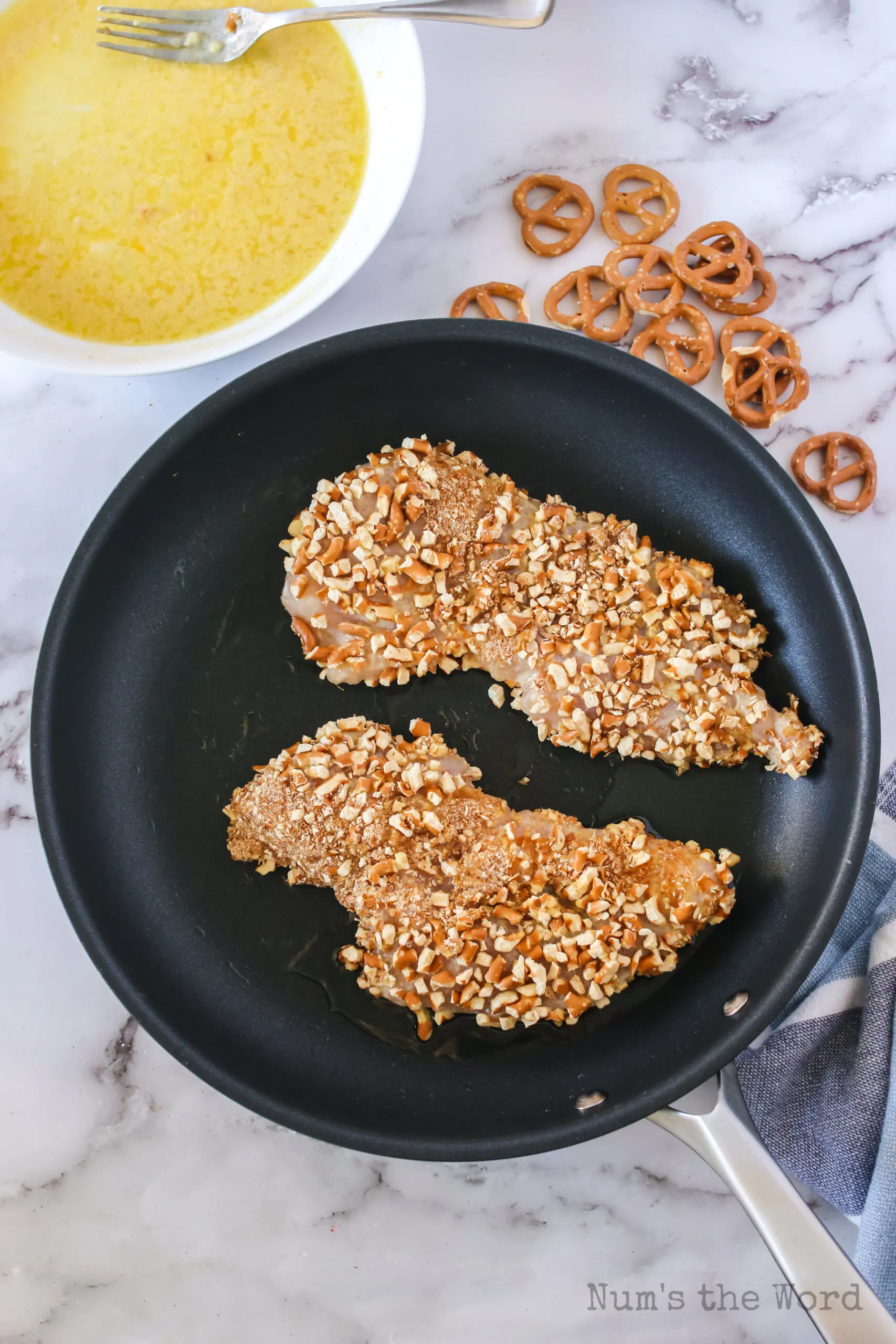 Can I Bake Pretzel Crusted Chicken?
You sure can! Whether it's for health reasons or you just don't want to deal with the grease, I've been there.
You can easily bake the crunchy pretzel crusted chicken on a baking sheet or in a casserole dish and receive great results.
Heat the oven to 400 degrees. Lay each piece of pretzel chicken tenders on a greased cookie sheet. Bake for about 20 minutes until that temperature reads 165.
How to Store Leftover Pretzel Crusted Chicken
Any leftover pretzel crusted chicken should be stored in an airtight container or bag in the fridge.
To reheat, you've got a few options that will keep the pretzel chicken crispy.
Air Fryer
Oven
You want to be careful not to re-cook the chicken. Chicken becomes very dry when it gets overcooked and that would be super disappointing.
Just warm the chicken until heated through and then pull it out for eating.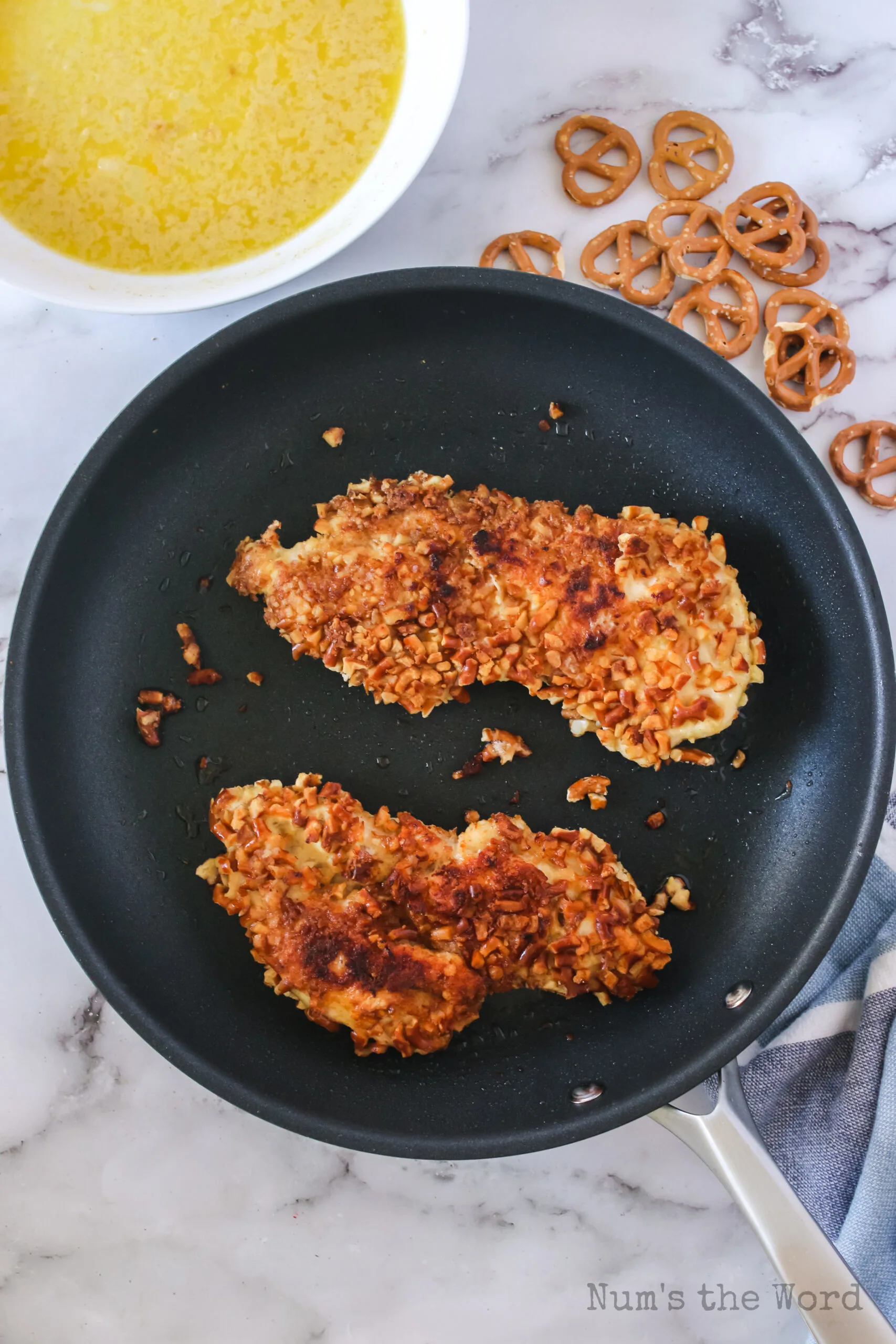 How Long Does Pretzel Crusted Chicken Last?
Pretzel crusted chicken will stay good in the fridge for up to 4 days. As long as it's properly covered, you should have no trouble keeping it that long.
Can You Make Pretzel Crusted Chicken in Advance?
I don't recommend making pretzel crusted chicken in advance. While the chicken still tastes great as leftovers, the pretzels will soften a bit.
I recommend eating the pretzel chicken immediately after cooking.
Is Pretzel Crusted Chicken Healthy?
It's chicken! Everyone needs protein to survive, including you. How much or how little, and what kind of protein is up to each person.
However, I put pretzel crusted chicken down in the healthy column in my house.
If you're looking for different health options, the pretzels are really the only thing that's pre purchased. Try choosing low sodium or healthier options of pretzels.
Other than that, this recipe is pretty healthy all by itself.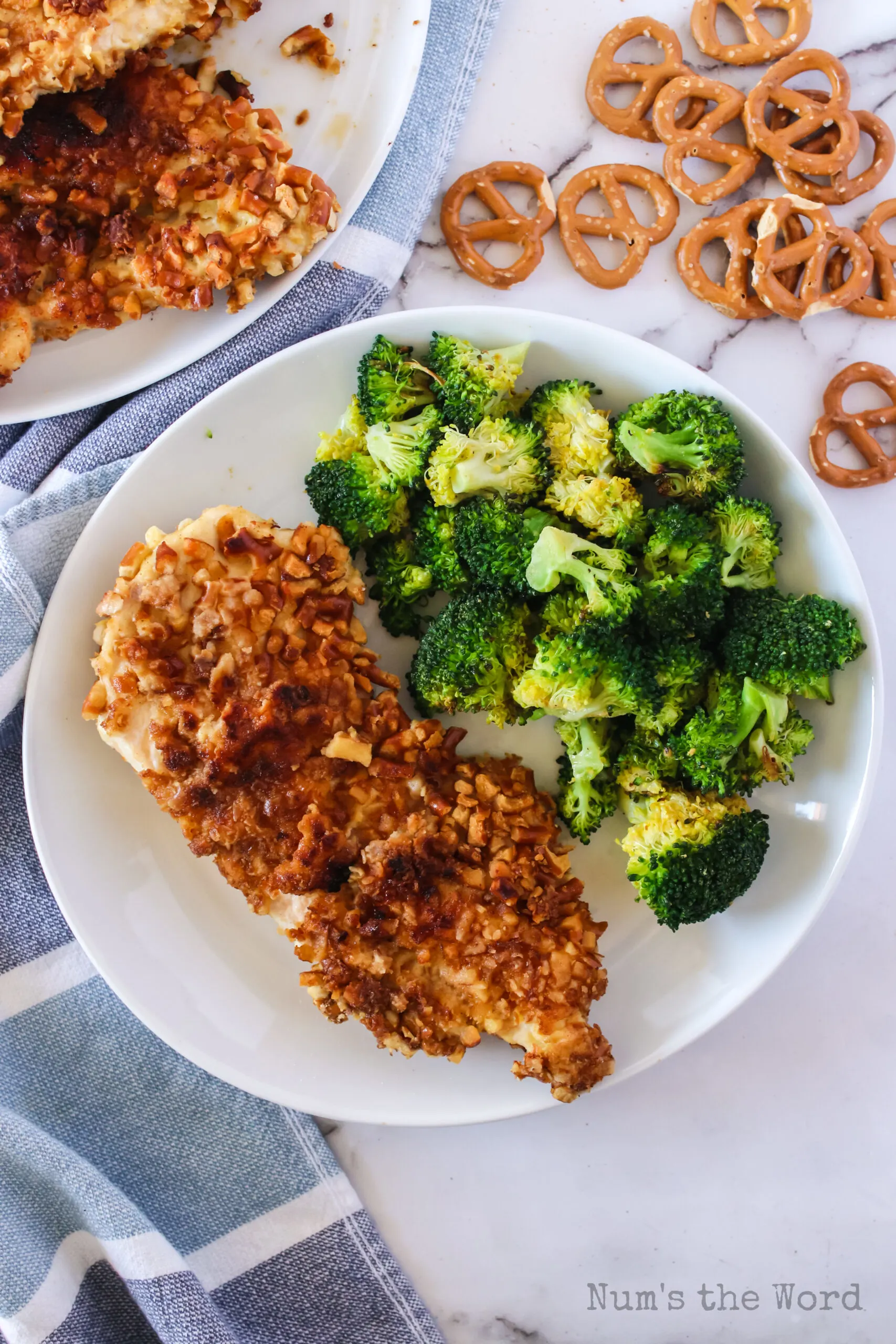 How Long to Cook Pretzel Crusted Chicken
Pretzel crusted chicken cutlets is a fast recipe. Just like I promised.
You'll want to cook each side for about 4-6 minutes, until it looks golden brown on both sides. The real trick is to check the temperature. That 165 is the golden ticket to perfect chicken.
If you don't have a thermometer, you can always sacrifice a chicken and split it open. It shouldn't be pink inside and should be a nice, juicy white.
What to Serve with Pretzel Crusted Chicken?
Dip! It's our favorite thing to do over here! Some of our favorite dipping sauces include:
Ketchup
Homemade Honey Mustard Sauce
Barbecue Sauce
Mustard
Hot Sauce
Cheese Sauce
Any other dipping sauce you can think of.
The sauce really changes the flavor of the chicken so go with your heart's desire.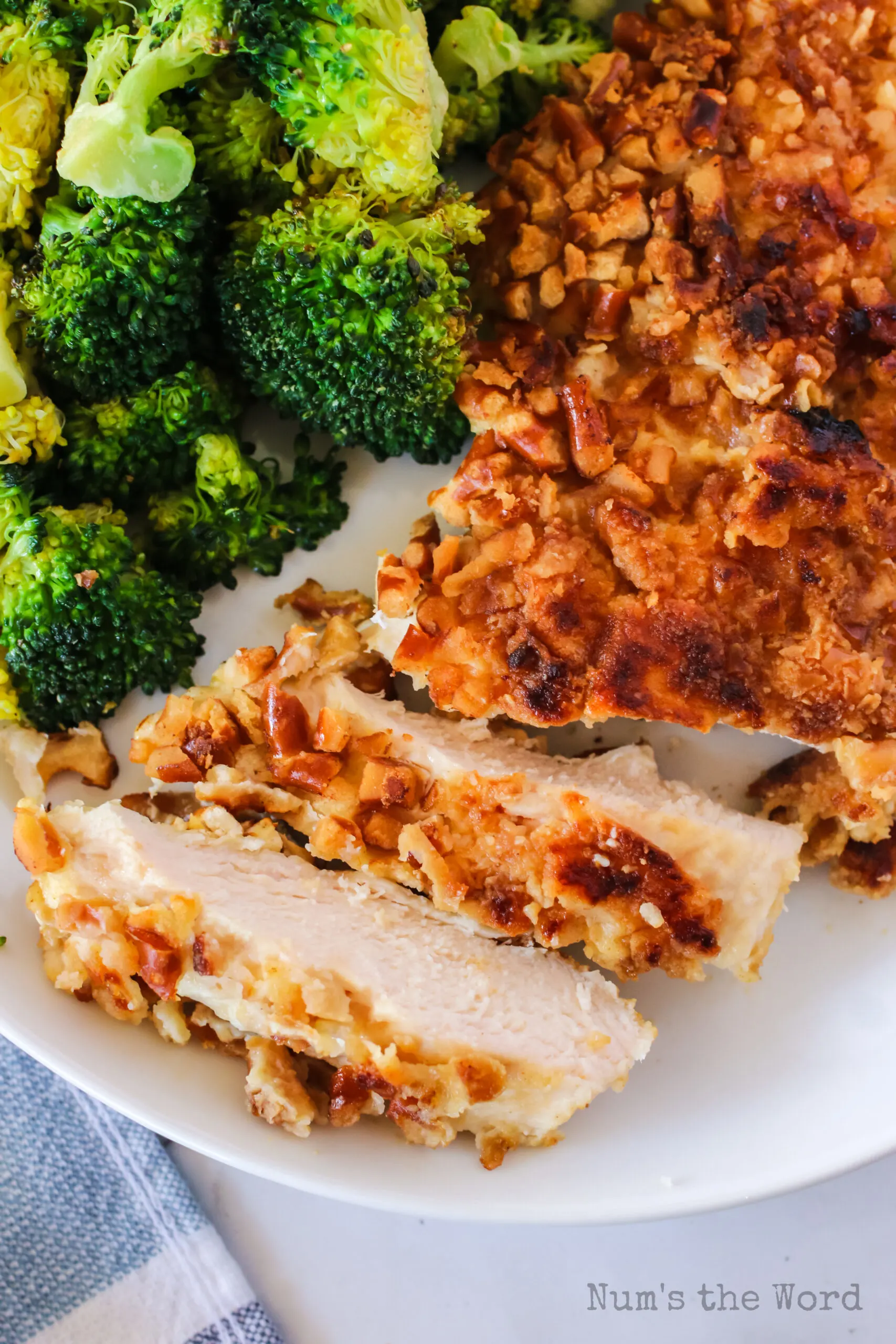 Here's some other fun sides we like to serve along with the pretzel chicken.
If you eat it with fried chicken, you can eat it with pretzel crusted chicken.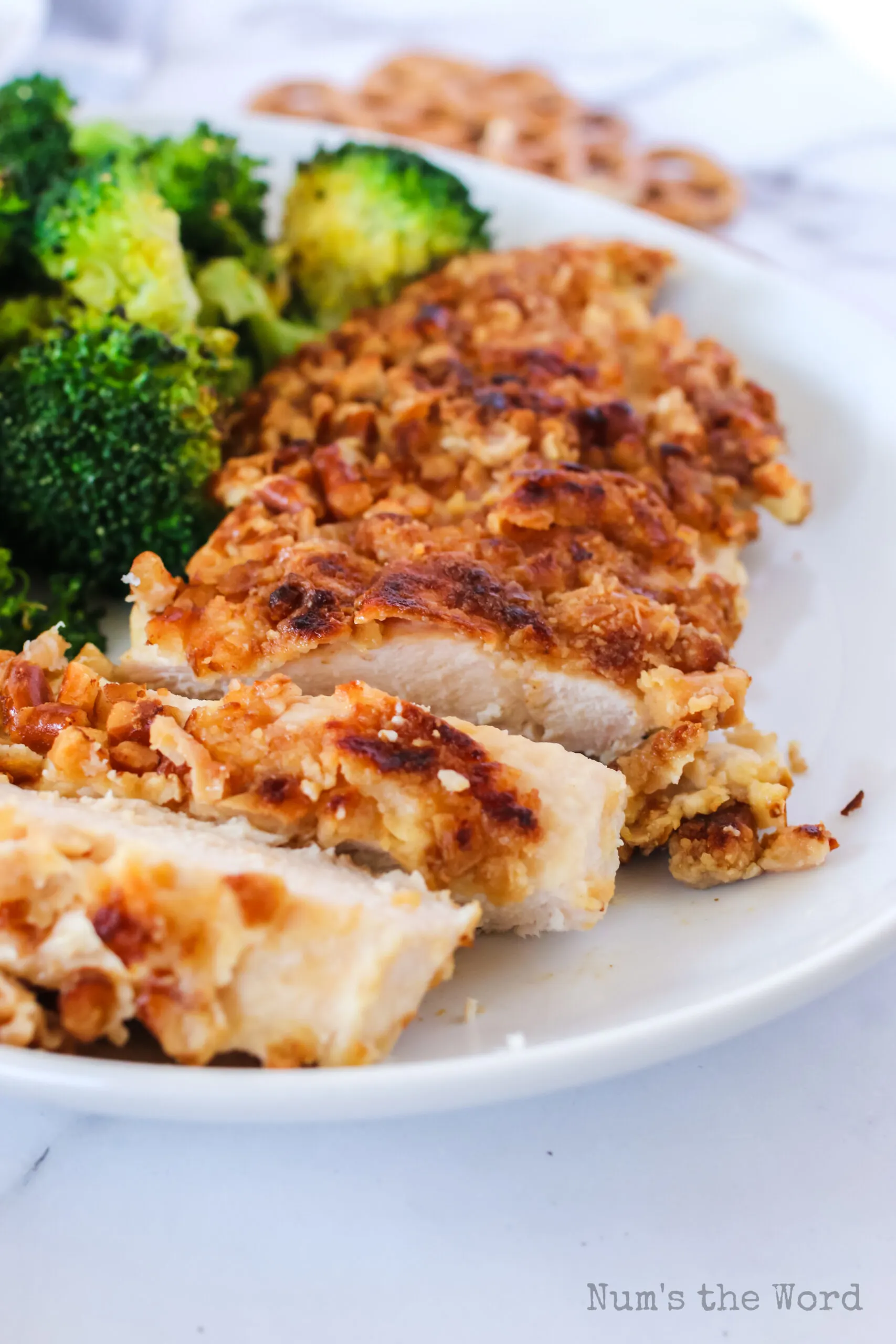 Can You Use Chicken Tenders for Pretzel Crusted Chicken?
Yes! You can absolutely use chicken tenders instead of chicken breasts.
I like the bigger cuts of meat with the ground pretzels but that doesn't mean you have to.
Chicken tenders are smaller, so they'll cook faster. Cook each side for a shorter period of time so they don't dry out.
You could also cut the larger piece of chicken into smaller sizes if preferred, like strips or chicken nuggets. Same advice, the smaller the cut of chicken, the quicker it will cook.
More Chicken Recipes You'll Love…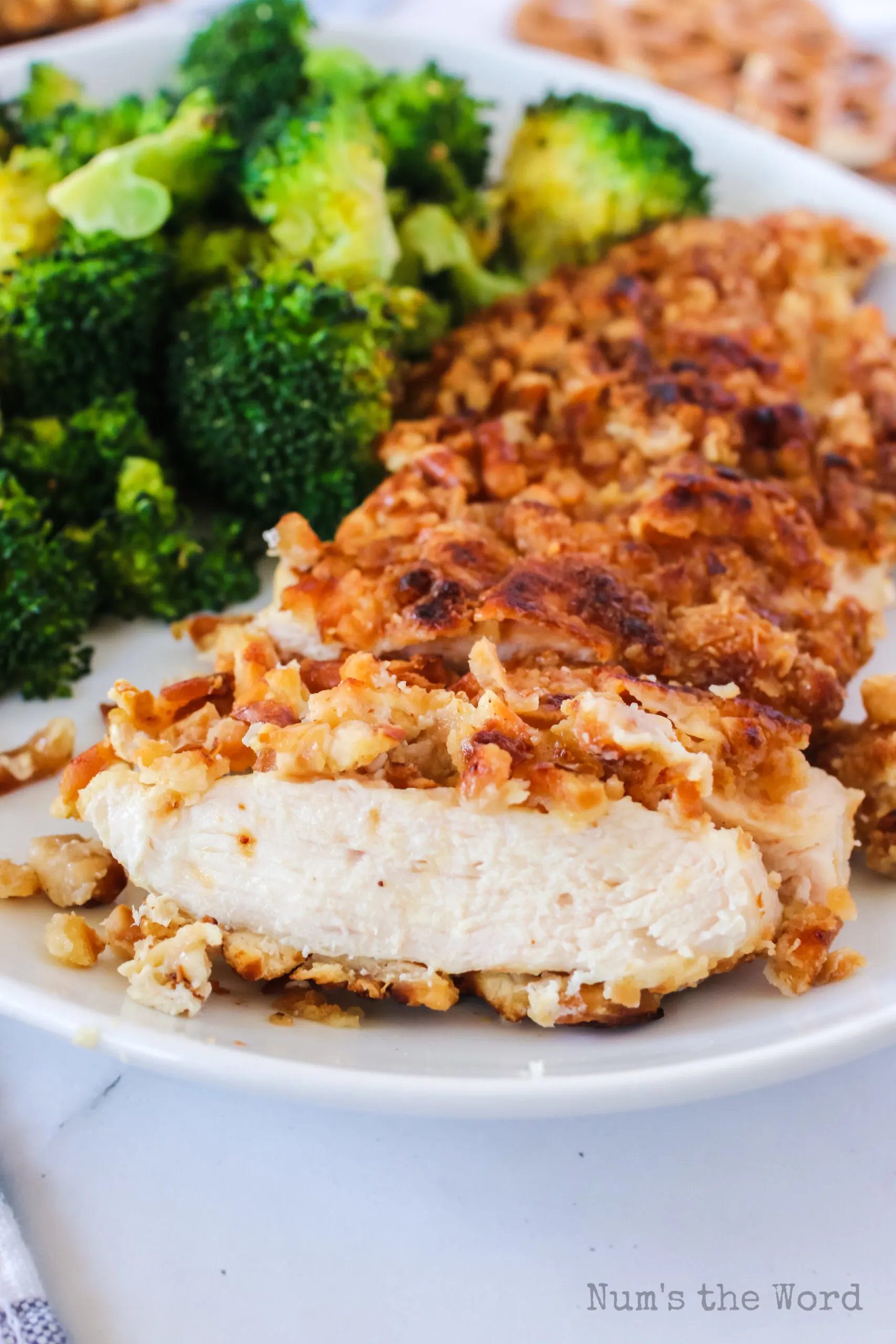 Pretzel Crusted Chicken is a quick and easy dinner that everyone loves. Great for picky kids and adults alike.
Try a batch for dinner and let me know what you think in the comments! Enjoy!
Yield: 4 Servings
Pretzel Crusted Chicken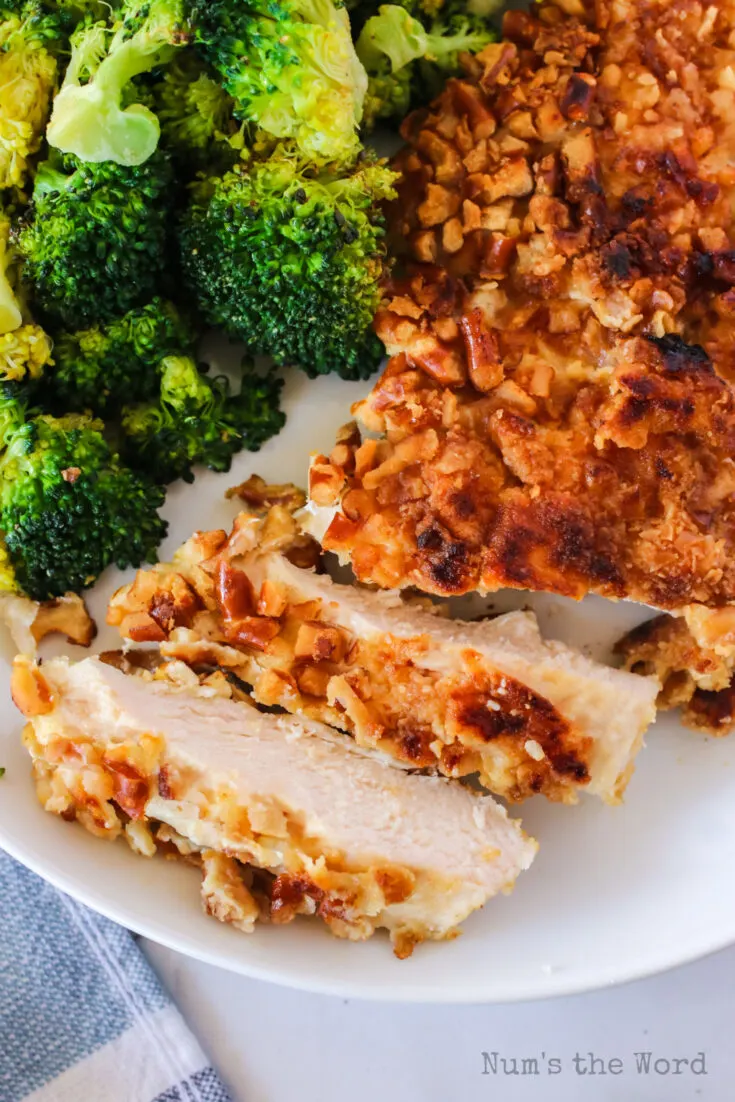 Yummy Pretzel Crusted Chicken is a hit with everyone. Juicy on the inside and extra crunchy on the outside makes this a perfect meal every time.
Ingredients
1/2 cup all-purpose flour
2 eggs
1/4 cup buttermilk
2 cloves garlic, minced
1/3 teaspoon black pepper
2 cups pretzels, chopped into small pieces
5 Tablespoons olive oil, divided
2 boneless, skinless chicken breasts, split down the center to make 4 breasts
Instructions
Place flour in a shallow bowl.
In a second bowl, combine eggs, buttermilk, garlic and black pepper.
In a third bowl, add crushed pretzel pieces.
Dip both sides of chicken into the flour mixture.
Then dip floured chicken into egg mixture, ensuring entire breast is covered in egg.
Finally dip egg battered chicken breast into pretzels, coating entirely.
Set aside chicken and repeat with remaining breasts
In a large skillet, heat 3 Tablespoons of olive oil.
Once the pan is nice and hot, add chicken breasts into the skillet and cook 4-6 minutes per side. Chicken is cooked through once internal temperature reaches 165*F
Serve immediately.

Nutrition Information:
Yield:
4
Serving Size:
1
Amount Per Serving:
Calories:

446
Total Fat:

22g
Saturated Fat:

4g
Trans Fat:

0g
Unsaturated Fat:

17g
Cholesterol:

145mg
Sodium:

420mg
Carbohydrates:

34g
Fiber:

1g
Sugar:

1g
Protein:

27g