Chicken Tenders are a hit with kids and adults alike! Crispy, flavorful, and cooked to perfection, they're just what you need tonight!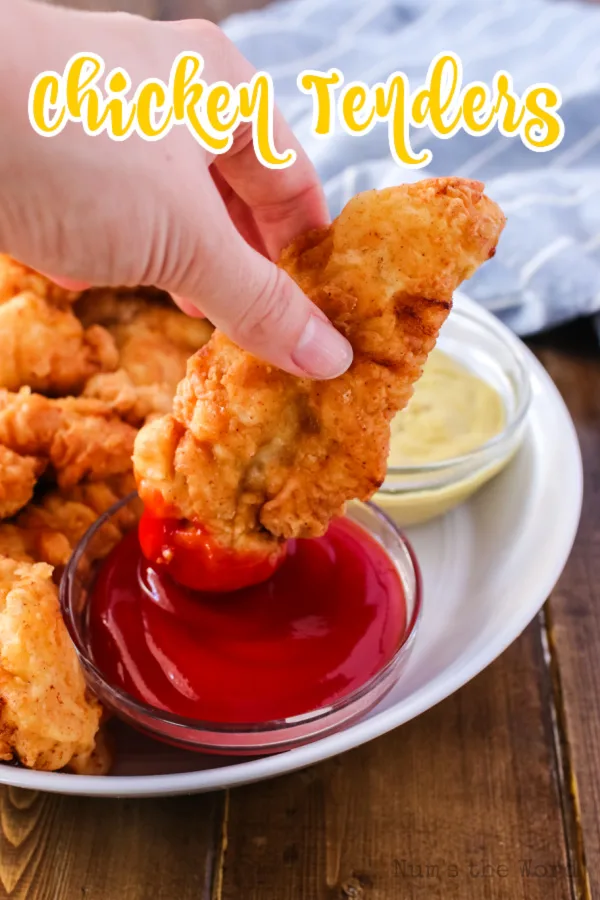 Nothing says perfectly cooked like crunchy breading with moist chicken on the inside! This chicken tenders recipe is perfect for picky kids!
It's mild enough to be gobbled by them but flavorful enough to be gobbled by the rest of us too. Plus it's a really easy chicken tenders recipe. No overnight marinating or fussiness.
And you've probably got all the ingredients already in your home. Homemade chicken tenders are a chance for you to skip that drive through window and have some good food at home instead.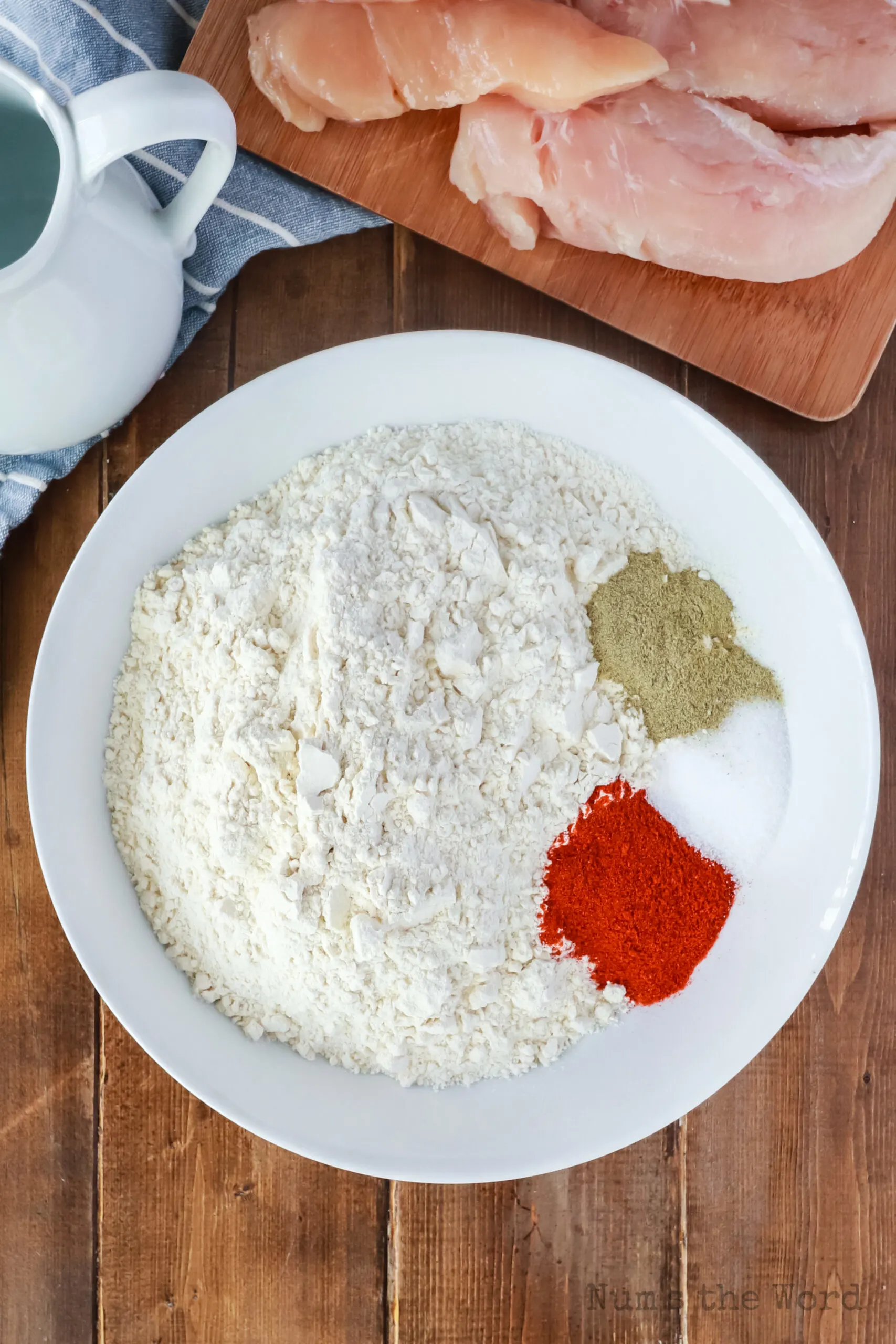 What Ingredients are in Chicken Tenders?
With just a few simple ingredients, you'll be able to make these chicken fingers in no time!
Chicken Tenders or Chicken Tenderloins: These tender cuts of meat can be found at your grocery store. If you can't find them, you can use skinless chicken breasts cut into strips.
All Purpose Flour: Flour is the main breading on the outside of the chicken.
Paprika: This offers a subtle smoky flavor that you're gonna love.
Salt and Black Pepper: Where would we be without the wonderful salt and pepper?
Buttermilk: Buttermilk gives the chicken breading a really nice flavor.
Egg: The egg helps the breading adhere to the tenders.
Vegetable Oil: You'll need this for frying the chicken strips to perfection.
Pro Tip: Need a buttermilk substitute?
1 Tablespoon of vinegar or lemon juice mixed and filled with milk up to the 1 cup line makes buttermilk.
Be sure to let it sit for 5 minutes until chunks form.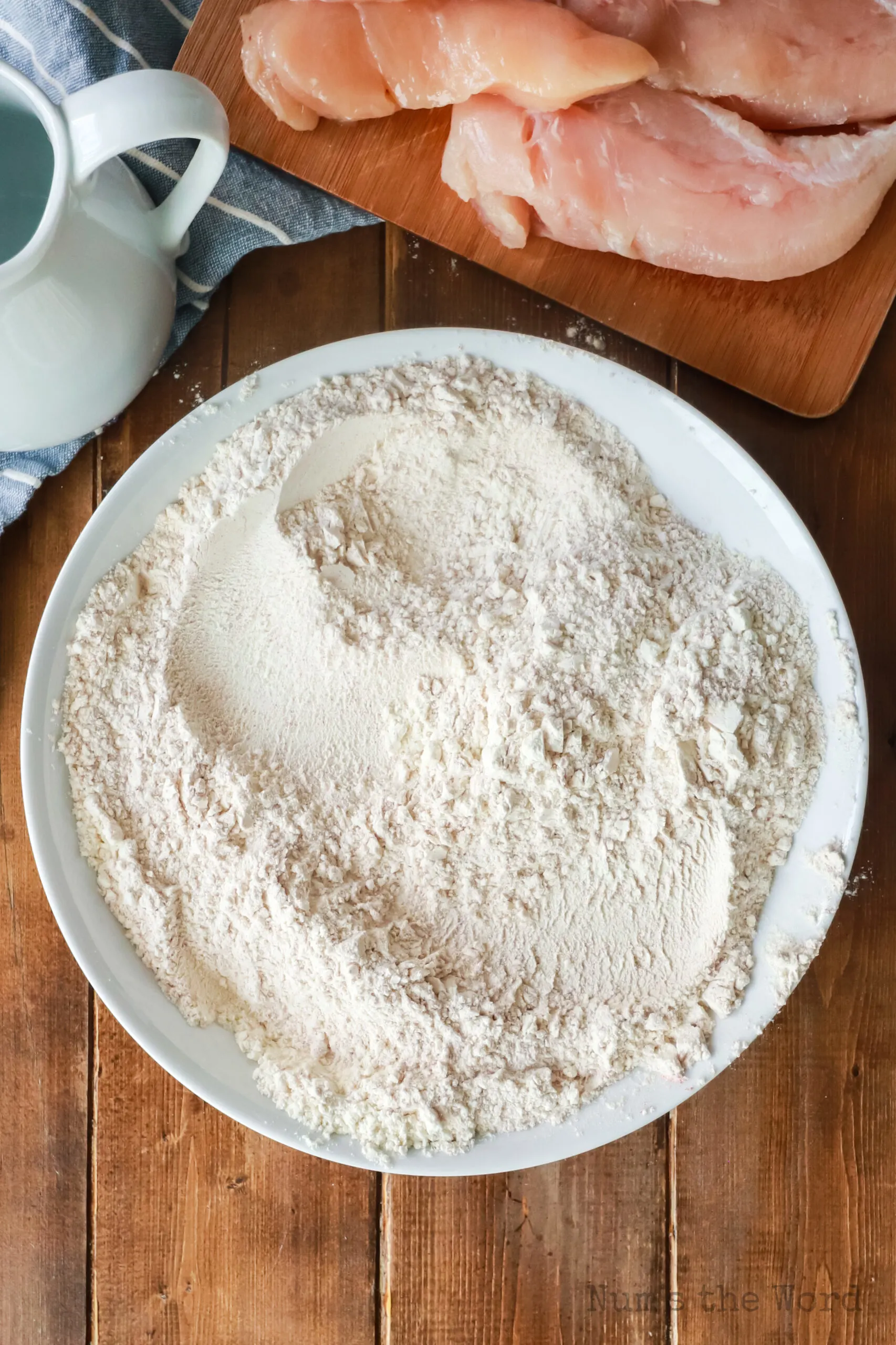 How to Make Chicken Tenders
It's simple enough to make chicken tenders but plan on getting your fingers dirty!
Prep: Prepare two separate bowls with the dry and wet ingredients while the oil heats.
Coat: The tenders will go from the egg wash bowl to the dry ingredient bowl to cover them completely.
Fry: Careful not to get splattered as you place your meat into the hot oil! When the chicken reaches 165 degrees F and is golden brown, it's ready to eat!
Pro Tips:
Use a deep skillet to keep the chicken from touching the bottom of the pan.
The higher the sides of your pan, the less will splatter around the kitchen.
One thing you'll notice is that this recipe doesn't call for bread crumbs or panko breadcrumbs. We find it's not needed in this recipe.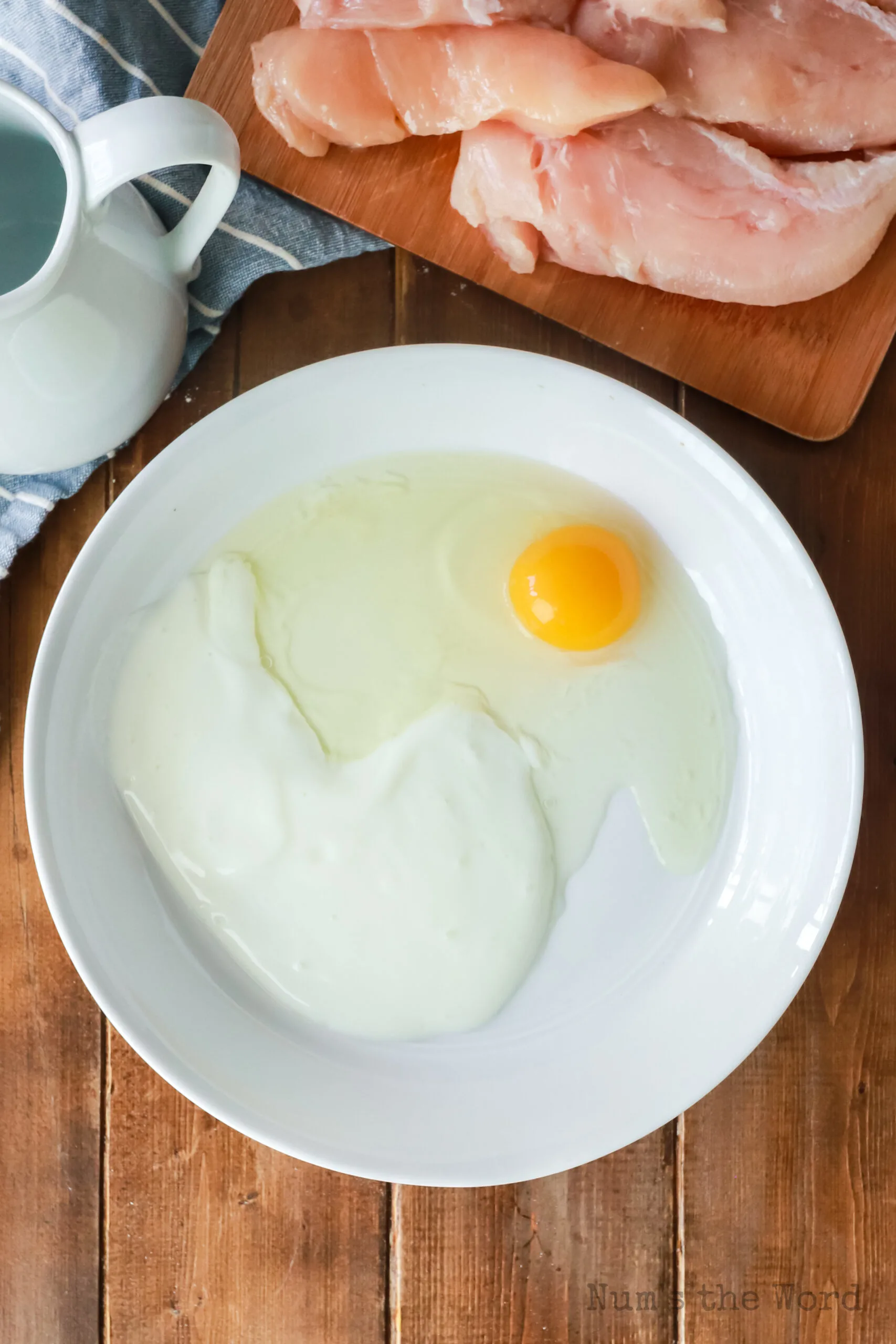 How Long to Deep Fry Chicken Tenders
Homemade Chicken Strips do not need to be fried very long to be cooked through. 3-4 minutes per side is usually enough to be cooked thoroughly.
If you have a thermometer I highly recommend checking for doneness with your thermometer. You can always pull one out and crack it open to check as well.
Pro Tip:
Sometimes the oil can hide that the tenders are looking done. Pull one out and lay it on a paper towel to gauge its true color.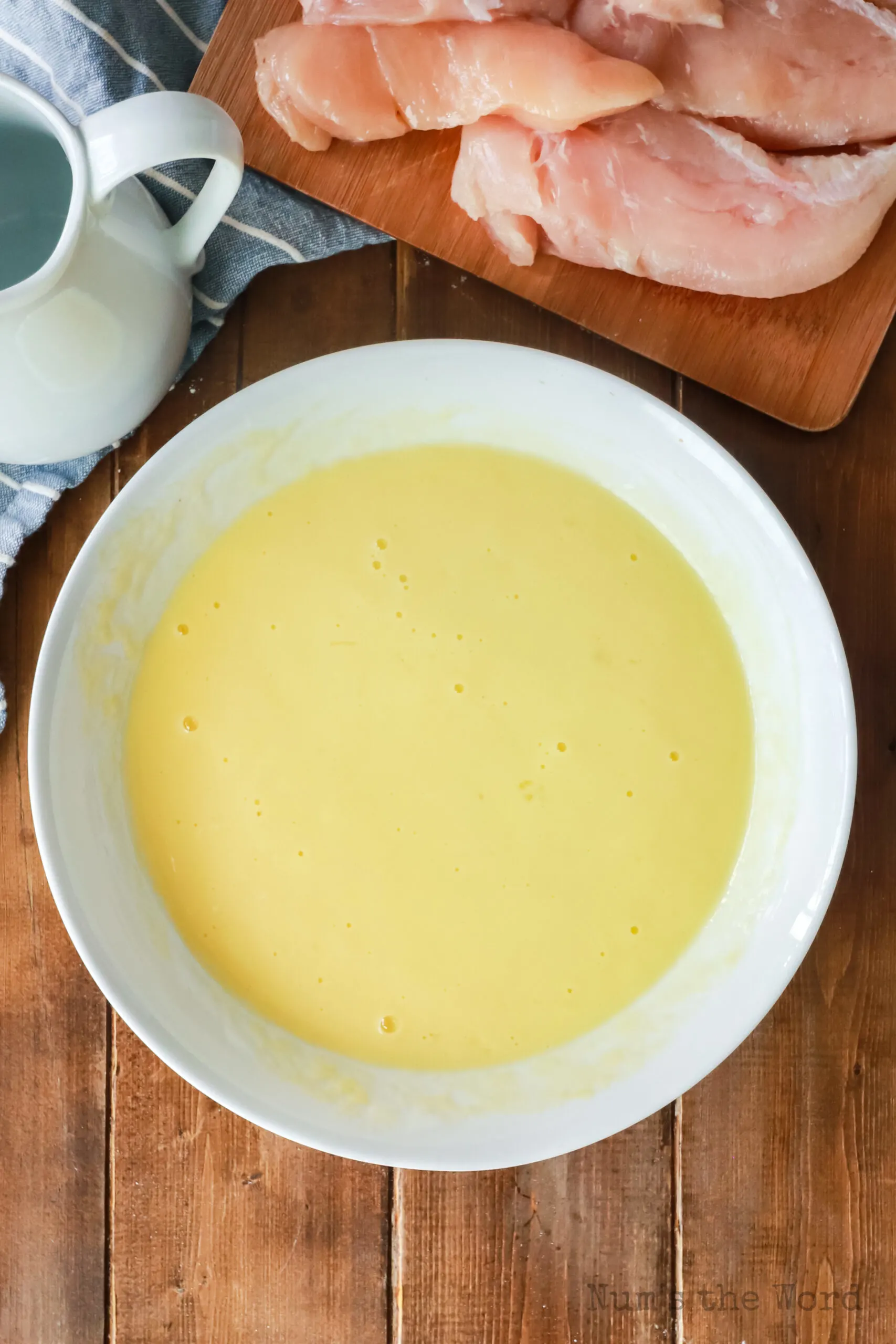 What to Serve with Crispy Fried Chicken Tenders
One of the best and easiest things to serve with chicken is ketchup. No kidding. Kids love it and so do adults.
We also adore this Barbecue Sauce over here for all things dipping as well as honey mustard sauce Just think of what you like dipping your chicken nuggets into and it will work for this too.
Here are some other great side dishes to go along with chicken tenders.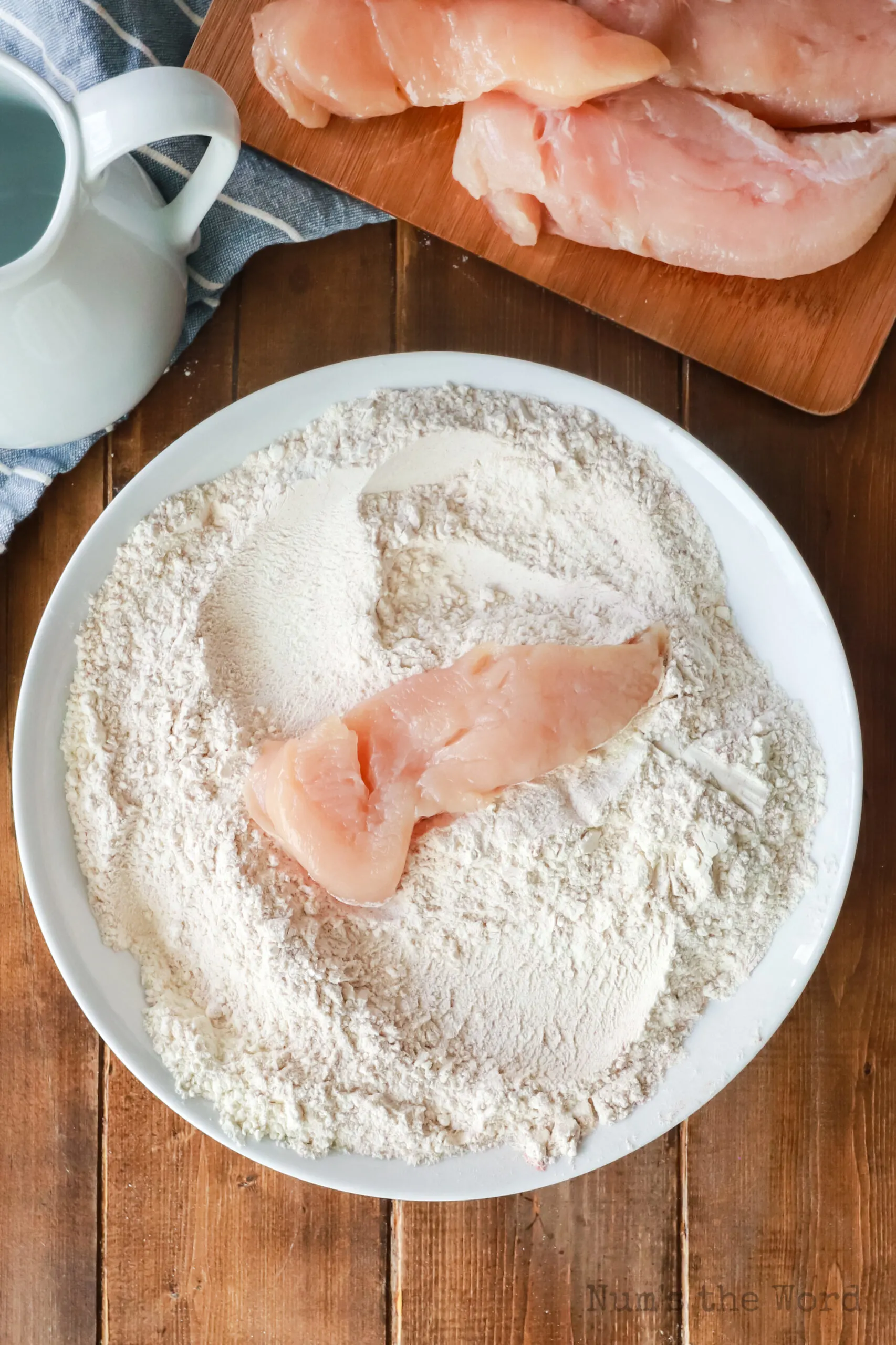 Are Chicken Tenders Healthy?
Well that depends… are you talking chicken tenders you buy from the drive through or homemade? Often crispy chicken tenders through a fast food restaurant are full of preservatives or ingredients most of us can't even name. Yuck.
That's one of the big benefits to homemade chicken strips. There's no hidden ingredients here. You made it. You know what went in it.
And you know it's totally good for you. Hallelujah. If you're worried about the fat, swap it for another oil like olive or avocado. Both are high heat oils that shouldn't change the flavor of the chicken too much.
If you're looking for a healthier version of this easy recipe, you can bake it! Simply pre heat oven to 425*F. Place a wire rack on a baking sheet and spray with cooking spray.
Then after you bread your chicken, lay them on your wire rack. Once all chicken is coated, simply bake. Your cooking time should be anywhere from 15 – 20 minutes depending on the thickness of your breast.
For the fried version, keep scrolling and you'll see just how to get a crispy coating on your chicken strips!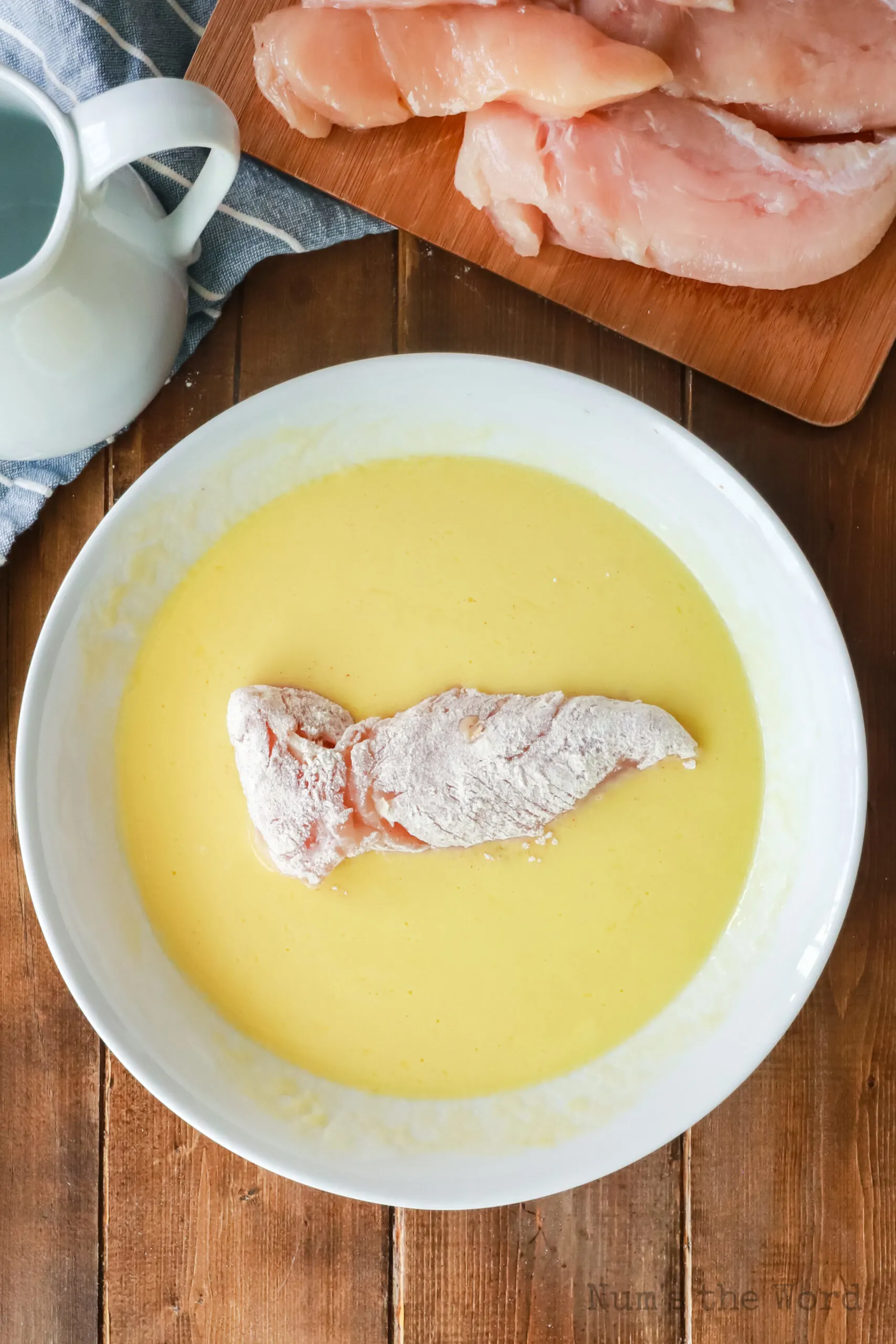 How to Bread Chicken Tenders
The first thing you'll want to do is dip the chicken into the flour mixture. Now if you're gluten free, you can substitute corn starch instead. Flour is the traditional southern way.
This helps the egg mixture adhere to the chicken better. Then you'll dip the chicken tenders into the flour mixture again.
This triple dip really helps to completely coat the chicken tenders for extra crispy breading. Which we all know is what it's all about.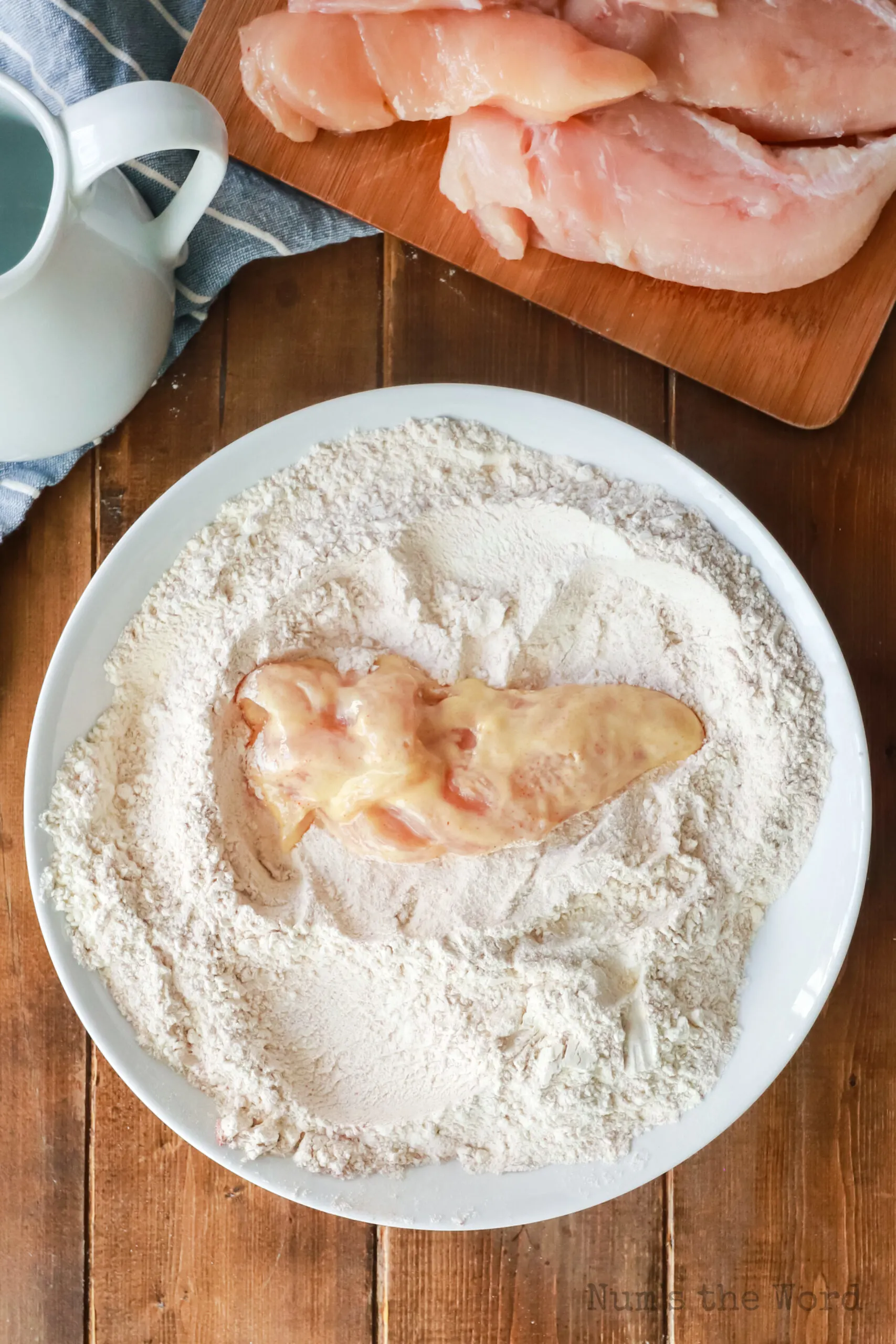 What to Do with Chicken Tenders
When it's just the kids, I often give them a plate and some ketchup. However, my more grown up appetite really craves some greens too.
So, one of the things you'll love is serving chicken tenders on top of a salad. It's healthy, delicious, and totally meets all my cravings.
Try this Ultimate Green Salad which I make often for St. Patrick's Day. It's perfect with chicken tenders.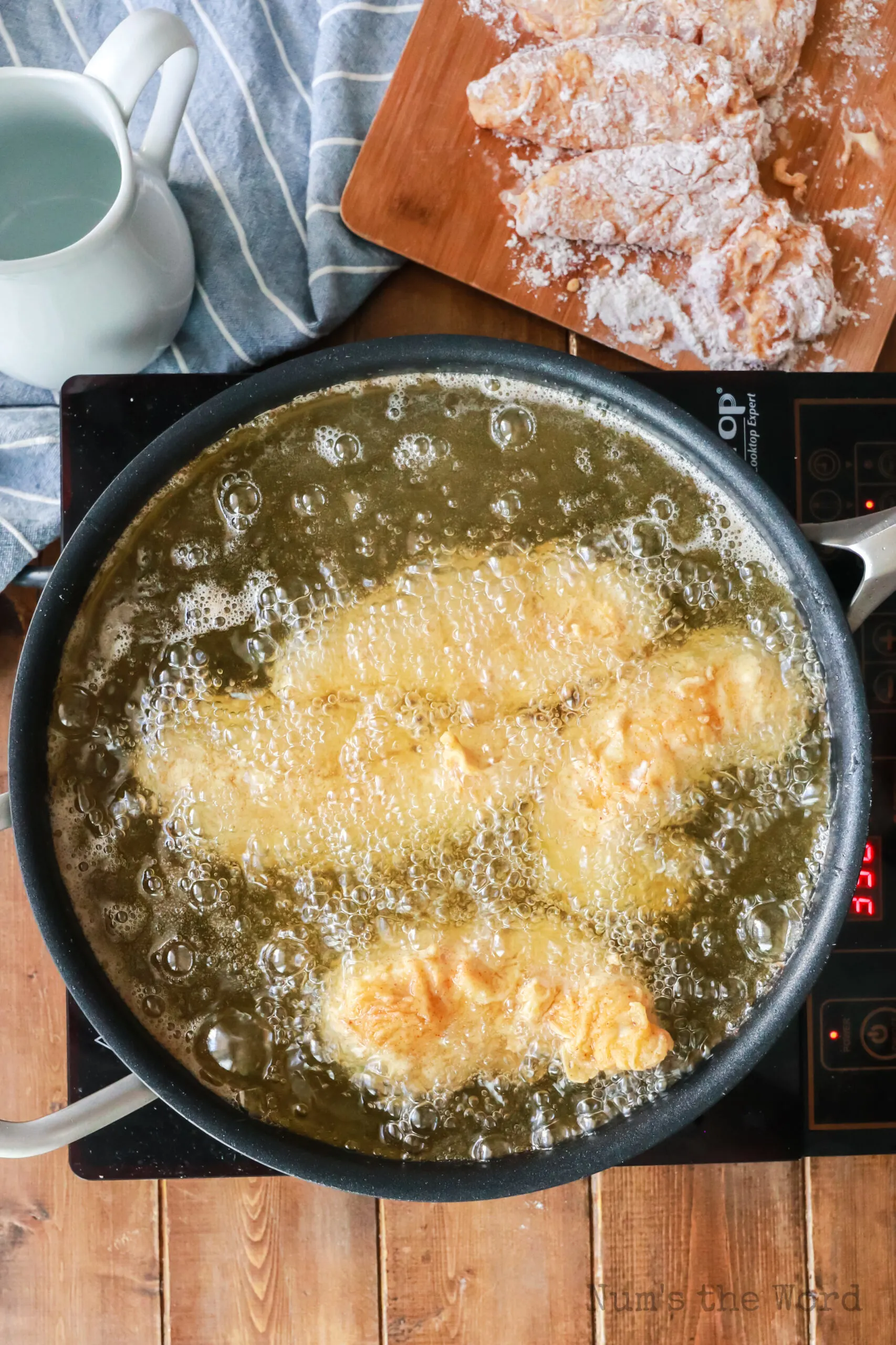 How Long Do Chicken Tenders Last?
Leftover Chicken tenders tend to stay good in your fridge for three to five days when kept in an airtight container. I like to leave them in a single layer so they don't stick to each other and ruin the crispy coating.
Make sure they're covered to prevent any bacterial growth or dry out. To reheat, use an air fryer or your oven. Either one will crisp them right back up.
Only reheat until heated through as you don't want to cook them again. Recooking will cause the chicken to become dry.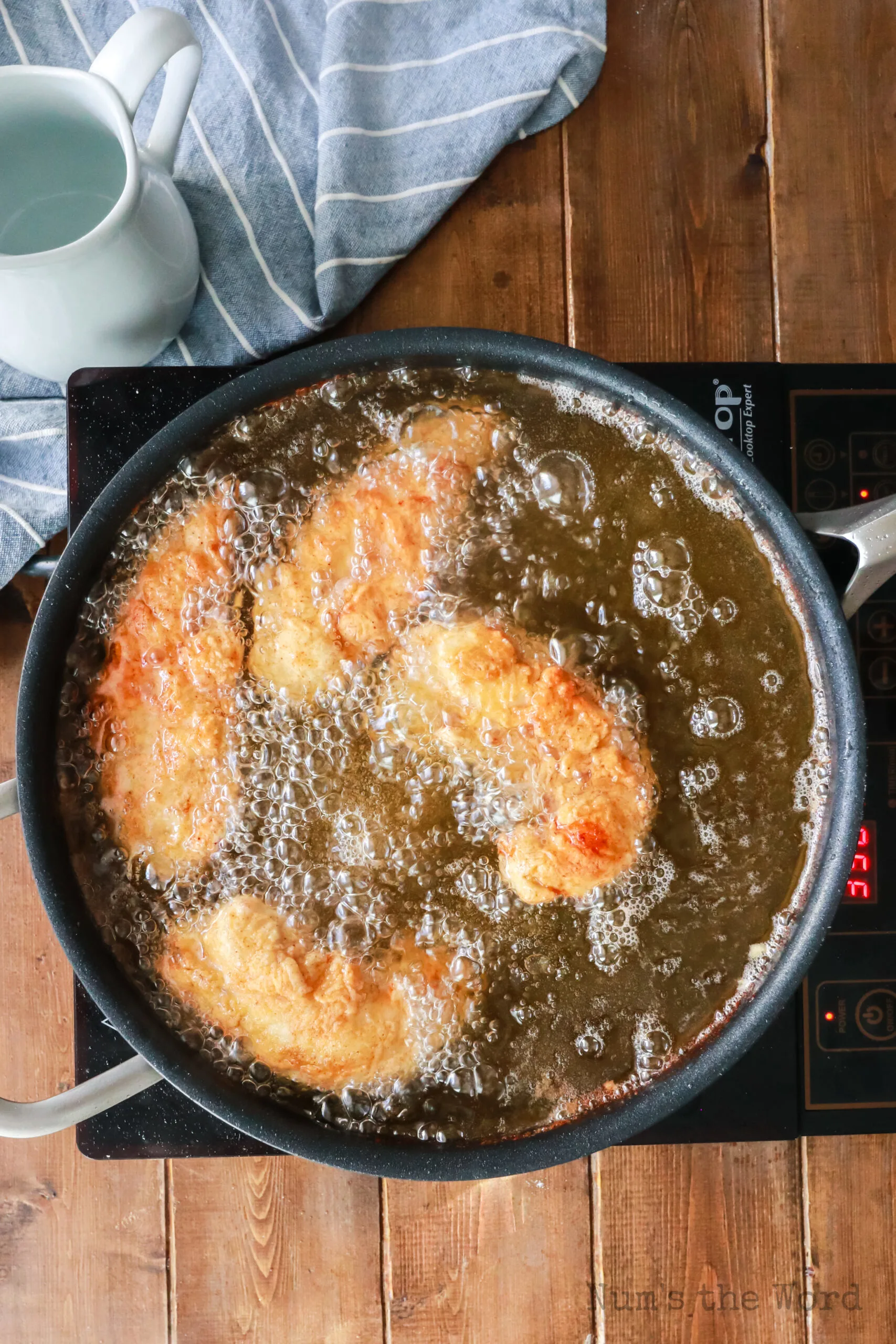 Can You Freeze Chicken Tenders?
If you want to make a large batch of chicken tenders, they can be frozen to be eaten at a much later date. They're great for an afternoon snack ready to go for the kids when they get home.
Fully cooked chicken tenders will stay good in the freezer for up to 3 months when stored in a freezer bag or an air tight container. To reheat them just pull them straight from the freezer to a tray in your oven. The oven should be preheated to 350 degrees F
Frozen, the chicken tenders take about 20 – 25 minutes to reheat. Be sure not to overcook them as again, it'll dry them out.
Pro Tip:
Write the name and date on the container so you don't lose them in your freezer.
For the extra mile, write the reheating instructions so you don't have to find them later.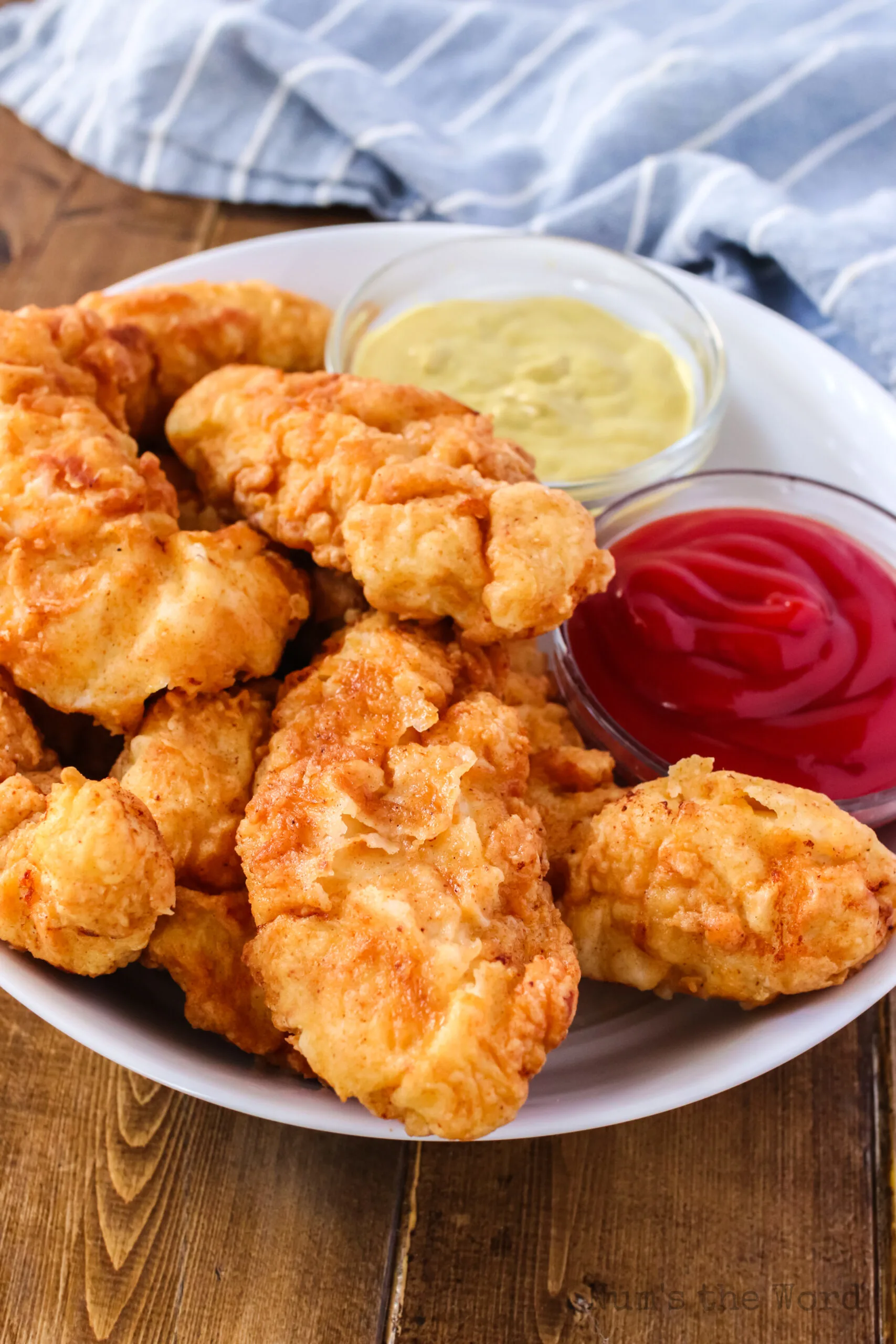 Quick, delicious, and healthy, chicken tenders are the perfect food to whip up tonight, making them top family friendly meal.
Yield: 1-2 pounds
Chicken Tenders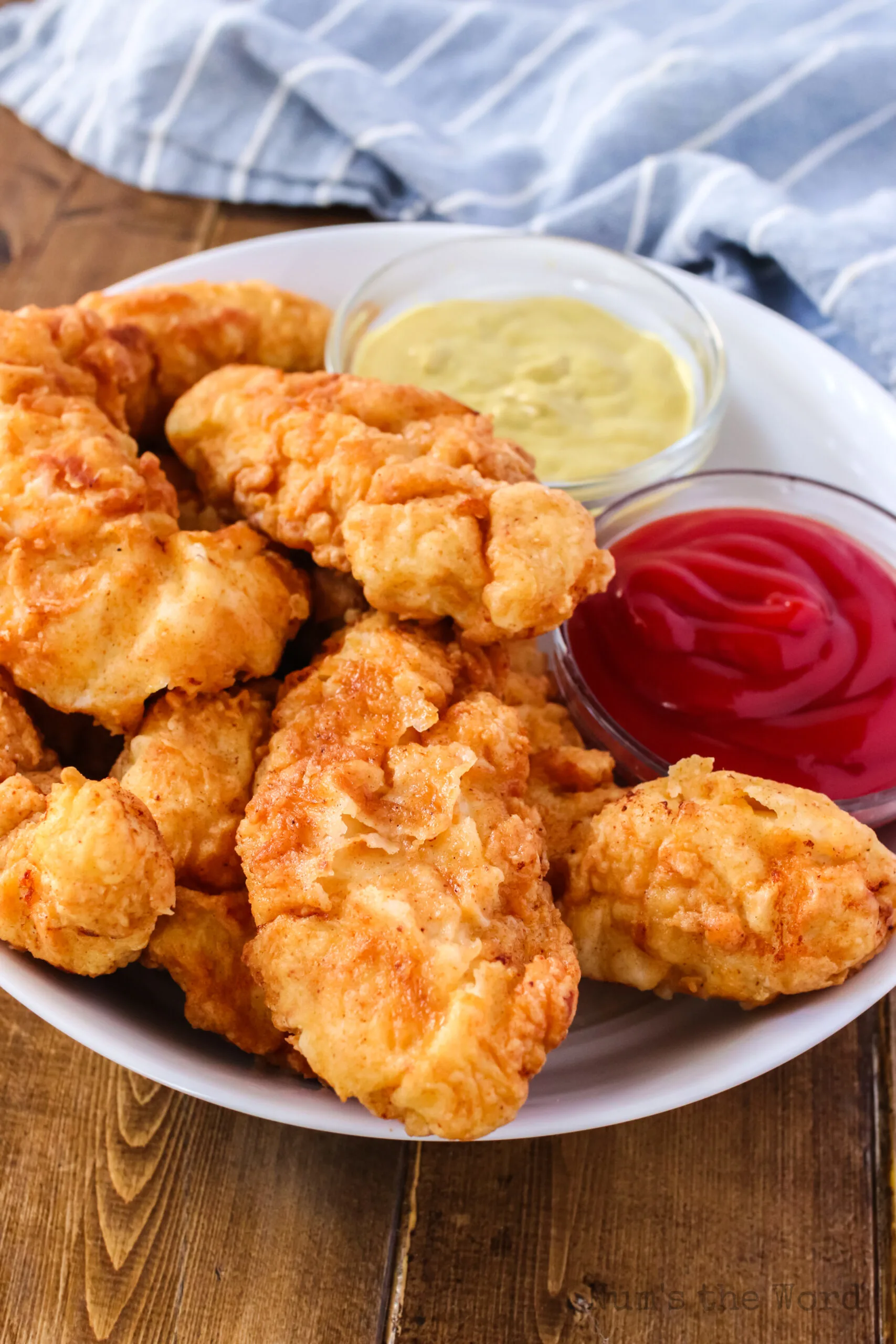 Chicken Tenders are a hit with kids and adults alike! Crispy, flavorful, and cooked to perfection, they're just what you need tonight!
Ingredients
1-2 pounds chicken tenders
2 cups all-purpose flour
1 Tablespoon paprika
2 teaspoons salt
1 teaspoon black pepper
1/3 cup buttermilk
1 egg
48 ounces Vegetable oil
Instructions
In a large bowl mix flour, paprika, salt and black pepper
In a second bowl mix buttermilk and egg
Pour vegetable oil in a large deep skillet and heat to 375*F
While oil is heating, coat one chicken tender in flour mixture.
Transfer to egg bowl and coat in egg mixture.
Then transfer back to the flour bowl and coat again.
Set aside and repeat with remaining chicken tenders.
Once oil reaches 375*F, place chicken tenders in hot oil.
Cook 3-4 minutes per side (depending on thickness) or until internal temperature of strip reaches 165*F
This may require you to do more than one batch of cooking, depending on size of pan.
Remove cooked chicken to a plate with paper towels to cool.
Serve immediately with your favorite dipping sauce.
Nutrition Information:
Yield:
6
Serving Size:
1
Amount Per Serving:
Calories:

630
Total Fat:

27g
Saturated Fat:

5g
Trans Fat:

0g
Unsaturated Fat:

19g
Cholesterol:

101mg
Sodium:

1954mg
Carbohydrates:

63g
Fiber:

3g
Sugar:

1g
Protein:

35g