Sunny Side Up Eggs are calling your name and you'll be amazed at how easy they are to make! Perfect for breakfast, brunch or meal prep!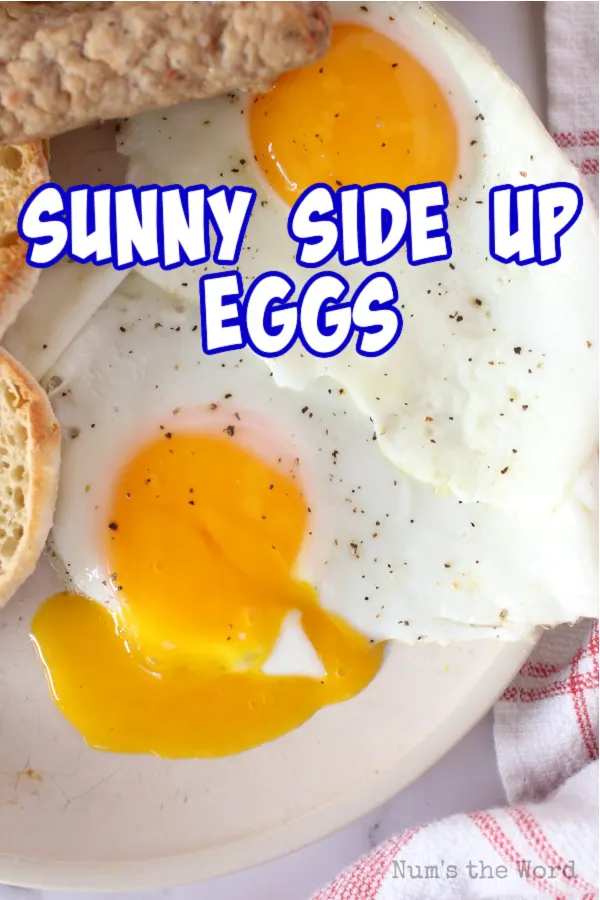 For perfect eggs you need beautiful runny yolks and just set whites. Sunny side up eggs are perfect for sopping up with a buttered piece of toast and a side of bacon.
What's great is you don't need to be an expert to get perfect sunny side up eggs. All you need is a little know-how. With no flipping or turning, it's not complicated, especially if you have your favorite non-stick pan on hand. And nobody wants a complicated breakfast.
But it's also awesome that eggs can literally be used in everything. Breakfast, lunch, and dinner. All foods are improved by the addition of a fried egg sunny side up.
Plus all that protein is sure to keep you full until the next meal!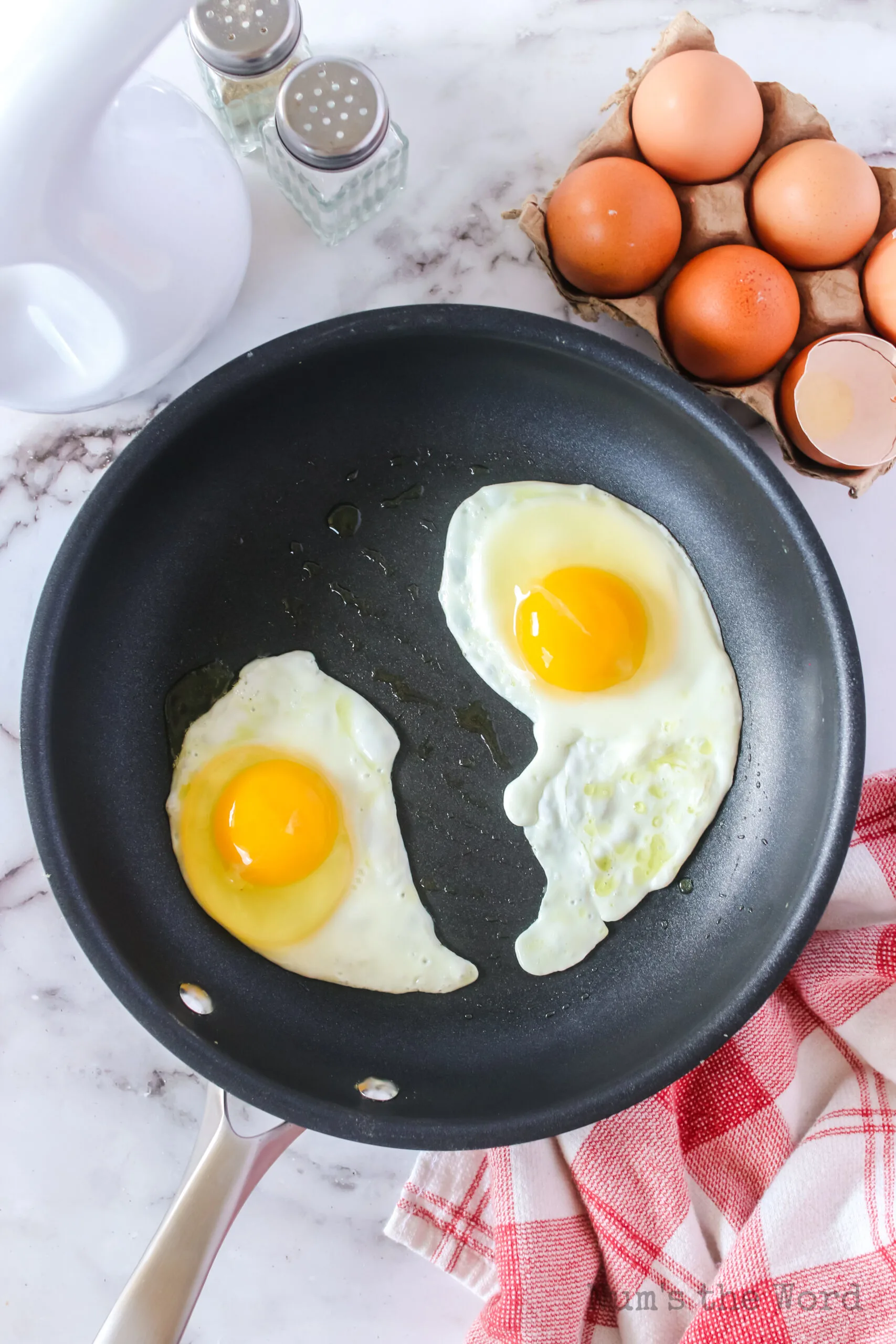 What Is a Sunny Side Up Egg?
All the names out there can get confusing in the egg world. We've got scrambled eggs which pretty much everyone easily recognizes. After that it gets a little more confusing.
Sunny side up eggs are eggs that are cracked into the frying pan and then cooked. No flipping, stirring, or anything else happens to the egg. Their whites are set while the egg yolk is still runny.
What Do You Need for Sunny Side Up Eggs?
Here's everything you're going to need to achieve perfect sunny side up eggs.
Oil: I prefer olive oil but you could also use melted butter!
Eggs: The fresher the better and stick with a medium eggs too! Old eggs tend to run around the pan and look less pleasant.
Salt and Black Pepper: For seasoning though any seasoning will work here!
As far as food goes, that's all you need! Just a little oil, eggs, and seasoning!
In addition to the ingredients, you'll also want:
Pan: Nonstick skillet or well seasoned cast iron. You want the egg to slide off the pan or you'll break the yolk. No need to dig at the bottom of the pan to get the eggs out. They should slide right out.
Spatula: A wide flat spatula that can easily slide right under the sunny side up eggs.
Pro Tip:
Don't use the spatula! Seriously! Unless your pan sticks, you should be able to slide those eggs right onto the plate.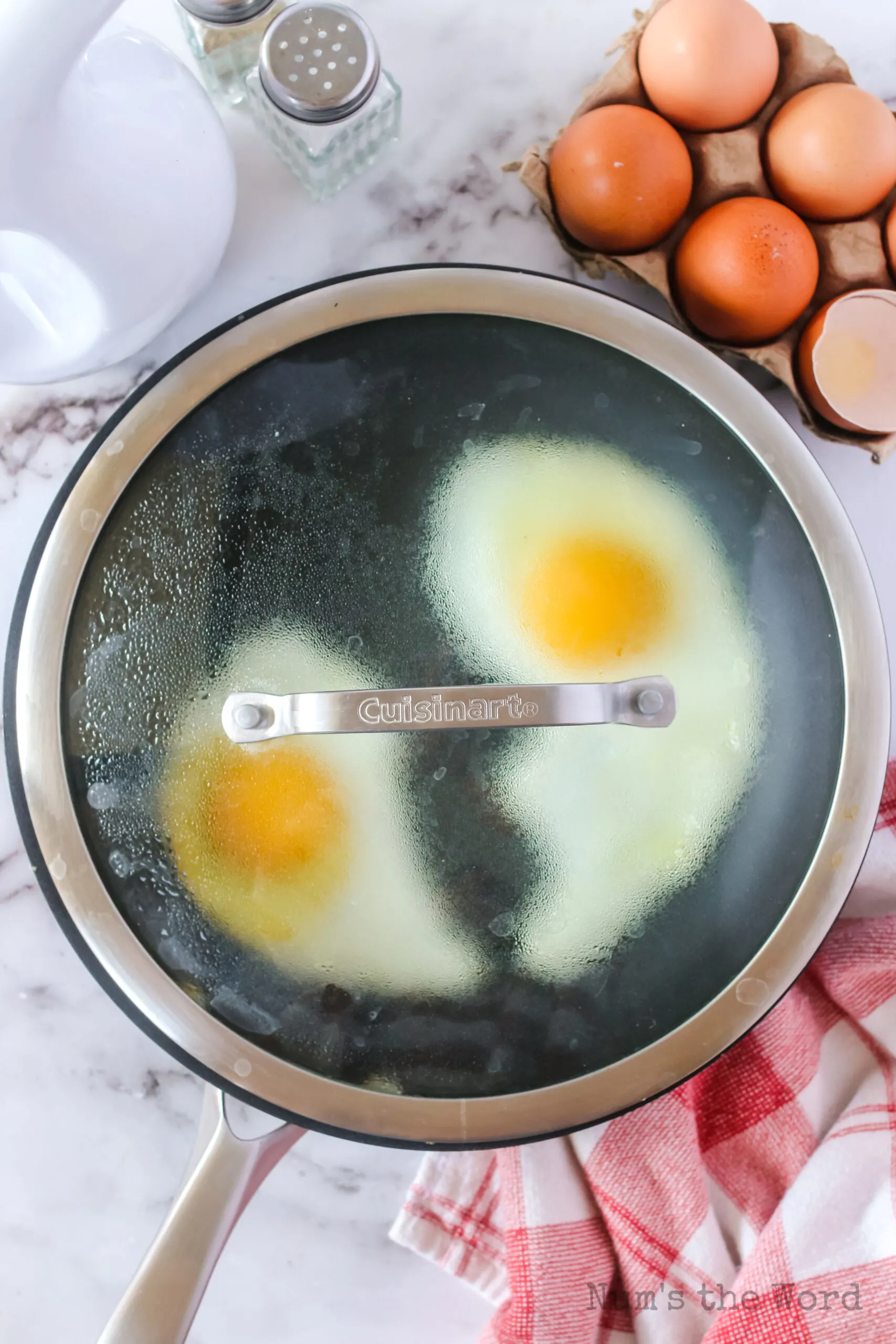 How to Make Sunny Side Up Eggs
Hallelujah for easy recipes that get breakfast on the table before the kids melt down!
Heat: The pan needs to be HOT before the egg goes on. Otherwise the eggs will stick. I recommend medium heat to medium-high heat. Too hot and the edges of the egg will brown and toughen, too little heat and the outside of the eggs will be snot like. So do a test egg to determine the best heat for your stove.
Crack: Be extra careful not to break the yolk while cracking the raw egg.
Slide: Once the egg whites are set, slide it off on a plate with a little salt and pepper on top of the eggs.
Pro Tips:
Covering the pan with a lid will help to set the egg whites while not burning the bottoms of the eggs.
The pan should be hot but not on high heat. Eggs should cook rather slowly to cook correctly.
Do You Flip Sunny Side Up Eggs?
Nope! Sunny side up eggs do not need to be flipped. Actually, these eggs should not be flipped. If you flip your sunny side up egg, you have actually created an over easy egg!
Are Sunny Side Up Eggs Safe?
Yes they are! It's one of the oldest recipes in the book! Plus they are simple to make as you don't need to cook the second side.
Are Sunny Side Up Eggs Healthy?
They sure are! In addition to all that protein that helps keep you full, eggs are chock full of other nutrients too! Vitamins, minerals, carotenoids, iron, lutein, and zeaxanthin.
If you don't know what some of those are, just know that your body does and it appreciates them.
Eggs are also really low in calories, coming in at just 75 calories an egg and are great for your immune system. That's an incredibly low calorie food for so much nutrition.
You can get this nutrition no matter how you serve your eggs, including Sunny Side Up Eggs!
If you're looking to eat healthier, you can always make rice bowls with avocado, vegetables and a bright yellow egg on top or even avocado toast with an egg on top.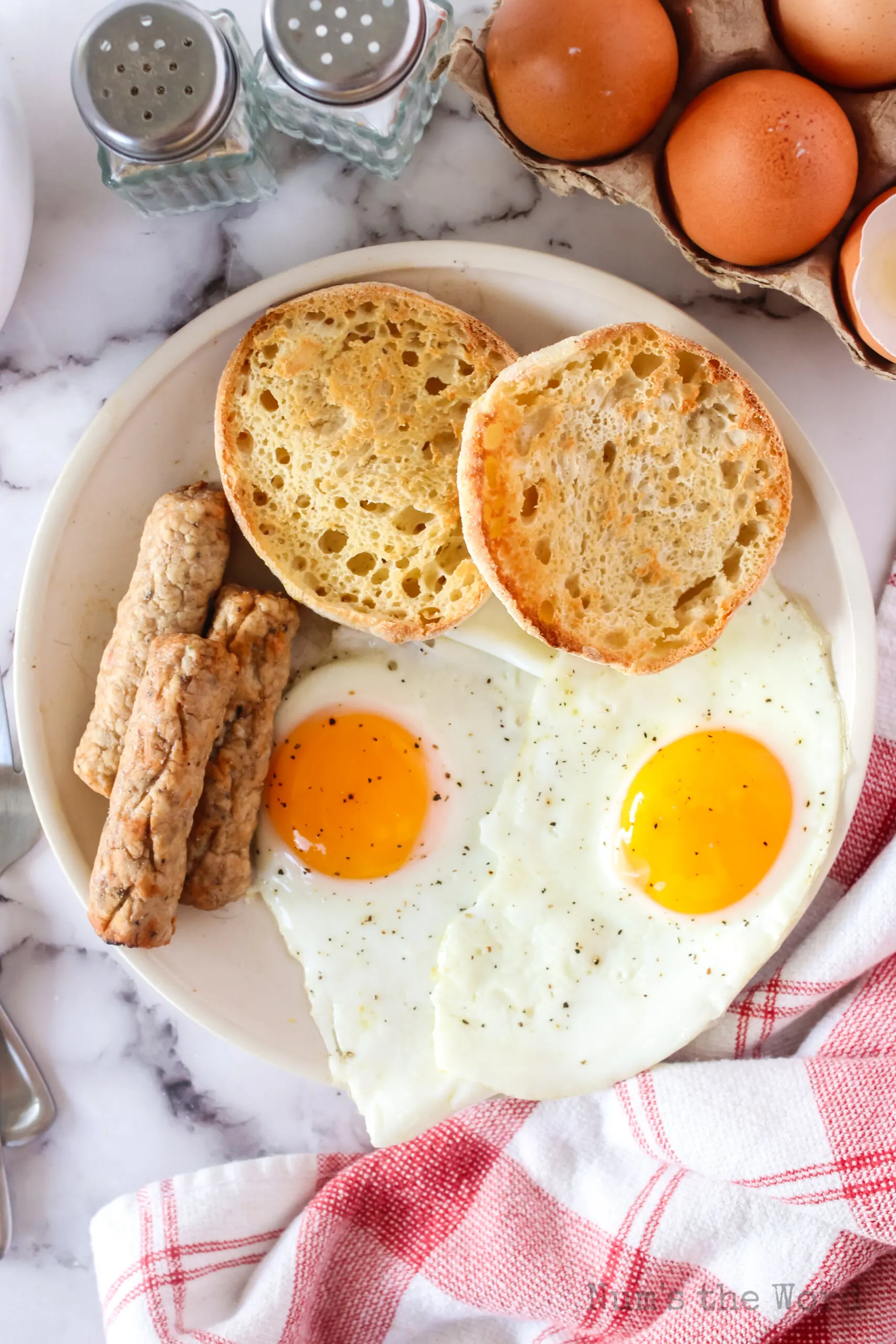 Can you eat sunny side up eggs while pregnant?
Most experts agree that pregnant women should only eat things that are fully cooked. That makes a whole host of things off limits for pregnant women, including sunny side up eggs.
Here's some other undercooked foods to avoid during pregnancy:
Certain Cheese
Pate
Raw or Undercooked Meat
Sushi
Raw Sprouts
Unwashed Produce
And sadly, runny eggs.
All the things going on in a pregnant woman's body make them more susceptible to food borne illnesses. And those can wreak havoc on both mother and growing baby. It's safest just to avoid it for 9 months.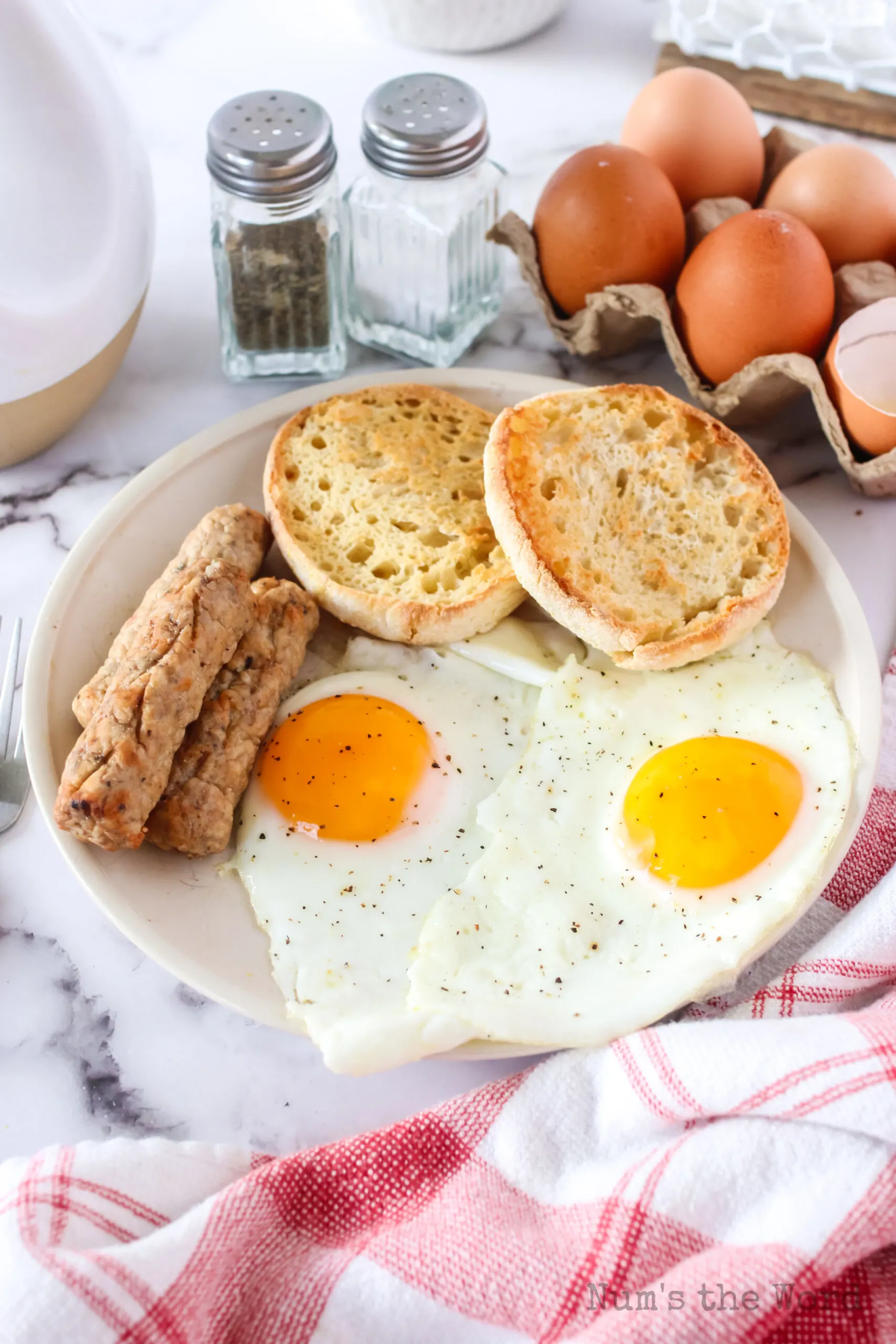 What to Serve with Sunny Side Up Eggs
Wondering what goes well with these easy eggs? Look no further cause I've rounded up what you'll need.
Can Dogs Eat Sunny Side Up Eggs?
Yes! Dogs love eggs! And they're good for them too! So while you enjoy your eggs, your dog can enjoy them too!
Dogs don't care about seasoning however and could do without the fat content in oil or butter. If you want to share some love eggs with your dogs it's best to make some Air Fryer Hard Boiled Eggs.
Then there's no extra ingredients, just pure dog love.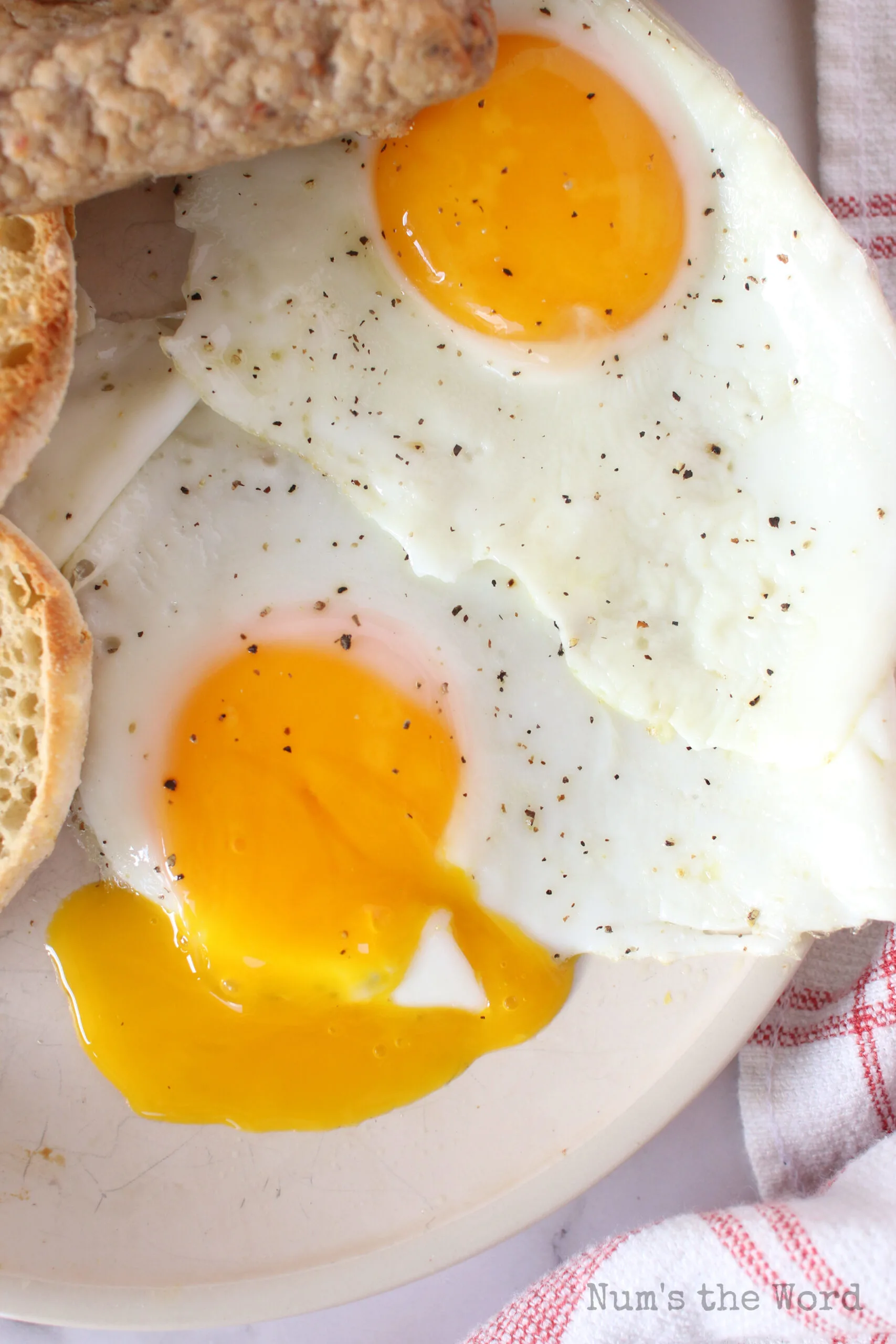 More Egg Recipes You'll Love…
This Sunny Side Up Eggs Recipe is the simple method to for breakfast, lunch, and dinner.
Easy to make with a good nonstick pan, you can serve them with everything! Now easier to make than ever, enjoy Sunny Side Up Eggs today!
Yield: 2 Eggs
Perfect Sunny Side Up Eggs Recipe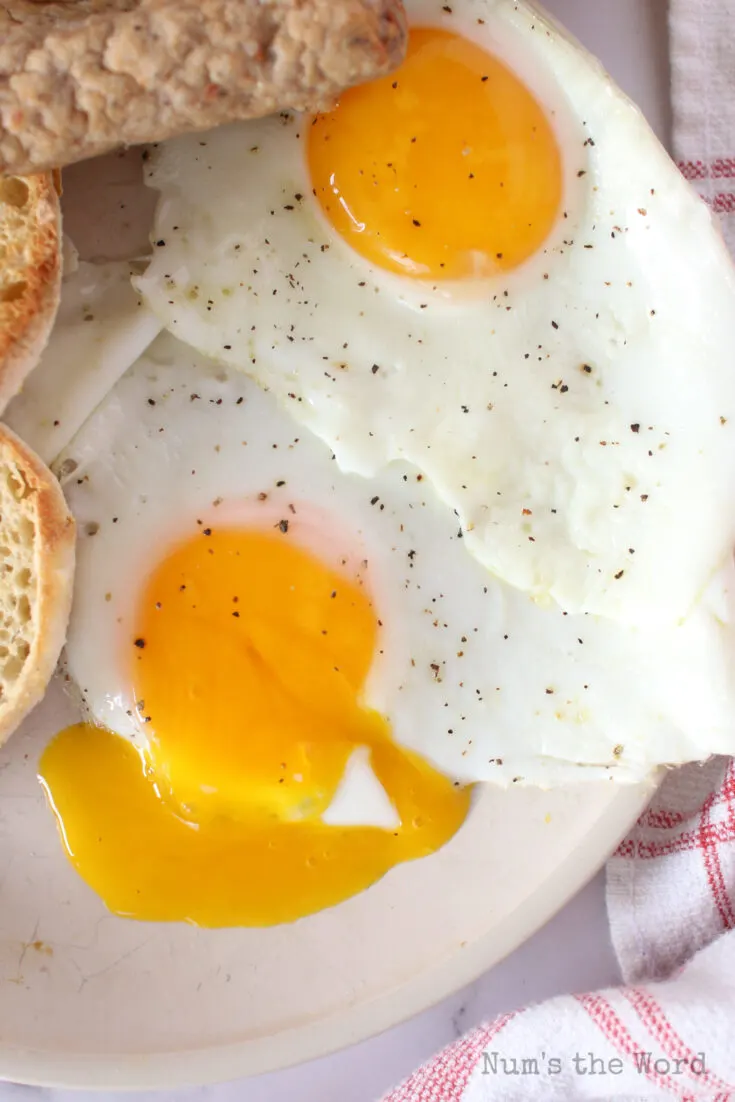 Sunny Side Up Eggs are calling your name and you'll be amazed at how easy they are to make! Perfect for breakfast, brunch or meal prep!
Ingredients
1 teaspoon olive oil
2 large eggs
Pinch of salt
Pinch of Black Pepper
Instructions
Heat a non-stick skillet over medium heat for 3-5 minutes or until the skillet is hot.
Place olive oil in the skillet and mix around.
Place two eggs on opposite sides of the skillet (so they don't touch).
Immediately cover the skillet with a lid and cook for 2 - 2 ½ minutes or until whites are cooked but yolks are runny.
Slide eggs out on a plate and top with salt and pepper.
Serve immediately

Nutrition Information:
Yield:
1
Serving Size:
1
Amount Per Serving:
Calories:

183
Total Fat:

14g
Saturated Fat:

4g
Trans Fat:

0g
Unsaturated Fat:

9g
Cholesterol:

372mg
Sodium:

274mg
Carbohydrates:

1g
Fiber:

0g
Sugar:

0g
Protein:

13g