Chicken Marsala is an impressive main dish that is better than any you'll find in the restaurants! Quick and easy to make, it's a show stopping dish that won't have you slaving away in the kitchen.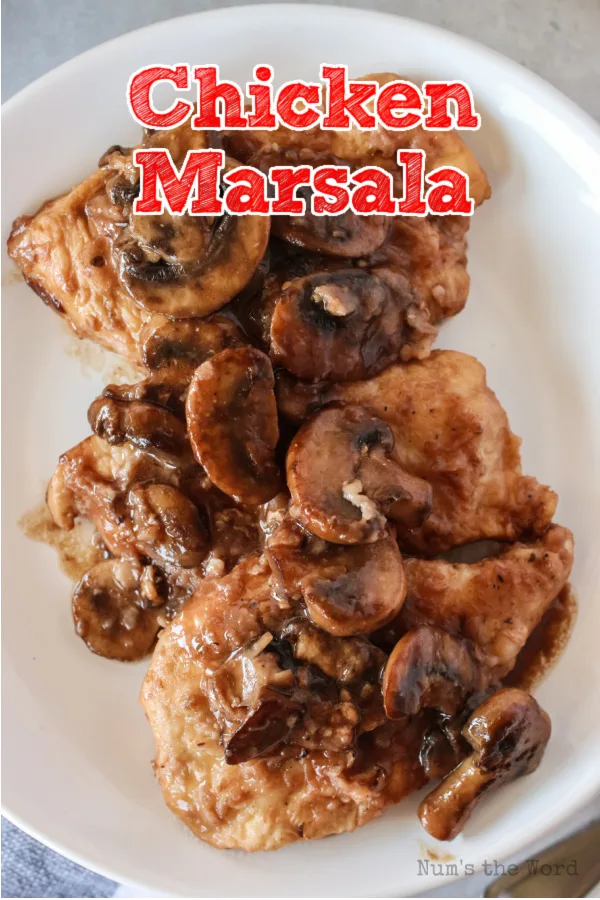 This chicken marsala recipe is made of golden cooked chicken filets, yummy mushrooms and garlic, and a rich marsala wine. Serve it on it's own or on a bed of linguine noodles.
Chicken marsala doesn't have to be complicated! This is a very easy chicken marsala recipe! Using a mix of chicken, marsala, and mushrooms this tasty dish is really healthy too!
Plus this easy chicken marsala can be made ahead of time, making it a perfect meal prep recipe! And chicken marsala can be put on the table in about 45 minutes! For a hearty meal, that's pretty impressive!
For under half the price of a restaurant chicken marsala, you can make your own and it'll be better tasting too! This is the best chicken marsala recipe out there! I hope you enjoy it!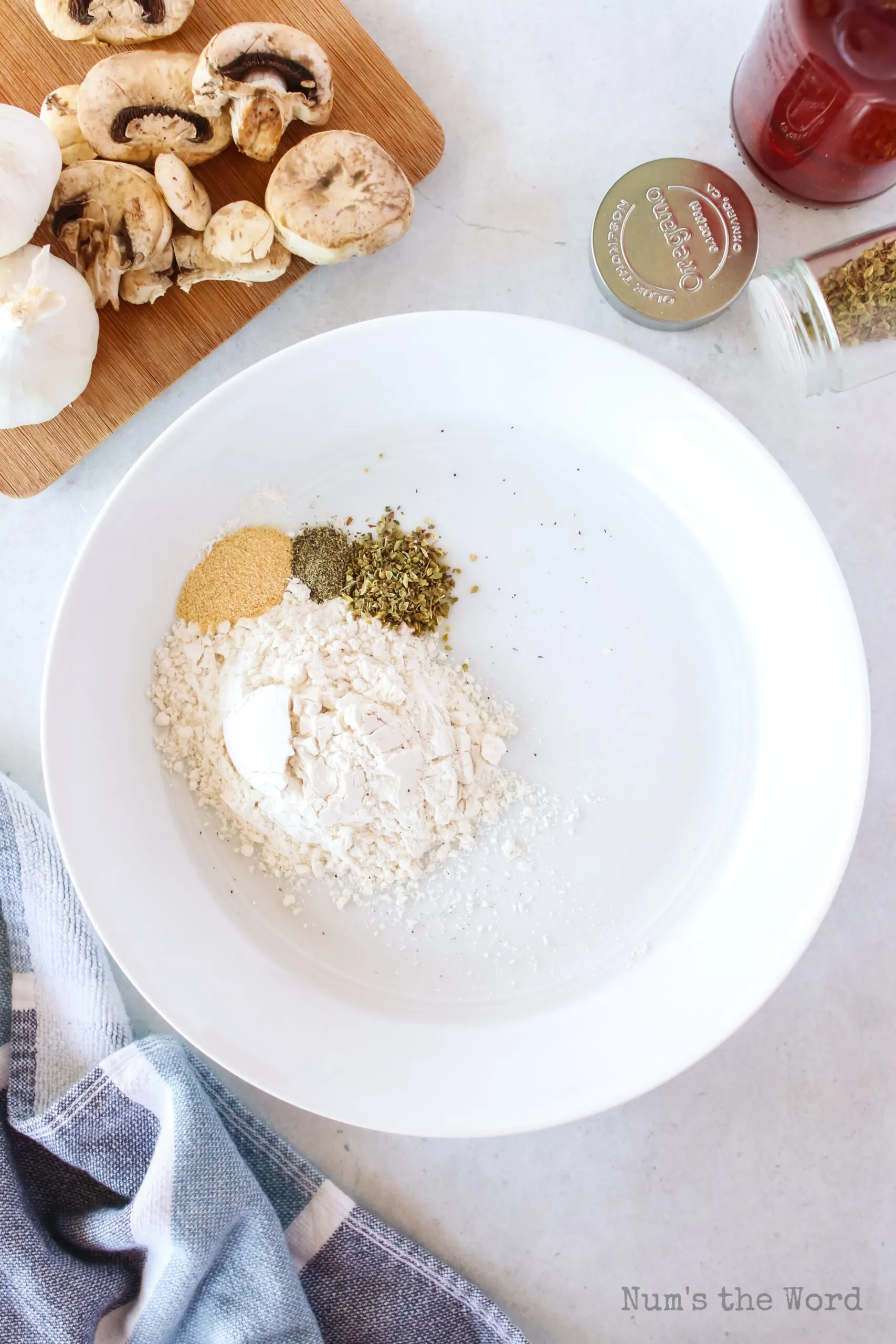 What is Chicken Marsala?
Chicken marsala is an Italian-American dish that dates back to the 19th century. It is made using chicken that has either been pounded down or fileted to a thin consistency.
The chicken is then covered in flour and sautéed and covered with a rich marsala wine.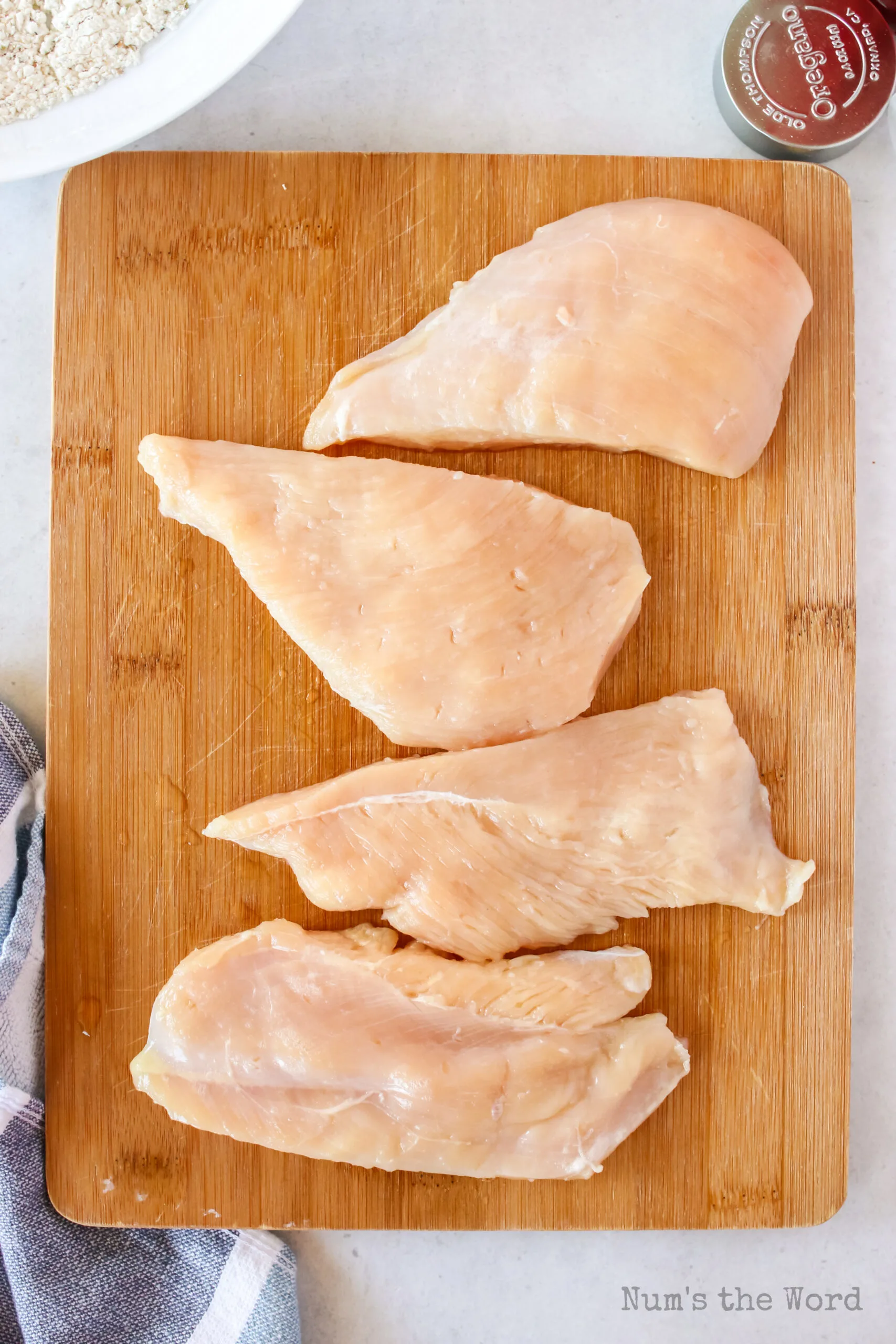 Chicken Marsala Ingredients
Using only ten ingredients, you're going to get the best chicken marsala of your life!
Flour:

Used as a coating for the chicken. Use all purpose flour.

Garlic Salt:

You'll be using garlic later on too. This goes on the chicken coating.

Black Pepper:

Used for seasoning the chicken.

Oregano:

Also used to coat and flavor the chicken.

Chicken Breasts:

Use boneless, skinless chicken breasts.

Olive Oil:

Used to sauté the chicken. You could also substitute with avocado oil.

Butter:

You'll also be using this for sautéing and flavoring.

Mushrooms:

I buy the pre-sliced mushrooms as it's so much easier!

Marsala Wine:

This is what makes this dish marsala chicken! Don't skip it!

Garlic:

These add SO much flavor to the recipe!
Pro Tips:
Don't use marsala cooking wine. It has a lower quality of flavor and is full of preservatives.

If you're really short on time you can substitute the fileted chicken with chicken tenderloin.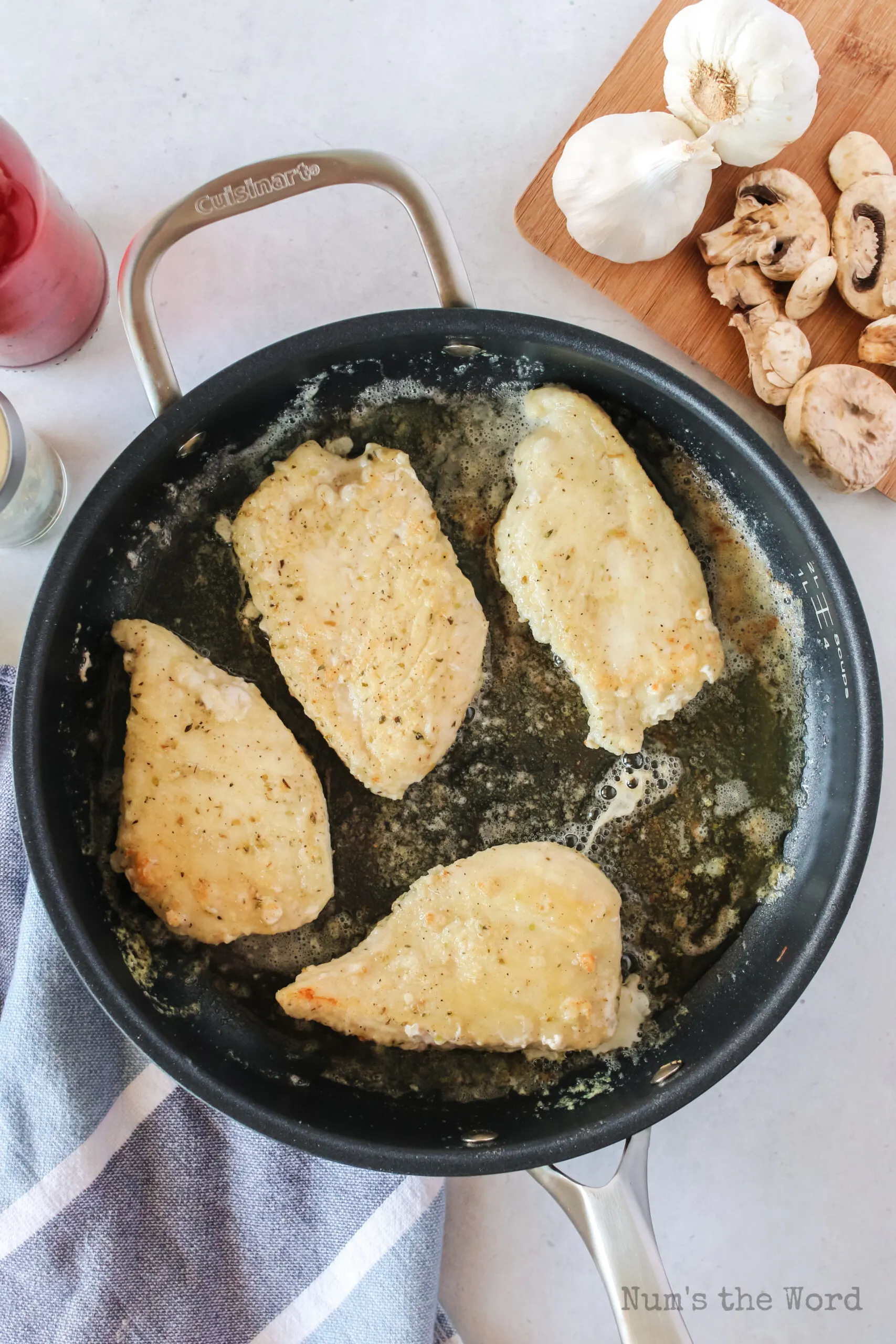 How to Make Chicken Marsala
Shape:

Cutting the chicken down the middle lengthwise will be the easiest way to shape them.

Coat:

Flour, garlic salt, black pepper, and oregano give your chicken a necessary and delicious coating.

Sauté:

This first time you cook the chicken, be careful to just brown the outsides, don't cook all the way through.

Cook:

The mushrooms and marsala wine should be put right into the same pan as the chicken was! Don't let any of it go to waste.

Serve:

Your chicken marsala can be served over pasta, potatoes, or rice.
Pro Tips:
Allowing the marsala wine to cook with the chicken, cooks of any extra alcohol flavor that could be overpowering to the dish.

Marsala wine can be sweet or dry. If you find the sauce isn't sweet enough for your taste buds add a pinch of sugar.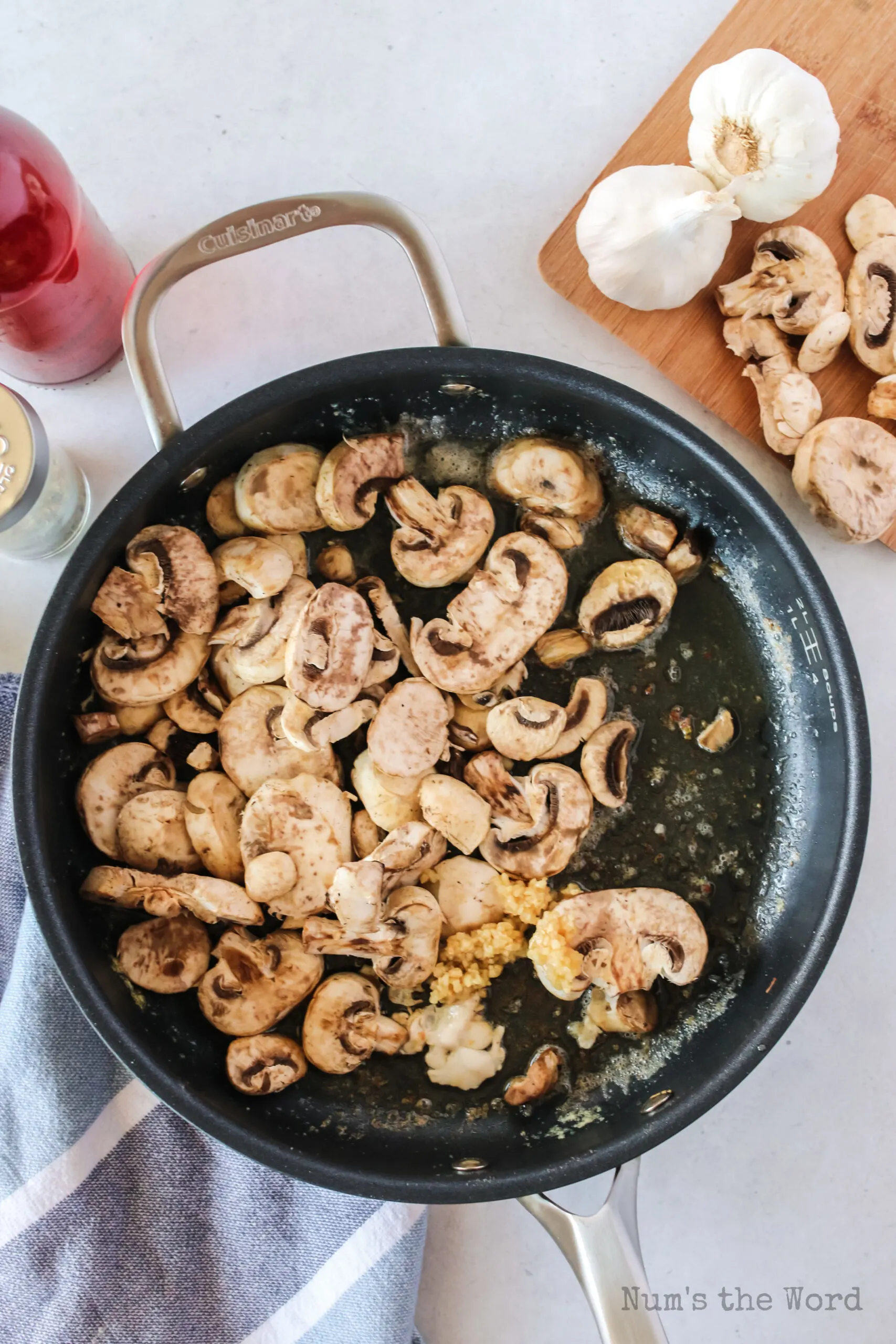 How to Shape Chicken for Chicken Marsala
The easiest way to shape the chicken is just to filet it down the middle lengthwise. Place the chicken on the cutting board and hold your hand down on the top of the chicken. Using a sharp knife, cut straight across the chicken.
Traditionally, chicken was also pounded using a meat hammer or rolling pin. I find that the chicken is extremely tasty without that extra step and saves you a lot of work.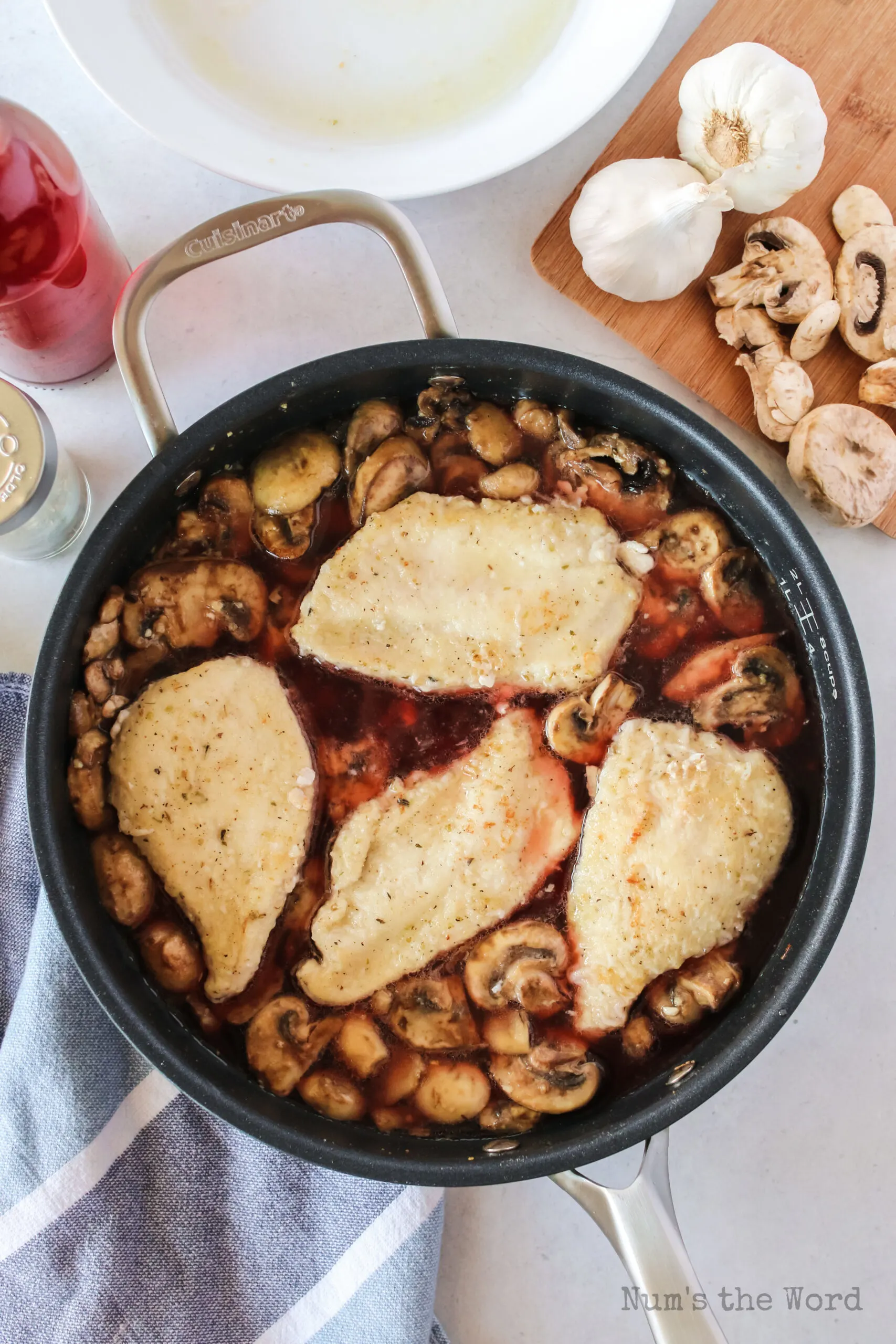 Is Chicken Marsala Gluten Free?
Traditionally, since chicken marsala is made using flour, it is not gluten free. However, if you could try to substitute cornstarch for the flour in order to make this a gluten free recipe.
Marsala wine is also a gluten free wine but some bottles have flavorings or preservatives that contain gluten so watch out for those. Other than those two ingredients, the rest are all naturally gluten free.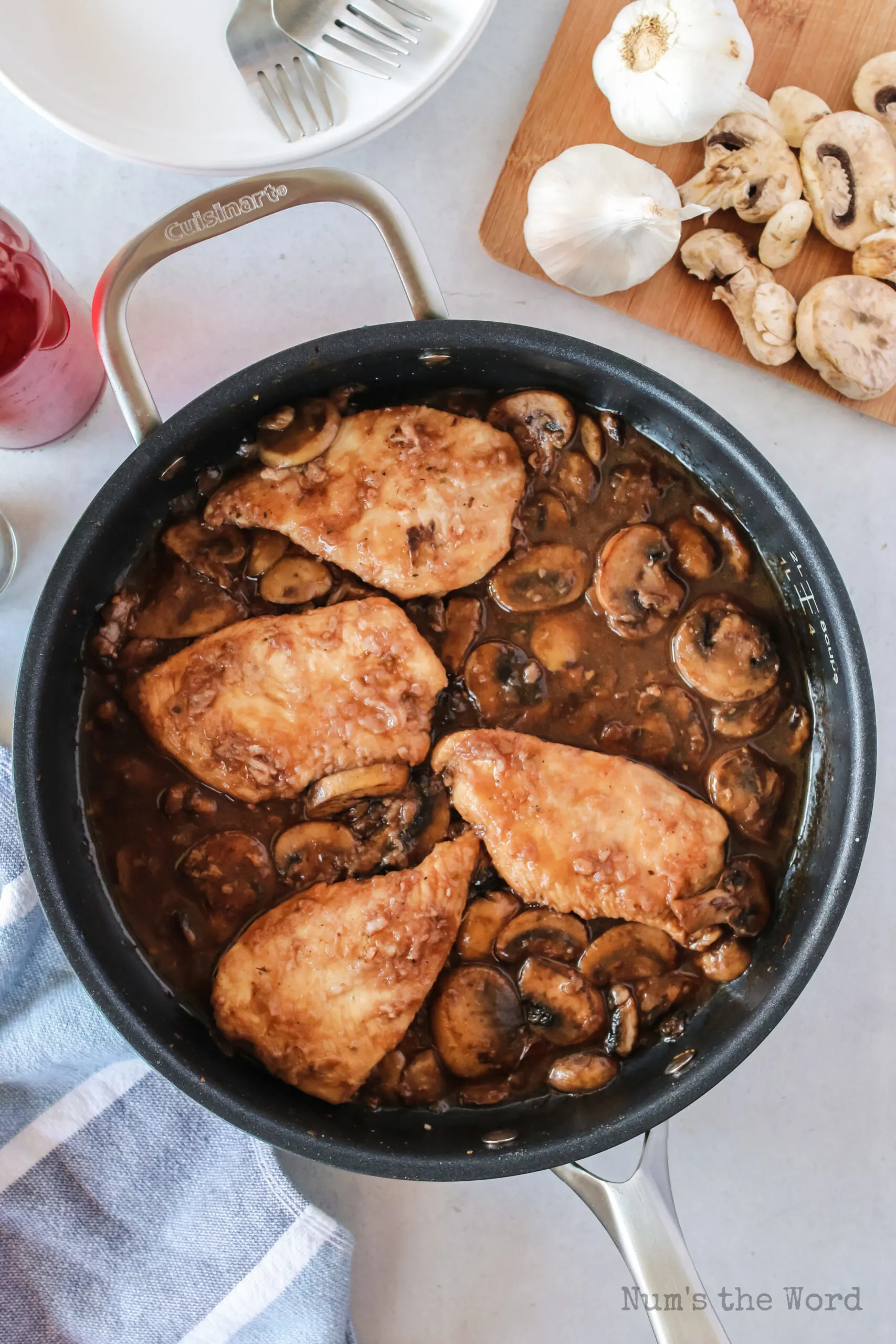 Can Chicken Marsala Be Made Ahead of Time?
Perhaps it's because wine gets better with time. Or maybe it's just that I spend 24 hours thinking about it before eating it.
But this chicken marsala honestly tastes BETTER the next day than the day I originally cooked it. In some places chicken marsala is served as a Christmas dish.
Since it's so easy to make and tastes so good when you make it ahead, maybe we'll try that out this year! To reheat, toss the chicken marsala dish into a casserole dish and reheat at 350 degrees until the chicken and sauce are warm.
Pro Tip: To avoid burning the chicken, cover it while reheating.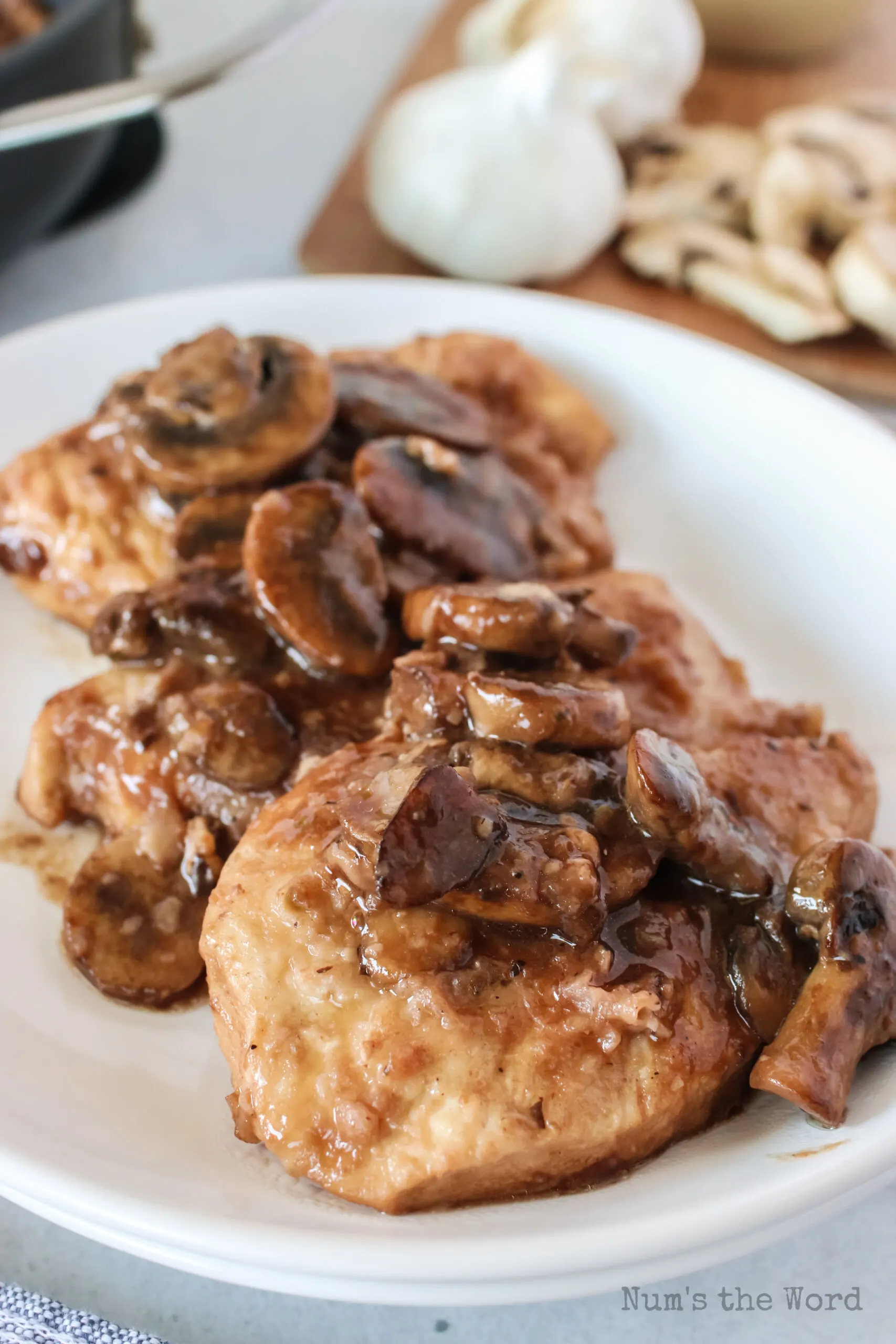 Can You Freeze Chicken Marsala?
Since this chicken marsala isn't made with any heavy dairy products, it can easily be frozen for another day! Frozen chicken marsala will stay good in the freezer for up to three months if properly sealed.
Be sure to allow the chicken marsala to cool completely before adding to any freezer safe containers. When you're ready to eat, allow the chicken marsala to thaw in the fridge overnight before reheating.
Pro Tip: Write the name of the dish and the date on your container so you aren't wondering what it is later!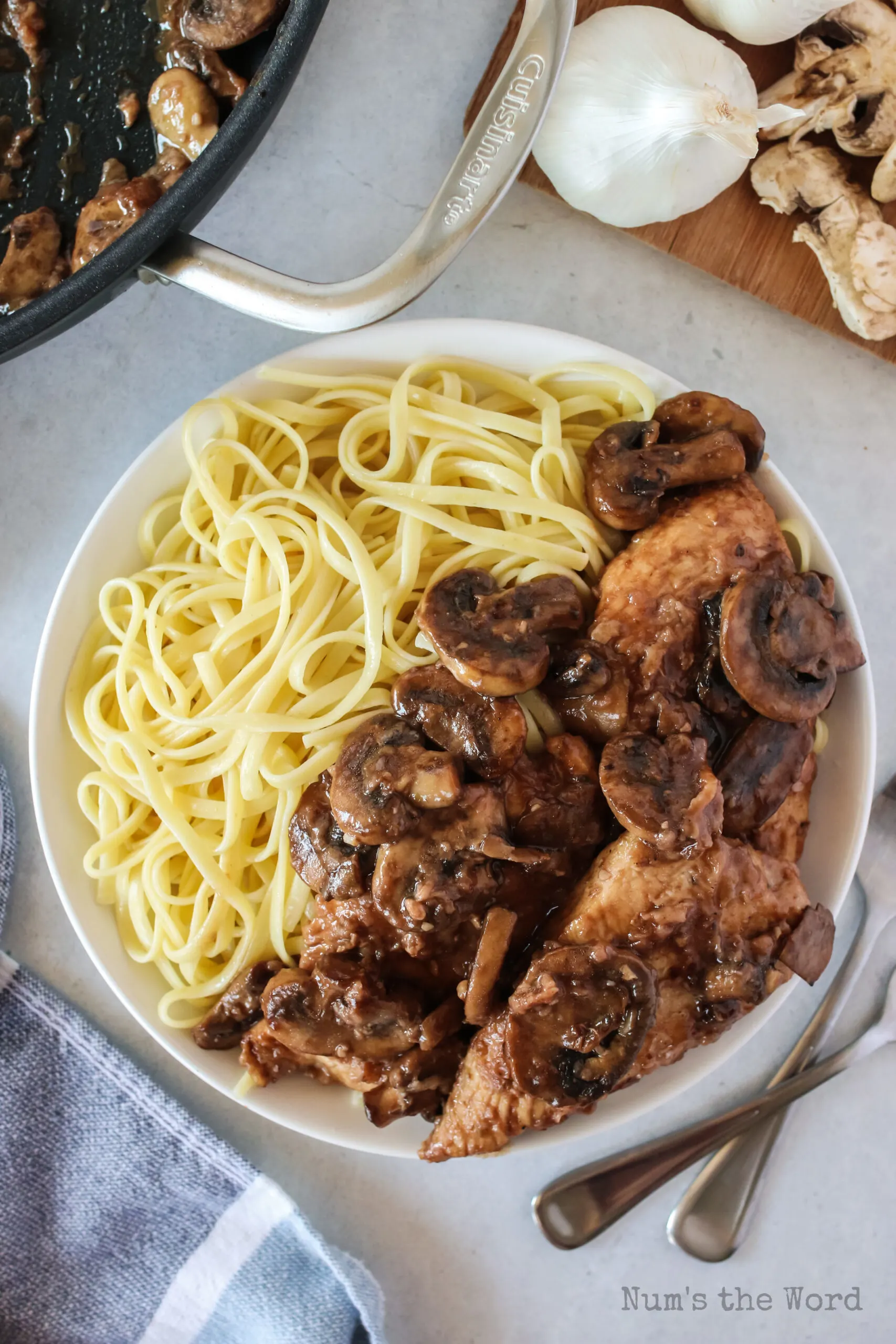 What to Serve with Chicken Marsala
Chicken Marsala can be served on:
Linguine Noodles

Cauliflower Rice

Angel Hair Pasta

Zucchini Noodles
And here's a few easy side dishes that will really set the stage for your chicken marsala!
Don't forget though, if you don't have the time, chicken marsala can also be served on it's own!
Chicken Marsala is delicious, quick, easy, and an altogether impressive dish. Whether you're serving it up for the holidays, or any time of year, your family and guests are going to love it!
Yield: 4 Servings
Chicken Marsala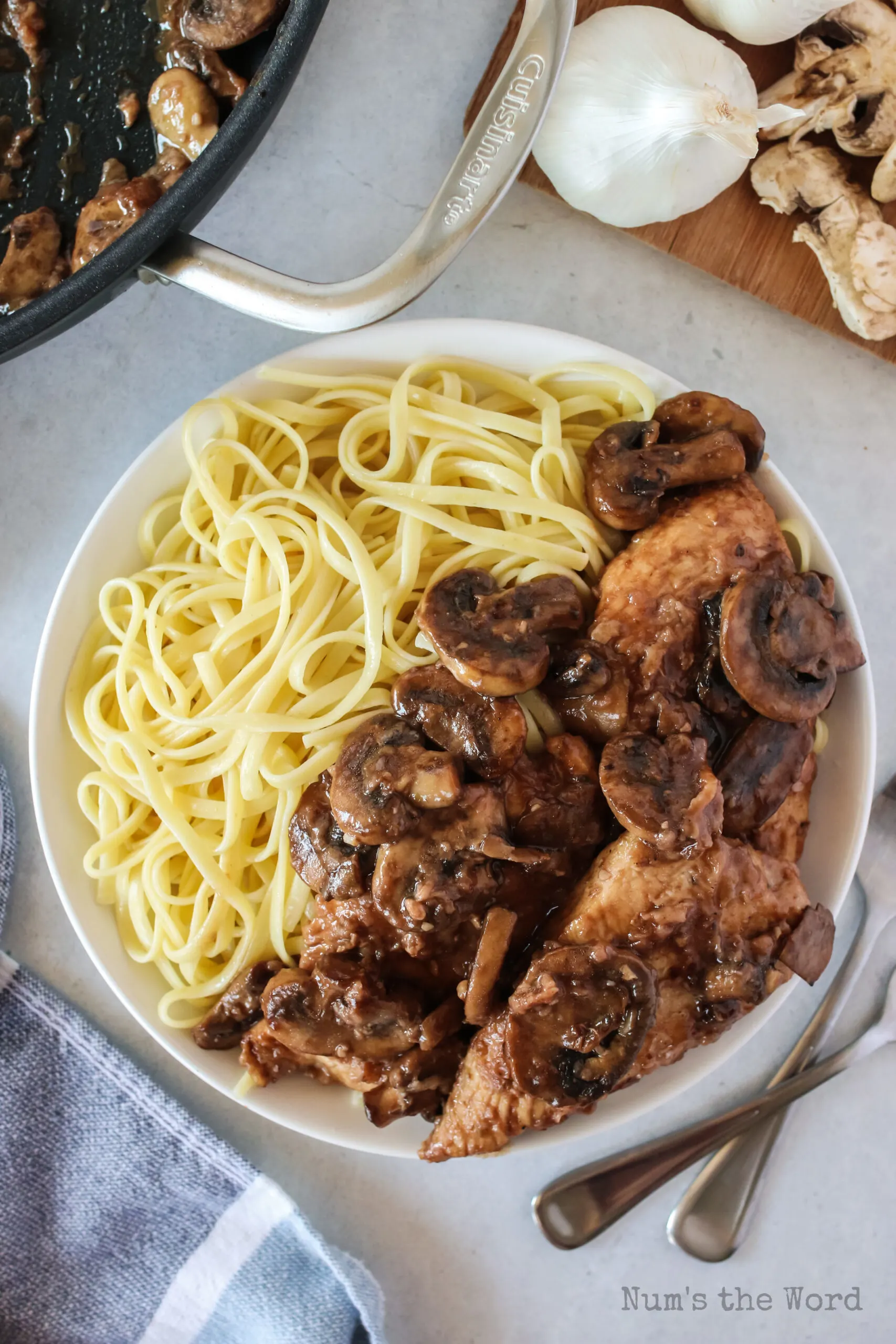 Chicken Marsala is an impressive main dish that is better than any you'll find in the restaurants! Quick and easy to make!
Ingredients
1/4 cup all-purpose flour
1/2 teaspoon garlic salt
1/4 teaspoon black pepper
1/2 teaspoon oregano
2 boneless, skinless chicken breasts, fileted
2 Tablespoons olive oil
2 Tablespoons butter
2 cups mushrooms, sliced
1 1/4 cup marsala wine
3 cloves garlic, minced
3/4 cup chicken broth
Instructions
In a shallow bowl combine flour, garlic salt, black pepper and oregano. Mix well. Set aside.
Place the skillet on the stove and turn heat to medium.
Filet two chicken breasts by cutting them down the middle lengthwise to create 4 small full shape breasts.
Add butter and oil to skillet and stir until butter is melted.
Dredge each chicken breast in the flour mixture covering both sides of the breast. Lay breast in hot skillet.
Continue with remaining breasts.
By the time the last breast has been placed in the skillet the first breast should be ready to flip. Ideally you want to cook each side for 2 minutes. You aren't cooking them fully, just getting a nice crust.
Once the breasts have cooked on each side, remove from the pan.
Add mushrooms and garlic and cook for 3-4 minutes.
Add marsala wine and chicken back into the skillet.
Cook 10-15 minutes until chicken reaches 165*F internal temperature.
Remove from the skillet and serve by itself or over a bed of linguini noodles.
Nutrition Information:
Yield:
4
Serving Size:
1
Amount Per Serving:
Calories:

294
Total Fat:

15g
Saturated Fat:

5g
Trans Fat:

0g
Unsaturated Fat:

9g
Cholesterol:

66mg
Sodium:

655mg
Carbohydrates:

15g
Fiber:

2g
Sugar:

3g
Protein:

22g