Welcome to the wonderful world of Spicy Candied Nuts, an addictive snack that perfectly balances sweet, savory, and spicy flavors.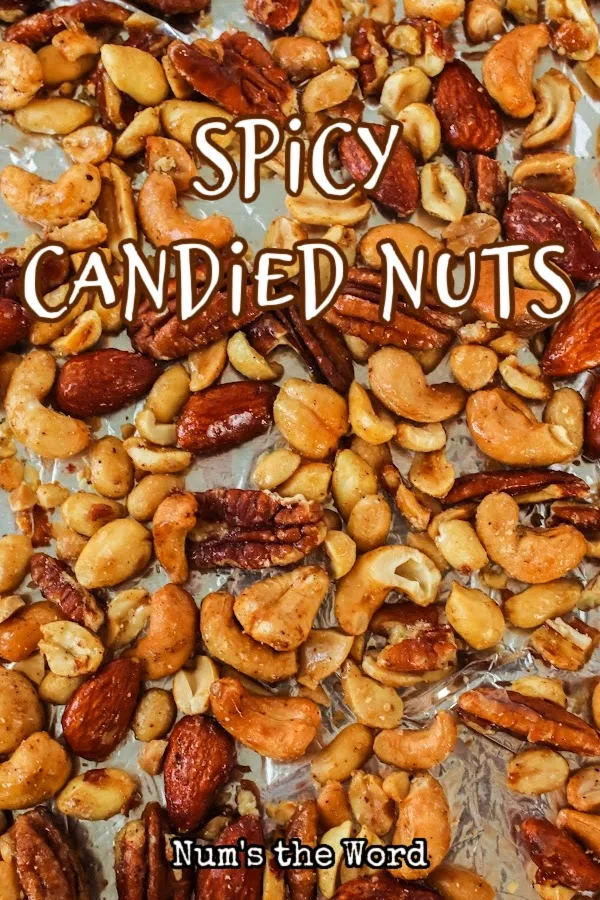 With just the right amount of crunch, these candied nuts are coated in a yummy syrup that's spiced just right.
Every bite delivers a burst of sweetness, followed by a tantalizing heat that keeps you coming back for more.
Enjoy them as a standalone snack, toss them into a salad for added crunch, or use them as a topping for your favorite ice cream.
They make for a perfect homemade gift. Pack them in a mason jar, and you have some thoughtful food gifts for the holiday season.
They're simple to make. All you need is a handful of ingredients and a little bit of time.
This great recipe is easily customizable. Feel free to experiment with different spices and nuts to find your perfect blend.
They're wonderfully addictive. It's hard to stop at just one!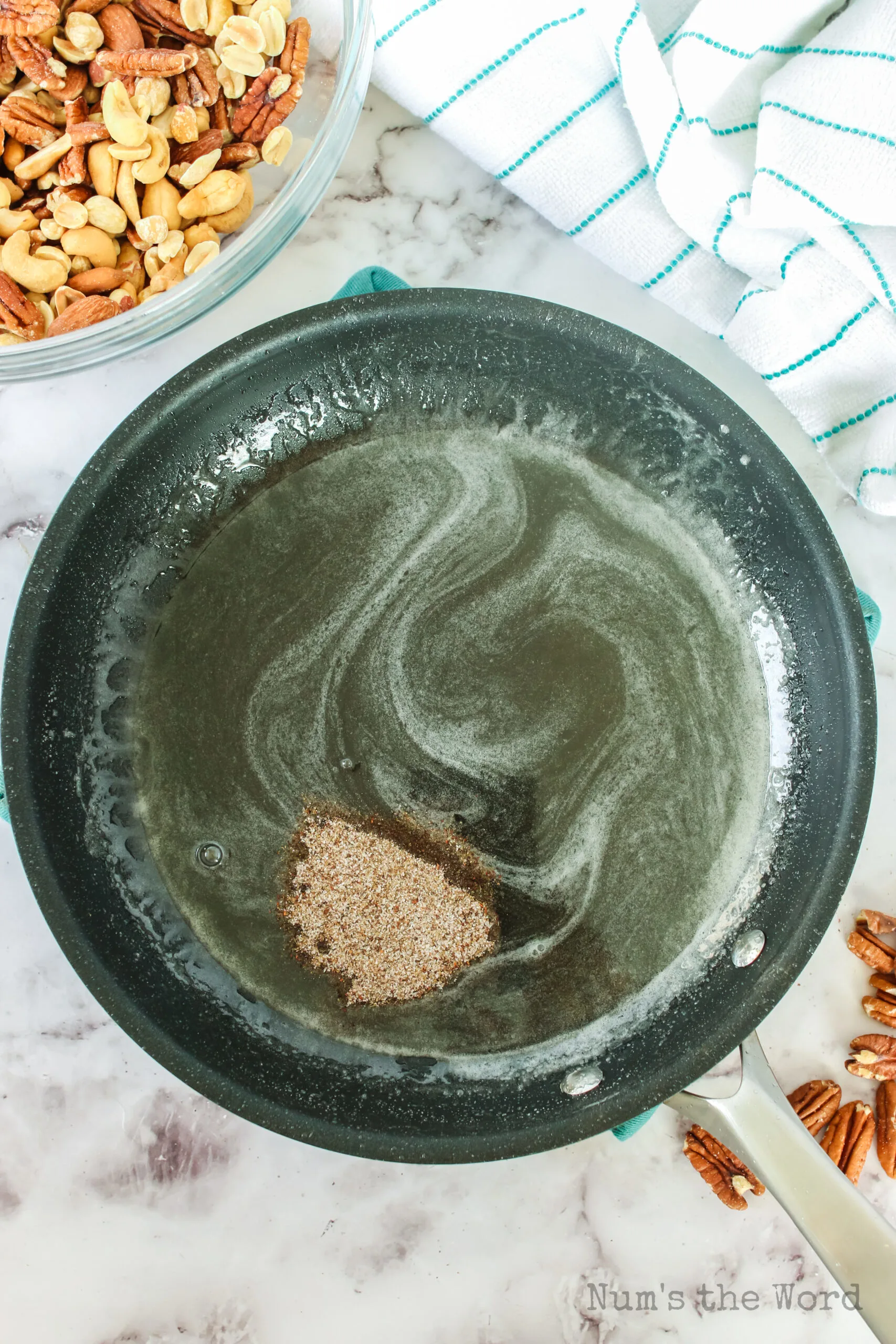 What Are Spicy Candied Nuts?
Spicy Candied Nuts are nuts that have been coated in a sweet and spicy sugar mixture and then baked until crispy.
The result is a snack that's crunchy, sweet, slightly spicy, and utterly addictive.
You can often buy them at specialty grocery stores or special events.
Though they go excellently with a charcuterie board too or packed in a glass jar!
There are a lot of great ways to use these nuts, and once you make them, you'll probably want to try them all.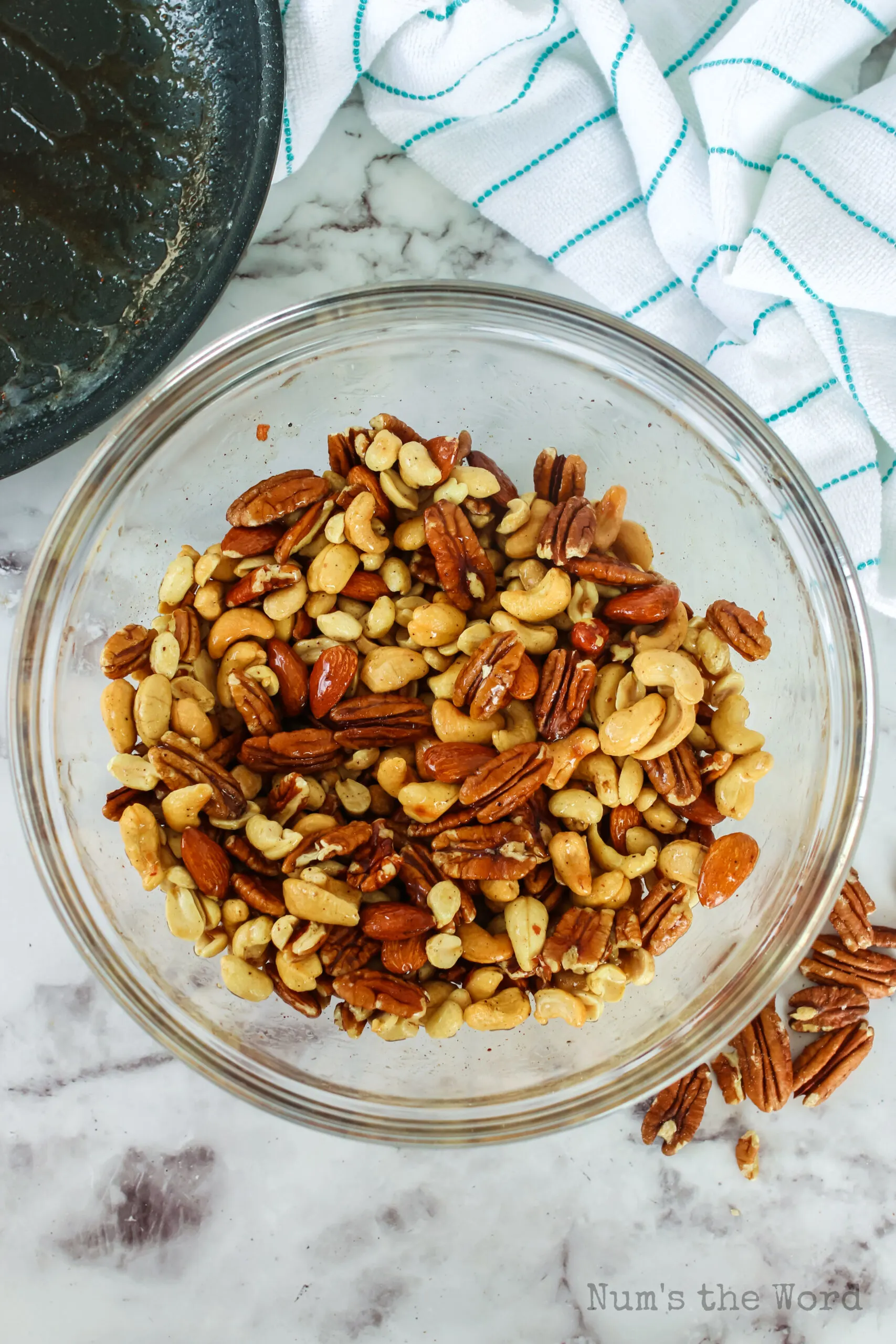 Are Spicy Candied Nuts Easy to Make?
Yes, this Spicy Candied Nuts recipe is quite simple to make.
With just a few ingredients and a couple of easy steps, you can have a delicious treat that's perfect for any time of year.
The best part? You can customize the recipe to your taste by using different spices and nut varieties.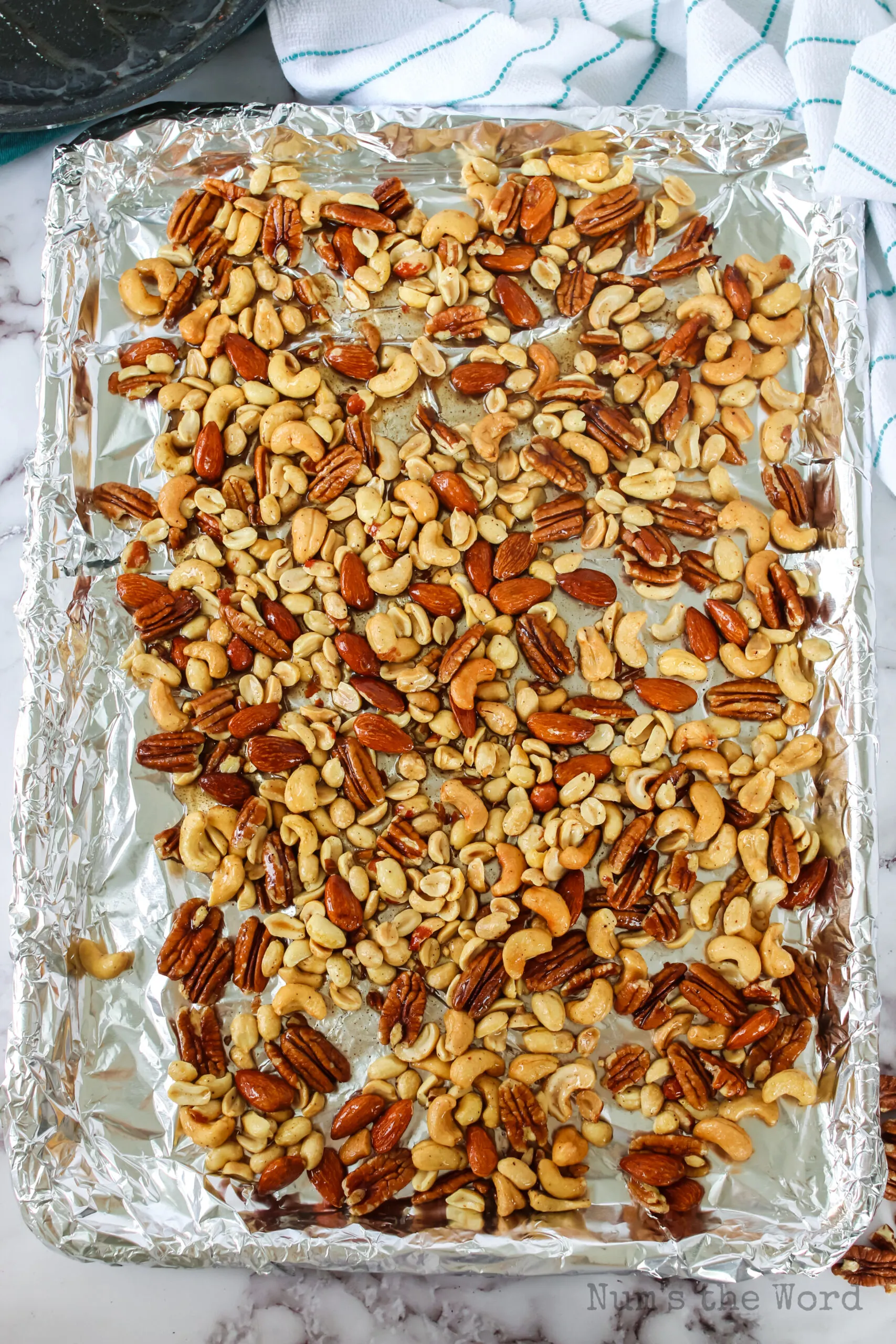 What Ingredients Are in Spicy Candied Nuts?
Here are the simple ingredients you'll need for this nut recipe:
A variety of nuts: Almonds, pecans, peanuts, and cashews are a great mix, providing a variety of textures and flavors.
Salt: Enhances the flavor of the nuts and the sweet coating.
Black Pepper, Cumin, and Cayenne Pepper: This spice blend gives the nuts a savory and spicy kick.
White Sugar: Adds sweetness to balance out the heat from the spices.
Water and Butter: These two ingredients help to create a syrupy coating for the nuts.
Pro Tips:
When selecting your nuts, consider the flavor and texture of each.
Almonds have a sweet, almost buttery flavor, while pecans are rich and slightly bitter. Peanuts add a nice crunch, and cashews bring a creamy, mild flavor.
You can adjust the level of heat in this recipe to your liking. If you prefer a milder flavor, reduce the amount of cayenne pepper.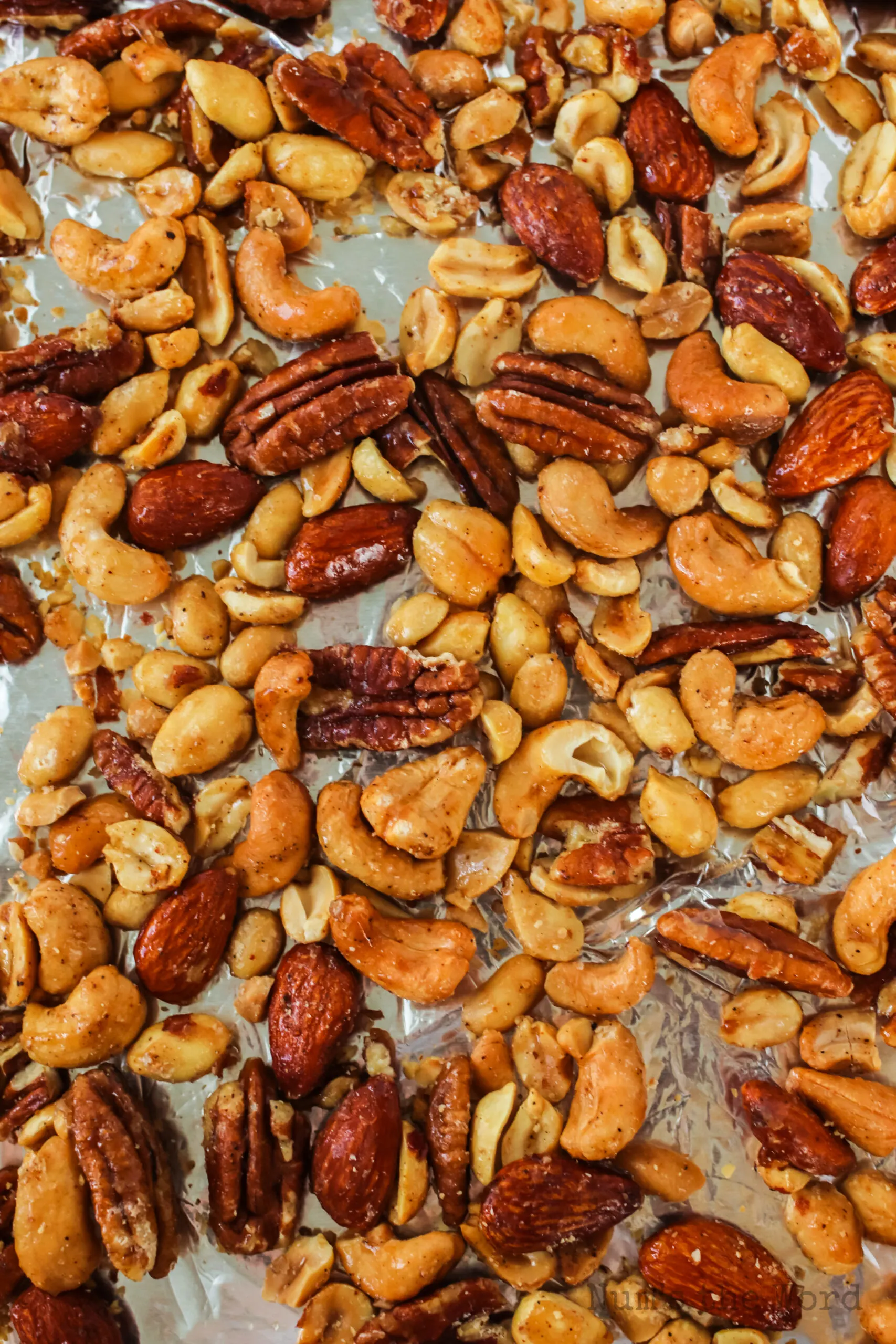 How to Make Spicy Candied Nuts
To make delicious sweet and spicy candied nuts, you'll just need a little bit of prep time and you'll have some easy Christmas gifts!
Mix together your nuts and set them aside.
Combine your spices in a small bowl.
Create a simple syrup by boiling sugar, water, and butter together.
Mix the spice mixture into the syrup, then pour this mixture over the nut mixture.
Spread the nuts out on a prepared baking sheet and bake until crispy.
Pro Tips:
Be sure to spread the nuts out in a single layer on your rimmed baking sheet. This ensures even baking and caramelization.
Stir the nuts every so often while they're baking. This helps to ensure that every nut gets an even coating of the sweet and spicy sugar mixture.
Let the nuts cool completely before storing them. This helps them stay crispy.
For easy cleanup, use parchment paper or a silicone mat on your cookie sheet.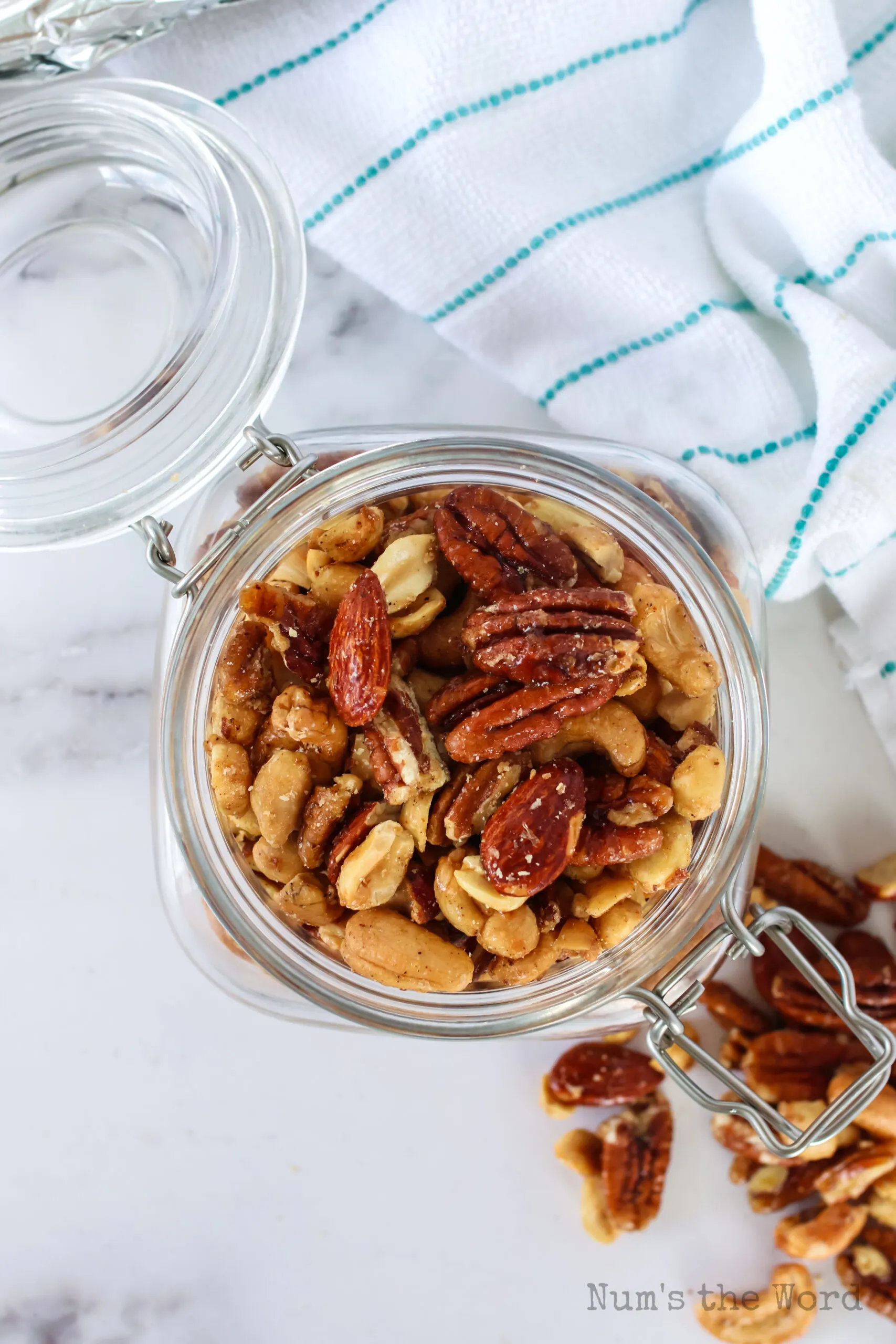 What Type of Nuts are Best for Spicy Candied Nuts?
Any variety of nuts can be used for candied spicy nuts, but this recipe uses a mix of almonds, pecans, peanuts, and cashews.
Each type of nut contributes its own unique flavor and texture to the mix, creating a delightful combination of tastes.
However, you can certainly opt for just one type of nut if you prefer.
For example, spicy candied pecans, spicy candied walnuts, or candied almonds are all classic choices.
Ultimately, the best type of nuts for sweet and spicy nuts is largely a matter of personal preference.
So feel free to experiment with different varieties until you find your favorite combination.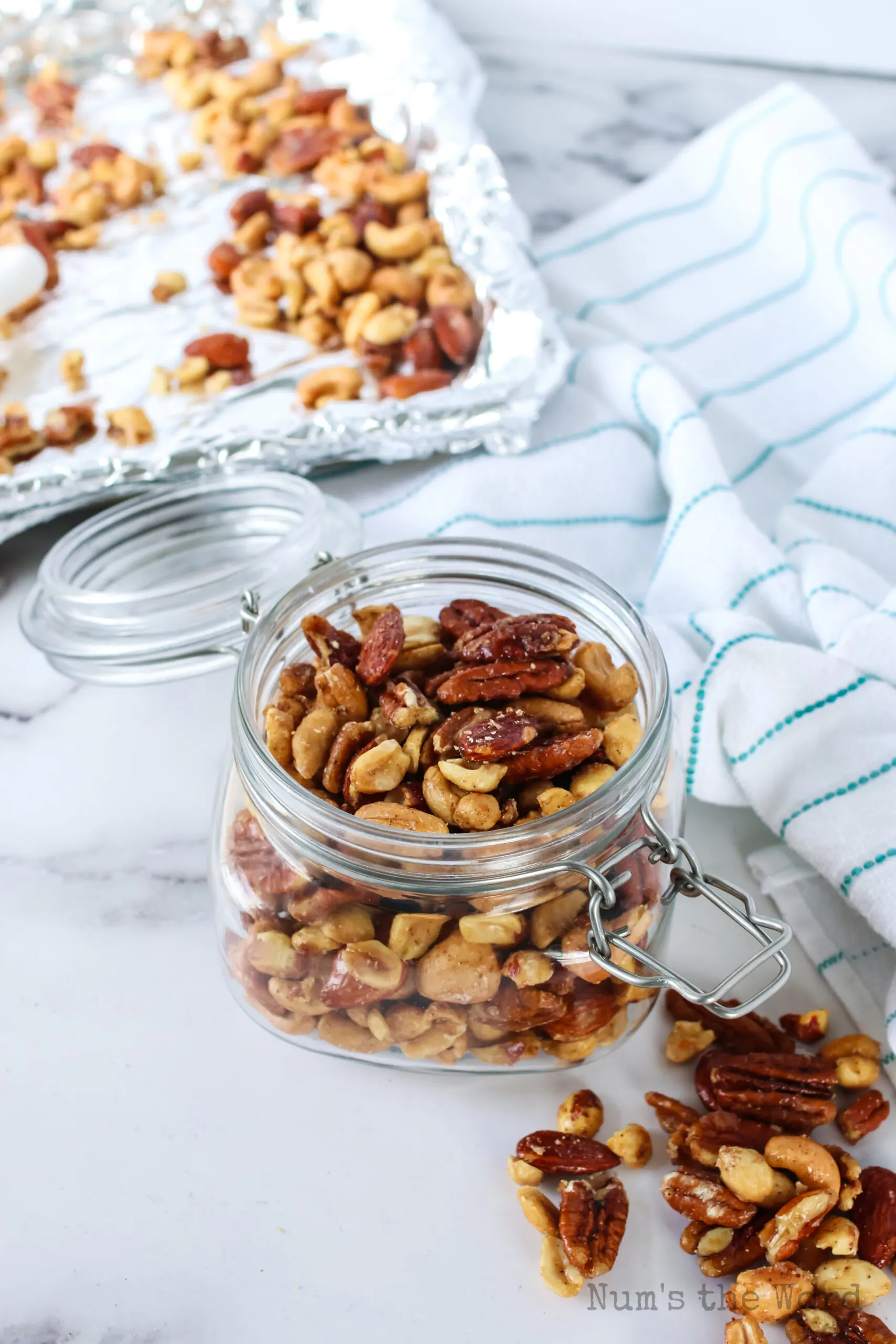 How Long Do Spicy Candied Nuts Last?
This spicy candied mixed nuts recipe can be stored in an airtight container at room temperature for up to two weeks.
The sugar coating helps to preserve the nuts, allowing them to stay fresh for longer.
However, the nuts are at their best in the first week after they're made.
After that, they may start to lose some of their crunch.
Remember to store them in a cool, dry place to extend their shelf life.
Can You Store Spicy Candied Nuts in the Fridge?
While it's not necessary to store easy candied nuts in the refrigerator, doing so can help them stay fresh for a longer period.
If you choose to refrigerate your candied nuts, make sure to store them in an airtight container to prevent them from absorbing odors from other foods.
When you're ready to eat them, allow the nuts to come to room temperature before serving, as this will help to restore their crunch.
Remember, whether stored at room temperature or in the fridge, they should always be kept in a sealed container to maintain their freshness.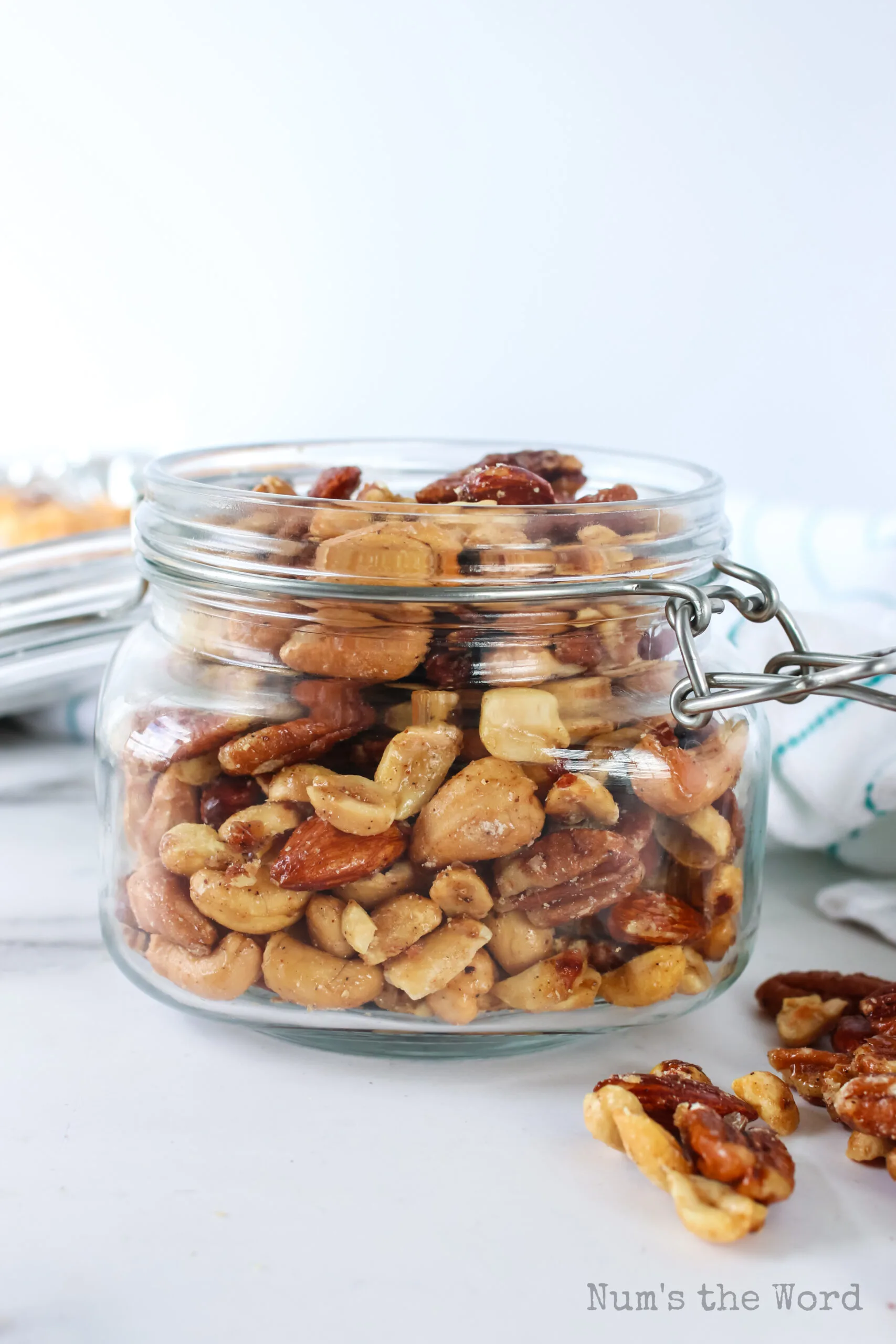 What Makes Candied Nuts Spicy?
The key to the heat in spiced candied nuts is the cayenne pepper.
This spice adds a kick that contrasts beautifully with the sweetness of the sugar.
Feel free to adjust the amount of cayenne to suit your personal preference.
A hint of cayenne pepper will still give you a little spice.
And some people have swapped that out for chili powder. That'll also give your nuts some kick.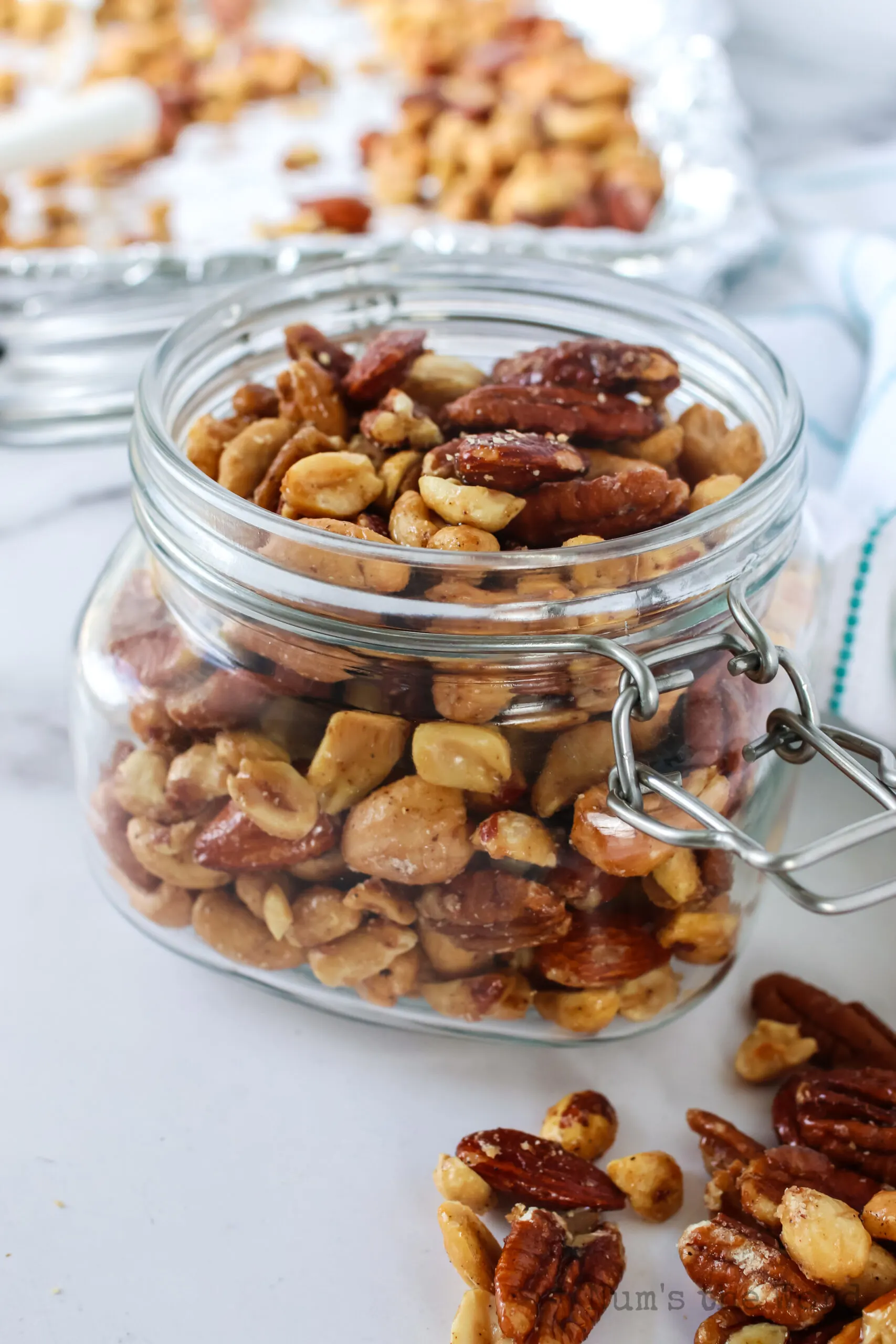 More Nut Recipes You'll Love…
Spicy Candied Nuts are an easy-to-make, delightfully addictive treat that brings together the perfect balance of sweet, savory, and spicy flavors.
Whether you're preparing them for a perfect snack, a salad topper, a special gift, or just for the sheer joy of indulging in something delicious, these nuts are sure to be a hit.
Enjoy the process of making them and even more, enjoy every single crunch!
Yield: 10 Servings
Spicy Candied Nuts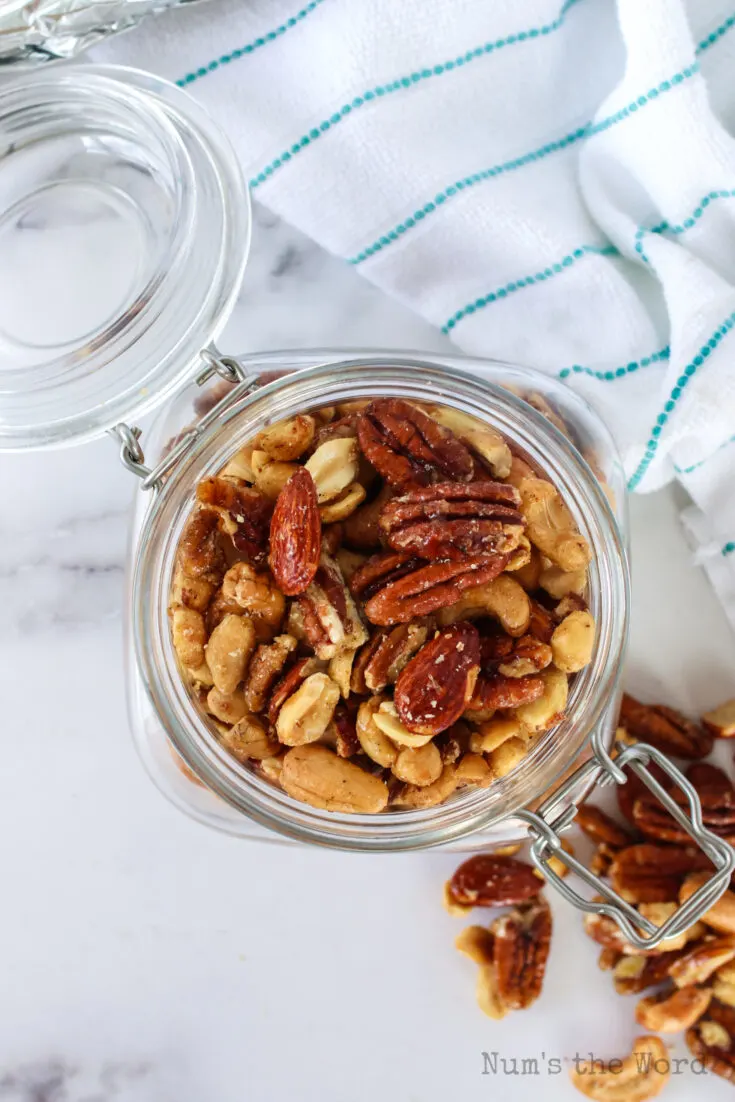 Discover the addictive joy of Spicy Candied Nuts! This easy recipe combines sweet, savory, and spicy for the perfect anytime snack or gift.
Additional Time
20 minutes
Ingredients
Instructions
Preheat oven to 350*F
Line a rimmed cookie sheet with non-stick foil - important it is NON STICK!
In a medium size bowl, add almonds, pecans, peanuts and cashews. Mix well and set aside.
In a small bowl add salt, black pepper, cumin and cayenne. Mix well and set aside.
In a skillet add sugar, water and butter.
Bring the skillet to a boil and cook for 1 minute.
After 1 minute, turn off heat and add seasoning mix to skillet. Mix well.
Pour this mixture over the nuts and stir well.
Transfer this mixture to the lined cookie sheet and spread nuts out to a single layer.
Bake for 10 minutes.
Remove from oven and stir nuts. Syrup mixture will be thin and hot so don't burn yourself.
Mix well and spread out to a single layer again.
Bake again for 6 minutes.
Remove from oven and mix well again, tossing nuts to ensure even coating of sticky syrup.
Let cool, stirring every one to two minutes.
Once cool enough to touch with hands, make sure to separate nuts so they don't clump.
Once cool, transfer to an air tight jar or container for storage.
Nutrition Information:
Yield:
10
Serving Size:
1
Amount Per Serving:
Calories:

368
Total Fat:

30g
Saturated Fat:

4g
Trans Fat:

0g
Unsaturated Fat:

23g
Cholesterol:

3mg
Sodium:

378mg
Carbohydrates:

22g
Fiber:

4g
Sugar:

12g
Protein:

10g