Almond Bars are a delicious shortbread bar that is easy to make! Perfect portion sizes means you can double or triple the recipe and eat them over and over again!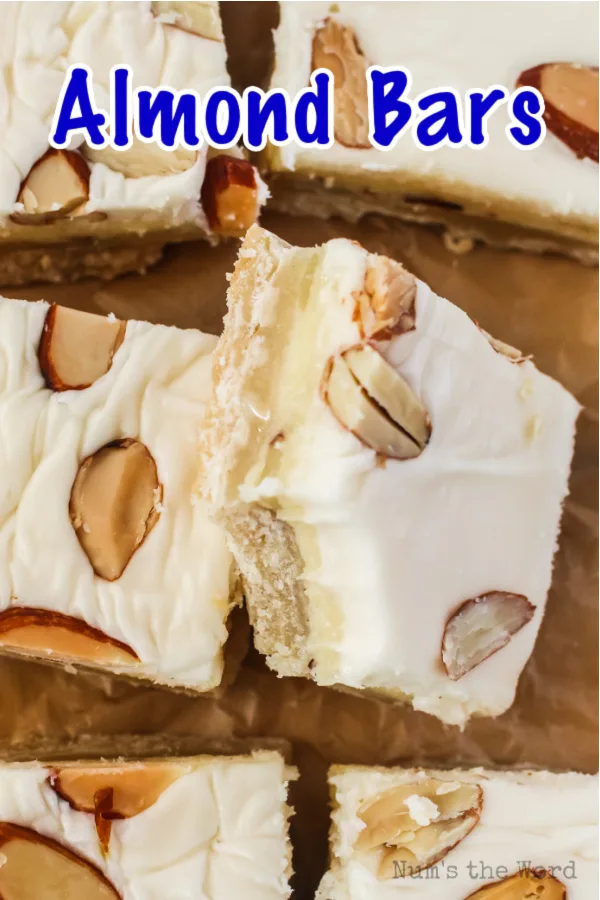 These delicious almond bars are absolute perfection in a bar. The shortbread crust gives way to a creamy filling and it's topped with a delicious frosting!
I love that this almond bar recipe is perfect for take along snacks! We bring them on picnics, to the park, to BBQs and potlucks.
I also love that this recipe for almond bars is freezable. I love to mass cook these in huge batches! Then I always have some ready to pull out for company.
And if you haven't tried almond infused frosting you're in for a special treat! It's so creamy and full of flavor!
When you try this almond bars recipe, I guarantee, they'll quickly become a family favorite! They're impossible to resist!
Also, if you make these during the holiday season, they go great on a holiday cookie tray!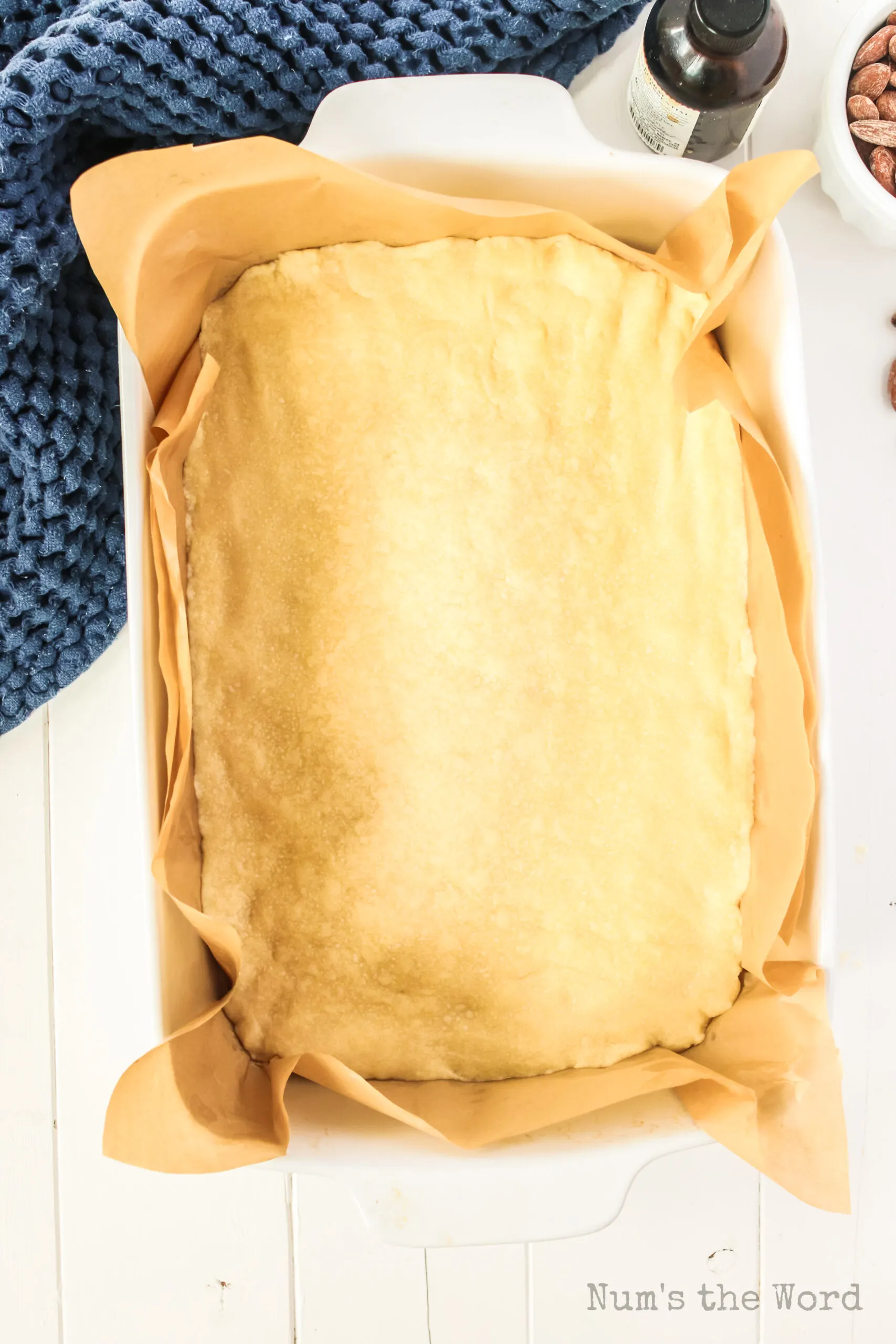 What Ingredients are in Almond Bars?
All your favorite flavors in delicious cookie bars! You can't go wrong with this delicious recipe!
For the Bars:
Butter: Soften the butter to room temperature.
Flour: You'll need this all-purpose flour to create the base of the almond bars crust.
Powdered Sugar: Powdered sugar gives the crust the perfect level of sweetness.
Crunchy Almonds: Sliced almonds are almost hidden in the bars but give it that perfect crunch.
Cream Cheese: Softened cream cheese is much easier to work with and blends better.
Eggs: Eggs are what hold the cream cheese custard layer together.
White Sugar: White sugar sweetens the inner layer perfectly.
Almond Extract: Almond extract flavors these bars much better than vanilla extract could.
For the Frosting:
Butter: Again, this needs to be room temperature so take the butter out early.
Powdered Sugar: Whipped together with the butter, this creates the main base of frosting.
Milk: A small amount of milk is needed to wet the frosting.
Almond Extract: Almond flavored frosting is an absolute must!
Pro Tips:
I haven't substituted with brown sugar so I don't know what that would do to the bars.
To get that soft shortbread texture, be sure to mix completely.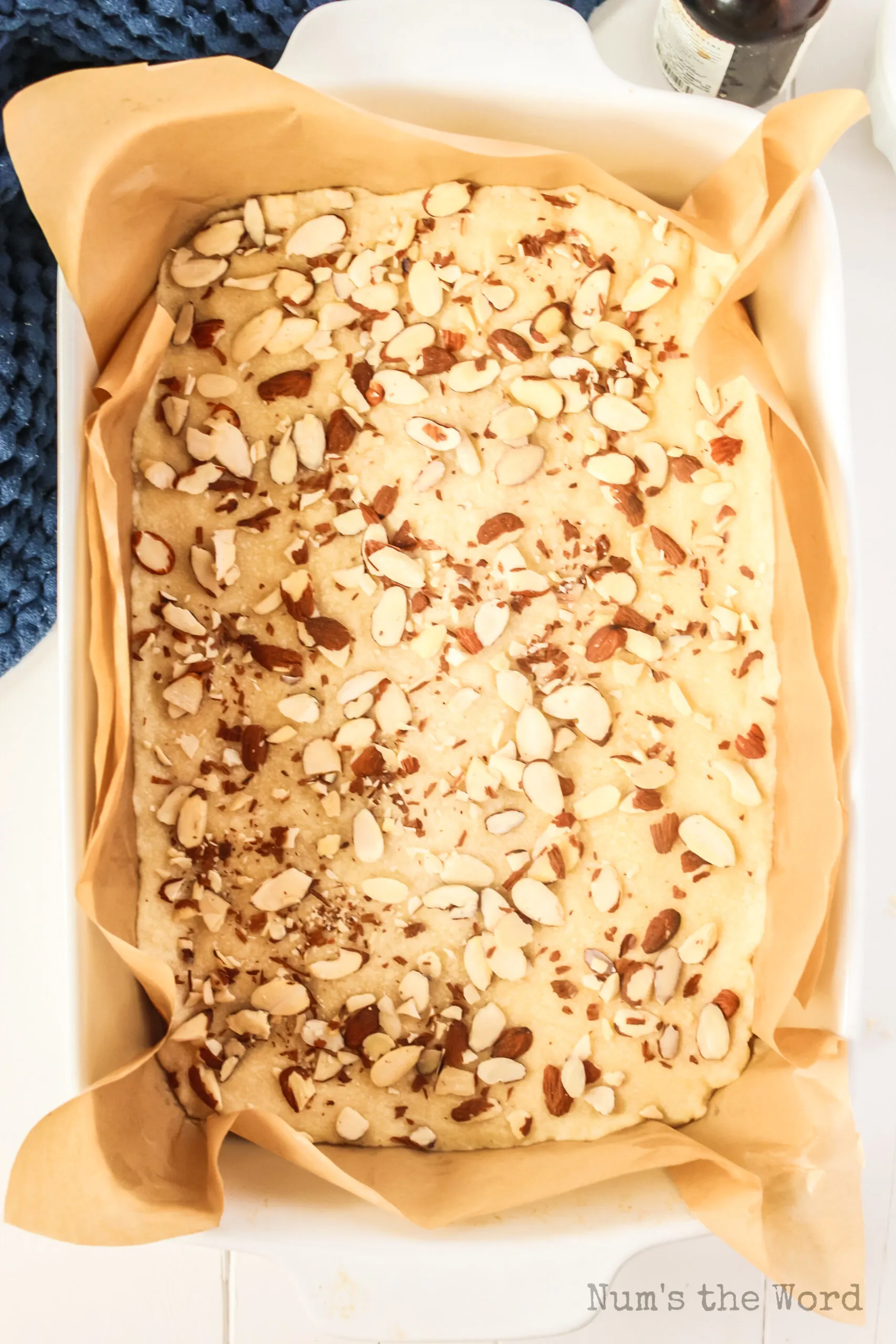 How to Make Almond Bars
The first time you make this easy recipe you're sure to be hooked! Cook until golden brown!
Make the Crust:
Use a hand mixer to combine the crust ingredients.
Bake the crust ingredients in the oven before adding the second layer.
Make the Cream Cheese Layer:
Sprinkle almonds on top of the crust.
Mix the rest of the custard layer ingredients using the hand mixer again.
Bake once again, this time with both the crust and cream cheese layer.
Pro Tips:
Use parchment paper or non-stick foil for an easier clean up!
This almond bars recipe makes a casserole dish sized serving.
Use low speed for the electric mixer so it doesn't go flying everywhere.
Use a rubber spatula to get it all out of your large bowl. You don't want to miss any of it!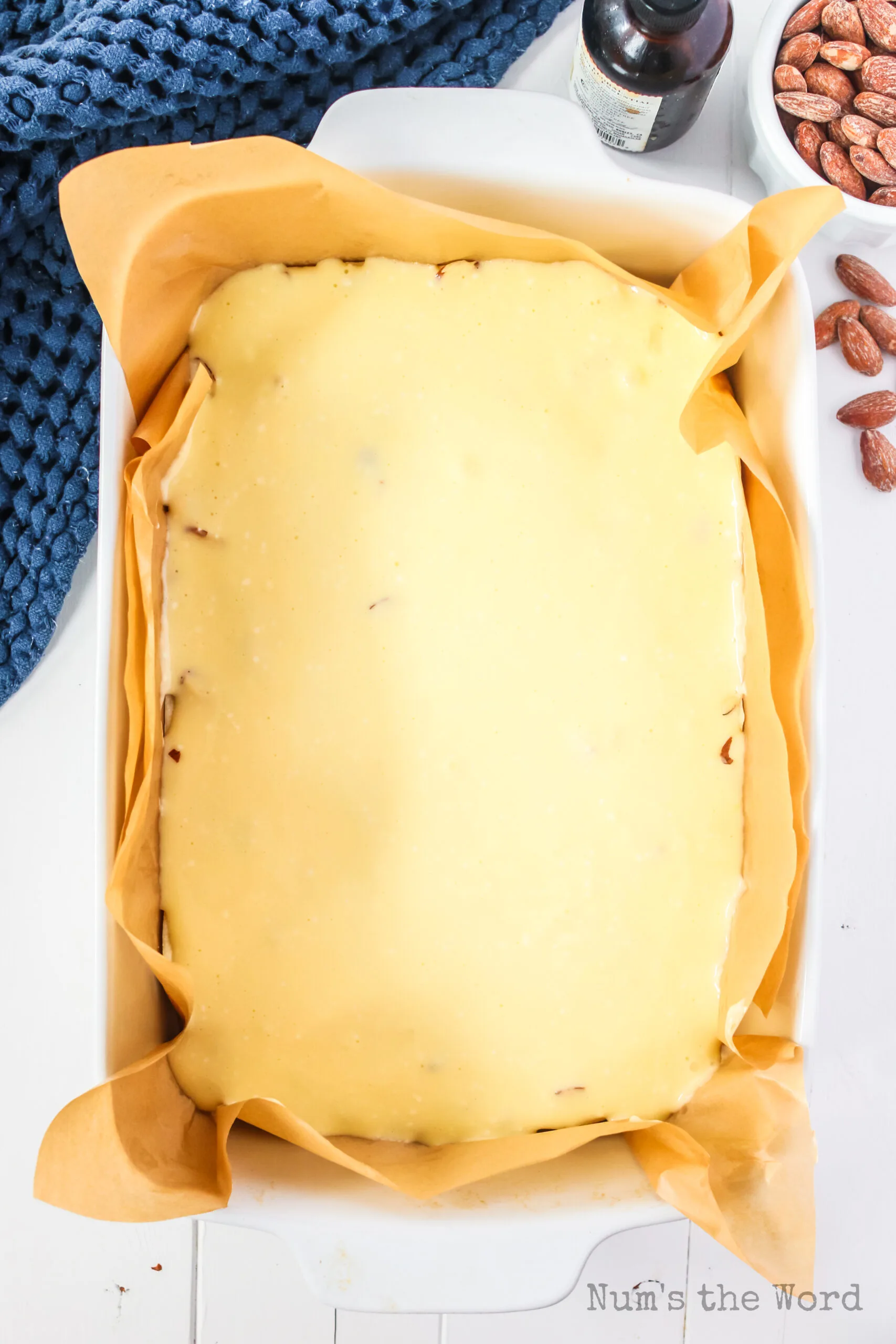 How to Make Almond Frosting
Almond desserts go better with a simple recipe for almond frosting.
To Make the Frosting:
Blend together all the frosting ingredients until smooth and creamy.
Spread over the cream cheese layer and enjoy!
Pro Tips:
Let the cream cheese layer cool completely before spreading the frosting or it'll run all over.
Don't forget the almond extract! It's the perfect addition for getting that essential almond flavour.
Sprinkle extra almonds on top if desired and for a perfect garnish!
A wire rack can help your glass pan to cool faster.
This isn't a simple glaze but a frosting. So spread it on thick!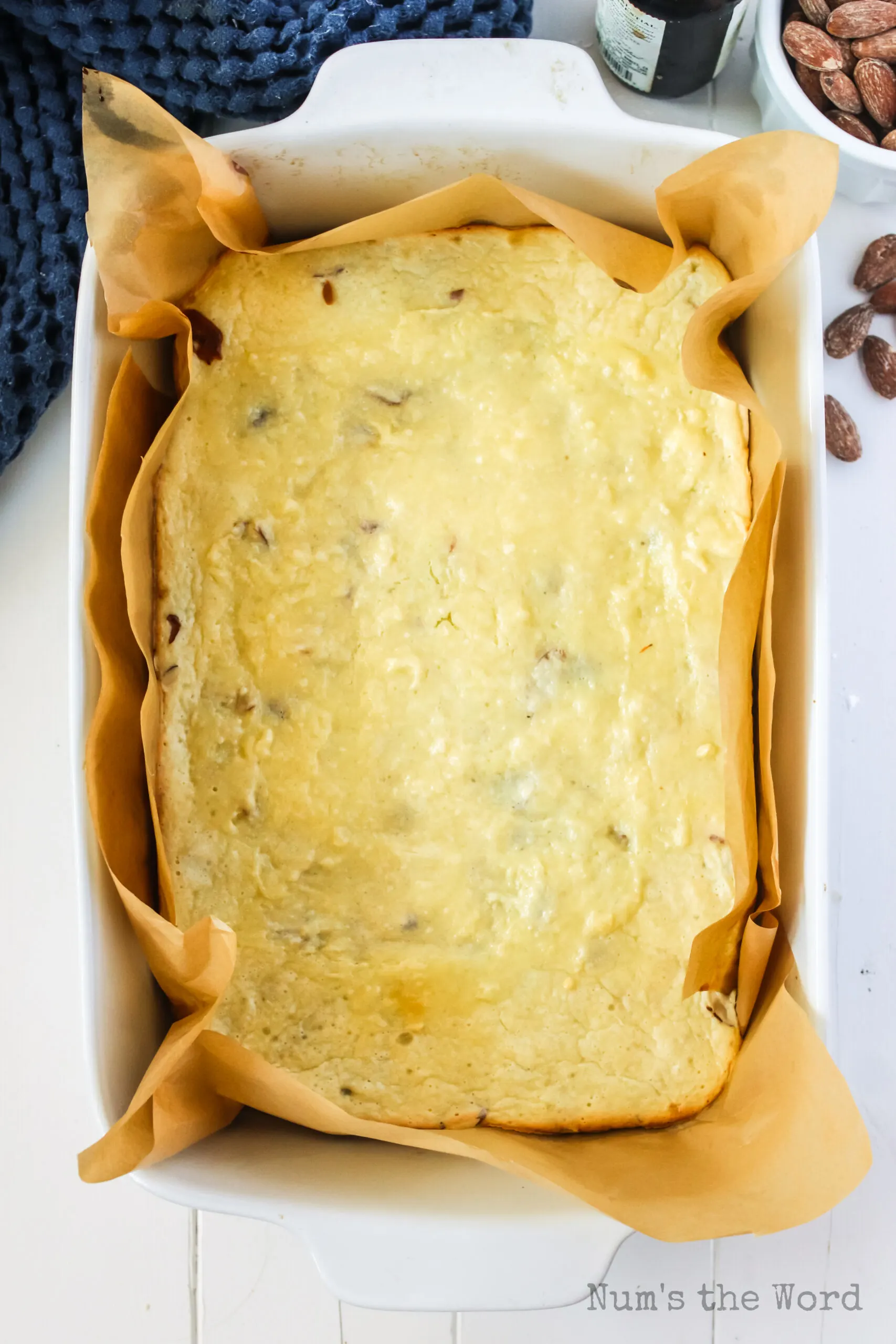 Do Almond Bars Need Frosting?
Not necessarily. I don't think almond bars always need frosting. They're sweet and delicious bars already as is.
But I think the almond glaze or frosting adds a lot to the table too.
First of all, the crust is almost like shortbread cookies. So adding the yummy almond frosting pairs well with the shortbread crust.
Also, the frosting is delicious and really with that almond extract it is perfect.
I think it ups that almond flavor so that every bite you know you're eating a perfect dessert!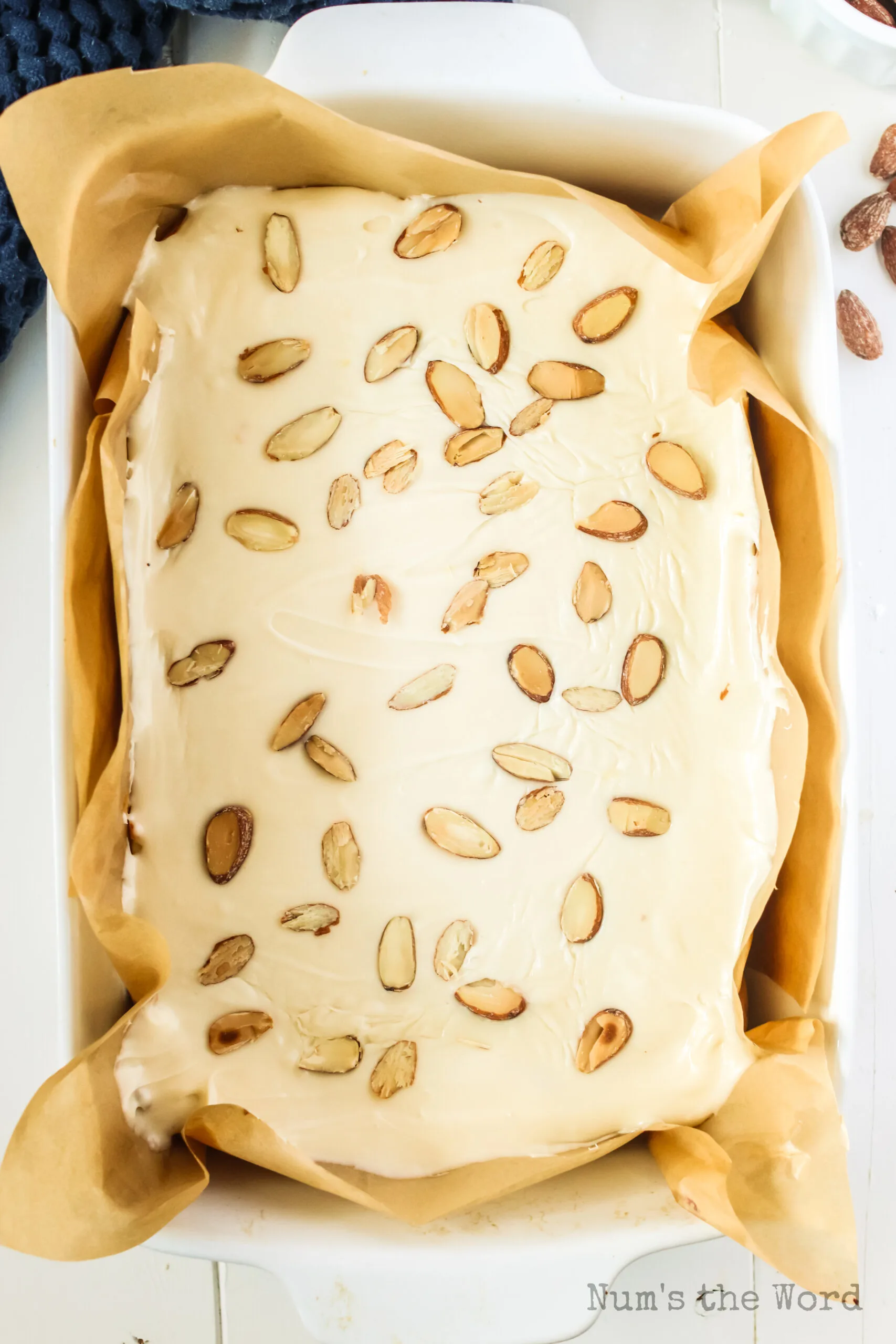 Can Dogs Eat Almond Bars
No, dogs shouldn't eat Scandinavian almond bars.
Sugar, flour and butter can all be hard on a dog's digestive system. They can cause digestive upset in the short term.
And that's not the only thing! In the long term, those things can be hard on a dog too because they're hard for the dog to process.
While we enjoy those things, we know how much is good for us and can feel when we've eaten too much.
Dogs on the other hand are much more likely to develop health problems from eating too many sweets even than we are.
So save the dog treats for the dogs and the tasty treats for the humans!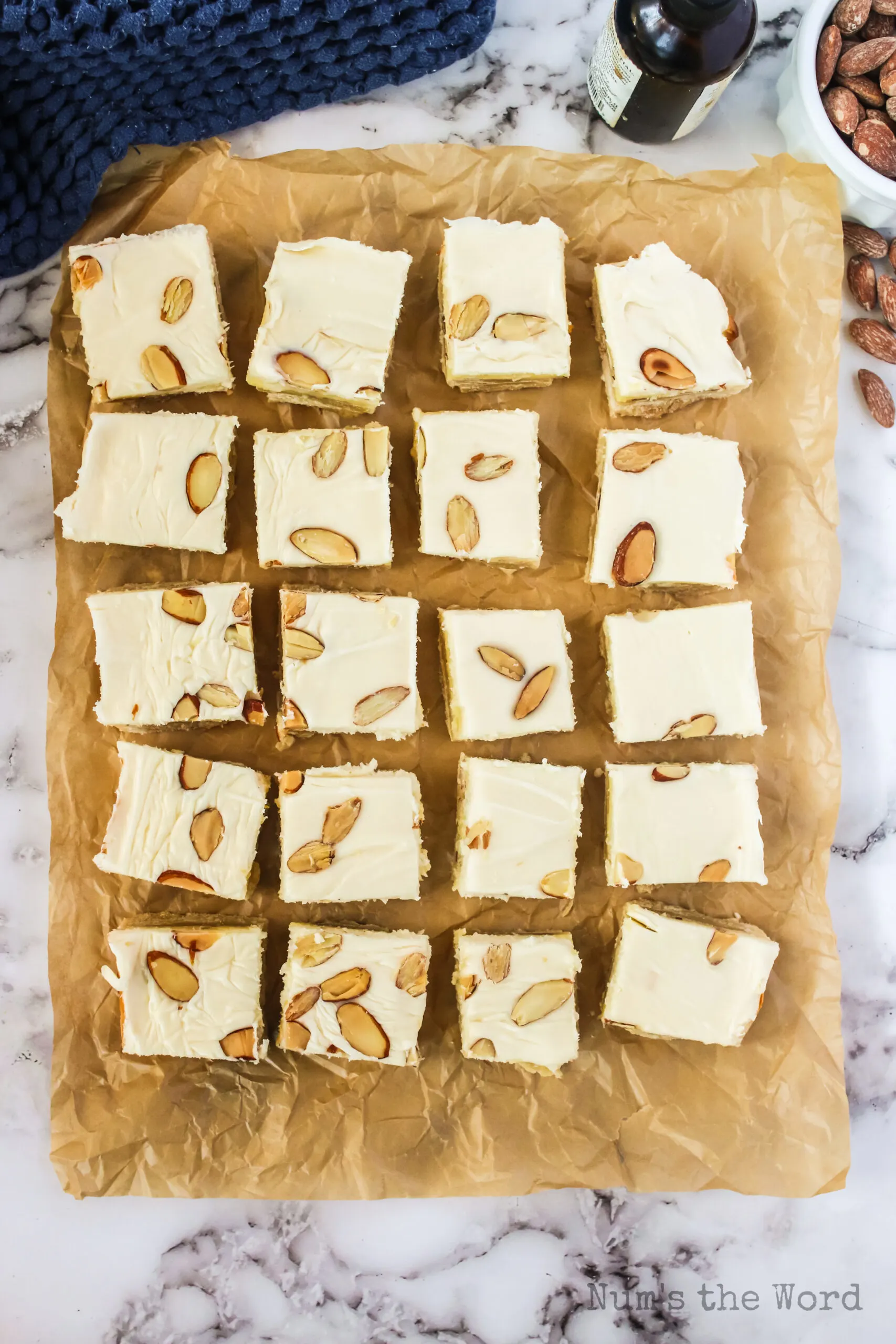 How to Store Leftover Almond Bars
You can store any leftover almond bars in your fridge or freezer.
Because of the cream cheese filling, it's best if you don't store them on the counter. Then they won't go bad and will last much longer.
To store them in the fridge, place the almond bars in an airtight container.
Be careful to use parchment paper between layers so they don't stick to each other.
You could also cover the casserole dish with plastic wrap and place the whole thing in the fridge.
To store them in the freezer, cut the bars into individual serving portions. Place the portions on a baking sheet in the freezer and flash freeze for 1 hour.
Remove the almond bars from the freezer and transfer to a freezer friendly bag or container.
They freeze really well and will still taste great when thawed again in the fridge overnight.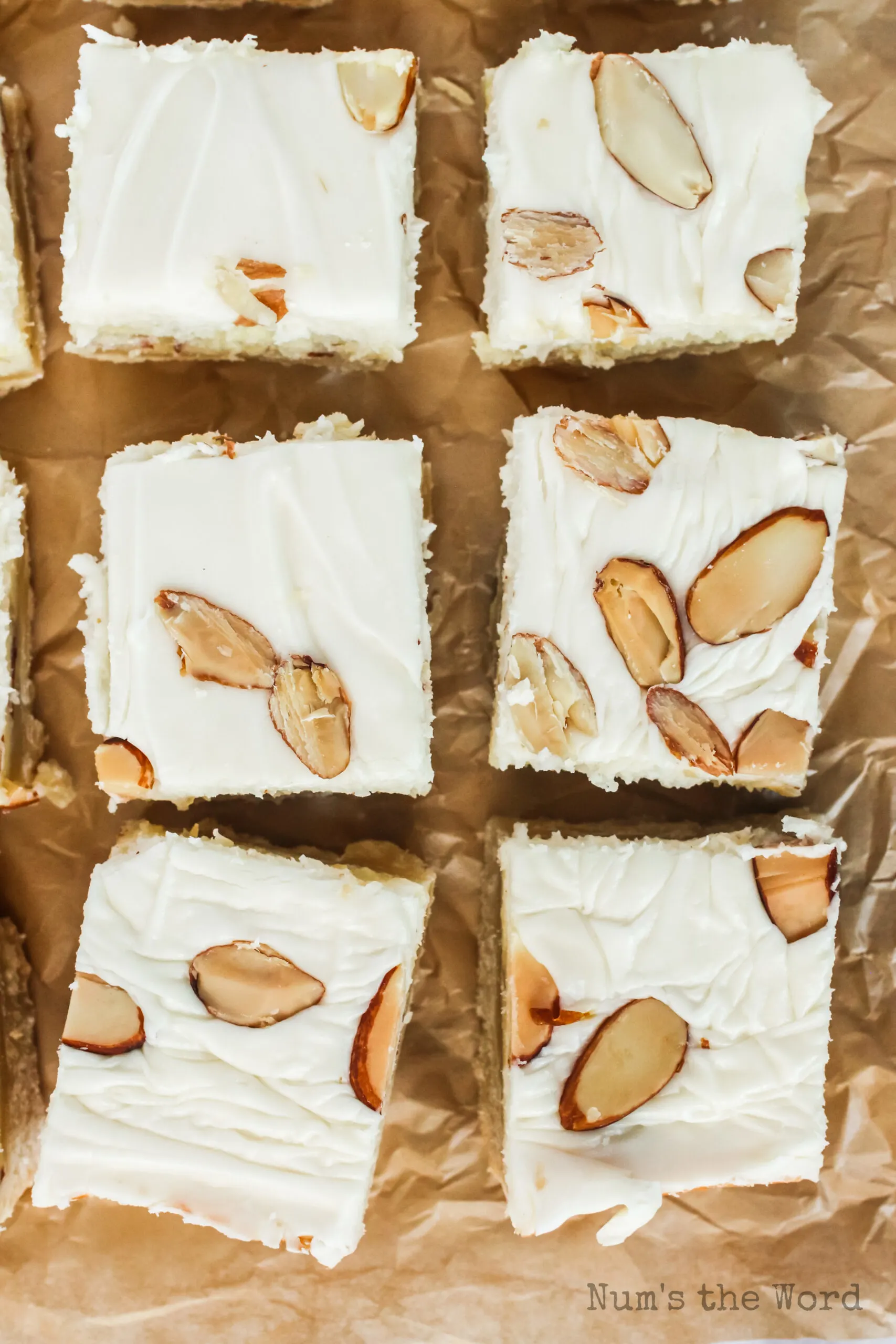 How Long Do Almond Bars Last?
In the fridge, if properly stored, you can expect almond bars to last up to 5 days.
Since you need to wait for the almond bars to cool before frosting them, you can also make the bars a day in advance before serving.
If the almond bars are stored in the freezer, they should last for up to 2 months.
After that they'll begin to lose their flavor so I'd eat them up before that.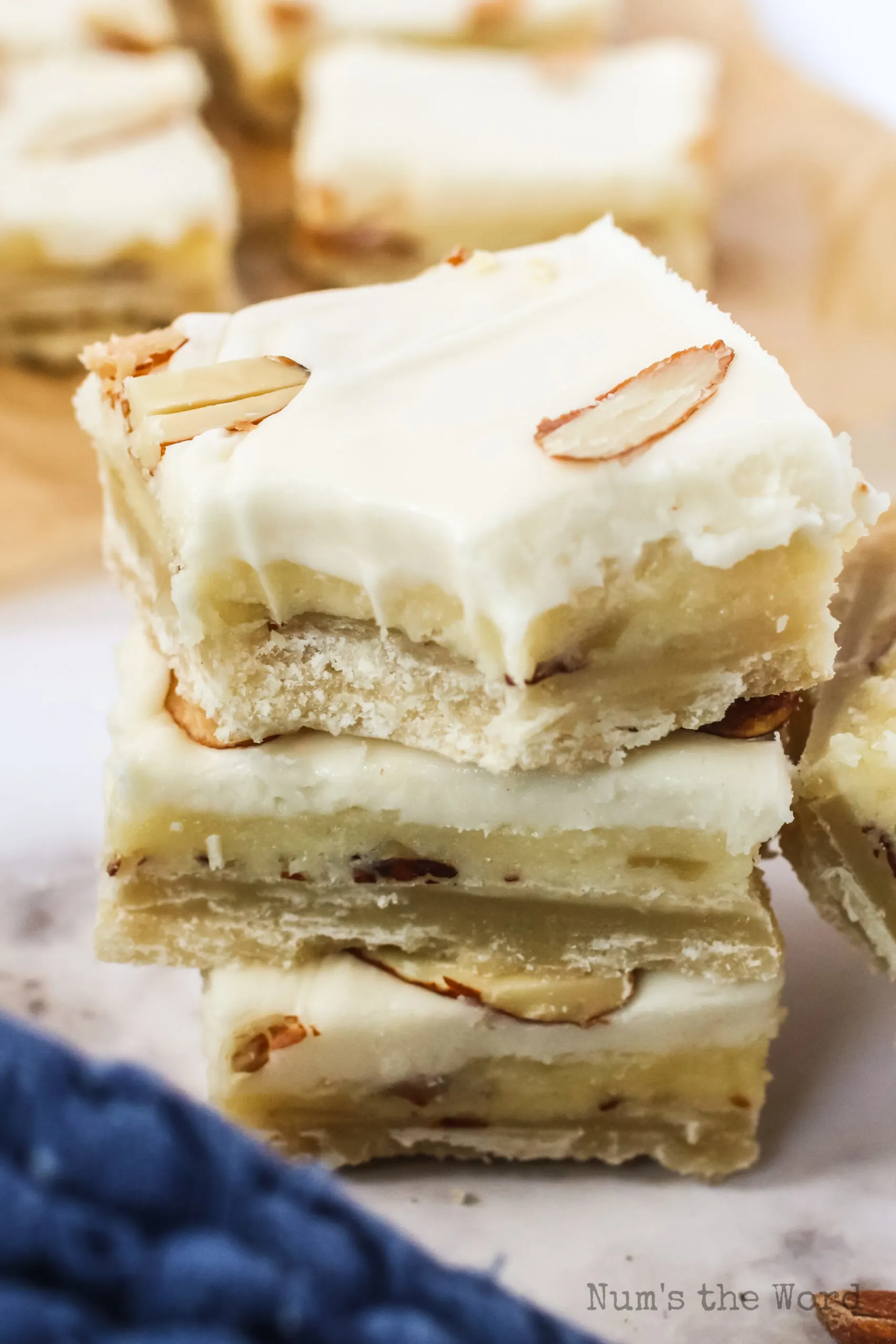 Almond Bars are a delicious and perfect treat! Quite possibly one of the best foods to take along with you all summer or winter long!
I know almond bars are sure to be a new favorite! Don't forget to enjoy them all Christmas time too!
Yield: 12 -24 Bars
Almond Bars Recipe
Ingredients
1 cup butter, room temperature
2 cups all-purpose flour
1/2 cup powdered sugar
1/2 cup sliced almonds
8 ounces cream cheese
2 eggs
1/2 cup white sugar
1 teaspoon almond extract
Almond Buttercream Frosting
1/4 cup butter, room temperature
1 1/2 cup powdered sugar
1 1/2 Tablespoon milk
1/2 teaspoon almond extract
Instructions
First Layer:

1. Preheat oven to 350*F
2. Line a 9x13 casserole dish with parchment paper or non-stick foil.
3. Mix butter, flour and powdered sugar together with a hand mixer.
4, Gently press mixture into the prepared pan and bake for 15 minutes.

Second Layer:

1. Once the hot crust comes out of the oven, sprinkle sliced almonds over the top. Set aside.
2. Wipe off beaters and bowl with a paper towel and reuse.
3. In the same bowl add cream cheese and eggs. Mix well.
4. Add sugar and almond extract. Mix well.
5. Pour cream cheese mixture over the crust and almonds and gently spread out.
6. Bake for an additional 15 minutes.

Third Layer (Frosting):

1. Once the crust comes out of the oven, turn the oven off and let the crust cool completely.
2. Once completely cool, make the third layer.
3. Clean out the bowl and use again for frosting.
4. Blend butter and powdered sugar ½ cup at a time, until completely blended.
5. Add milk and extract and mix again.
6. Spread almond frosting over the cooled bars.
7, Top lightly with more slivered almonds if desired.
8, Cut into 1 ½ inch bars to serve.
Nutrition Information:
Yield:
24
Serving Size:
1
Amount Per Serving:
Calories:

228
Total Fat:

15g
Saturated Fat:

8g
Trans Fat:

0g
Unsaturated Fat:

5g
Cholesterol:

51mg
Sodium:

113mg
Carbohydrates:

22g
Fiber:

1g
Sugar:

14g
Protein:

3g