These Peach Crumble Bars taste like peach cobbler in a bar form! Perfect for eating hot out of the oven with a scoop of vanilla ice cream or cold out of the fridge for breakfast! A simple summer treat!
This post contains affiliate links.  If you click on an affiliate link and make a purchase, I will make a small percentage on your purchase. This helps keep this website running! Thank you!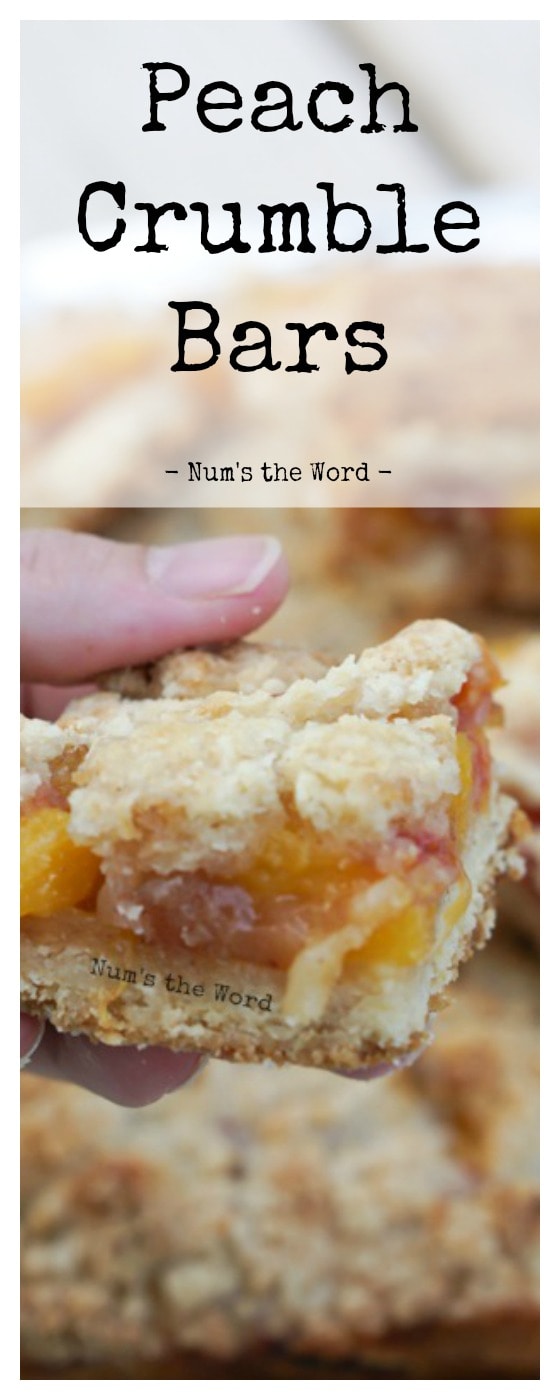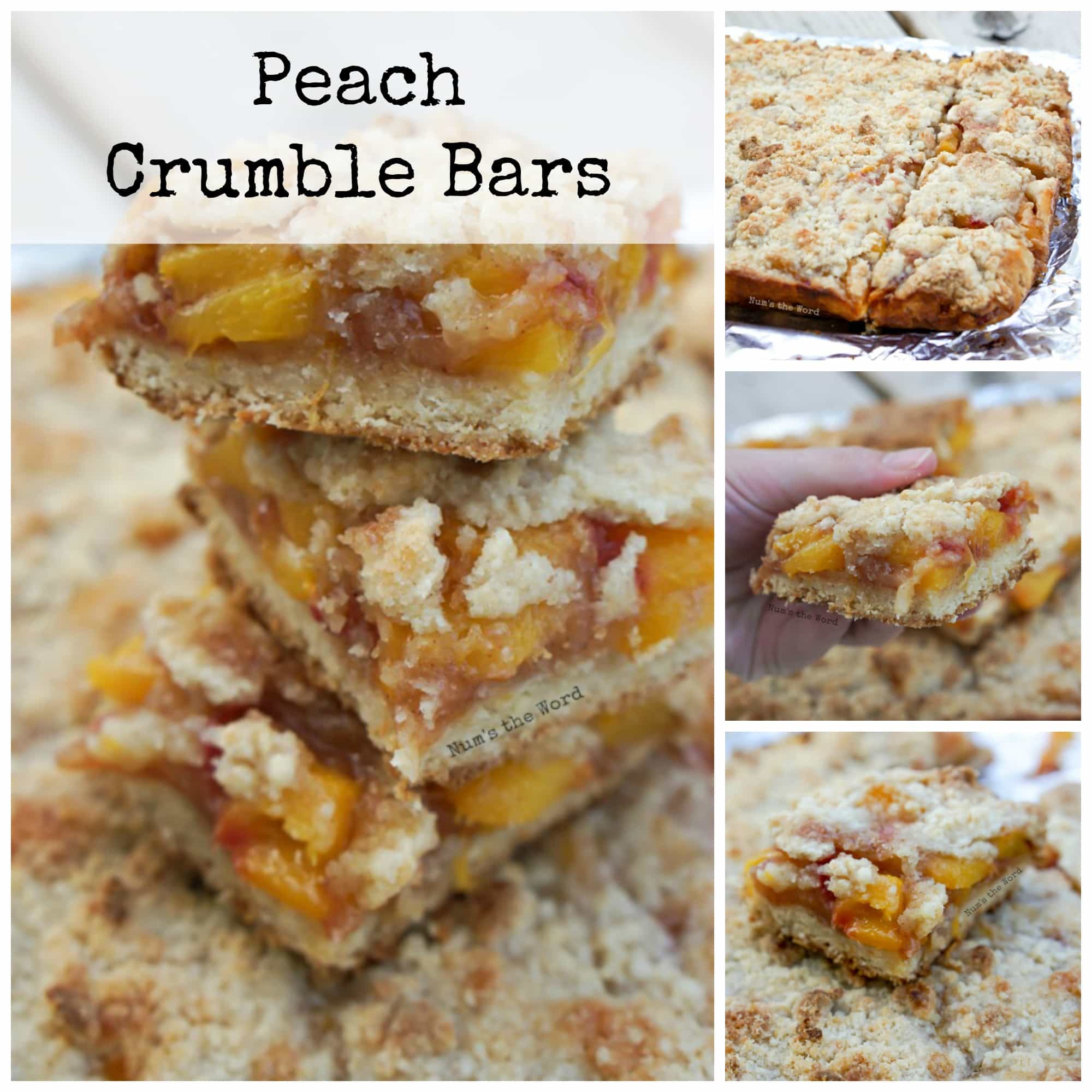 As odd as it may sound, one of my dream vacations includes a trip to Georgia.
Not to visit a specific monument or city, but to buy big ripe juicy peaches from a street side vendor.
I have friends that brag about how amazing the peaches are and I desperately just want to sink my teeth into one.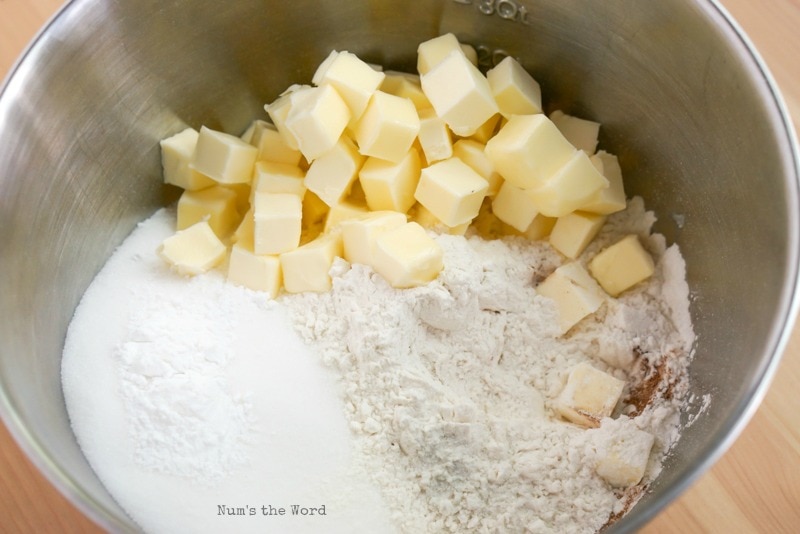 I grew up in Washington and peaches were a regular item on the menu in our home.
We had a you pick orchard close to our home and every summer we'd pick TONS of peaches.
I remember my mom spreading large peaches out on the cool garage floor.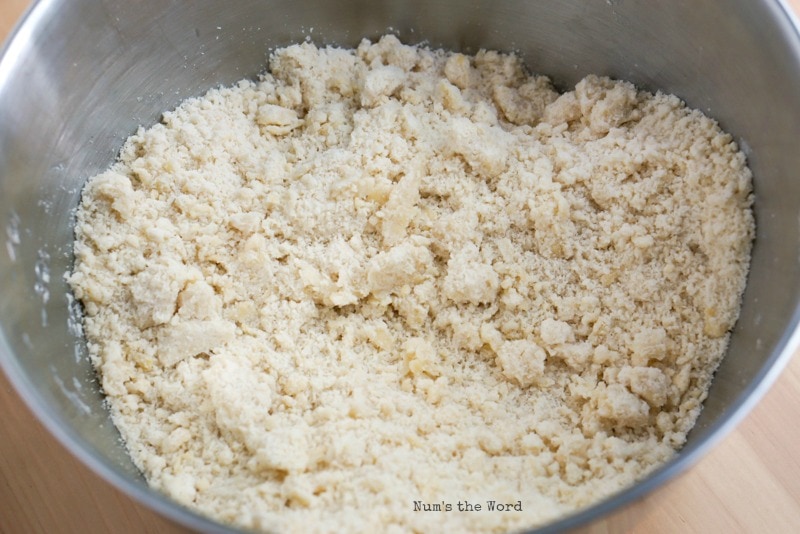 We'd snack on and eat them till our bellies were full and then she'd start canning them.
I HATED canning day.
I don't know what it was but it was torture.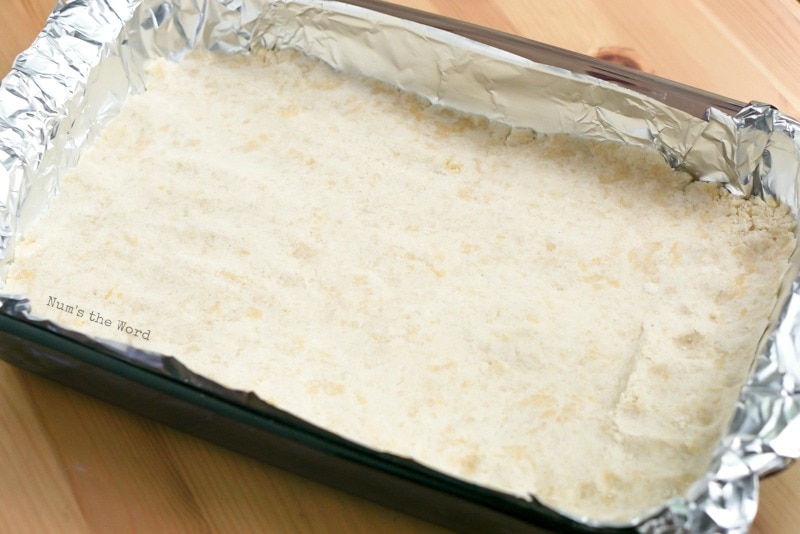 Looking back, it was really easy work and yet I somehow hated it.
Maybe it's because we worked in silence.
Or maybe it was because it took hours to can all those peaches.
But it was something I never looked forward to.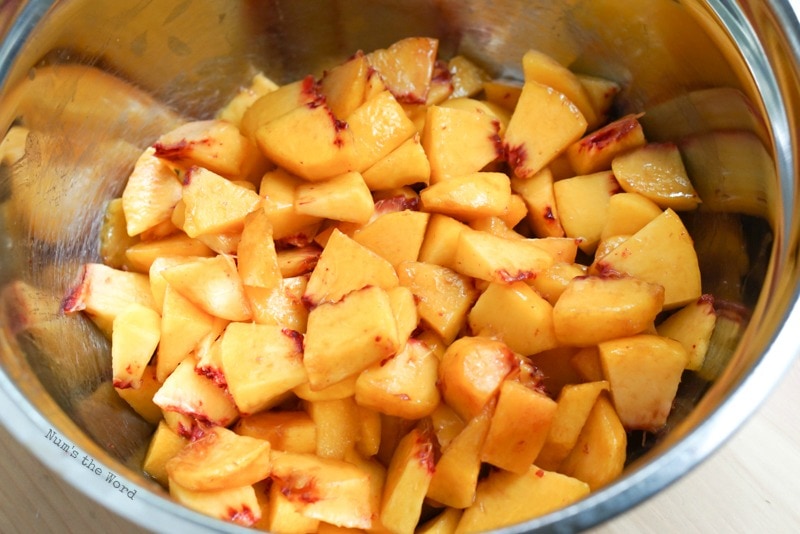 What I did look forward to were those canned peaches all year long.
They were fantastic and I am grateful my mother went to all the effort to can them for us.
And so it's been since my childhood I've had a love of peaches and nectarines.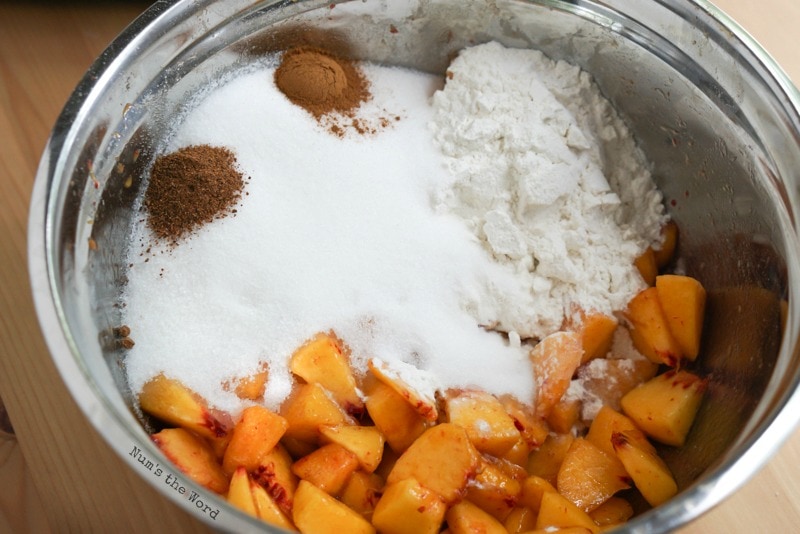 Every summer I look forward to Peach season.
However peaches shipped to Minnesota are not the same as fresh off the tree peaches.
They aren't quite as sweet or juicy.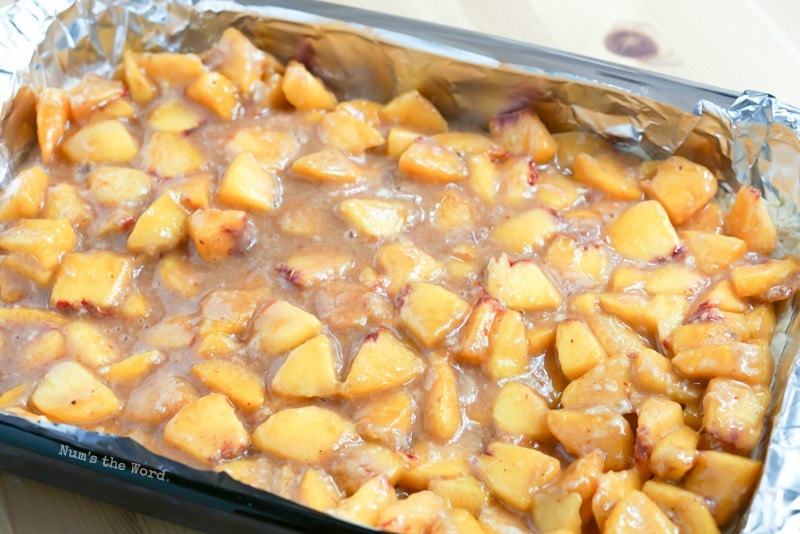 Despite that, they are still delicious and they end up in my grocery cart more times than not.
Not only do I love to eat them fresh, I also love to bake with them.
These Peach Crumble Bars are a favorite summer treat.
They taste like Peach Cobbler in a bar form.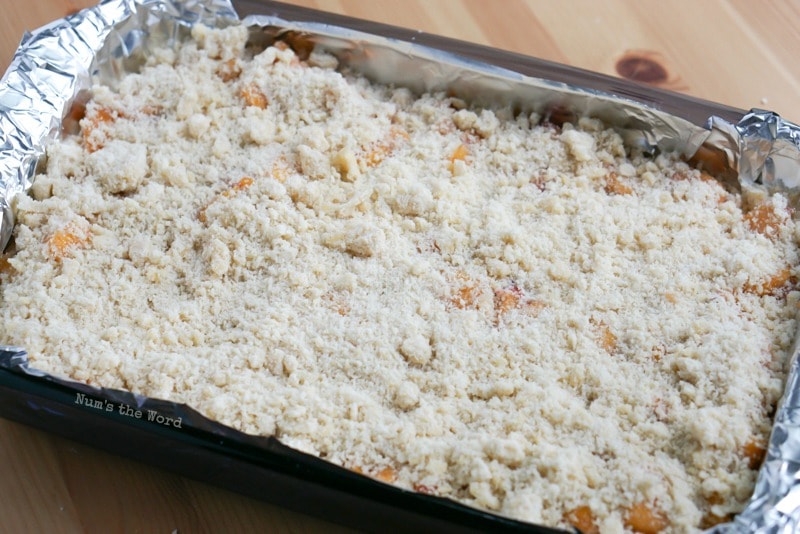 A yummy cookie bottom, ripe juicy peaches in the center and more of that cookie mixture on top, giving them a cobbler look.
These are perfect as is or with a scoop of vanilla ice cream on top.
Serve them in a bowl or eat them with your fingers, there is no wrong way with these Peach Crumble Bars.
I'm a fan of eating them hot out of the oven and cold from the fridge.
In my opinion there isn't a wrong way to enjoy them.
Now if you're like me, and love to blur the line between breakfast and dessert, I will say that these have often been my breakfast and I'm ok with that.
It's fresh fruit, and almost all the same ingredients for the crumble as you find in pancakes.
So really, these are like crumbly peach pancakes if you really think about it.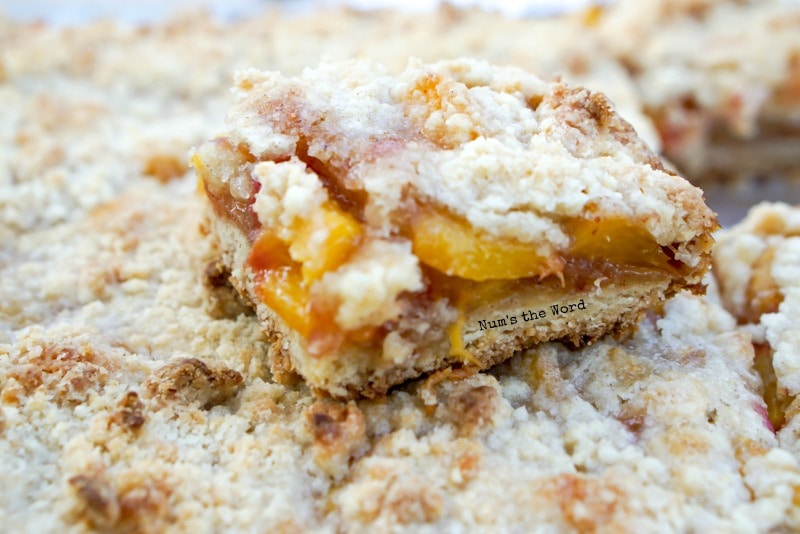 The batter just ins't as thin as pancake batter.
So there you have it.
My justification for eating these Peach Crumble Bars for breakfast as well as dessert!
Yield: 24 Bars
Peach Crumble Bars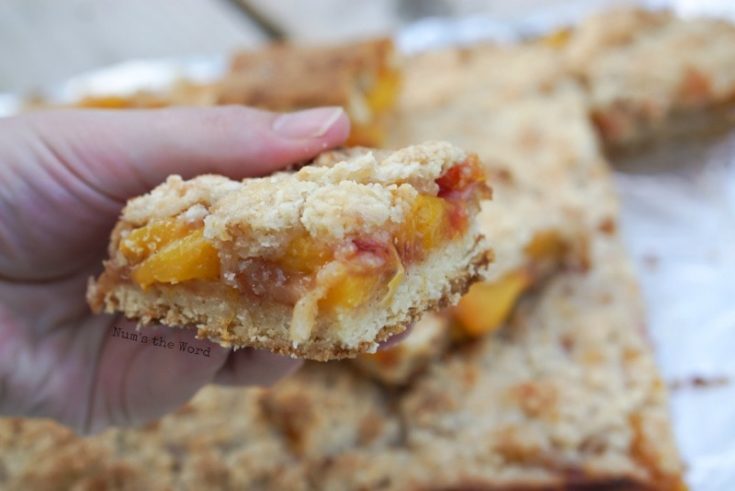 Total Time
1 hour
15 minutes
Ingredients
For the Crumble:
-----------------------------------
3 cups all-purpose flour
1 cup granulated sugar
1 teaspoon baking powder
1/4 teaspoon salt
1/4 teaspoon ground cinnamon
1 cup (2 sticks) butter, cold and diced
1 egg
-----------------------------------
For the Peach Filling:
-----------------------------------
5 cups diced peaches (about 7 peaches, peeled)
2 tablespoons lemon juice
½ cup all-purpose flour
1 cup granulated sugar
¼ teaspoon salt
½ teaspoon ground cinnamon
¼ teaspoon ground nutmeg
Instructions
Preheat the oven to 375*F
Spray a 9x13 casserole dish with non-stick spray or line with parchment paper or nonstick foil.
In medium bowl combine flour, sugar, baking powder, salt cinnamon and butter. blend with a pastry knife or a forks until pea sized crumbles.
Add the egg and mix well.
Place 3/4 of the mixture into casserole dish and press well with hands or bottom of a glass to create a dense crust.
Set remaining crumble mixture aside.
In new medium bowl add diced peaches and lemon juice together.
Add flour, sugar, salt, cinnamon and nutmeg and gently fold until well mixed.
Pour peach mixture on top of crust.
Sprinkle remaining crumble mixture on top of peaches.
Bake for 45 minutes or until golden.
Remove from oven and allow to cool for 15 minutes.
If you serve immediately, the mixture will be more like a peach cobbler and sloppy. However if you chill in the fridge these will cut into beautiful bars.
Recipe from Sweet Pea's Kitchen
Originally Posted: September 16, 2014
Photo & Text Updated: July 27, 2018
Other Summer Treats You'll Love...