This Raspberry Ice Cream is an easy egg free recipe. With only 5 ingredients, this Raspberry Ice Cream comes out creamy, smooth and packed with flavor! We prefer to make this Seedless Raspberry Ice Cream but you could of course leave the seeds in too if you wish! A favorite summer treat!
This post contains affiliate links.  If you click on an affiliate link and make a purchase, I will make a small percentage on your purchase. This helps keep this website running! Thank you!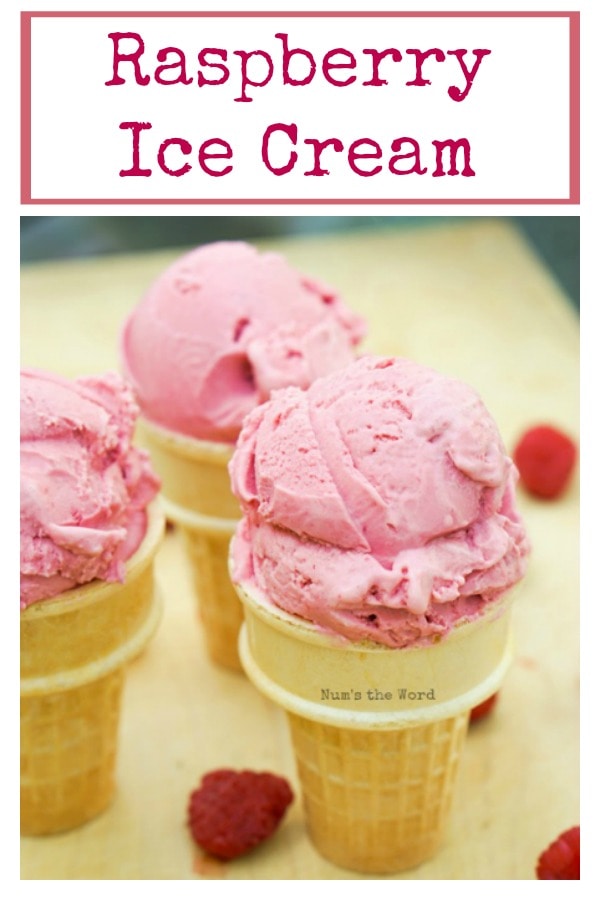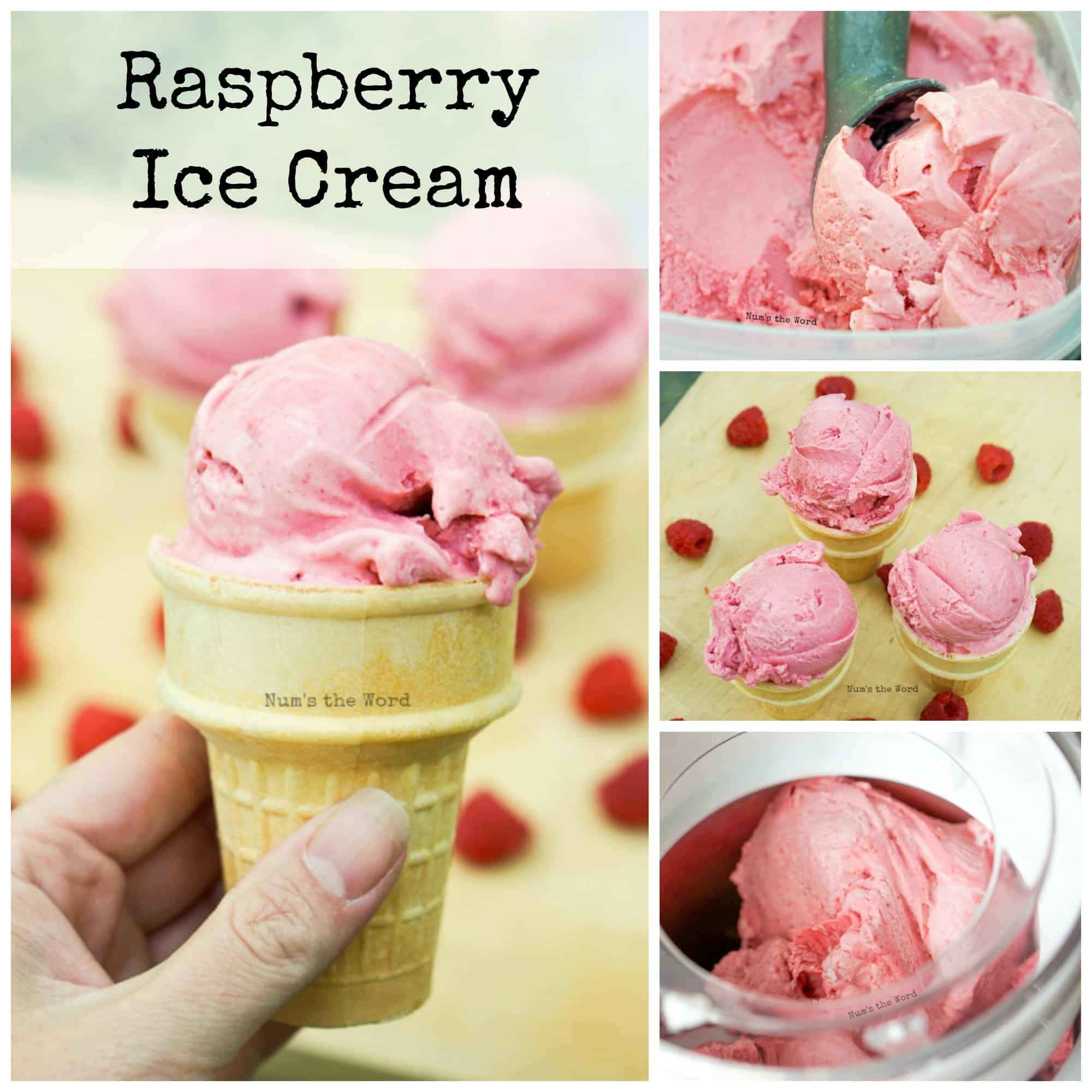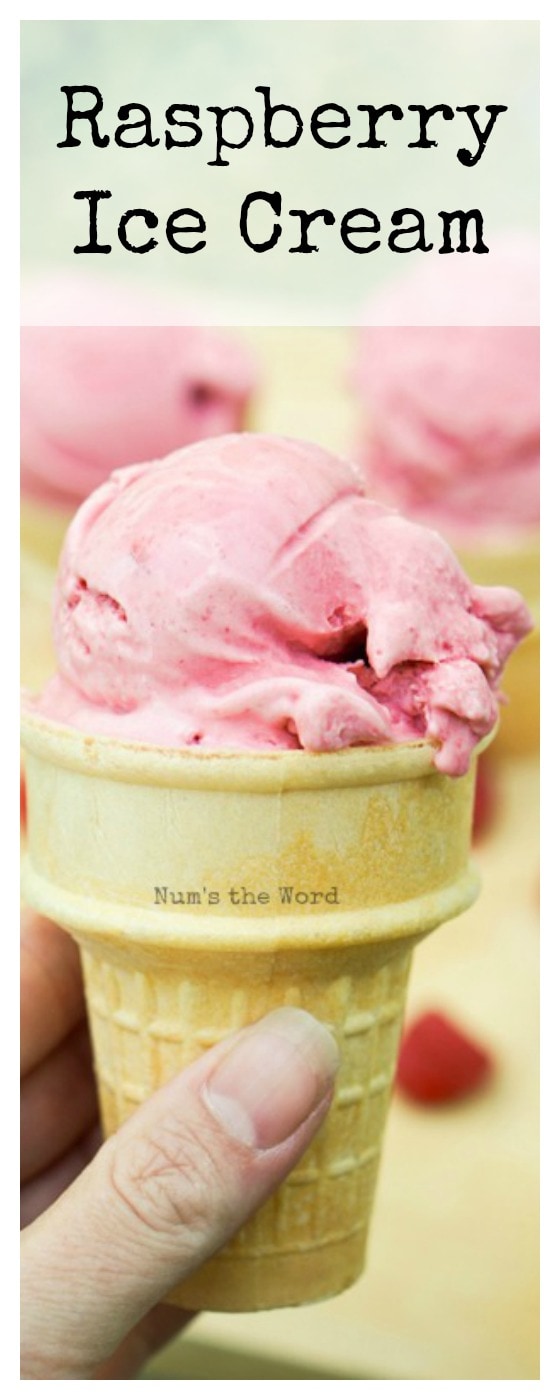 If I had to choose my absolute favorite, all time dessert, this would be it.
I have a serious weakness for anything raspberry and I blame my mother.
Don't get me wrong, I love my mother, but really it's her fault I have an addiction to fruit and especially raspberries.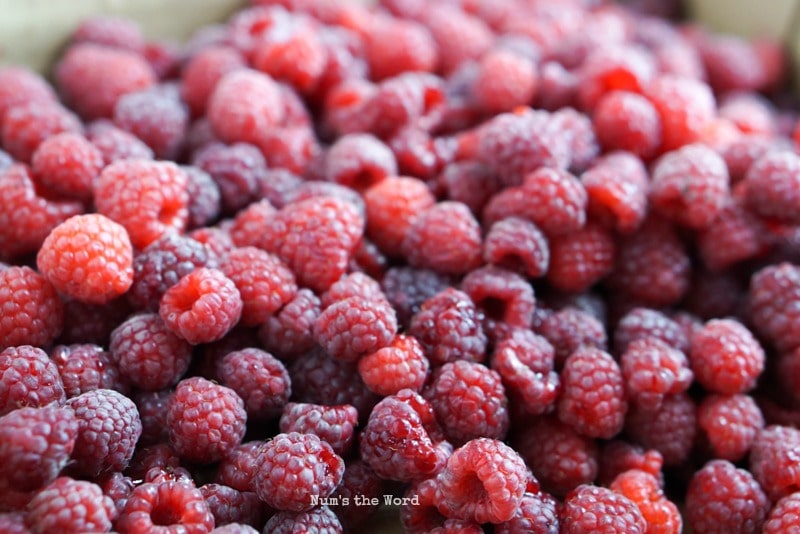 You see, my mother has the greenest thumb of anyone I know.
Growing up, we always had a large garden, fruit trees and berries.
Strawberries, and Raspberries were always a staple in our yard and so I was able to fill my belly to the brim with my favorite fruit – so long as I could stand the bees who were also fans of my beloved raspberries.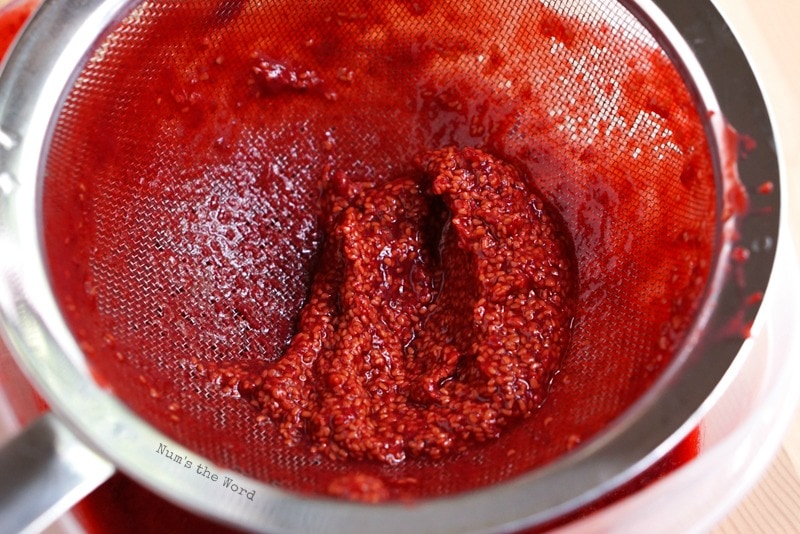 And because of that, you will most likely see a decent amount of raspberry and fruit based goodies on Num's the Word.
I'm also lucky because my mother tends to bring HEAPING loads of fruit in the summer months of which we freeze and enjoy over the rest of the year.
So to my utter joy, just when I thought I had used up my entire raspberry supply, I found a gallon sized freezer bag full of them!  Halleluiah!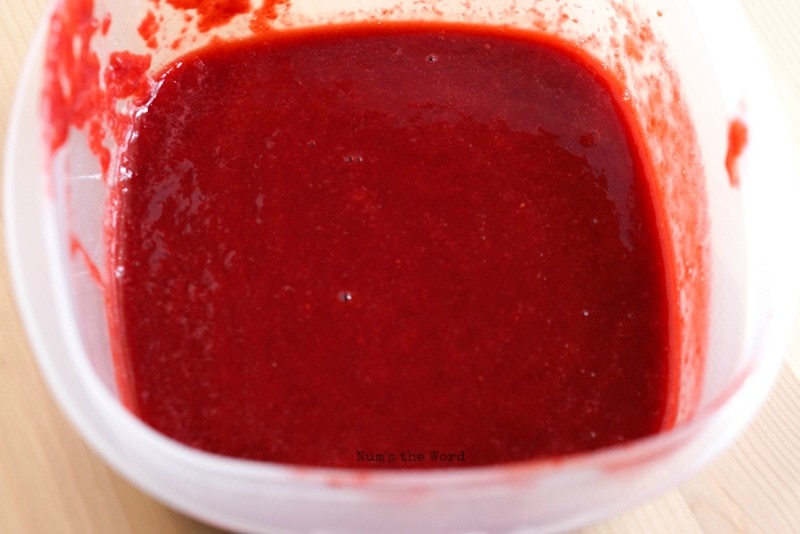 Of course, the first thing I had to make with my lovely homegrown raspberries was this ice cream.
For those of you who don't have a mother with a green thumb, then I recommend going to a U-Pick Farm if you have one close by and enjoy the experience of picking raspberries.
Because our entire yard is shaded, we are unable to grow our own raspberries and my mother ins't able to bring me fresh ones each year.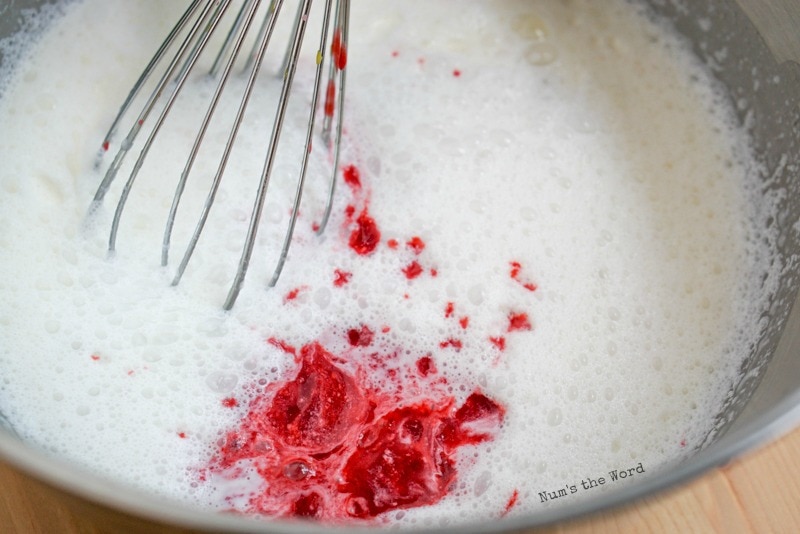 So every year I take the kids to go berry picking throughout the summer.
We do strawberries and blueberries and raspberries.
All of which are taste tested more than picked and all of which we all declare to be amazing right off the vine.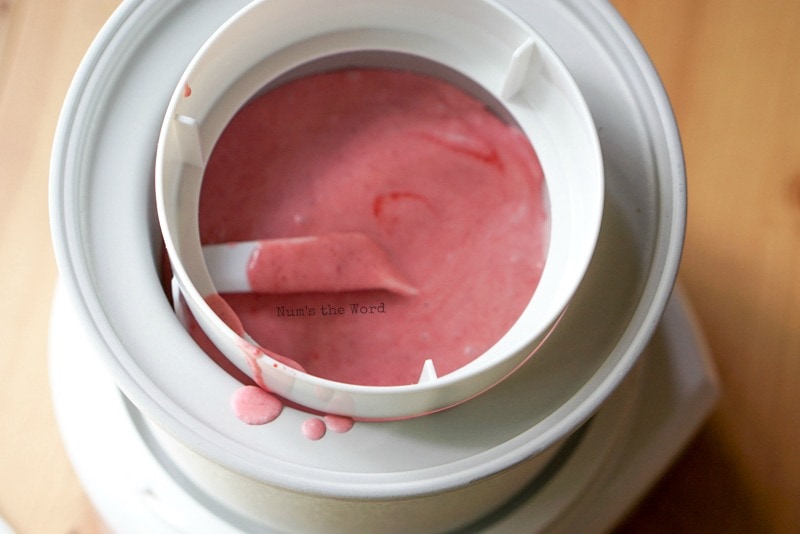 However, not everyone lives in a raspberry growing state, and I understand that.
I also understand that many do not have the time, patience or tolerance for Bees to go pick them yourself.
Which is why we are so lucky that Raspberries can now be found all year round in many stores.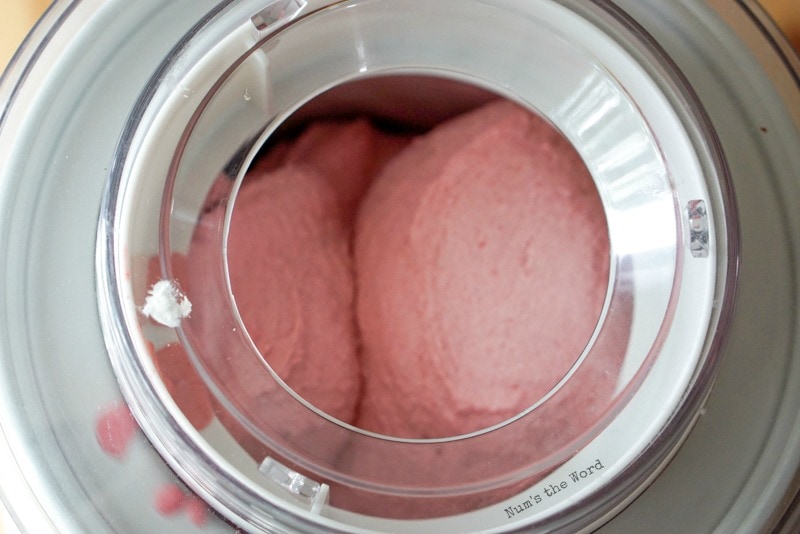 This gives you absolutely no excuse to not make this Raspberry Ice Cream.
I did mention this was a favorite Summer treat of mine, didn't I?
While making this, I went through 10 different spoons "taste testing" this as it went from liquid to thick, rich and creamy ice cream.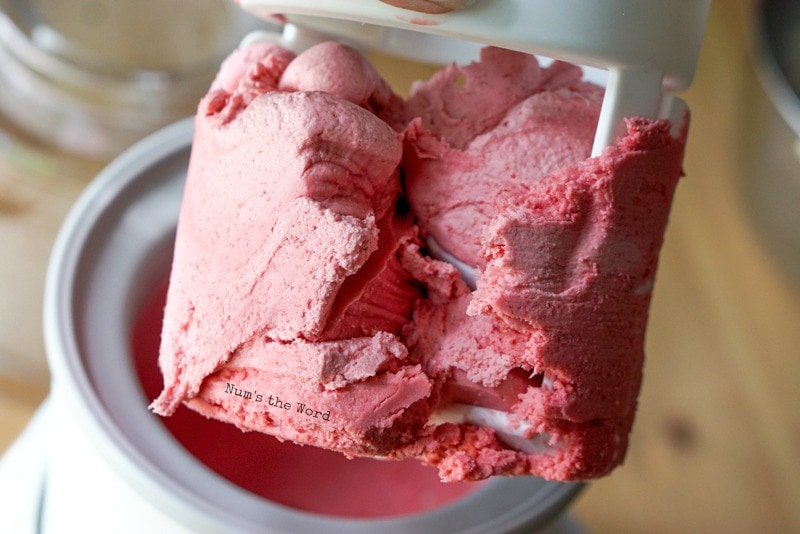 The raspberry flavor is perfect and the ice cream is nice and creamy.
Personally I like it best right out of the ice cream maker.
Soft serve and oh so good.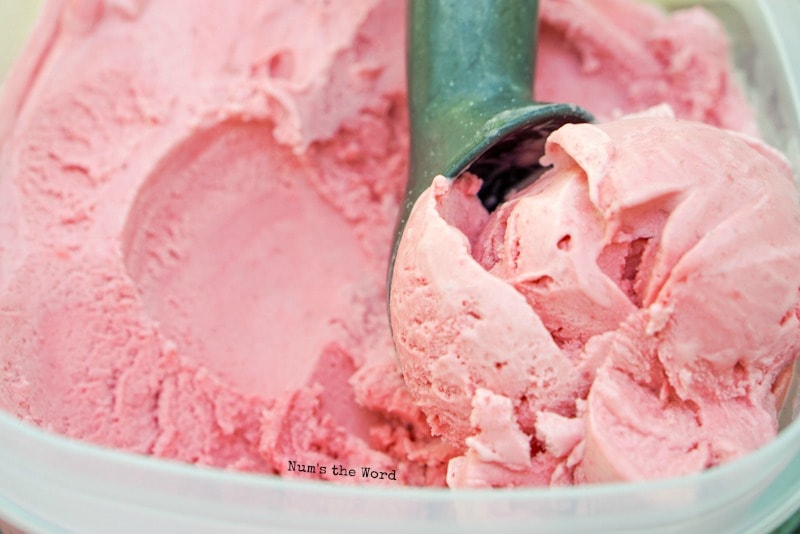 And so does my 3 year old.
In fact, I think I earned Mother of the year award on the day we made this.
We may or may not have both enjoyed a large bowl of it for lunch.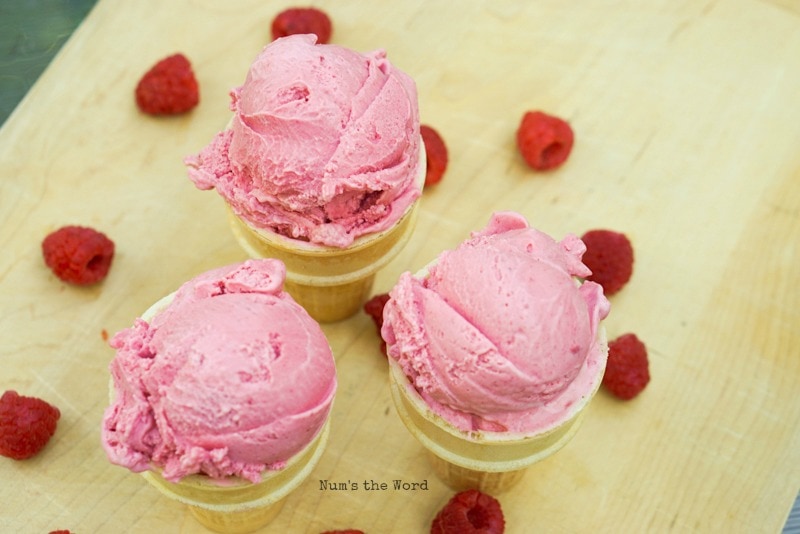 I mean, it sounded pretty healthy to me.
Fruit & Dairy are both important dietary staples, Right?
If you are looking for a simple and unbelievably delicious ice cream to make, you have got to try this.
Hands down, my FAVORITE, FAVORITE, FAVORITE treat.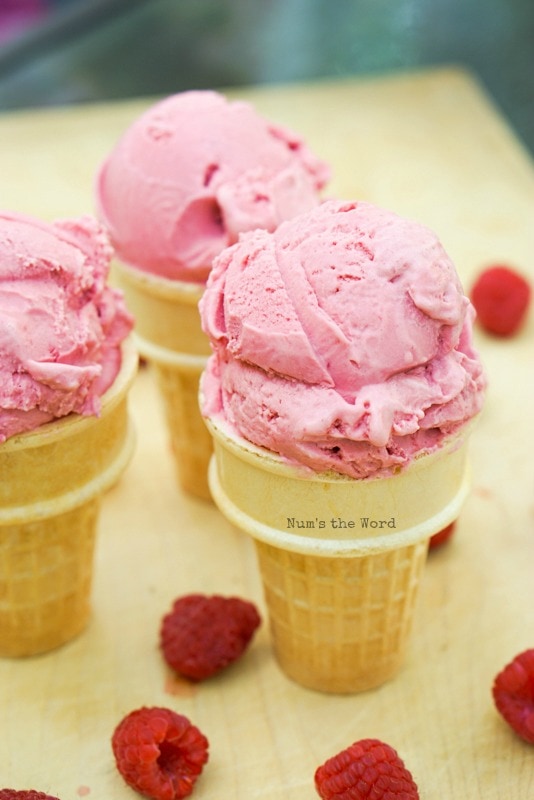 Yield: 8 Servings
Raspberry Ice Cream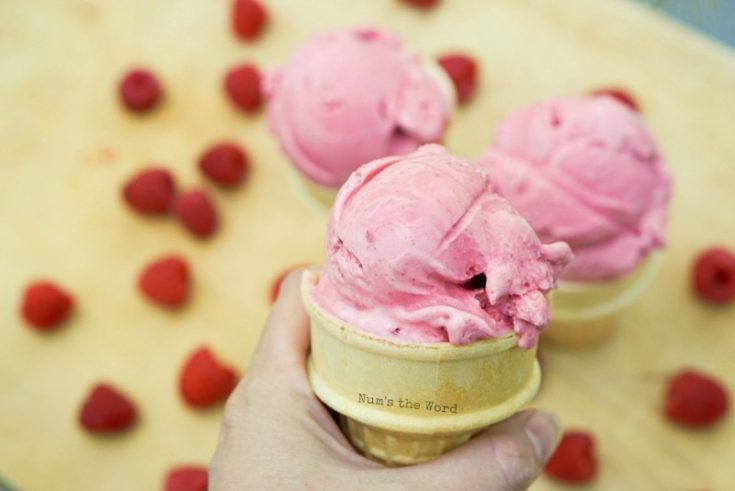 Ingredients
2 1/2 cups Heavy whipping cream
1/2 cup Milk (I used 2% but any will work)
2 cups Seedless raspberry puree
1 cup sugar
1 Tablespoon lemon juice
Instructions
To Make Raspberry Puree:
----------------------
Blend 5 cups of raspberries in the blender.
Using a mesh strainer, slowly press puree through mesh strainer leaving seeds in the strainer. This should result in approximately 2 cups of puree.
----------------------
To Make Ice Cream:
----------------------
In a large bowl, combine whipping cream, milk and sugar.
Add seedless raspberry puree and lemon juice, mixing to incorporate.
Freeze according to your ice cream makers directions.
Notes
My ice cream maker is a small Cuisinart one. So this takes two batches to make. Liquid mix can be kept in a container in the fridge for up to 3 days if needed.
Originally Posted: February 8, 2014
Photos & Text Updated: May 25, 2018
Other Raspberry Recipes You'll Love...