Cinnamon sugar is the perfect addition to toasted bread, plain oatmeal, muffin tops, cookies, donuts, cinnamon chips, and … really, the possibilities are endless!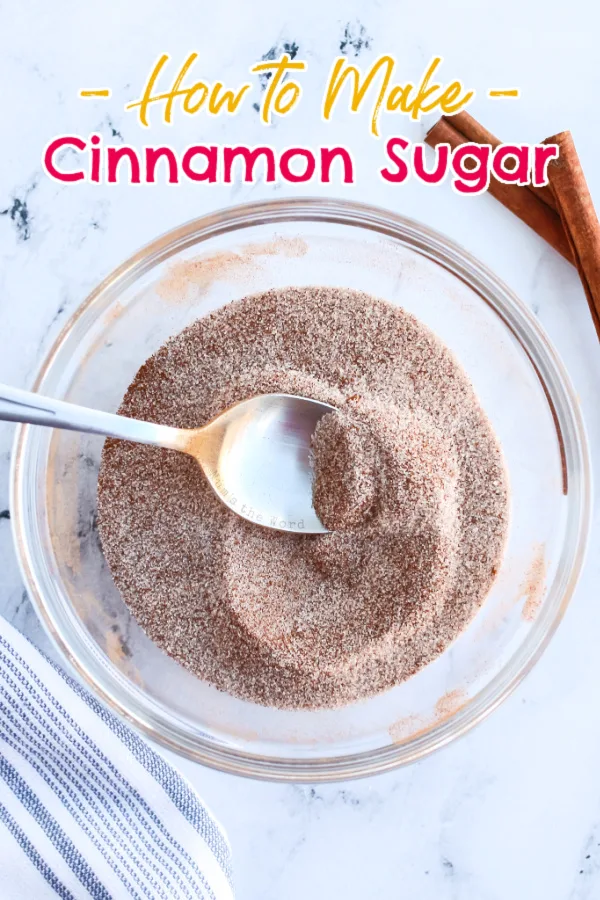 But purchasing a package of already mixed cinnamon sugar is not something you should ever have to do. Why? Because it is literally SO SIMPLE to mix the perfect ratio anytime you need it!
Mix up a batch of this cinnamon sugar mix and keep it on hand for whenever you need a dash of cinnamon-sweetness in your day. It's seriously one of the easiest things you'll ever whip up!
Using just two ingredients you already have in your pantry — you guessed it! Cinnamon and sugar — you can mix up the perfect sugar and spice combination to use on all things tasty and nice.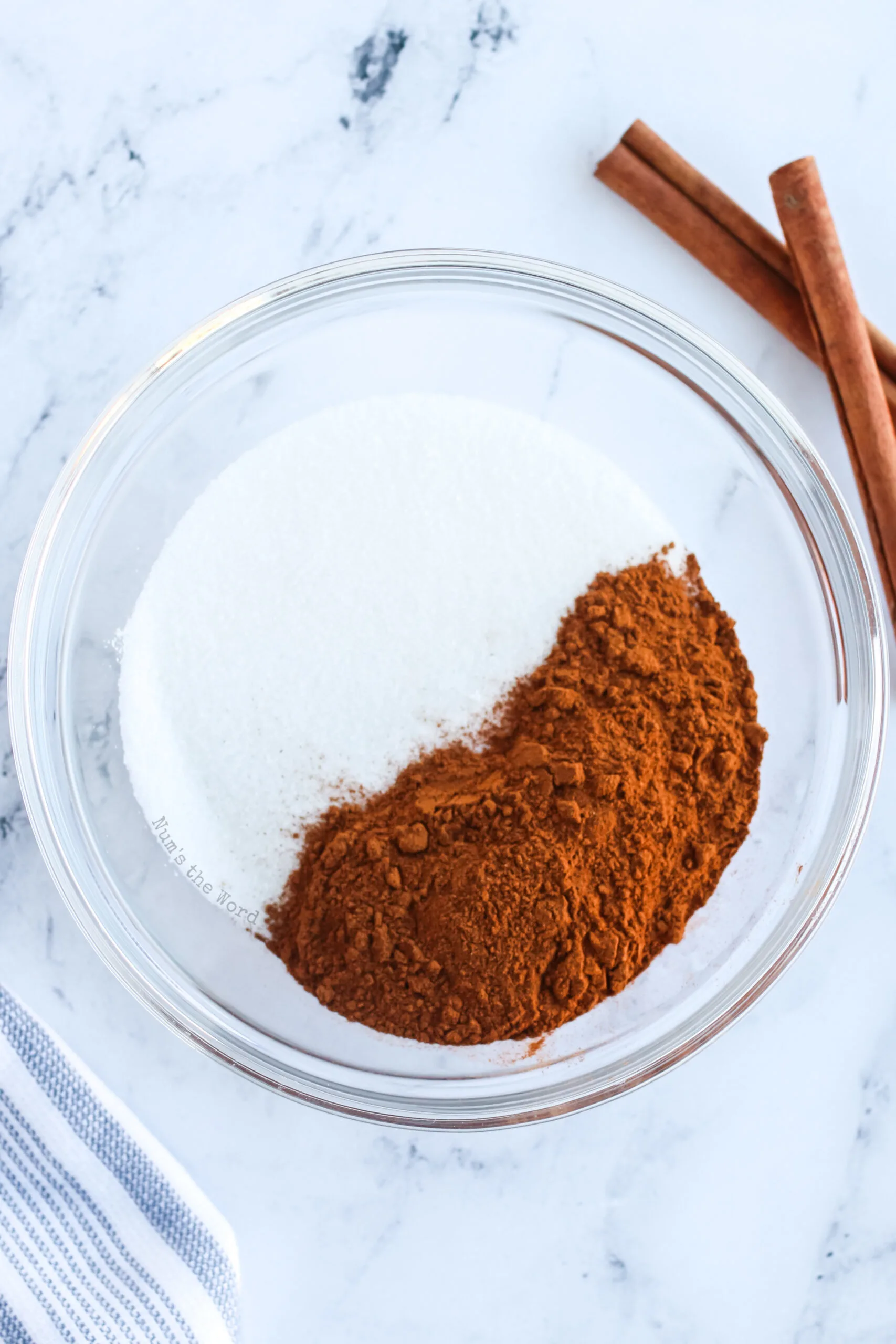 What is cinnamon sugar?
It's all in the name! It's a delicious ratio of spicy cinnamon and perfectly sweet granulated sugar. You can purchase it at the store already mixed, but why would you?! I've got the perfect recipe right here for you, and you've never put together an easier combination, I guarantee it.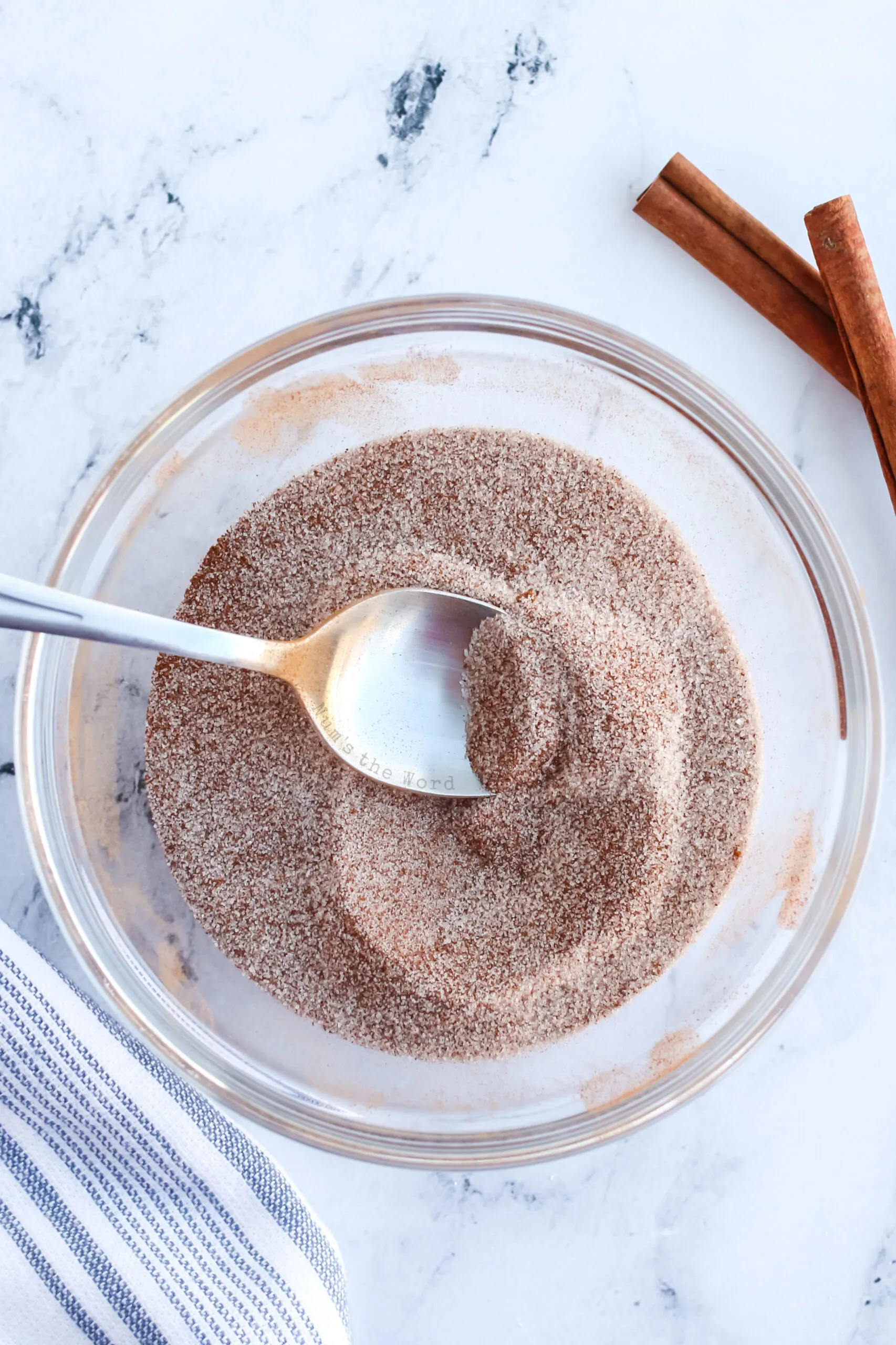 How to make cinnamon sugar?
To make this recipe, you'll need two ingredients. Can you guess what they are?
Cinnamon

– native to Sri Lanka and ground from the bark of cinnamon trees, this spice is world famous — and for good reason. Used in teas, both sweet and savory dishes, and all across the baking spectrum, cinnamon has become a household pantry staple. It's warm, aromatic flavor complements food and drink across a variety of cuisines.

Sugar

– a touch of sweetness goes especially well with cinnamon, and combining sugar with the delicious spice creates a host of baking and topping options.
Now that we've established the exact ingredients, let's get to the easiest instructions you'll ever see:
Measure

the cinnamon and sugar

Mix

together

Enjoy

!
It really is that simple! Store in an airtight container, bag or jar, and use liberally!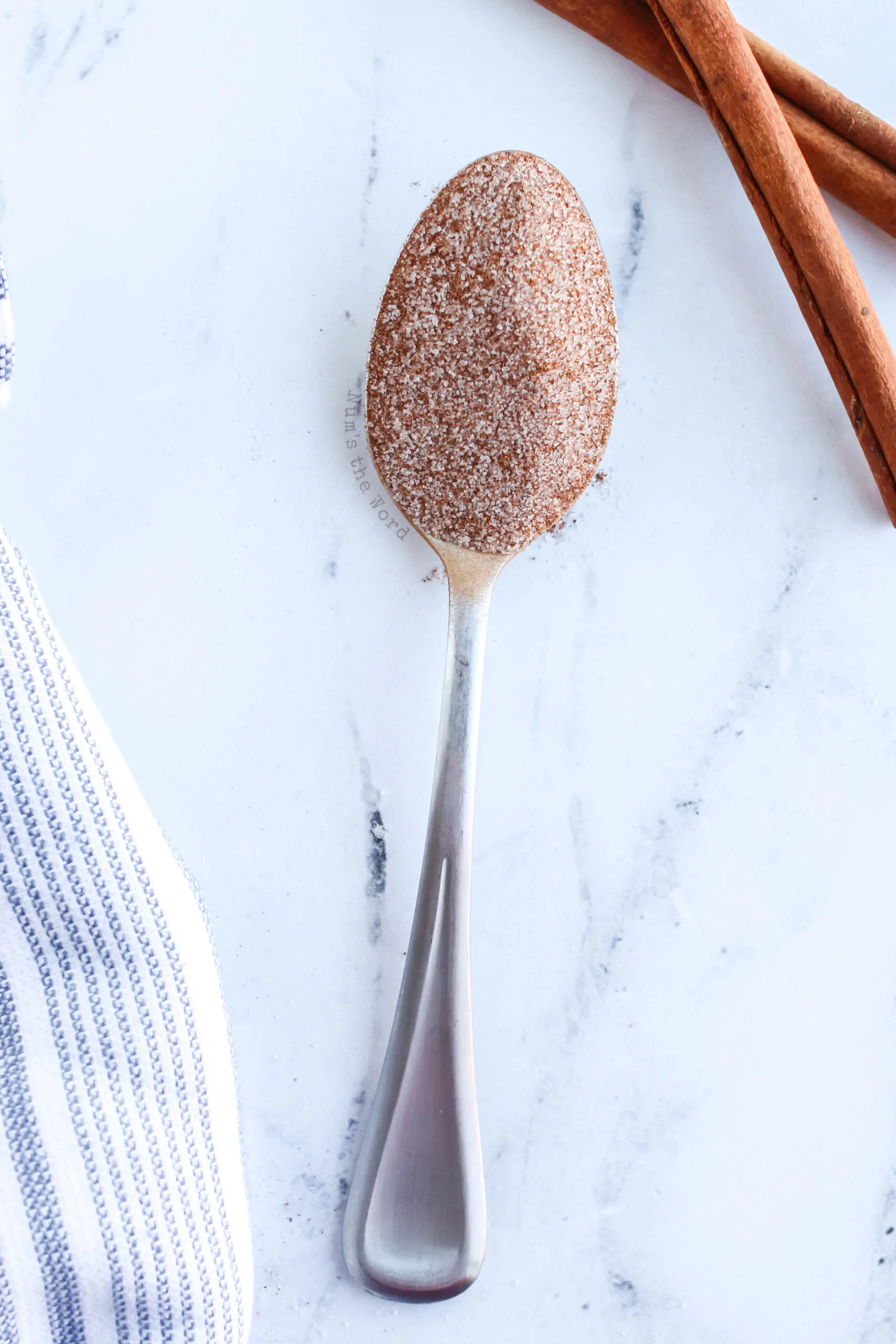 How to make cinnamon sugar toast?
One of our family's favorite snacks is cinnamon sugar toast. There are a couple ways to make this delicious treat, and fierce proponents of either method. I'll cover my favorite two:
If I'm making cinnamon toast for one or two people, I prefer the toaster method. Toast bread to your desired level, spread liberally with butter, and sprinkle with cinnamon and sugar. This is the fastest and least error-prone way of the two methods.
The way I grew up making cinnamon toast, and the better way to make it in larger quantities, is the oven broiler method. Place bread in a single layer on a baking sheet. Spread each slice with butter and sprinkle with a good coating of cinnamon sugar. Place under the broiler in the oven on high heat.
Be sure to watch carefully, or you'll burn your bread and sugar! It only takes a couple minutes to have a beautifully bubbly, soon-to-be-crunchy and caramelized butter and sugar topping, toasted edges of bread, and a soft, warm center.
You'll get different textures of bread using either method. In the oven, the center of your bread will have an almost doughy consistency, while in the toaster your bread will have a more crisp texture. You can also use a toaster oven for a combination of the two!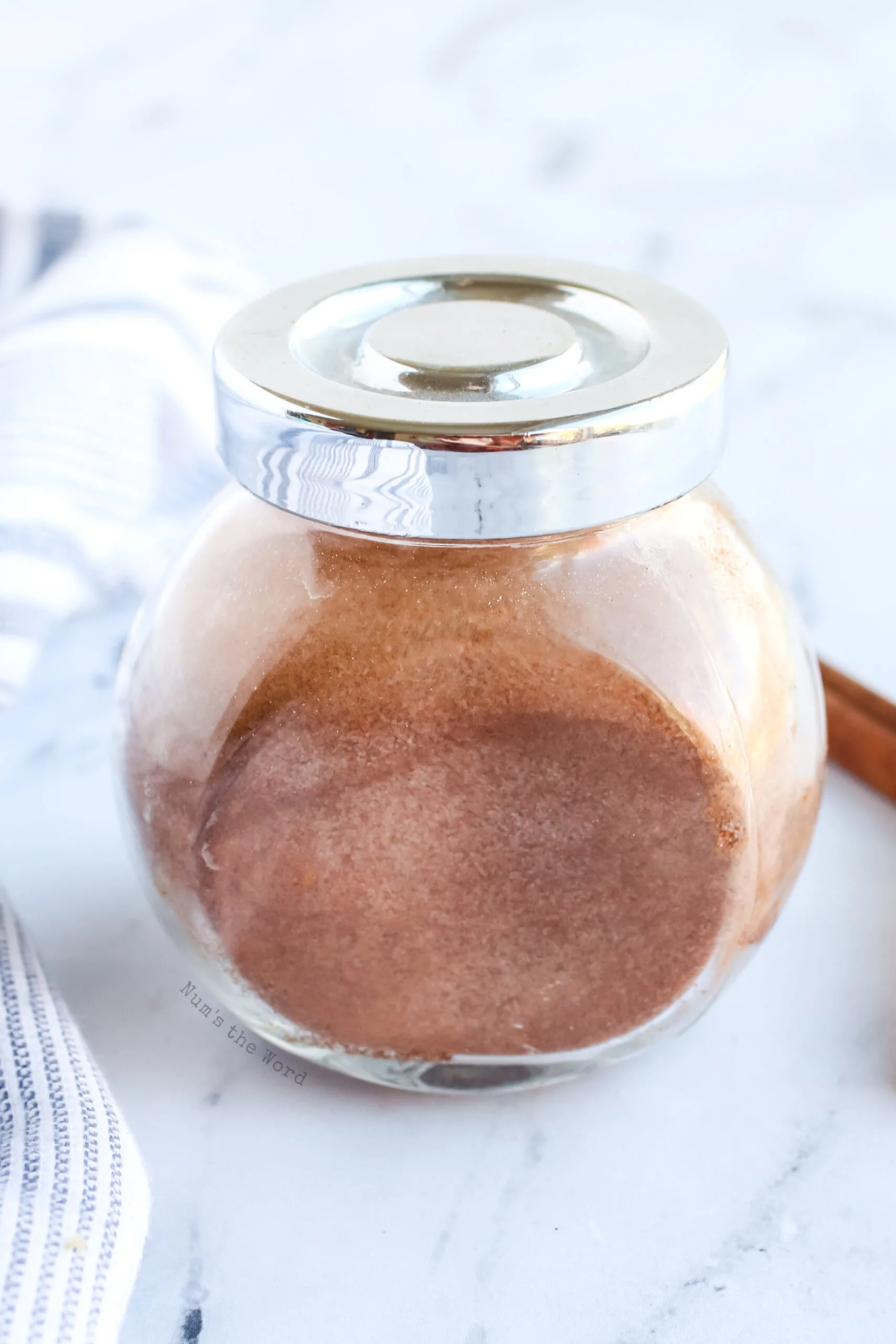 Does cinnamon have sugar?
There is a small amount of naturally occurring sugars in cinnamon. In a tablespoon of cinnamon, there is 0.2 grams of sugar. This is part of why cinnamon enhances some of the sweeter flavors of foods when you add it. Sprinkling plain cinnamon on apples or oatmeal will make the foods seem sweeter.
Does cinnamon lower blood sugar?
Some small studies have found a link between cinnamon consumption and better blood sugar levels. However, this is for plain cinnamon, not cinnamon with sugar added (as is the basis of this recipe). Consult your physician or dietician before making changes to your diet or diabetes treatments.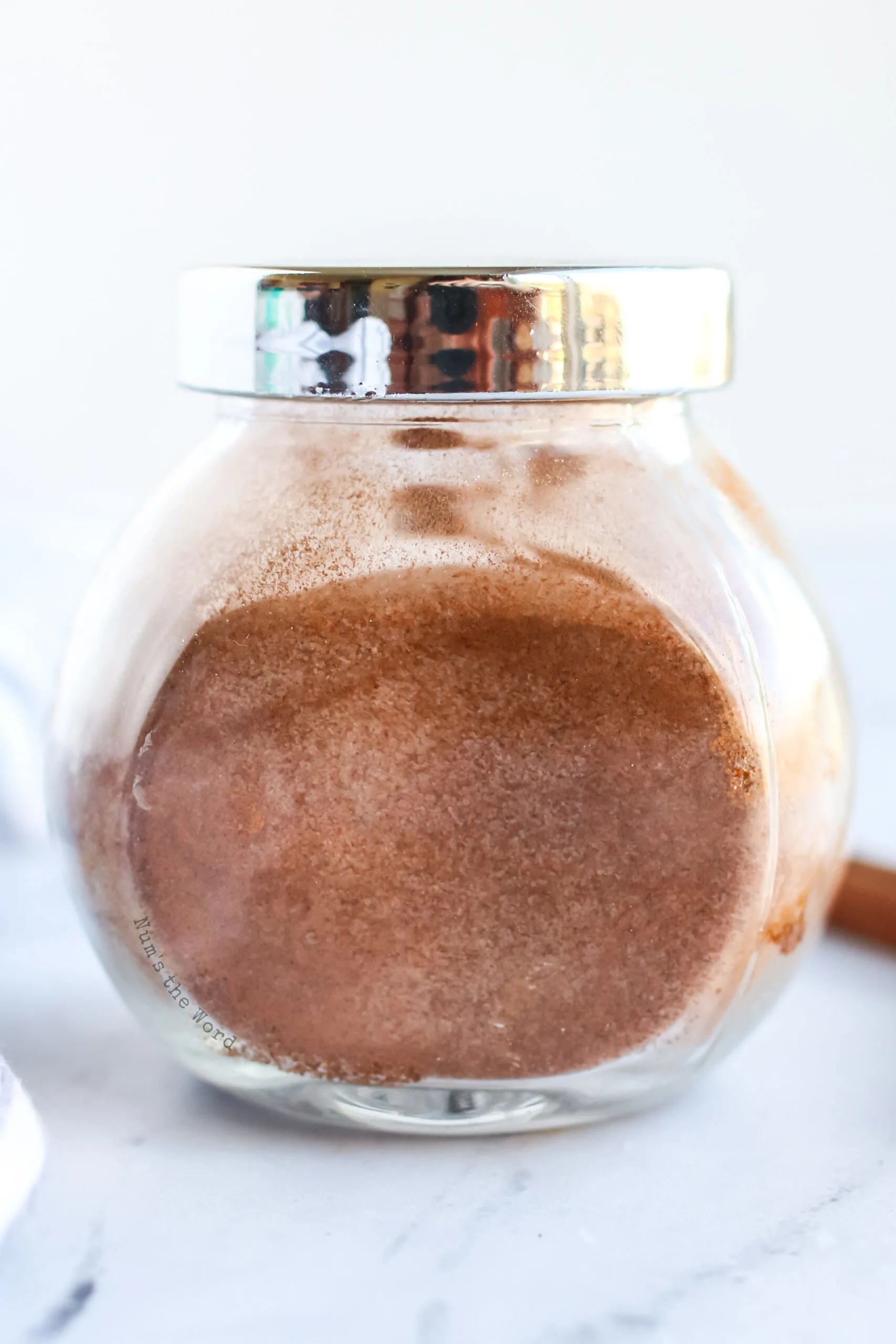 Can dogs have cinnamon sugar?
According to the American Kennel Club, cinnamon is not harmful for dogs to eat. However, sugar in dogs can have the same effect as sugar in humans: tooth decay, weight gain, and even diabetes. It is not advisable to feed your dog sugar or foods with added sugars.
Does cinnamon kill sugar ants?
Cinnamon can be a great ant deterrent, though it's not likely to exterminate the ants causing you problems. Ants will avoid areas with cinnamon, and cinnamon oil can repel and kill ants, but they are rather determined creatures and will usually find a way around or through if cinnamon powder is your only line of defense.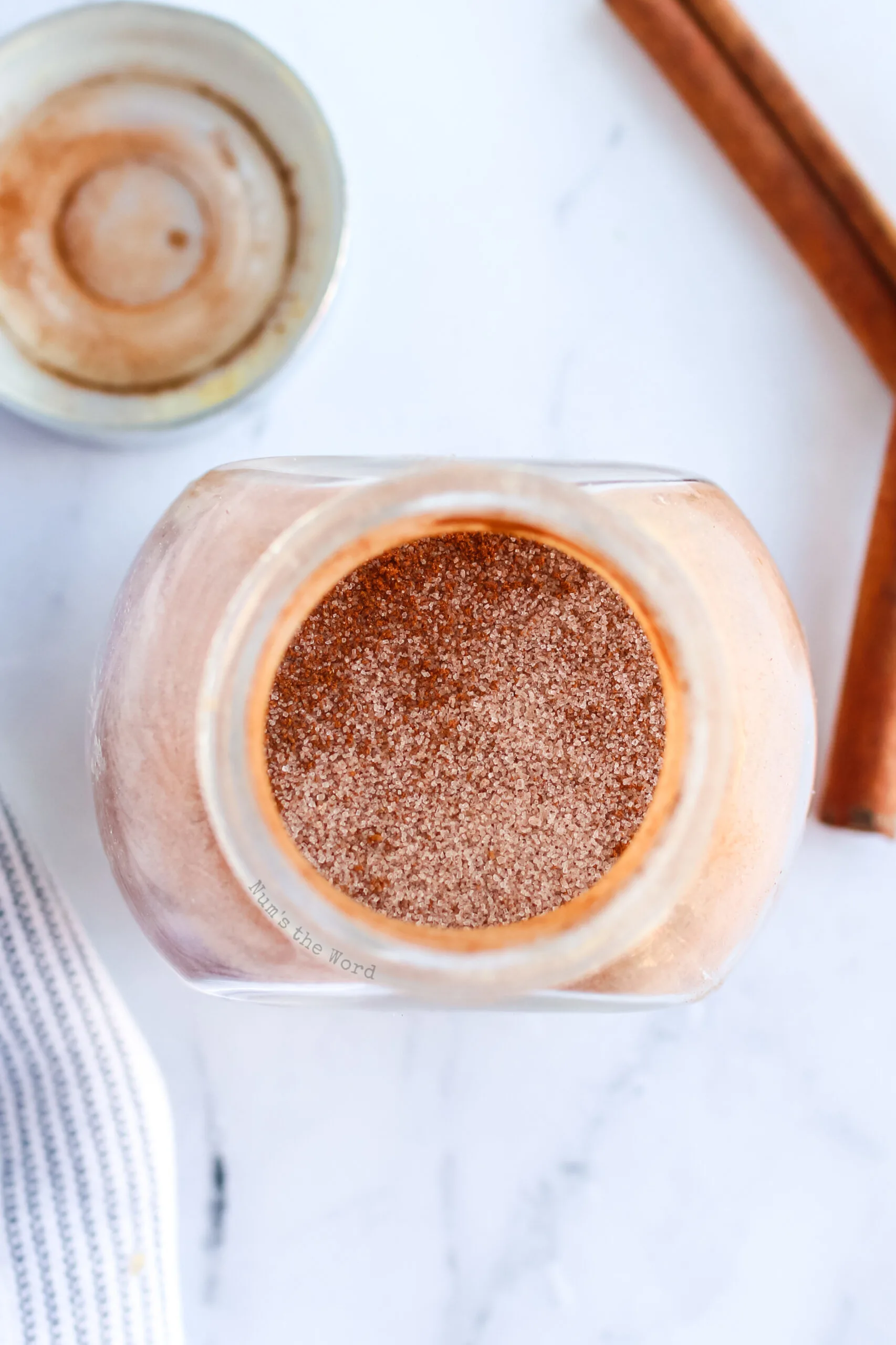 Recipes that use Cinnamon Sugar:
Whether you're using it on toast, oatmeal, cookies, muffins, donuts, cakes, tortillas, or beyond, I'm certain you'll find mixing your own cinnamon sugar to be a cinch.
Yield: 1/2 cup cinnamon sugar
How to Make Cinnamon Sugar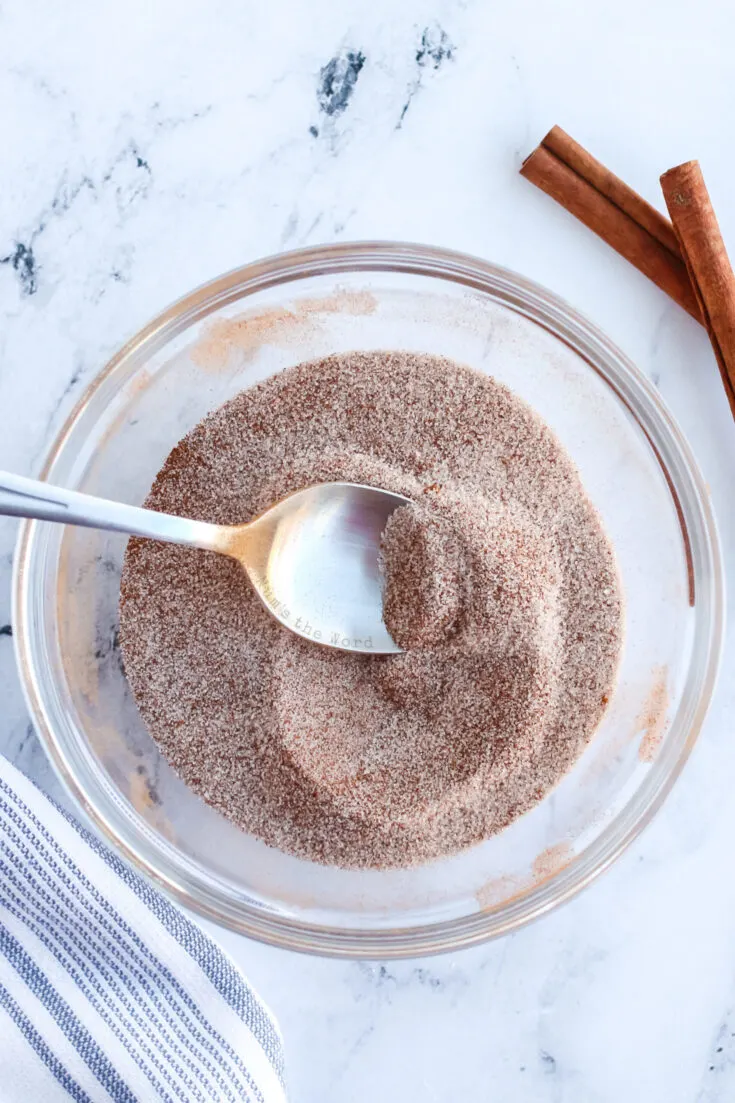 Cinnamon sugar is the perfect addition to toasted bread, plain oatmeal, muffin tops, cookies, donuts, cinnamon chips, and … really, the possibilities are endless!
Ingredients
1/2 cup white sugar
2 Tablespoons cinnamon
Instructions
Place all ingredients into a bowl.
Mix well.
Use immediately or store in an air tight container for later use.
Nutrition Information:
Yield:
8
Serving Size:
1
Amount Per Serving:
Calories:

53
Total Fat:

0g
Saturated Fat:

0g
Trans Fat:

0g
Unsaturated Fat:

0g
Cholesterol:

0mg
Sodium:

0mg
Carbohydrates:

14g
Fiber:

1g
Sugar:

13g
Protein:

0g