Almond Buttercream Frosting is a rich and delicious frosting! It's a fun twist on the original vanilla buttercream frosting and will leave you coming back for more.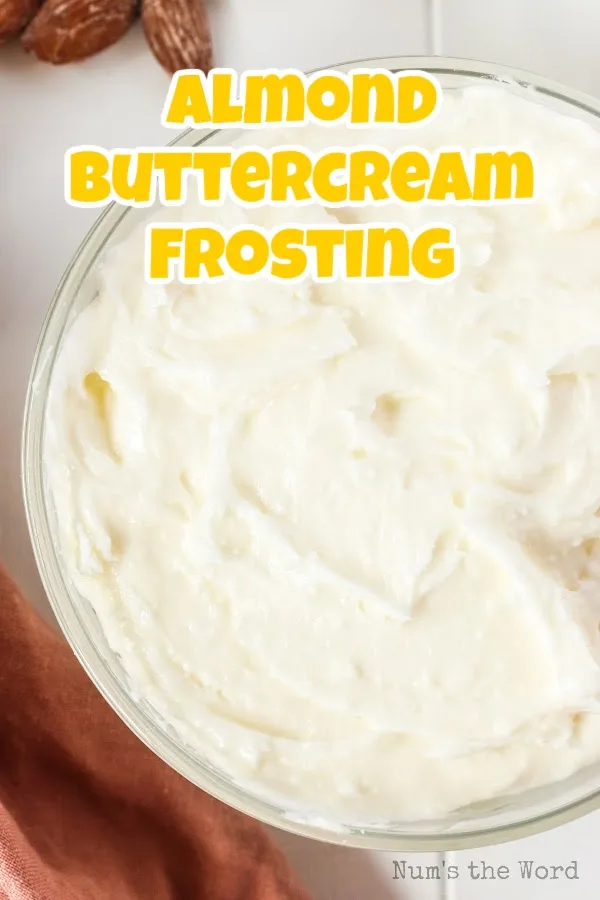 Almond frosting is so perfect. If you enjoy a good buttercream frosting, believe me, you'll want to try it with almond flavor.
It's creamy and perfect, just like buttercream should be with undertones of almond that are absolutely mouthwatering.
The first time you try this frosting, you'll want to lick all the way to the bottom of the bowl!
I love that this almond butter cream frosting takes no special ingredients. You've probably got everything you need already in your house.
Plus you can use it on everything! Almond cake frosting? Check! Almond Bars with Frosting? Check! Almond icing? Check!
It only takes minutes to whip buttercream almond frosting together and you'll definitely be glad you opted for this over store bought frosting!
And finally, this delicious frosting recipe is perfect for decorating! Need to pipe it? This is definitely the recipe for you. It's smooth and creamy but holds its shape really well too!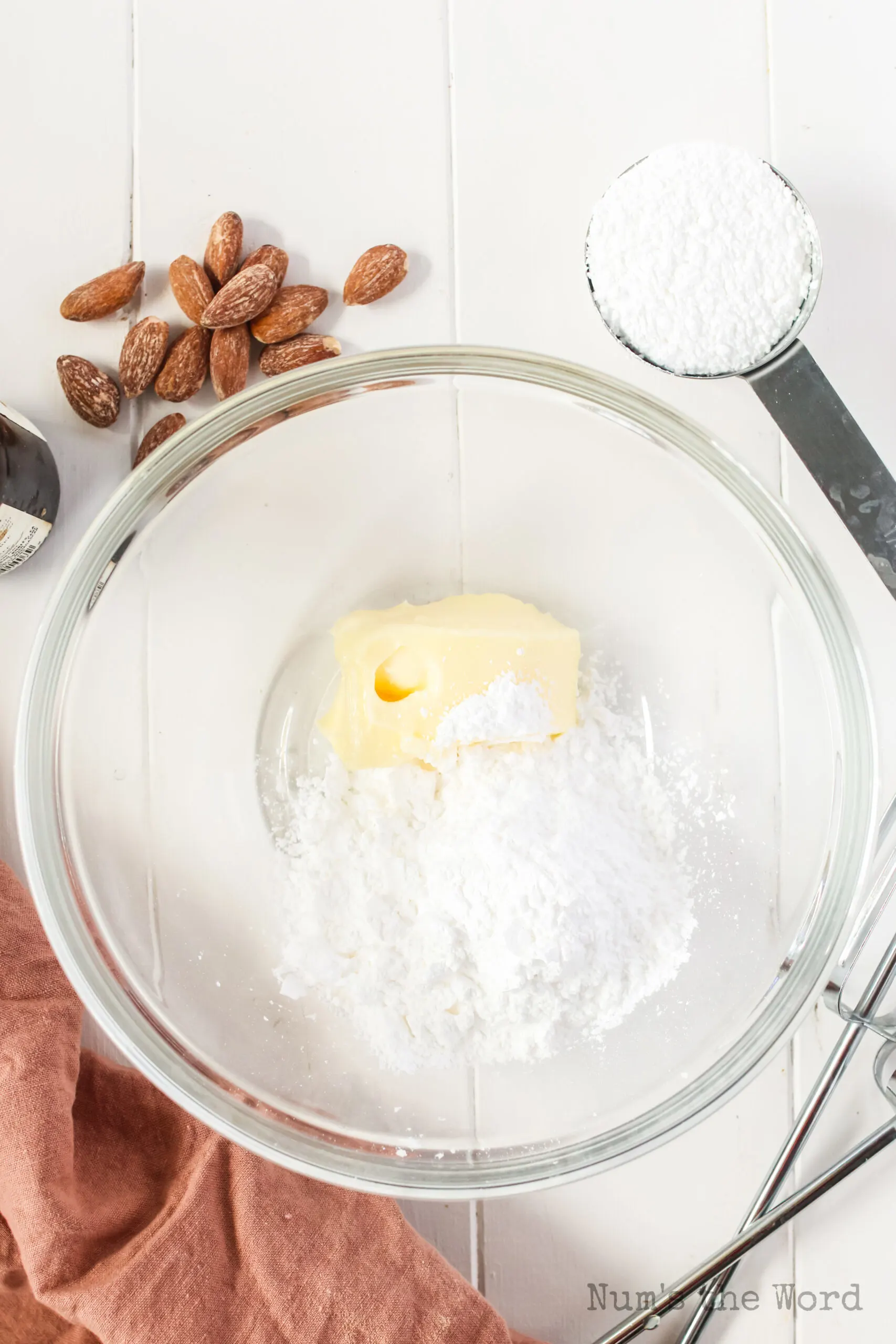 What Ingredients are in Almond Buttercream Frosting?
Here's the simple ingredients you'll need to get a creamy frosting with a light frosting feel.
Butter: Make sure to use room temperature butter. Too soft or hard will not produce the right results.
Powdered Sugar: This will add both sweetness and texture to the frosting.
Milk: The milk helps thin out the frosting just a little.
Almond Extract: Usually this is where you would put in vanilla extract. But try it with the almond! You'll love it!
Pro Tip: Any percentage of milk will work. Even heavy cream would work but you'd probably need more to get the desired consistency.
How to Make Almond Buttercream Frosting
Blend: As you mix the butter and powdered sugar, be careful to not mix too quickly or that powdered sugar will go flying!
Add: Then add the milk and almond extract to get that perfect frosting.
Serve: Top of the cake, use in the middle of a layer cake, bars, cupcakes, cookies, really any dessert you can think of!
Pro Tips:
You want a smooth consistency that is spreadable. You can add more or less milk to help you get the desired consistency for your frosting.
Scrape down the sides of the bowl to make sure you've incorporated it all.
If using a mixer, use a whisk attachment and don't go above medium speed.
When piping, fold the top of the bag down and then add the frosting and put the top back up to keep it from spilling out.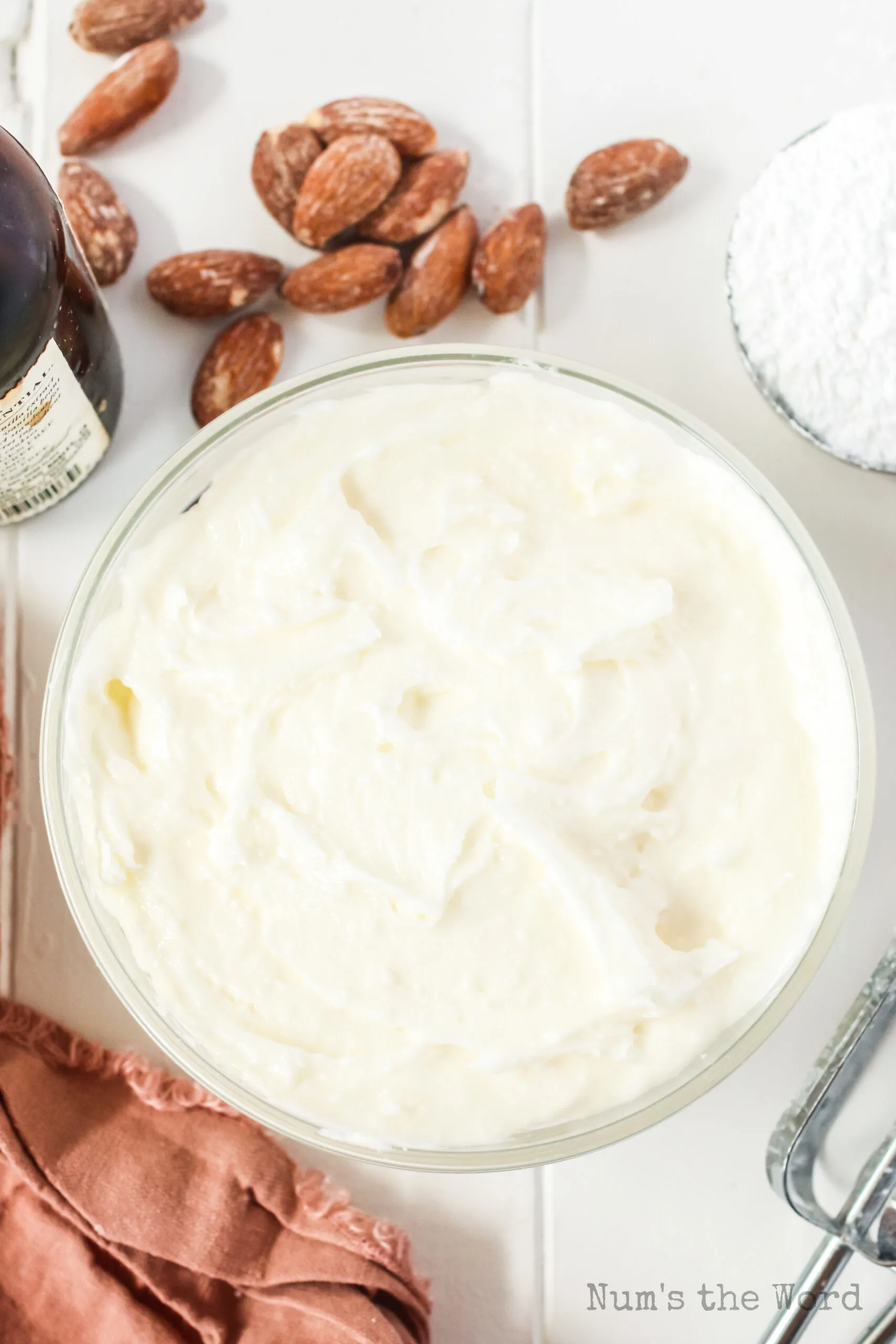 Can You Make Almond Buttercream Frosting with Almond Milk?
You can absolutely make almond buttercream frosting with almond milk! While I typically do most of my homemade frostings with regular milk, there's nothing wrong with swapping it out for some almond milk.
The almond flavor will definitely be stronger with almond milk, so keep that in mind. You'll also want to note that there are many different flavors that often come with almond milk.
I recommend using the original or unsweetened flavors. The vanilla flavor will change the flavor of the frosting significantly.
On a side note you can also use coconut milk or other brands of milk but they will also change the flavor a lot.
Can Dogs Eat Almond Buttercream Frosting?
Dogs really shouldn't be eating frosting.
Milk, sugar, and butter are all foods that can cause upset for dogs and most frostings are heavy on all three.
In addition, almond extract and other almond products can cause upset stomachs for certain dogs so they are best avoided.
Finally, high levels of sugar can actually be toxic to dogs, in addition to not just being good for them.
So you want to avoid feeding your dogs almond buttercream frosting and instead give them some doggy approved treats from the store.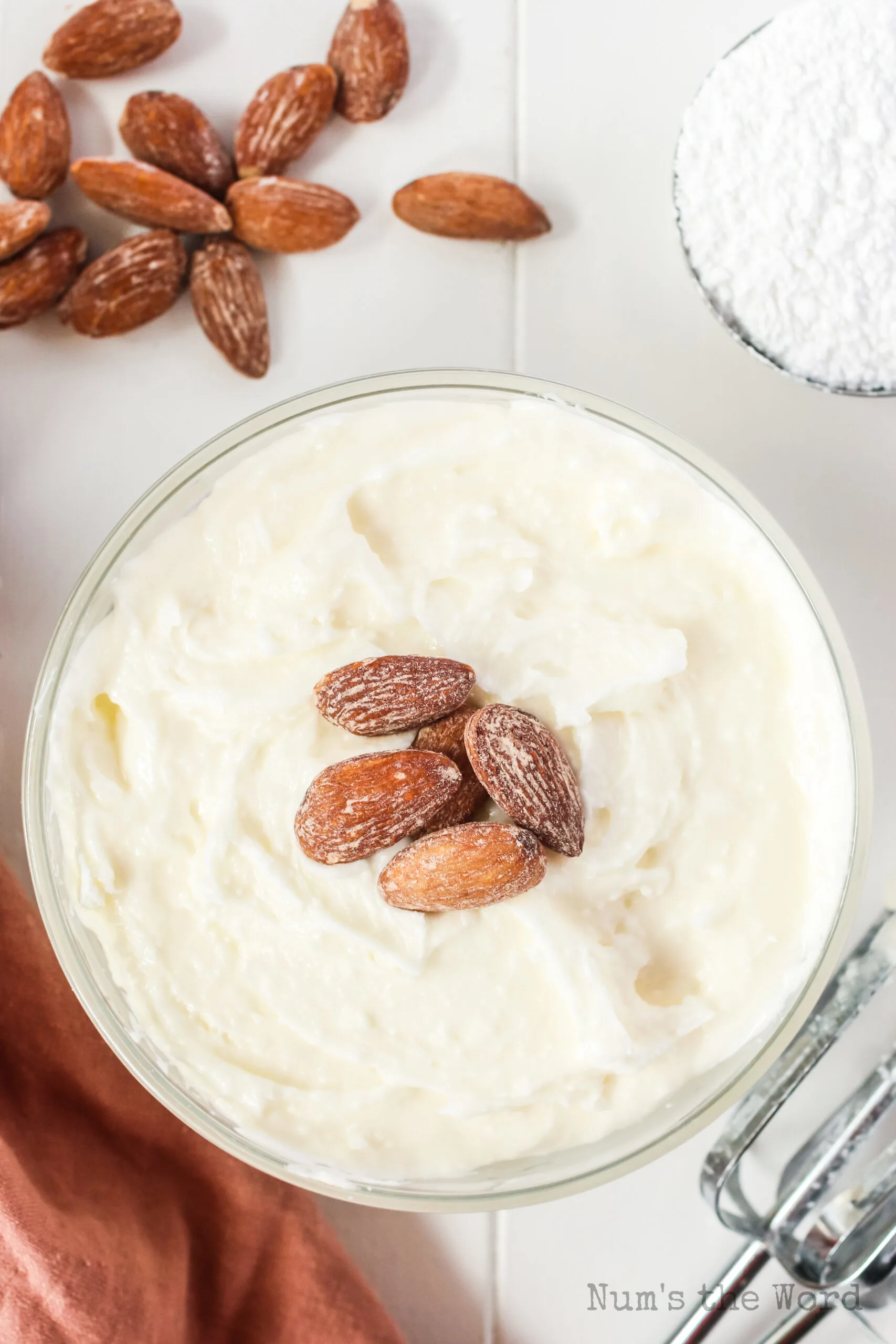 What Can I Put Almond Buttercream Frosting On?
What can't you put almond buttercream frosting on would be a shorter list!
And special occasion would be improved by this frosting. Birthday cake, baby shower, even a wedding cake! This frosting is the perfect consistency.
Chocolate cake, white cake, vanilla cake, yellow cake, or cake mix from a box are all popular with almond buttercream frosting.
But if you're running out of ideas, try any of these delicious recipes!
Cake: Apple Cobbler Cake, Banana Pudding Cake, or Dark Chocolate Loaf Cake are all excellent ideas!
Cupcakes: Like cake only bite sized! Try Black Forest Cupcakes, White Cupcakes with Raspberry Curd, or Pumpkin Cupcakes
Cookies: Coconut Cream Pie Cookies, Banana Chocolate Chip Cookies, and The Best Rolled Sugar Cookies would all benefit from some frosting.
Bars: Sugar Cookie Bars, Almond Bars, or Cranberry Bars all pair well with almond buttercream frosting.
Ice Cream: Frosting on ice cream! It's real love! Try Raspberry Ice Cream, Cupcake Ice Cream Cones, or Waffle Love Ice Cream.
Waffles: Real Belgian Waffles, Eggnog Waffles, and Carrot Cake Waffles. Frosting is such a fun and easy twist.
Pie: Frosting and pie. Overkill? I think not! Easy Chocolate Pie, Pear Pie, Peanut Butter Pie and Layered Pumpkin Pie! So yummy!
Pro Tips:
Cupcake liners in the cupcake pan are a must if making cupcakes!
All cake pans should be greased well to help your fluffy cake to come out right.
Add food coloring to change the color of your frosting.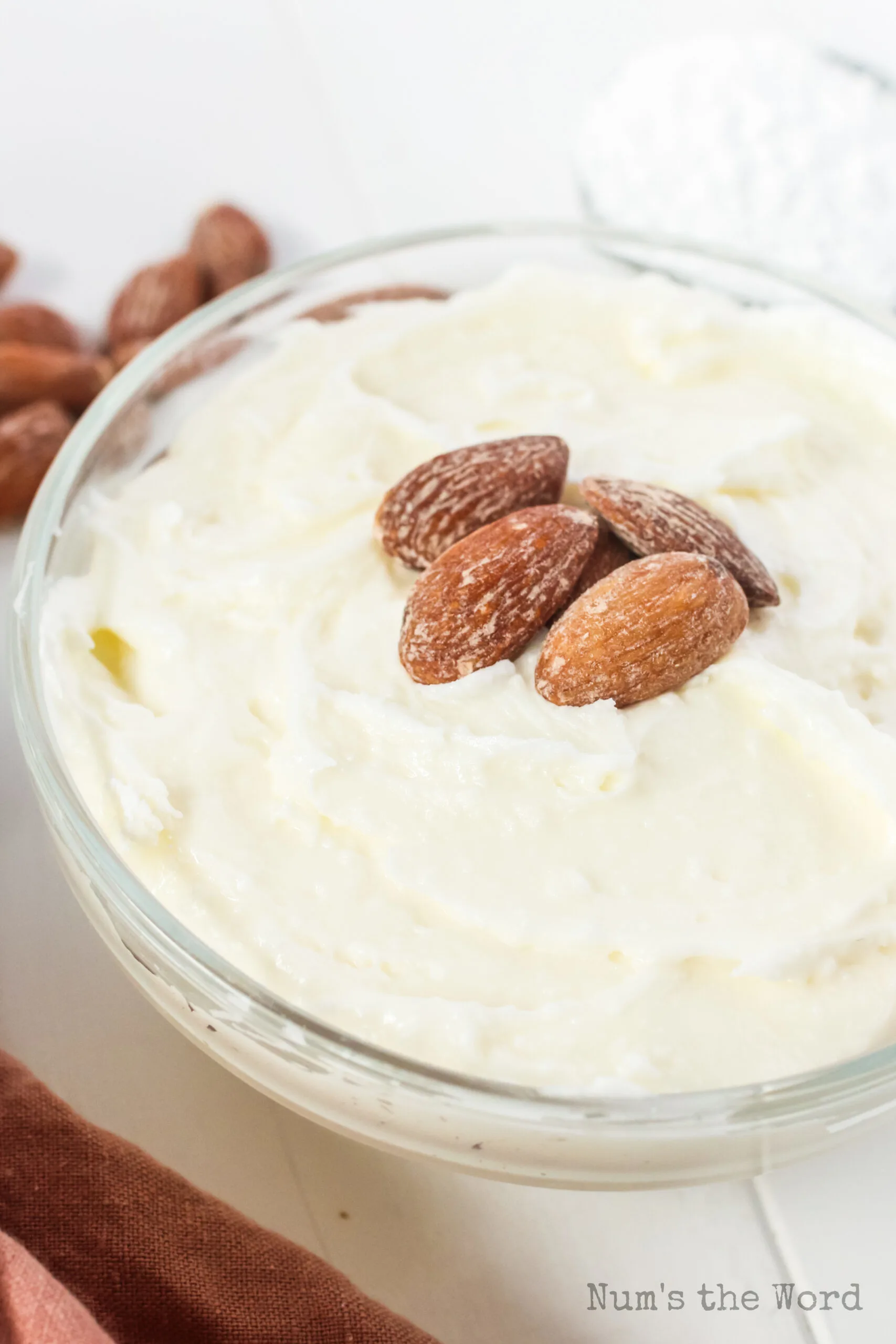 How to Store Almond Buttercream Frosting
Store any leftover homemade almond buttercream frosting in the fridge.
While this doesn't have any cream cheese, egg whites, or other such ingredients, the milk and butter are best when refrigerated.
Be sure not to store it in your piping bag as it will dry out very quickly.
Instead, keep it in an airtight container until you're ready to use.
I recommend only making the buttercream frosting up to 2 days before you want to use it for best results.
Though it should keep well in the fridge for up to a week.
When you're ready to use it, be sure to thaw it on the counter again and then whip it up once more to make it spreadable.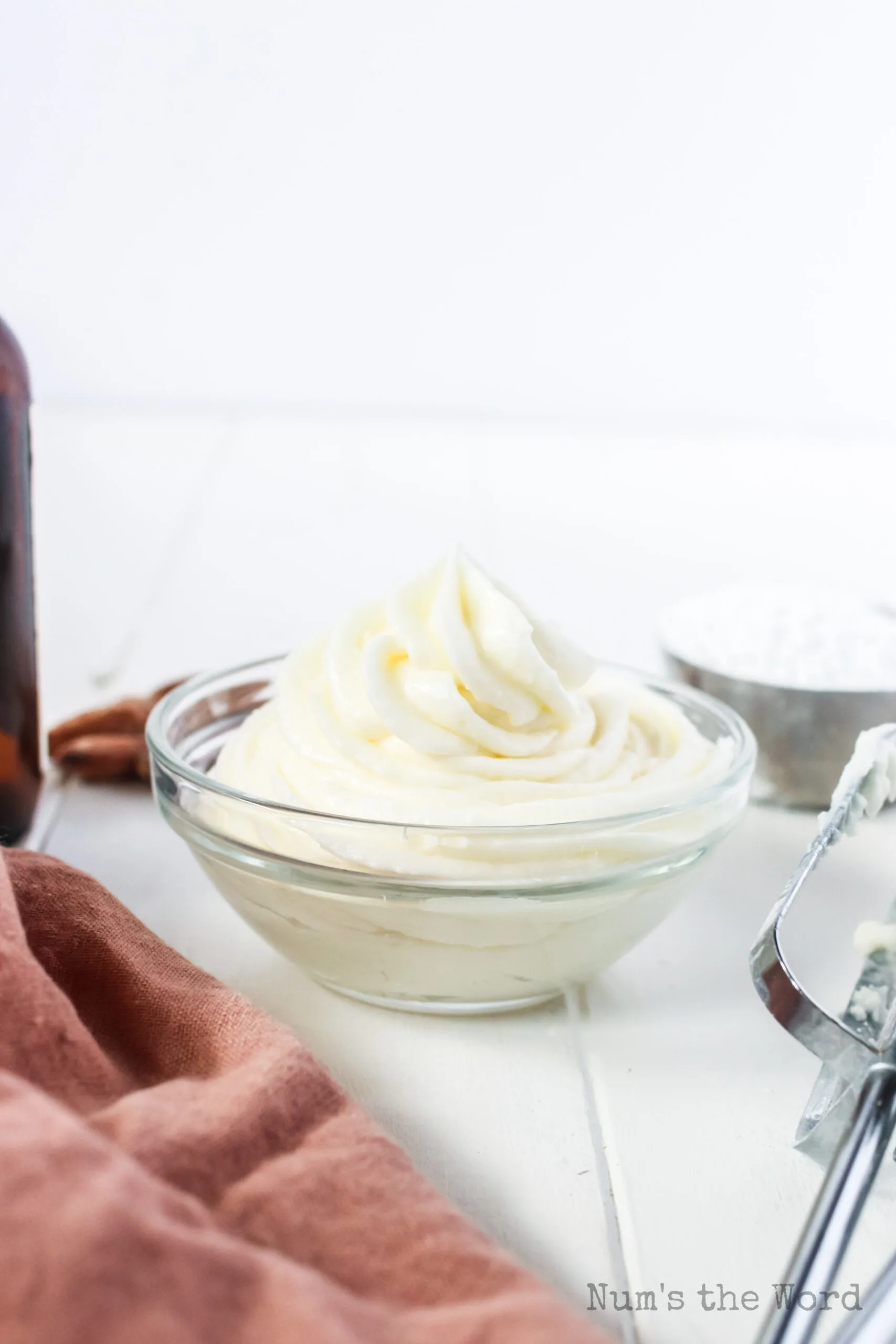 Can You Freeze Almond Buttercream Frosting?
Definitely! Freezing your frosting will let you keep it for much longer! It freezes well and tastes great when it is thawed.
To freeze the frosting, be sure to keep it in a freezer safe container.
Then freeze for up to two months. Remove to the fridge and let thaw overnight when ready to use.
Then thaw once more on the counter to room temperature and whip to bring it back to life.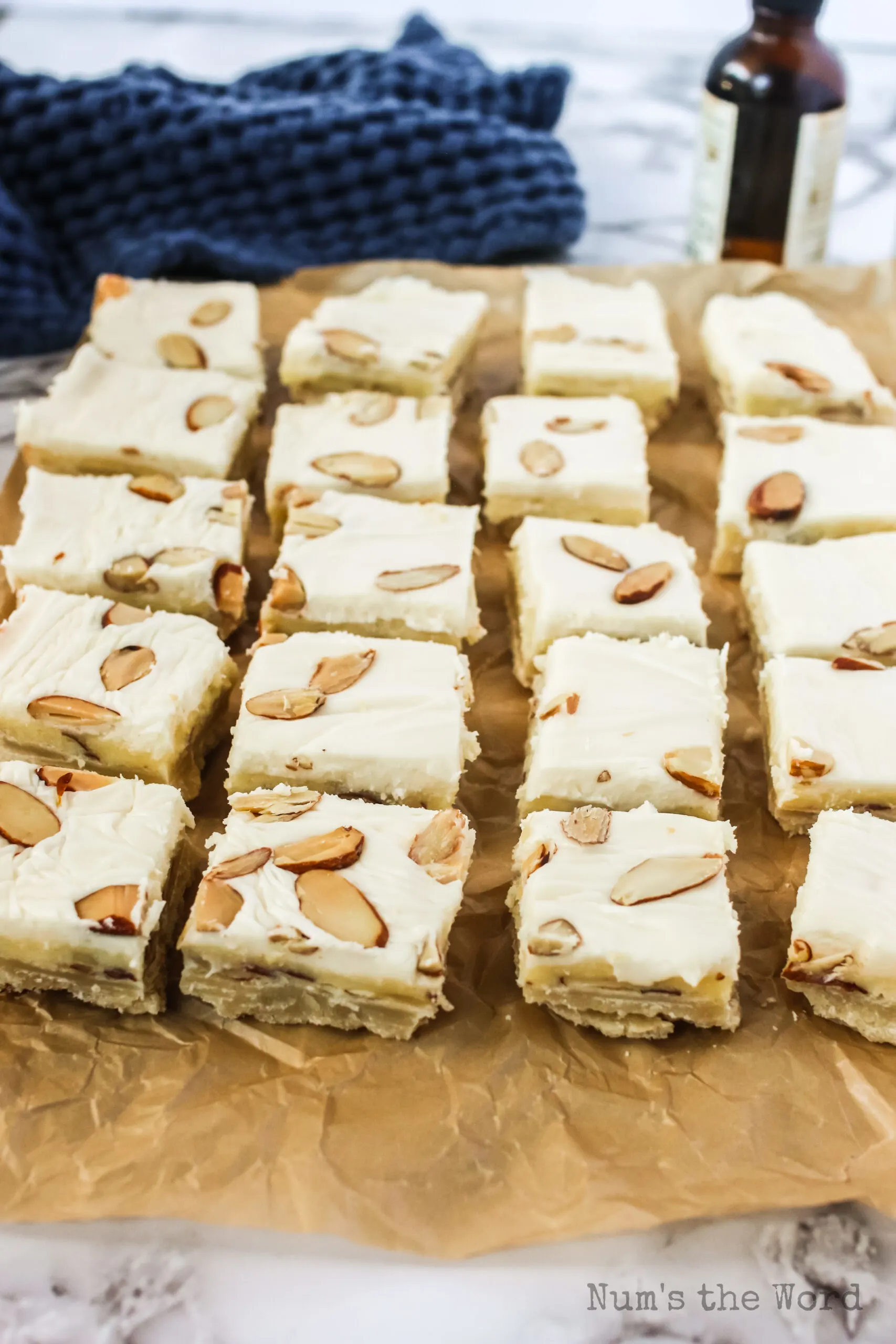 Recipes with Almonds You'll Love…
Almond Buttercream Frosting is such an easy and delicious frosting. Perfectly creamy and decadent, it'll definitely be a favorite frosting in your house too! Enjoy!
Almond Buttercream Frosting
Ingredients
1/4 cup butter, room temperature
1 1/2 cup powdered sugar
1 1/2 teaspoons milk
1/2 teaspoon almond extract
Instructions
Blend butter and powdered sugar ½ cup at a time, until completely blended.
Add milk and extract and mix again.
Spread over cake, bars or choice of dessert
Notes
If using this for cupcakes, you'll want to stiffen up the frosting with additional powdered sugar until desired thickness.