Lemon Buttercream Frosting, is naturally flavored and perfect for any cake or cupcake. Not too sweet, not too strong, just the right amount of lemon in a frosting!
This post contains affiliate links.  If you click on an affiliate link and make a purchase, I will make a small percentage on your purchase. This helps keep this website running! Thank you!

It's CUPCAKE season and this Lemon Buttercream Frosting is a new addiction of mine!
This year at my daughters cupcake and lemonade stand, I decided to do a little experimenting with flavor combinations.
I made 3 different lemon style cupcakes and took them to each of my daughter's teachers at school to taste test.
Would you believe that not a single one of them complained about having to taste test a variety of cupcake ideas?
Shocking I know.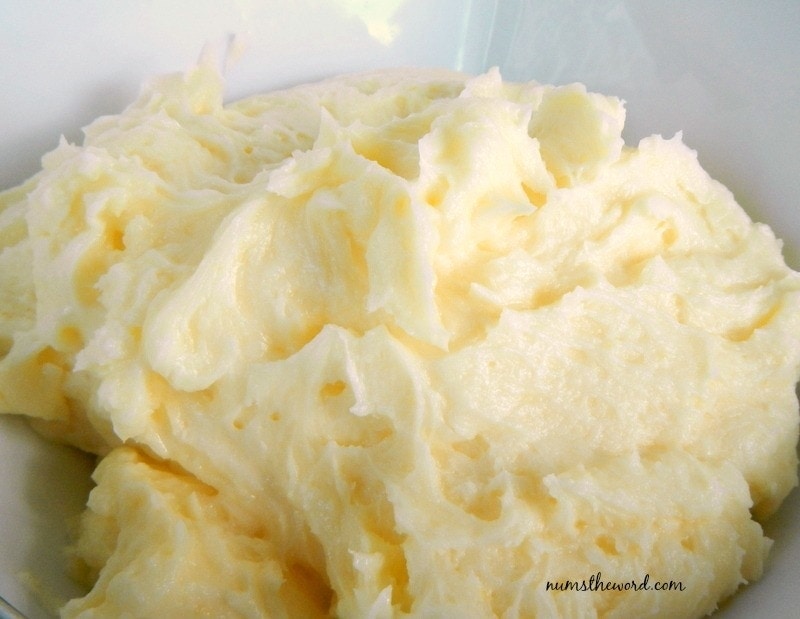 However I finally decided on a Lemon Lovers Cupcake.
It included a lemon cupcake with a lemon whipped cream filling and a lemon buttercream frosting, topped with a lemon head.
However I couldn't quite get the lemon whipped cream or the lemon buttercream to taste quite right.
I tried fresh lemon juice, lemon juice and zest and lemon extract.
As a result, all were failures according to my taste buds.
However, after much trial and error an idea came to me.
Would you believe that I just happened to have some lemon curd in my fridge?
If you know me, then this really isn't much of a shock.
Lemon curd is a pretty regular item in my fridge – if for no other reason than to eat it with a spoon.
However I decided to try experimenting with adding the lemon curd to my frosting and nothing else and see what kind of lemon flavor I would get.
And BAM.
That was it.
A natural tasting lemon buttercream frosting that wasn't too sweet, wasn't bitter and wasn't overpowering.
You taste the lemon but not in an overwhelming way.
It's light and sweet and oh so tasty!
And there you have it.
Sometimes (and by sometimes I mean always) cupcake and frosting experiments take several rounds of experimenting.
However eventually, if I don't give up, I find the perfect combination and give myself a gold star.
If you love lemons and are looking for a lemon frosting that isn't going to overpower your guests, try this one.
It's a favorite of ours and we hope it will be yours too!
Lemon Buttercream Frosting
Ingredients
1 cup butter, room temperature
3 cups powdered sugar
2 Tablespoons heavy whipping cream
1/2 cup cold or room temperature Lemon Curd
Instructions
In a mixer, blend butter until fluffy.
Add in powdered sugar 1/2 cup at a time until fully incorporated.
Add 2 Tablespoons of heavy whipping cream and 1/2 cup of Lemon Curd.
Mix well.
Spread mixture onto cake as a filling or coating or pipe onto cupcakes.
https://numstheword.com/lemon-buttercream-frosting/
Other Frosting Recipes You'll Love...