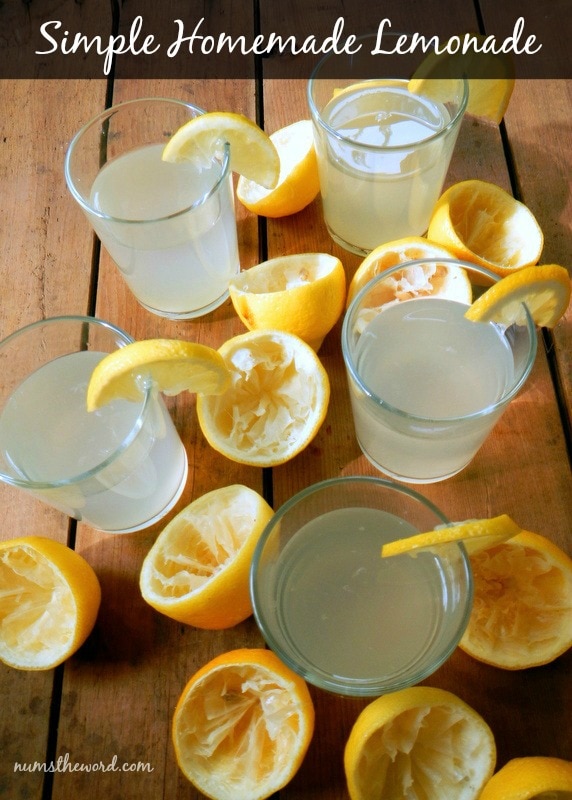 There is one drink that screams summer!  Homemade Lemonade.
You can never go wrong with a nice tall glass of icy lemonade.  I will say though, that we like lemonade ALL YEAR ROUND because it just perks up my mood and makes me feel happy.
This lemonade takes only minutes to make and keeps well in the fridge to be used over time.
What I love most about this recipe is that it makes a lemonade syrup.  Which means it's all the goodness of lemonade in a concentrated form.   So it takes up much less space in your fridge and can be used as needed!
Our favorite way is with a nice sparkling water.  Pour 1/4 cup of syrup in the glass, then fill with sparkling water, a few ice cubes and enjoy!  It's sweet and tart and perfect!
Ingredients
1 1/2 cup sugar
1 1/2 cup water
1 1/2 cup fresh lemon juice
Fresh Water or Sparkling Water
Lemon slices
Instructions
In a saucepan on medium heat, combine sugar and water. Stir until dissolved.
Bring mixture to a boil and stir continually for 5 minutes on a rapid boil.
Remove from heat and let sit for 5 minutes.
After 5 minutes of resting, add fresh lemon juice and stir to combine.
Place lemonade syrup into a canning jar and keep in fridge for 2 - 3 weeks.
------------------------
TO SERVE:
------------------------
Pour 1/4 cup of chilled lemonade syrup into a glass.
Add a few cubes of ice
Fill with water or sparkling water.
Enjoy!
https://numstheword.com/simple-homemade-lemonade/
Recipe adapted from: Simply So Good