If you love Oreo's then you've got to try this Oreo Frosting. America's favorite cookie is crushed and turned into the most delicious frosting you'll ever eat. Perfect on cakes, cupcakes, cookies and more!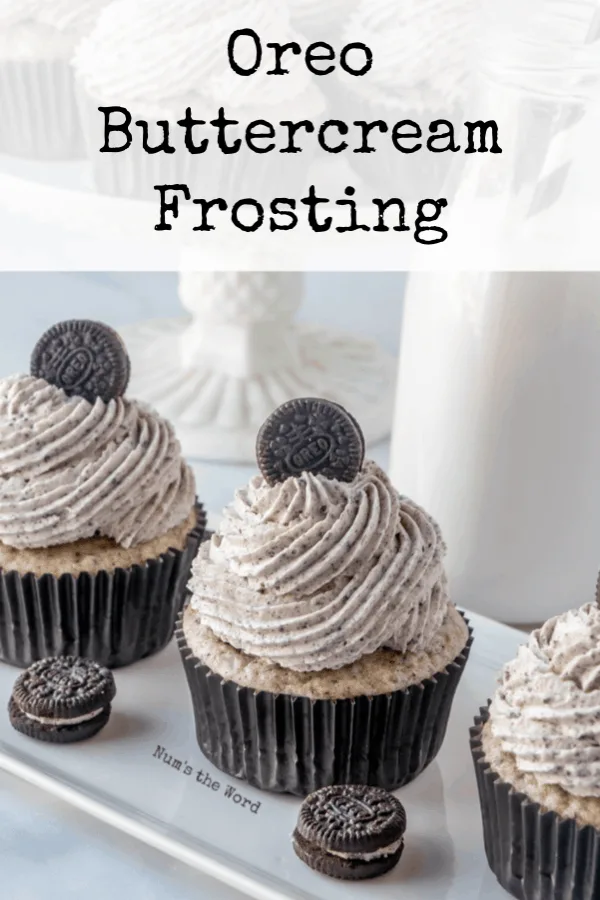 My favorite place to put this oreo frosting is on top of my Oreo Cupcakes. Oreo Buttercream is creamy, fluffy, and the perfect pair for these top-rated cupcakes.
These cupcakes are simple to make with my children, and they are always a best seller at bake sales and cupcake stands! If you are an Oreo lover, like everyone in my family, then this oreo frosting will quickly become your favorite too.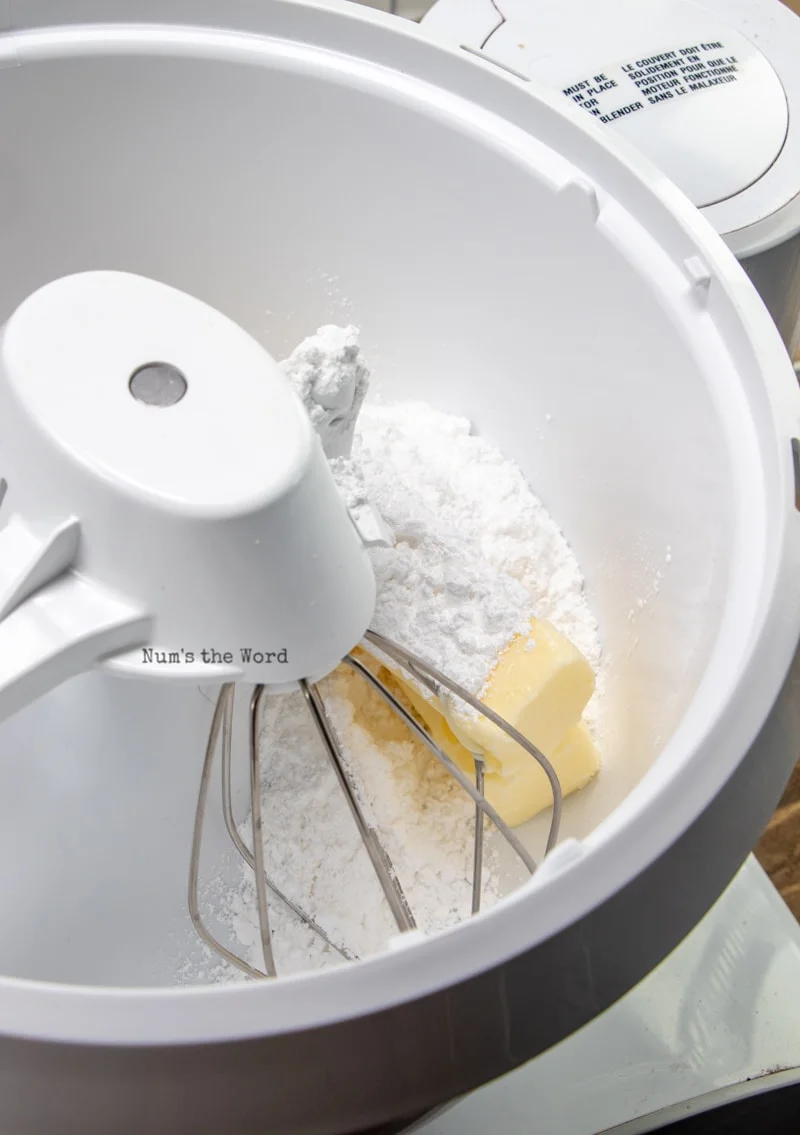 What do you need to make Oreo Frosting?
For exact measurements, please scroll down to the recipe card.
Recipe for Cookies & Cream Cupcakes – Be sure to whip up my Number One cupcake recipe to go under this Oreo Frosting. You could also turn this into a cake too!
10 Oreo Cookies– You don't need the whole pack for the recipe, so you can keep eating Oreos while you make this specialized Buttercream Frosting.
Salted butter – I use salted for everything! No need to have two different kinds of butter around!
Powdered Sugar – A must for any buttercream frosting. The more sugar you use, the thicker the frosting will be.
Vanilla – With the price of vanilla sky high, imitation works great and no one will ever know!
Heavy Cream – This does two things. First, it adds a richer flavor and second, it thins out the batter just a touch. If you don't have heavy cream you could always use milk – higher the fat, richer the taste.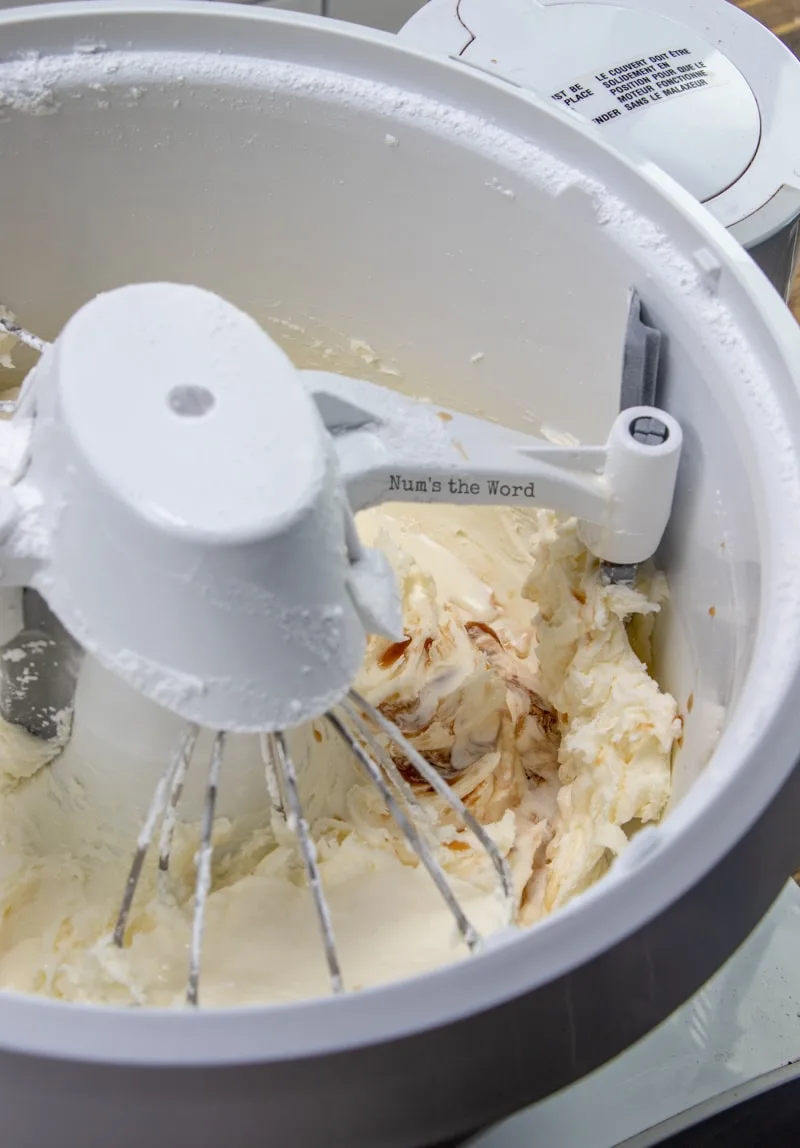 Pro-Tips for Perfect Oreo Frosting:
For Frosting Cupcakes
If you're using the oreo frosting for cupcakes, be sure to use a

large

open tip when piping on top of the cupcakes. This rich and creamy frosting is delicious because of the chunks of Oreo Powder in the frosting, but the Oreos will clog piping tips if they are too big.
To Make the Oreo Frosting Thinner:
If after mixing all of the ingredients together you decide you need the frosting a little thinner, slowly mix in more heavy whipping cream into the frosting. As you stir the extra cream and continue to test the frosting to make sure it is your desired thickness.
To Make the Oreo Icing Thicker:
On the other hand, if you've prepared your frosting and it is not as thick and creamy as you were hoping, slowly mix in more powdered sugar until the Oreo Buttercream frosting is as thick as your heart desires.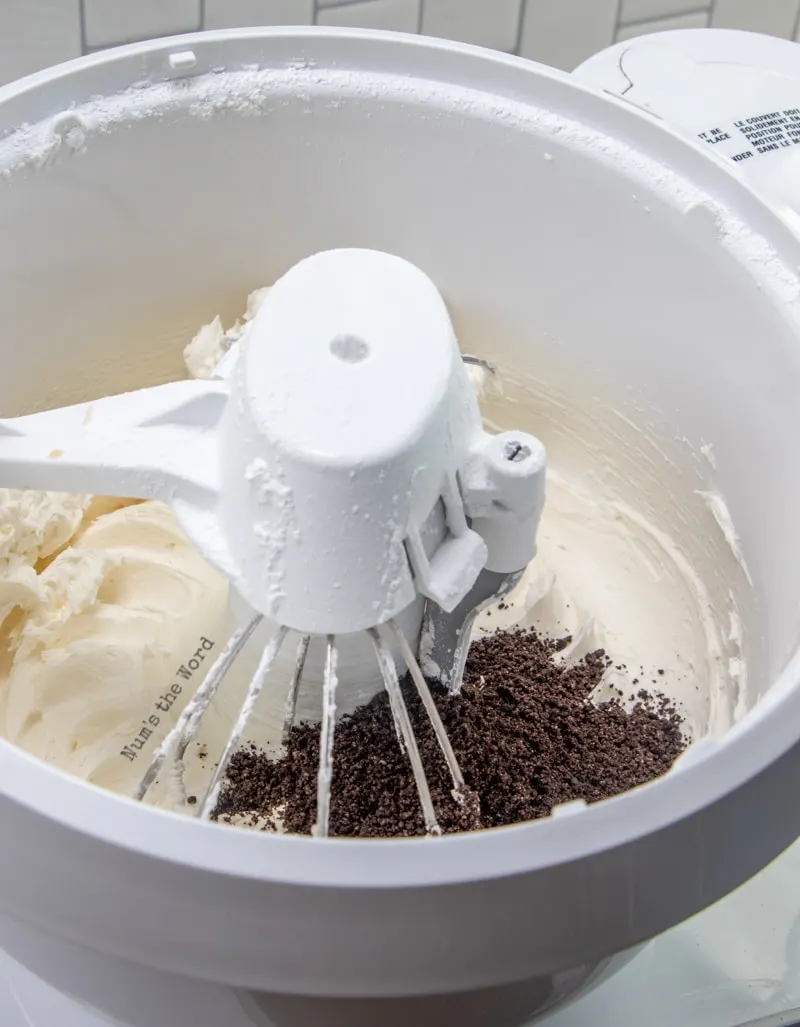 Customize:
Feeling like stepping up your cupcake game? Oreo Frosting is also a great addition to

Cream Filled Cupcakes. These take a little more time than our Cookies & Cream Cupcakes, but they are totally worth a few more minutes in the kitchen.
Use this frosting on a layered cake, cookies or even sandwiched between

Rolled Sugar Cookies

to make a whoopie pie! Choose your favorite cookie and add your delicious Oreo Buttercream in between.

Maybe you're like me and love all of the fun new flavors Oreo has been releasing lately. Who's to say you can't have Mint Oreo frosting?! This would taste wonderful on top of these Andes Mint Cupcakes.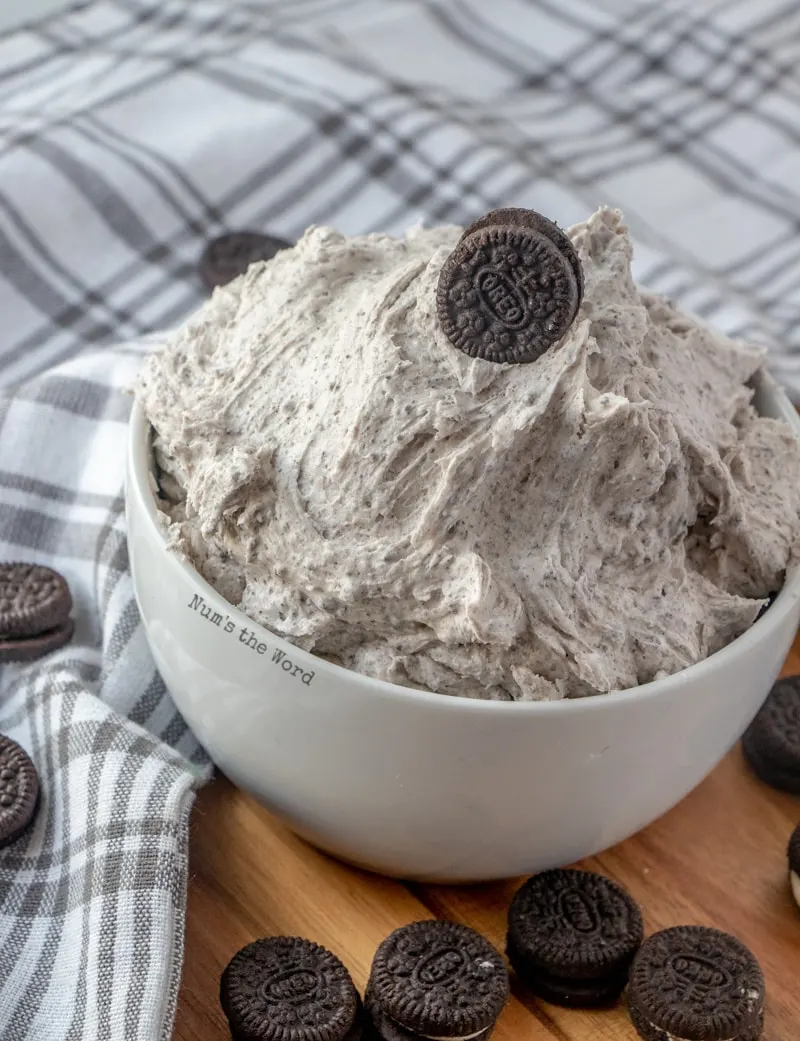 Can I use Margarine instead of Butter for this Oreo Frosting?
Unfortunately, no. The few people who have tried, have all reported back that the frosting did not turn out well. So stick with real butter.
Can I use granular sugar instead of powdered sugar in this Oreo Frosting Recipe?
Sorry, no. Even though granulated sugar is probably more likely to be readily found in your kitchen than powdered sugar, you absolutely must use powdered sugar to make this Oreo Frosting.
Granular sugar is gritty and will leave your frosting gritty. You'll need to use powdered sugar for this Oreo Buttercream Frosting Recipe.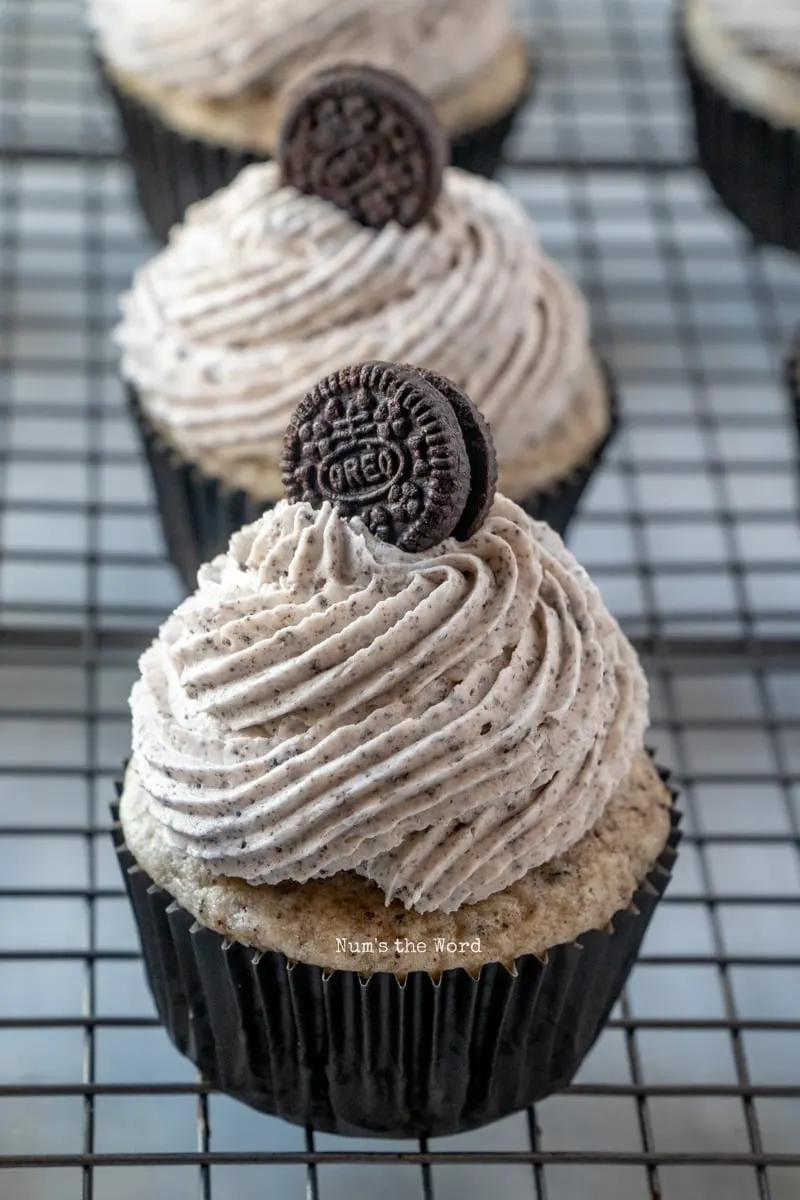 What is buttercream icing?
Buttercream icing is exactly as it sounds. An icing or frosting made with a base of butter. It's literally butter creamed with sugar and flavoring.
You may think at first that eating butter sounds gross, however trust me. Once you try this amazing Buttercream Frosting, you'll never try another recipe!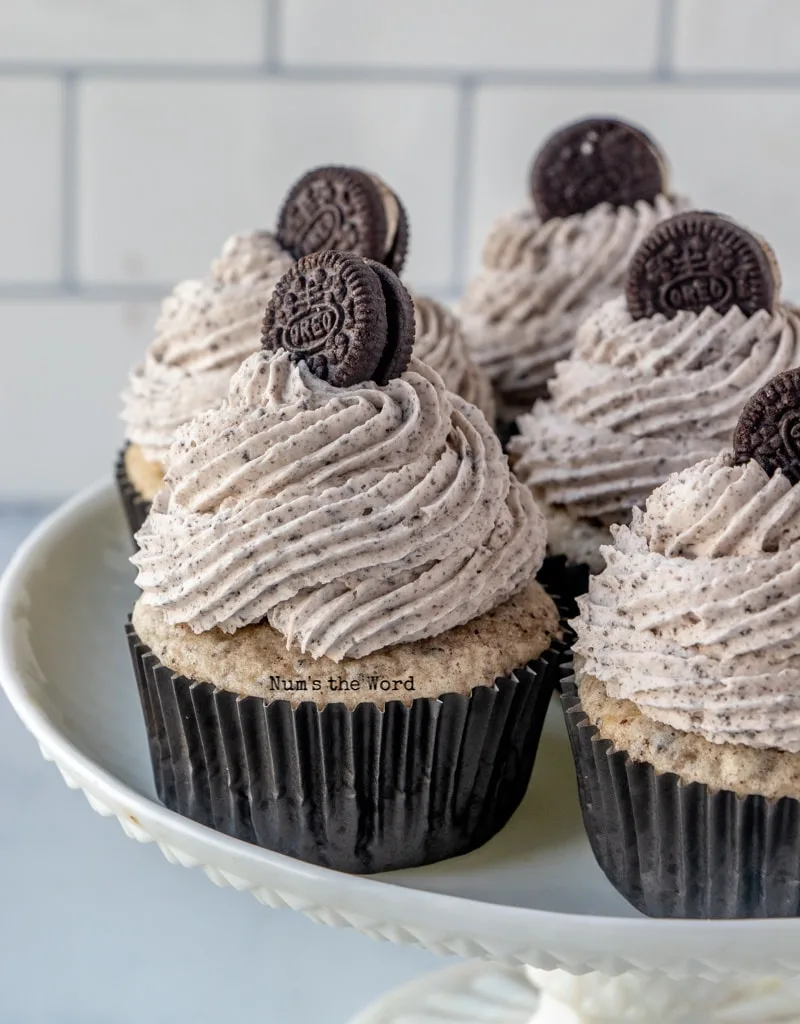 What is the difference between store bought buttercream and homemade buttercream?
Traditionally store bought buttercream frosting is made from crisco with either butter flavoring or a half butter and half crisco mix. There are typically two reasons for this.
First, the cost of crisco is a LOT cheaper than real butter. Second, crisco is much more stable when it comes to heat. Having an outdoor birthday party works great with a crisco based frosting, however a homemade butter based frosting my melt.
Because of this, stores and bakeries typically use crisco. It's also why homemade buttercream tastes 1000% better than any store bought cake or cupcake frosting!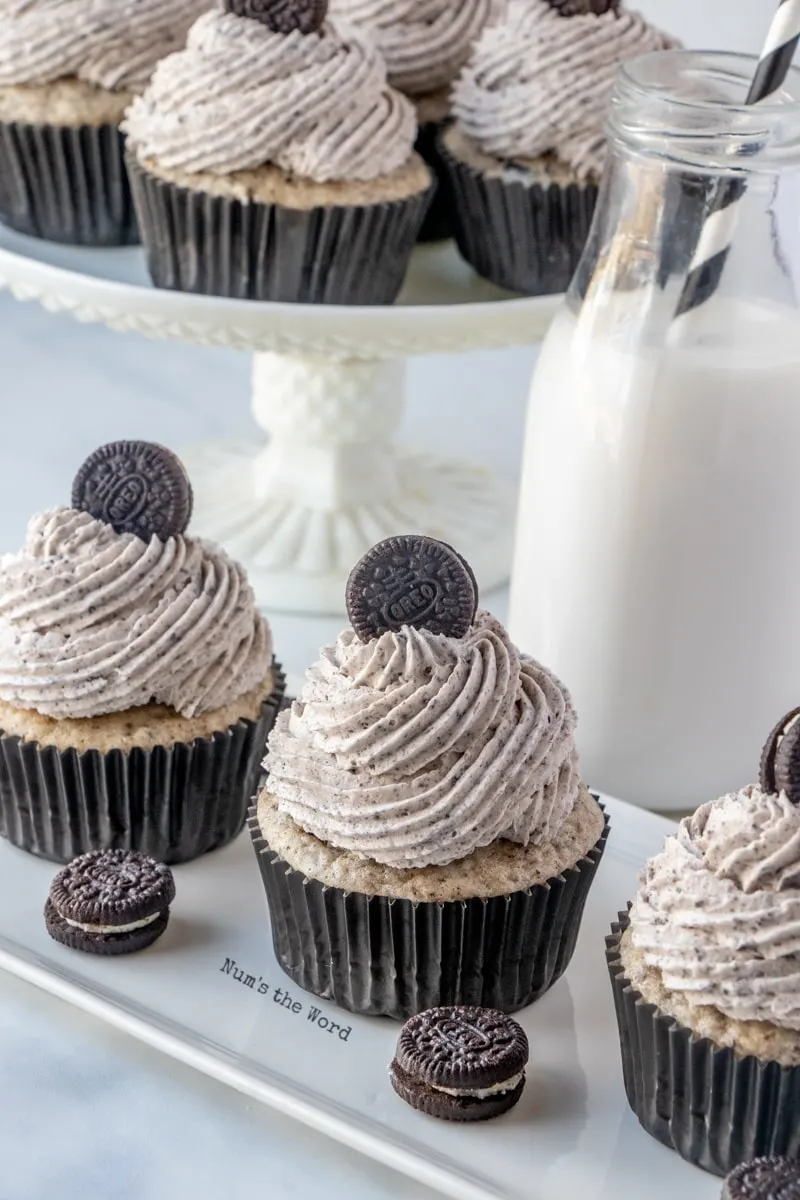 Are Oreos Vegan?
According to Nabisco, No, they are not. You've probably heard the rumor that Oreos are vegan. Surprise! It's not true. According to Oreo's own website, Oreos have no animal products listed on their ingredients; however, they are made where they do have cross-contact with milk.
Which means is easy terms, the machines they use, may also process milk based products and some cross contamination may occur. So though they themselves do not have any milk, they *may* have some cross over from other products.
However if Nabisco made them in a different facility with machines that processed ONLY Oreos, they would be vegan as all the actual ingredients are vegan friendly.
More Cookie Treats:
More Unique Cupcakes!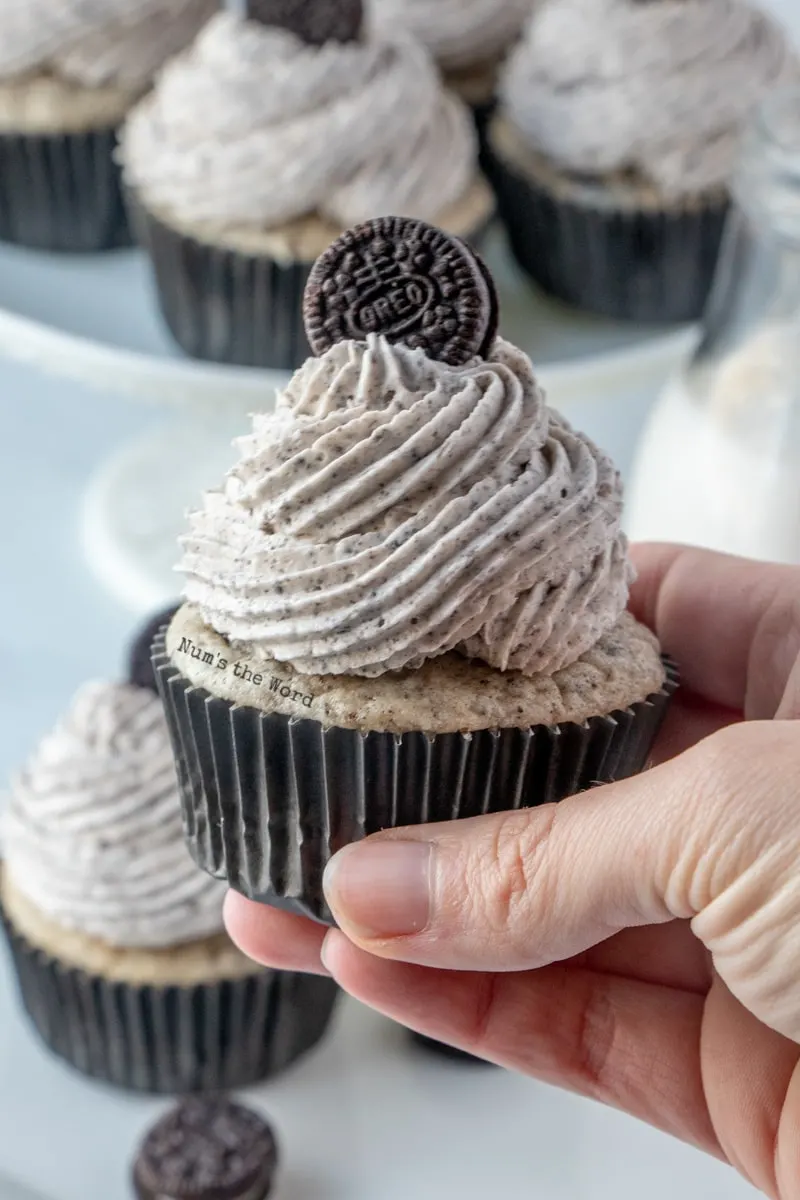 Oreo Frosting is a crowd-pleaser that is sure to delight an oreo fanatic. Cookies and Cream Cupcakes paired with this Oreo Buttercream are a definite way to put a smile on everyone's face.
With just a few simple steps and the best little sandwich cookies around, this Oreo Frosting will quickly become a staple in your kitchen.
Yield: Frosting for 12 -36 Cupcakes depending on how much you use.
Oreo Frosting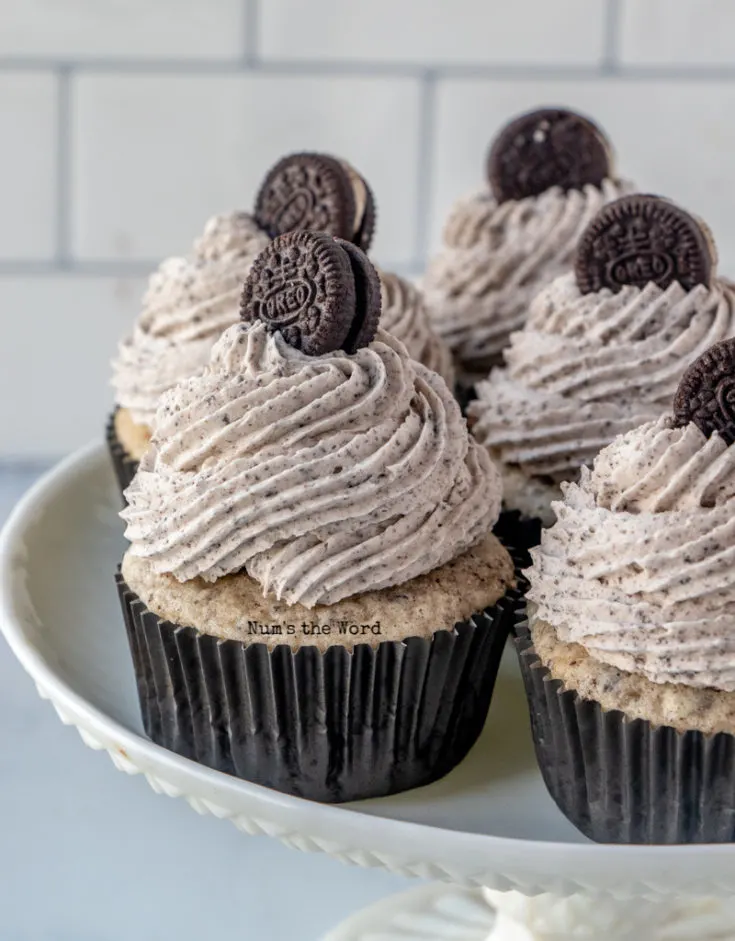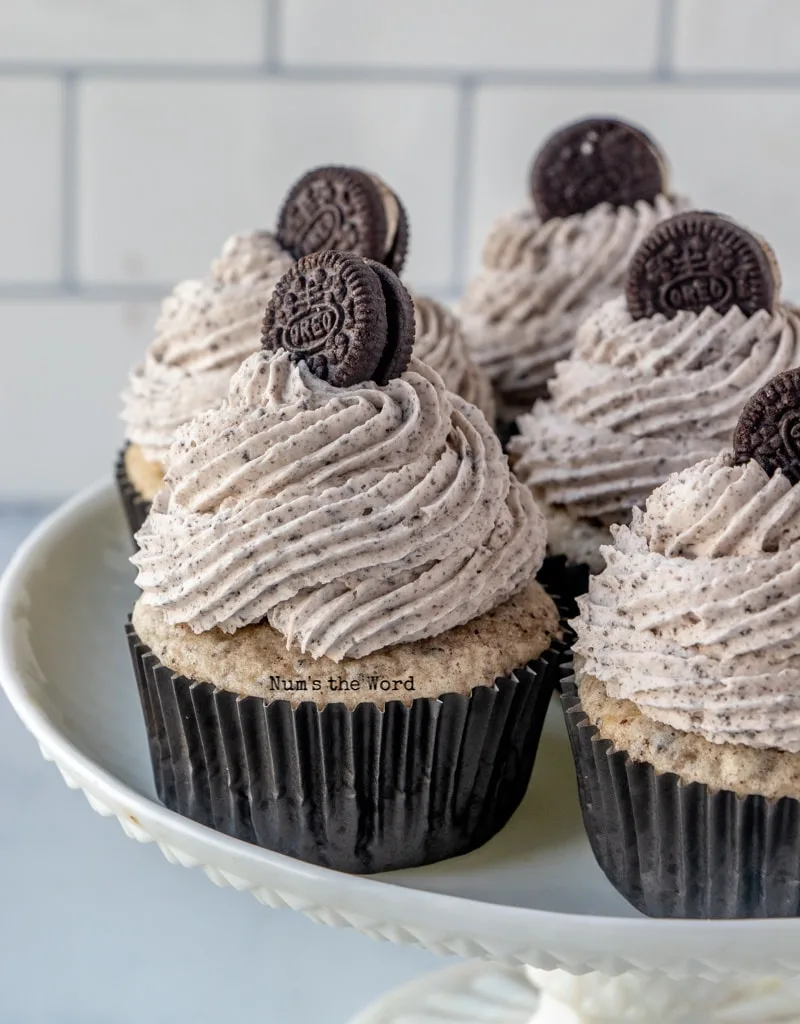 This easy to make Oreo Frosting has only 5 ingredients and tastes just like an Oreo. If you have an Oreo lover in your life, then you should whip up a batch of this Oreo Buttercream for them ASAP!
Ingredients
10 Oreo Cookies
1 cup salted butter, room temperature
3 cups powdered sugar
1 teaspoon vanilla extract
2 Tablespoons heavy cream
Instructions
In a food processor or blender, pulverize Oreo's into a powder. Set aside.
Mix butter together with powdered sugar 1/2 cup at a time, until all blended.
Add vanilla and heavy cream and mix well.
Add crushed Oreo's and blend well.
If mixture is too thick, add additional teaspoon of heavy cream one at a time until desired thickness is achieved.
Spread onto cake or pipe onto cupcakes.
Notes
If piping this onto cupcakes, use a LARGE open tip as hunks of the Oreo Powder will get clogged in smaller piping tips.
Nutrition Information:
Yield:
36
Serving Size:
1
Amount Per Serving:
Calories:

114
Total Fat:

7g
Saturated Fat:

4g
Trans Fat:

0g
Unsaturated Fat:

2g
Cholesterol:

16mg
Sodium:

64mg
Carbohydrates:

13g
Fiber:

0g
Sugar:

11g
Protein:

0g
Originally Posted: June 30, 2016
Photos & Text Updated: December 8, 2019