Black Forest Cupcakes – These chocolate cupcakes are light and airy. The perfect flavor combination of chocolate, cherries and whipped cream create a dessert any cherry lover will go nuts for!
This post contains affiliate links.  If you click on an affiliate link and make a purchase, I will make a small percentage on your purchase. This helps keep this website running! Thank you!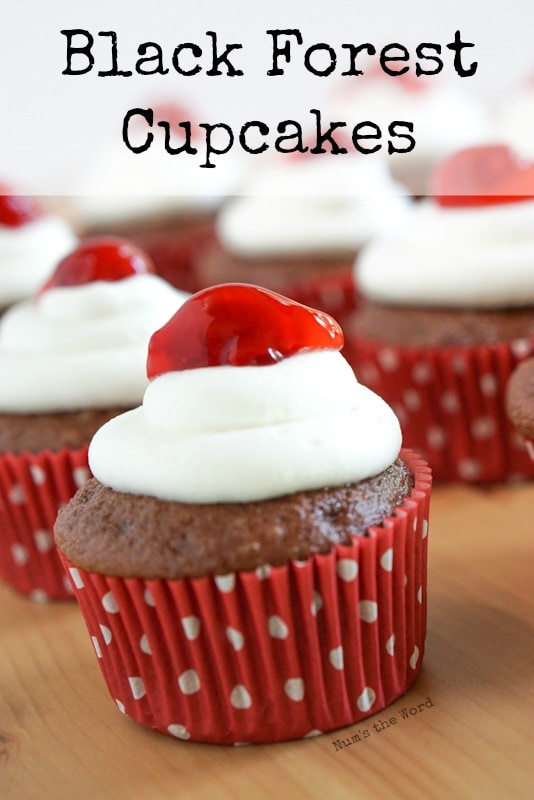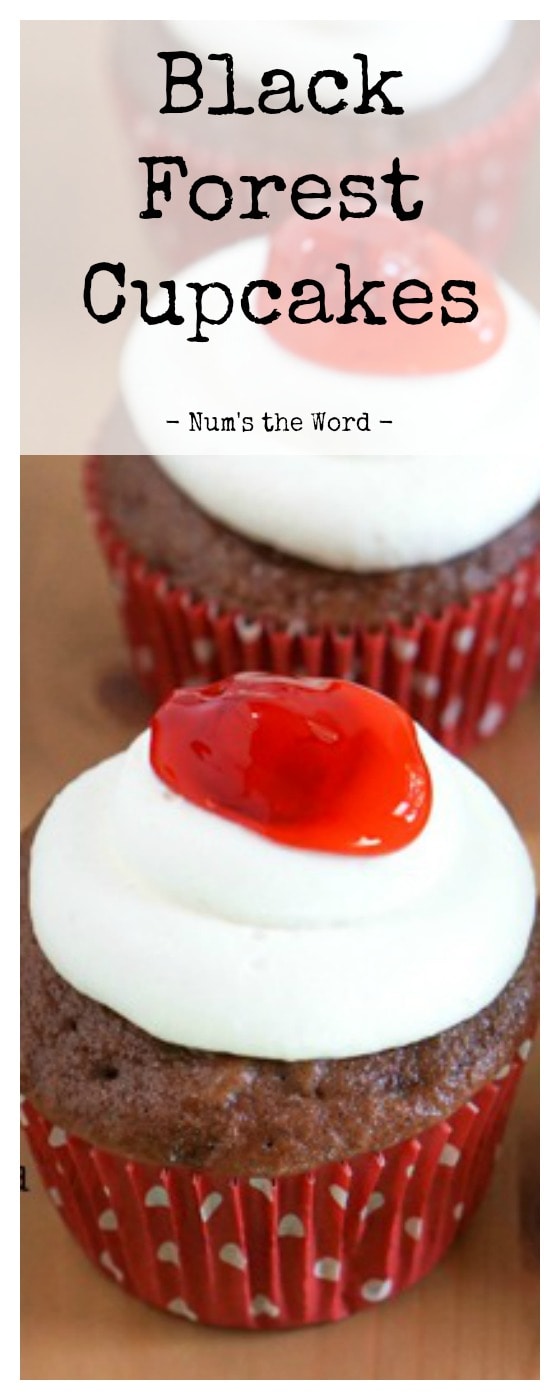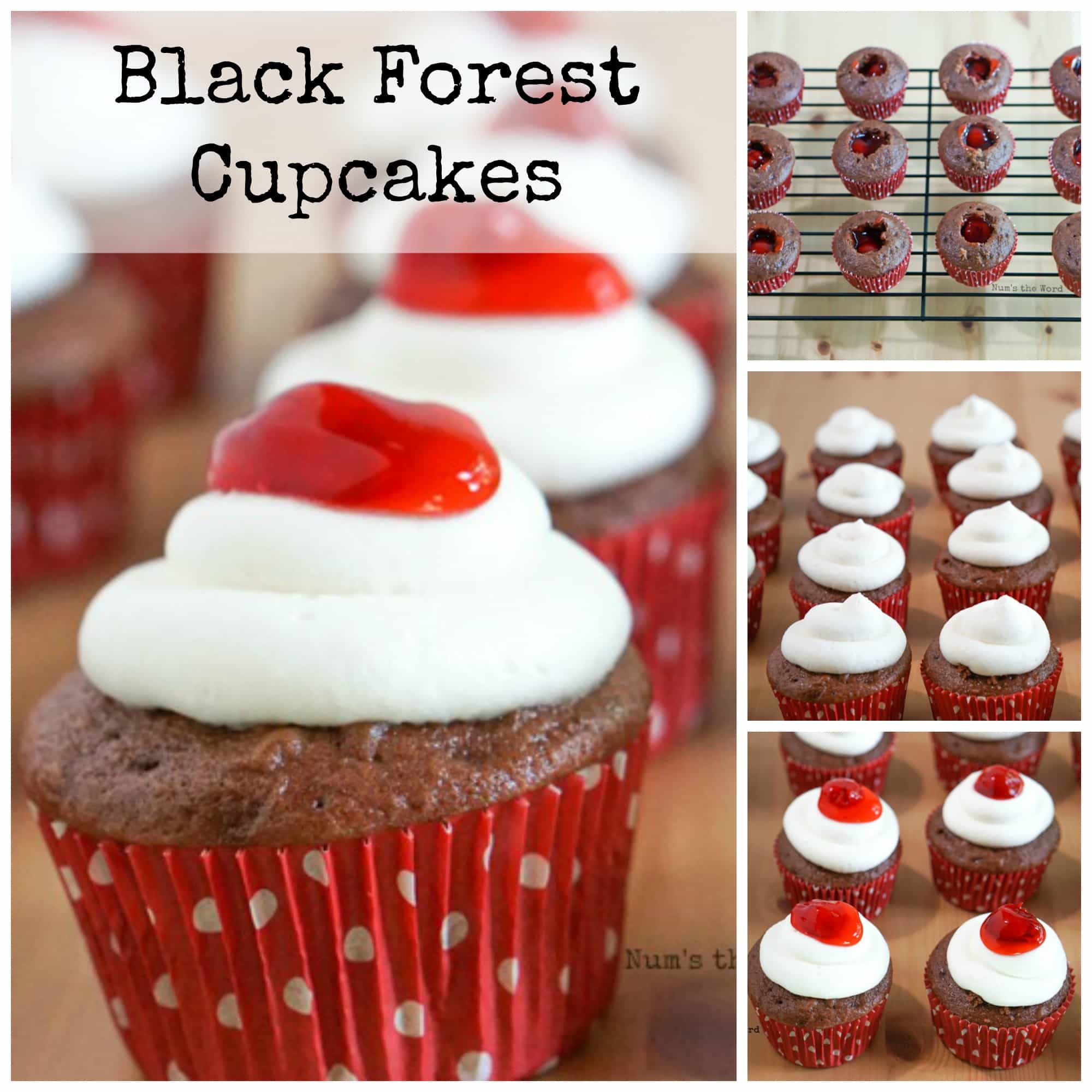 There are three aspects to a good black forest anything; cake, cheesecake, cupcakes or even a trifle.
You need chocolate cake, cherries and whipped cream.
If you have those three items, then your black forest item will turn out fantastic.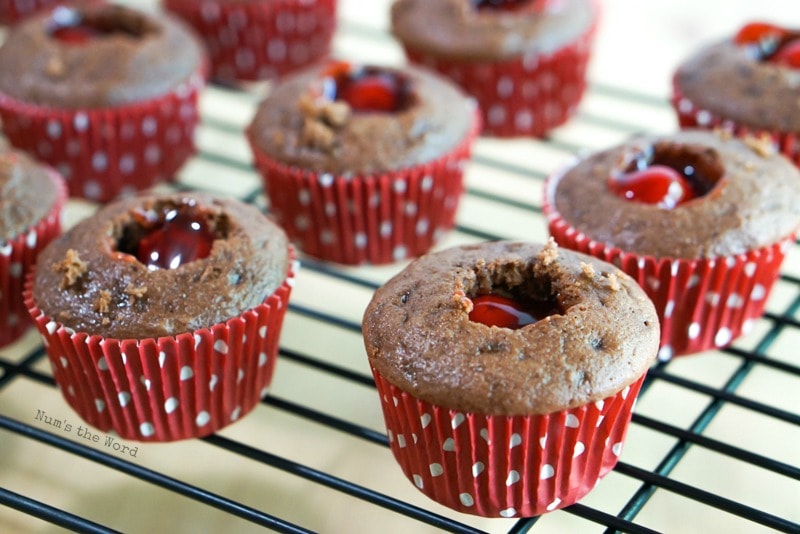 So what makes these black forest cupcakes amazing?
Well you have to start with a moist and delicious chocolate cupcake.
Second you need some good cherries.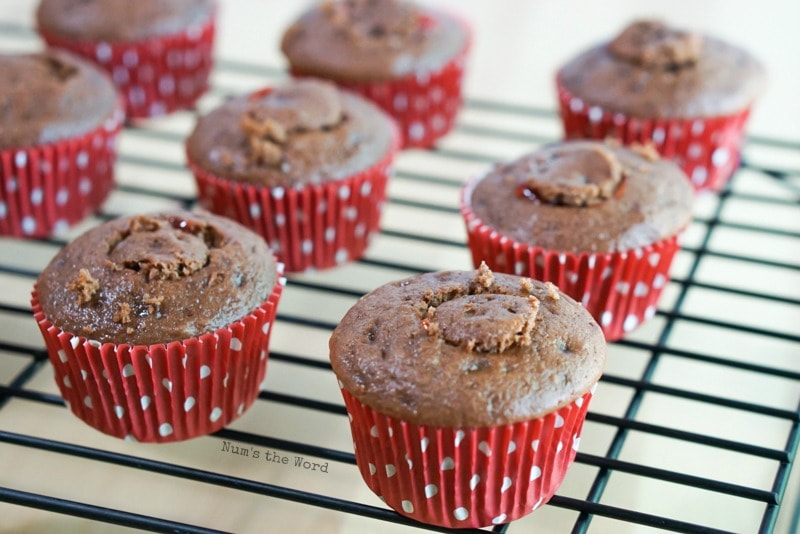 Any cherry pie filling will do, and I highly recommend splurging and getting the kind with "extra cherries."
The Cherries will top your cupcakes and they'll also be the filling in the cupcakes.
Third you'll need a good, homemade, whipped cream frosting.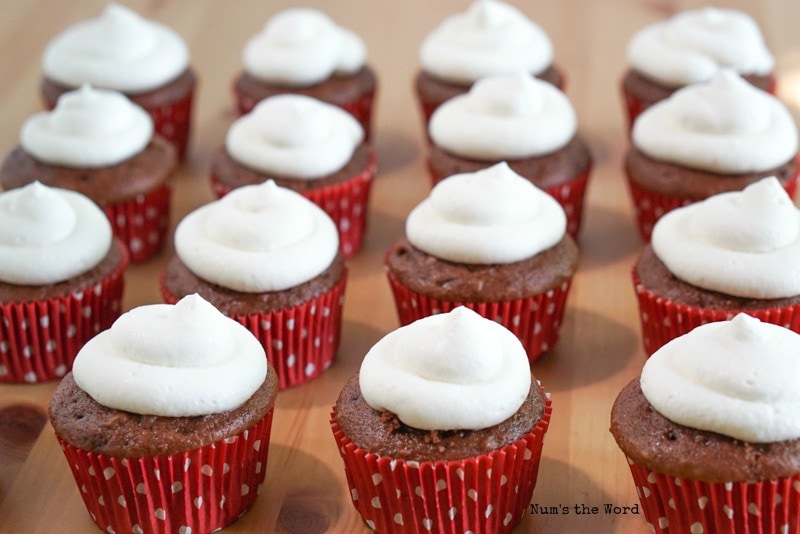 Your frosting should be something smooth enough to pipe and stiff enough to stay in place but not be thick and powdered sugary.
Now if you've followed me and my cupcake adventures, you'll know that I am obsessed with FILLED cupcakes.
Plain cupcakes with frosting tend to be dry and boring.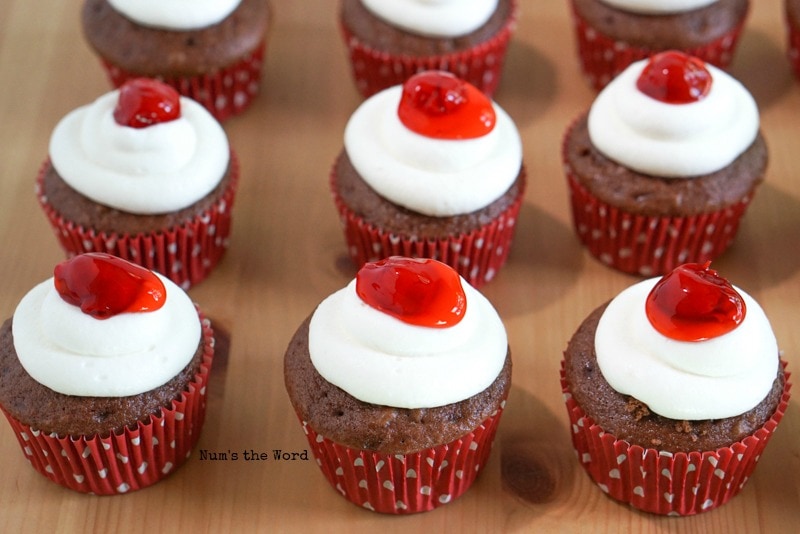 Something these cup cakes are certainly not.
I prefer a moist cupcake with some kind of gooey filling that makes a mess on your face, hands and possibly even your shirt.
Because a filled cupcake is a good cupcake.
These Black Forest Cupcakes are all of the above!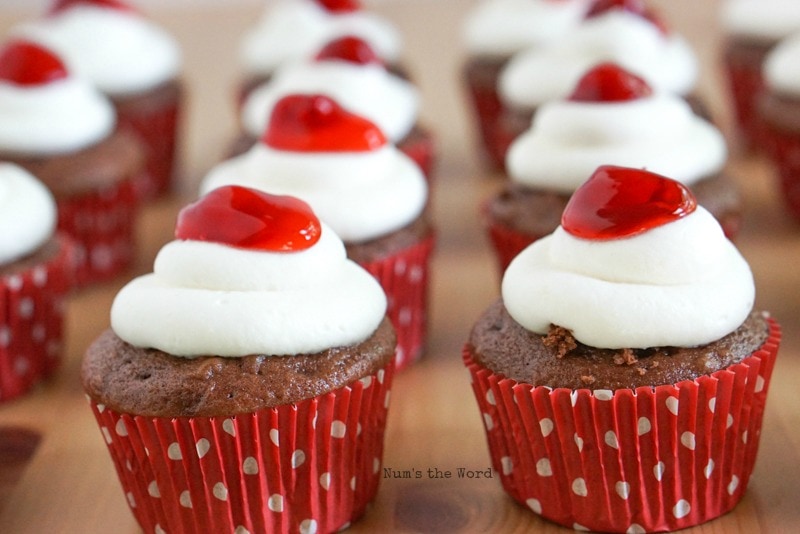 I do have to warn you though, that these cupcakes are very light and can trick you into thinking you need an extra one or two.
The only reason I know this is from experience.
I tend to need a minimum of two of these cupcakes because of how light they are.
I'm also in need of some new cupcake flavors so comment below on what your favorite is!
Black Forest Cupcakes are in my top 5 for sure!
Yield: 30 Cupcakes
Black Forest Cupcakes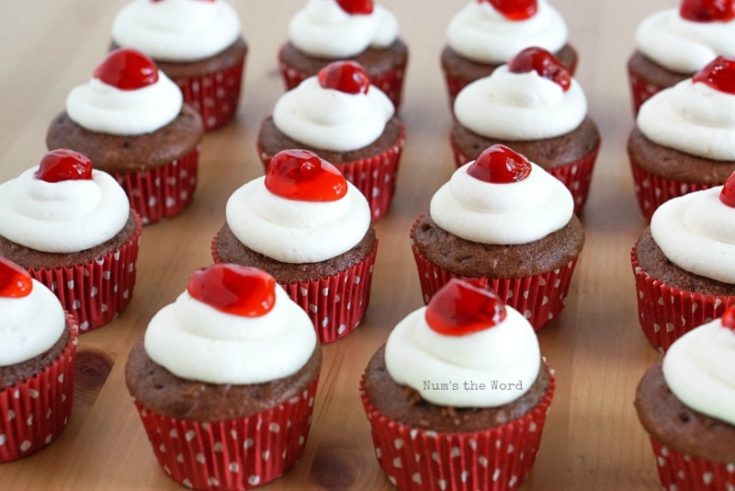 Ingredients
1 (16 - 18 ounce) box of chocolate cake mix (do not use Devil's Food, it's too light)
1 cup all-purpose flour
1 cup white sugar
3/4 teaspoon salt
1 1/3 cup water
2 Tablespoons vegetable oil
1 teaspoon vanilla extract
1 cup sour cream
2 large eggs
1 can cherry pie filling
3/4 cup chilled heavy whipping cream
1/4 cup powdered sugar
1/2 teaspoon vanilla
Instructions
Preheat oven to 325*F
Line cupcake pans with cupcake liners.
Using a stand mixer or hand mixer, combine cake mix, flour, sugar and salt. Mix to incorporate.
Add water, oil, vanilla, sour cream and eggs. Mix well until mixture is smooth.
Using a large cookie scoop, fill each liner 3/4 full with cake batter.
Bake for 16 minutes or until toothpick inserted into center comes out clean.
Allow cupcakes to cool completely.
--------------------------
Once cooled, Hollow out center of each cupcake & fill with cherry pie filling.
Top with center cupcake nub that was removed previously.
--------------------------
In a bowl mix heavy cream until whipping cream thickens and soft peeks form.
Add powdered sugar and vanilla.
Beat until stiff peeks form.
Fill piping bag and pipe frosting onto cupcakes.
Top with dollop of cherries
Devour in a very messy way immediately!
Originally Posted: September 3, 2015
Photos & Text Updated: December 10, 2018
Other Cupcakes You'll Love...