Peanut Butter Frosting is the ULTIMATE topping for cakes and cupcakes for any peanut butter lover.  This is a buttercream based frosting is our favorite!
This post contains affiliate links.  If you click on an affiliate link and make a purchase, I will make a small percentage on your purchase, which helps keep this website running! Thank you!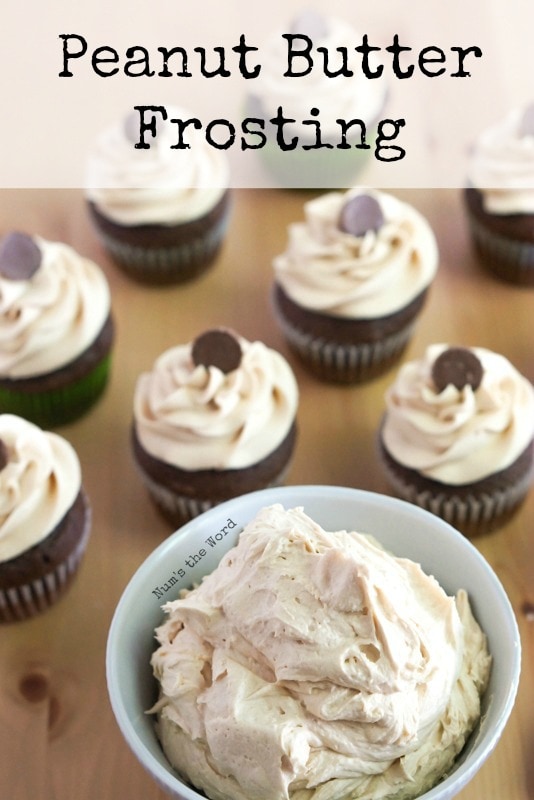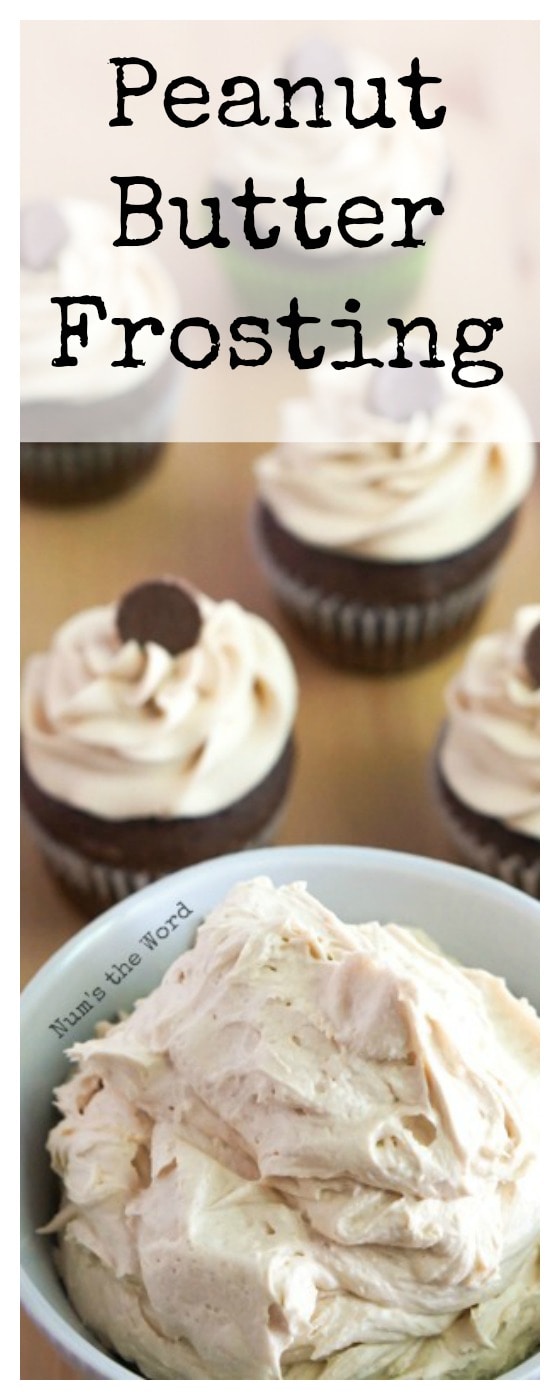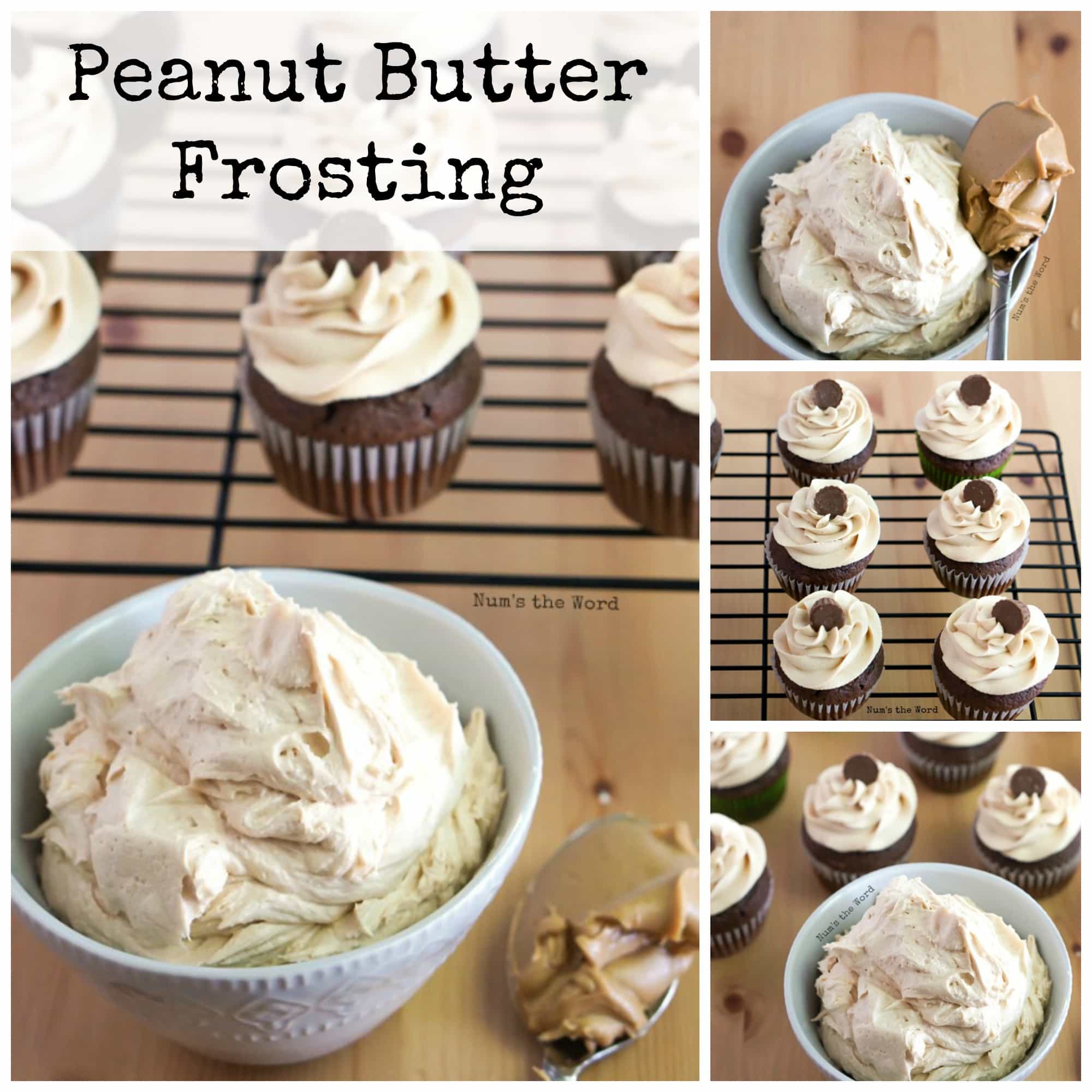 Are you a peanut butter fan?
If so then this Peanut Butter Frosting recipe is the real deal.
Avid Num's the Word readers know that every summer my daughter helps run a cupcake and lemonade stand in our front yard every Wednesday night.
Our city puts on a HUGE shin-dig at the park we live next to and each Wednesday night can bring over 20,000 people to the event.
And many of those individuals walk right past our home.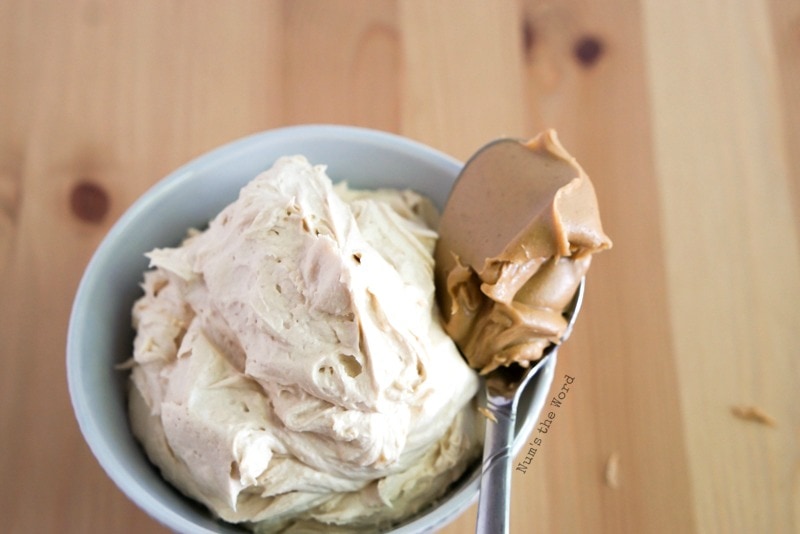 Because of this, we take full advantage and sell cupcakes and lemonade during the event.
Every penny we earn goes to my daughters college fund and she is required to help squeeze all the lemons as well as make the cupcakes.
Each week we feature a new mystery flavor cupcake and the only way to find out what it will be is to show up!
One that our regular customers love is our Peanut Butter Cup inspired cupcake.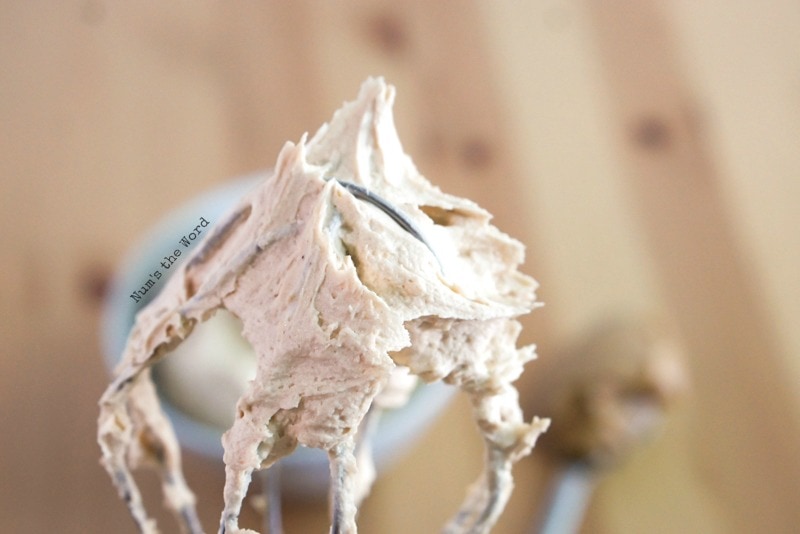 A yummy chocolate cupcake topped with this Peanut Butter Frosting with a mini peanut butter cup on top.
This Peanut Butter Frosting isn't overwhelming and will NOT require you to run for a glass of milk just to get it down your throat.
Instead it's creamy, smooth and has the perfect amount of peanut butter flavor.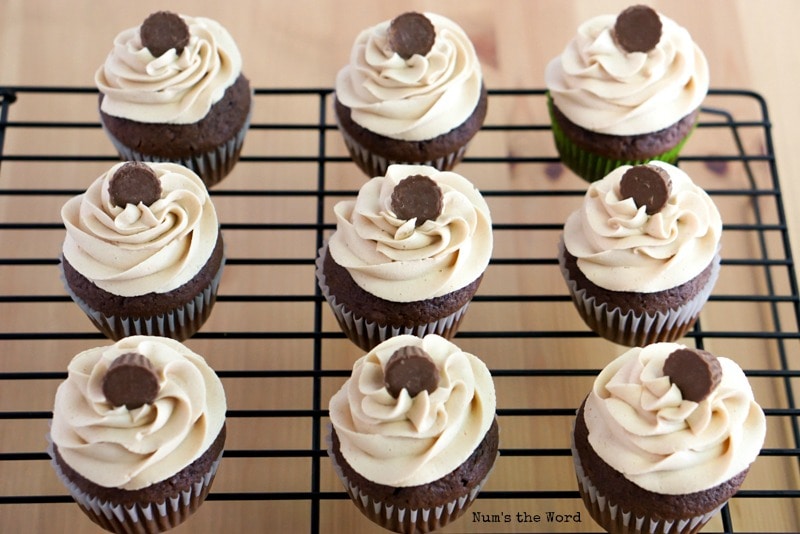 This Peanut Butter Frosting would go great with any flavor of cake or cupcake but our favorite is of course chocolate.
The combination of chocolate and peanut butter is something that we truly love.
Now if you aren't into cupcakes and want to make a full size cake, this would also make a fantastic frosting.
However, if I were doing a cake, my idea would be to make a 3 tiered chocolate cake.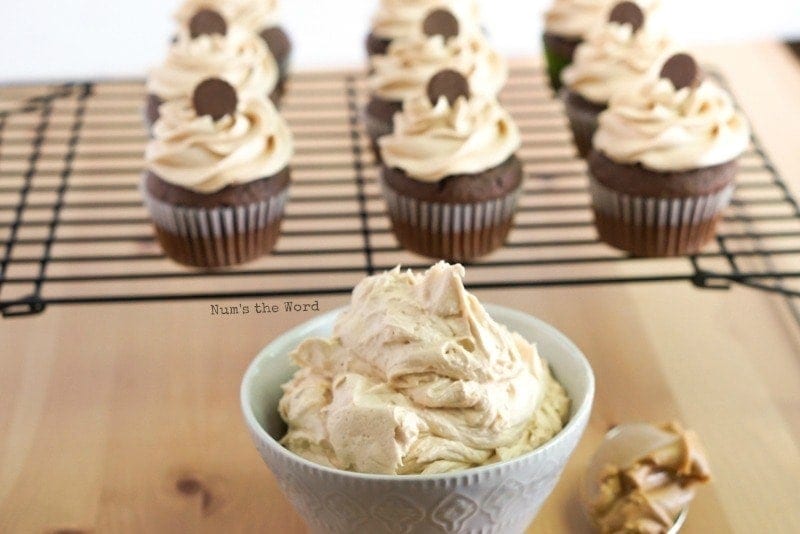 Between each tier, put a generous amount of this Peanut Butter Frosting and some chopped up peanut butter cups on top of the frosting.
Then add your next layer.
Continue this until the top. then on the top and sides, smear the peanut butter frosting (you'll probably want a double batch of this frosting for this idea by the way).
Then I'd make a homemade chocolate ganache.  Allow it to cool to room temperature and then pour that all over the top and let it drip down the sides with more peanut butter cups on top.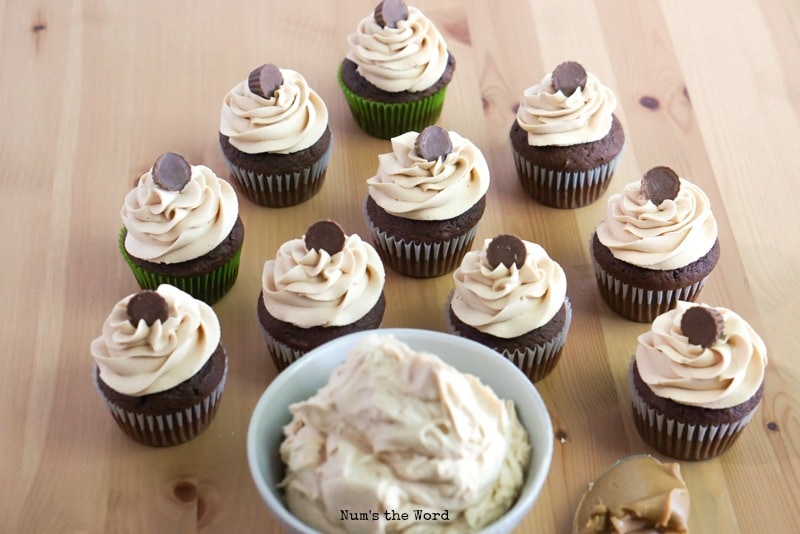 Ok, now I'm drooling and want to make this myself!  But seriously, doesn't that sound amazing?
And the key ingredient to all of it is the Peanut Butter Frosting!
Now if you're a fan of all things peanut butter, then I suggest giving this Peanut Butter Frosting a try!
It was a huge hit with our friends, family and customers and I think it will be for you too!
Ingredients
1 cup butter, room temperature - DO NOT SOFTEN IN MICROWAVE
3 cups powdered sugar
1 teaspoon vanilla
2 Tablespoons heavy whipping cream
1 cup creamy peanut butter
Instructions
Using a stand or hand mixer, blend butter until smooth & creamy.
Add powdered sugar 1/2 cup at a time until fully incorporated.
Add vanilla and heavy whipping cream and mix well. Scrape sides of bowl as needed.
Add peanut butter and blend well until full mixed in. Scrape sides to make sure all ingredients are fully mixed.
Fill pipping bag and pipe onto cake or cupcakes.
https://numstheword.com/peanut-butter-frosting/
Other Frosting Recipes You'll Love…