Peanut Butter Pretzel Caramel Cookies are a salty sweet cookie perfect for Christmas! They're chewy, soft, impossibly easy, and the cookie you need to make ASAP!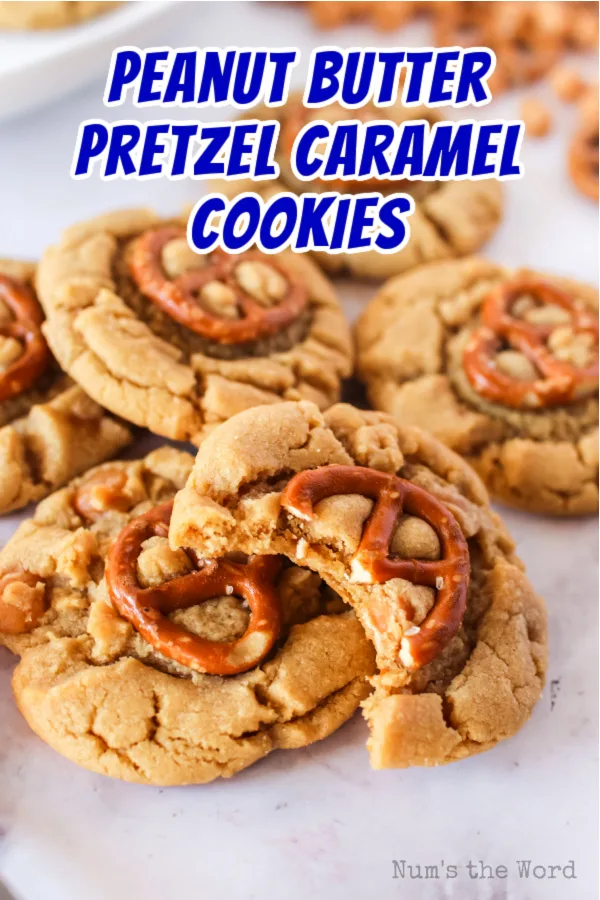 You're going to go crazy over these soft cookies. Full of creamy peanut butter, sweet caramel, and salty pretzels, they are one of the best cookies you'll try!
I love these pretzel peanut butter cookies with caramel because they use all simple ingredients. You probably don't even need to run to the grocery store!
I also love peanut butter cookies with pretzels and caramel because they're so unique! On a holiday tray, they stand out!
And this unique peanut butter cookie recipe also stays soft for days! I mean that's if you can resist eating them all up before then!
Plus this peanut butter mixture creates the perfect chewy cookie! Which really almost taste like candy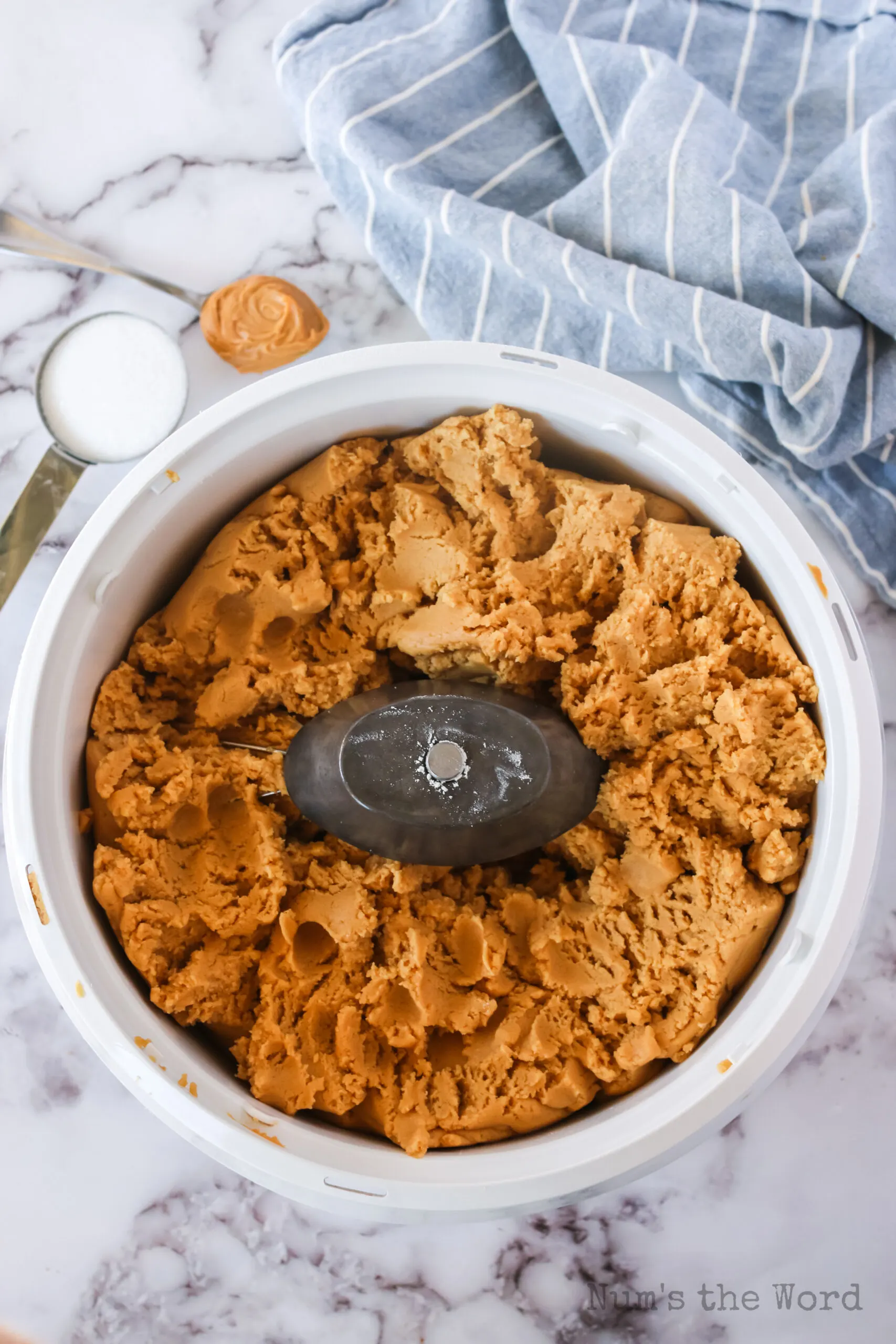 What Ingredients are in Peanut Butter Pretzel Caramel Cookies?
For best results you'll want to make these caramel pretzel cookies every week!
Okay that might be a little overkill but really! This salty crunch is going to be hard to resist!
Butter: Use room temperature butter for easy creaming.
Sugar: You'll need both white sugar and light brown sugar to get the right texture and flavor.
Eggs: Eggs act as a binder and hold the cookies together.
Peanut Butter: Use creamy peanut butter and enjoy the softness of the cookies.
Flour: All purpose flour makes up the main structure of the peanut butter pretzel caramel cookies.
Baking Soda: Baking soda will help the pretzel cookies to rise and puff like they're supposed to.
Salt: You'll need salt to bring out the flavors of everything else.
Caramel Bits: If you need to pick some up, these can be found in the baking aisle of any grocery store.
Pretzels: Use whole pretzels or chunks of pretzel pieces pressed lightly into the top of the cookies.
Pro Tips:
Use fresh ingredients. Fresh baking soda will rise while older baking soda may not.
Get enough pretzels that you can have a bite of pretzel in each bite of cookie.
You could also use mini pretzel sticks and press into the sides of the cookies.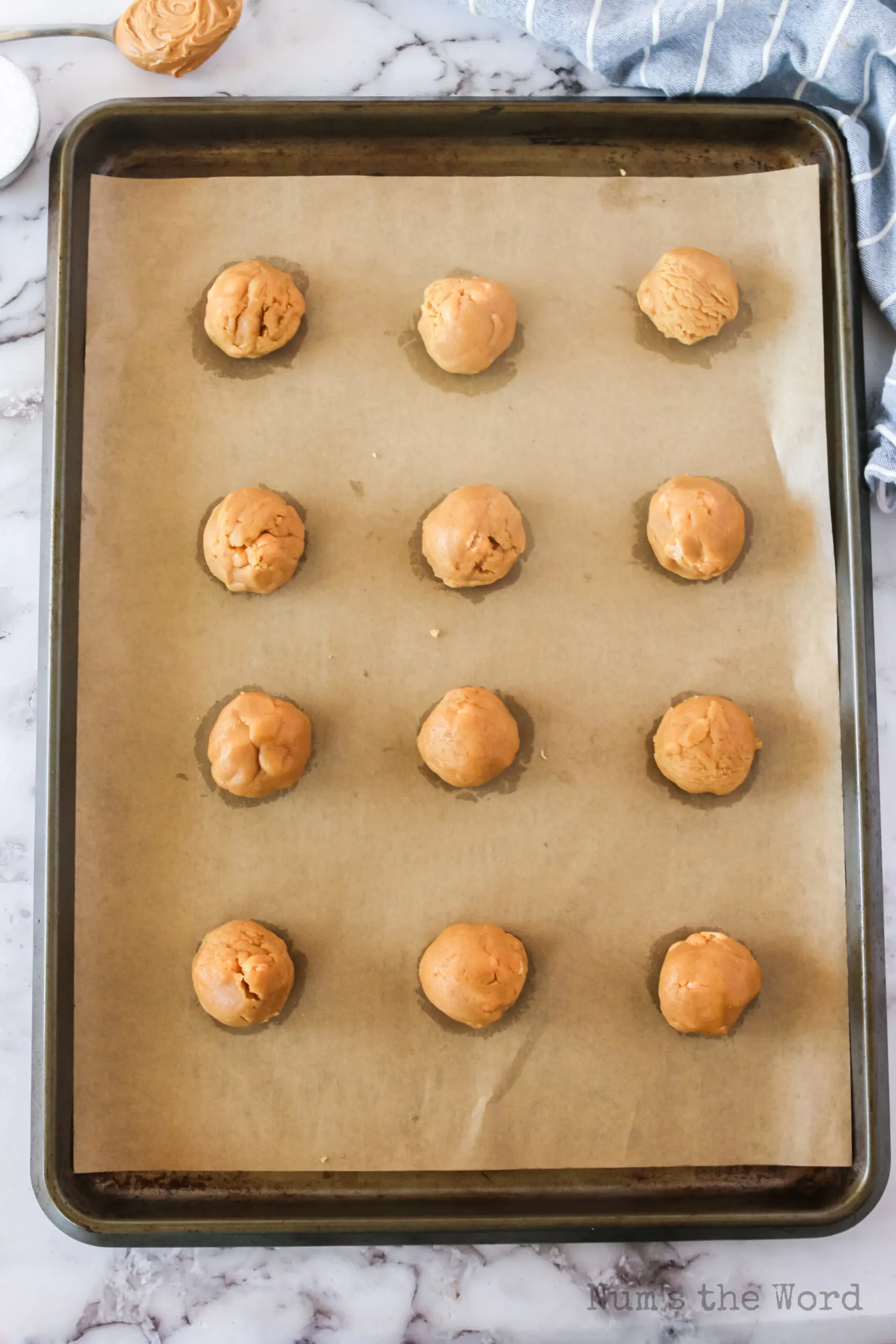 How to Make Peanut Butter Pretzel Caramel Cookies
These perfect cookies are sweet combinations of gooey caramel and crushed pretzels to make a sweet salty combo you'll absolutely love!
Cream: Cream butter and sugar together in a large bowl, making sure to mix well.
Add: Now slowly incorporate the rest of the egg, dry ingredients, and the rest, using low speed so you don't overwork the dough.
Bake: Just before baking the cookie dough ball, lightly press the pretzels on the top of each cookie.
Pro Tips:
Use a stand mixer to mix up the dough for you and save your arm a workout.
You may need to scrape down the sides of the bowl to make sure it all mixes in correctly.
Use parchment paper, aluminum foil, a baking mat, or cooking spray on the cookie sheet to keep the cookies from sticking.
Scoop dough using a cookie scoop to get uniform peanut butter cookie dough balls.
When cookies are golden brown, they're done!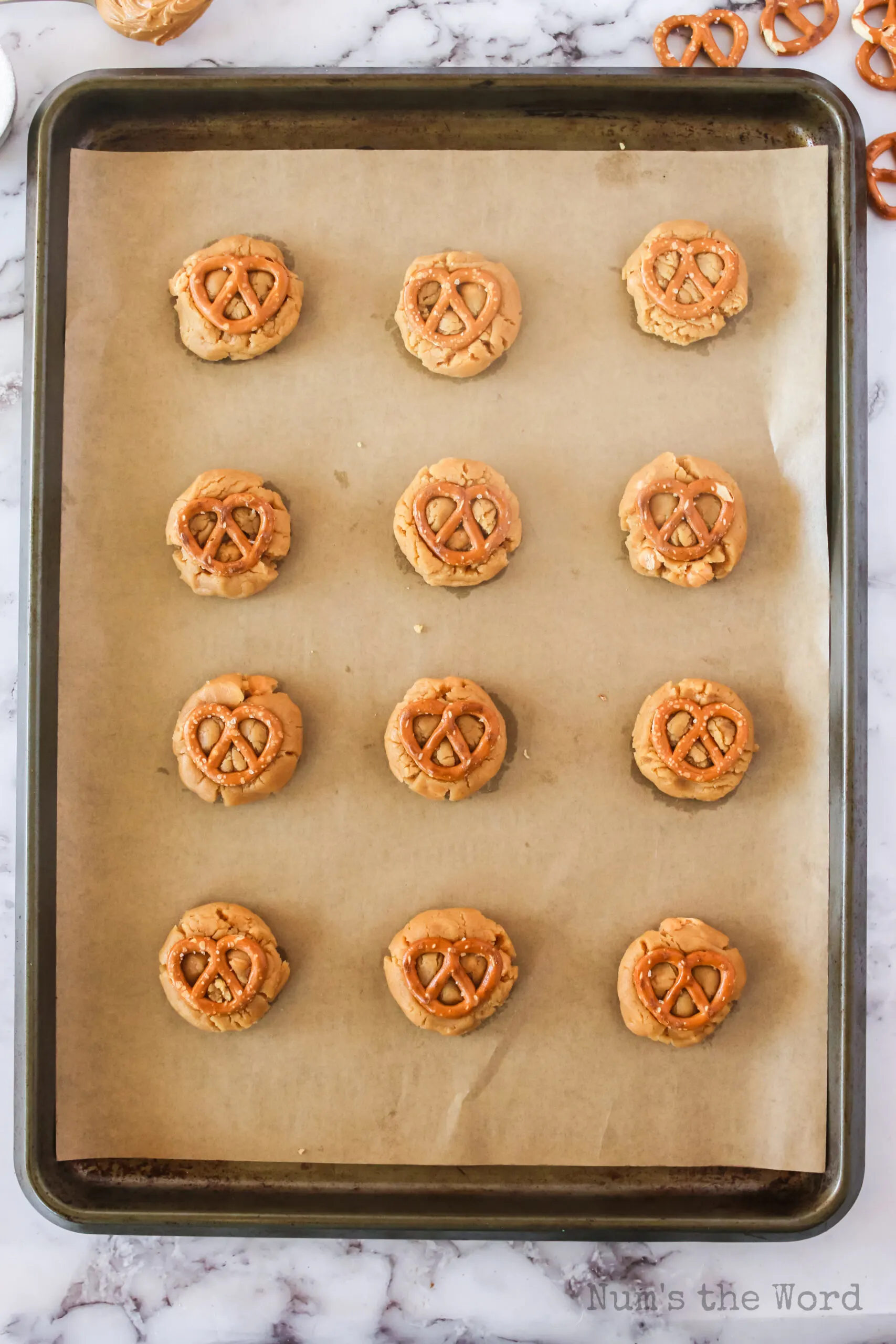 How Long Do Peanut Butter Pretzel Caramel Cookies Last?
Caramel peanut butter and pretzel cookies don't last very long around my house because they get devoured really quickly!
I mean who can blame us? They're such a delicious salty treat!
If you happen to have more self control than us, then maybe you'll actually have some leftover cookies!
Cookies will stay good for up to 5 days!
Although they will gradually become harder, the peanut butter will actually keep them fairly soft as well.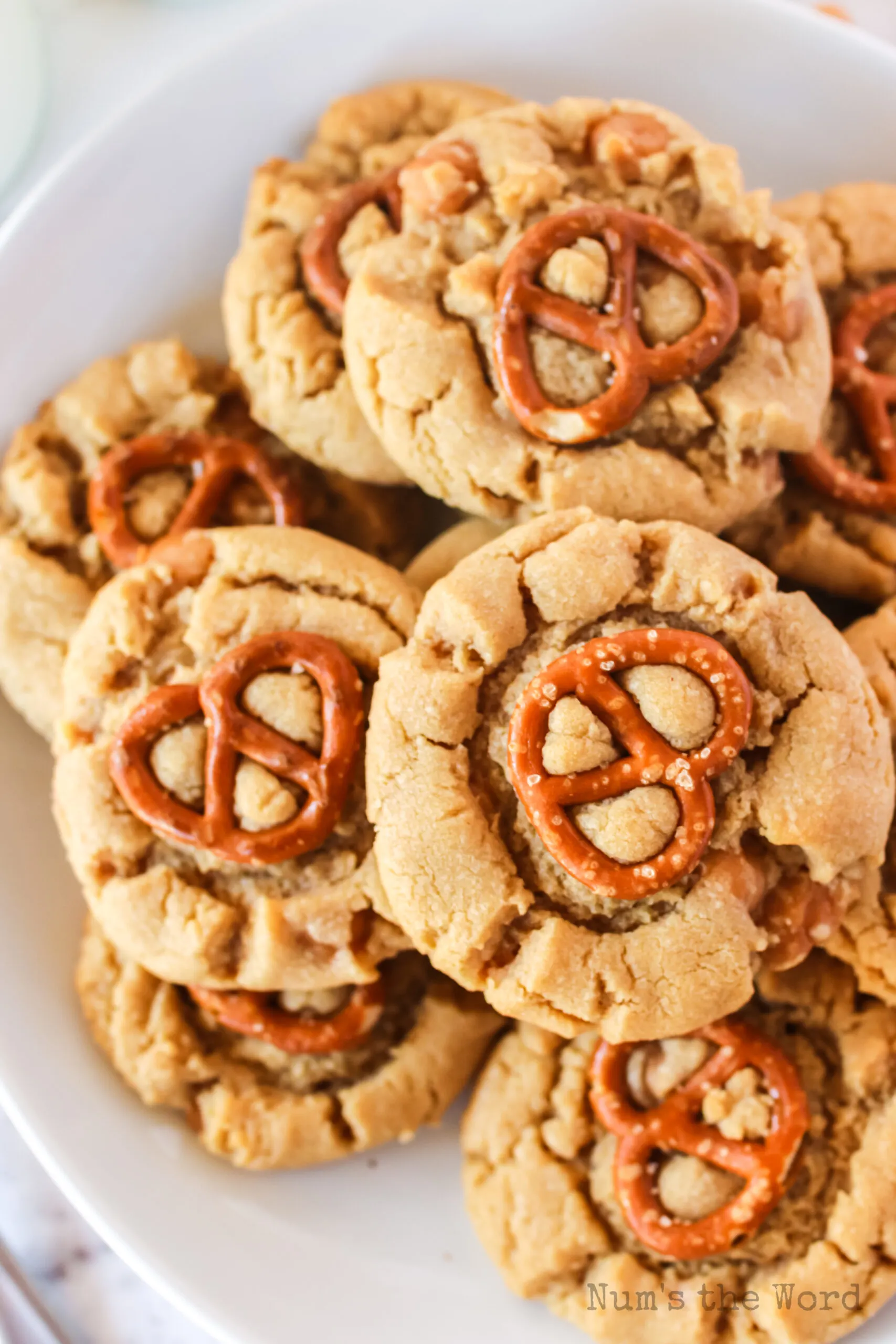 Can You Freeze Peanut Butter Pretzel Caramel Cookies?
Yes this unique peanut butter cookie recipe will freeze beautifully and taste great when thawed.
I have found however that the pretzels will soften once thawed.
The flavor is still great but the crunchiness is definitely changed.
But still, a great recipe that tastes delicious.
And actually, if you prefer you can freeze each cookie dough ball instead.
Flash freeze each cookie ball in the freezer and then remove to a freezer safe bag.
Then remove from the freezer and thaw enough to add pretzels to each cookie before baking.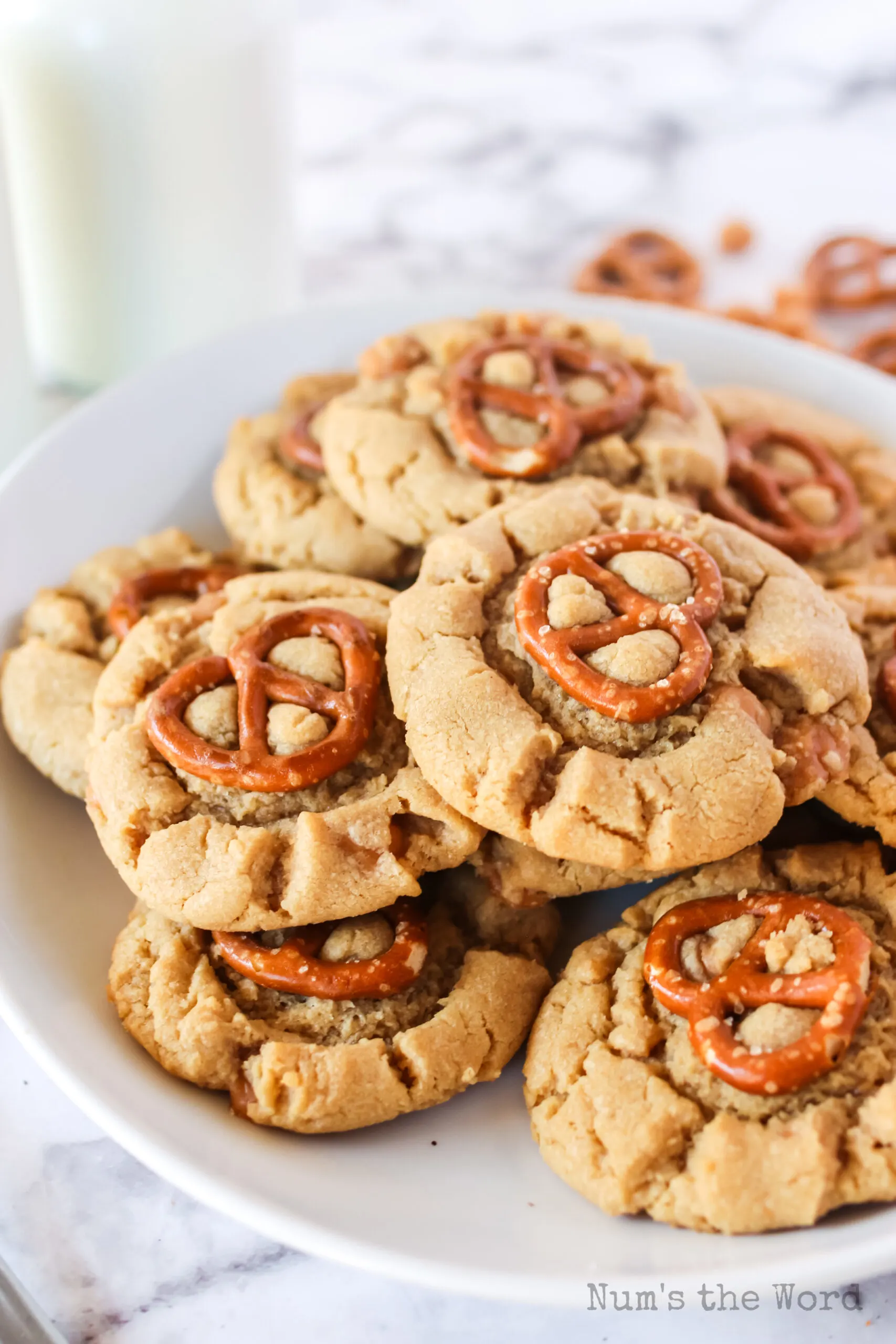 How to Store Peanut Butter Pretzel Caramel Cookies
Keep pretzel caramel cookies in an airtight container or bag.
They need to be kept covered at all times or they will lose their soft and chewy texture.
I find they stay fresh longest if stored in the fridge.
If you put a little bit of bread in the bag with the cookies it will help absorb extra oxygen and keep them soft.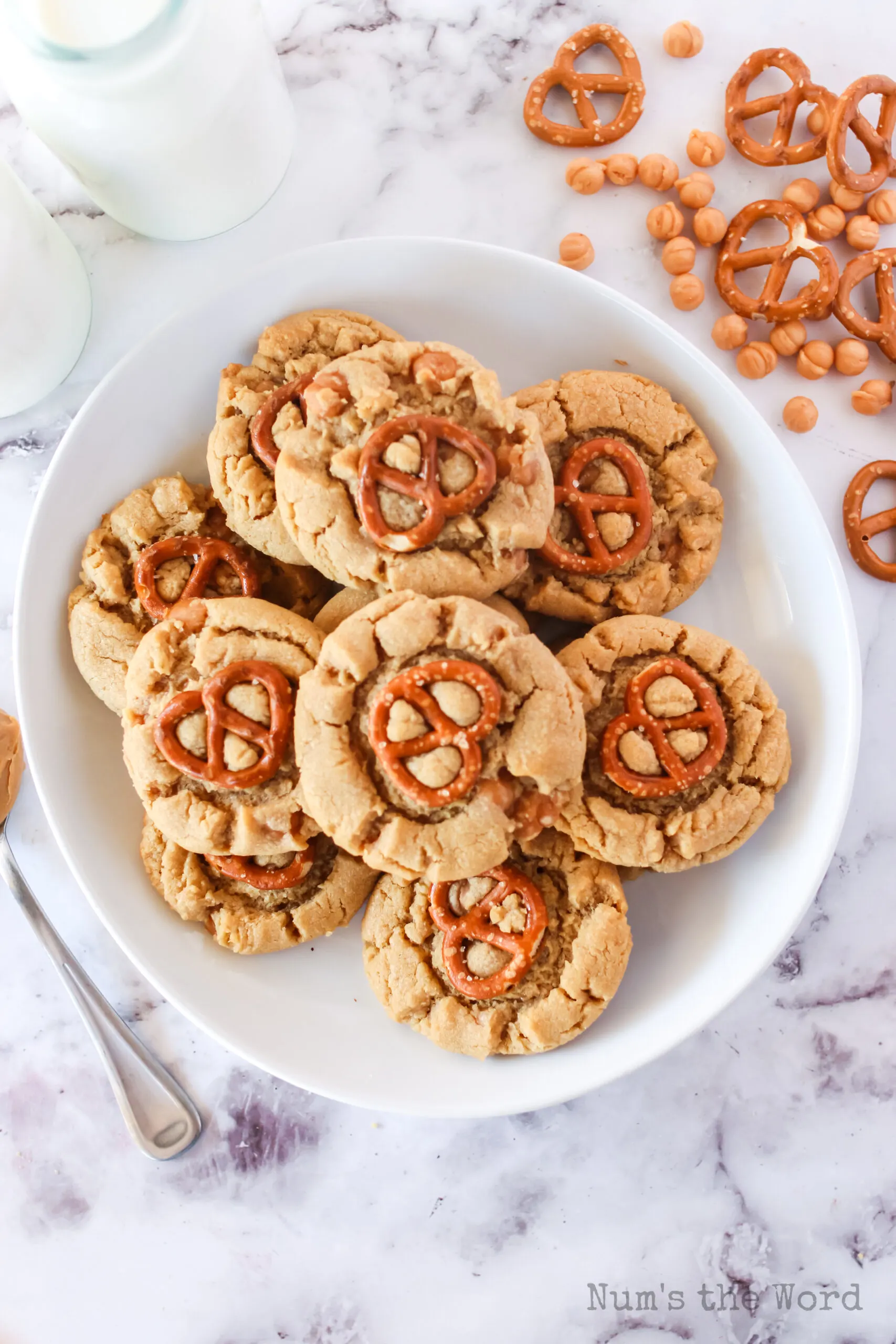 Can Dogs Eat Peanut Butter Pretzel Caramel Cookies?
No, dogs shouldn't eat cookies in general as in most cases they contain sugar, flour, and butter which are all hard for a dog to process.
And though they may enjoy the salty flavors, the soft caramels really aren't good for them either.
If they do end up getting into your cookies, you'll want to check your peanut butter and be sure it doesn't have any xylitol in it.
Xylitol can be toxic to dogs so watch for any symptoms and be sure to call your vet if needed.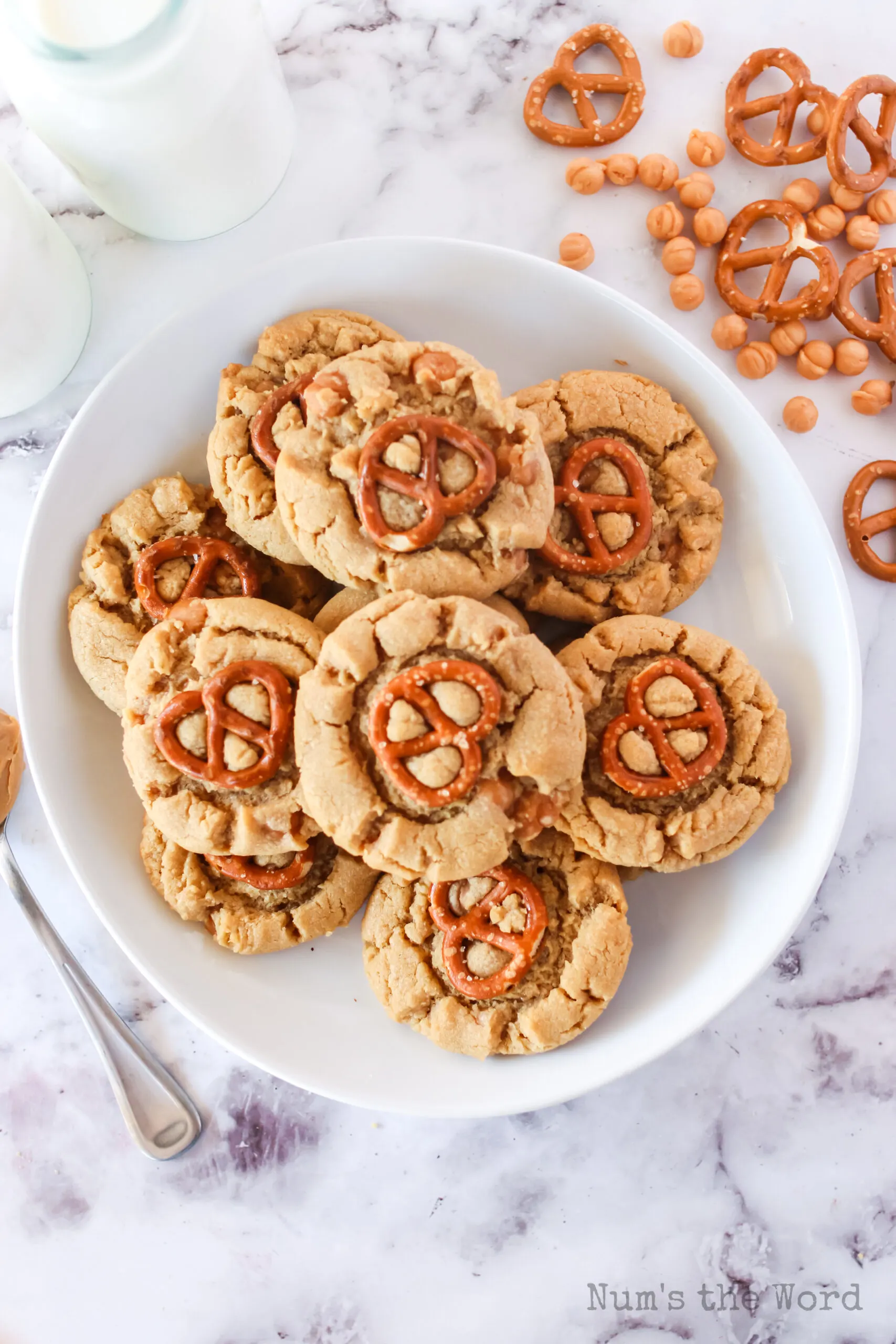 Other Variations of Peanut Butter Pretzel Caramel Cookies
It's really easy to mix up pretzel peanut butter cookies with caramel with a few simple swaps.
These swaps will give you an entirely new cookie every time!
Chocolate Chips: Any flavor of chocolate chips that you prefer can easily be swapped for or added to the caramel.
Toffee: If you're a fan of toffee, definitely add this in with the caramel! It's so yummy!
Butterscotch: I like the butterscotch flavor with ⅓ the caramel and ⅓ chocolate chips. Holy sweetness!
M&M's: Swap out the caramel for M&Ms and you've got a monster cookie instead.
Peanut Butter: Use crunchy peanut butter and give your cookies an extra bit of crunch!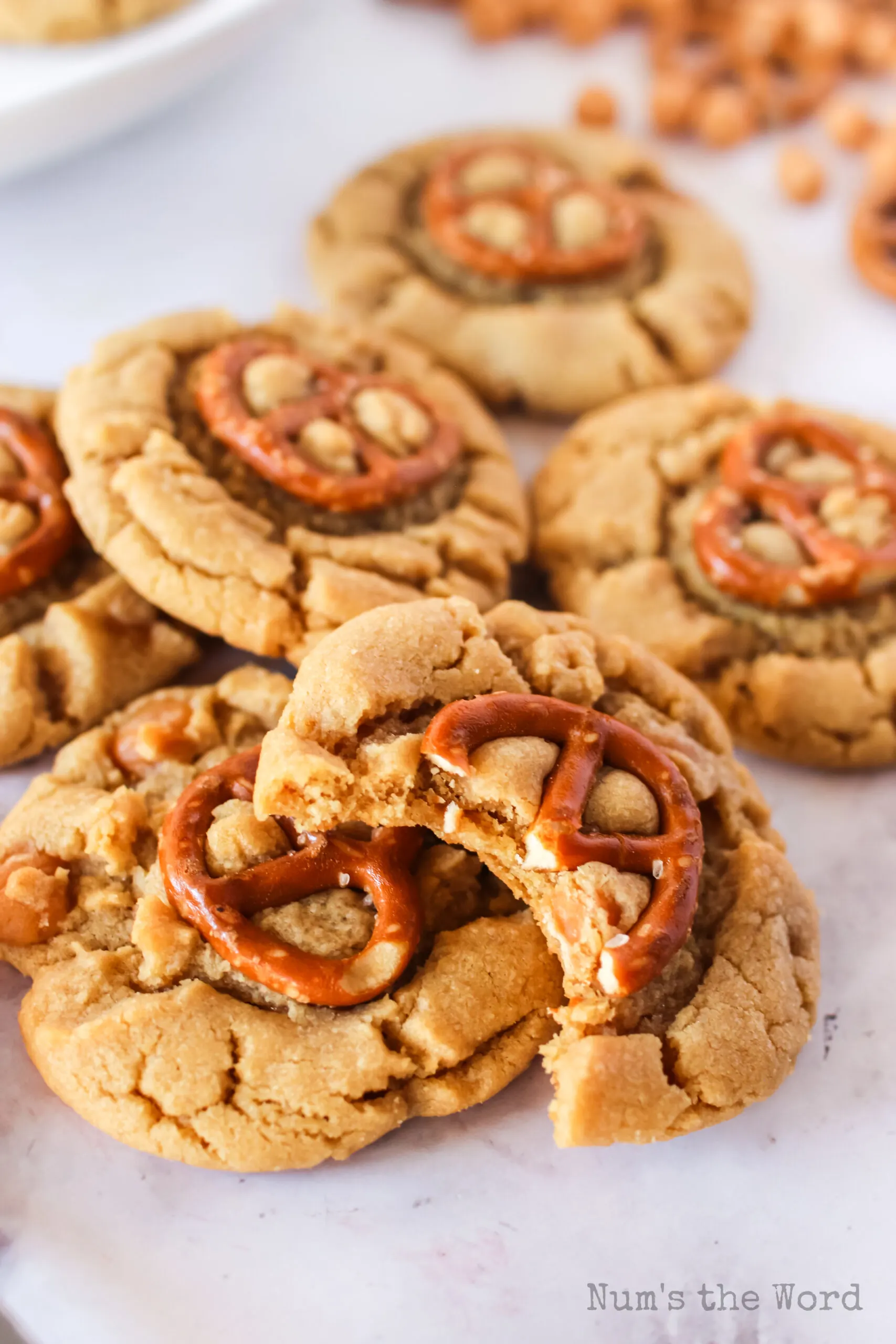 Peanut Butter Pretzel Caramel Cookies are yummy, quick, and easy. They're perfect for serving for the holidays or all year long. Enjoy!
Yield: 48 Cookies
Peanut Butter Pretzel Caramel Cookies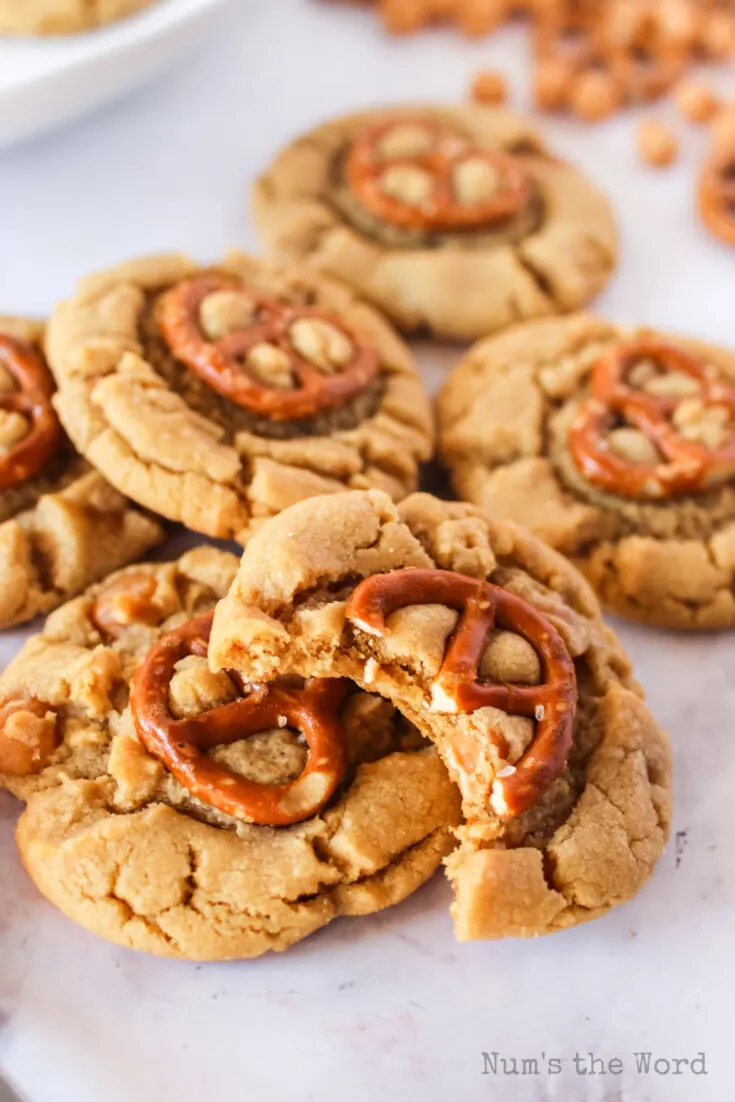 Peanut Butter Pretzel Caramel Cookies are a salty sweet cookie perfect for Christmas! They're chewy, soft, impossibly easy, and the cookie you need to make ASAP!
Ingredients
1 cup butter, room temperature
1 cup light brown sugar
1 cup white sugar
2 eggs
1 cup creamy peanut butter
3 cups all-purpose flour
2 teaspoons baking soda
1/4 teaspoon salt
1 (11 ounce) bag of caramel bits
1/4 cup white sugar
48 Pretzels
Instructions
Preheat oven to 350*F
Prepare a cookie sheet with parchment paper, non stick foil, baking mat or spray with cooking spray.
Cream butter, brown sugar and 1 cup white sugar together.
Add eggs and blend well, scraping sides of bowl as needed.
Add peanut butter and blend again. Scrape sides.
Add flour 1 cup at a time, mixing between each addition.
Add baking soda, salt and caramel bits - blend.
In a small bowl add 1/4 cup of sugar.
Scoop out 1 Tablespoon portions of dough and roll into a ball.
Place cookie dough in sugar and roll around, coating entire ball.
Place sugared ball onto prepared cookie sheet. Fill entire sheet, leaving enough space between so cookies can expand.
Place a pretzel on top of each cookie ball and gently press pretzel into dough. Not too far, but enough so the pretzel doesn't move.
Bake for 8 - 10 minutes.
Let cool on cooking racks and enjoy.
Nutrition Information:
Yield:
48
Serving Size:
1
Amount Per Serving:
Calories:

128
Total Fat:

7g
Saturated Fat:

3g
Trans Fat:

0g
Unsaturated Fat:

3g
Cholesterol:

18mg
Sodium:

124mg
Carbohydrates:

15g
Fiber:

1g
Sugar:

8g
Protein:

2g