This No Bake Chocolate Cheesecake is so easy to make! It is wonderfully rich and creamy and the perfect dessert for parties and holidays!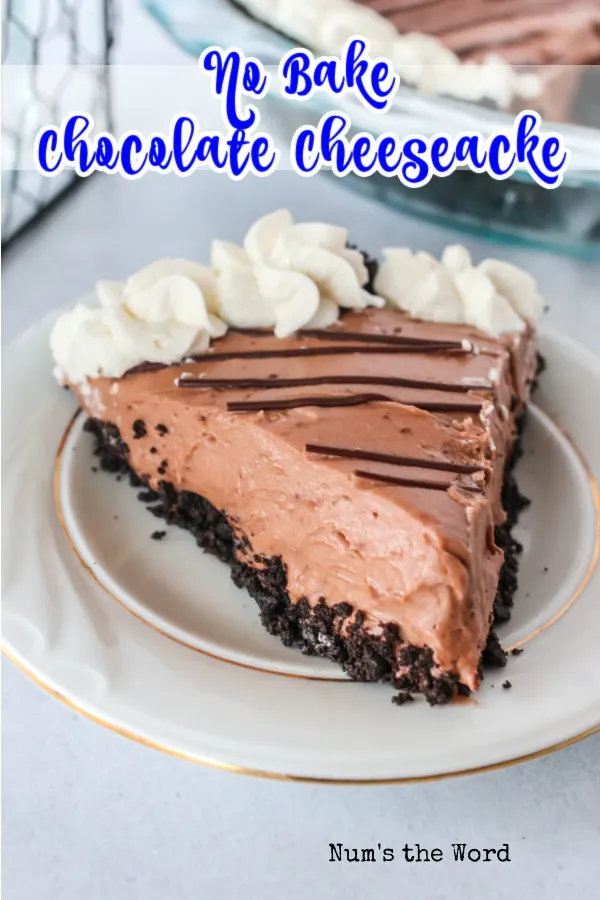 Chocolate, cream cheese and a quick mix of pudding come together to form a deliciously appealing cheesecake. When layered on top of a crunchy Oreo crust, no one can resist it!
I love my classic Chocolate Cheesecake recipe, but let's face it, there are times when you just don't want to turn on the oven.
And there are times when I want a dessert to be prepared a day ahead of time, not the day of.
That's when chocolate pudding cheesecake takes center stage. It can be prepared in advance. Which is a HUGE win in my book.
A chocolate cheesecake recipe no bake is so easy! If you've ever tried to make a cheesecake you know it can be quite tricky at times. But not so with no bakes!
I love that this chocolate pudding cheesecake recipe can also be customized with all sorts of yummy toppings!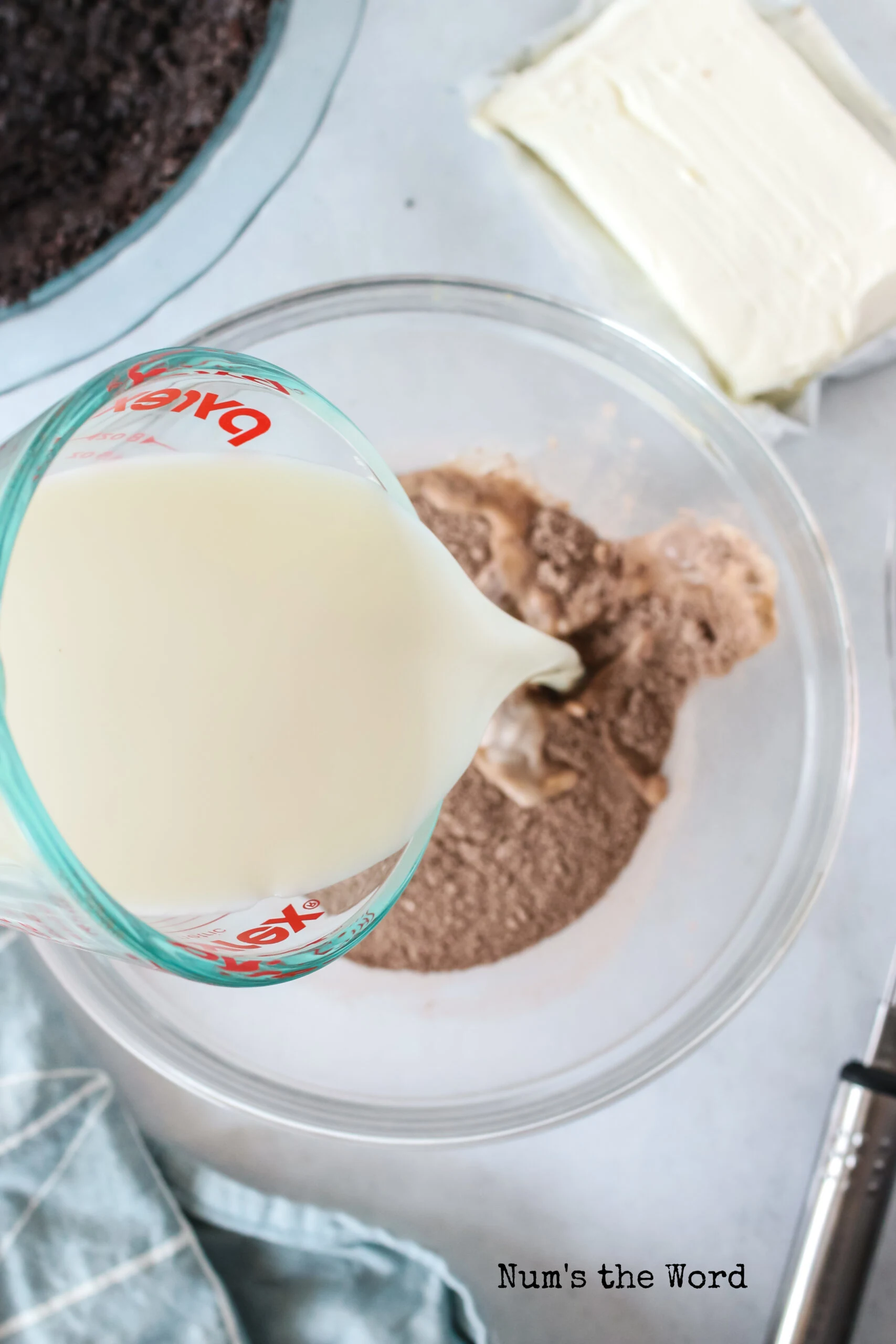 What is the Difference Between Baked and No Bake Cheesecake?
Baked cheesecake typically contains a high amount of eggs and a long cook time.
A baked cheesecake can have lots of different flavors, is usually made in a springform pan, and is usually a little more finicky than no baked cheesecake.
No baked cheesecake doesn't have any eggs in it as it would be unsafe to eat the raw eggs.
While it still contains cream cheese like a regular cheesecake, it's secondary ingredients are most likely pudding, jello, or heavy cream.
No baked cheesecake also doesn't have to go in the oven and can be much more simple, though still just as delicious as a baked cheesecake.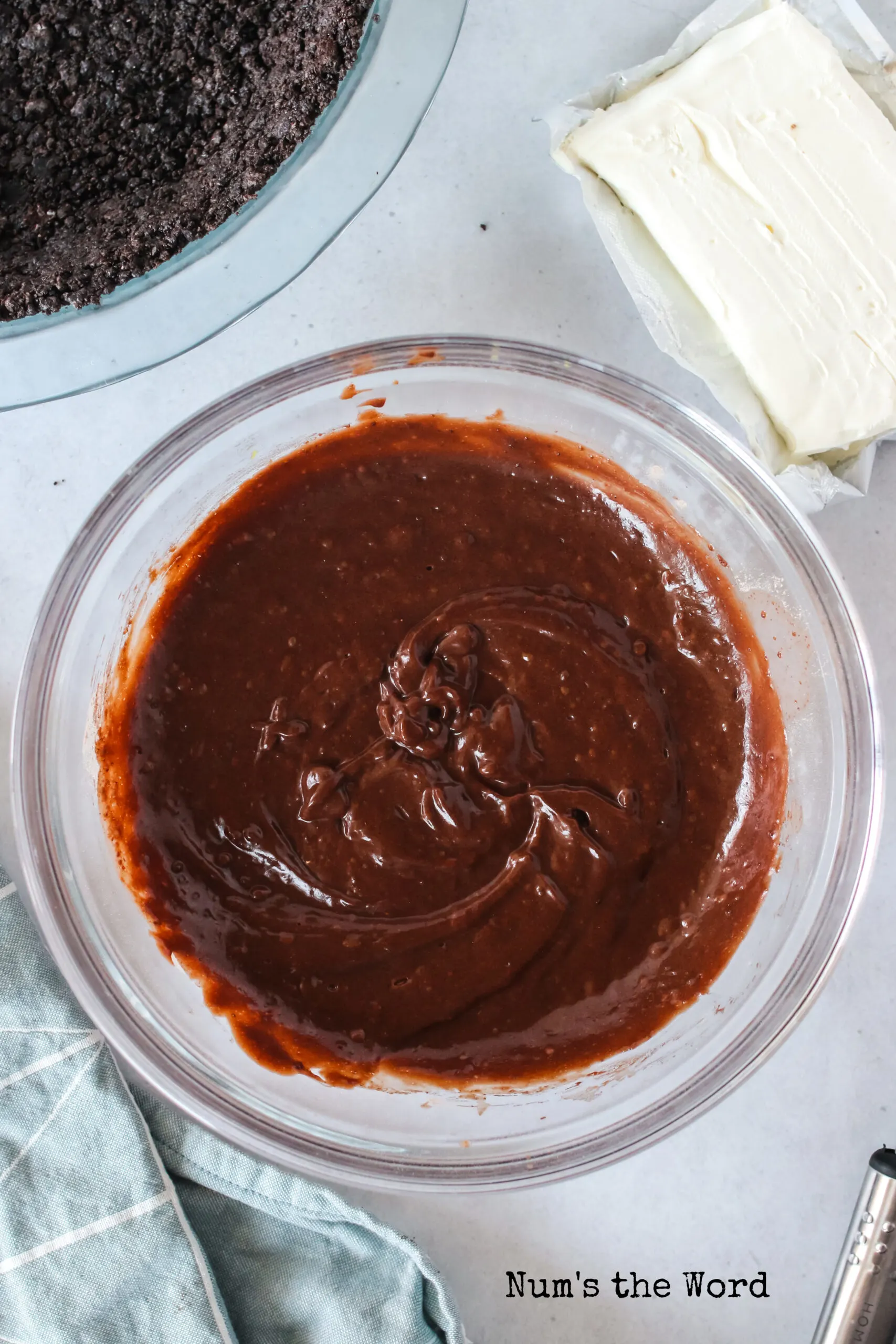 Ingredients in No Bake Chocolate Cheesecake
An Oreo Cookie crust and chocolate cream cheese mixture are every chocolate lovers dream!
Pie Crust: Follow this Oreo Pie Crust recipe for a delicious crust using Oreo cookies!
Pudding: Use chocolate flavored pudding.
Milk: This is needed to set up the pudding. Whole milk will make the pudding a good consistency for the cheesecake.
Cream Cheese: Soften this to room temperature before beginning the recipe.
Sugar: I haven't substituted with other sugars and recommend using just plain white sugar.
Whipping Cream: Not to be confused with whipped cream or cool whip, heavy whipping cream should pour like a thick milk.
Chocolate Melting Wafers: Choose between any flavor chocolate from dark to white and anywhere in between.
Vanilla Extract: Use pure vanilla extract for best flavor.
Powdered Sugar: Just a small amount of powdered sugar will help create your whipped cream topping.
Pro Tip: Full fat cream cheese or light cream cheese should both work in this recipe.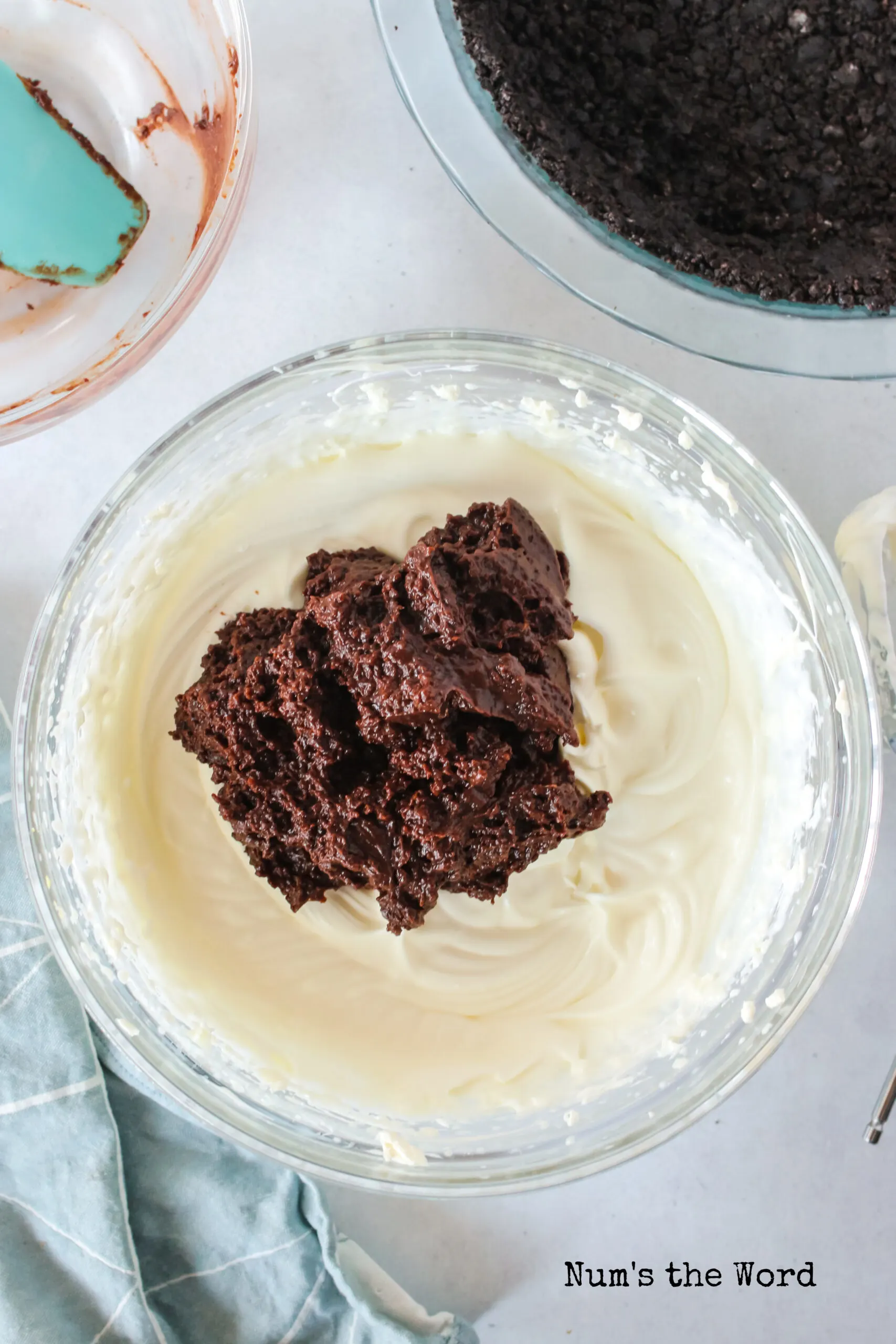 How to Make No Bake Chocolate Cheesecake
A full recipe is in the recipe card below. But for now, here's how to make this Oreo cheesecake for all your special occasions!
Make the Pudding: A super quick mixing of the pudding and milk.
Mix Cream Cheese: You'll know this mixture is done when stiff peaks have formed. Blend it together with the pudding and pour it all on the prepared crust.
Top: The melted chocolate and whipped cream create a beautiful topping for this no bake chocolate cheesecake.
Refrigerate: Allow the cheesecake to refrigerate for at least 4 hours for best results.
Pro Tip: Freeze: A frozen Oreo crust will prevent the mixture from pulling up the crust when pouring.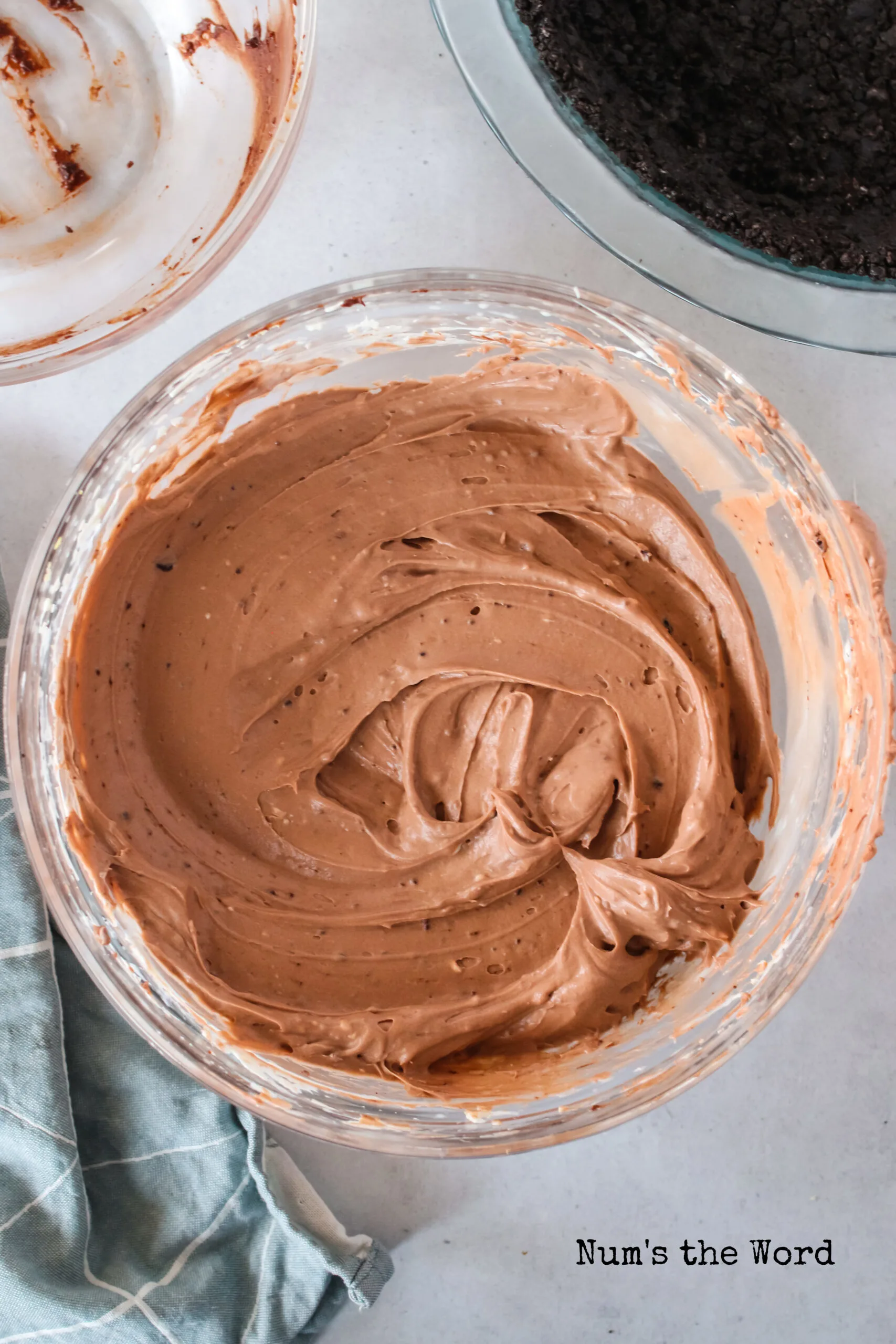 Can I Make No Bake Chocolate Cheesecake Ahead of Time?
Absolutely! Because the cheesecake is not cooked and meant to be refrigerated, it is perfect for making ahead of time.
Make it one, two, or even three days ahead of schedule.
Be sure it's properly wrapped and the cheesecake will stay good for up to 5 days in your fridge.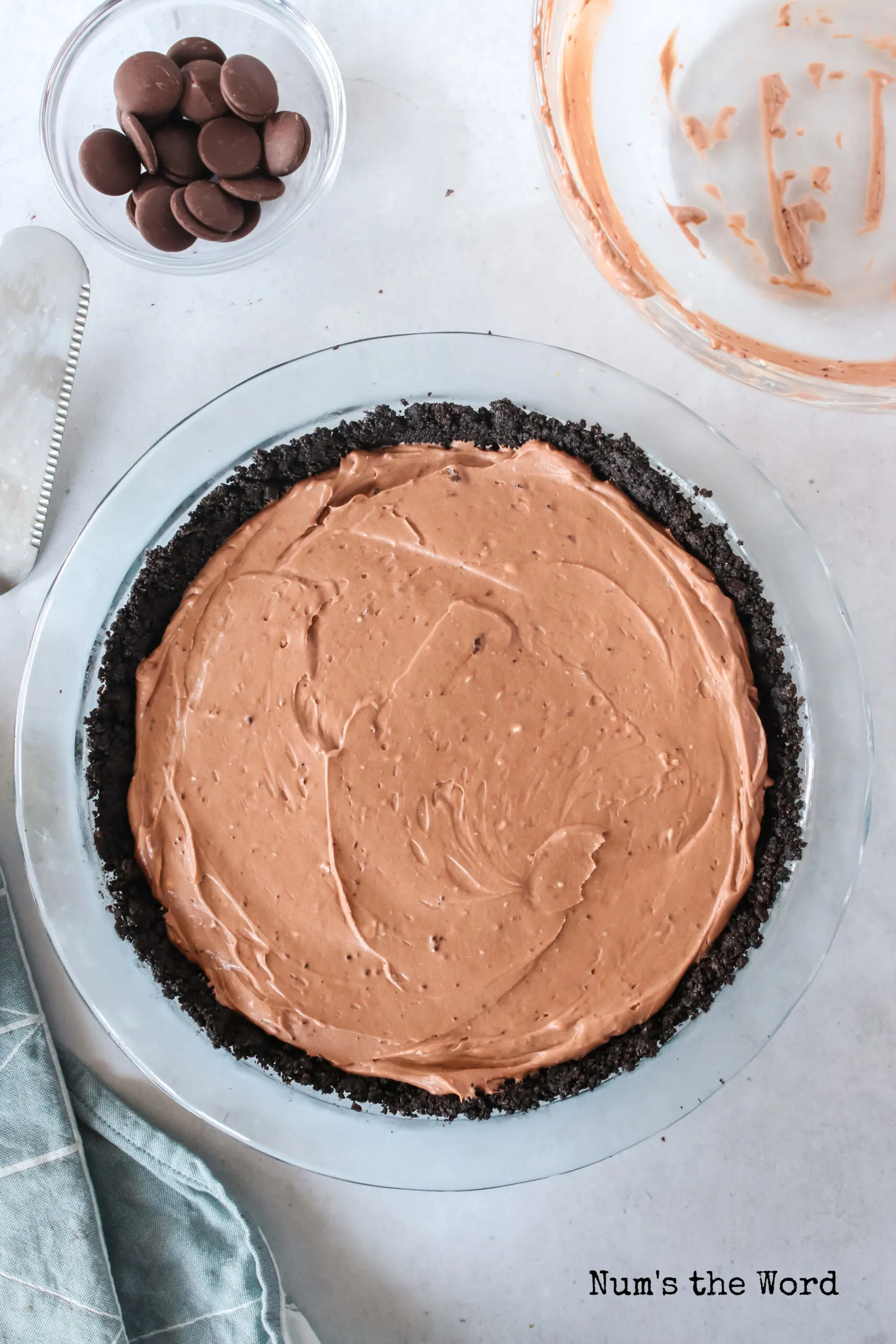 Can I Freeze No Bake Chocolate Cheesecake?
Another resounding yes!
I love no-bake cheesecakes for their ability to be prepared in advance. And freezing them lets me prepare them FAR in advance.
If you are freezing, do not add the toppings as they won't hold up as well, but prepare them instead when you are ready to eat the cheesecake.
Wrap the chocolate cheesecake well.
You don't want any space in between the plastic wrap and the cheesecake where condensation could build up.
Then wrap the entire cheesecake in aluminum foil to seal it tight. Be sure to write the date and what it is on top!
When ready to eat, thaw in the refrigerator for at least 8 hours or overnight.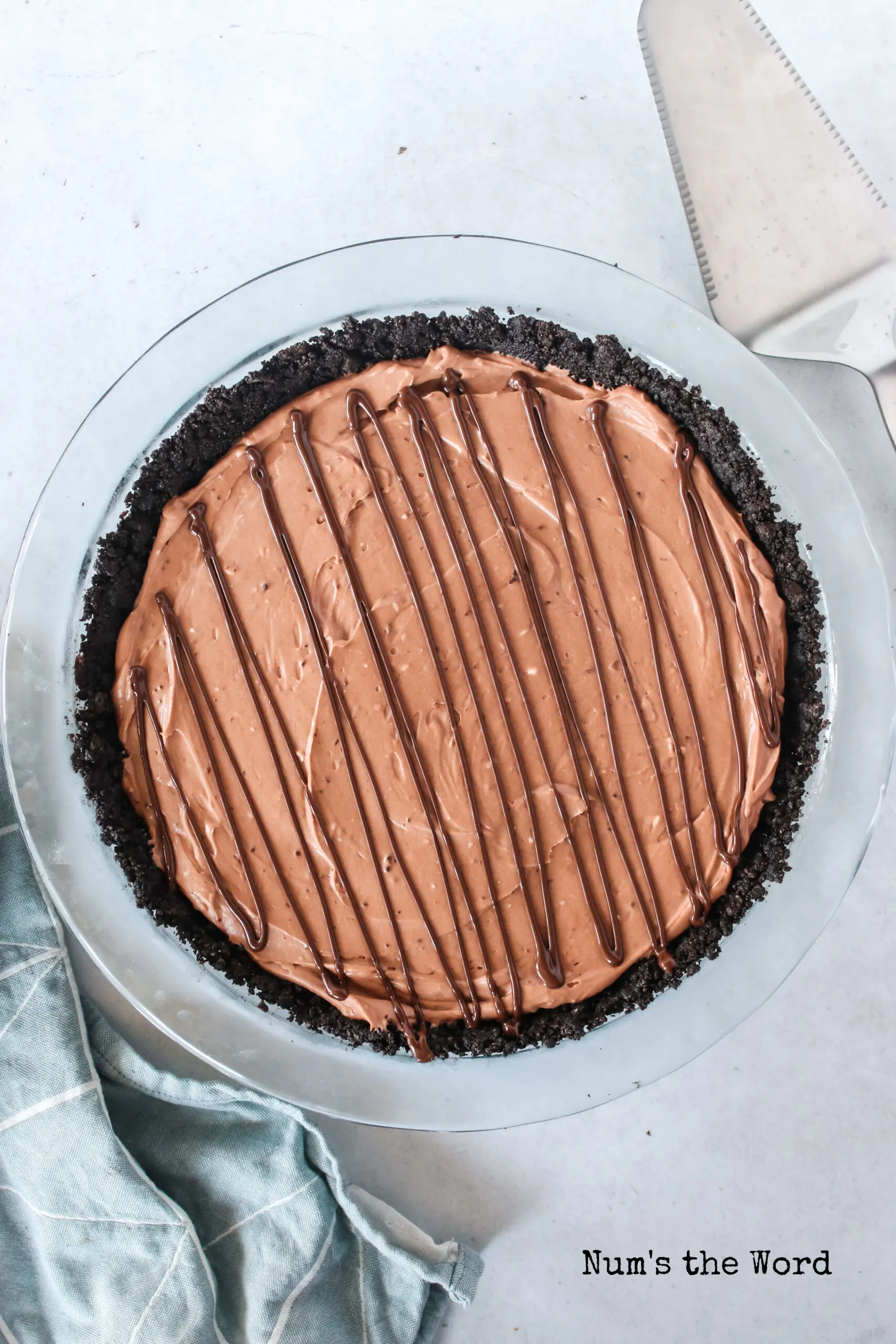 How to Store No Bake Chocolate Cheesecake
You can store the cheesecake after it has been dug into either in the fridge or freezer just like you would have stored it before eating.
Wrapping is key here.
If you leave it in the fridge or freezer with no wrapping, your cheesecake will dry out or get freezer burn. Yuck.
Wrap tightly with plastic wrap and then aluminum foil. This will keep your cheesecake fresh the longest.
I like preparing the toppings the day of instead of in advance if it is going to be more than 24 hours from preparing the cheesecake to eating the cheesecake.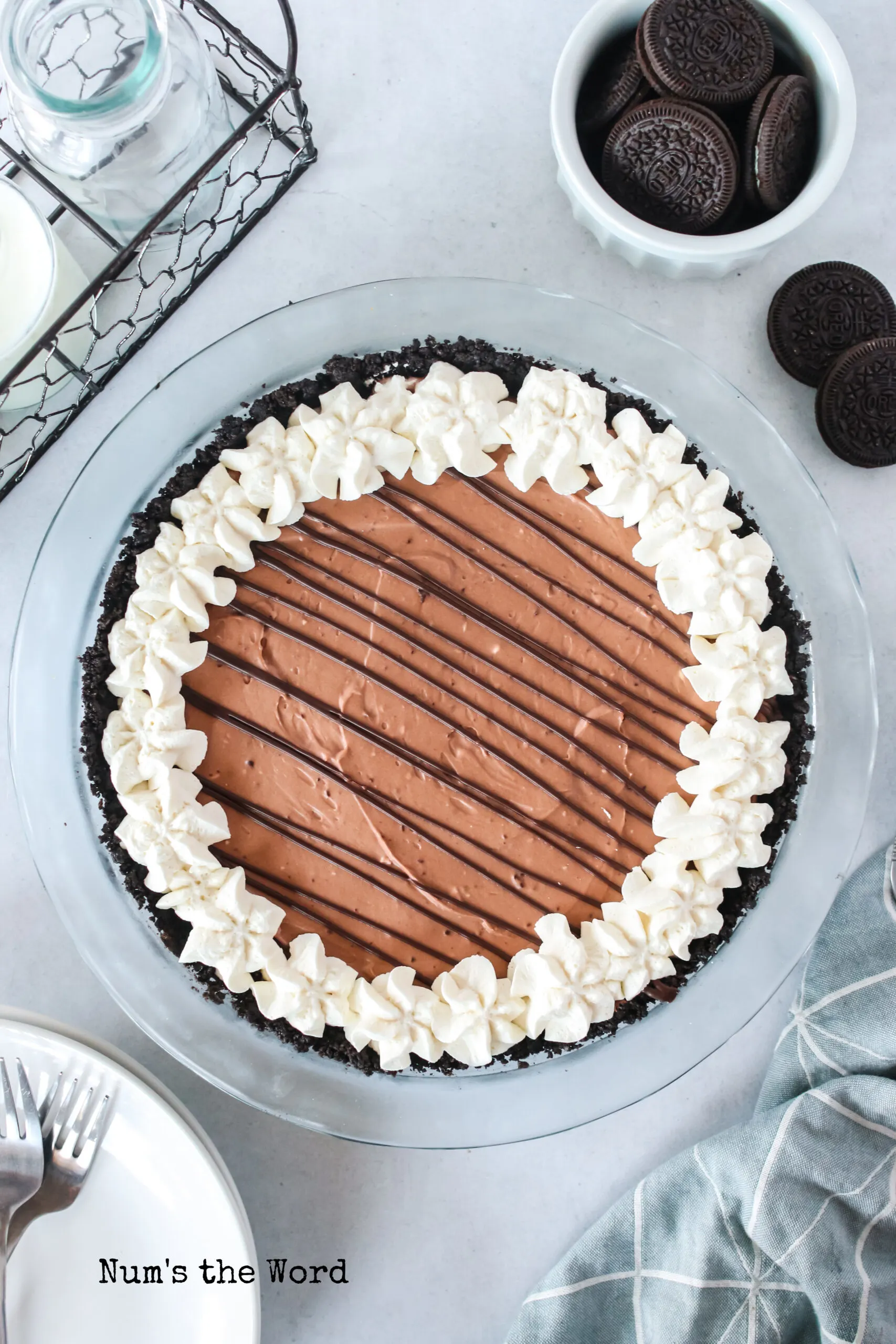 Can I Put Jello Pudding in Cheesecake?
Yes! While traditionally baked cheesecakes don't often call for jello pudding, no baked cheesecakes do.
This allows you to cut down on time baking and is also really super easy to prepare.
This recipe calls for a chocolate jello pudding.
There are also no bake cheesecake recipes that don't call for jello pudding like No Bake Lemon Cheesecake and No Bake Raspberry Lemon Cheesecake.
Cheesecakes have so many options for making them. That's why they are such a great dessert!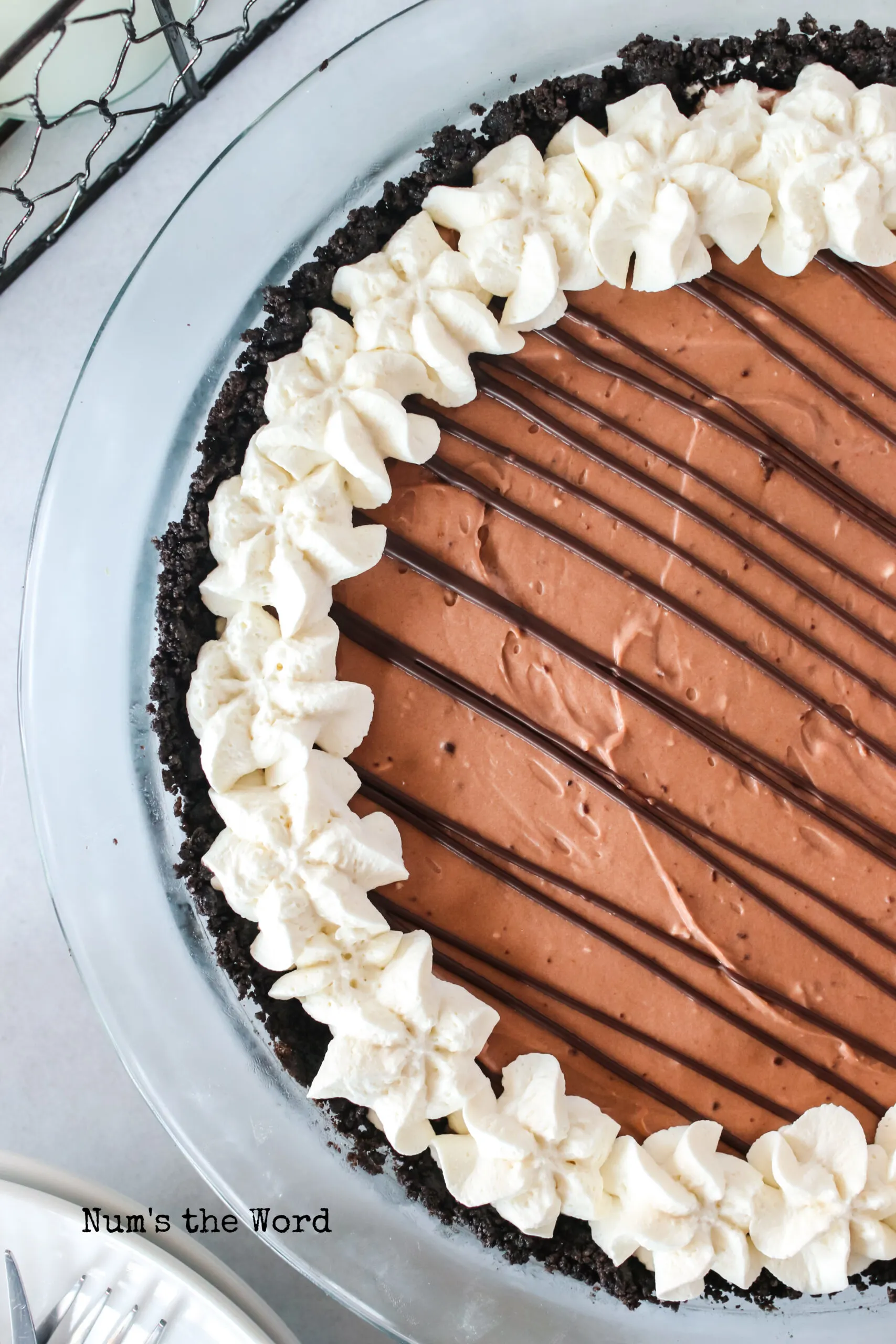 What is The Best Crust for No Bake Chocolate Cheesecake?
Oreo Pie Crust. Hands Down.
While you can experiment with different crusts by swapping out the Oreos with Graham Crackers or Nutter Butters, nothing will beat those Oreos.
MMMMM… Oreos. The cheesecake filling pairs really well with them too!
If you decide to try a different crust try something like chocolate graham crackers. They'll probably have the best flavor compliment.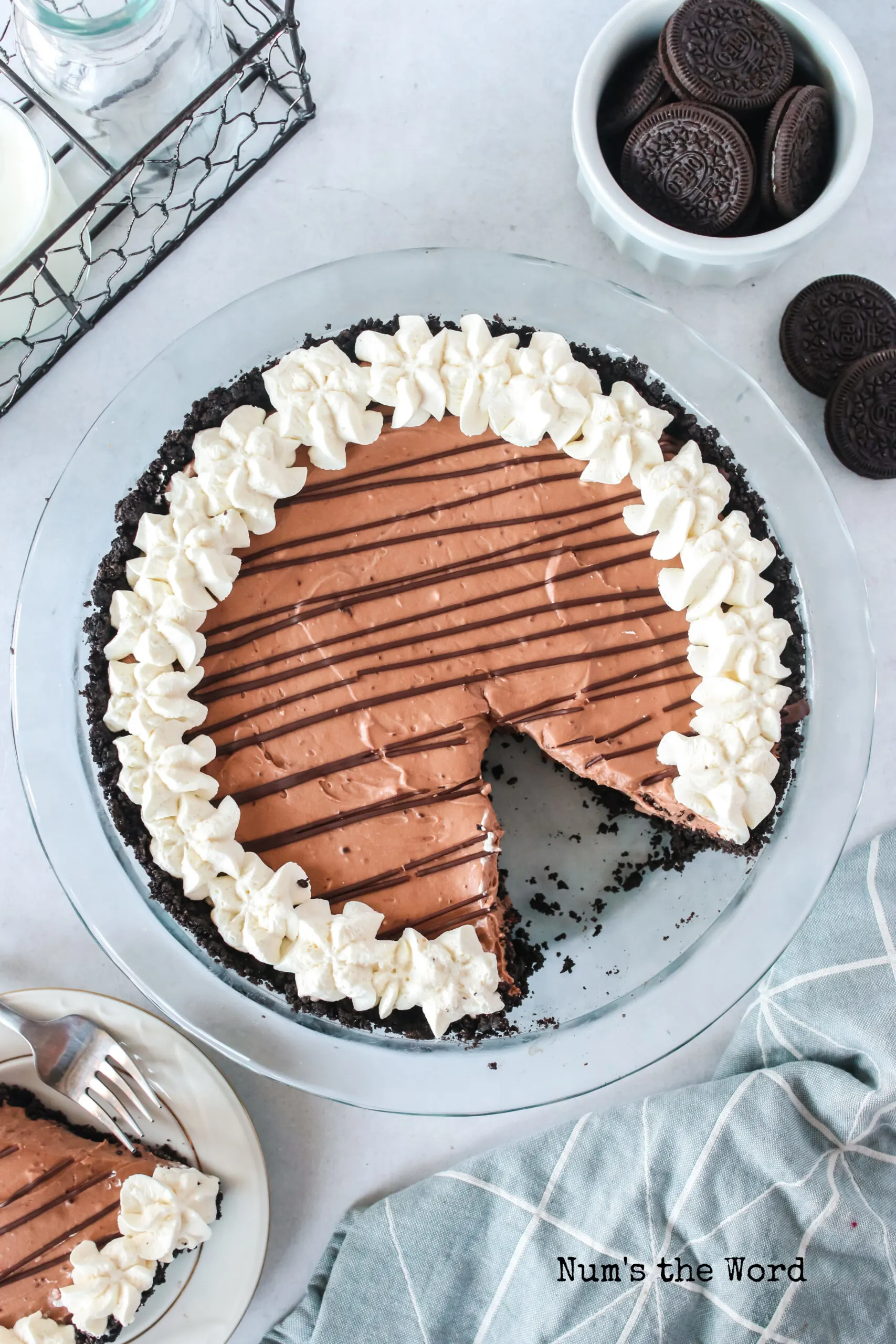 Is No Bake Chocolate Cheesecake Gluten Free?
Yes! Simply swap the regular Oreos for gluten free Oreos and bam.
You've got yourself an allergy friendly, gluten free no-bake cheesecake.
It's super easy prep for the holiday season if you want to bring a gluten free dessert.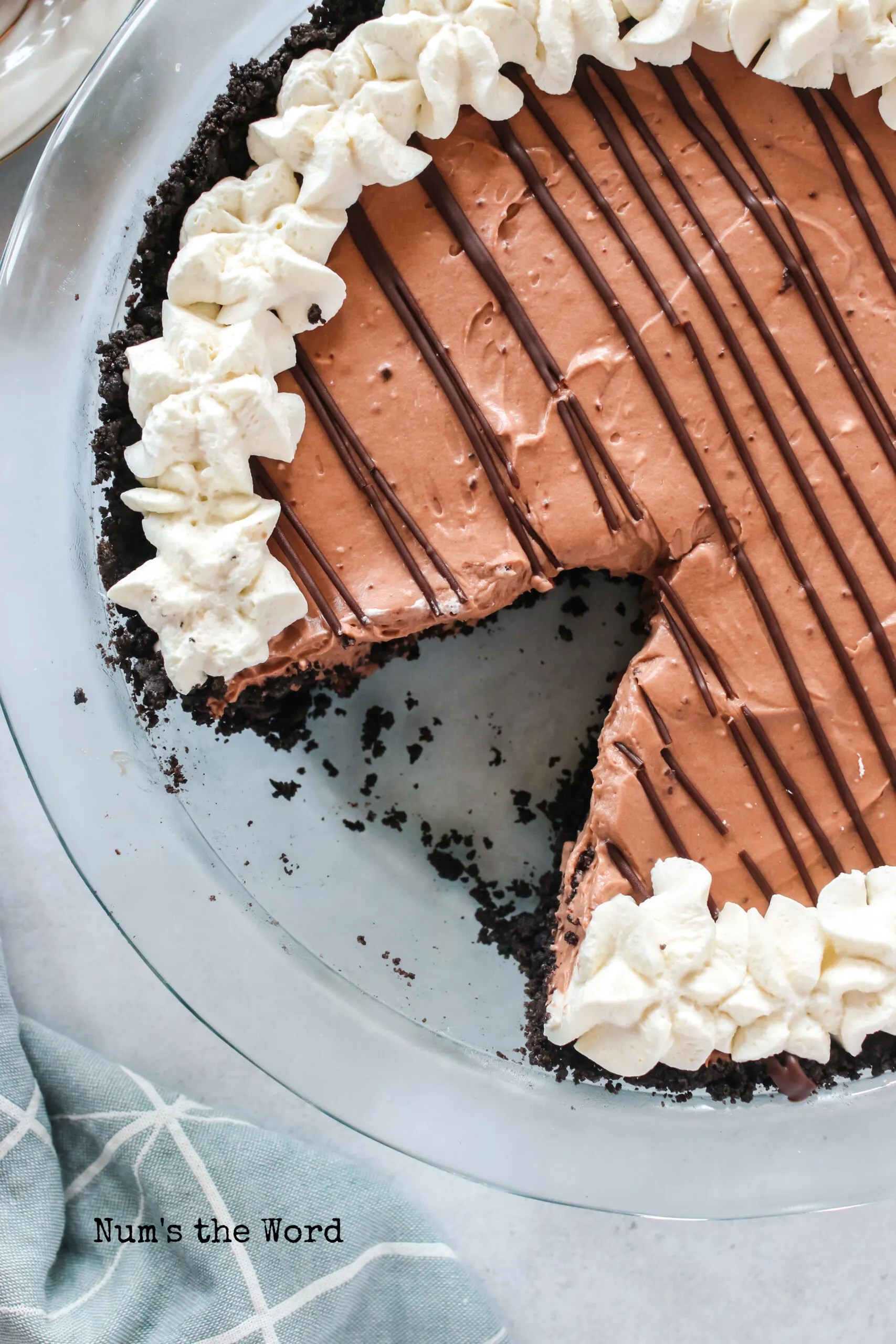 No Bake Chocolate Cheesecake Toppings
Try any of these fun toppings on the top of the cheesecake to easily customize your rich chocolate cheesecake!
Melted Chocolate (white chocolate, milk chocolate, semisweet chocolate dark chocolate, you pick!)
Whipped Cream or Cool Whip
Caramel Sauce
Fresh Fruit
Chocolate Chips
Mini Chocolate Chips
Crushed Cookie Crumbs
Crushed candies of any kind!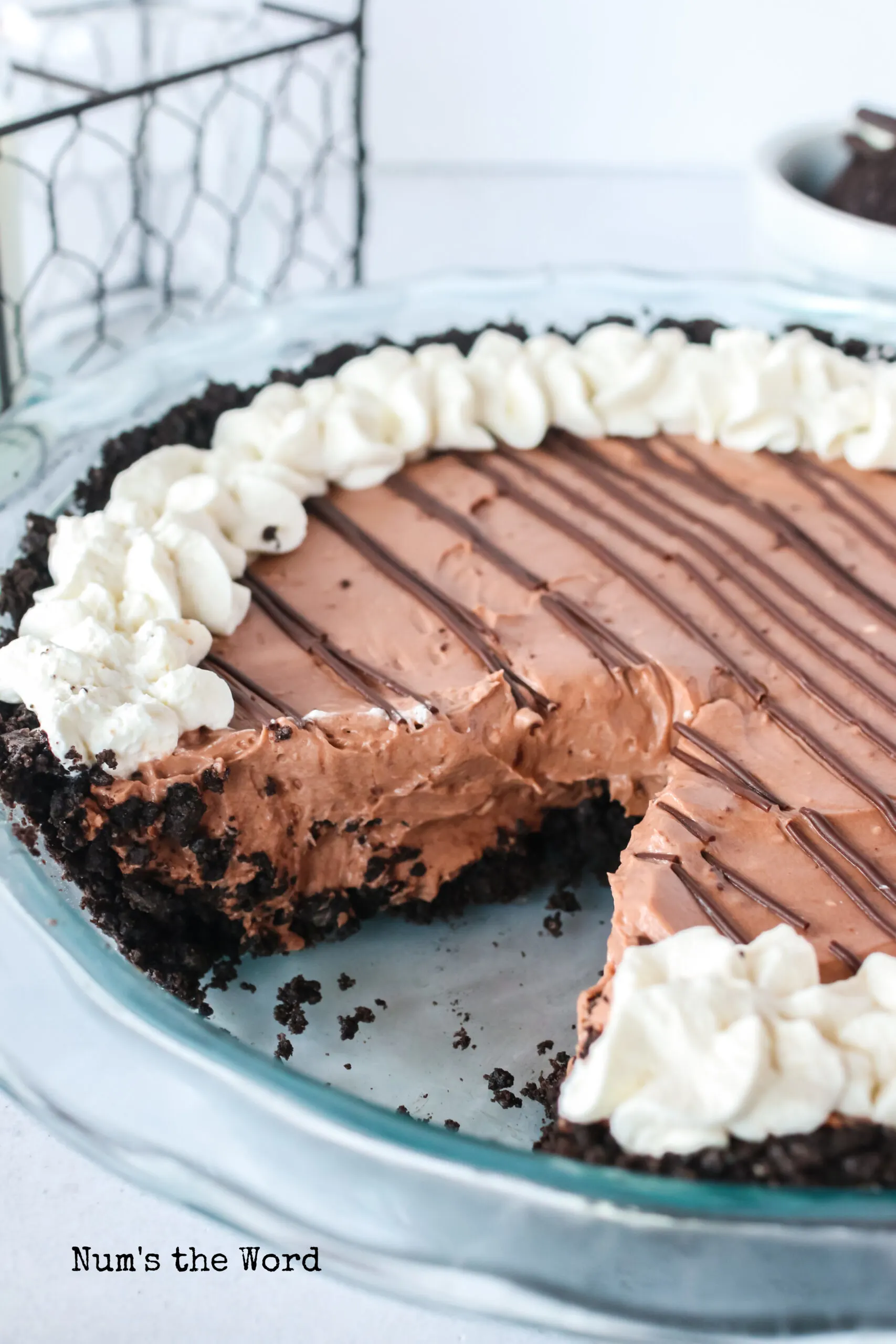 No Bake Chocolate Cheesecake will satisfy all your chocolate cravings! Simple, delicious, and easily prepped in advance it is the perfect dessert for your next party or get together!
Yield: 8 Slices
No Bake Chocolate Cheesecake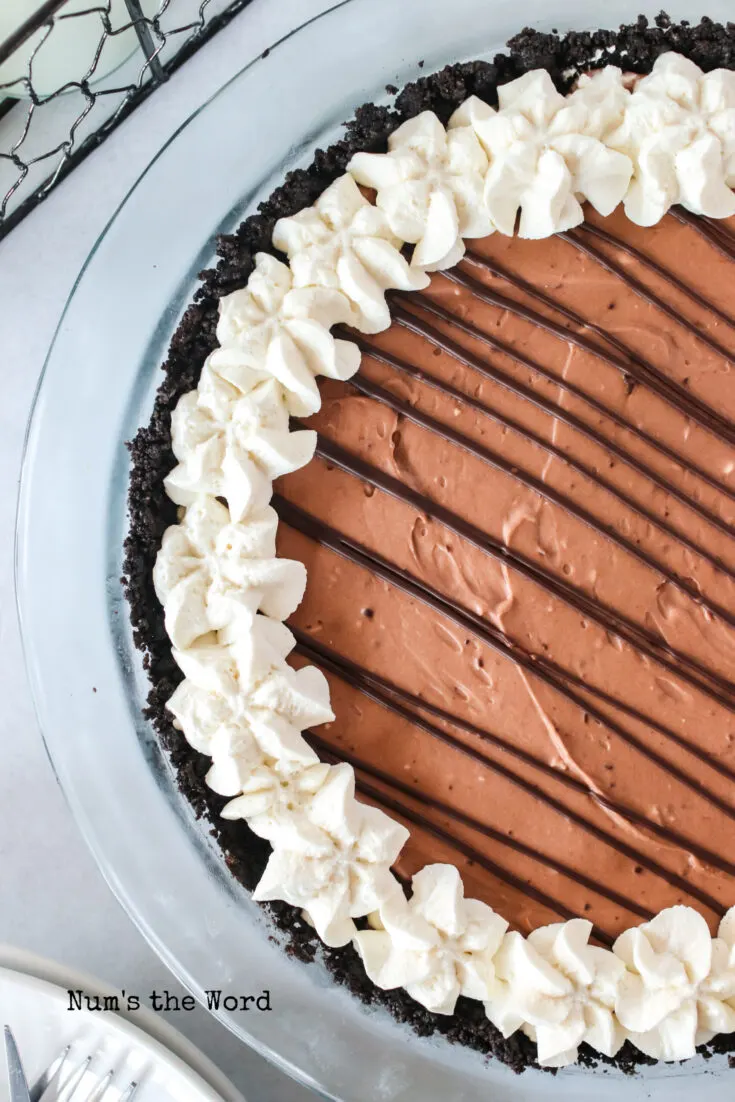 This No Bake Chocolate Cheesecake is so easy to make! It is wonderfully rich and creamy and the perfect dessert for parties and holidays!
Instructions
In a bowl beat chocolate instant pudding and whole milk. Once fully mixed and creamy, set aside.
In a second bowl, beat cream cheese until smooth.
Add sugar and continue mixing.
Add heavy whipping cream and mix until medium peaks form.
With a spatula, fold the pudding mixture into cream cheese mixture.
Pour chocolate cheesecake mixture into chilled crust.
Melt chocolate according to package directions.
Drizzle chocolate over cheesecake
In a bowl add ½ cup whipping cream, vanilla and powdered sugar. Mix until stiff peaks form.
Pipe dollops of whipped cream along the edge of the pie.
Nutrition Information:
Yield:
8
Serving Size:
1
Amount Per Serving:
Calories:

295
Total Fat:

18g
Saturated Fat:

9g
Trans Fat:

0g
Unsaturated Fat:

8g
Cholesterol:

41mg
Sodium:

197mg
Carbohydrates:

29g
Fiber:

1g
Sugar:

17g
Protein:

4g