Oreo Pie Crust is incredibly easy, only has two ingredients, and is SOOOO yummy! You can use it in pies, cheesecakes, or anything else you can think of!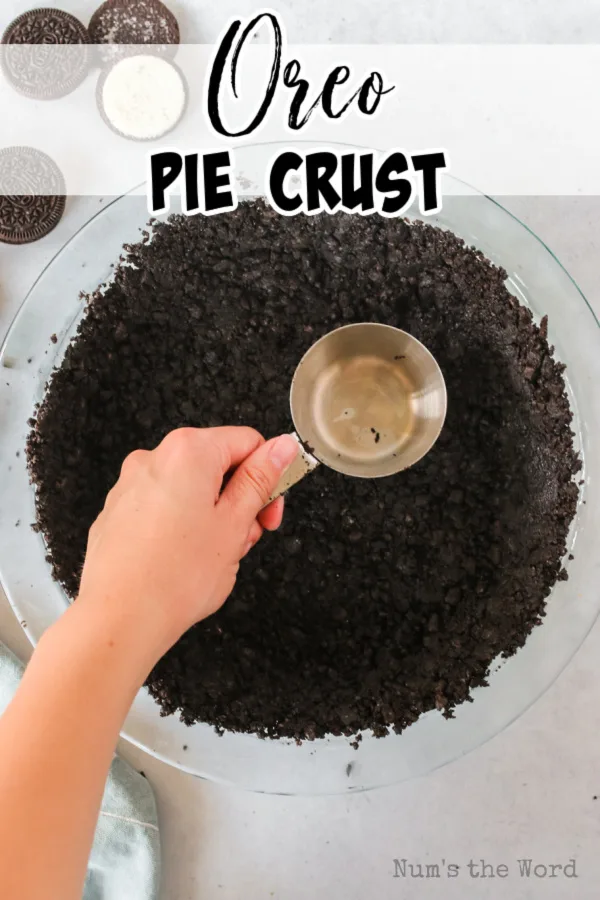 Oreos should be a staple in everyone's house. They definitely are in mine. At least when the kids don't find them and eat them all.
Having Oreos in the house means I can make Oreo cookie crust in less than 10 minutes. It makes for an easy dessert that the entire family enjoys.
Literally, this Oreo pie crust recipe takes less time than running to the store and back.
I love that it only has two ingredients too! Two. Just two ingredients!
Homemade Oreo pie crust tastes way better than any pie crust you could buy at the store.
And you can use the Oreo pie crust recipe for either baked or unbaked recipes!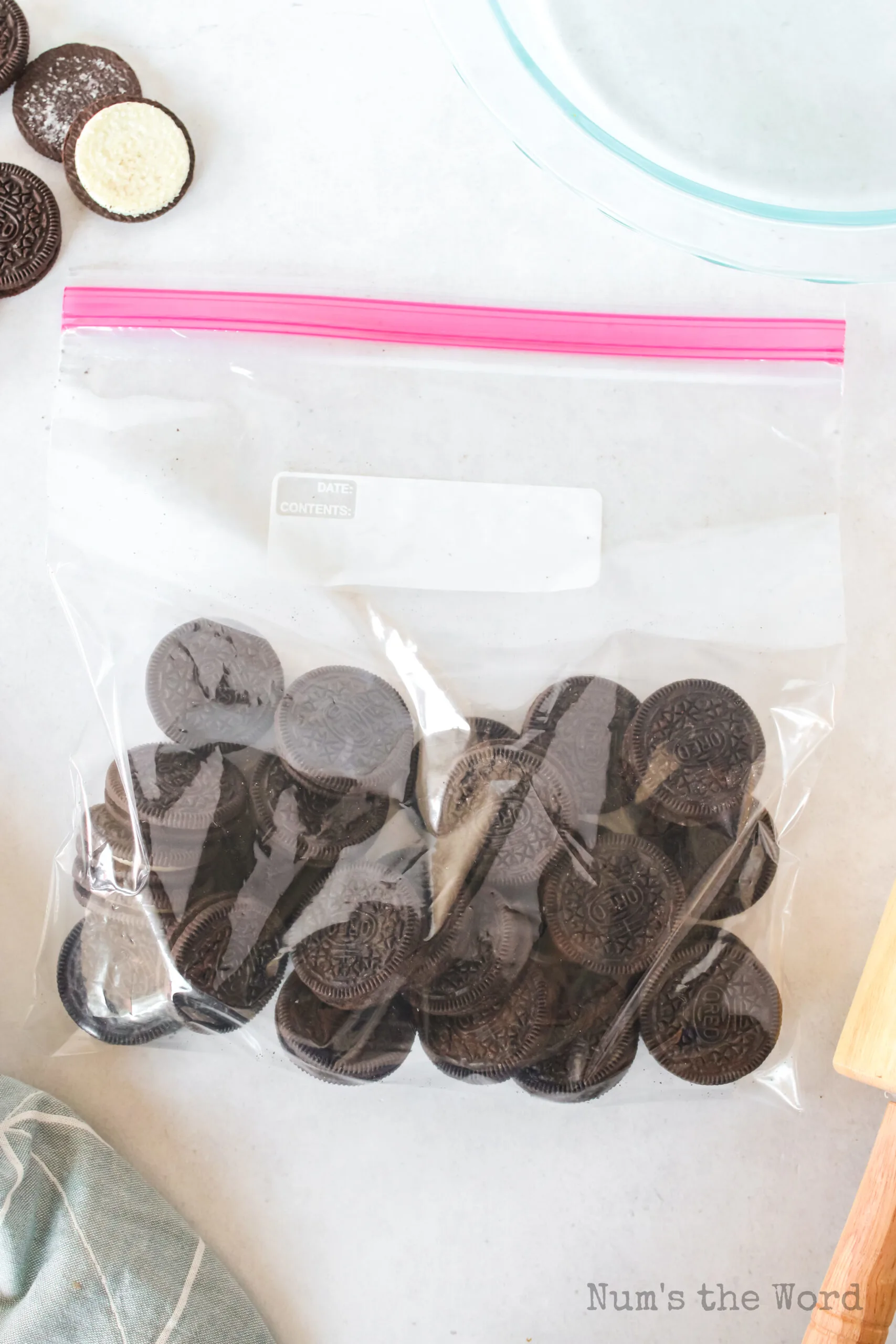 Ingredients in Oreo Pie Crust
All you need is two simple ingredients! I don't know how many times I can say it.
Just know I'm SO happy to only need to use two ingredients.
Oreos: Don't remove the filling! The creamy goodness is needed for the pie crust.
Butter: Melt the butter to make mixing in with the Oreos easier.
Pro Tips:
You want the filling in the Oreos but too much filling can lead to your pie crust being too moist. Use only single stuffed Oreos.
Buy extra Oreos. Then you can make the pie crust and eat some too!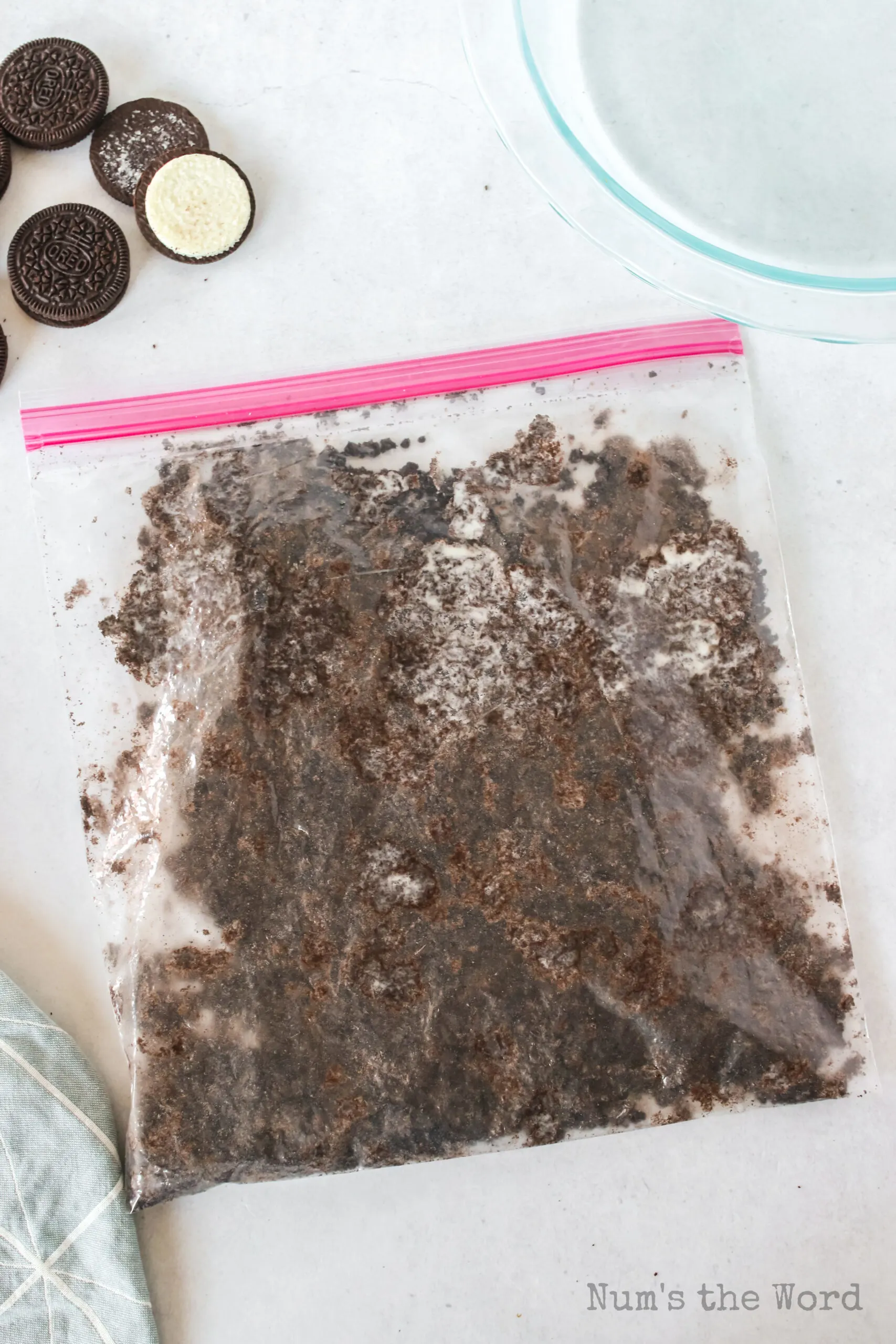 Is Oreo Pie Crust Gluten Free?
It can be! Since chocolate pie crust only needs two ingredients, it's very easy to make it gluten free.
Gluten free Oreos can be bought at most major grocery stores. Use them the same way you would use regular Oreos.
Is Oreo Pie Crust Vegan?
Believe it or not, Oreo's are vegan. The melted butter however is not. Simply switch to vegan butter can also be bought at most major grocery stores.
Pro Tip: Swapping both the regular Oreos for gluten free and regular butter for vegan would give you a gluten free, vegan Oreo pie crust.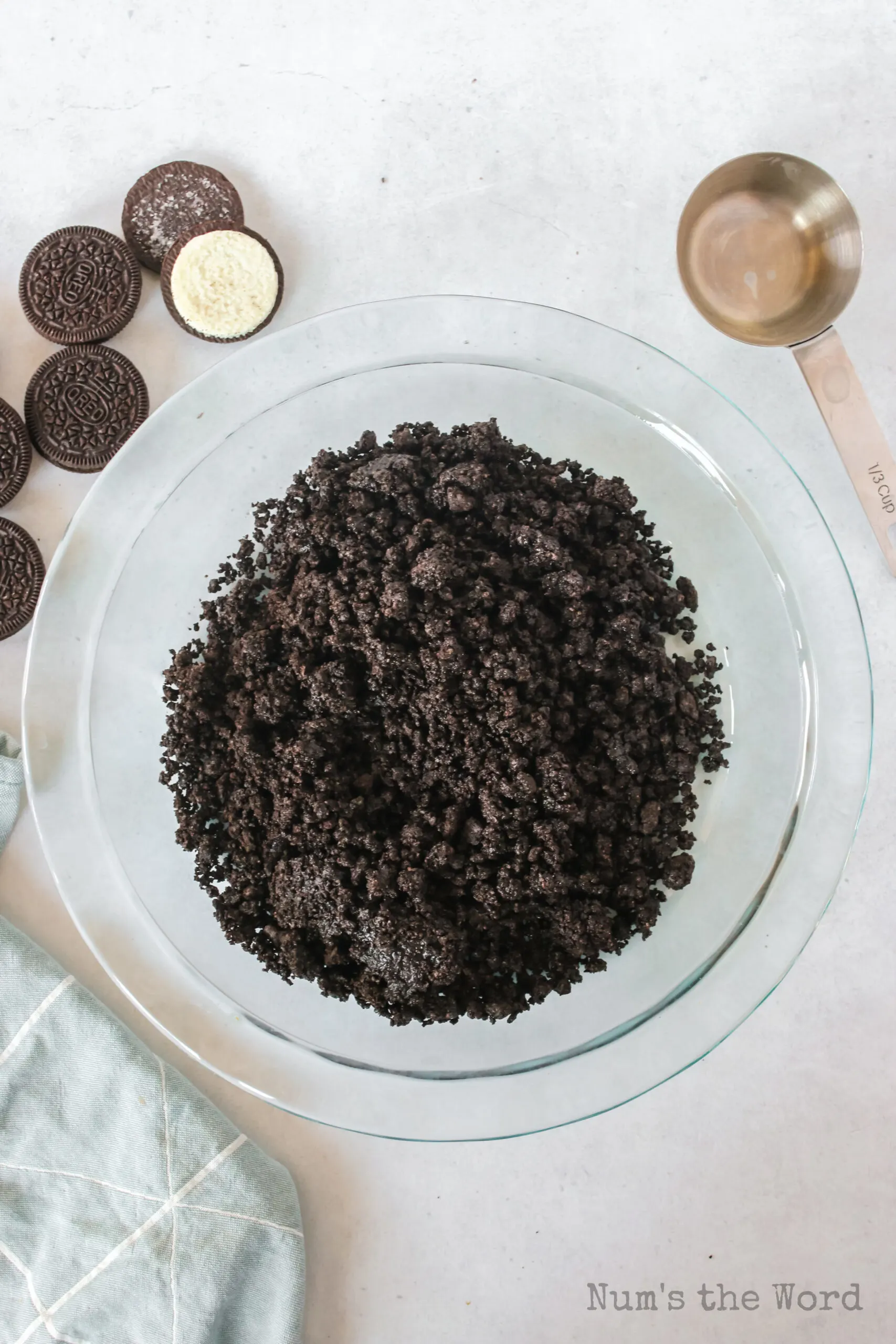 How to Make Oreo Pie Crust
Mix together the crushed Oreo cookies and butter. That's it! Really! The key is getting your Oreos into fine crumbs. Big chunks don't make great pie crusts. You'll want them as fine as you can get them.
When my kids help me, they have the best experience when I put all the Oreos in a zipper bag and let them beat the bag with a rolling pin.
When it's just me, I blend the Oreos with my blender or food processor to make this easy Oreo pie crust recipe.
This chocolate crust has two ingredients but requires only one step. You'll get incredible flavor and a pie crust for all your favorite pies. It can't get any better than that.
Then press into your pie plate or springform pan. I like to use the back of a measuring cup or glass.
That makes sure the Oreos are packed in tight and evenly. You could also press in with just your fingers.
Once your pie crust is made you can use your favorite fillings to make no-bake pies, or bake pie crust for a crispier crust.
Pro Tips:
Make sure the Oreos and butter are fully mixed to prevent them from separating when baking.
Lightly grease the pie dish before adding the Oreo butter mixture to ease removal later.
You can use golden Oreos for a delicious twist on this Oreo crust recipe.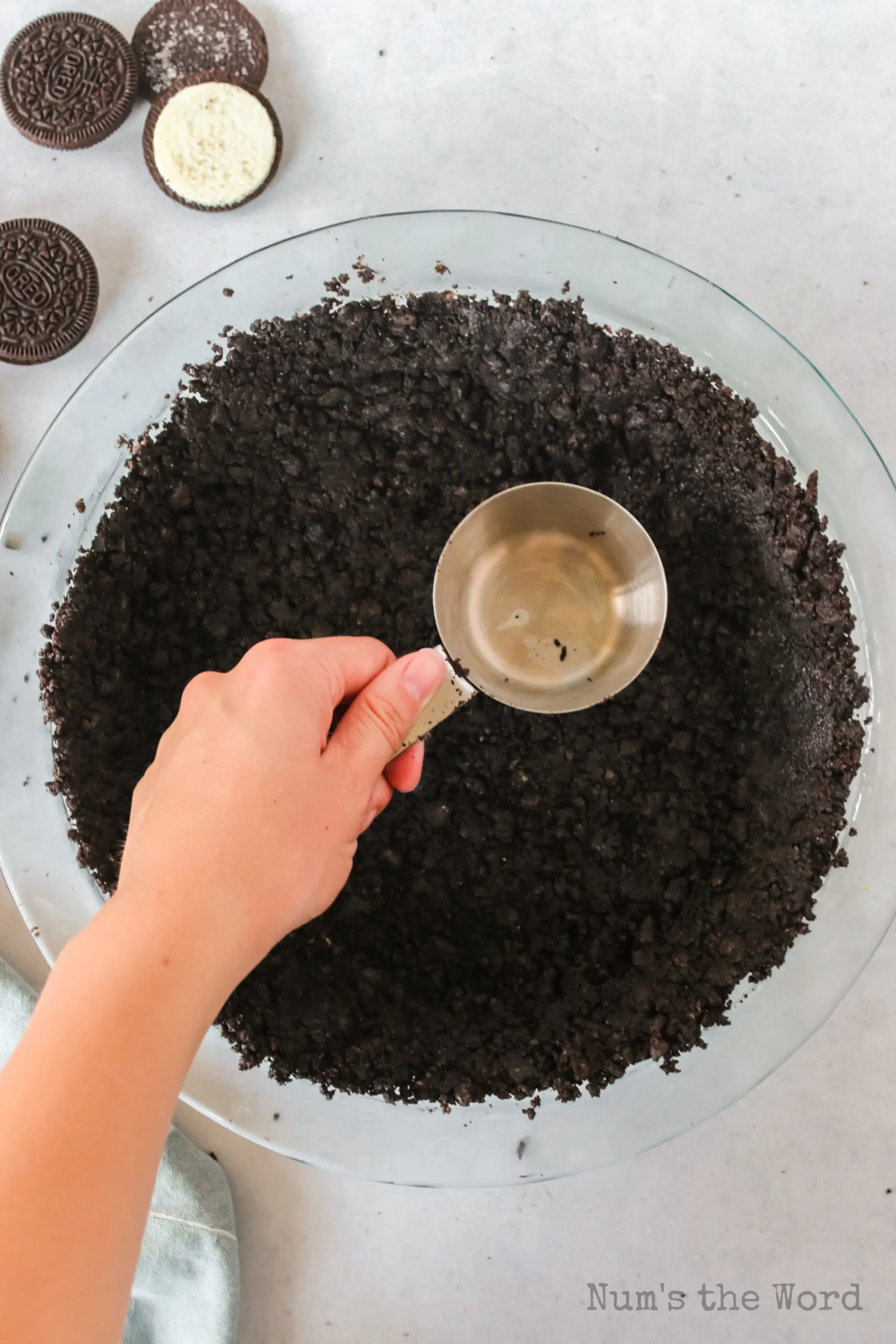 Can you Bake a Premade Oreo Pie Crust?
Yes you can bake it or not. There's actually three options here.
Baked with Filling: After making the pie crust, fill immediately and bake according to directions of your recipe.
Prebake before Filling: This step is unnecessary but you could pre bake the pie crust to make it crispier if desired.
Unbaked: For no bake desserts like pies and cheesecakes, chill for 30 minutes before filling and chilling.
Pro Tip: Follow the directions of your recipe. Typically if the recipe calls for pre baked or not, there is a good reason.
Can I Freeze a Homemade Oreo Pie Crust?
Yes you can freeze a homemade Oreo Pie Crust!
After making this Oreo cookie crust recipe, wrap it up tightly at least twice and cover with aluminum foil.
It should stay good in your freezer for up to three months.
Pro Tip: Use this Oreo Pie Crust for an Oreo ice cream pie!
Simply make the recipe as stated, put the pie pan in the freezer for 30 minutes, and then fill with ice cream.
Add a dollop of whipped cream and a cherry or two and you've got yourself a beautiful, easy, and delicious homemade dessert!
Don't forget a drizzle of chocolate or caramel to go over the top!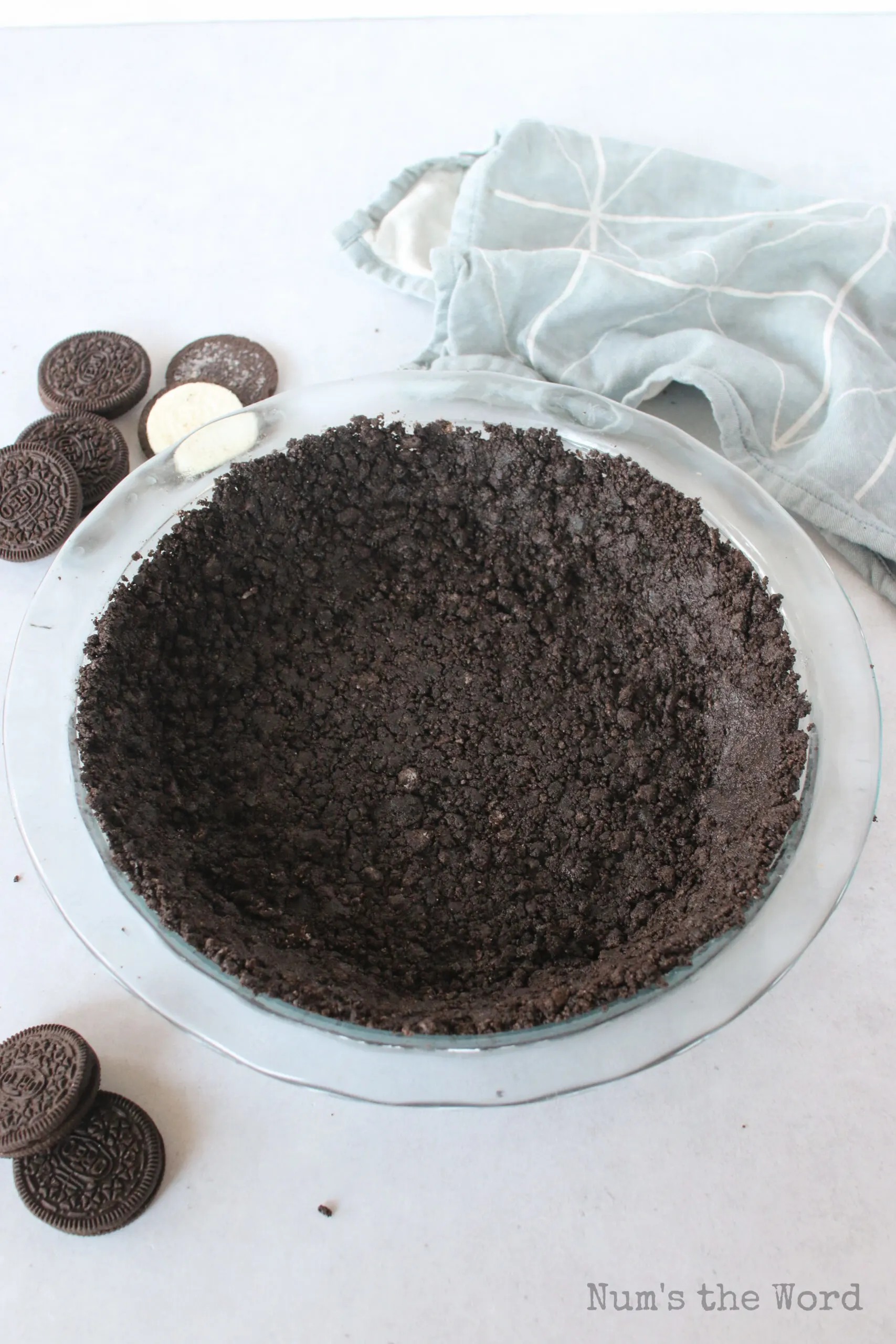 Oreo Pie Crust Flavors
Did you know that flavoring your pie crust is as simple as grabbing a different bag of Oreos off the shelf?
Use any flavor you want and follow the recipe for a delicious pie crust!
Here are just a few flavors I found:
Hazelnut
Mint
Birthday Cake
Chocolate
Peanut Butter
S'mores
Lemon
Golden Oreos
At Christmas time I used a candy cane Oreo pie crust and everyone was crazy about it!
So let your imagination run wild and give an Oreo flavor a try. Once you do then fill your pie with a variety of fillings that the whole family will love.
How to Crush Oreos for Oreo Pie Crust
Food Processor: Absolutely the easiest way to crush your Oreos. Simply toss the Oreos in and turn them into crumbs!
Blender: This one is as easy as the food processor but I don't like it quite as much simply because my blender is a little harder to get all the cookie crumbs out of.
Rolling Pin: More time consuming but much more fun for the littles. Place the Oreos in a zippered bag and roll those Oreos down!
Mallet: Same as with the rolling pin, use a zippered bag and get to whacking. I recommend this method if you're feeling stressed!
Pro Tips:
Make sure the Oreo crumbs are very fine. Large pieces will make it difficult for the butter to hold it together.
Double bag the Oreos if using the rolling pin or mallet to prevent any holes from destroying your kitchen!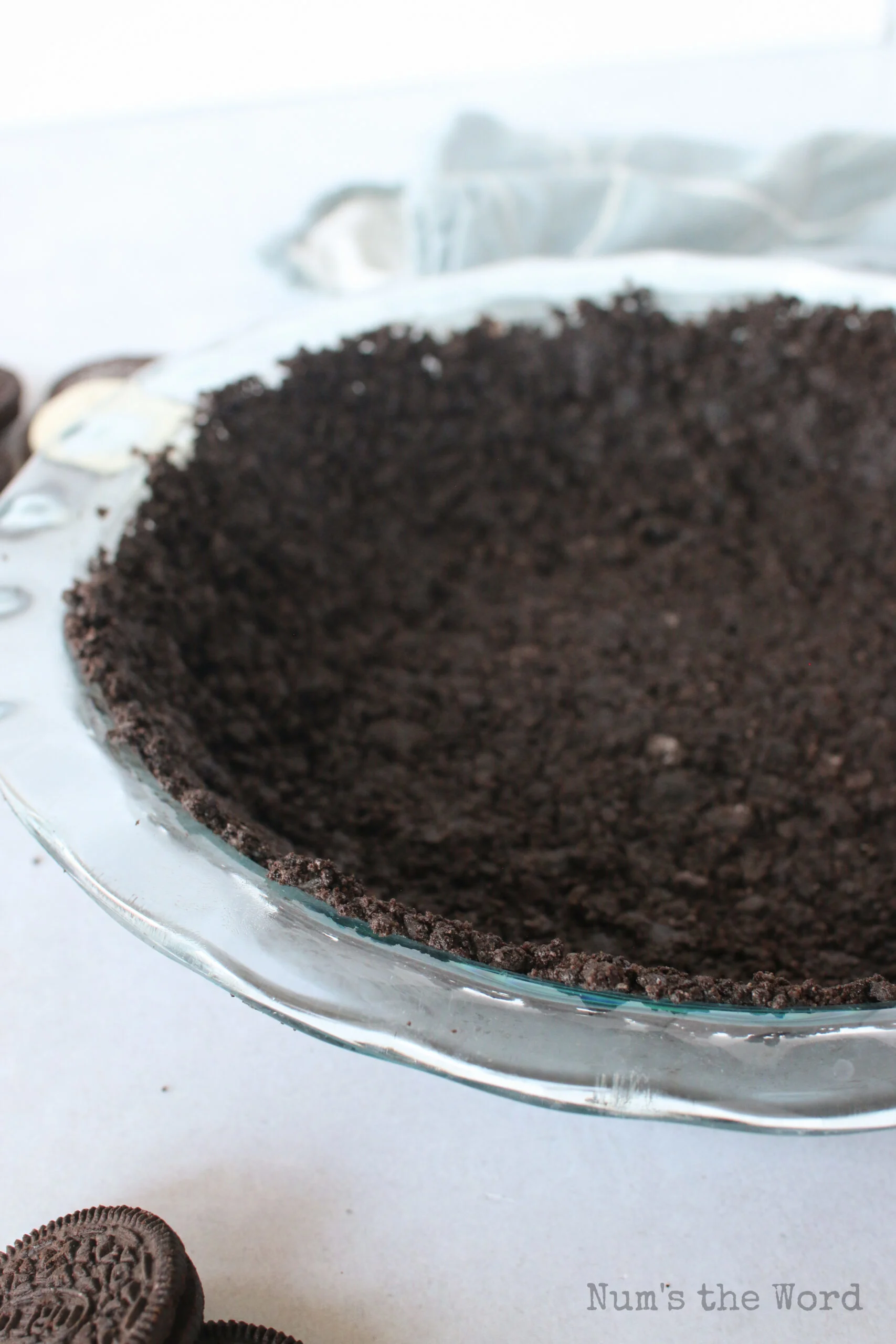 What to Make with Oreo Pie Crust
Pie, cheesecakes, ice cream pie, the sky's the limit! Any pie that requires a graham cracker type crust will work great with an Oreo pie crust.
Personally I'm a huge fan of adding my no bake peanut butter filling for No Bake Peanut Butter Pie in this crust for an chocolate peanut butter combination.
I also like this No Bake Chocolate Cheesecake pie that uses cream cheese. Smooth, creamy and delicious!
My kids would say their favorite is this Easy Chocolate Pie because if has the perfect base of chocolate ganache.
Whatever pie you make, weather a cream pudding pie or fruit pie, chocolate Oreos offer a delicious base that will elevate your homemade pie.
My other favorite for using Oreo pie crust is Turtle Cheesecake. A chocolate swirl cheesecake is just made so much better with an Oreo pie crust.
But really, most recipes can be swapped for the pie crust.
If it calls for a graham cracker or cookie pie crust, try swapping out with this Oreo pie crust recipe and you'll be pleasantly surprised.
And while you're making those, check out this story for How to Eat an Oreo. Your life will never be the same.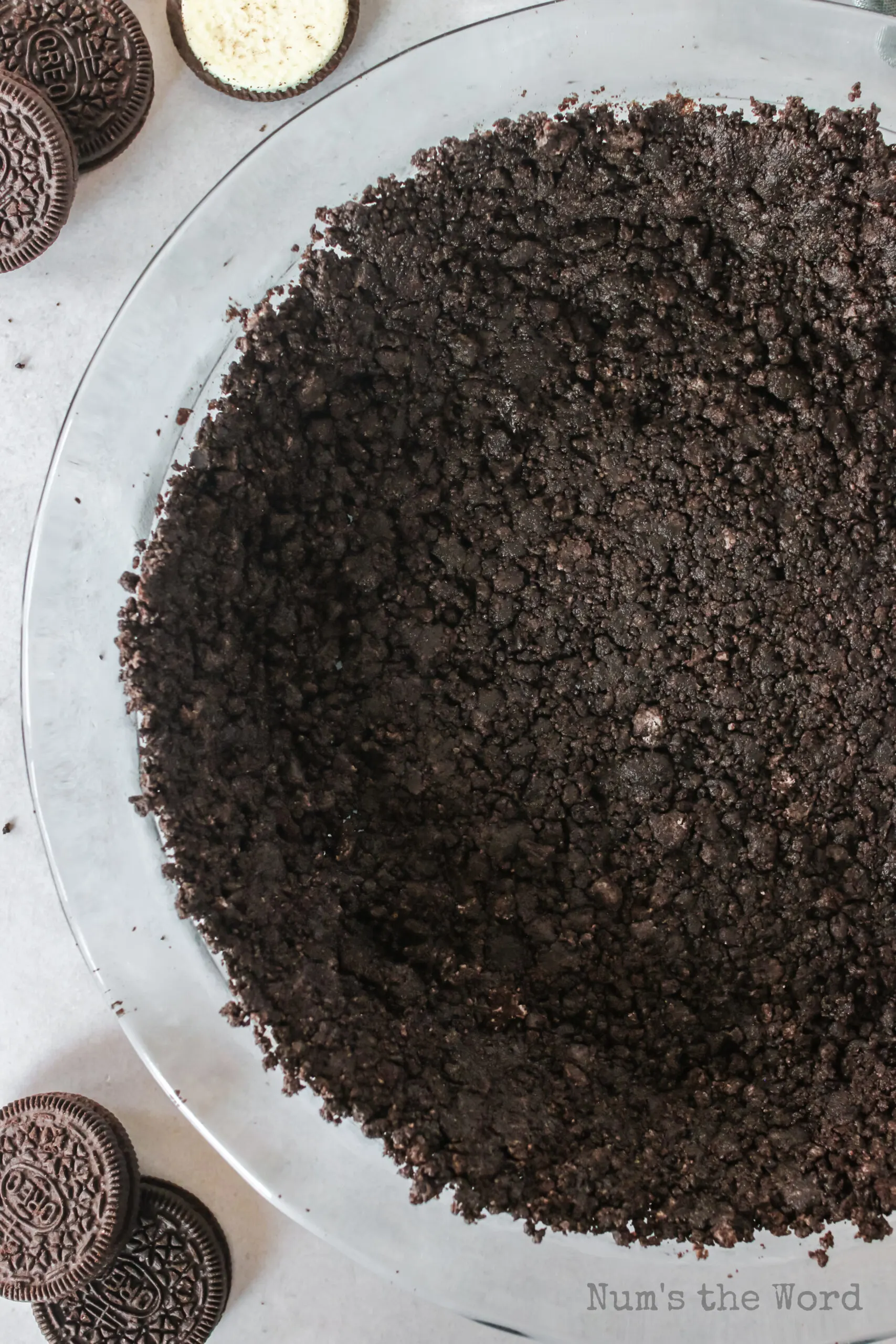 Oreo Pie Crust is simple, easy, and quick. It is incredibly rich and sweet and the perfect pie crust for your next pie or cheesecake! With this simple pie crust you can dream of endless dessert possibilities.
Yield: 1 Oreo Pie Crust
Oreo Pie Crust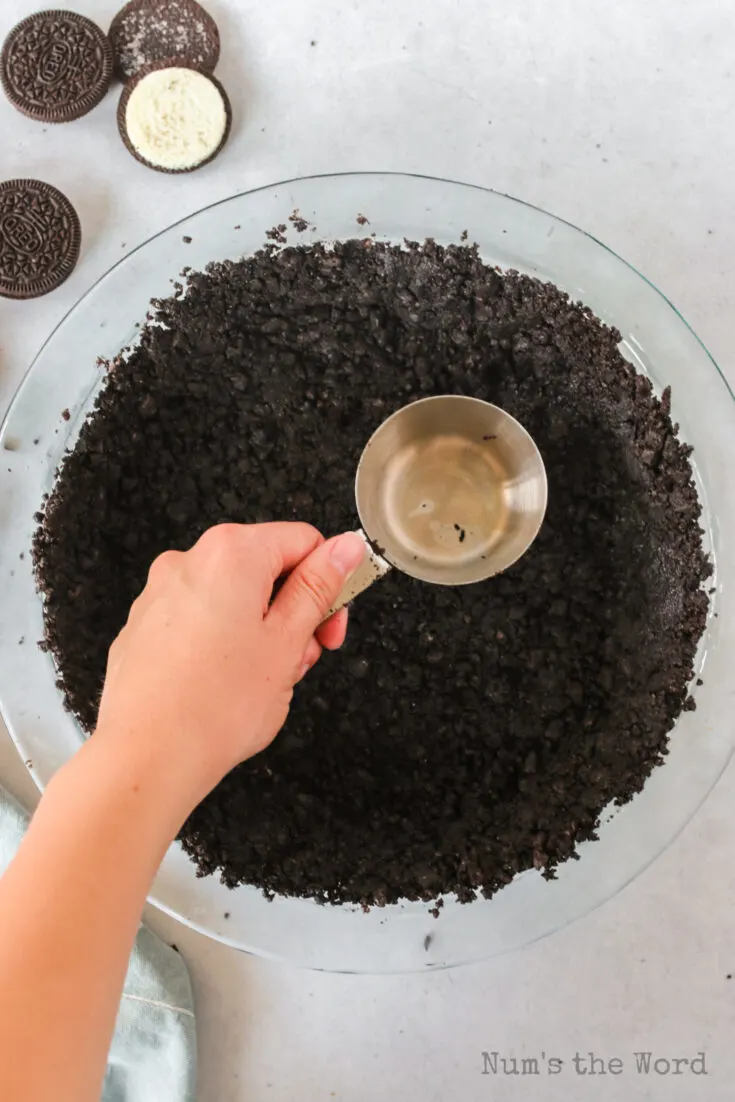 Oreo Pie Crust is incredibly easy, only has two ingredients, and is SOOOO yummy! You can use it in pies, cheesecakes, or anything else you can think of!
Ingredients
25 Oreos, regular stuffed
1/4 cup butter, melted
Instructions
In a food processor, blender or in a zippered bag with a rolling pin, crush Oreos (WITH FILLING) into find crumbs.
Pour crumbs into a bowl and add melted butter. Mix well.
Pour crumb mixture into a 9 inch pie crust.
Using the back of a measuring cup, press oreo crumbs into the bottom and up the sides until firm.
Fill and bake immediately for baked pies.
If making a no bake pie, chill for 30 minutes then fill and chill.
Nutrition Information:
Yield:
8
Serving Size:
1
Amount Per Serving:
Calories:

218
Total Fat:

13g
Saturated Fat:

6g
Trans Fat:

0g
Unsaturated Fat:

2g
Cholesterol:

15mg
Sodium:

186mg
Carbohydrates:

26g
Fiber:

1g
Sugar:

15g
Protein:

1g