Turtle Cheesecake – A chocolate swirl cheesecake with a layer of caramel and pecans held together with a Oreo cookie crust.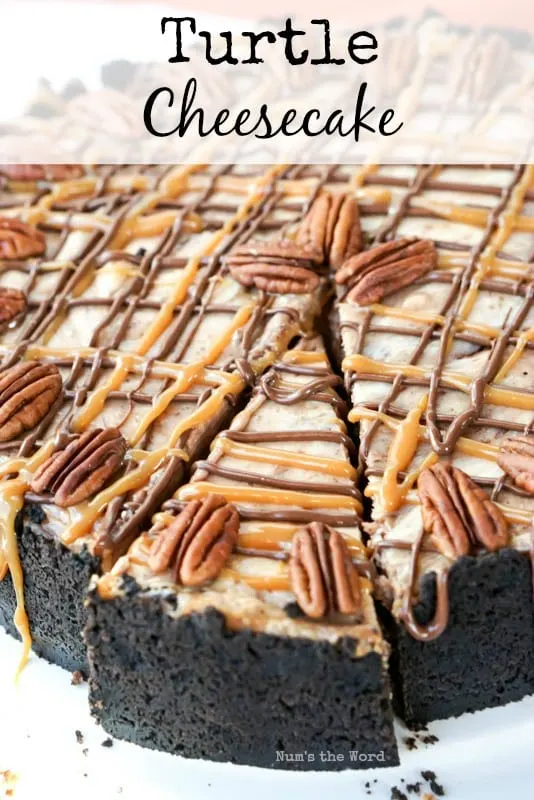 While pregnant with our second child, I began to crave a chocolate cheesecake.
However, knowing myself and my inability to control myself when it came to how much I ate of it, I kept putting it off.
Then one day, the thought of a turtle cheesecake popped into my head.
Again, I knew that making one would be very dangerous (and not help me get rid of the baby weight I was now attempting to purge) and so I put it off.
That is until Jodie and I started talking about cheesecake. She mentioned that she recently had a turtle cheesecake over Christmas and how good it was. That was all I needed to hear to finally get me to break down and make it.
I did however, wait until we had company over for dinner so I could pawn some of it off on them. Some. Not all.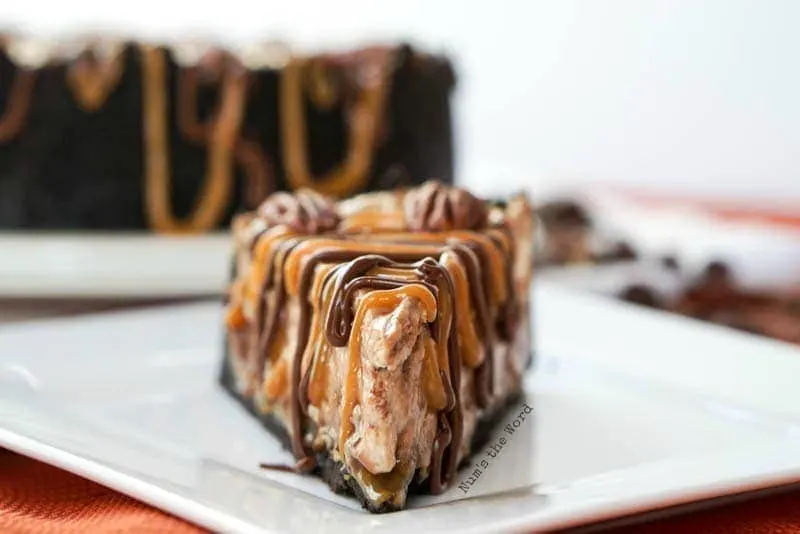 Which means I ate it again for breakfast, another slice for lunch, oh and dessert again that night.
Knowing that this would again become breakfast, I had to get it out of the house.
I literally had NO self control, it was amazingly good.
So I took the rest to a neighbor begging them to save me from myself. A request they were all too happy to assist with.
Cheesecake is one of my favorite desserts. I could easily eat it for every meal and never get enough (and as you now know, have).
And this one is no exception. It's absolutely delicious.
So delicious I decided to make it again for my 35th birthday.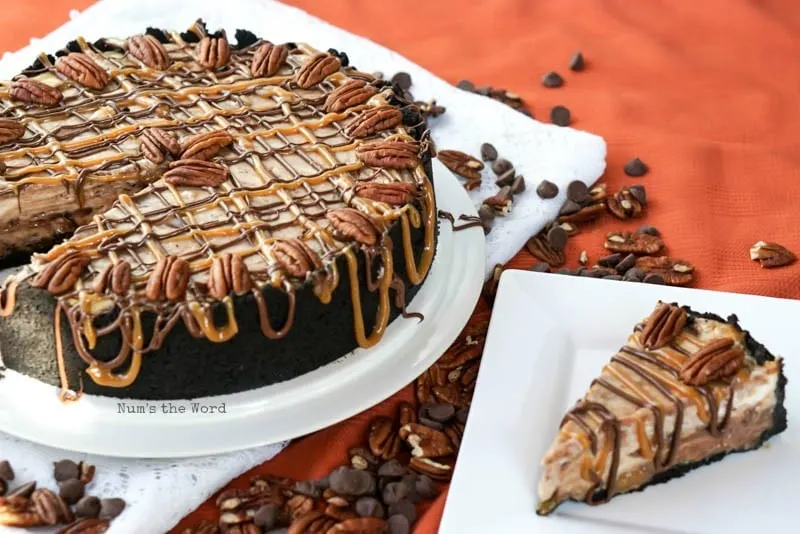 Generally people don't make their own birthday cakes, but I couldn't help myself.
I really wanted to eat this again and I already had all the ingredients on hand, so alas I whipped it up for my birthday! No one complained and I enjoyed it again for dessert, breakfast and lunch!
Chocolate cookie crust, a layer of caramel and pecans topped with a chocolate swirl cheesecake.
Is there really anything better than this combination? I think not.
Yield: 1 Cheesecake
Turtle Cheesecake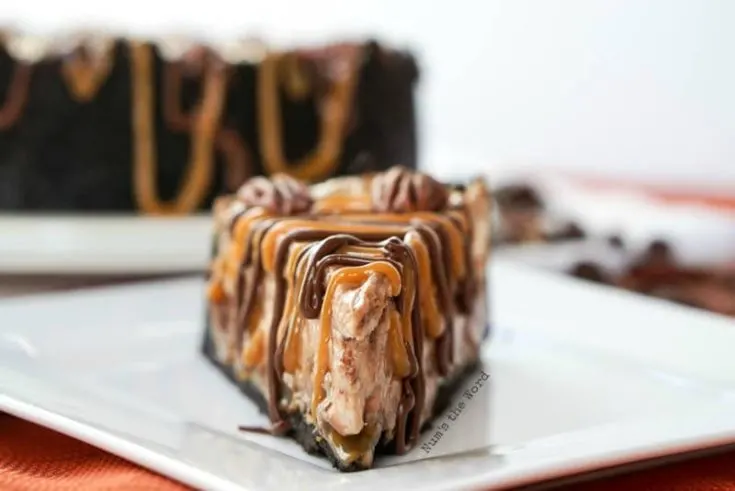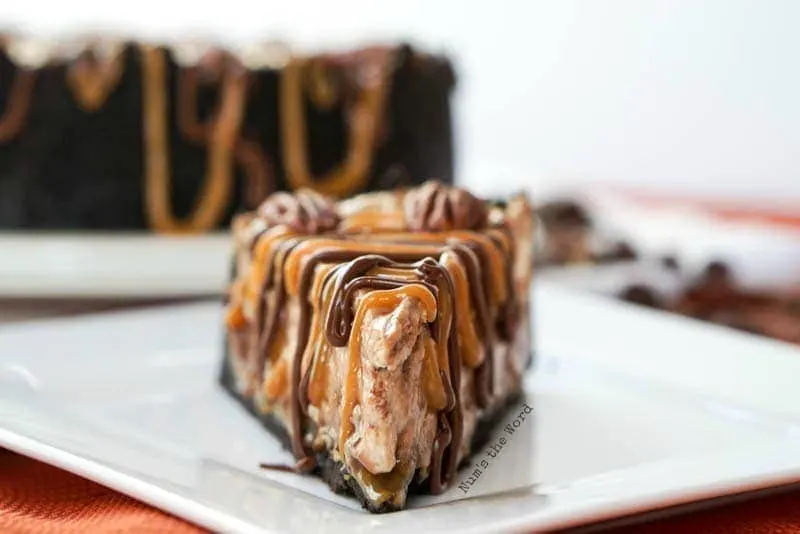 Total Time
1 hour
10 minutes
Ingredients
28 regular stuffed Oreos
7 Tablespoons melted butter
1 (14 ounce) bag individual wrapped caramels
1 (5 ounce) can of evaporated milk
1 cup chopped pecans
3 (8 ounce) packages of cream cheese
1/2 cup white sugar
1 1/2 teaspoon vanilla extract
2 eggs, room temperature
1/2 cup semi sweet chocolate chips
Instructions
Preheat oven to 350*F
Bake pecans in oven for 6 minutes, set aside.
In a food processor or blender, blend up Oreo's with cream filling until a powder.
In a bowl combine Oreos and butter. Press this along the bottom and sides of your cheesecake pan.
Place crust on a cookie sheet and bake for 10 minutes. Remove and set aside.
In a double boiler or heat proof bowl over a pot of simmering water, add unwrapped caramels and evaporated milk. Stir regularly until caramels are melted and mixture is creamy.
Pour Caramel mixture on top of the Oreo crust. Save approximately 3 Tablespoons for the drizzle on top.
Sprinkle pecans on top of caramel.
In a bowl combine cream cheese, sugar and vanilla. Mix well, scraping sides of bowl as needed.
Add in eggs and mix well.
Melt Chocolate Chips in a double boiler (reserve 3 Tablespoons for drizzle on top).
Slowly swirl chocolate into cream cheese mixture. Do not over swirl or it will turn into chocolate cheesecake.
Pour cream cheese mixture on top of caramel pecan layer.
Bake on a cookie sheet for 40 minutes or until just barely set.
Remove from oven and allow to chill in refrigerator overnight until fully set.
Just before serving, drizzle with saved caramel and chocolate.
Devour!