Crock Pot Apple Jelly Meatballs are an easy party appetizer or weeknight meal! They taste great, are super easy to make, and are sure to be a hit!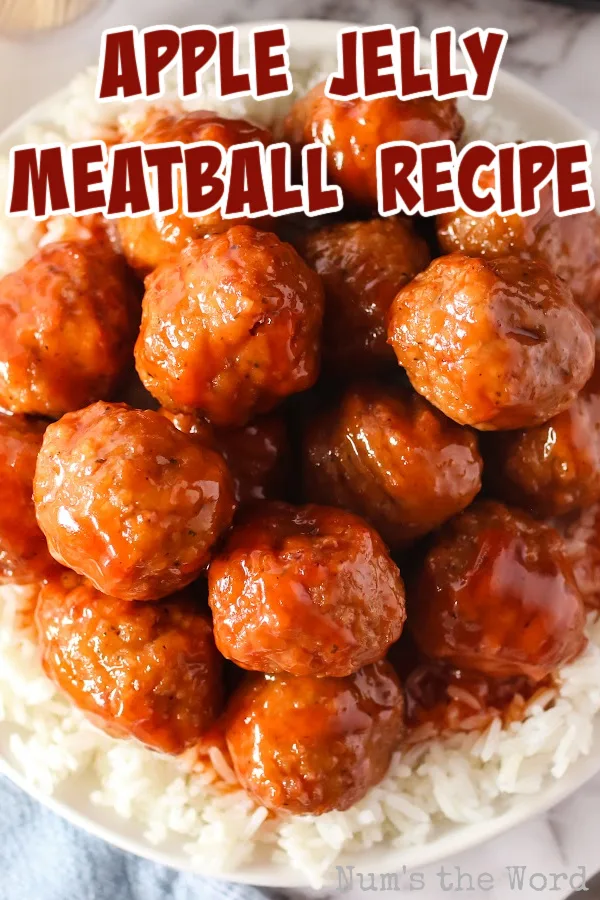 The fall flavors are upon us and that means Apples! These meatballs are coated in a sticky apply jelly and savory BBQ sauce that makes them perfect for fall!
I love these crockpot apple jelly meatballs since they take only 4 ingredients. It doesn't get more simple than that!
Plus these slow cooker apple jelly meatballs are totally versatile. We serve them as appetizers, snack foods, and main dishes!
And every time I serve them, they get eaten so quickly! I know I've got a winning recipe when there are never any leftovers!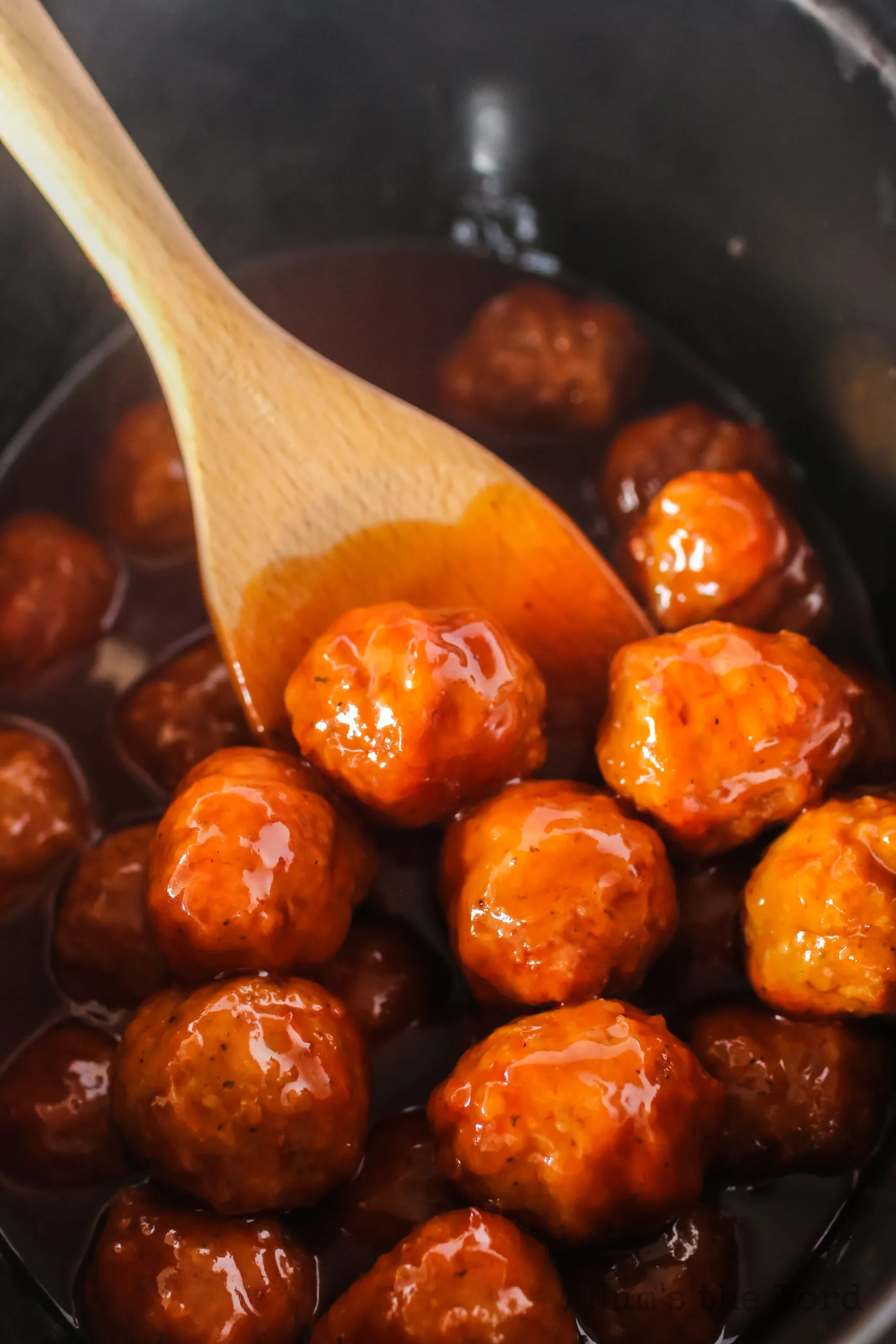 What Ingredients are in Apple Jelly Meatballs?
Homemade meatballs are an easy appetizer for game day and your taste buds will thank you!
Frozen Meatballs: Don't get the Italian meatballs as the flavors are already quite strong in those.
Apple Jelly: Grab a jar of sweet jelly from the grocery store.
Barbecue Sauce: You can go more mild, savory, or even spicy for a little kick with your BBQ sauce. Up to you.
Ketchup: A bit of ketchup helps bring balance to the apple jelly and BBQ sauce.
Pro Tips:
Apple Jam will have the fruit included in the jar. It's best to look for apple jelly if possible.
Smaller meatballs work better for appetizers while larger ones work better as a main meal.
Beef, chicken, or turkey meatballs are all good pairings for the apple jelly, ketchup, and BBQ sauce.
Apples not in season? No problem! Try swapping out the apple jelly for a different flavor. Grape jelly is a popular one.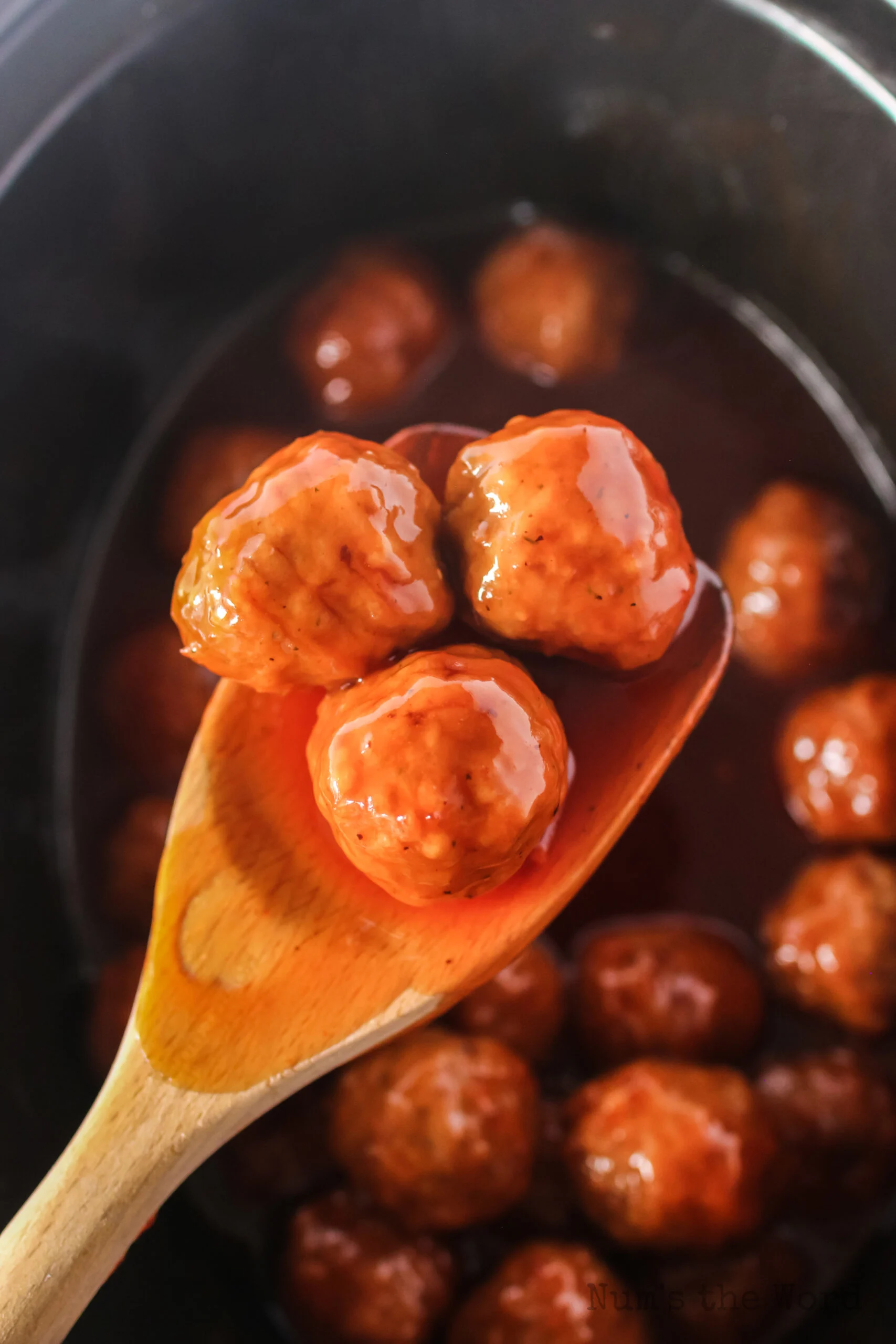 How to Make Apple Jelly Meatballs
This is one of the reasons I love meatballs with apple jelly! They are so easy to make!
Slow cooker recipes always make the perfect appetizer with mere minutes of prep time.
The only thing you need to do is place meatballs and the other ingredient sauce into your slow cooker, mix, and let it cook!
The perfect meal or appetizer that even your kids can make!
The cook time is usually 3-4 hours but the type of meatball (small or large) will effect when they are done cooking.
Pro Tips:
If you make your own meatballs with ground beef and they are not precooked, these slow cooker meatballs will take longer.
Other great substitutes you can try are pizza sauce, spicy chili sauce, or cranberry sauce. It's very versatile!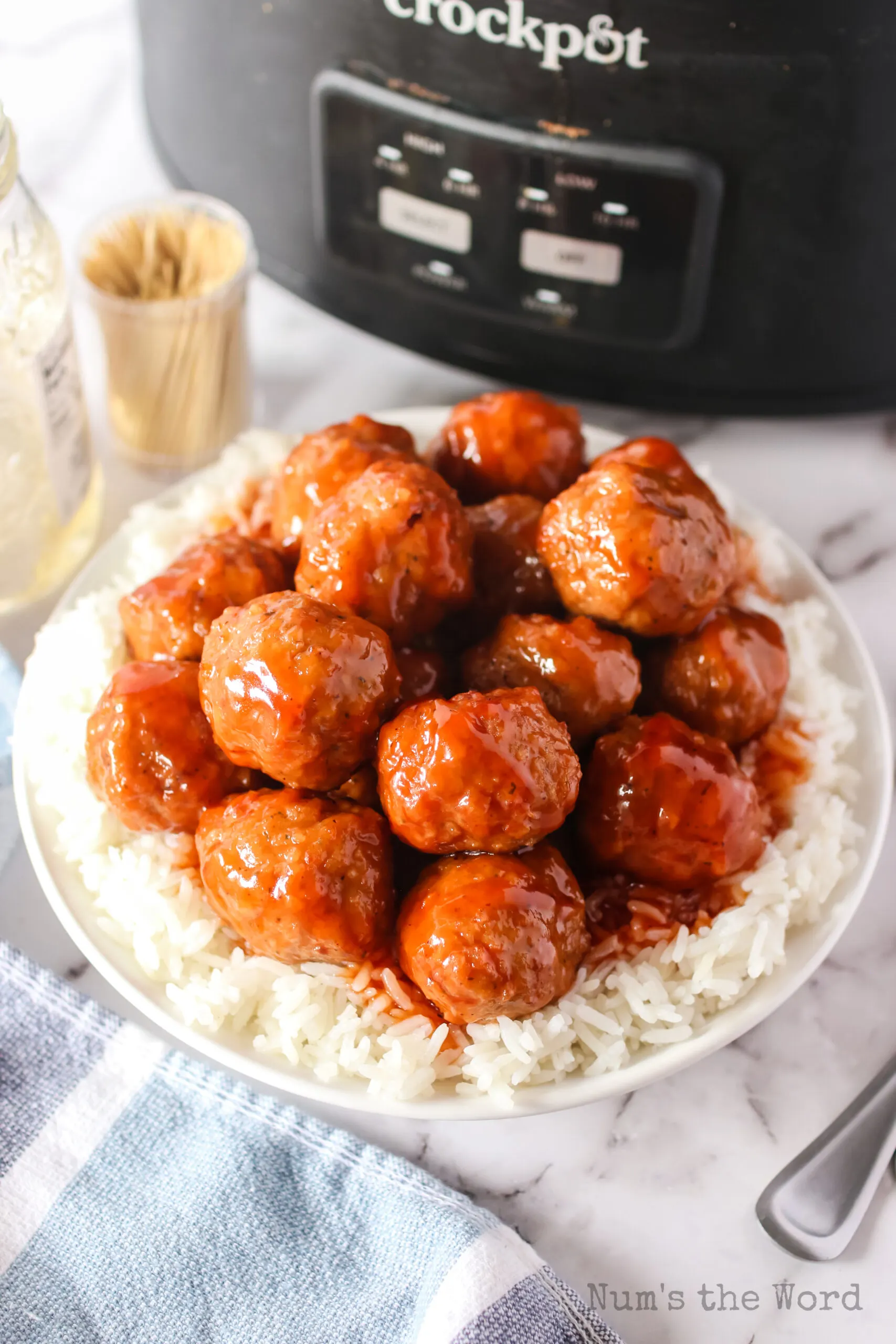 Can I Make Apple Jelly Meatballs on the Stove
You can make this easy recipe on the stove instead of the crock pot.
I like to make apple jelly meatballs in the crockpot because it requires less work from me and lets the flavors blend together over time.
I find this produces a much more delicious meatball. However, if you're pressed for time, just grab out a large pot.
Toss all the ingredients into the pot and heat until warmed through.
Since frozen meatballs are already precooked, all you need to do is make sure they are warmed completely.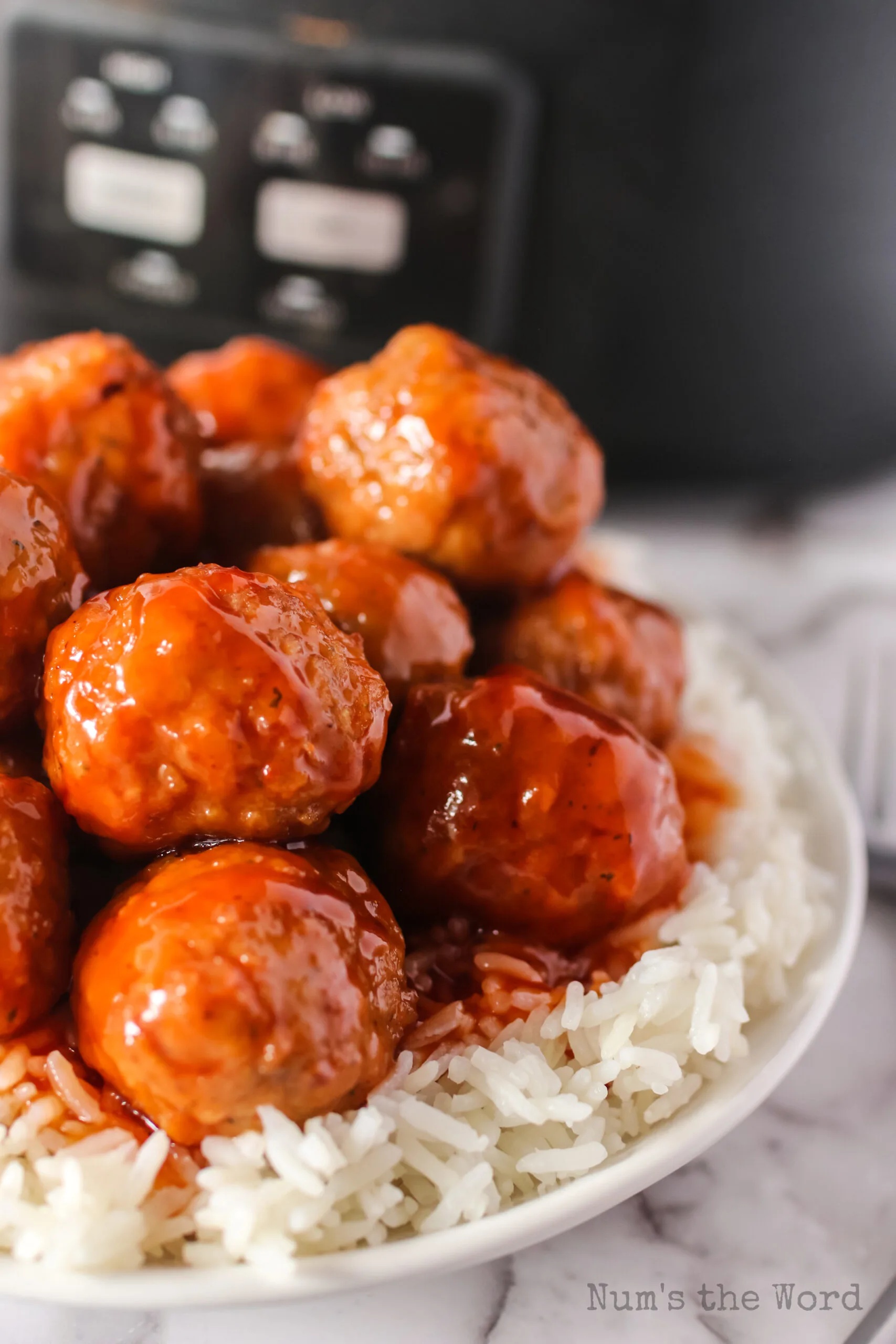 Are Apple Jelly Meatballs an Appetizer?
Definitely! During football season, these apple jelly meatballs are a go-to appetizer. And for good reason!
They're really easy to make, they keep warm in the crockpot for a long time (big plus for all day events!), and they are easy to serve too.
You can keep a pack of toothpicks next to the crockpot so people can grab their own meatballs out. This method keeps them warm the longest.
Or you can move them to a serving tray and poke each one with its own toothpick for people to grab.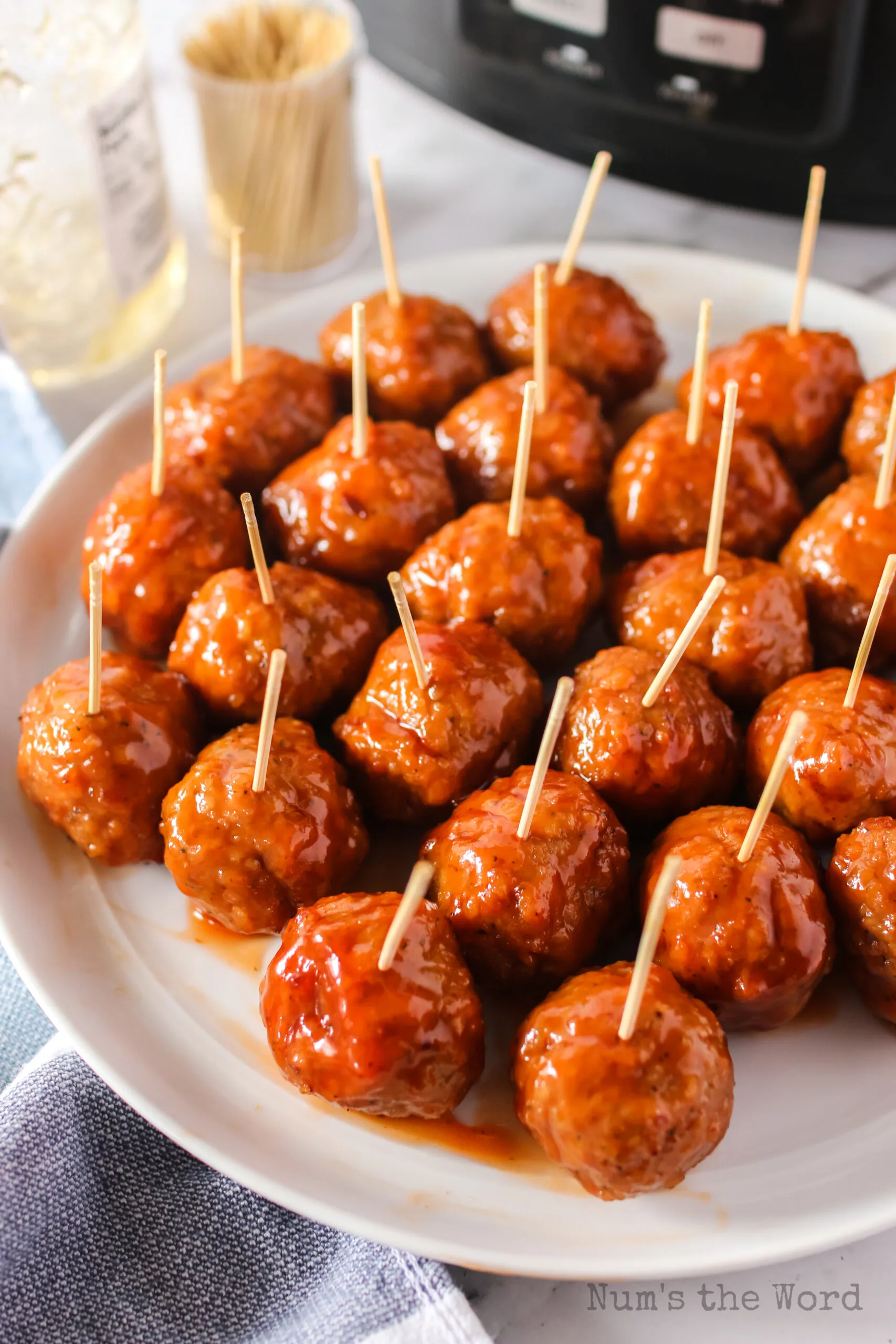 Can I Serve Apple Jelly Meatballs as a Main Dish?
Definitely! This is one of those easy weeknight meals.
Since it takes almost no work from me, during the fall season it's a great recipe that gets a regular spot in our rotation.
It's best to serve it on a bed of rice or mashed potatoes. I like to serve a side salad with it to help balance things out.
You can also throw the meatballs into a sub sandwich roll or toasted hot dog bun.
Top with your favorite cheese (parmesan cheese pairs well) and dig in!
However you serve apple jelly and ketchup meatballs are sure to be a hit!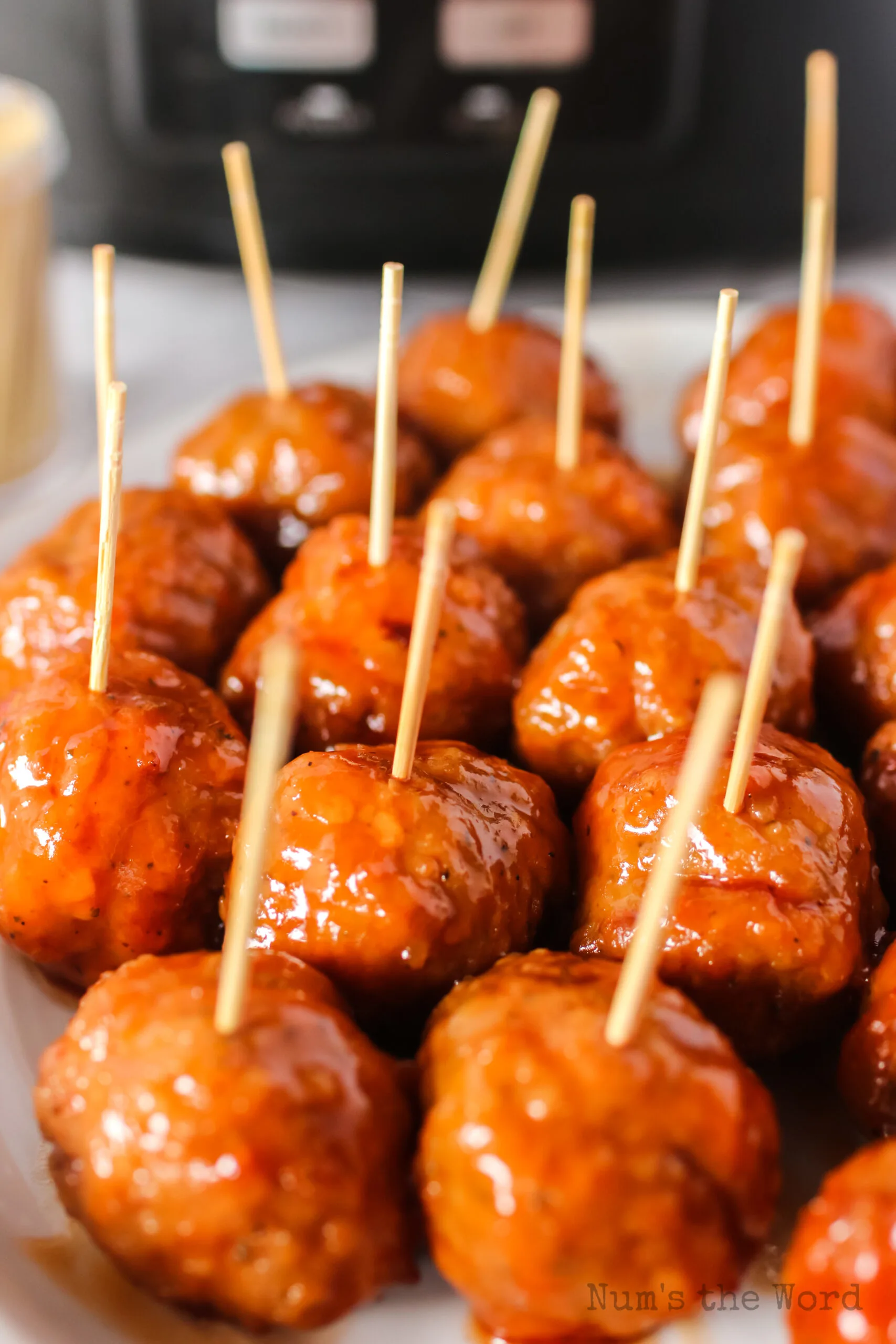 How to Store Leftover Apple Jelly Meatballs
Leftover apple jelly meatballs should be kept in the fridge in an airtight container.
Because you can use them in so many different meals, I've made in advance for meal prep.
Leftover meatballs make a simple dinner even easier.
Then our sub sandwich night or laying them on a pile of leftover mashed potatoes is so easy!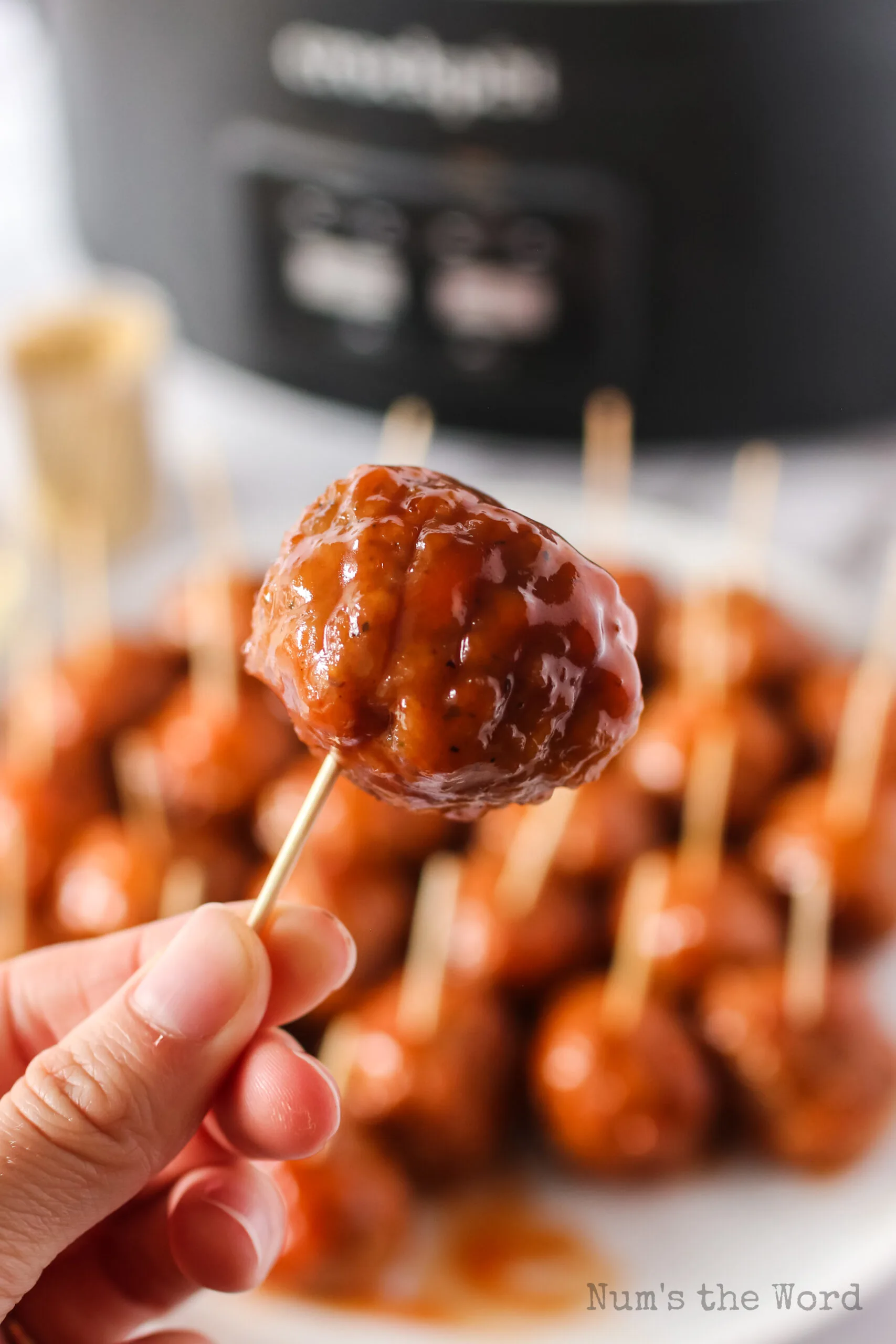 Can I Freeze Apple Jelly Meatballs?
Yes! Apple Jelly meatballs freeze really well and taste great when thawed.
They are a great option for when you know your crockpot will be in use but you'll still want a savory meatball.
First, allow them to cool completely. Then transfer to a freezer safe bag or container.
When ready to eat, allow them to thaw in the fridge for a few hours. Then reheat on the stove top or in the microwave.
How Long Do Apple Jelly Meatballs Last?
Apple jelly meatballs will stay good if covered in the fridge for 3-5 days.
In the freezer, the meatballs will keep for up to 3 months.
Can Dogs Eat Apple Jelly Meatballs?
Most meat is okay for dogs when cooked properly.
But the sugar in apple jelly is way too much for a dog's digestive system.
You'll also want to be sure none of your foods are sweetened with xylitol as that can actually be toxic for dogs.
If your dog grabs an apple jelly meatball off your plate, they should be okay.
But if you're concerned or notice any symptoms, call your vet and let them know what happened.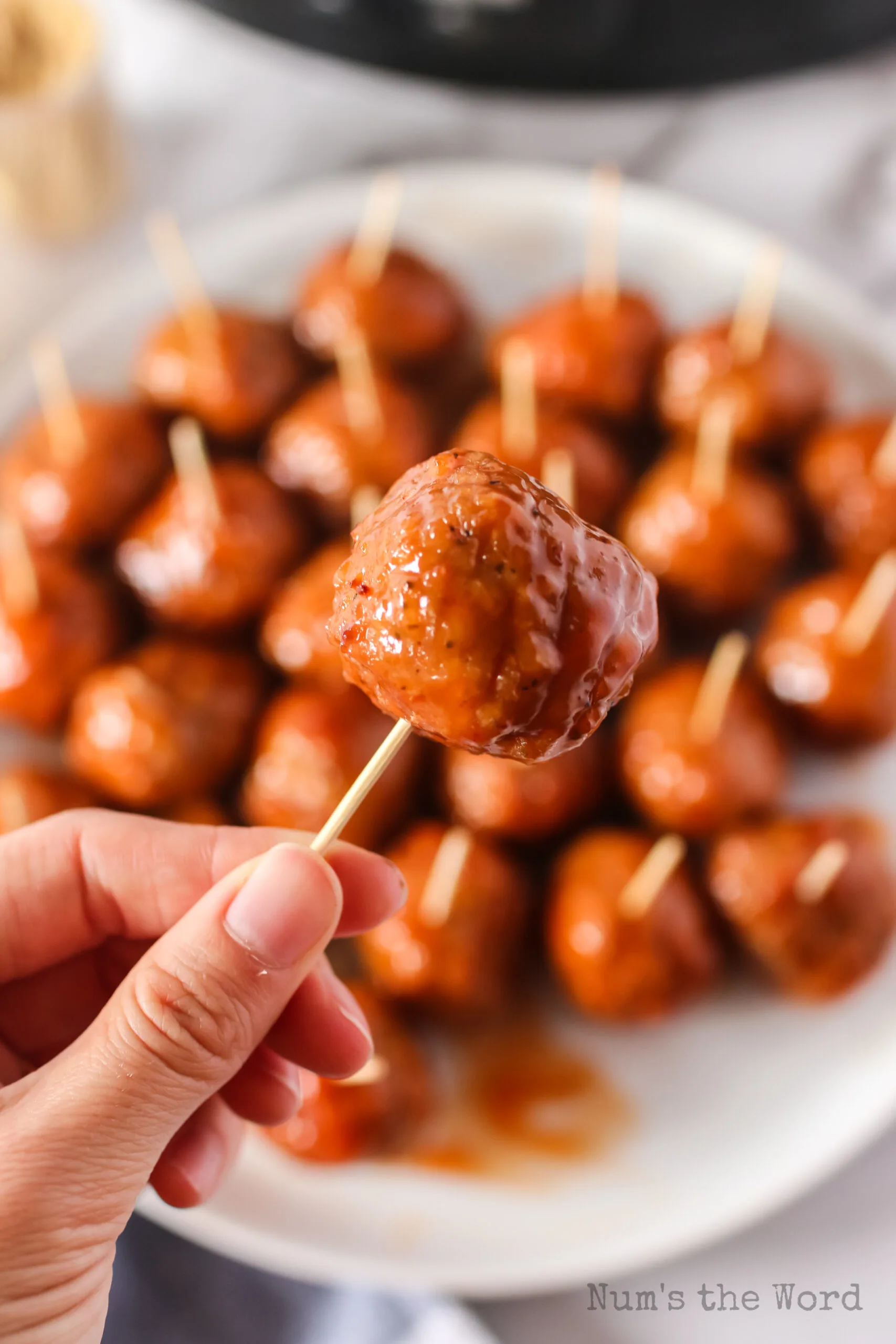 Crock Pot Apple Jelly Meatballs are a crowd pleaser! Easy to make, even easier to eat, and perfect for all holiday parties! Enjoy!
Yield: 12-24 Servings
Crock Pot Apple Jelly Meatballs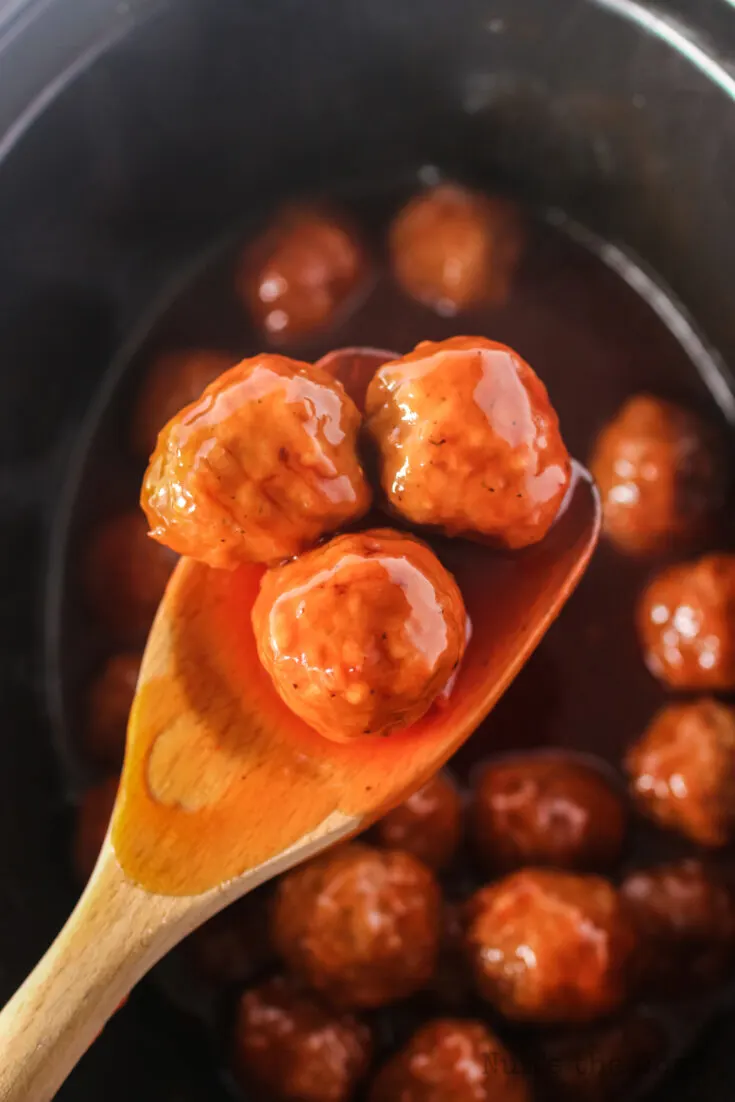 Crock Pot Apple Jelly Meatballs are an easy party appetizer or weeknight meal! They taste great, are super easy to make, and are sure to be a hit!
Total Time
3 hours
5 minutes
Ingredients
1 (32 ounce) package frozen meatballs - not Italian
1 (18 ounce) jar of apply jelly
1 cup barbecue sauce
1 cup ketchup
Rice (optional)
Mashed Potatoes (optional)
Instructions
Place meatballs in a crock pot.
In a small bowl combine apple jelly, barbecue sauce and ketchup. Mix well.
Pour mixture over meatballs, place lid on crock pot and cook 3-4 hours, stirring every hour or until meatballs are hot and ready to serve.
Serve individually with toothpicks as an appetizer or as a main dish over rice or mashed potatoes.
Nutrition Information:
Yield:
24
Serving Size:
1
Amount Per Serving:
Calories:

58
Total Fat:

1g
Saturated Fat:

0g
Trans Fat:

0g
Unsaturated Fat:

1g
Cholesterol:

2mg
Sodium:

257mg
Carbohydrates:

12g
Fiber:

0g
Sugar:

7g
Protein:

1g