Peanut Butter Cookies are a classic holiday staple! The best cookie at any party and a crowd favorite year after year!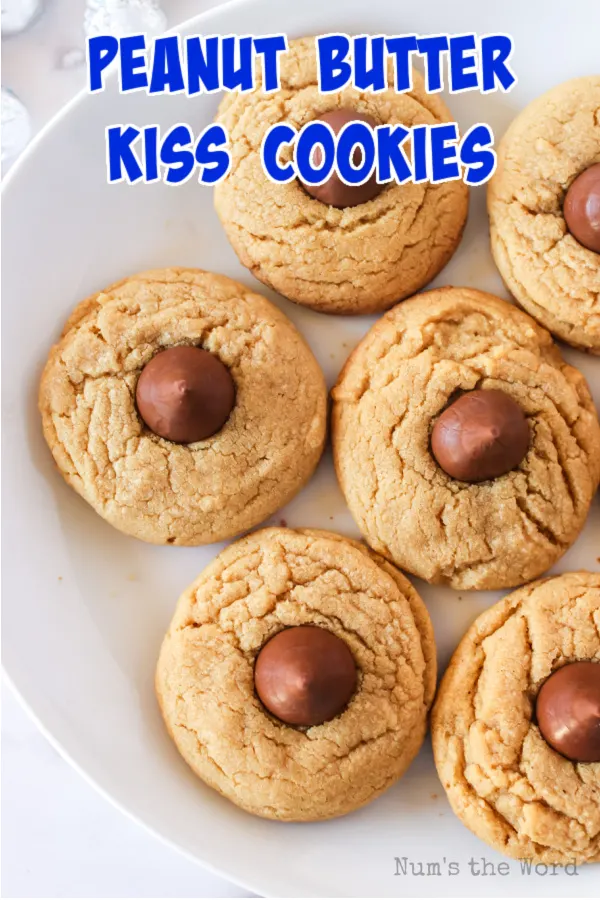 I don't know how I've gone this long without putting a peanut butter cookies recipe on my website!
They get made every year, for Halloween, Thanksgiving, and Christmas, so it's probably about time I share this delicious recipe with you!
I love these peanut butter cookies with kisses because… peanut butter and chocolate! Need I say more?
I also love peanut butter hershey kiss cookies because they are easy to make! Kids love to help (or eat the kisses… but you know)!
And Hershey kiss peanut butter cookies are a classic Christmas cookie! If you're giving a Christmas cookie platter, there's no way you can NOT serve these.
Plus their texture is perfect! Soft on the outside, sugar coated, and topped with a slightly melted chocolate kiss! Yum!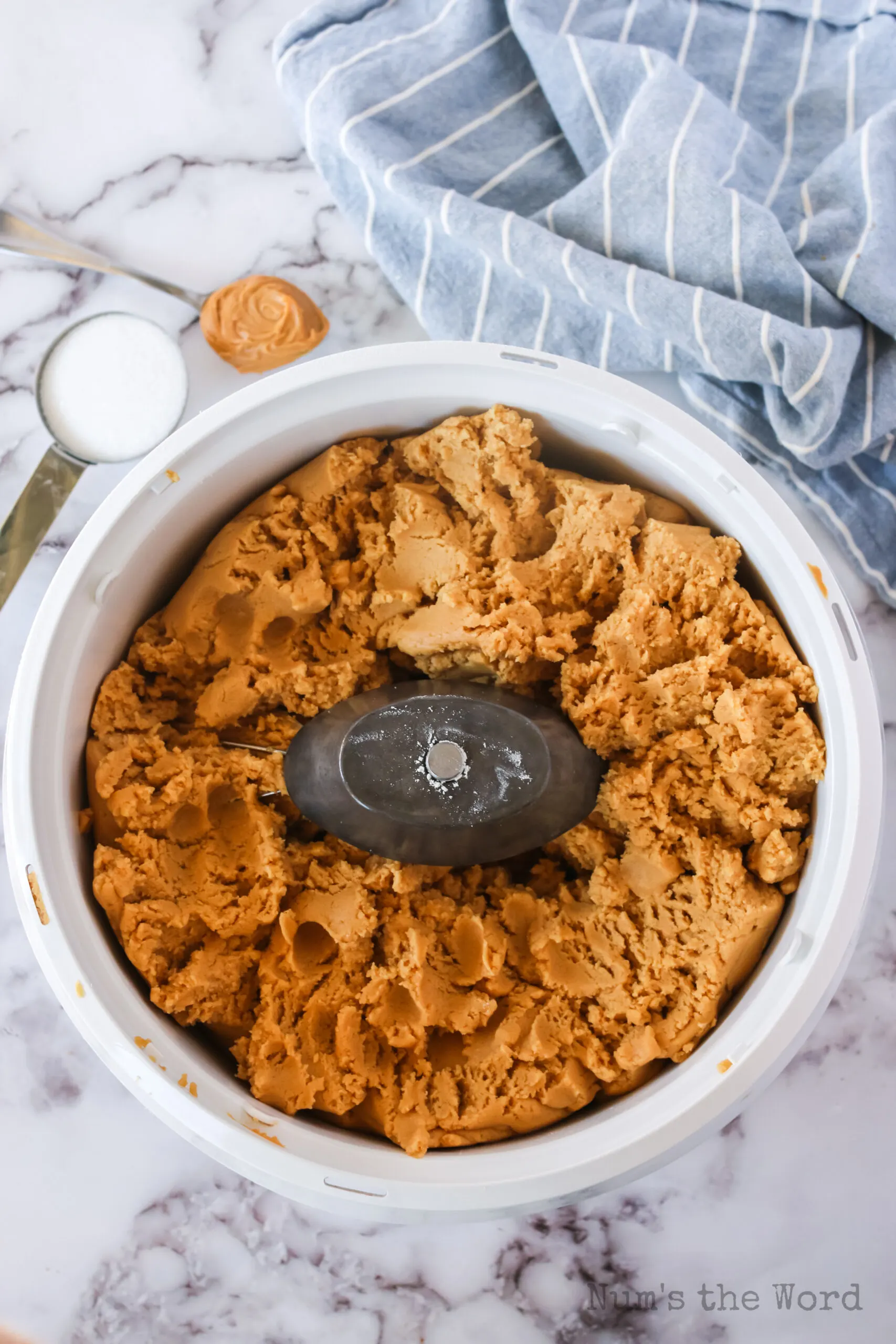 What are Peanut Butter Kiss Cookies?
The original recipe for the soft peanut butter cookie was first made in 1957. Yay for whoever invented them!
They're a chewy cookie that includes a creamy peanut butter base and are rolled in sugar before being baked.
Then once done, they're topped with one perfectly shaped chocolate Hershey kiss.
If you haven't heard of peanut butter kiss cookies, it's probably because you know them by one of their other names!
They've been called: Hershey Kiss Cookies, Peanut Butter Blossoms, or Peanut Butter Kiss Cookies.
They're a favorite recipe for the holidays, but they can be made any time of year!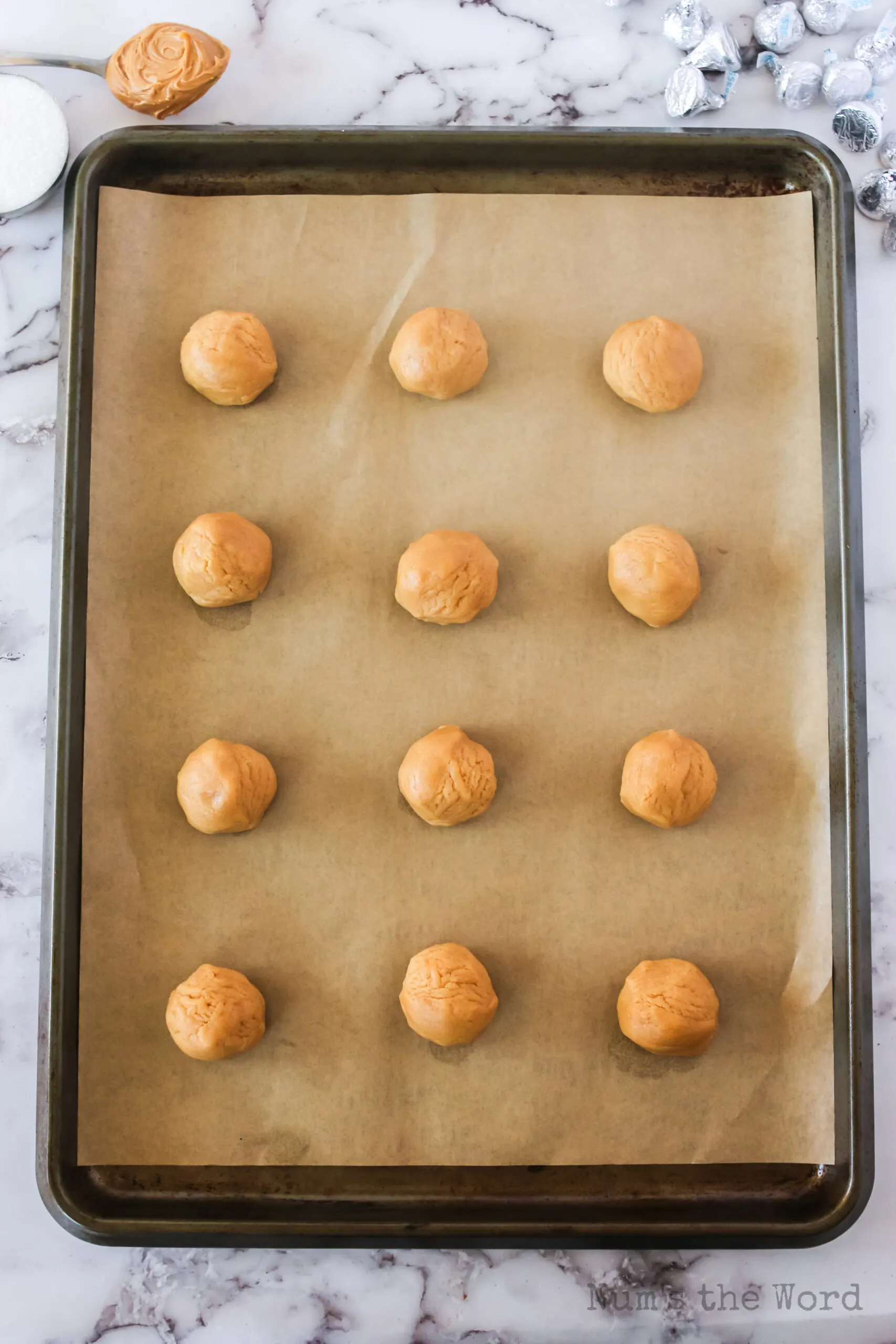 What Ingredients are in Peanut Butter Kiss Cookies?
Here's the simple ingredients you'll need to make this peanut butter kiss cookies recipe.
Butter: Use room temperature butter but not melted or the cookies will flatten.
Sugar: You need both brown sugar and white sugar to get the right texture.
Eggs: Eggs bind the cookies and also add softness.
Peanut Butter: Creamy peanut butter! Don't use chunky peanut butter or your soft cookie will be much more crunchy.
Flour: All purpose flour gives structure to the cookie dough base.
Baking Soda: For a small lift and puffing of the cookies.
Salt: Absolutely necessary to get the right flavor combinations!
Hershey's Kisses: Have chocolate kisses unwrapped and ready to press as soon as the cookies come out of the oven.
Pro Tips:
Natural peanut butter tends to not combine as well. Stick with brand name peanut butters.
Don't overpack the flour or your cookies will be hard and dry.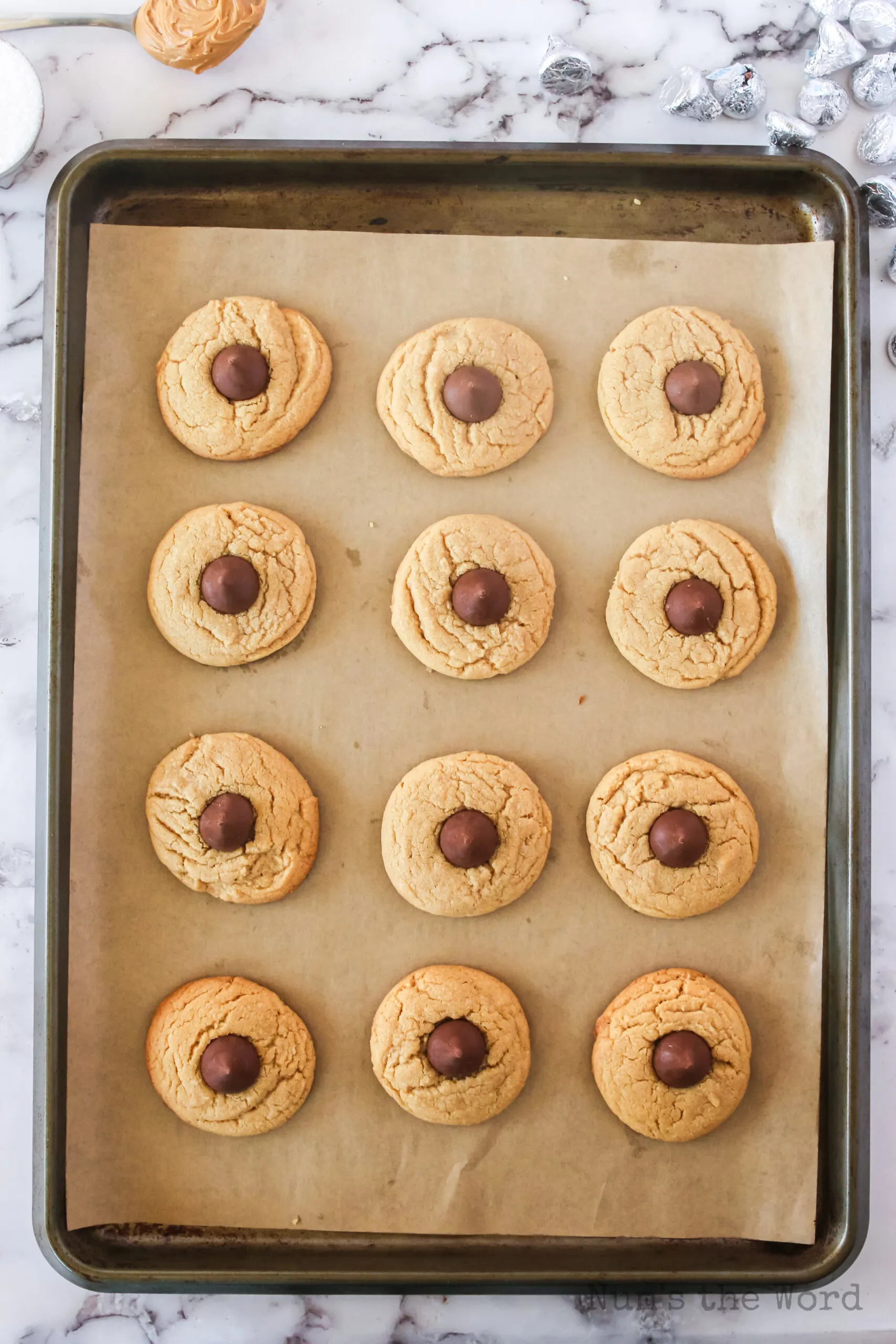 How to Make Peanut Butter Kiss Cookies
Chewy Peanut Butter Cookies are one of my favorite cookie recipes!
The best way to eat them is with your family and friends at this time of year!
Mix Wet Ingredients: Cream butter, sugars, and mix in eggs. Use a stand mixer and save your arm the work!
Add Dry Ingredients: Slowly add the flour, baking soda, and salt.
Roll: Shape dough into cookie dough balls and roll in a little bit of sugar.
Bake: While the cookies bake, unwrap kisses and press immediately into center of each cookie.
Pro Tips:
Use parchment paper, non stick foil, a baking mat, or cooking spray to keep the cookies from sticking.
If you wait to press the Hershey kisses in, they won't stick to the cookie. It needs to melt the bottom of the chocolate.
Cook until light golden brown. Overcooking will result in a hard cookie.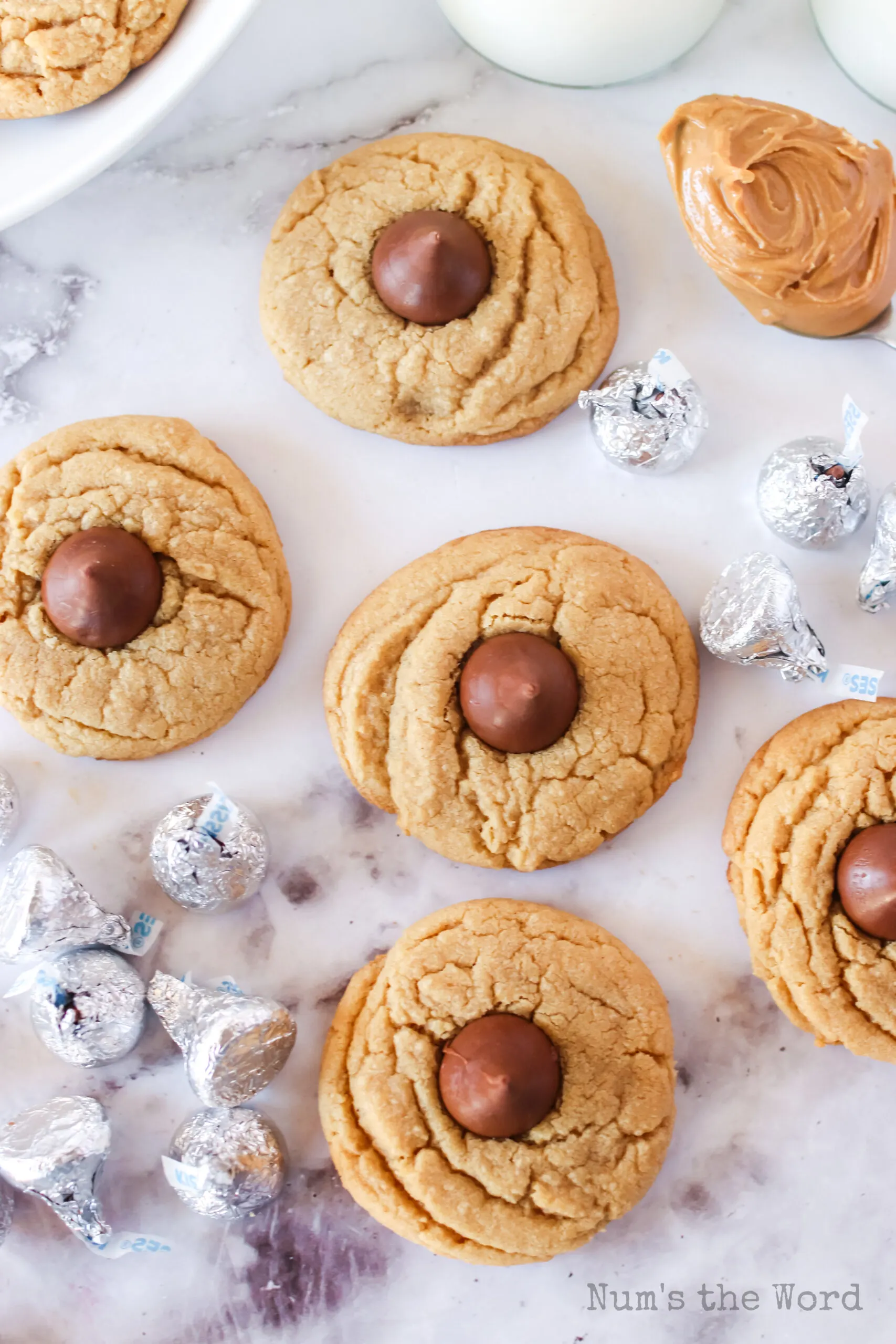 What Other Cookies Can I Make with This Peanut Butter Cookie Dough?
Peanut butter cookies are actually really easy to customize and make your own!
Here's some easy ways to change up your batch of peanut butter blossom cookies:
Different Toppings: Peppermint Kisses, Rolos, Caramel Kisses, Cookie cream Kisses, or Hot Cocoa Kisses.
Colorful Sugar: Roll in colored sugar for a fun twist. Match the holiday to your color!
And if you haven't tried them yet, I highly recommend making these Spider Cookies for Halloween!
They're the classic peanut butter cookies you know and love but with a fun Halloween spin!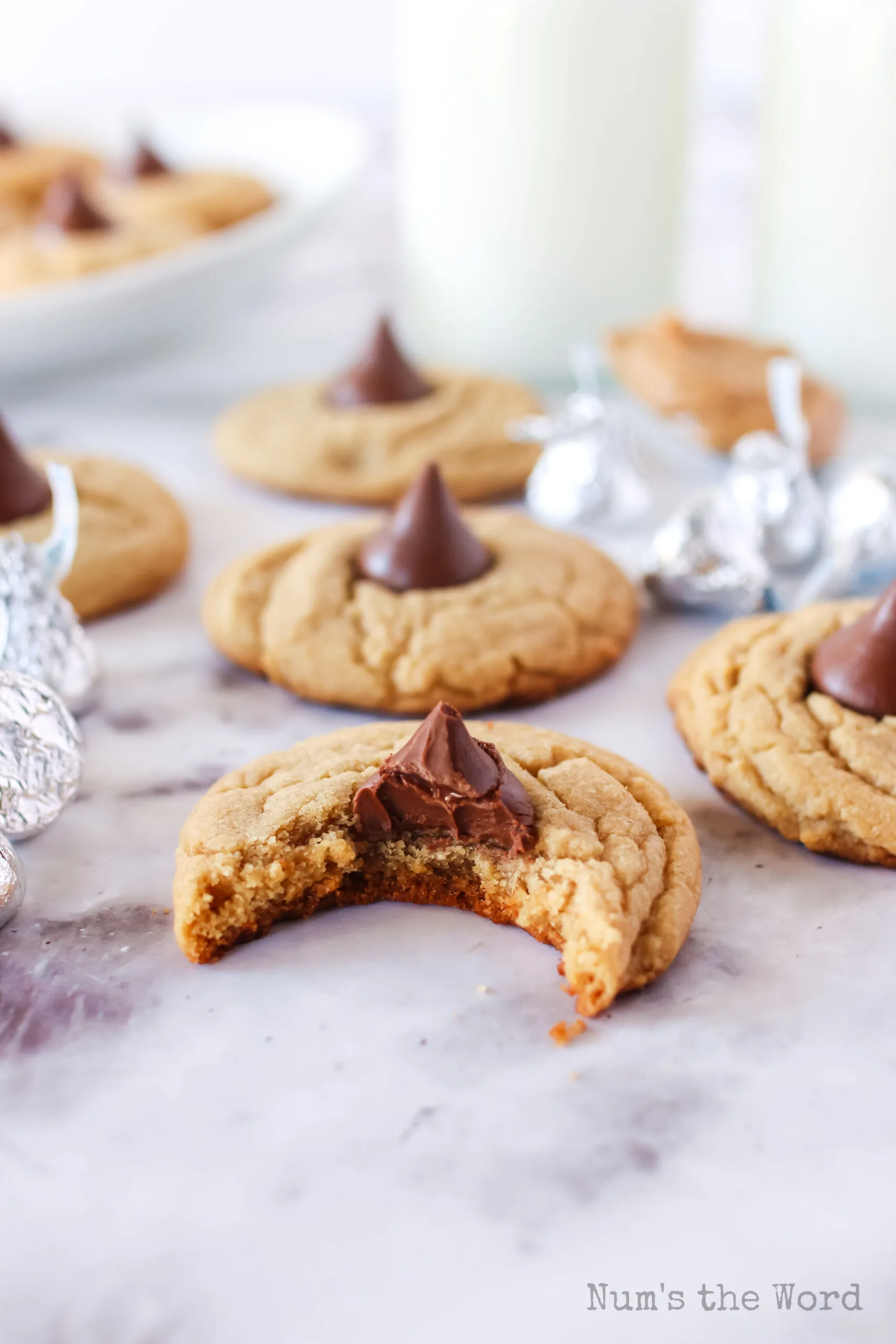 Can You Freeze Peanut Butter Kiss Cookies?
Definitely! Frozen peanut butter cookies are an easy treat to cook up and have a sweet treat ready any time.
Bake the recipe as directed, let them cool completely, and freeze for up to 6 months.
You can even freeze the cookie dough and bake them up later!
Can I Make Peanut Butter Kiss Cookies ahead of time?
Yes! Peanut Butter Cookies can be made for the holidays in advance to save yourself the headache!
No one wants to make cookies on the same day they're baking up a feast!
So make these cookies up to 3 days ahead of your party and rest easy knowing they'll be ready when you need them.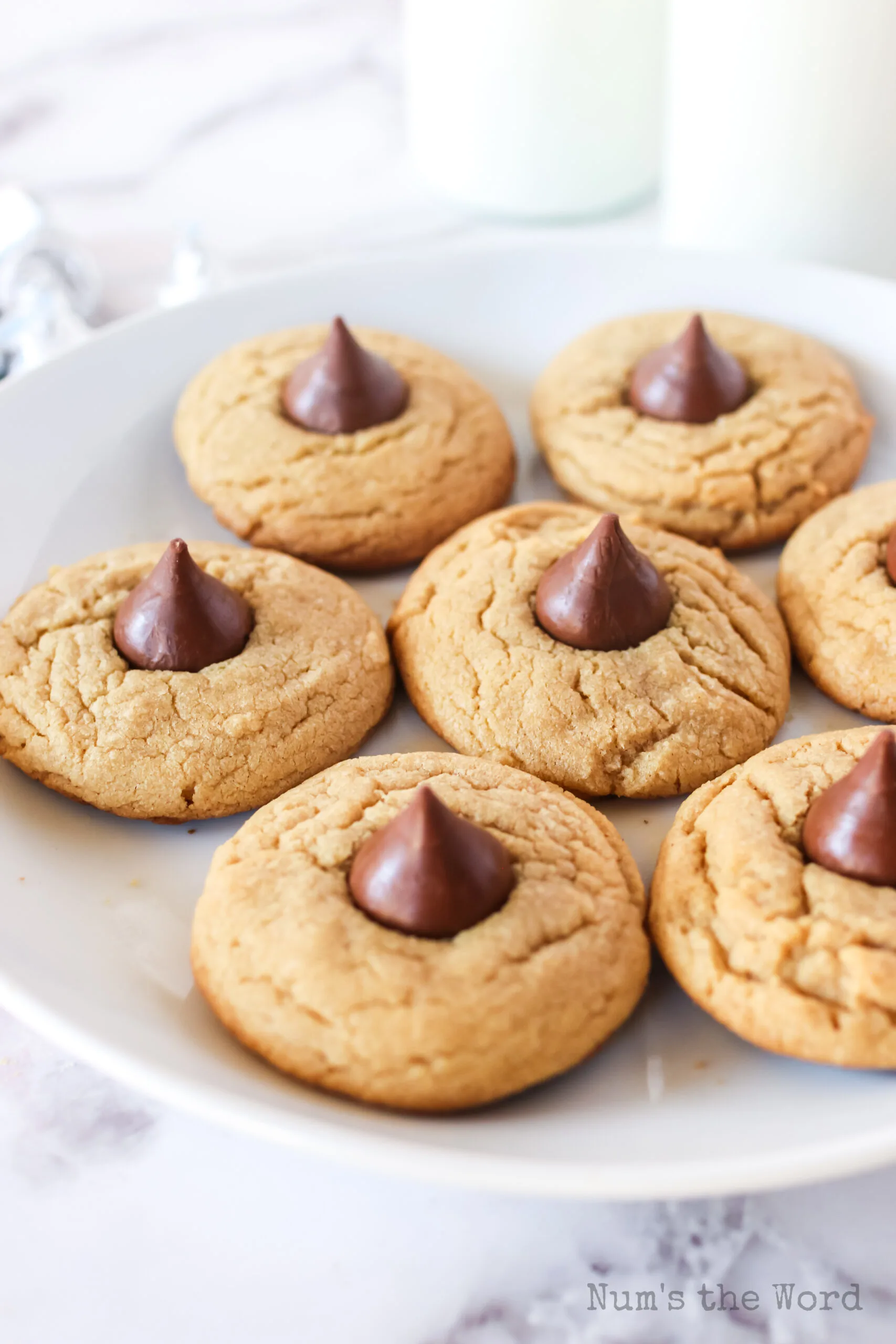 How to Store Peanut Butter Kiss Cookies
Any holiday cookies can be stored on the counter, in the fridge, or in the freezer.
The most important thing is to make sure they're in an airtight container or freezer safe bag.
That will keep them from drying out and causing the cookies to be hard.
If you freeze the cookie dough, before it's baked, flash freeze first on a cookie sheet.
Then move the dough balls to your bag and label. Have Hershey's kisses on hand ready for when you bake the cookies.
Pro Tip:
Always let your chocolate peanut butter blossom cookies cool completely before storing or the cookies will stick to one another.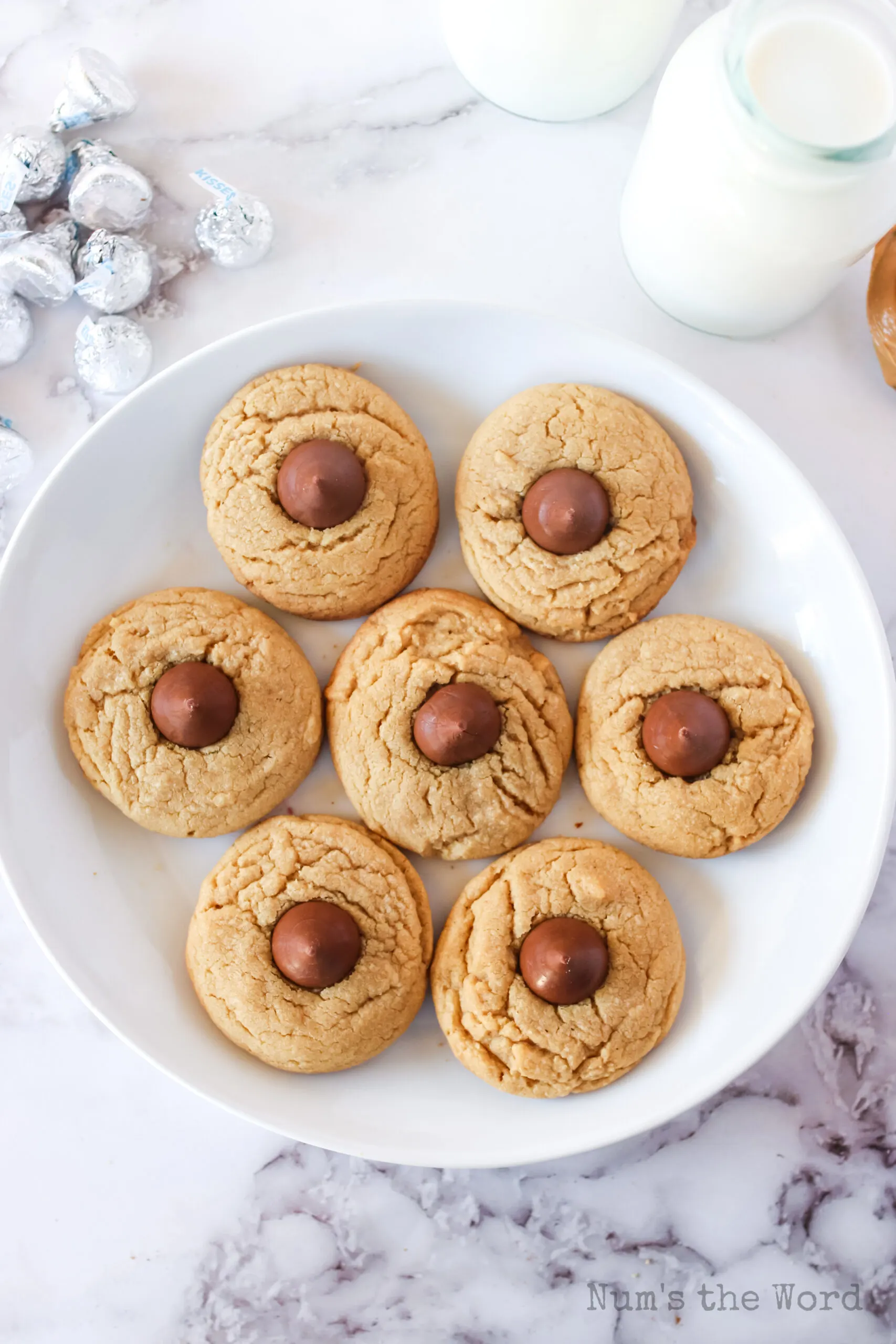 How Long Do Peanut Butter Kiss Cookies last?
This classic Christmas cookie recipe actually lasts quite a while! Another reason is the best cookie!
On the Counter: Cookies can be kept 3-5 days on the counter. This will keep them the softest for eating but will go bad the fastest.
In the Fridge: Save in the fridge for up to a week. Let them warm slightly on the counter before diving in if desired.
In the Freezer: Cookies can be stored in the freezer for up to 6 months.
Can Dogs Eat Peanut Butter Kiss Cookies?
That's a hard no on dogs eating any peanut butter cookies!
Dogs should not under any circumstances consume chocolate which can be toxic for them.
Plus the other ingredients can just be plain hard for them to digest.
If consumed, watch for any adverse reactions and call the vet if necessary.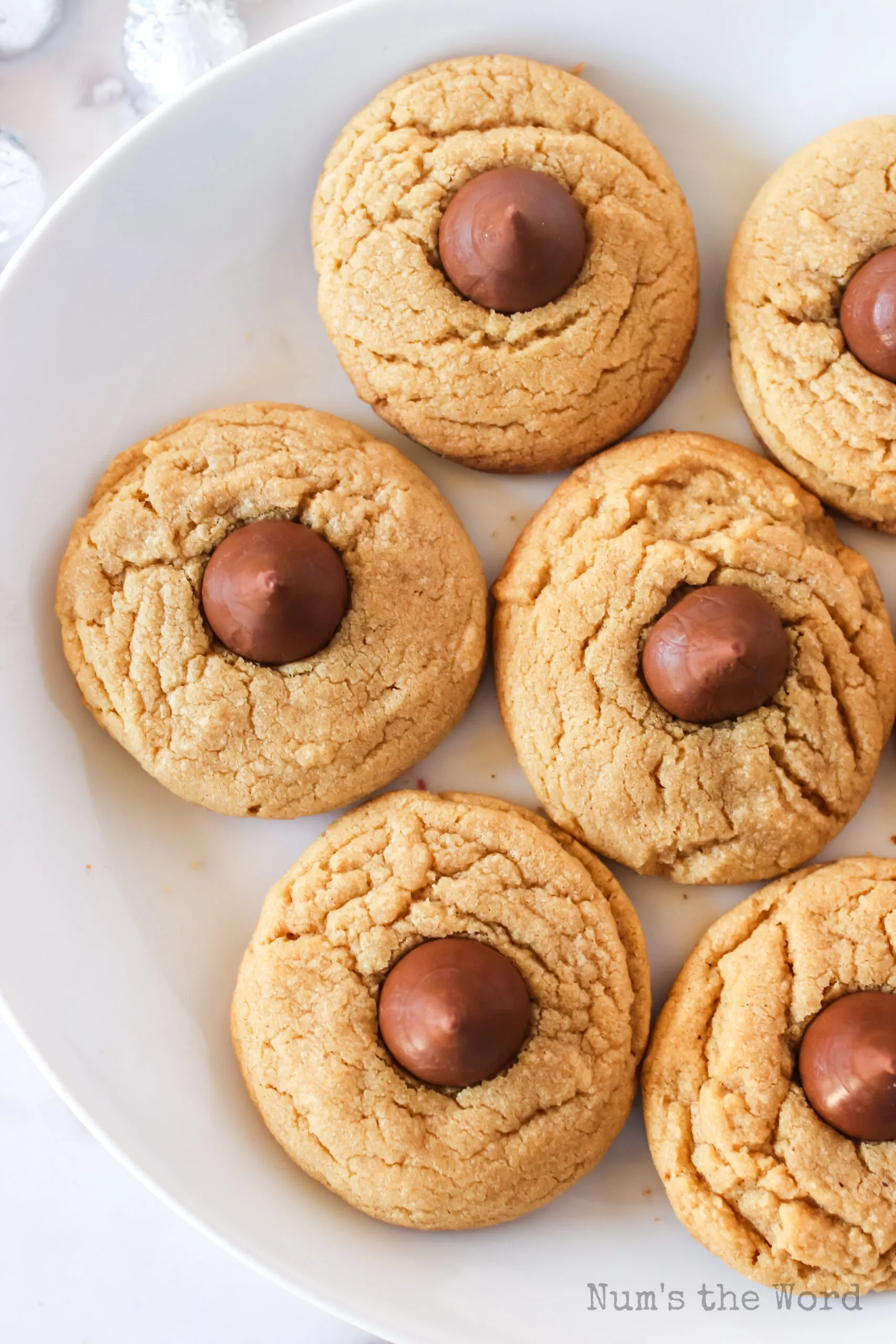 Peanut Butter Kiss Cookies are a delicious and sweet holiday staple. They're fun to make, easy, and quick! Enjoy!
Yield: 48 Cookies
Peanut Butter Kiss Cookies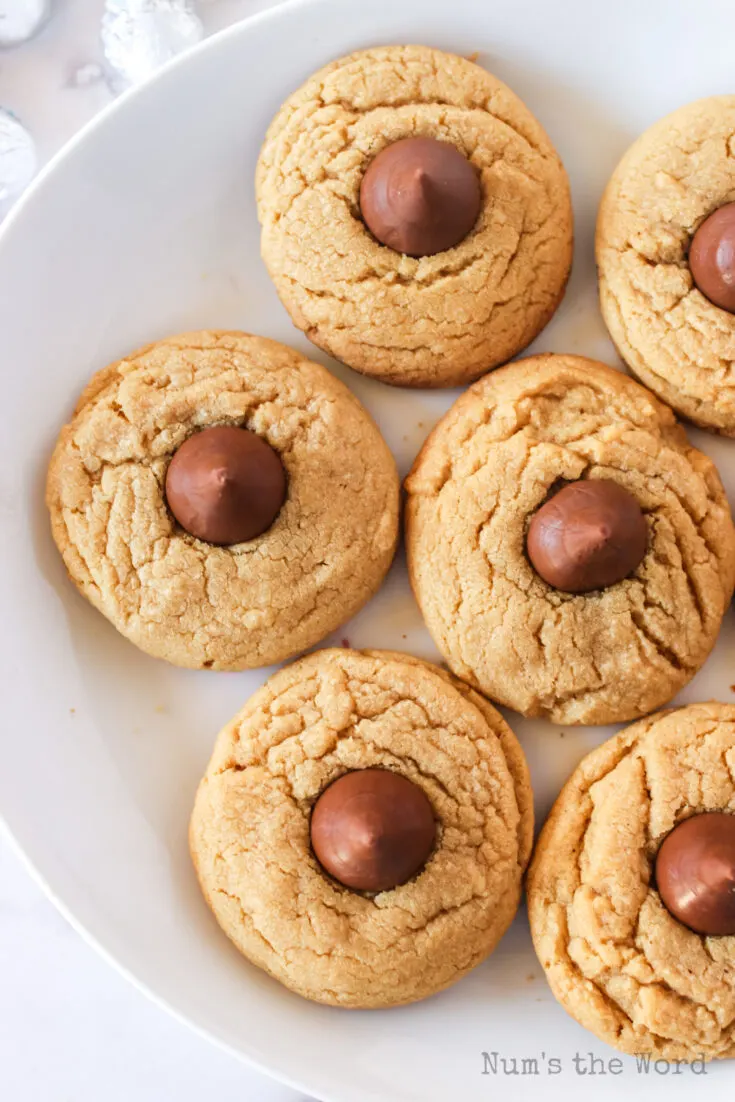 Peanut Butter Cookies are a classic holiday staple! The best cookie at any party and a crowd favorite year after year!
Ingredients
1 cup butter, room temperature (I use salted butter)
1 cup light brown sugar
1 cup white sugar + 1/4 cup white sugar, divided
2 eggs
1 cup creamy peanut butter
3 cups all-purpose flour
2 teaspoons baking soda
1/4 teaspoon salt
48 Hershey Kisses
Instructions
Preheat oven to 350*F
Prepare 2 cookie sheets with parchment paper, non-stick foil or cooking spray. Set aside.
Cream butter, brown sugar and 1 cup of white sugar in a bowl. Mix for 3 minutes.
Add eggs and peanut butter and blend well, scraping sides of bowl as needed.
Add flour 1 cup at at time, mixing between each addition.
Add baking soda and salt. Mix well.
In a small bowl add 1/4 cup sugar.
Scoop out 1 Tablespoon of dough and roll into a ball.
Roll dough ball in sugar and place on a cookie sheet.
Bake for 8-10 minutes or until edges are a hint of golden.
While cookies are baking, unwrap Hershey kisses.
Remove cookies from oven and gently place a kiss on each one, pressing gently.
Let cool completely and enjoy!
Nutrition Information:
Yield:
48
Serving Size:
1
Amount Per Serving:
Calories:

154
Total Fat:

8g
Saturated Fat:

4g
Trans Fat:

0g
Unsaturated Fat:

3g
Cholesterol:

19mg
Sodium:

128mg
Carbohydrates:

19g
Fiber:

1g
Sugar:

12g
Protein:

3g