Your new best friend for these cold winter months will be this Hot Cocoa Charcuterie Board! Simple to make, super cute, and full of fun, it's the perfect way to serve hot chocolate!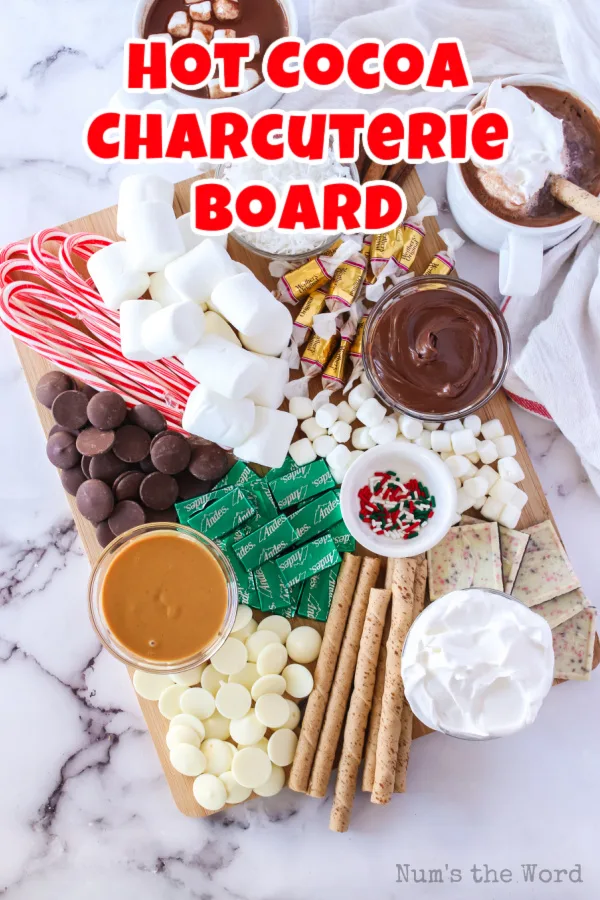 Get ready for a delicious pile of flavors! Hot cocoa, peppermint, caramels, mini marshmallows, whipped cream…if you can dream it, we can add it!
The toppings for a hot cocoa charcuterie board recipe are endless! Hot chocolate boards are all the rage this season! And no wonder!
They're super adorable. I mean, who can resist that beautiful display?
A charcuterie board with hot cocoa is also really easy to make. Which leaves you time to get all that holiday baking done!
They are also perfect for parties. Christmas, Halloween, as well as campfire parties.
I find that a dessert charcuterie boards is a crowd favorite. With both kids and adults alike!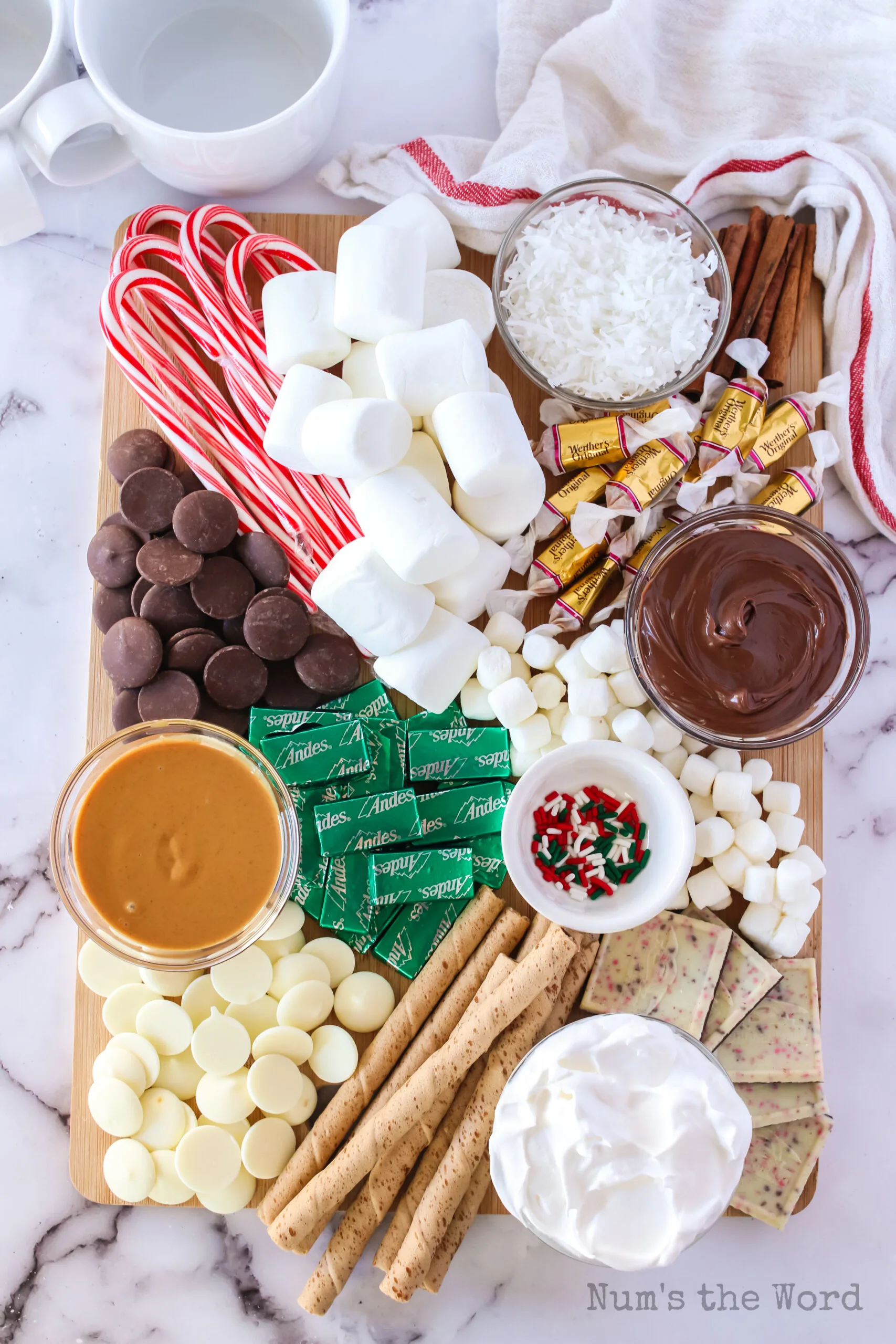 What is a Hot Cocoa Charcuterie Board?
A charcuterie board is a mix of foods that are displayed on a board or tray.
Originally, charcuterie boards were mostly meats, cheeses, crackers, fruits, and veggies.
However, themed charcuterie boards have been becoming very popular in the last few years.
And of course, during the holidays, when we host parties, and it's cold, everyone loves hot cocoa!
So a hot cocoa charcuterie board is a hot chocolate board that displays all your favorite or unique hot cocoa toppings.
It's fun for both going to parties and for hosting a family movie night at home too.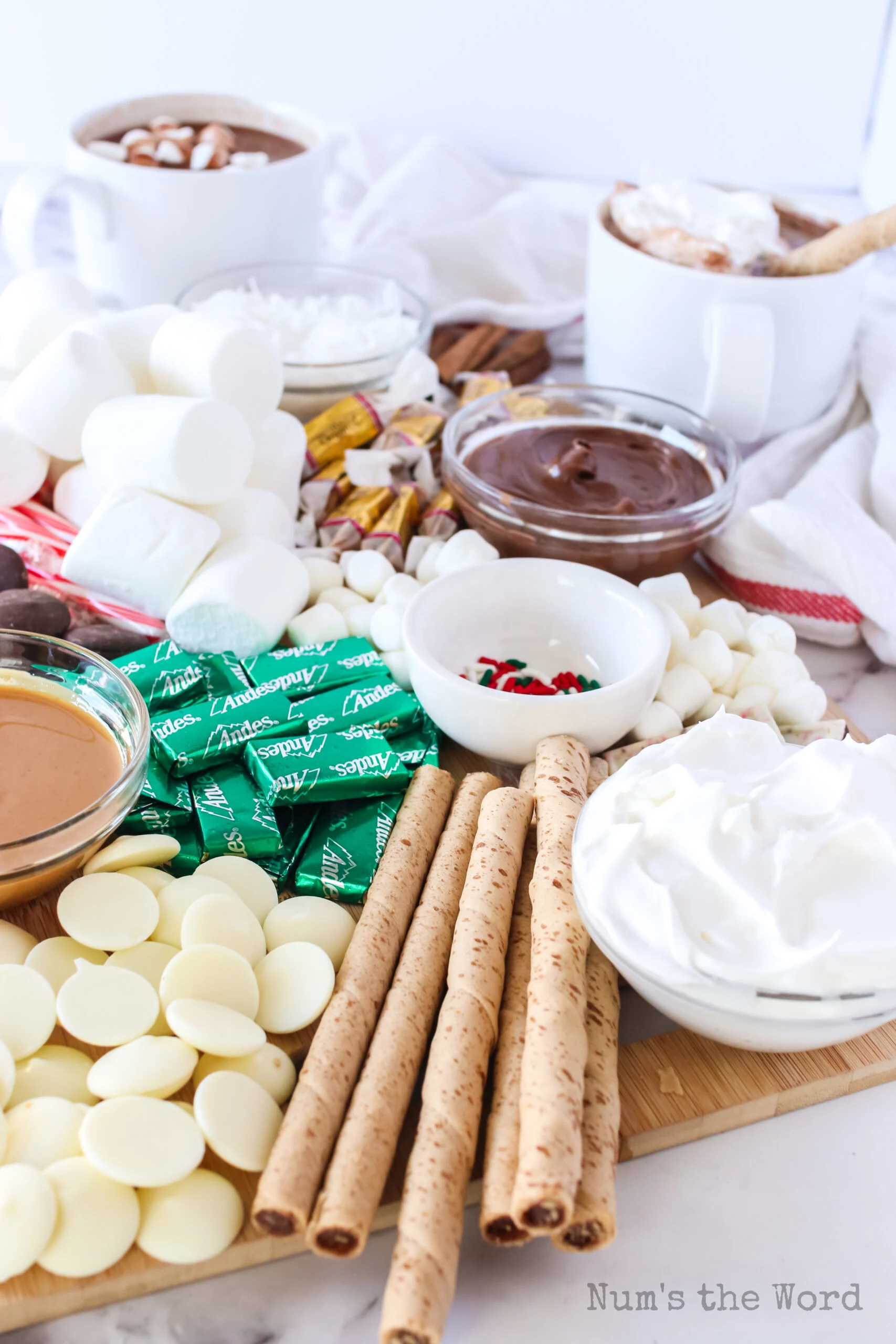 What to Put on a Hot Cocoa Charcuterie Board
Here are some fun hot cocoa charcuterie board ideas to get you started!
White melting chocolate
Dark Melting chocolate
Large marshmallows
Small marshmallows
Candy canes
Caramel candies
Cinnamon sticks
Pirouette sticks
Coconut flakes
Andes Mints
Whipped Cream
Peppermint bark
Sprinkles
Nutella
Peanut Butter
Pro Tips:
If you don't love a topping, someone else might. So having it at your hot chocolate bar is a good idea.
If you know you're dealing with allergies, be sure to leave those particular items off your display.
Making some Hot Chocolate Bombs is an extra fun way to celebrate the holiday season and can really upgrade your hot chocolate station. We recommend these Peanut butter hot chocolate bombs and strawberry hot chocolate!
Keep a slow cooker with homemade hot chocolate mix or hot water on hand.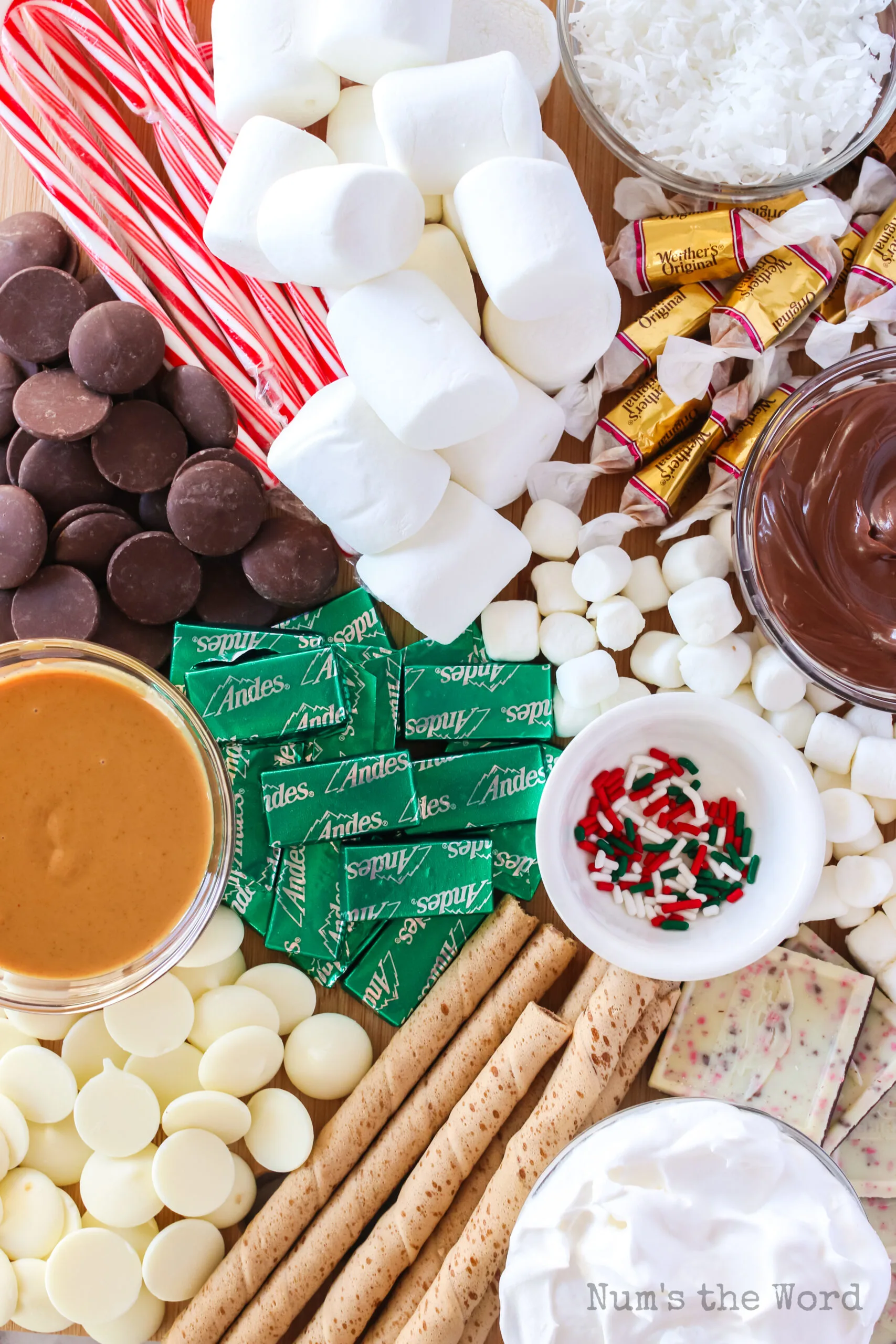 How to Make a Hot Cocoa Charcuterie Board
Here are some simple steps to make a holiday themed charcuterie board.
Start loading the tray with anything you've got in small bowls such as the coconut or sprinkles.
These things need to be loaded first to create room for the other things.
Then load large items next, followed by small ones. That should leave enough room for everything.
You'll want to keep your hot cocoa and mugs near the charcuterie board.
That way people can load their cups right up!
Pro Tips:
Alternate similar items with non similar. Your marshmallows for example should have something in between them.
For extra yumminess, try this Homemade Hot Cocoa Mix. Your taste buds will thank you.
Use your own mugs for a small gathering but be sure to plan on sturdy paper cups for a large one. Less mess!
You could also keep plastic spoons near the cups for anything people want to stir in but we recommending using a cookie to stir!
Use a large platter and decorate right to the edge of the board.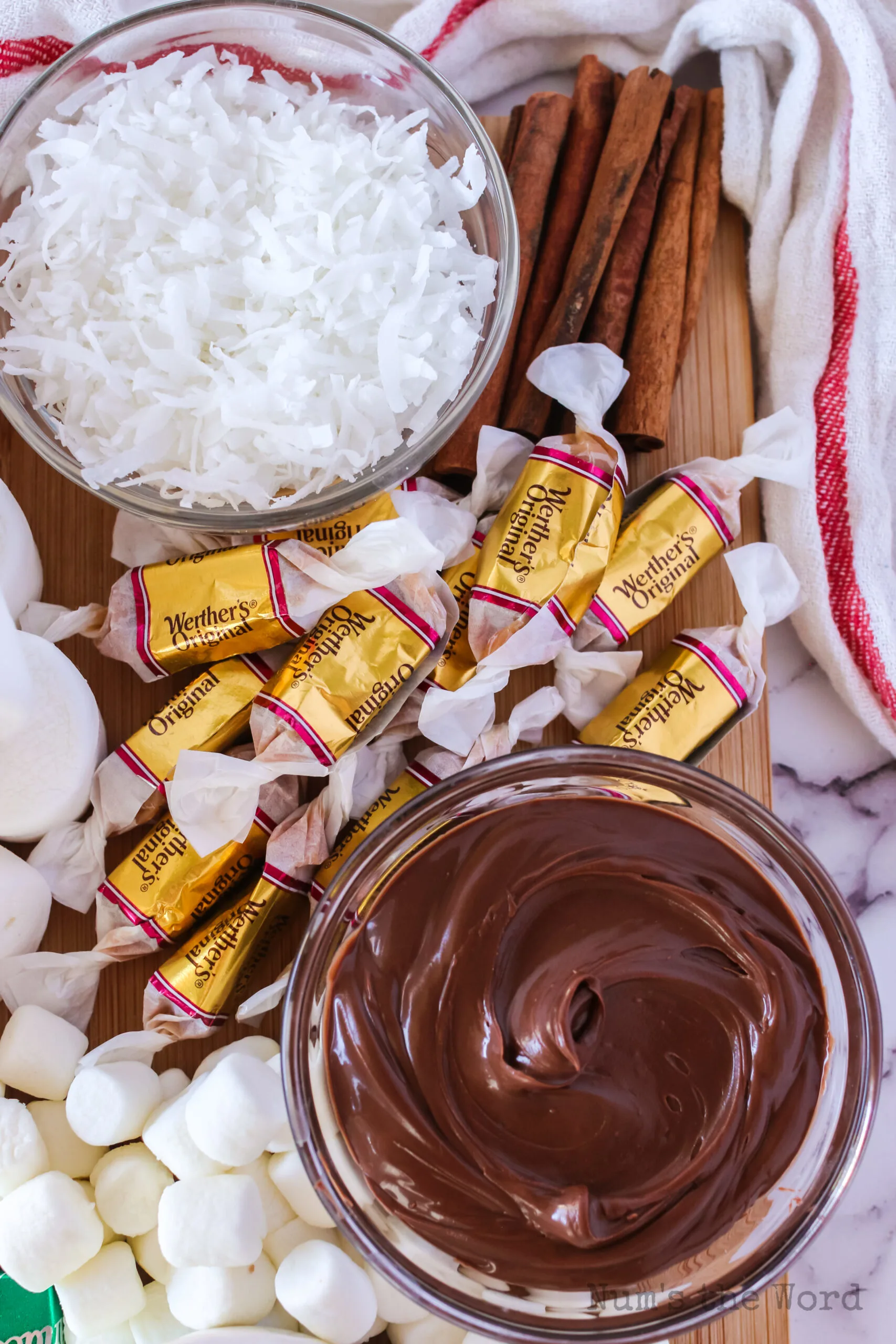 How Much Does a Hot Cocoa Charcuterie Board Cost?
The cost of hot cocoa charcuterie boards is going to depend on the items you're putting on the board.
More expensive chocolates or novelty items may cost more. You can save money by buying many of your items at the dollar store.
And don't forget, you're in charge of what goes on the board. You can scale up or down any item or scale up or down the entire charcuterie board.
That way you can stay within your own budget.
Can I Make a Hot Cocoa Charcuterie Board Ahead of Time?
Yes! It's easy and saves you time to make the hot cocoa charcuterie board ahead of time.
You can prep many of the items the morning of, or even the night before.
Sprinkles, peppermint sticks, cinnamon sticks, etc. Will all keep no problem.
I'd leave off any of the ones that tend to go bad quickly and just toss them on at the last minute.
Mostly, that's your marshmallows or your whipped cream.
The marshmallows will quickly harden if left at room temperature.
And the whipped cream needs to be stored in the fridge.
So prep the other items, wrap the tray tightly with plastic wrap, and just toss the last few things on when it's serving time.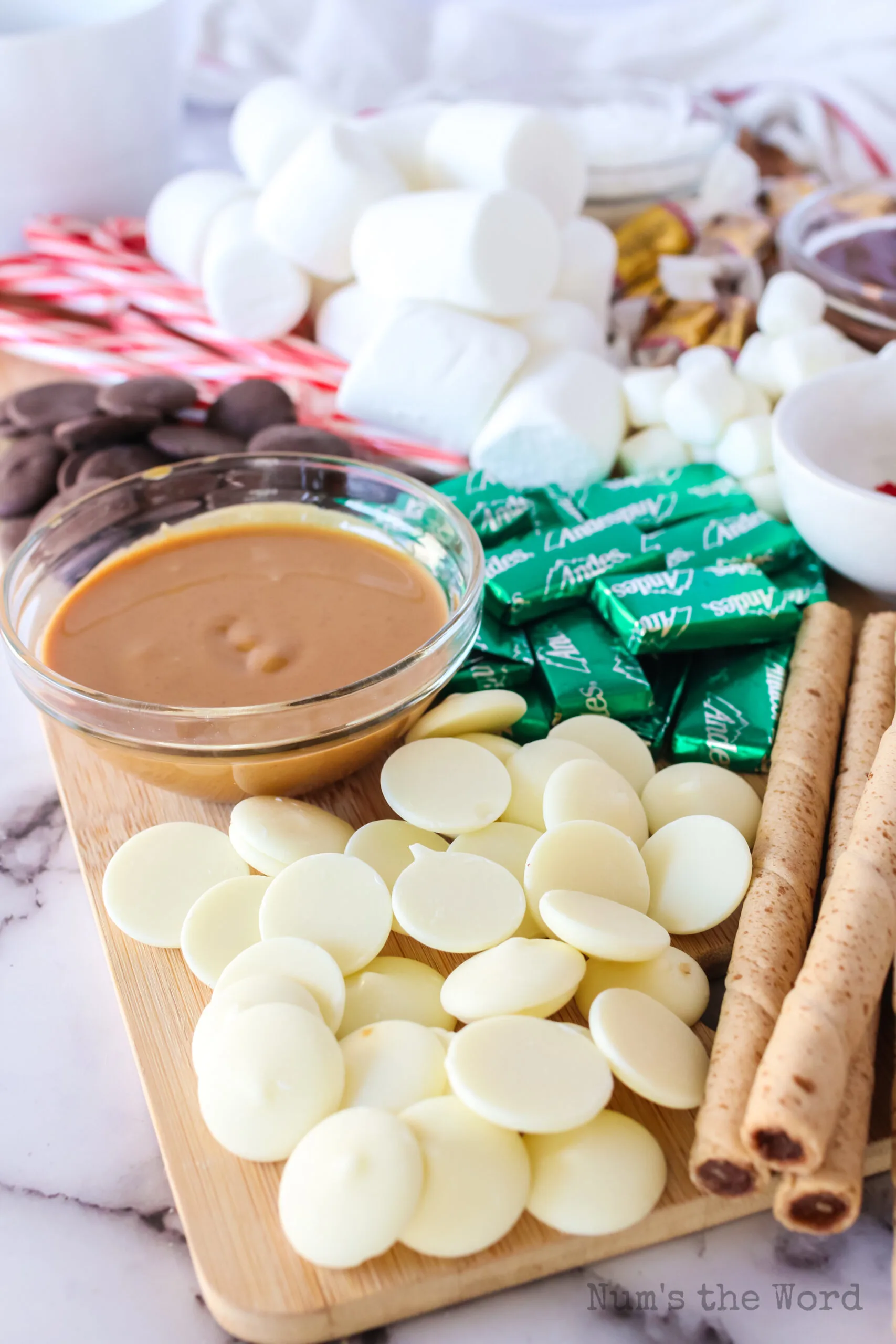 How to Store a Hot Cocoa Charcuterie Board?
Most of the items can be stored at room temperature.
I recommend wrapping the leftover hot cocoa charcuterie board tightly with plastic wrap.
Be sure to remove the whipped cream first and put it in the fridge.
Then simply leave the tray on the counter until you're ready to eat it.
How Long Does a Hot Cocoa Charcuterie Board Last?
Since most of the items on the board have a very long shelf life, the hot cocoa charcuterie board will last a long time.
You can keep it on the counter and pull it out every night for a week, and have it still be good.
Of course, the marshmallows will harden, but they will soften again in the hot cocoa so that can be okay.
After about a week, you should probably move each item to its own individual packages or toss out anything not looking good.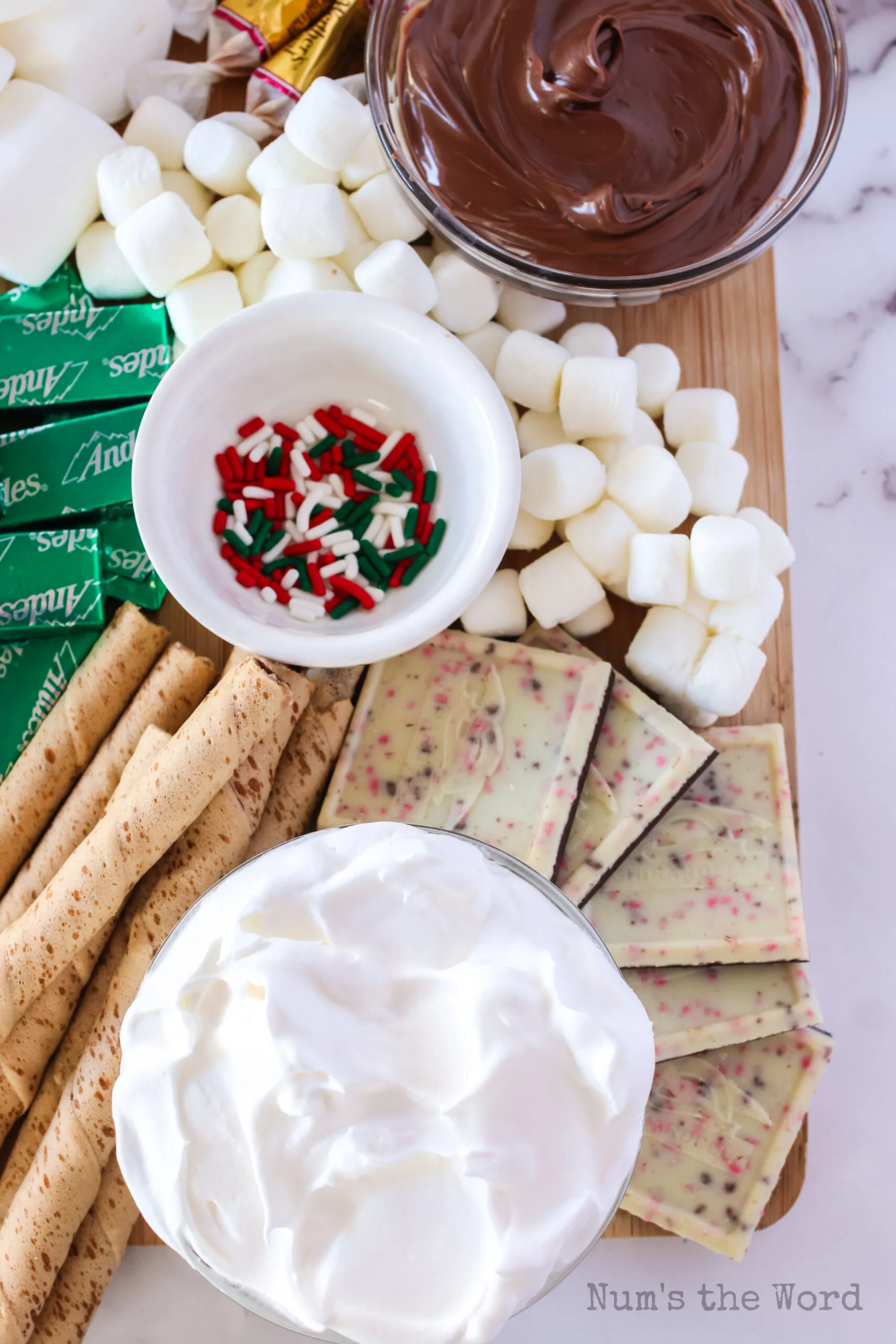 Who Invented Charcuterie Boards?
First of all, charcuterie is pronounced "shar-koo-tr-ee" and it's a French word.
That's because the French invented charcuterie boards in the 15th century.
They were originally created as a way to display offal and all the other meat products.
Of course, they're now very popular all over the united states, in many different forms.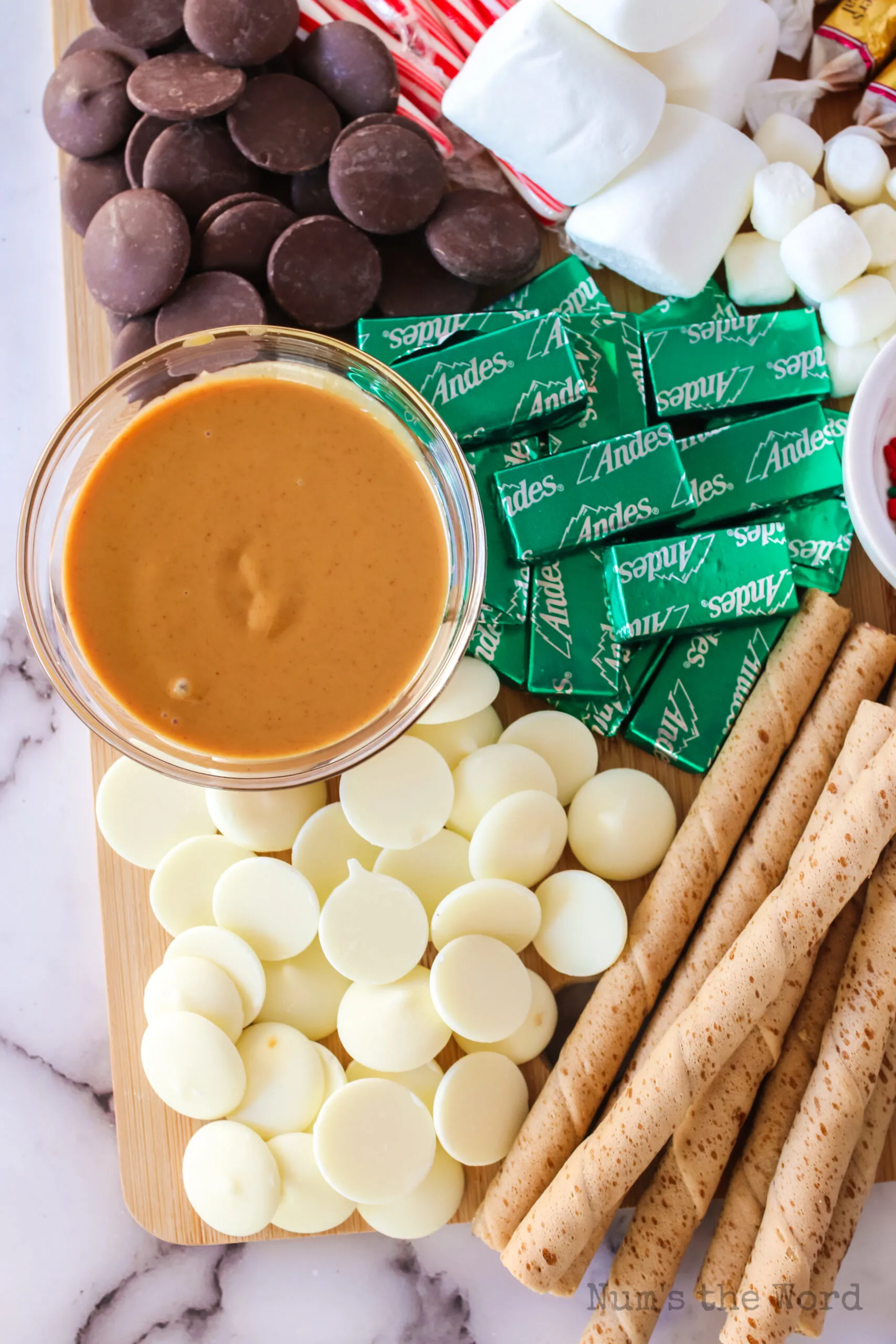 Extra Fun Ideas for Hot Cocoa Charcuterie Boards
I know how much fun these hot chocolate recipes are so here's some extra hot cocoa bar ideas.
Peanut Butter Cups
Hershey Kisses
Graham Crackers
Chocolate Bars
Mini Candy Canes
Chocolate Spoons
Hot Milk
Chocolate Syrup
Caramel Syrup
Sea Salt
Candy Cane Pieces
Milk Chocolate Chips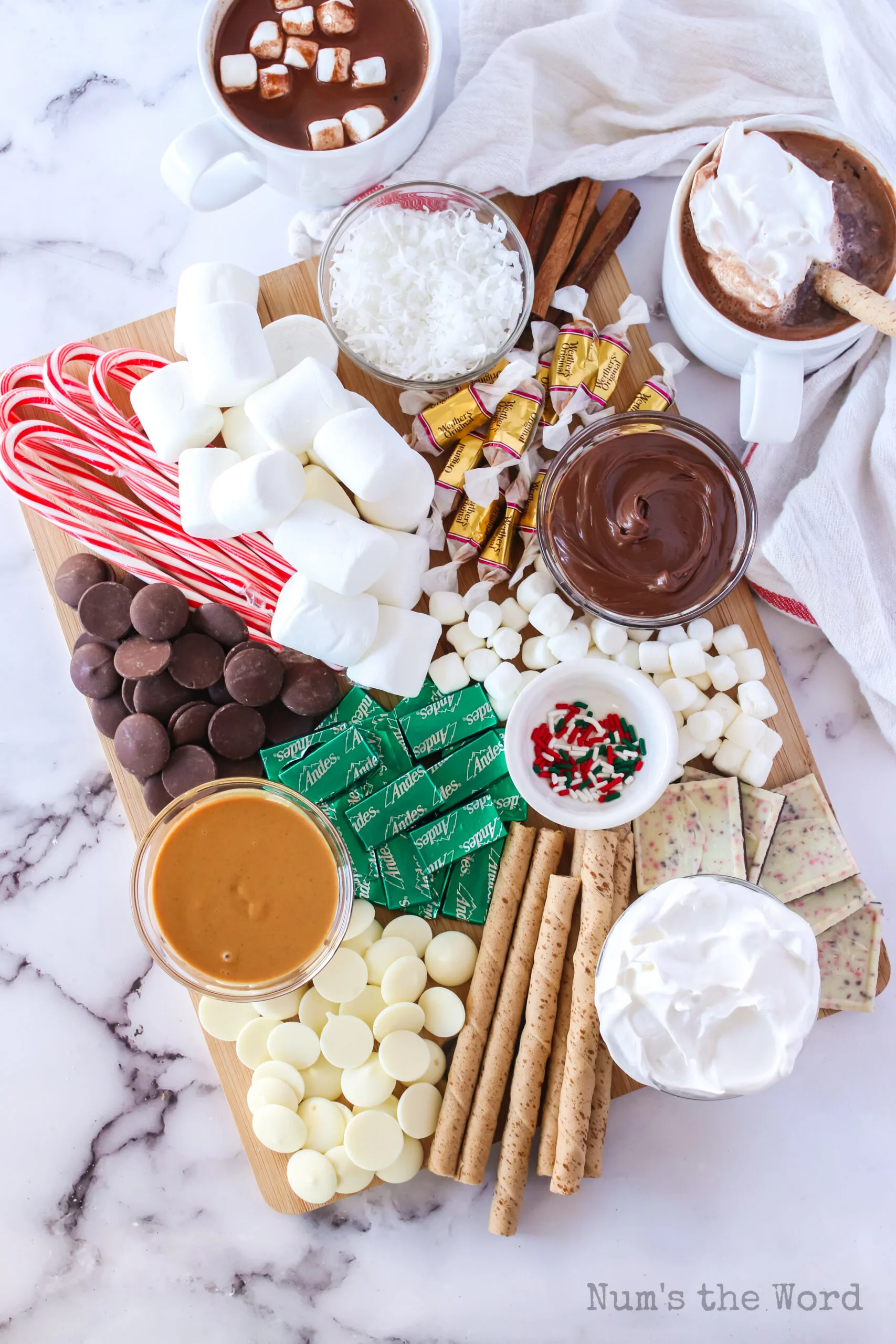 Enjoy this hot cocoa charcuterie board at your next holiday party! It's a show stopping dessert, beverage bar or even appetizer!
Don't forget to drop me a line and let me know what your favorite toppings are!
Yield: 6 Servings
Hot Cocoa Charcuterie Board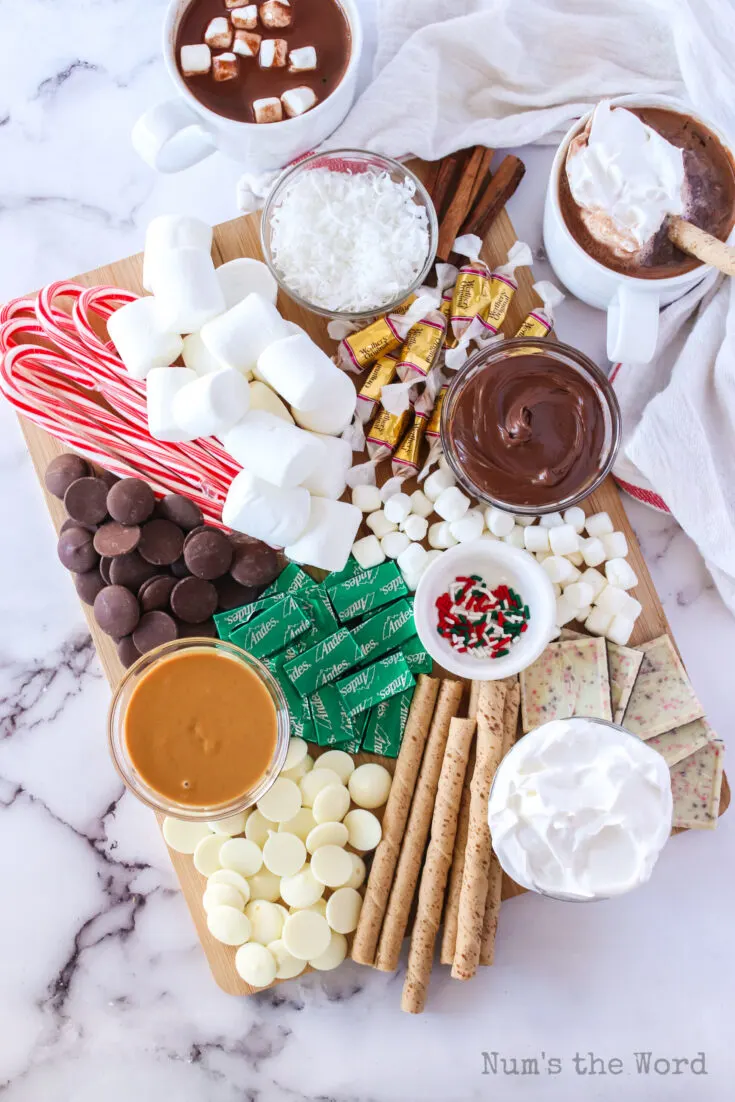 This Hot Cocoa Charcuterie Board is simple to make, super cute, and full of fun! It's the perfect way to serve hot chocolate!
Ingredients
White Melting Chocolate
Dark Melting Chocolate
Large Marshmallows
Small Marshmallows
Candy Canes
Caramels
Cinnamon Sticks
Pirouette Sticks
Coconut
Andes Mints
Whipped Cream
Marshmallow Fluff
Peppermint Bark
Sprinkles
Nutella
Peanut Butter
Instructions
Grab either a large cutting board or some butcher or parchment paper and lay it out on the table you'd like to display it on.
Start with the bowls of items - whipped cream, warm creamy peanut butter, Nutella etc. Place these items in small bowls and strategically place them around your display area - not next to each other.
Next place the anything long - candy canes, cookies, cinnamon sticks, again away from each other for a visually dynamic board.
Last add any small item to the board, marshmallows, mints, candy melts etc.
Your board is now ready. Next to your board you'll want your mugs, hot cocoa powder (or crock pot of hot chocolate) and a craft of hot water next to your display.
Guests can come and grab cup, fill it up and add their favorite toppings!
Nutrition Information:
Yield:
6
Serving Size:
1
Amount Per Serving:
Calories:

538
Total Fat:

27g
Saturated Fat:

18g
Trans Fat:

0g
Unsaturated Fat:

8g
Cholesterol:

14mg
Sodium:

190mg
Carbohydrates:

67g
Fiber:

5g
Sugar:

54g
Protein:

7g