Perfect for potlucks, picnics, and parties, this 3 bean salad is a snap to make and has the tastiest sweet and sour flavor. Made with canned beans you can have this salad ready to eat in almost no time at all!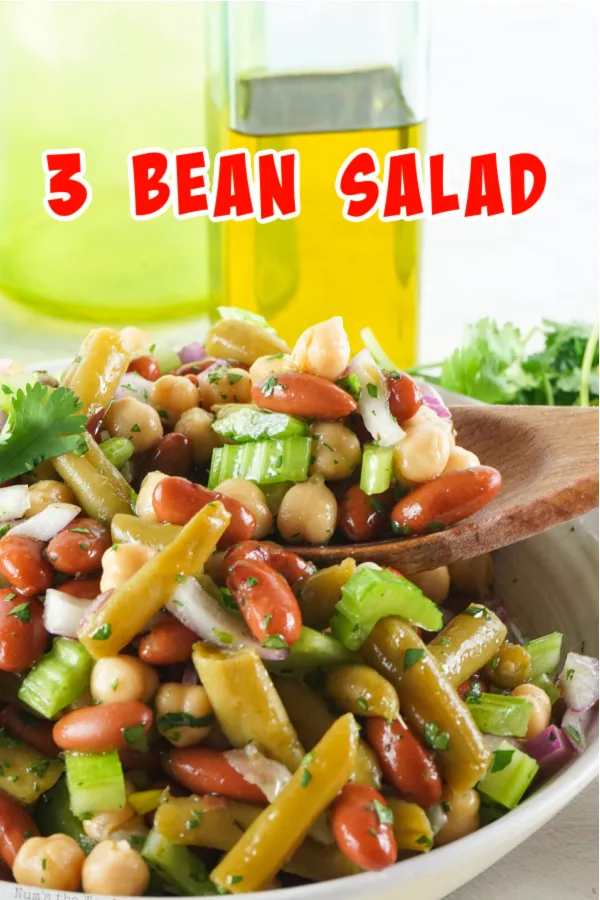 I especially love the sweet and sour flavor of the dressing. This is one of those salads that gets better and better with a little time.
The beans pick up all the wonderful flavors and the dish is perfectly delicious the next day!
Light and flavorful and filling and oh-so-easy to make? Sounds like a 3 bean dream team.
This salad is so great, I'm waxing poetic over here! But truly, you can't beat the ease of prep, common ingredients, and superb flavor you get with this recipe.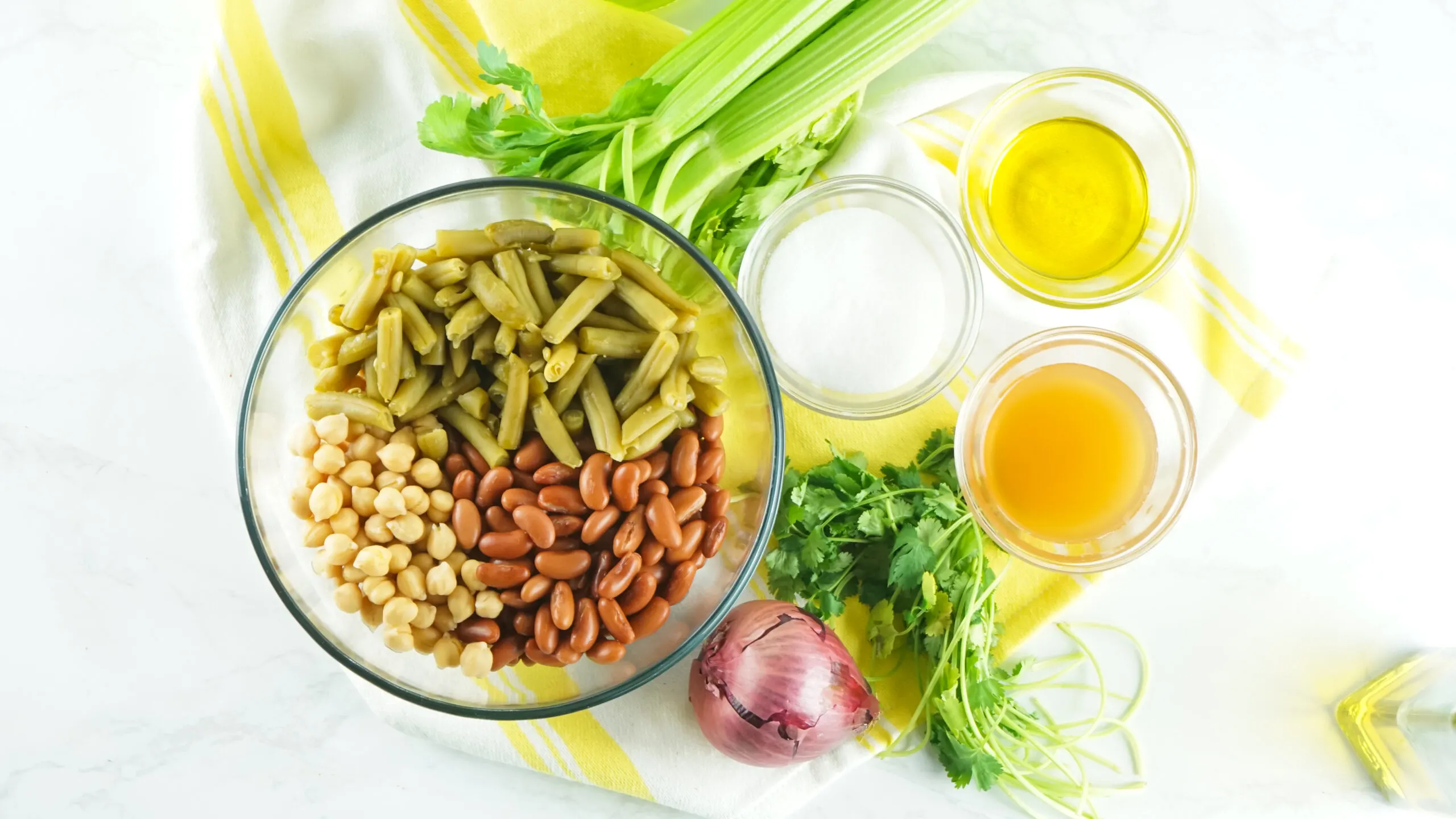 How to make 3 bean salad?
This 3 bean salad is such a breeze to make! With mostly canned and shelf stable ingredients, you can have this recipe ready to share in minutes.
Canned Green Beans

– green beans add a lot of flavor and color to the dish.

Canned Kidney Beans

– hearty and delicious, with its beautiful, deep red coloring.

Canned Garbanzo Beans

– also known as chickpeas, this bean maintains a nice, almost crunchy texture without becoming mushy.

Red Onion

– a favorite for salads though most onions can be substituted.

Celery

– celery adds a lot of flavor and is a great "seasoning" vegetable. It also provides a nice

crunch

to the recipe!

Olive Oil

– olive oil is a major player in this salad's dressing. It helps the dressing coat all the beans and other ingredients evenly.

Apple Cider Vinegar

– vinegar provides the zippy tanginess in this salad.

Sugar

– one of the best things about the flavor of this salad is how the sweet and sour blend together so nicely and really complement the beans and veggies.

Fresh Cilantro

– cilantro adds a nice, bright flavor to the salad. With its citrusy undertones, it's the perfect addition!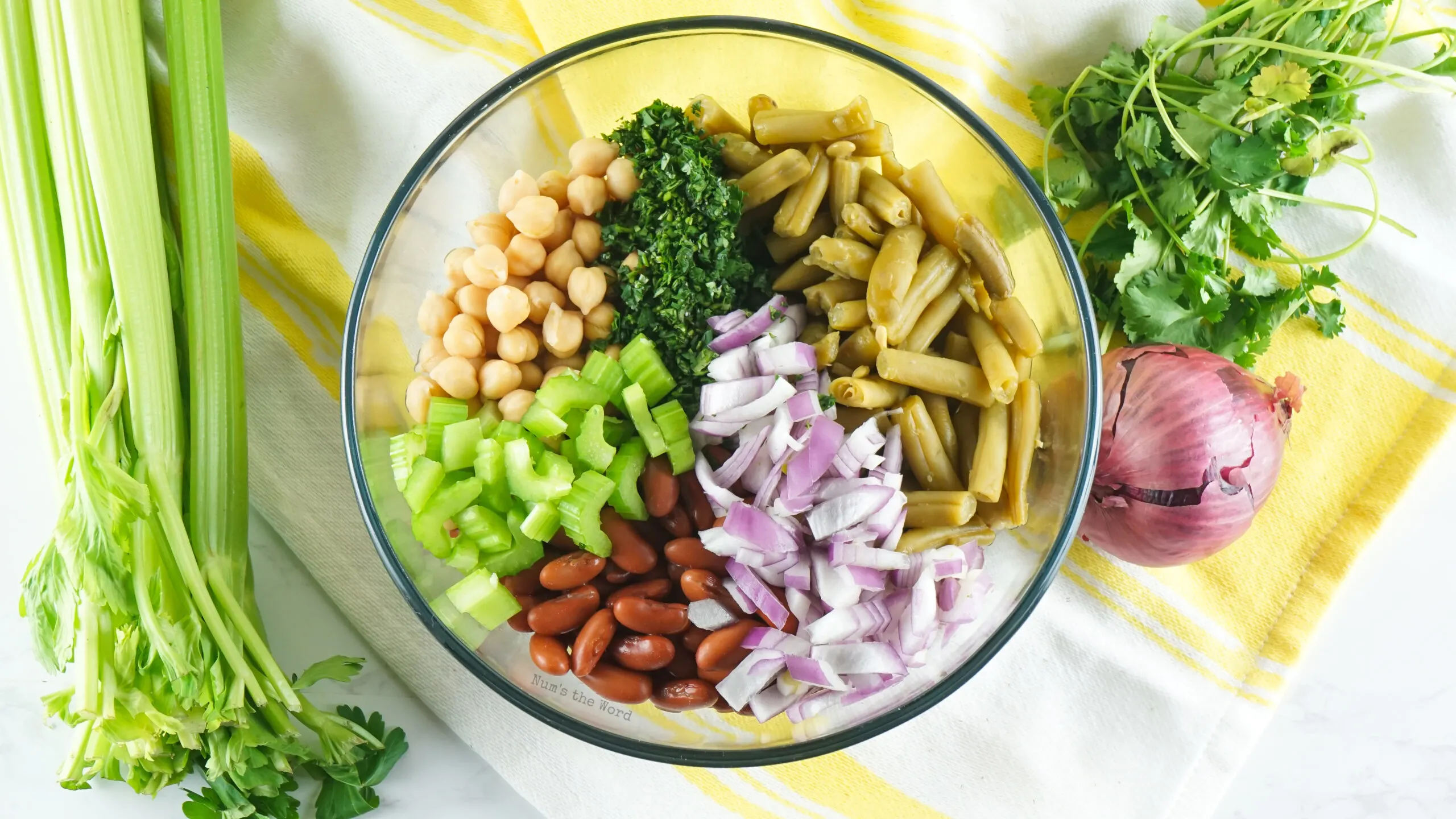 How to prepare 3 bean salad?
Now that we have all our ingredients, we're ready to assemble the salad. And I'll let you in on a little, not-so-secret secret: this classic green bean salad is INCREDIBLY easy to make!
Drain

and rinse canned beans

Combine

dressing ingredients

Microwave

until sugar is dissolved

Mix

it all together!
Truly, the most difficult part of this recipe is the 3 bean salad dressing — and it's just a matter of thoroughly mixing it all together! I love a tasty recipe that only requires pouring out cans and stirring!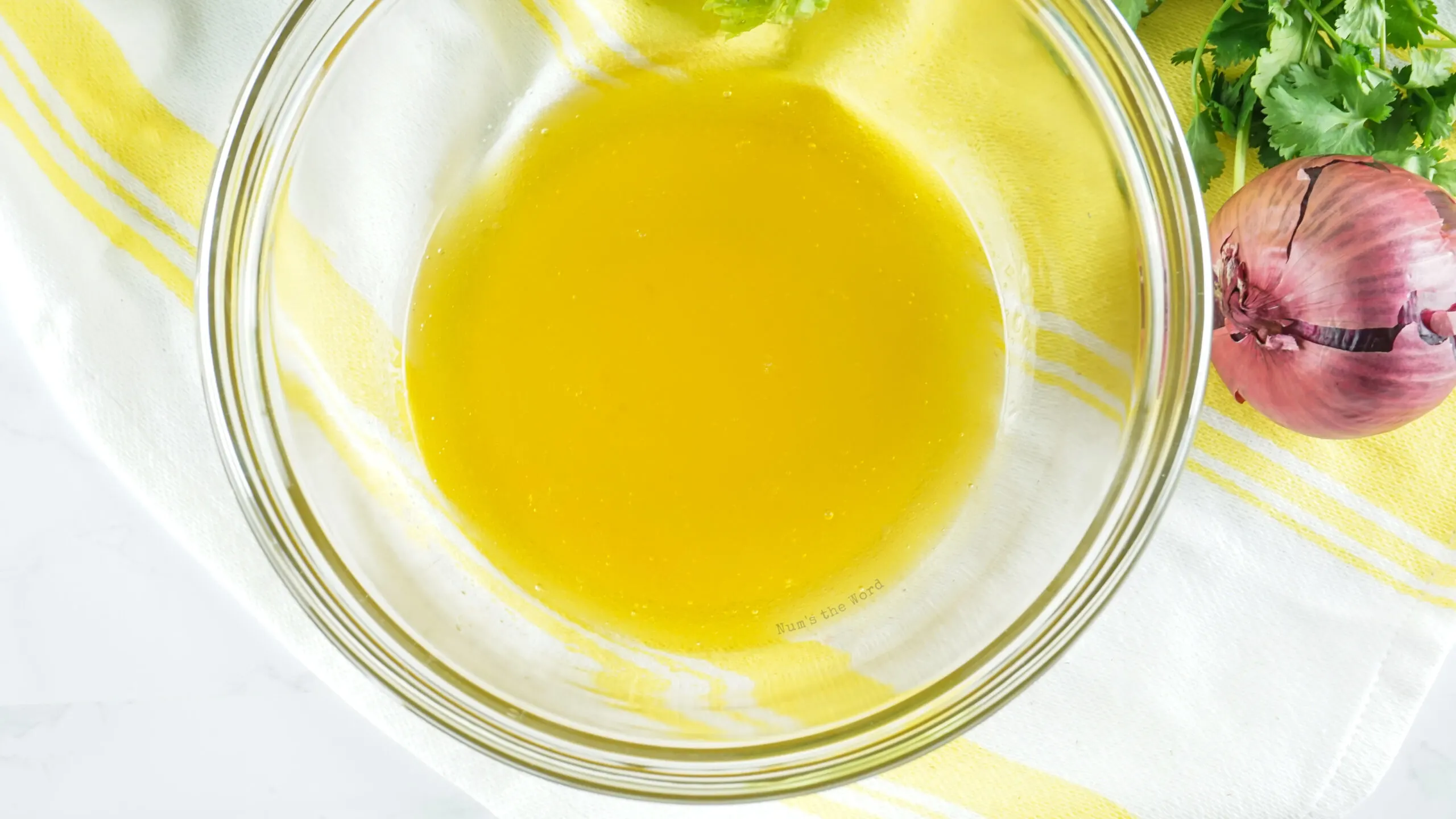 How long does 3 bean salad keep?
Properly stored, this 3 bean salad recipe will last up to 5 days in the refrigerator. I actually think this salad tastes its BEST after about 24 hours in the fridge!
If the salad has been left out at room temperature for a while at a party or picnic, it will not keep as long as when it's stored exclusively in the refrigerator.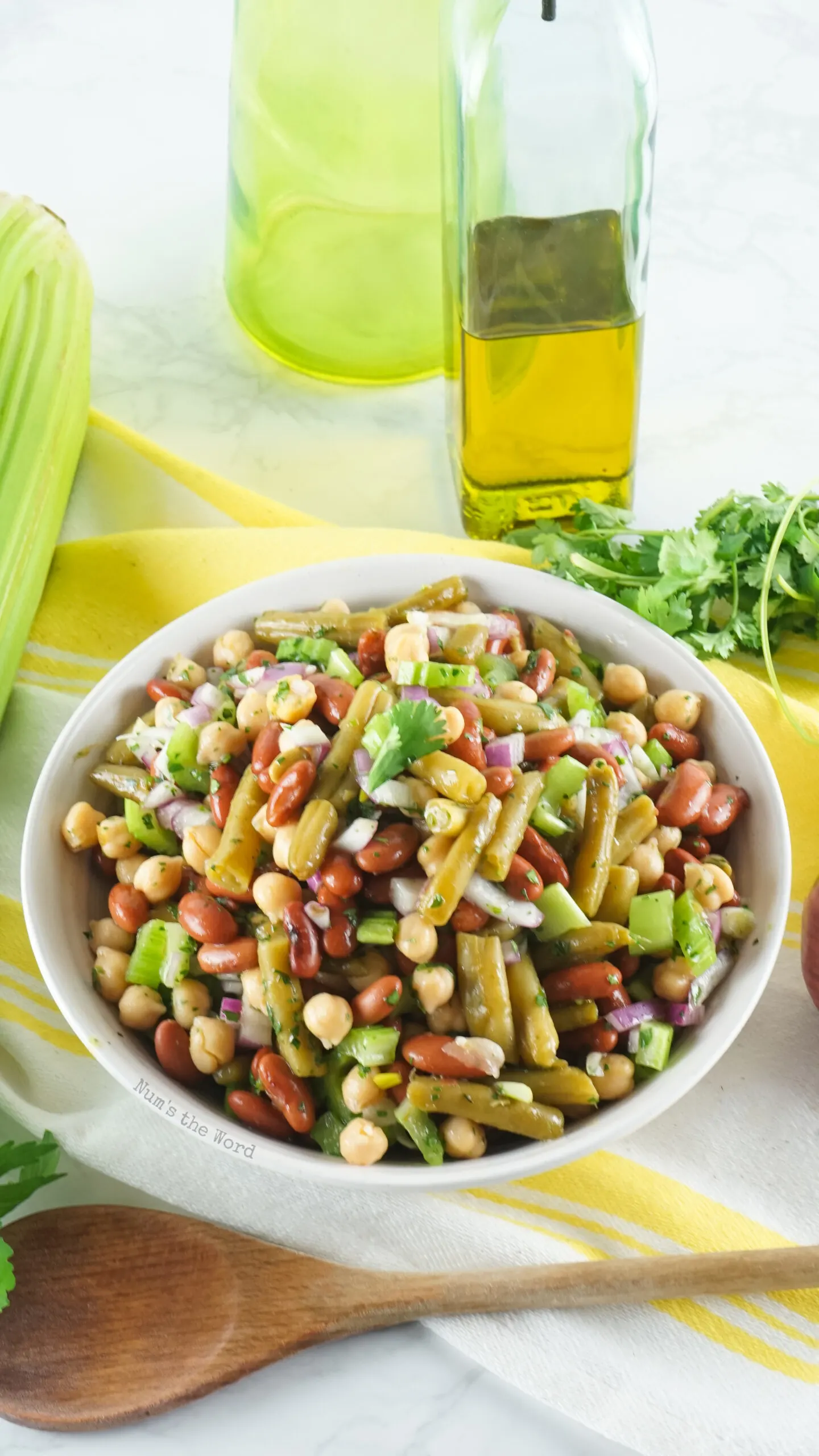 Can I make 3 bean salad in advance?
Yes, you can absolutely make this 3 bean salad ahead of time. As I mentioned previously, I actually think it tastes BEST after sitting in the fridge for 24 hours.
That being said, this salad is DELICIOUS as soon as it's assembled, no need to wait.
However if you're wanting to prep this ahead of time, a few hours or the day before you plan to eat it is just fine!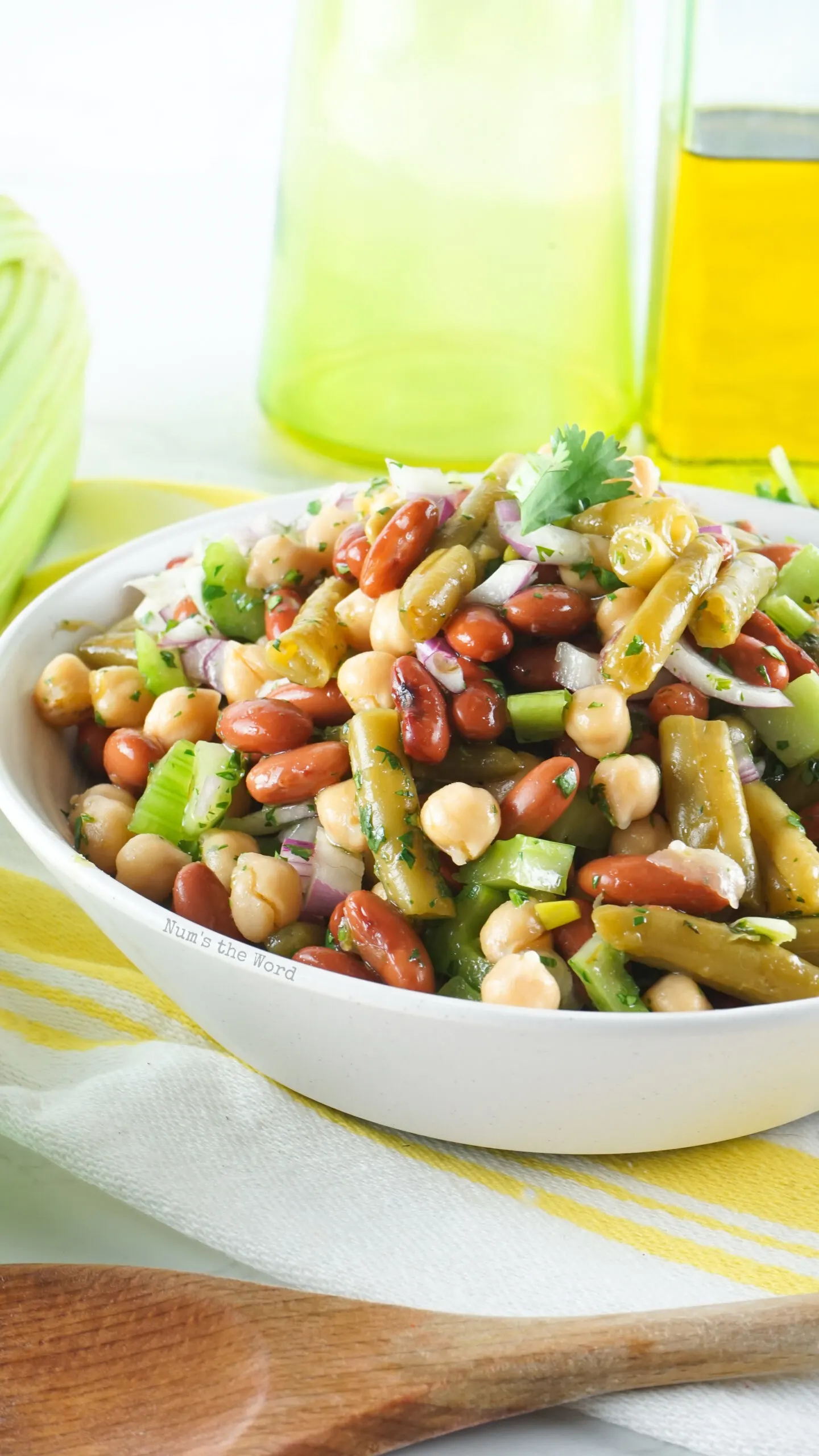 Can you freeze 3 bean salad?
I do not recommend freezing this salad. Some of the beans, and especially the fresh produce, will not hold up well after freezing.
They will become mushy and watery upon thawing and will not be good for eating as a salad.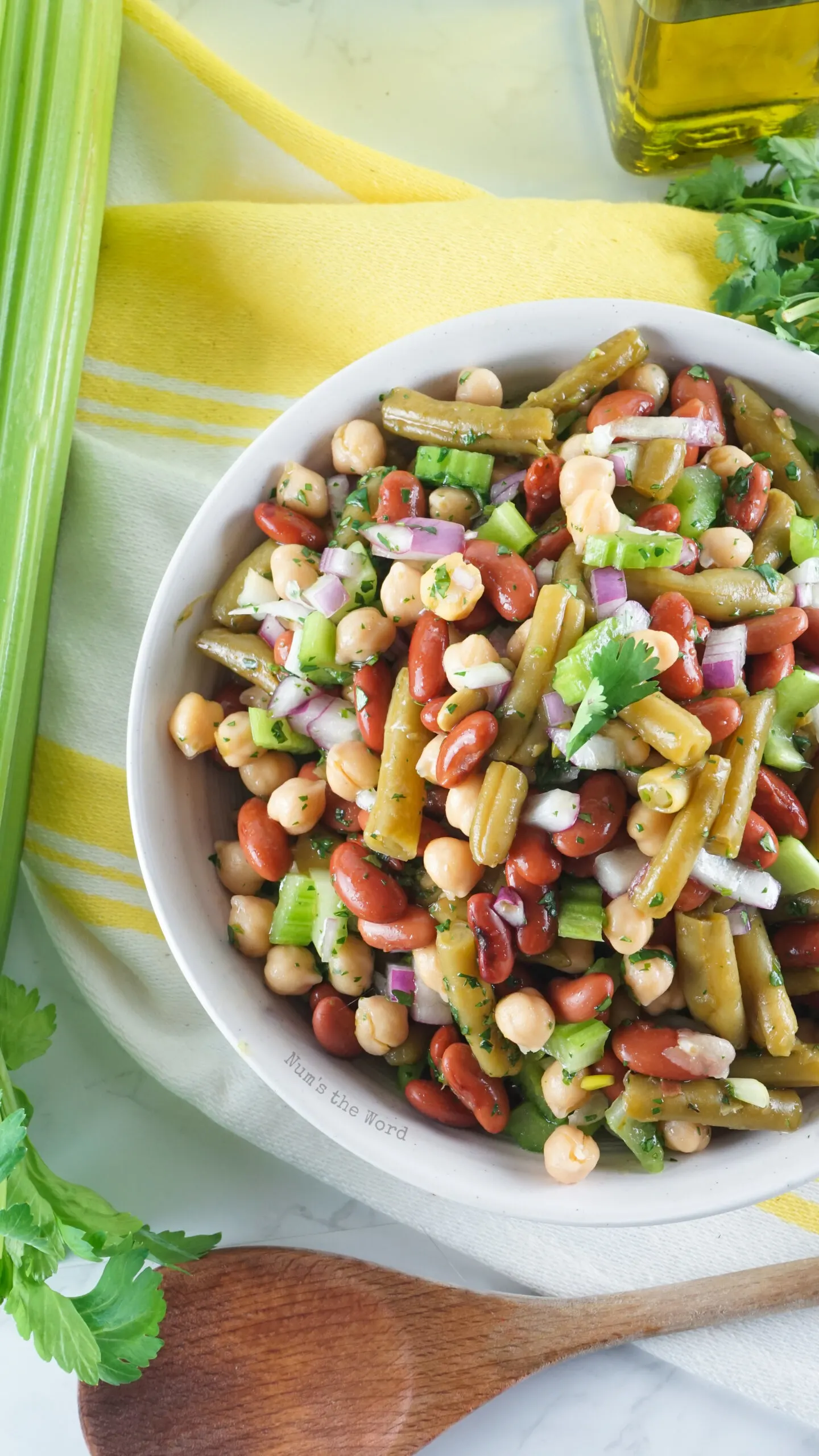 Is 3 bean salad healthy?
This 3 bean salad is fairly healthy! It's full of nutritious and filling beans and fresh onions and celery.
That being said, there is a significant amount of added sugar — something to keep in mind.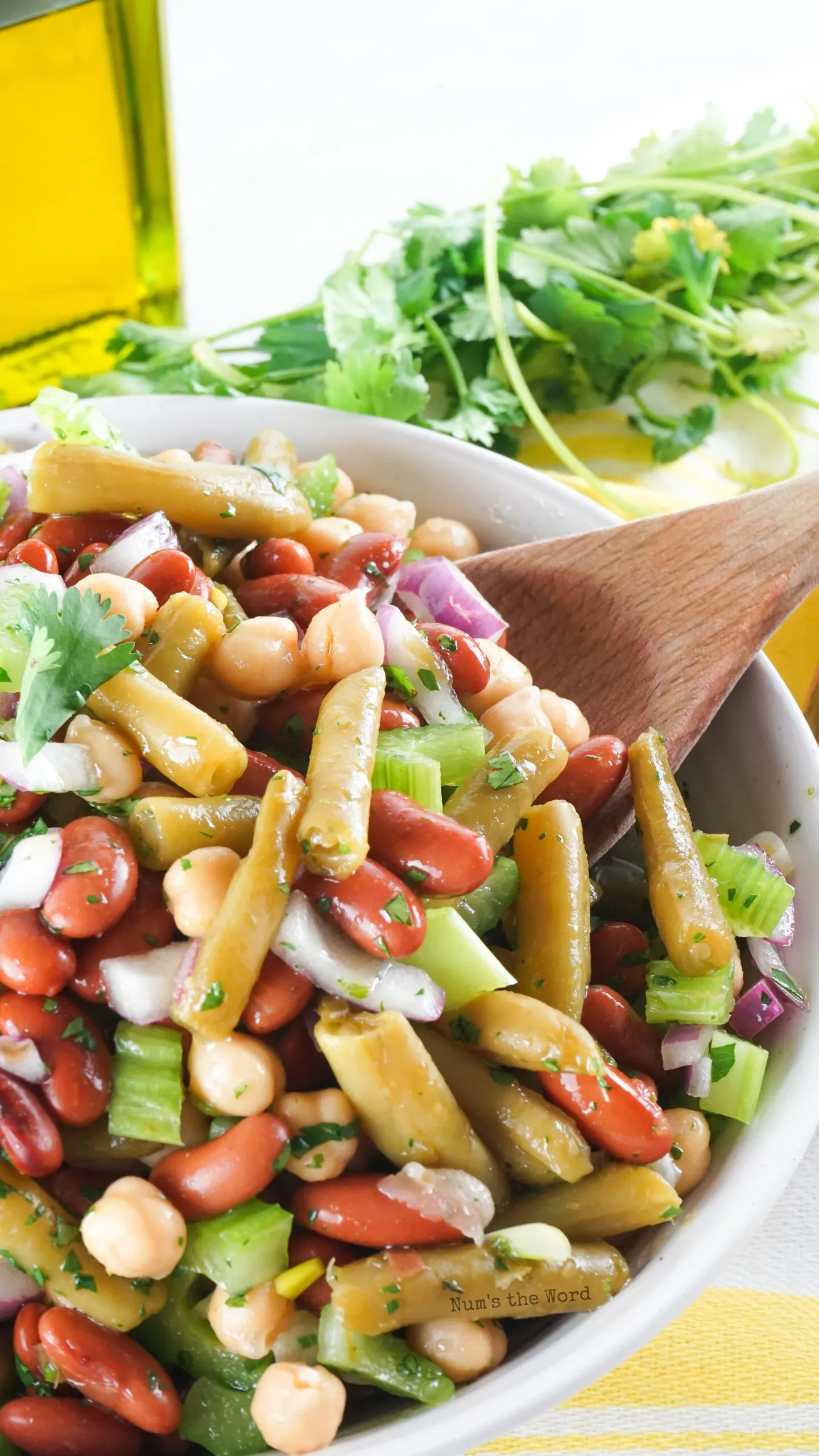 What to eat with 3 bean salad?
Here are some of our favorite main-dish pairings: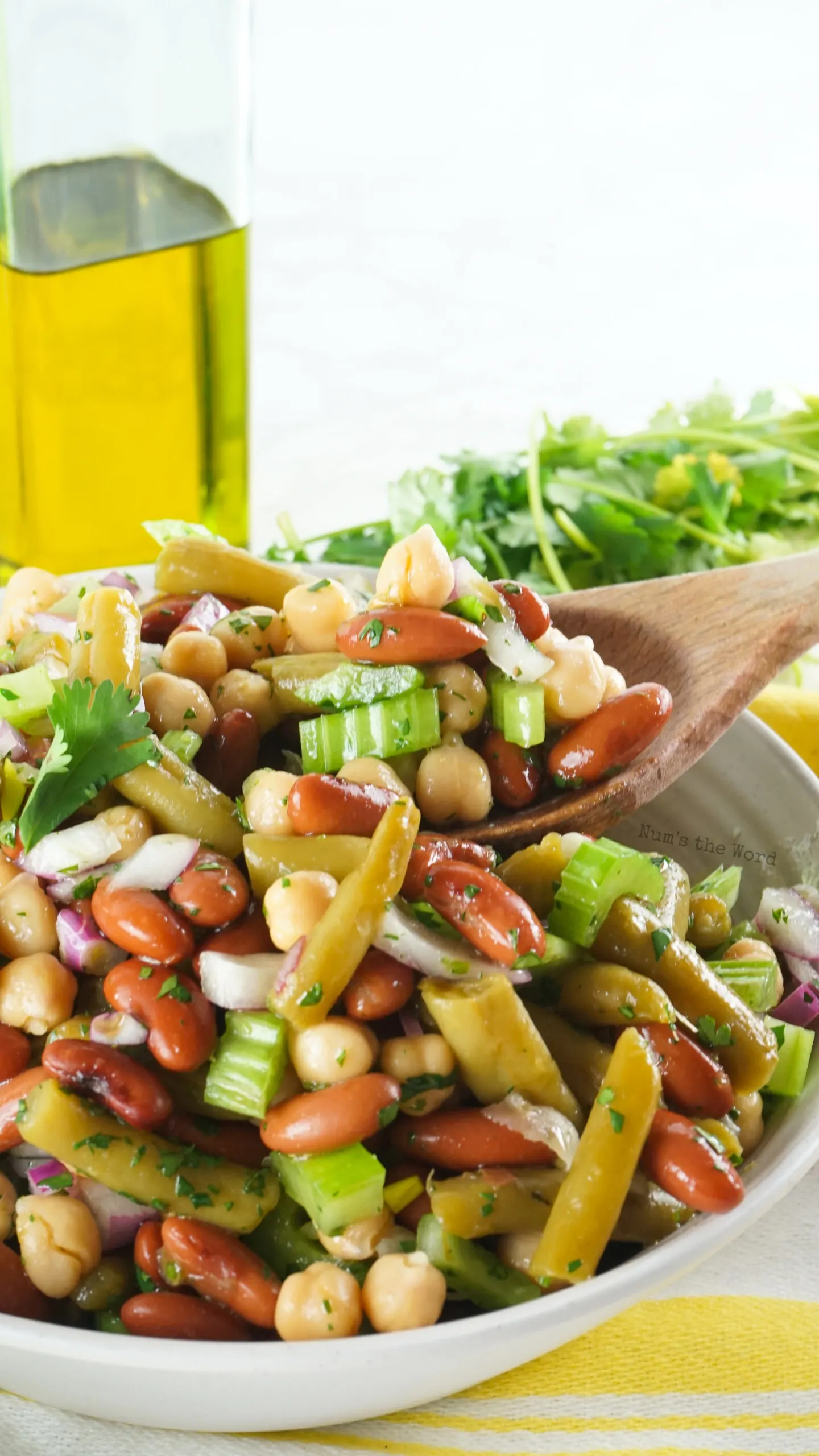 Whether you're headed to a picnic or potluck, or just want a tasty and filling side to round out a meal at home, this canned 3 bean salad is the recipe for you!
Packed with flavorful, filling beans in every bite, this is the perfect classic 3 bean salad the whole family is sure to love!
Yield: 6 Servings
3 Bean Salad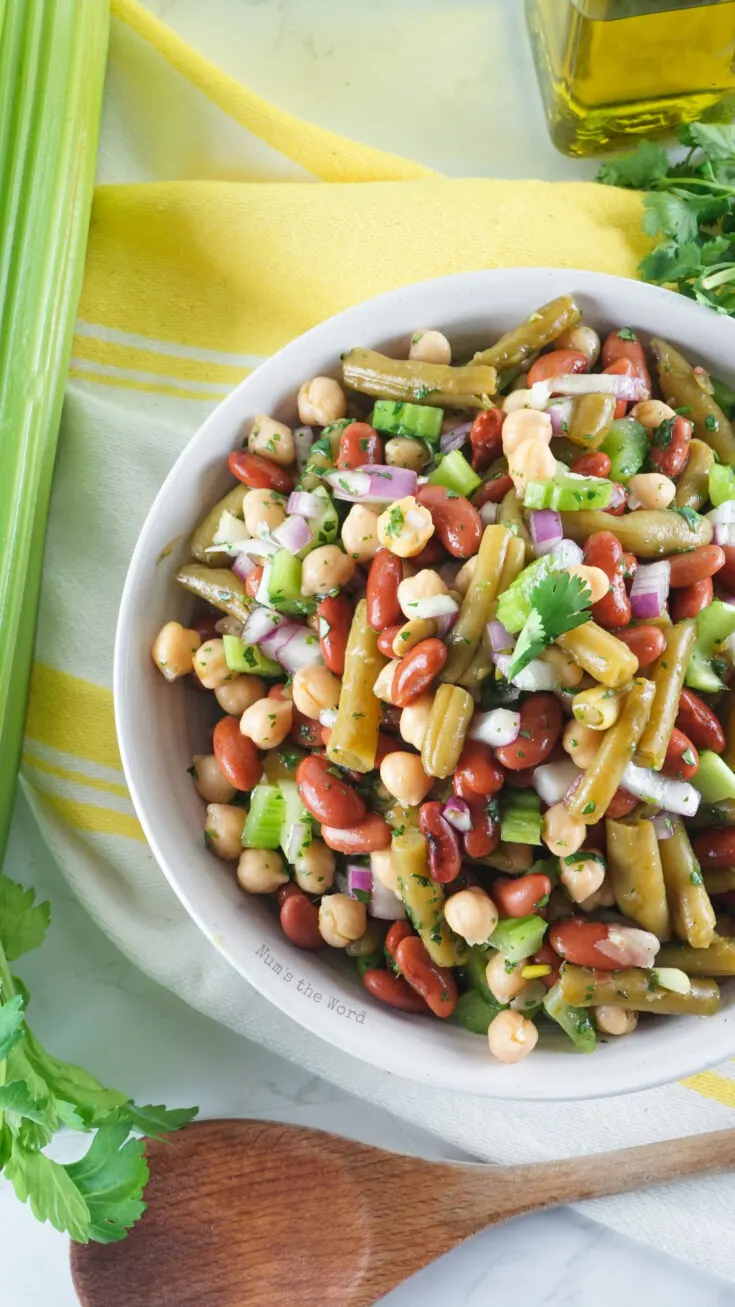 Perfect for potlucks, picnics, and parties, this 3 bean salad is a snap to make and has the tastiest sweet and sour flavor. Made with canned beans you can have this salad ready to eat in almost no time at all!
Ingredients
1 (15.5 ounce) can of green beans
1 (15.5 ounce) can of kidney beans
1 (15.5 ounce) can garbanzo beans
1/2 cup red onion, diced
2 celery stalks, diced
1/3 cup olive oil
1/3 cup apple cider vinegar
1/4 cup white sugar
1/4 cup fresh cilantro, minced
Instructions
Drain and rinse the three cans of beans and add them to a large mixing bowl.
In a separate, medium, microwave-safe bowl, combine the olive oil, sugar, and vinegar. Mix well and place in the microwave for 30-45 seconds or until the sugar fully dissolves when stirred.
Add the remaining ingredients along with the sugar mixture to the bowl with the beans and gently fold it all together until it's thoroughly combined.
Serve immediately or for more flavor, chill for 24 hours. Enjoy!
Notes
This salad is delicious when served immediately, however, it's even more delicious when it's had at least 24 hours to sit in the fridge in a covered container. The beans soak up all the flavors and it's pure perfection.
You can use any onion you like, it doesn't have to be red.
Wax beans are a great addition to this recipe, although it would technically make it a 4-bean salad.
Some people prefer their salad to be extra sweet. If that's the case, you can increase the sugar to half a cup.
White vinegar can be used in place of apple cider vinegar in the same amount.
I do not suggest freezing this recipe.
I have noticed some cans of beans have started coming in 14.5-ounce cans instead of 15.5 ounces. This is ok and the recipe doesn't need to be adjusted if this is the case.