Making a Ham Salad Sandwich is a quick and easy way to utilize your leftover holiday ham! Packed with flavor, this homemade ham salad makes a great dip or appetizer with crackers, or a scrumptious sandwich filling on crusty bread or rolls.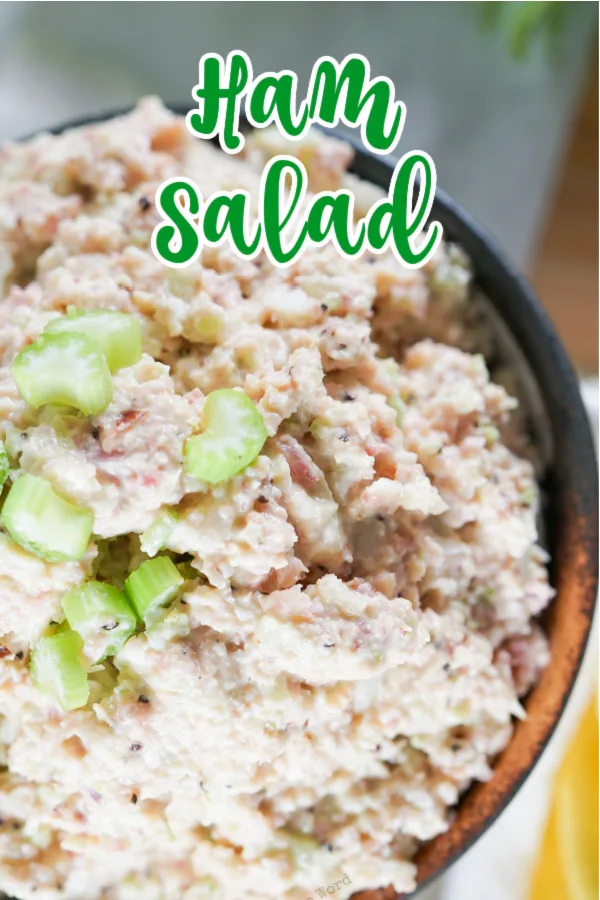 There are so many delicious ways to repurpose leftover ham, and a ham salad sandwich is one of my personal favorites. It makes a great snack or lunch after a big ham dinner, and it's so easy to make (which is a big deal after a previous day full of cooking, am I right?!).
If you don't have leftover ham, then I suggest making our Honey Baked Ham or Spiral Ham in Crockpot. Both are great and make for great leftovers!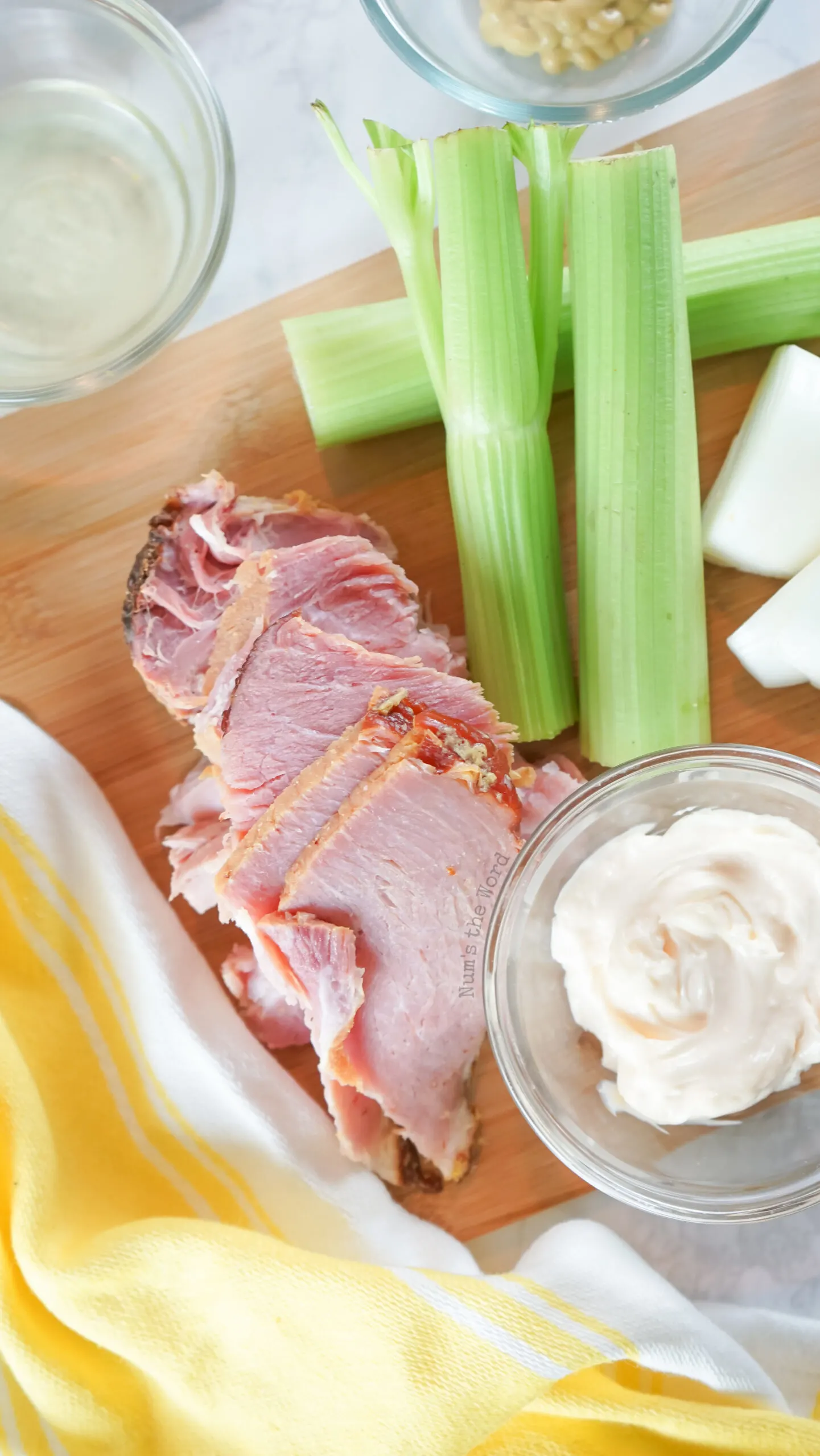 What is ham salad?
Not sure what ham salad is? That's okay! Think along the lines of egg salad, tuna salad, chicken salad, or even potato salad. It's in the same genre.
However, instead of using chicken, tuna, or eggs as the primary protein source, it uses ham! Ham has so much flavor to begin with, and combined with the other flavorful salad ingredients, you end up with the perfect sandwich spread or cracker dip! It's delicious!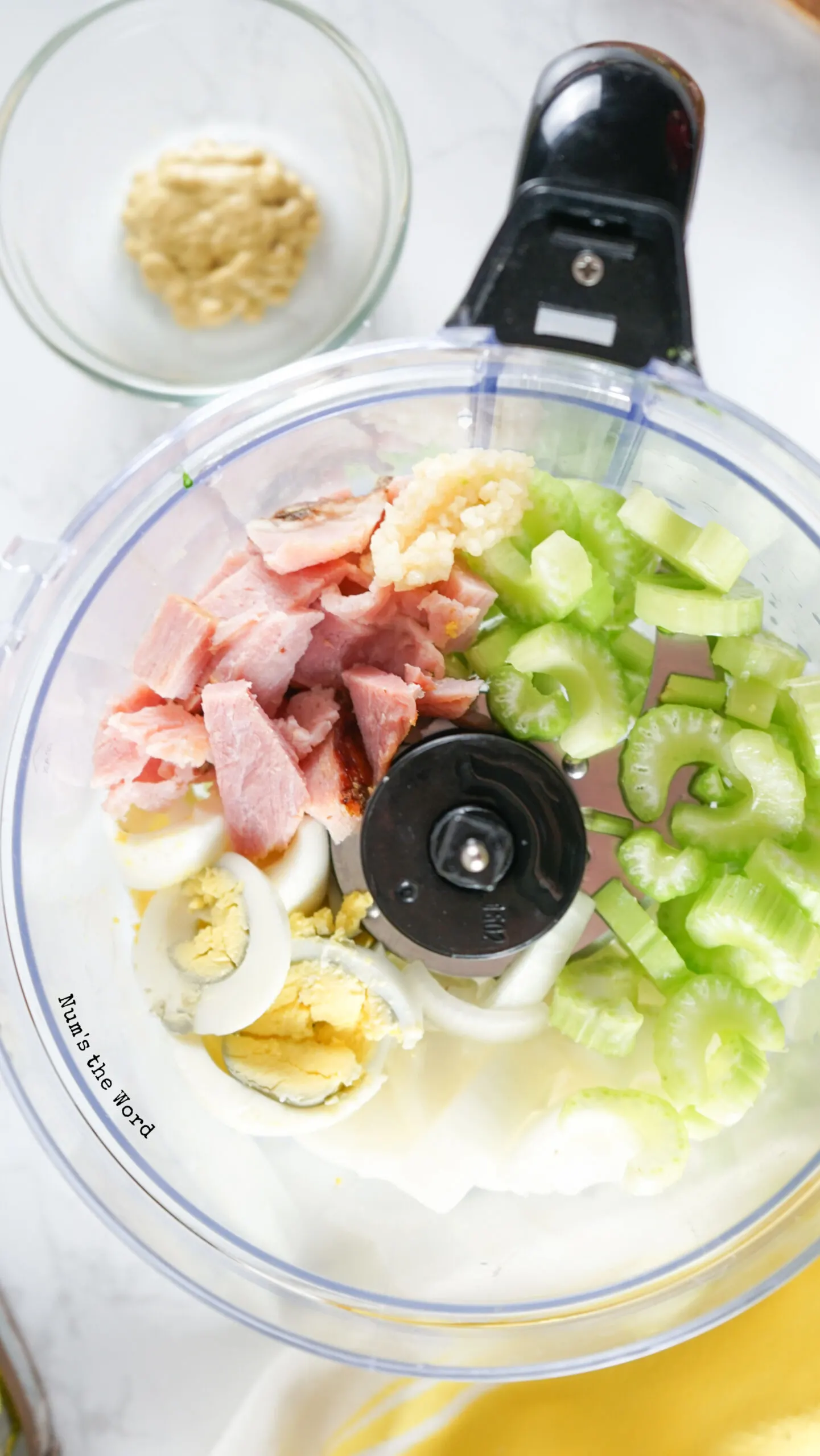 Old fashioned ham salad recipe:
For this, the BEST ham salad recipe, you'll need the following ingredients:
Cooked ham

– I used leftover ham for this recipe. Any flavor of ham will work great.

Celery

– celery adds a bit of much needed texture and CRUNCH to the recipe. If you're not a celery fan, raw cucumber, corn kernels, or sweet bell peppers are also common ham salad ingredients you could sub for!

Onion

– These add texture and so much flavor!

Mayonnaise

– this is the main part of the dressing for your ham salad. I used normal mayonnaise, but you can definitely substitute with Miracle Whip if that's your preference!

Hard Boiled Eggs

– hard boiled eggs are not only additional protein, but also flavor!

Jalapeno juice

– jalapeno juice may seem a bit of an elusive ingredient, but there are a couple ways to get that jalapeno flavor in your ham salad! If you have jarred jalapenos, you can use a bit of the juice from the jar. You can also puree and strain fresh jalapenos for a more fresh and intense jalapeno flavor.

Dijon mustard

– mustard adds a lot of flavor to your ham salad dressing. You can use your favorite type! For me, that is Dijon.

Tabasco Sauce

– this ingredient is optional, but adds a little extra kick to your ham salad recipe. I especially loved the contrast between the sweetness of the maple glazed ham and the spice of the jalapeno juice and tabasco sauce.

Garlic

– small plant, lots of flavor!

Salt & Pepper

– add salt and pepper to taste.

How to make ham salad?
Once you've got all your ingredients, putting together this ham salad recipe couldn't be easier!
Combine

all the ingredients

Pulse

in a food processor

Pause

and scrape sides

Taste

and adjust seasonings

Serve

!
It really is as simple as that! I love a good combine and serve recipe, and this one takes the cake for ease of preparation and incredible flavor. Now you can use your finished product as a ham salad spread for crackers, or put it on bread for a delicious ham salad sandwich!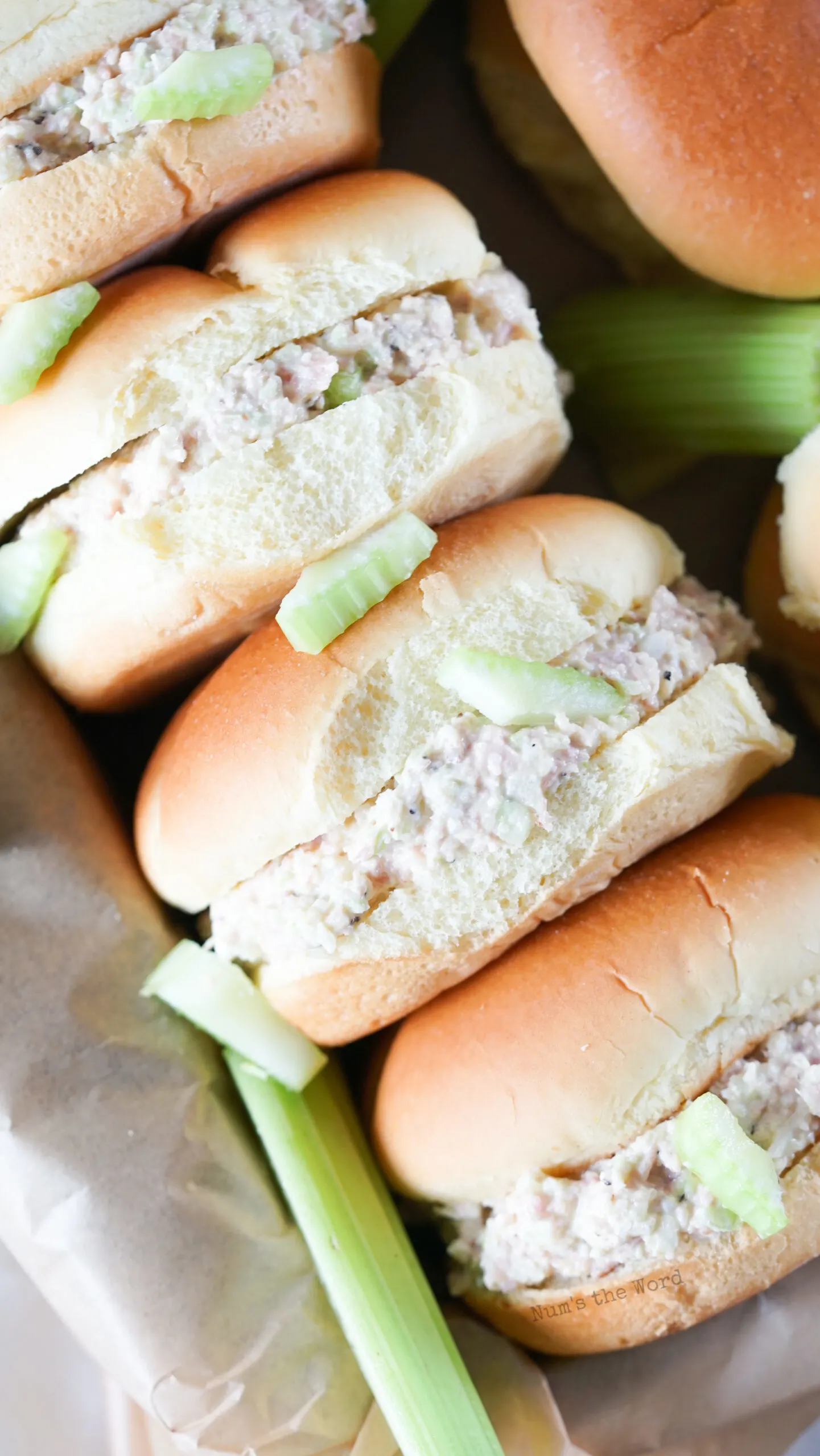 How long is ham salad good for?
Fully prepped, ham salad is only good for 3 days in the refrigerator. Part of this is due to the already "leftover" nature of the ham, as well as other ingredients like the hard boiled eggs. But take it from me — this ham salad sandwich recipe is too tasty to last for long!
What to do with leftover ham salad?
If you can't finish your salad or sandwiches on the first day, I suggest tossing it in the fridge and finish it off tomorrow! This is great on crackers, a filling in celery or even wrapped in lettuce for a gluten free snack.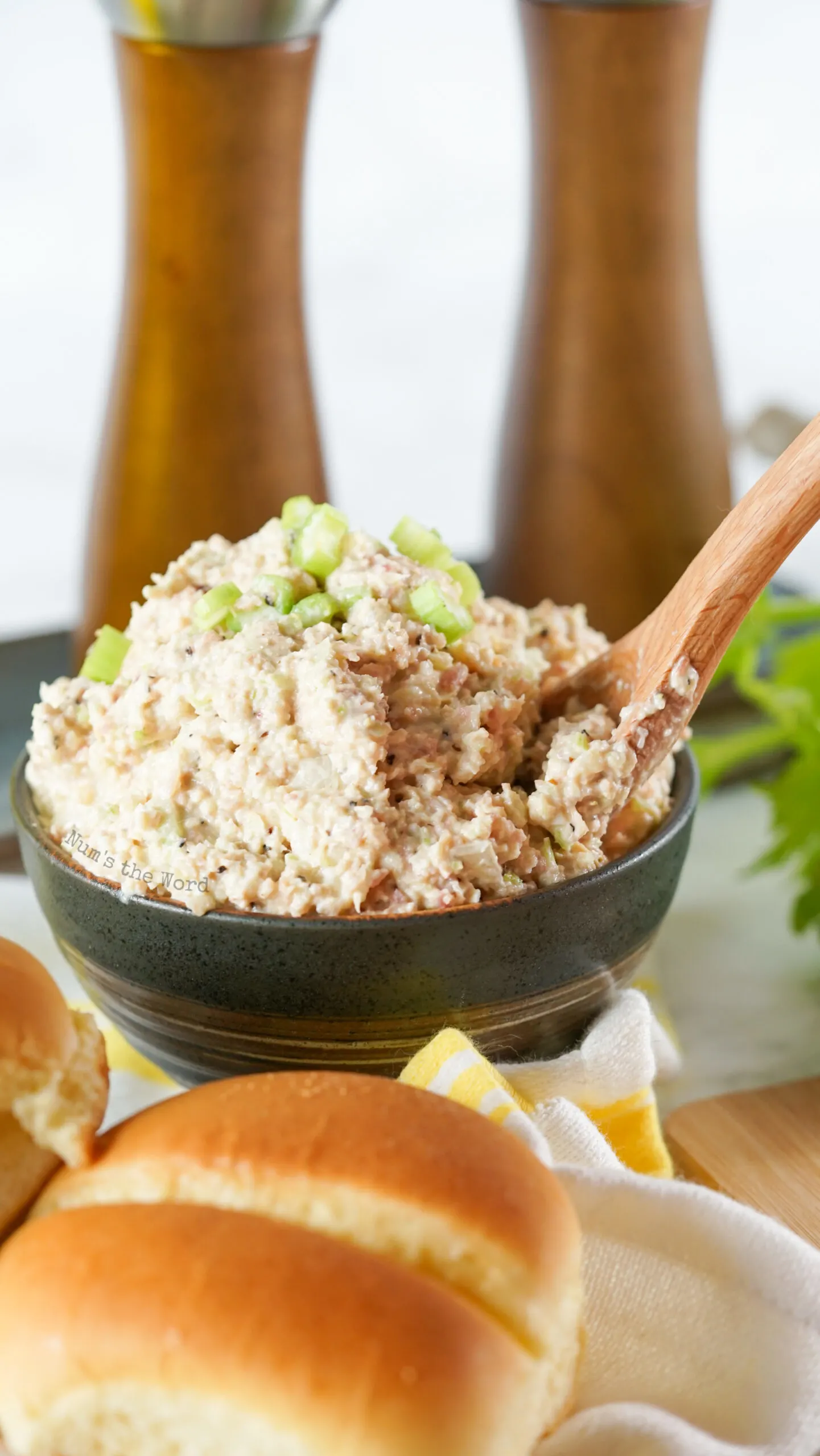 How much ham salad per person?
Depending on the size of your bread slices, you're looking at somewhere between ¼ cup and ½ cup of ham salad per sandwich, which you can count as one serving. This recipe will serve about 4-6 people, again, depending on how full you fill your sandwiches.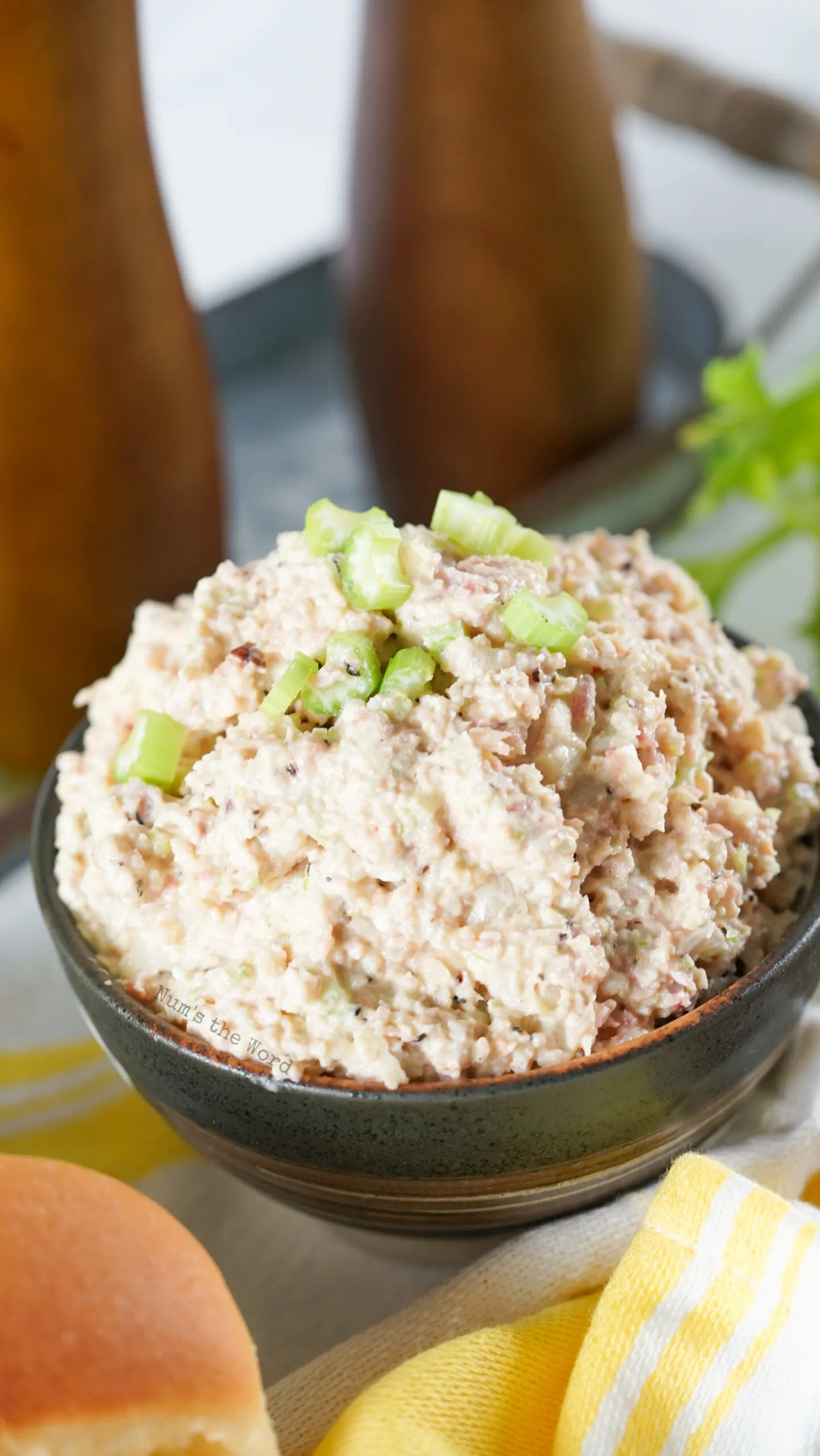 Can you freeze ham salad?
Technically, yes. You can freeze ham salad. But you might find the texture, especially of the dressing, adversely altered upon thawing. Mayonnaise and Miracle Whip do not always fare well in the freezer, and when thawed can separate and make a bit of an oily mess.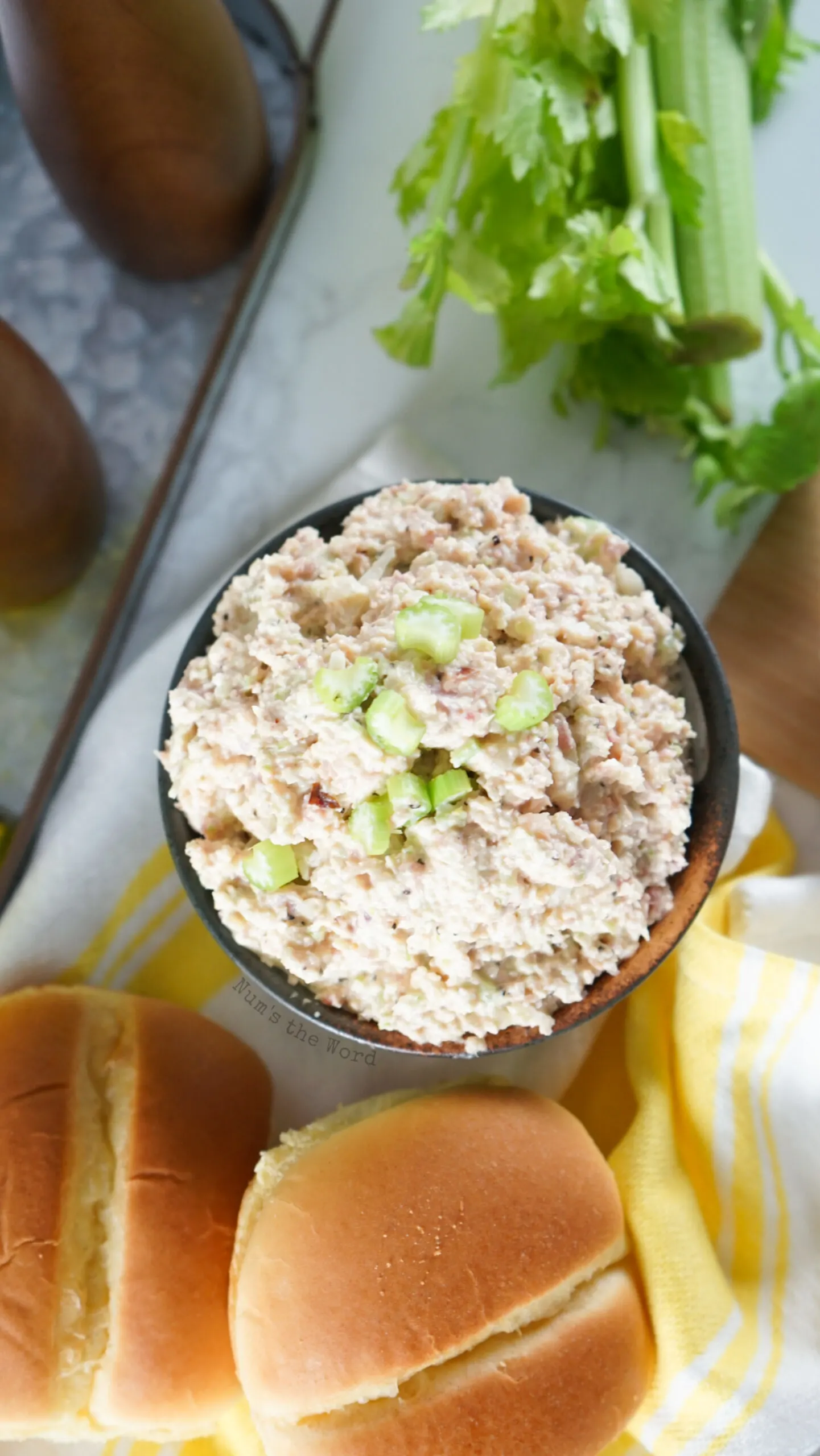 Looking for Yummy Ham Recipes? Try one of these!
Whether you've got a lot of leftover ham and are looking for a way to use and eat it, or you have a hankering for ham salad, or want to serve it at a luncheon or party, this ham salad recipe is the one for you! So much flavor packed into a couple super simple steps!
Yield: 4 - 6 Servings
Ham Salad Sandwich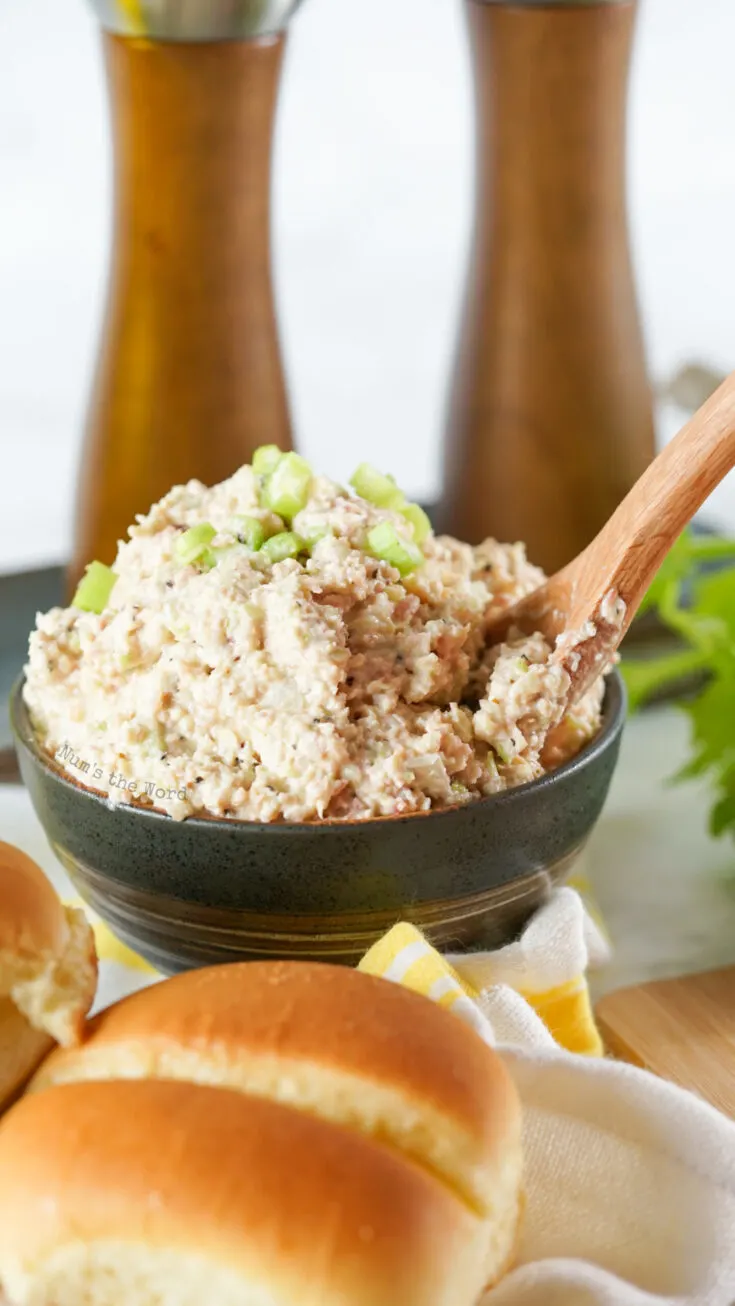 Making a Ham Salad Sandwich is a quick and easy way to utilize your leftover holiday ham! Packed with flavor, this homemade ham salad makes a great dip or appetizer.
Ingredients
2 cups cooked ham
1/2 cup celery
1/2 cup yellow onion
1/2 cup mayonnaise
2 hard boiled eggs, cut in half
2 Tablespoons jalapeno juice
2 Tablespoons Dijon Mustard
1 Tablespoon Tabasco sauce (optional)
2 teaspoons garlic
1/4 teaspoon salt
pinch of black pepper
4-6 Hamburger Buns
Instructions
Combine all the ingredients in a food processor and blend until roughly chopped.
Pause and scrape down the sides of the bowl and blend again.
Taste and adjust seasonings.
Serve on a bun, smeared on crackers, or by itself. Enjoy!