Disney's Dole Whip is an iconic treat that everyone looks forward to during their visit. Well you can now make it at home with just 3 simple ingredients. This isn't a copycat recipe, it's THE original Walt Disney World Dole Whip recipe!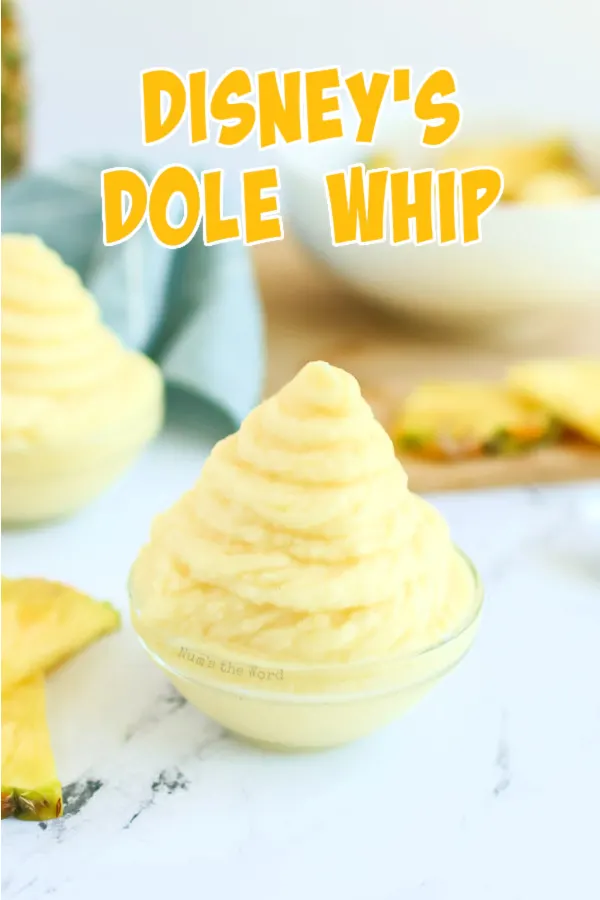 I love this Dole Whip recipe because it takes me back to the magic of Disney, and it is a delicious, fruity, sweet treat. It is so easy to make that any time a craving kicks in, I can easily make my dreams come true.
I love how easy this recipe is to share, and everyone I've ever made it for agrees that it is simply the best! The combo of pineapple and ice cream is seriously amazing.
This sweet treat is a fan favorite, with the lines to grab a cup of the pineapple deliciousness stretching around the building at Disney. With this dole whip recipe, you can avoid the queues, save yourself some airfare, and just turn on your favorite Disney tunes to recapture that magical feeling.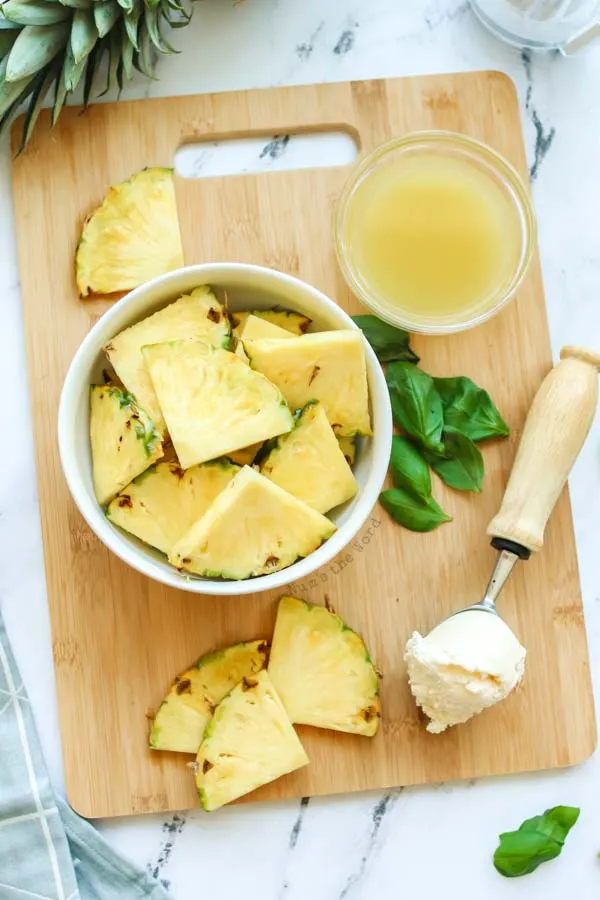 The Greatest Dole Whip Recipe:
This simple Dole Whip Recipe only has three ingredients! I love simple recipes that are sweet and delicious. All you need is some ice cream, pineapple juice, and some frozen pineapple chunks! Seriously, that's it!
After you gather these three simple ingredients that complete your pineapple dole whip recipe, just put them in your blender and blend until it has a nice and thick consistency.
This recipe is the one that Disney shared during the pandemic when they had to shut down. They gave out several of their recipes to the public so that we could enjoy the delicious flavors of Magic Kingdom, even if we couldn't be there in person.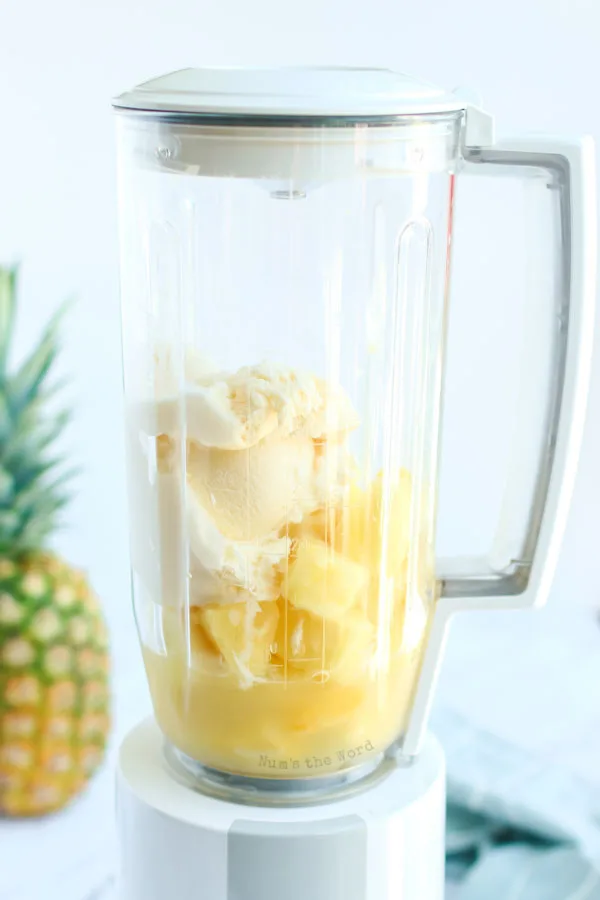 What is Dole Whip?
In 1984, the Dole Food Company created this incredible dairy-free soft-serve delight. The company came up with a few different flavors, but their Pineapple flavor is the most popular.
This pineapple treat became so popular that Disney World now sells it! This is the actual recipe Walt Disney World shared in 2020, however it's not quite the exact version they sell in their parks.
Why? Because they use a powder and water mixture in their soft serve machines. A mixture we don't have access to at home. The power makes it vegan and gluten free.
At home however, they came up with a quick and easy alternative to the power by using vanilla ice cream. You get the same flavor and texture, though it's no longer vegan.
How to make Dole Whip:
With just three ingredients and five steps, this recipe will be ready to devour in no time!
Put all the ingredients into your blender.
Mix it up.

Pipe it out!
See how easy that is? And if you're in a hurry, don't even pipe it out, just eat it out of the blender!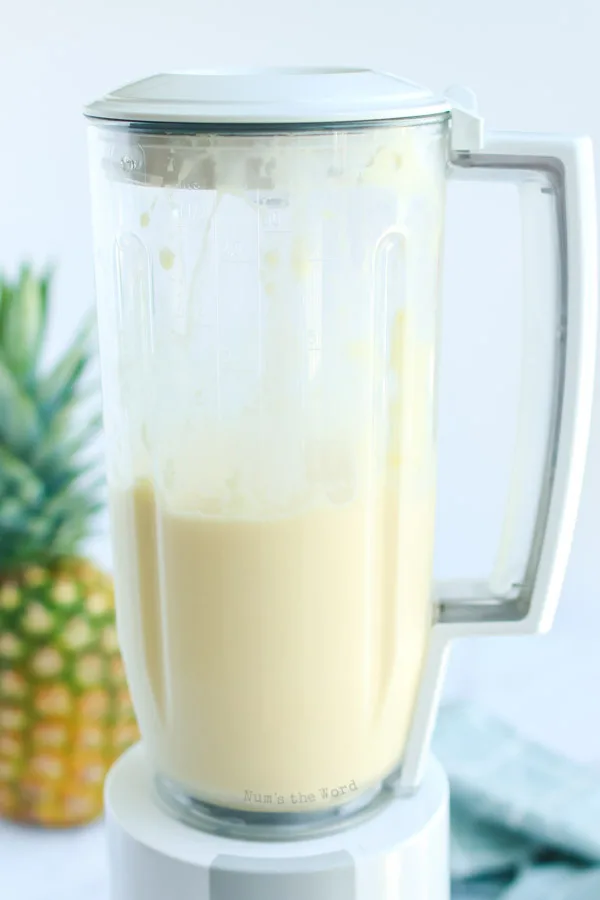 Pro Tips for this Dole Whip Recipe:
Use a blender with a lot of power! Blending frozen pineapple can be tricky, so using one with a little more oomph can help get the job done faster!

Use that blender in small bursts until the end. You might even want to keep pushing the pineapple chunks towards the bottom as you pulse the blender to make sure everything is nice and creamy!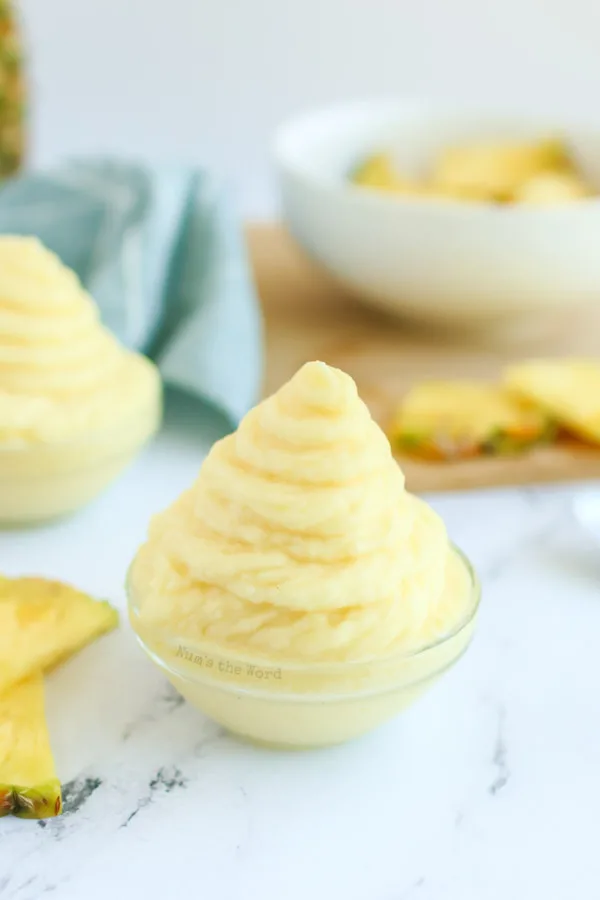 Dole Whip Float!
Take this recipe and make it a float! For this, you don't need to change any of the ingredients, simply serve it different.
Make your dole whip as directed.
Place it in your cup.
Add more pineapple juice! It's suddenly a float!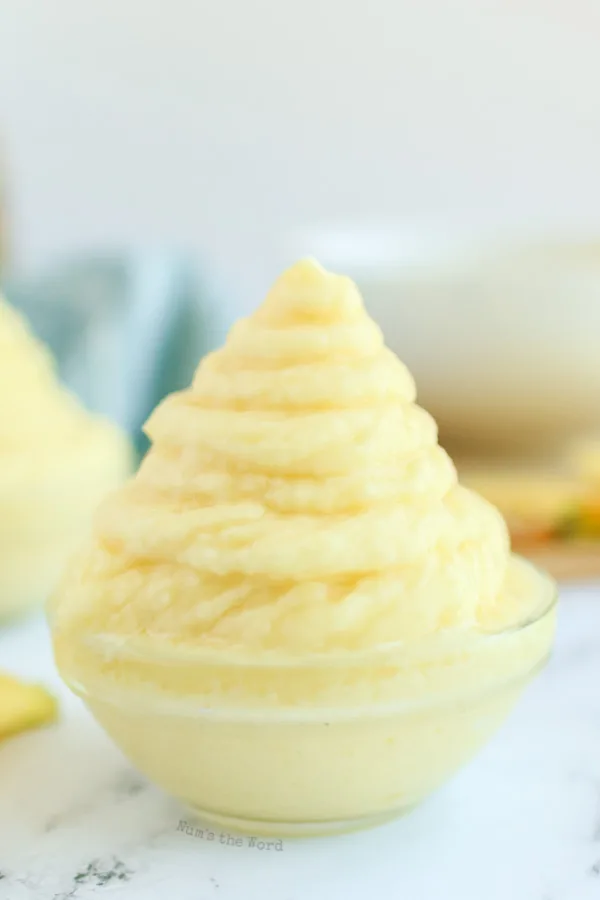 Is Dole Whip vegan?
The dole whip recipe I've shared is not vegan – but the original recipe you can find at the parks is! If we follow their lead and make this recipe with a non-dairy ice cream, then the this recipe magically becomes vegan! Such a simple switch to be able to share with your non-dairy friends!
Is Dole Whip dairy free?
The recipe that you can find here is not dairy free. However, the original recipe that they serve at Disneyland is dairy free! If you're looking for a dairy free option, you could use dairy free ice cream instead of regular ice cream.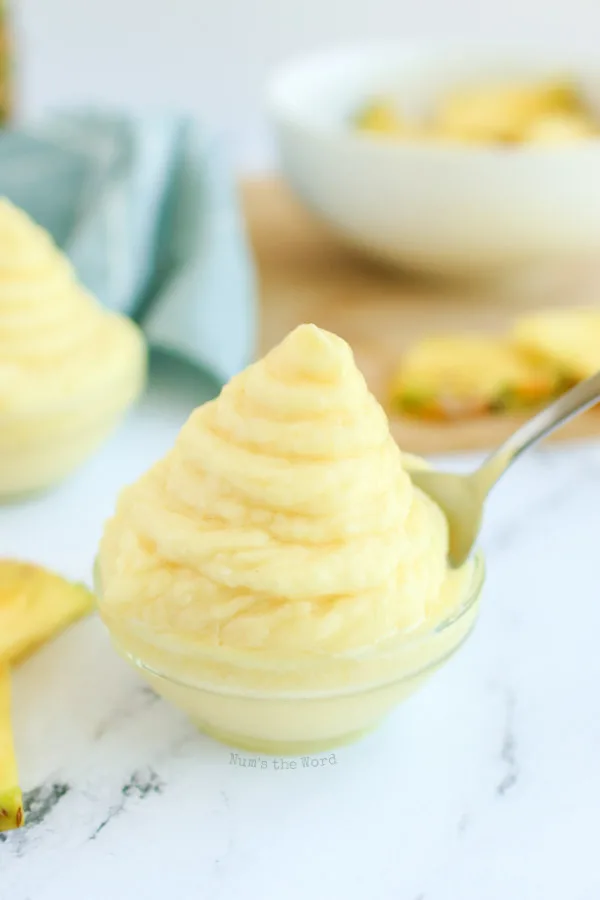 Why is it called Dole Whip?
This pineapple whip was created by the Dole Food Company, hence the Dole part of the name. Whip because it's light and fluffy and not dense like traditional ice cream.
Dole Whip is a delicious and chilly dairy-free frozen dessert soft-serve delight. They have several flavors to choose from, but the original flavor was pineapple – and this original is certainly the most popular!
What is the best liquid to put in a smoothie?
To make this recipe super amazing, you'll want to add 100% Pineapple juice to help create that delicious pineapple flavor that this recipe is famous for.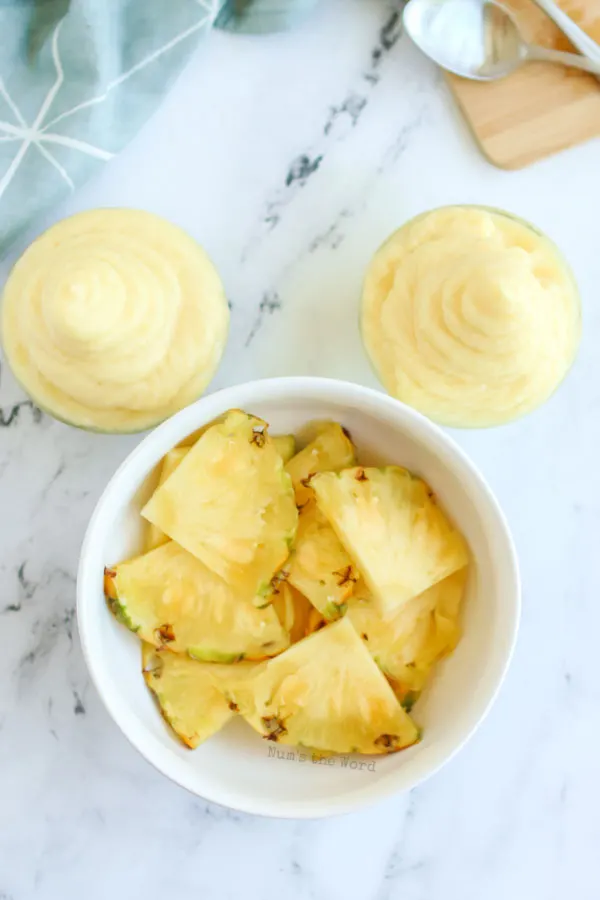 What can I put in a smoothie to thicken it?
You can always add a little more ice cream to your smoothie to thicken it! You could also add a little less pineapple juice to make your Dole Whip Recipe thicker. But I would recommend adding ice cream to thicken it so you can keep that pineapple flavor big and bold!
More Pineapple Recipes You'll Love: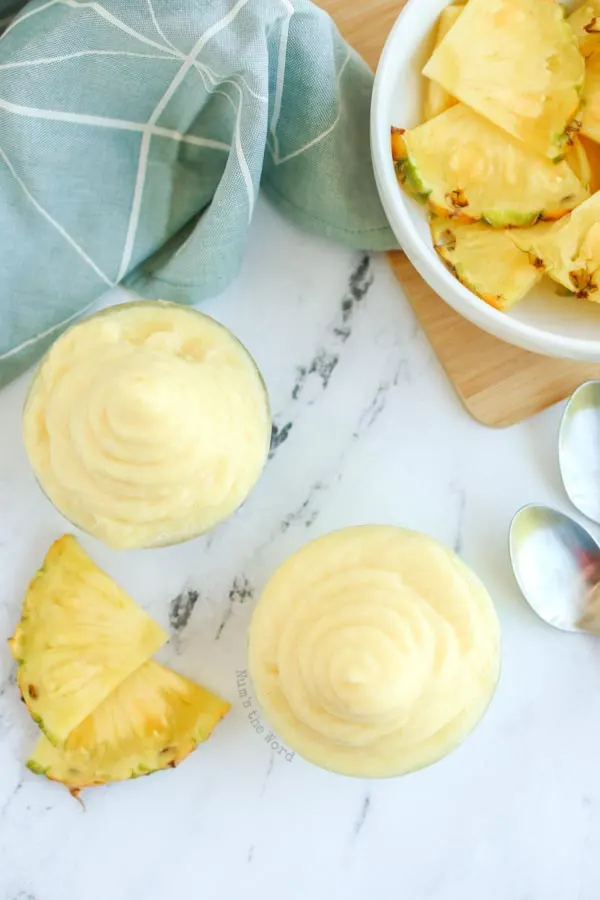 You'll be hard-pressed to find a simpler and sweeter dessert than this Disney Dole Whip recipe. But if you're looking for more easy homemade dessert recipes, try these!
Since not all of us can rush to Disneyland to pick up a Dole Whip, this recipe is a definite way to satisfy a craving. This treat is great for hot summer days, but as the weather starts to change, this fruity dessert is a great way to brighten up winter too.
Yield: 2 Servings
Dole Whip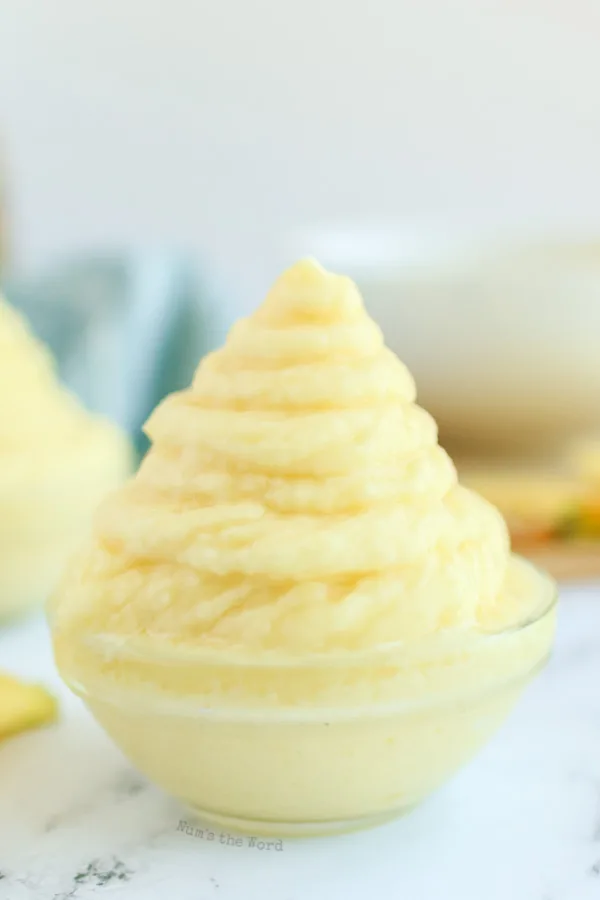 Disney's Dole Whip is an iconic treat that everyone looks forward to. You can now make it at home with just 3 simple ingredients.
Ingredients
1 BIG scoop of vanilla ice cream
4 ounces pineapple juice
2 cups frozen pineapple chunks
Instructions
Blend all ingredients in a blender until nice and thick.
You can place it in a piping bag and pipe it into a bowl for the signature swirl or scoop it out into a bowl and eat right away!
Notes
The more ice cream you add, the thicker your Dole Whip will be. If it's runny, add more ice cream. If it's too thick, an extra Tablespoon or two of pineapple juice.
Nutrition Information:
Yield:
2
Serving Size:
1
Amount Per Serving:
Calories:

312
Total Fat:

4g
Saturated Fat:

2g
Trans Fat:

0g
Unsaturated Fat:

1g
Cholesterol:

15mg
Sodium:

33mg
Carbohydrates:

70g
Fiber:

3g
Sugar:

65g
Protein:

2g