These Strawberries & Cream Bruschetta's are quick to toss together and perfect for any party! Weddings, baby showers, quick dinner appetizer, it's great for all the above!
This post contains affiliate links.  If you click on an affiliate link and make a purchase, I will make a small percentage on your purchase, which helps keep this website running! Thank you!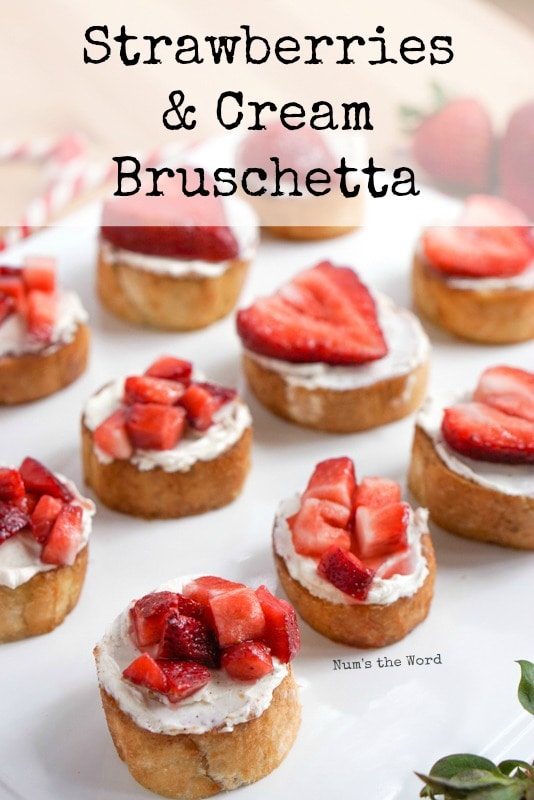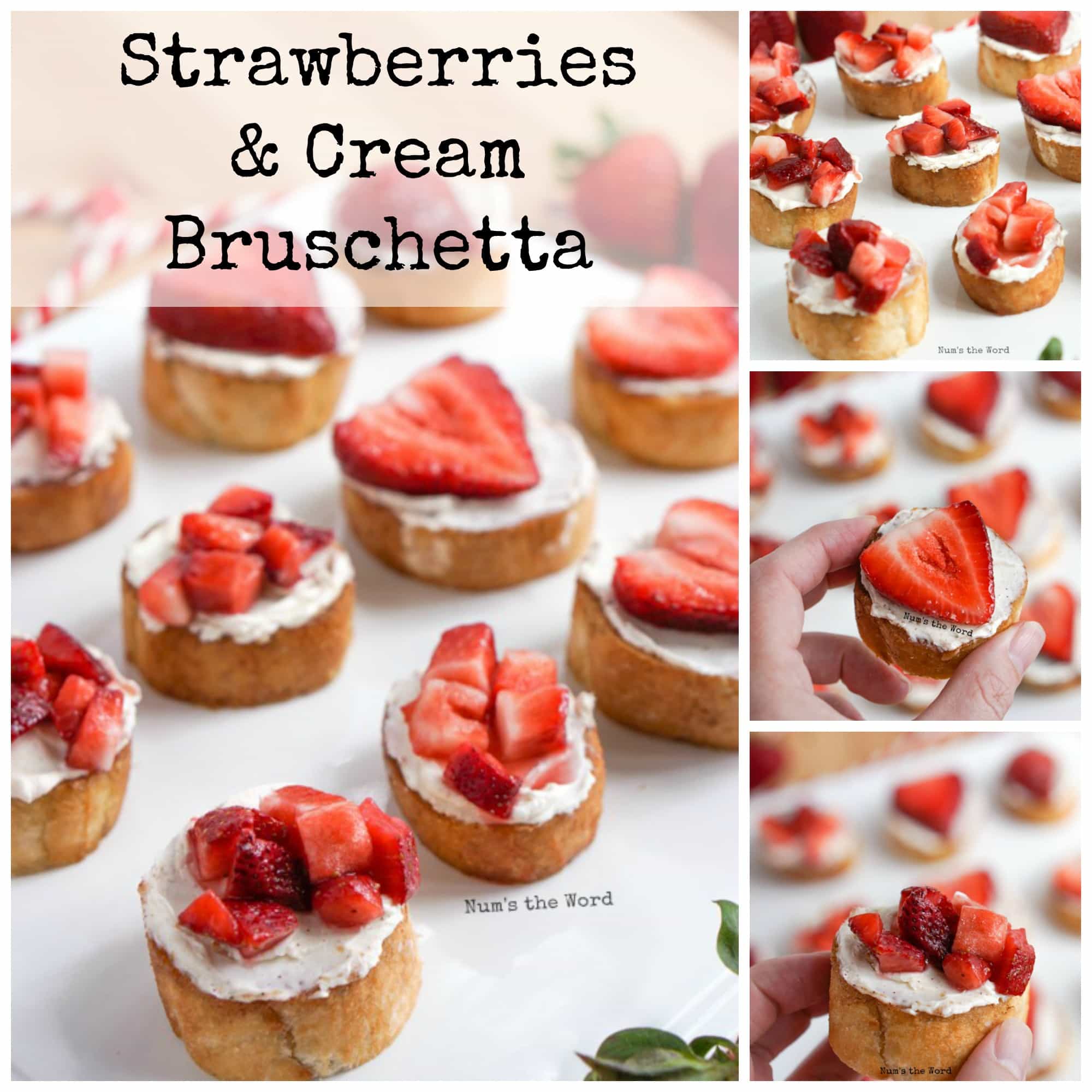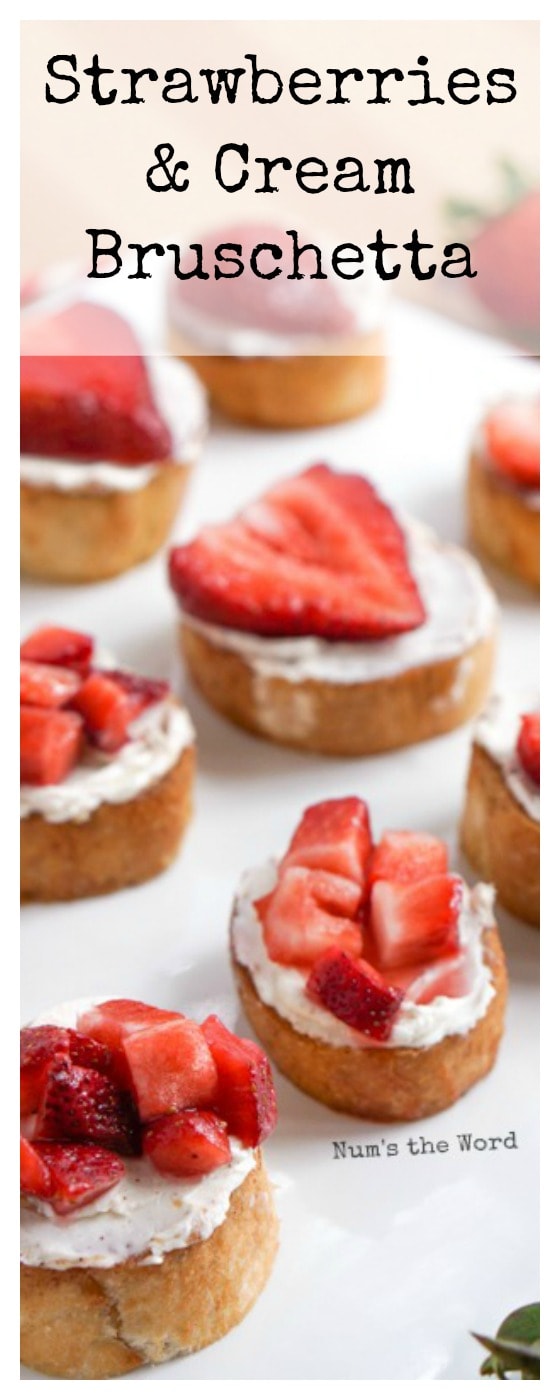 My husband and I are always up for a good fruit bruschetta and aren't ashamed to say that we often eat them for lunch.
We especially love when the fruit is fresh in season and the extra flavor that it can offer an appetizer like this.
This recipe came about due to having a bunch of strawberries that we had just picked and needed to be used up.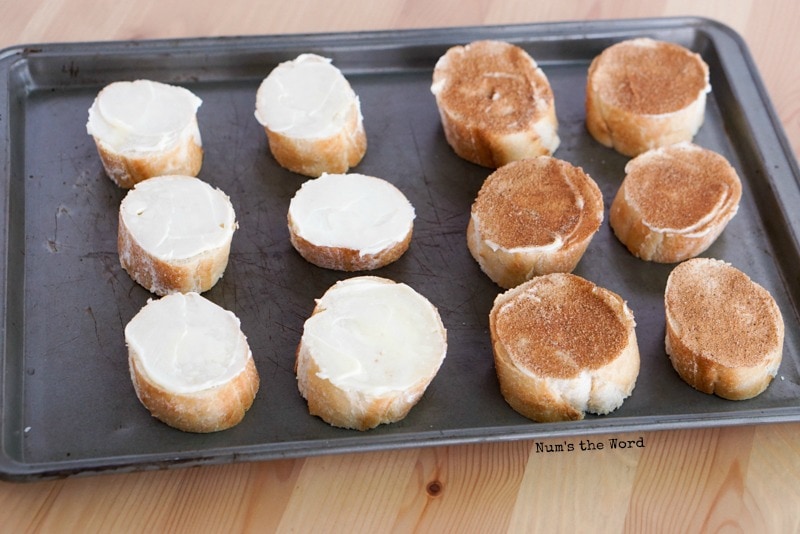 I also had a baguette sitting around and in thinking about what I could do with the two that I haven't already done, I experimented with the idea of cream cheese with cinnamon and sugar topped with strawberries all on a baguette.
And let's just say that I may have eaten 3/4 of the photographed Strawberries & Cream Bruschettas by myself, only offering my husband a small plate of 4 of them.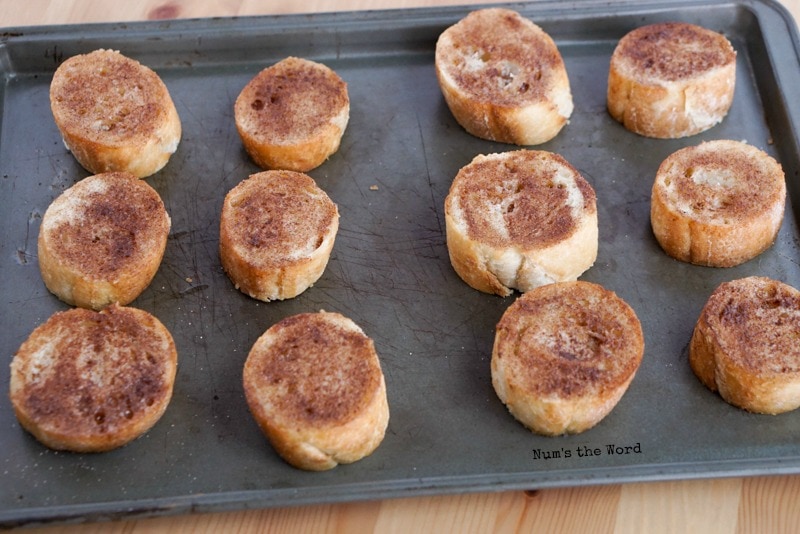 You could say it was pregnancy hunger, but the reality is that I just couldn't stop eating them.
These Strawberries & Cream Bruschettas were amazing.
I especially loved how light they were.  Not heavy, not too filling and perfect for a party or event.
I've been known to serve similar fruit bruschetta's at weddings, baby showers, going away parties and even as an appetizer to dinner.
Well of course you also have to add in just for lunch too!
As I stated in the beginning, my husband and I are huge fans of eating simple lunches like this.
I should also make it clear that my husband works from home, and so he can eat "girlie" snacks like this without fear of what his co-workers will say.
Plus who in their right mind would turn down a plate of freshly made food hand delivered to them?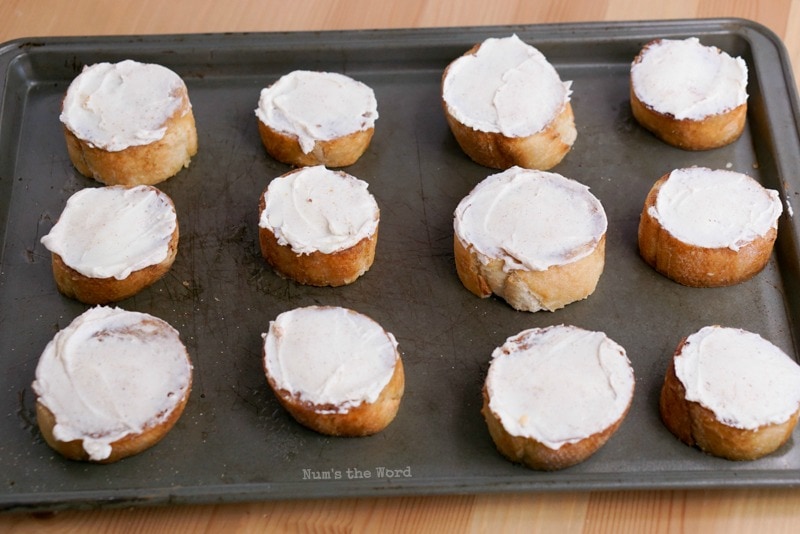 Certainly not me.  I'd take it in a heartbeat!
The steps to creating this are simple – if not basic – and can be prepped ahead of time for a big event like a wedding.  Have your strawberries pre-sliced or diced and in a sealable container.
Bake your baguette rounds and place those in a separate sealable container.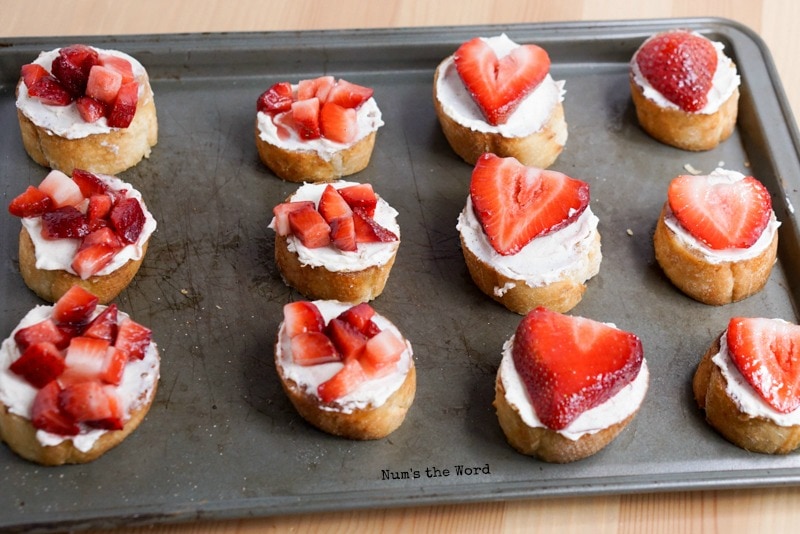 Then when you're ready all you have to do is slather the cream cheese on and top with the fruit.
You'll notice I did this two ways.  One large slice of strawberry (or you can do several if your berries are small), as well as diced.
We really couldn't decide which we liked more and so I leave it in your hands to decide which is the best.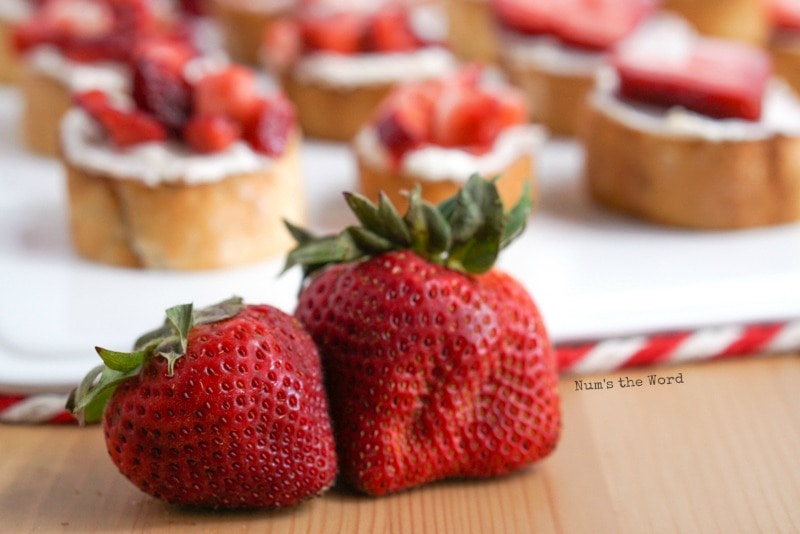 If you love simple appetizers and fruit, then give these Strawberries & Cream Bruschetta's a try!
We love them and they have joined then ranks of our favorite fruit bruschettas!
Strawberries & Cream Bruschetta
Ingredients
1 long French Baguette
4 Tablespoons butter
4 Tablespoons cinnamon sugar
4 ounces (1/2 cup) cream cheese
2 cups Strawberries sliced or diced
2 Tablespoons powdered sugar
Instructions
Slice baguette into bite size rounds.
Butter each round then sprinkle with cinnamon sugar.
Put pan in oven and turn oven on to broil. WATCH CLOSELY as you just want the butter to melt and a hint of golden sides.
Remove from oven and set aside.
Mix cream cheese until smooth and creamy.
Spread over each baguette round.
In a small bowl combine strawberries and powdered sugar.
Scoop strawberries on top of baguette rounds and devour!
https://numstheword.com/strawberries-cream-bruschetta/
Other Appetizers You'll Love…