Cinnamon Streusel Rhubarb Bread makes the most amazing sweet bread you'll ever taste. Easy to make, kid friendly and perfect for breakfast OR dessert!
This post contains affiliate links.  If you click on an affiliate link and make a purchase, I will make a small percentage on your purchase, which helps keep this website running! Thank you!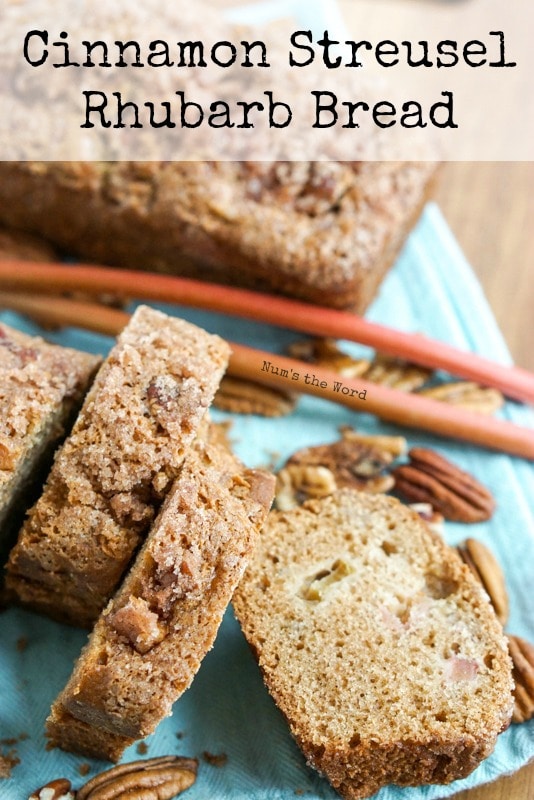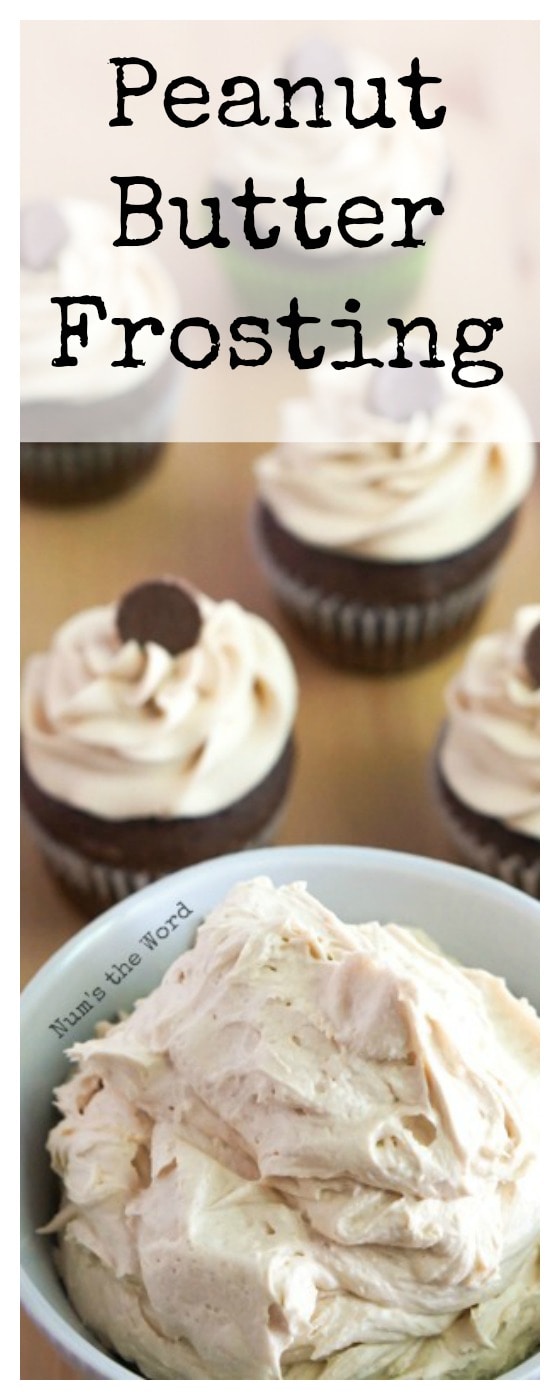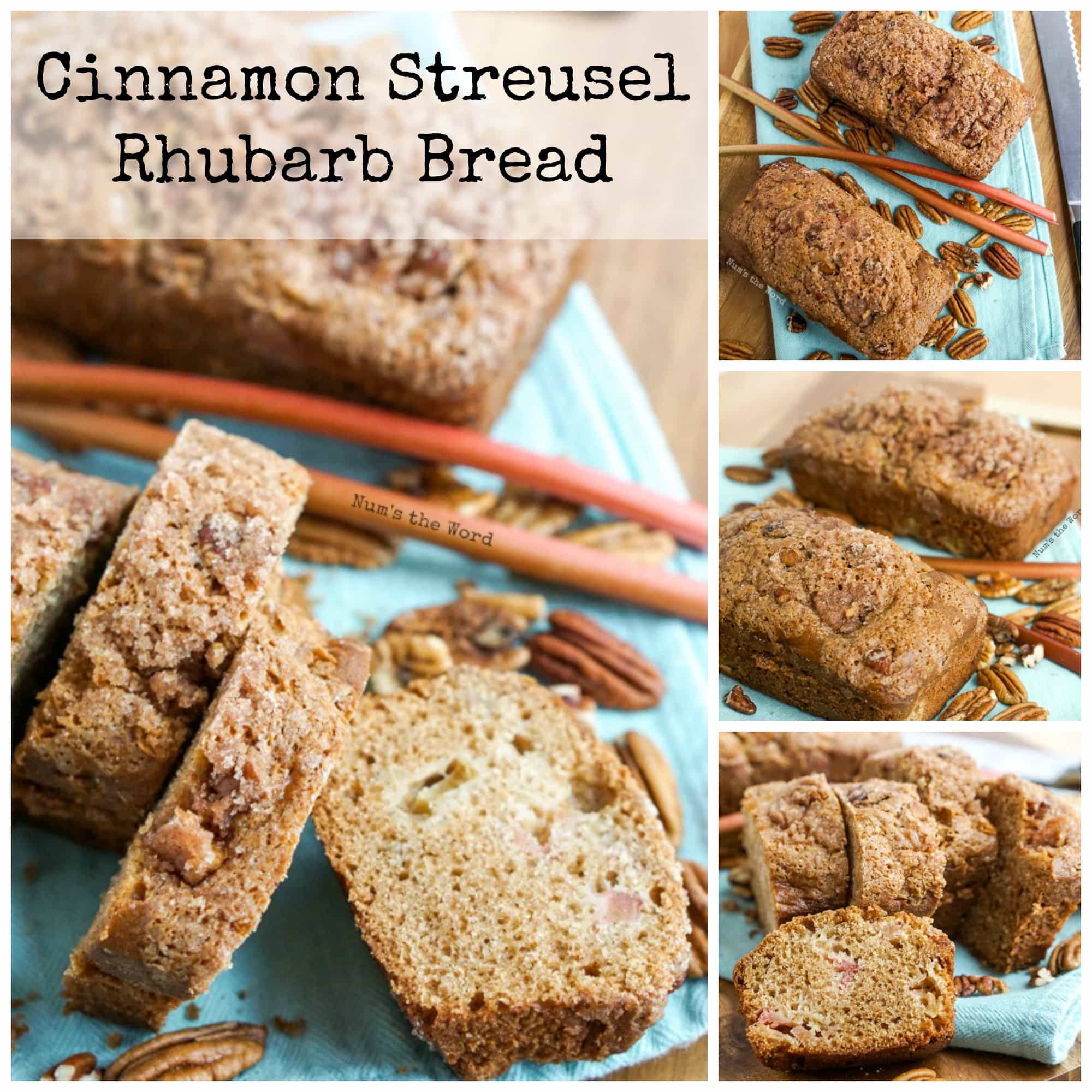 Ever since purchasing our home a few years ago, which came with a small rhubarb plant, I've made it my mission to find and enjoy tasty rhubarb recipes.
As a kid I don't remember eating much rhubarb anything.
The one time I do remember eating it, it wasn't something I enjoyed.
However, now that I have a hearty supply of it, between my mother in laws garden and my own, I've become quite the seasonal rhubarb connoisseur.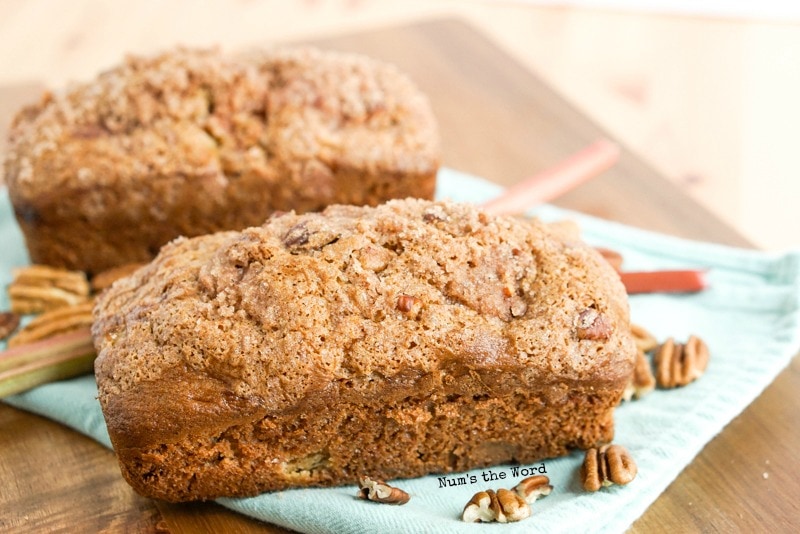 This year we chopped and prepped a TON of rhubarb for me to make my famous Rhubarb Splash drink for our lemonade stand.  It's one of our best sellers.
However we over estimated how much I'd need and I suddenly had too much.
So I decided a nice and easy Cinnamon Streusel Rhubarb Bread sounded like something I could go for.  I made a double batch and 4 loaves my first time.
And before the day was over, I had already eaten an entire loaf by MYSELF.  It was that good.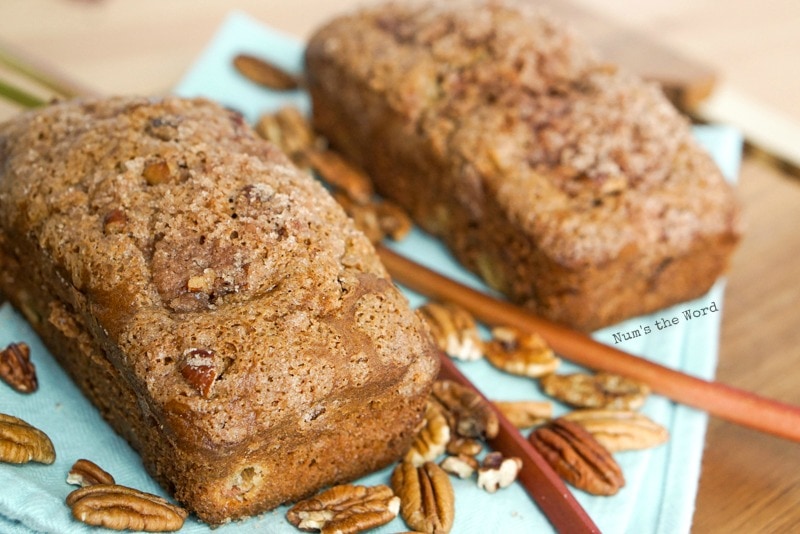 As to be expected, the next day I did the same.  For breakfast alone I ate half a loaf.
Since I still had a ton of precut rhubarb that needed to be used up, I made 10 more loaves.
Yes you read that correctly, TEN more loves of Cinnamon Streusel Rhubarb Bread.
Because there was no way I or my family were going to consume 14 loaves of this bread, I wrapped them up and gave all of my daughters teachers a loaf of bread.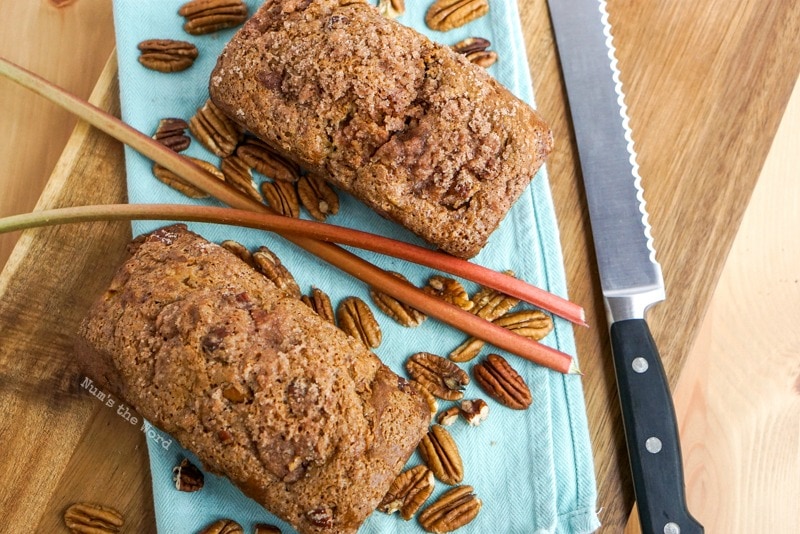 Then I gave some to my in-laws and a few friends too!
Let's just say, that it was a HUGE hit among everyone.
My favorite part is the cinnamon streusel topping.  It adds a nice sweet crunch to the bread that makes it taste more like a cake than a bread.
Which brings me to my next point.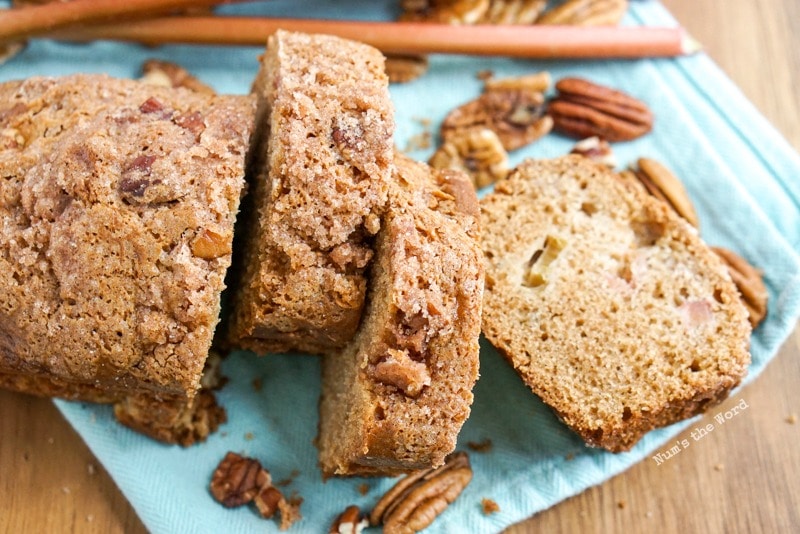 Not only does this Cinnamon Streusel Rhubarb Bread make a great bread, but it would make a great coffee cake too.
I'd suggest a bundt pan, with sprinkling the cinnamon streusel on the bottom on the pan THEN the batter before baking.
Don't you think, a nice slice of this would make a tasty "cake" for a brunch or even dessert!
My old fears of rhubarb have faded away over the last few years and I look forward each year to our crop growing big enough to attack.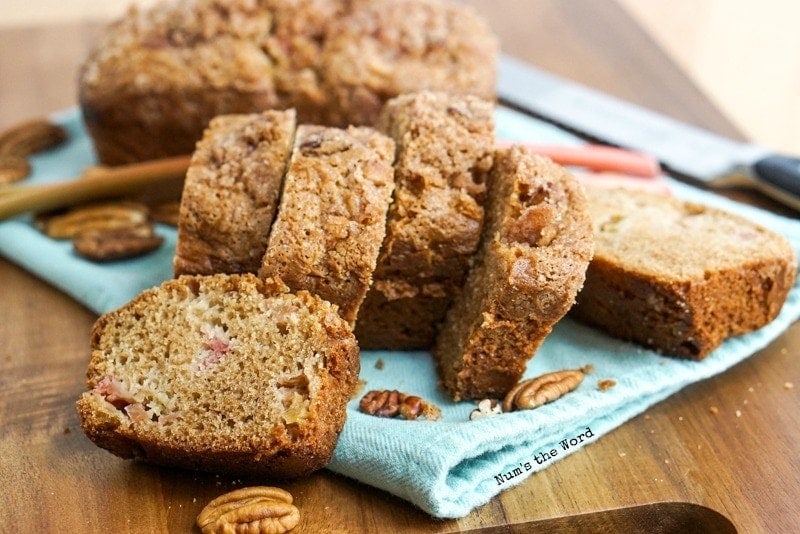 I'm lucky enough this year to have gotten 2 pickings from our plants, which means double the treats!
If you love rhubarb as much as we do, then hurry and make this before rhubarb season is gone!
Cinnamon Streusel Rhubarb Bread
Ingredients
1/2 cup butter
1 1/2 cup brown sugar
1 egg
1 cup buttermilk (or 1 cup fresh milk with 1 teaspoon lemon juice or vinegar in it)
2 cups flour
1/2 teaspoon salt
1 teaspoon baking soda
2 cups rhubarb cut into 1/2 inch pieces
1/4 cup white sugar
1 teaspoon cinnamon
1/2 cup pecans, chopped
Instructions
Preheat oven to 350*F
In a mixing bowl combine butter and brown sugar.
Add egg and mix well, then scrape bowl.
Slowly add buttermilk until fully incorporated.
Add flour 1/2 cup at a time, mixing well after each time.
Add salt and baking soda, mix then scrape sides of bowl.
Gently stir in rhubarb.
Pour mixture into 2 small bread pans.
In a separate bowl combine white sugar, cinnamon and pecans.
Sprinkle pecan mixture on top of bread loaves.
Bake for 30 - 40 minutes or until toothpick comes out clean from loaf.
Let cool for 5 minutes in pan before flipping onto a wire rack to fully cool.
Enjoy with butter or by itself.
https://numstheword.com/cinnamon-streusel-rhubarb-bread/
Other Rhubarb Recipes You'll Love…