Instant Pot Sausage Tortellini Soup is a quick and easy dinner for those busy night meals! It can easily be cooked up and on the table faster than you can gather your little hooligans!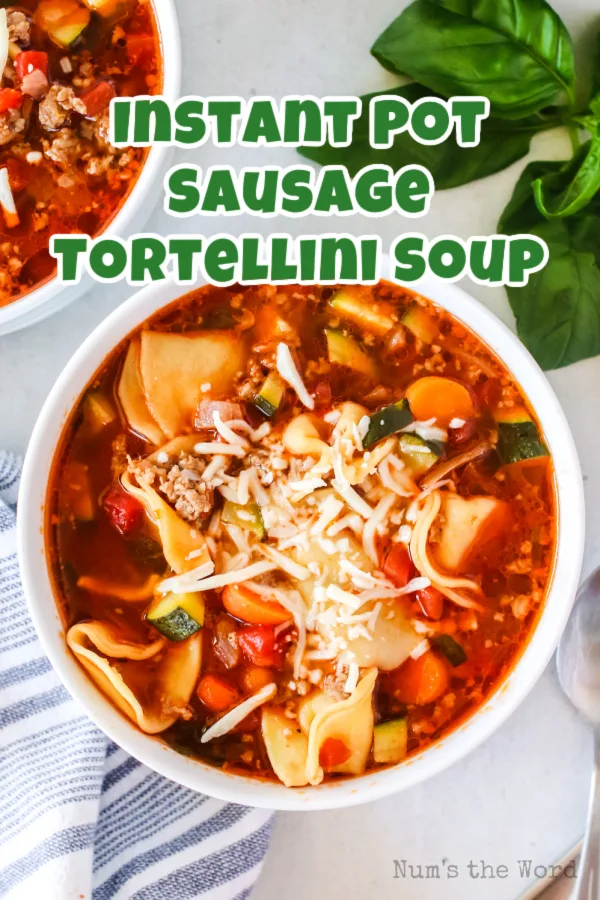 Sausage, tomatoes, pasta, herbs, and veggies all combine to make one beautiful bowl of soup. This easy meal is light but filling, so it's not going to weigh you down, but it's a hearty soup that won't leave you hungry either.
It's a comforting soup that has quickly become a whole family favorite and I know you'll be adding it to your dinner rotation.
Tortellini soup with sausage is really easy to customize too. Which means you probably won't need to run to the grocery store. And while we love soups in the winter, tortellini sausage soup can actually be enjoyed all year round.
But the biggest thing you're going to love is it's so fast!! Thanks to the Instant Pot, it'll be on your tables and in your bellies in a quick few minutes. So put a simple recipe of sausage and tortellini soup on the dinner table tonight!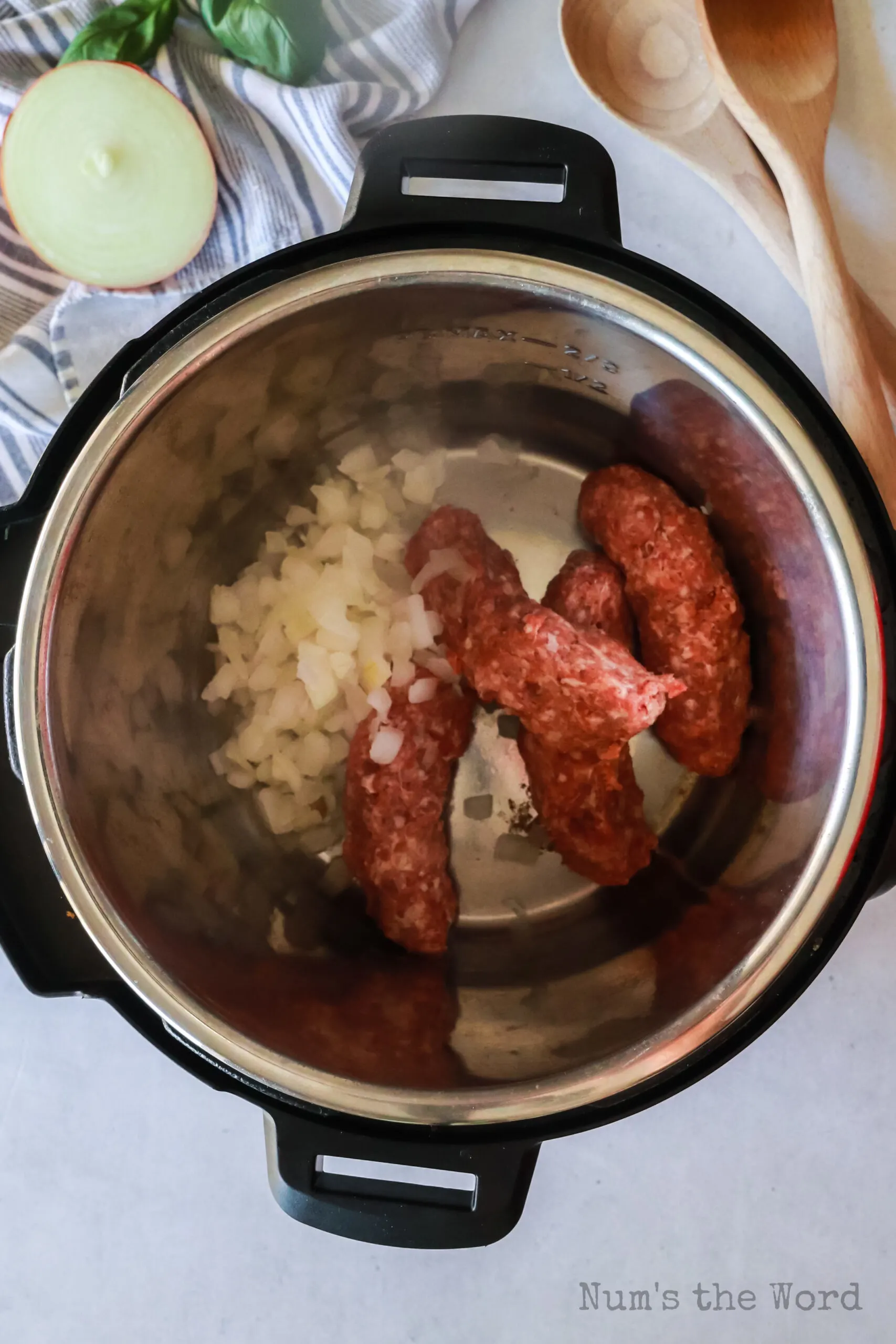 What Ingredients are in Instant Pot Sausage Tortellini Soup?
While this is a longer list, don't worry they are all simple ingredients.
Pork Sausage: Hot, sweet or mild Italian sausage all work well. This one is really easy to customize based on your taste buds.
Onion: I prefer yellow onion, though a white onion would work well here too.
Garlic: Use minced garlic.
Beef Broth: You'll need quite a bit of this as the tortellini will absorb a lot of it.
Tomatoes: Use canned diced tomatoes for ease and quickness.
Carrots: I prefer to slice baby carrots as they really are the perfect size to go with the tortellini.
Basil: I use fresh basil leaves. If you used dried basil be sure to adjust the amounts for dried.
Oregano: This one I use dried, so if you use fresh, again, be sure to adjust the amounts.
Tomato Sauce: This will give the tortellini soup a fresh tomato base.
Zucchini: You'll want to cut these down to bite sized pieces.
Tortellini: There are many flavors of fresh tortellini, including herb, cheese tortellini, and chicken. Pick your favorite.
Parmesan: Parmesan is an excellent garnish. Be sure not to use the powdered parmesan. Use freshly grated.
Pro Tip:
Don't use frozen tortellini. Fresh tastes much better in this soup.
You can swap the beef broth for chicken broth or vegetable broth as well.
If you don't have the spices on hand use Italian seasoning for a quick replacement.
Refrigerated tortellini can usually be found near the produce section.
We've used sweet Italian sausage or hot Italian sausage before and had great success.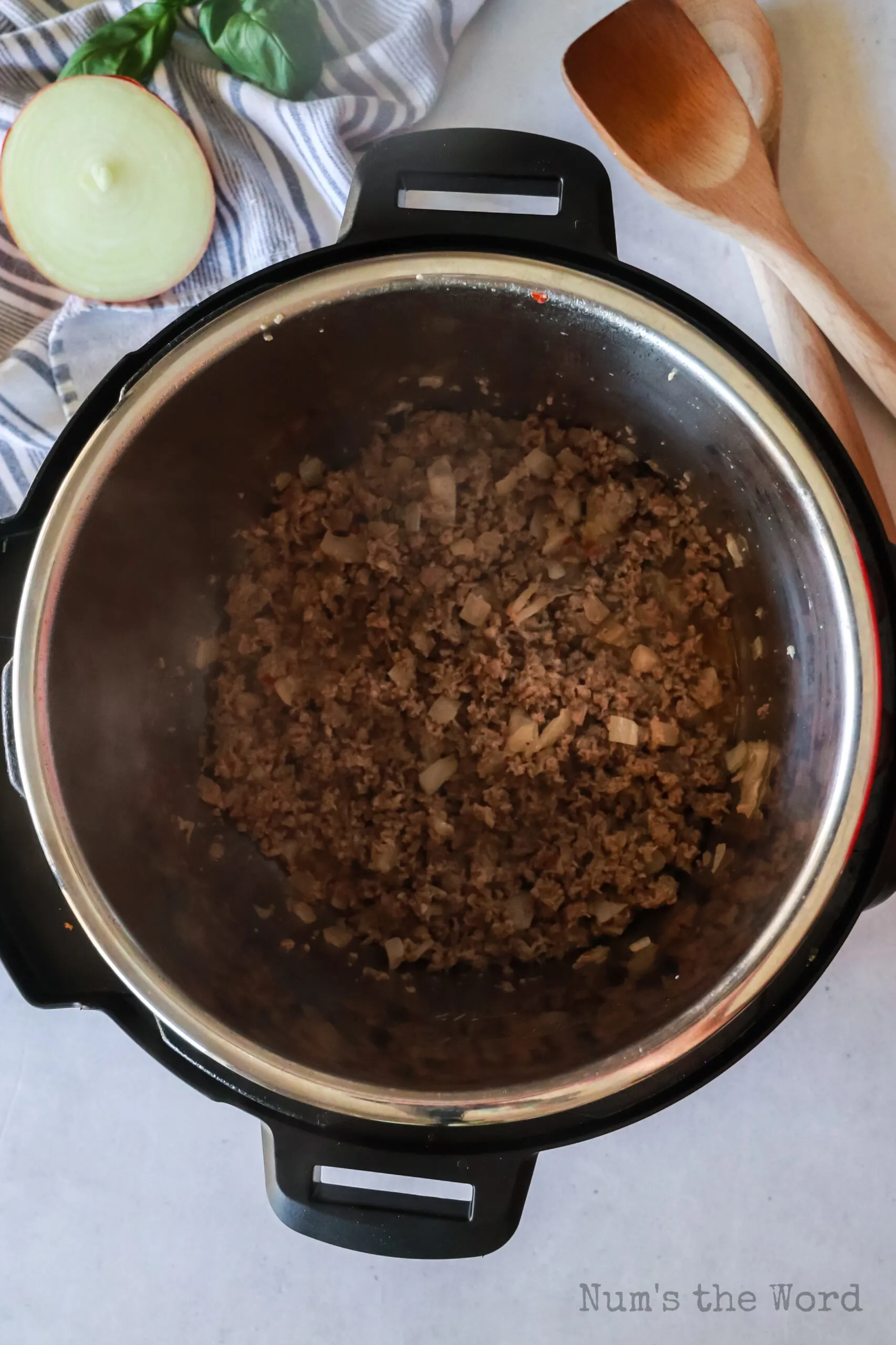 How to Make Instant Pot Sausage Tortellini Soup
Here's how to make this easy soup for soup season or all year round!
Sauté: Using the sauté function on the instant pot, cook the sausage and onion. Then add the garlic.
Cook: Stir in the rest of the ingredients (except the parmesan) and then let the instant pot do its thing on high pressure.
Serve: Sprinkle on shredded parmesan for a beautiful and creamy garnish.
Pro Tips:
Don't forget to turn the instant pot vent to the closed position.
The instant pot will take about 10 minutes to pressurize so plan that time into your recipe.
Be sure to do a quick release, not natural release, at the end of the cooking time.
Stir the ingredients well after sautéing to get any ingredients stuck to the bottom of the pot.
Use a wooden spoon to prevent the scratching of the instant pot.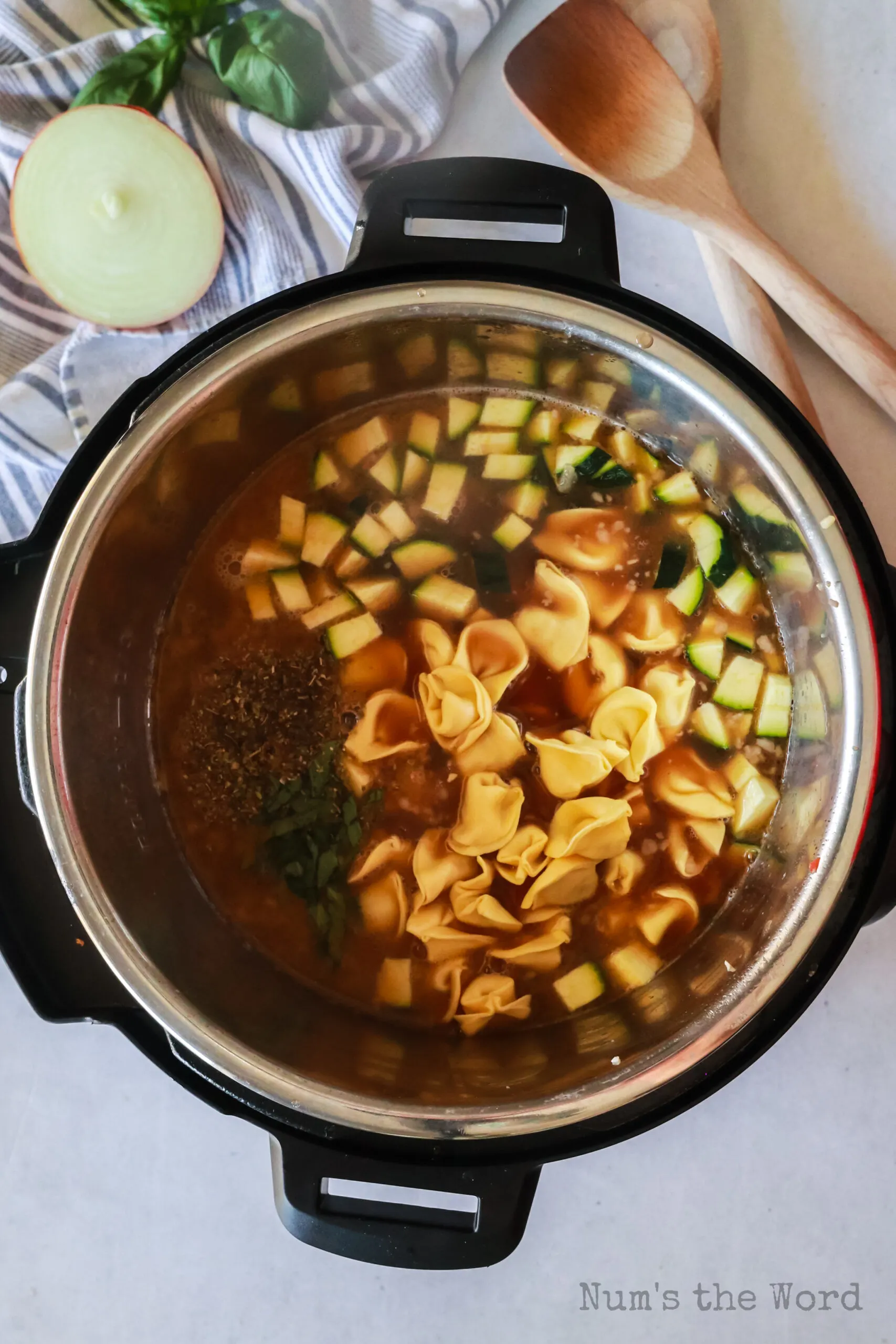 Can I Make this Instant Pot Sausage Tortellini Soup on the Stove?
You can easily make this tortellini soup recipe on the stove! While the instant pot cooks everything faster and requires less work, if you don't have one, no problem.
You can definitely make stovetop sausage tortellini soup instead.
Saute: Thoroughly cook the sausage until browned with the onion. Then add the garlic and let it cook for 1 minute.
Boil: Add in the rest of the ingredients and bring to a boil. Continue to stir until everything is hot and cooked through. This should take about 10-15 minutes.
Serve: Serve with that grated parmesan cheese!
Pro Tips:
Use a heavy bottomed pan to prevent burning and cook over medium heat.
You may need to drain any excess grease when cooking on the stove.
What Goes Well with Instant Pot Sausage Tortellini Soup?
Here are some easy side dishes to serve with your easy tortellini soup.
Grilled Pear and Brie Sandwiches
Broccoli Salad
Easy Twice Baked Potatoes
Italian Bread Bowls
Ranch Oyster Crackers
Cranberry and Pineapple Salad
2 Ingredient Biscuits
Creamy Cucumber Salad
Cranberry Fluff
Mashed Potato Rolls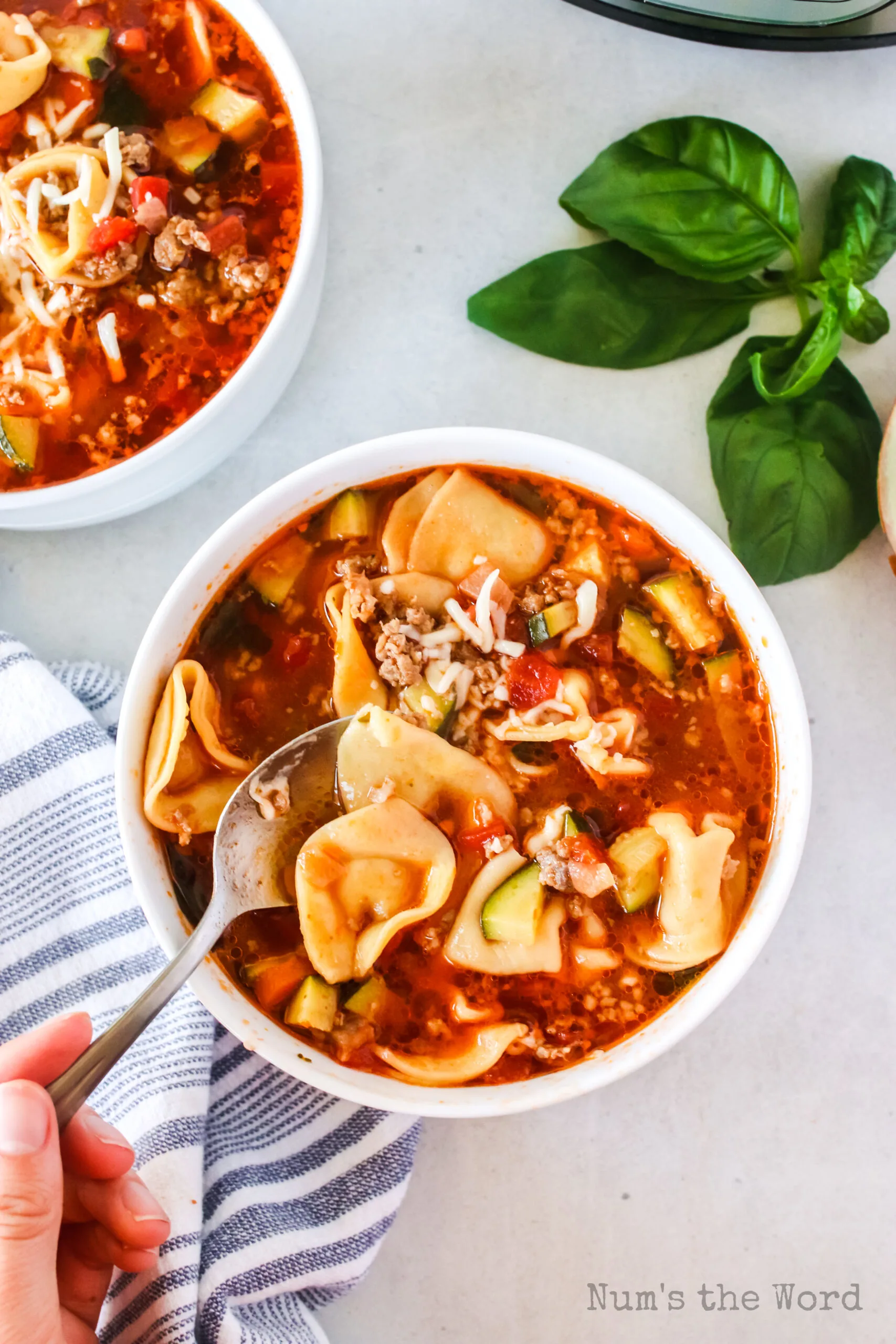 Can Dogs Eat Instant Pot Sausage Tortellini Soup
That is a big no! Do not feed your dog instant pot sausage and tortellini soup.
Lots of the ingredients in the soup might be fine for your dogs: carrots, tomatoes, sausage, etc. But there are also big no-no ingredients too.
Onions and garlic can both cause your dog to become poisoned and need a trip to the vet. While some dogs or breeds are more susceptible than others, no dog should be eating either of those.
And that goes for cooked or uncooked onions or garlic. All parts, the leaves, stems, skins, and plants themselves are toxic for dogs.
This is a good soup for humans, but be sure not to let your pets get to it.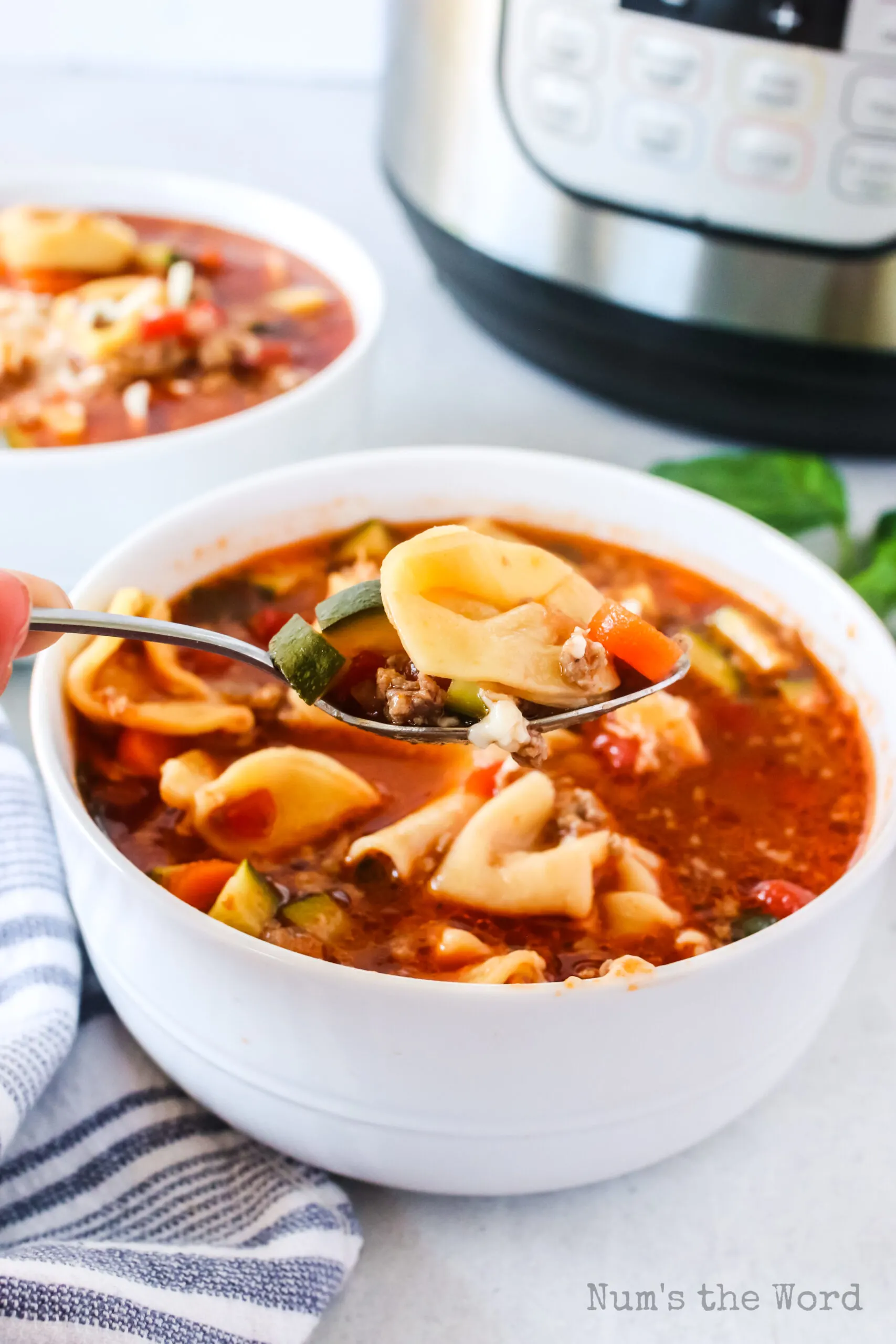 Can I Freeze Instant Pot Sausage and Tortellini Soup?
Typically, soups without heavy cream will freeze well. However, soups with pasta are a different story.
Pasta often doesn't freeze well because when it unfreezes the texture has changed in a very undesirable way. Of course, it would still be edible. And it would still taste good. But the texture would change dramatically.
If you want to freeze your tortellini sausage soup, I recommend making the rest of the soup as written but leave out the tortellinis. Then put your tortellinis in when you're ready to thaw and reheat the soup.
That way they'll still taste great and so will the rest of the soup too.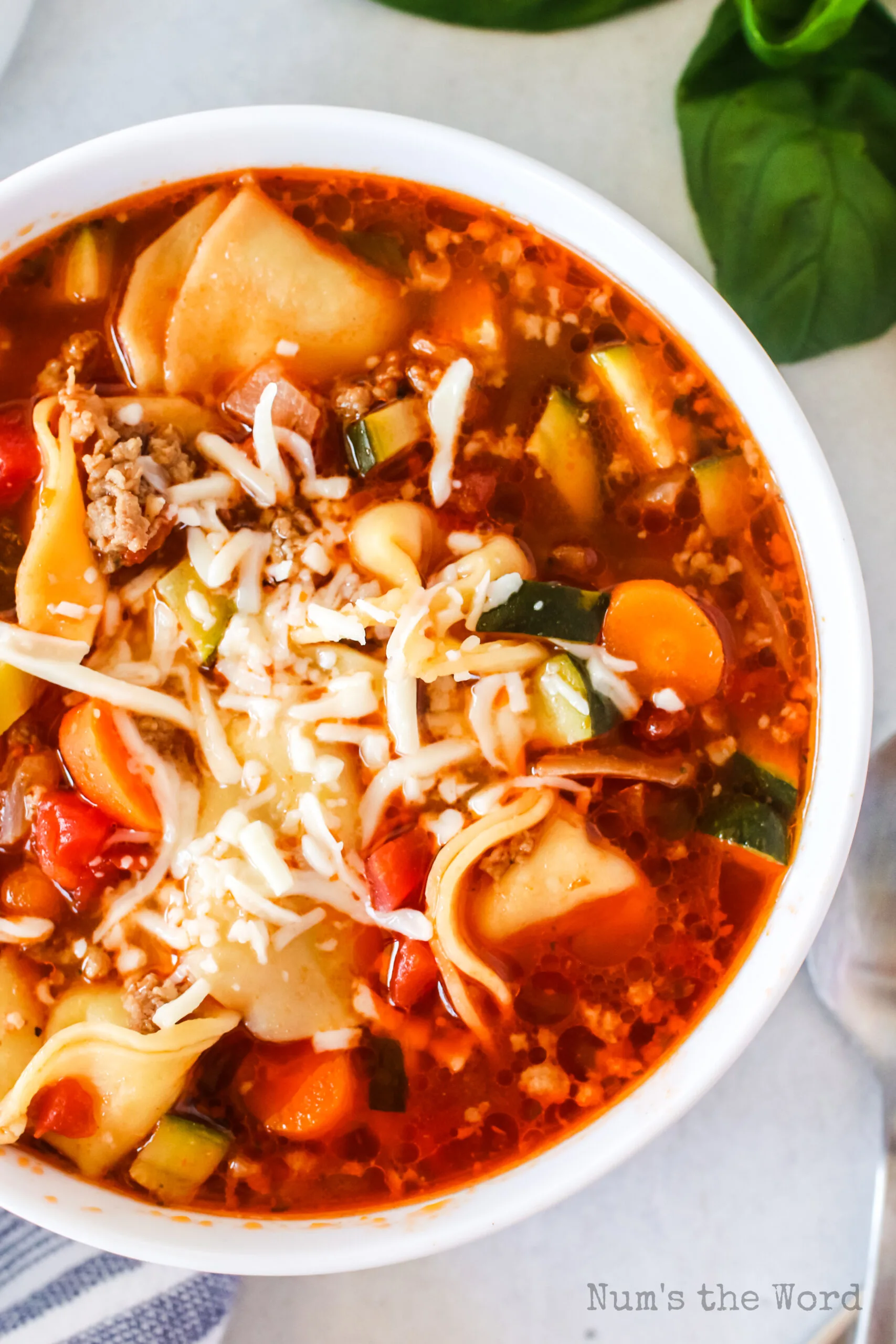 Can I Make Instant Pot Sausage Tortellini Soup Vegetarian?
To make a vegetarian soup, you'll need to make a couple of adjustments, but it can be done. First, leave out the sausage. The sausage adds a lot of flavor so you'll want to go heavy on the seasonings instead.
Next, swap the beef broth for a vegetable broth instead. Finally, make sure you pick a tortellini that doesn't have meat in it. That's it!
You can also make a vegan tortellini soup by making the above changes and just omitting the parmesan garnish. Of course, you want to pick a tortellini with no cheese in that case too.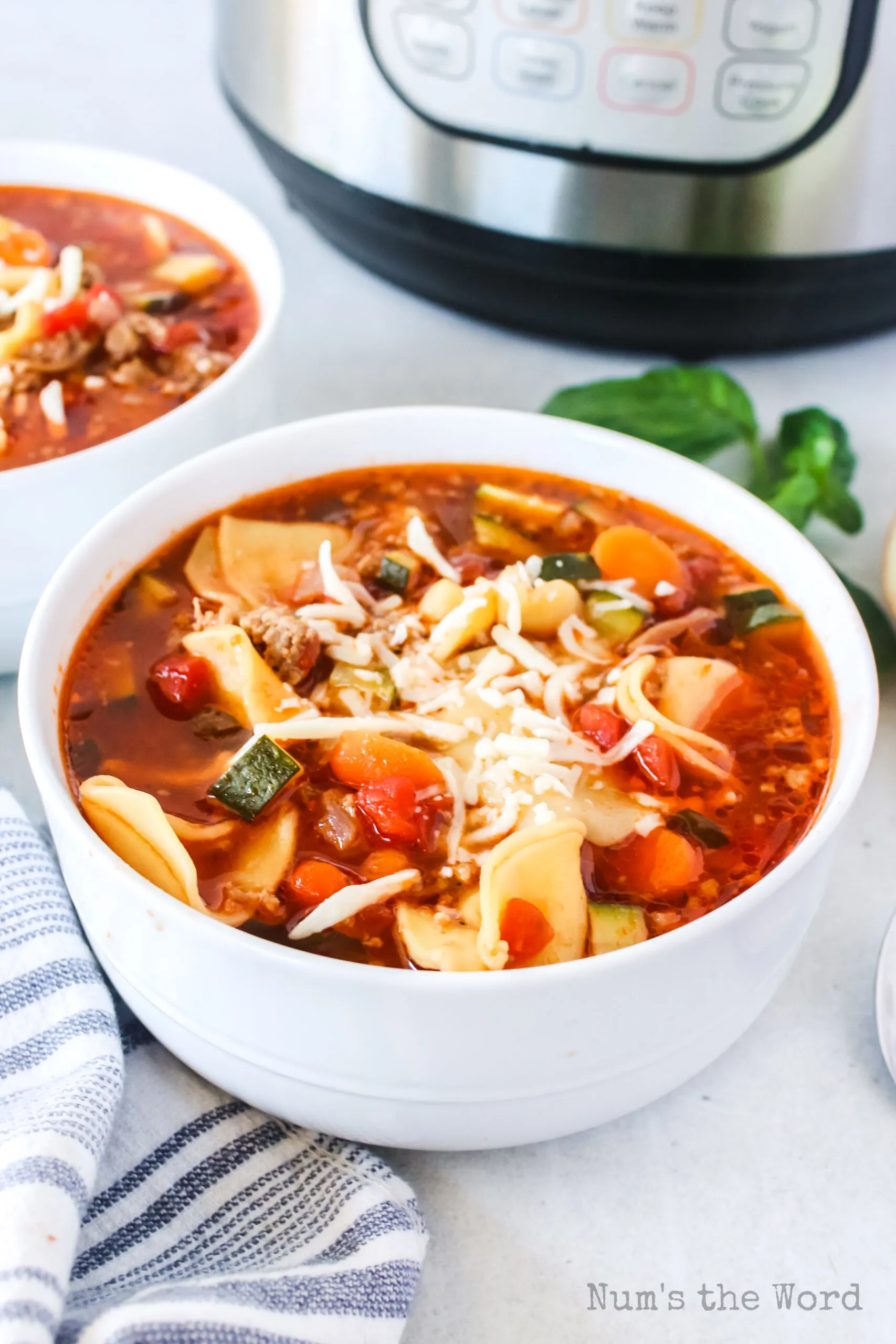 This instant pot sausage tortellini soup has quickly become a favorite soup around here! Enjoy this instant pot soup recipe tonight with a delicious side of crusty bread!
Yield: 6 Servings
Instant Pot Sausage Tortellini Soup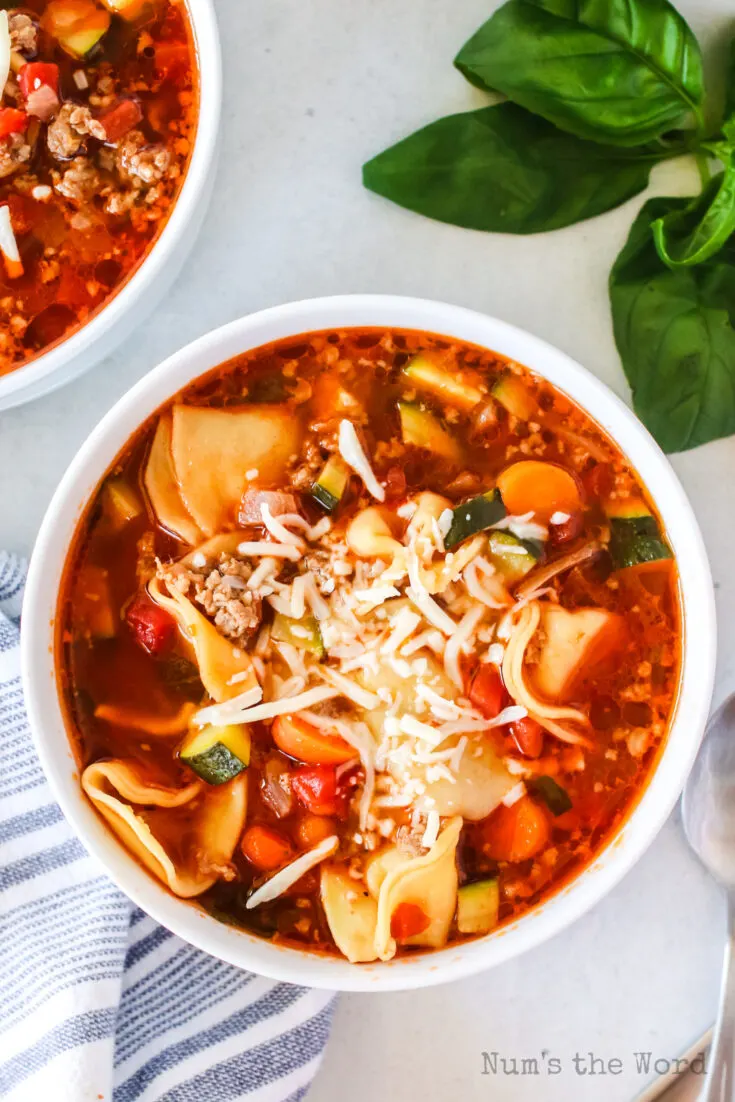 Instant Pot Sausage Tortellini Soup is a quick and easy dinner for those busy night meals! It can easily be cooked up and on the table faster than you can gather your little hooligans!
Additional Time
10 minutes
Ingredients
1 pound Italian sausage, casing removed or Jimmy Deans regular pork sausage
1 cup yellow onion, diced
2 cloves garlic, minced
6 cups beef broth (48 ounces total)
1 (14.5 ounce) can diced tomatoes
1 cup thinly sliced carrot coins
1/2 Tablespoon packed fresh basil leaves
1/2 teaspoon dried oregano
1 (8 ounce) can tomato sauce
1 1/2 cups zucchini, cut into bite sized pieces
8 ounces tortellini pasta (no frozen)
1 cup shredded parmesan (not powdered)
Instructions
Turn the instant pot to sauté function. Let it heat up for 3 minutes.
Add pork sausage and onions and cook until sausage is cooked through and onions are soft and translucent.
Add garlic and cook for 1 more minute.
Hit the Cancel button to turn the sauté feature off.
Add beef broth, tomatoes, carrots, basil, oregano, tomato sauce, zucchini and tortellini to cooked sausage. Stir.
Place the lid on the instant pot.
Turn the venting spout to the closed position.
Cook on high for 3 minutes. Instant pot will take 10 minutes to pressurize.
After 3 minutes, flip the release valve for a quick release.
Once steam has released, open the instant pot and stir.
Serve with a sprinkle of shredded parmesan cheese over the top.
Nutrition Information:
Yield:
6
Serving Size:
1
Amount Per Serving:
Calories:

518
Total Fat:

30g
Saturated Fat:

12g
Trans Fat:

0g
Unsaturated Fat:

20g
Cholesterol:

75mg
Sodium:

2048mg
Carbohydrates:

32g
Fiber:

4g
Sugar:

7g
Protein:

31g