Onion Cheese Soup is the perfect soup to warm you up on a cool day! It's perfectly creamy, delightfully healthy, and full of flavor!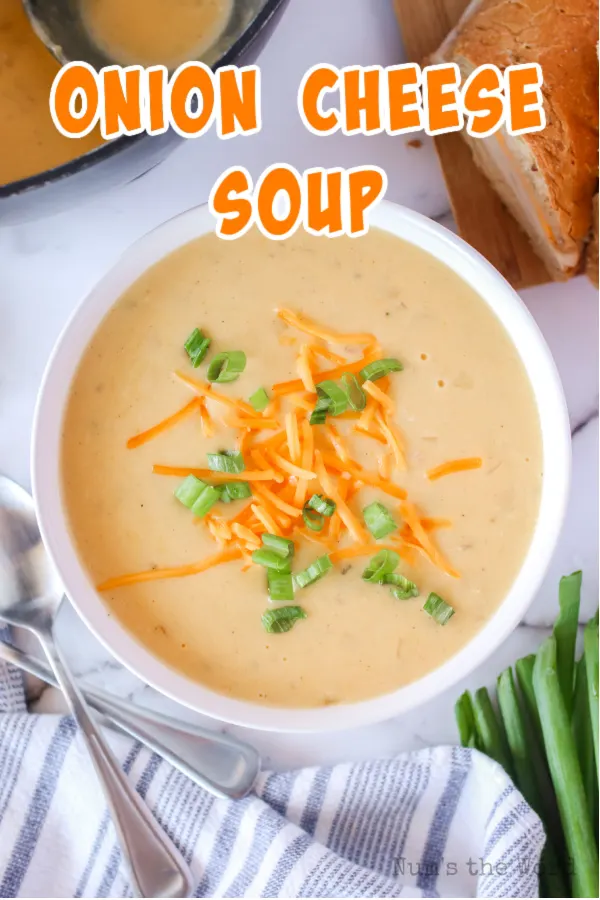 Any good cheesy onion soup should be full of perfectly cooked onions and a big dose of melted cheese! Ah. Perfection!
I love this cheese and onion soup because it takes half the time of French onion soup but it still tastes just as savory.
I also love that this onion and cheese soup is made using all simple ingredients. In fact, you've probably already got them in your house!
And this cheese onion soup is a perfect side dish! Not too filling but neutral enough to be served with so many main dishes!
Plus it's a family favorite! I can serve this onion cheddar cheese soup to the kids and the kids gobble it up! Always a win over here!
And this hot soup is a wonderful recipe because it can be made in one large pot! One pot recipe for the win!
Finally, this is an alcohol free soup. no white wine, red wine, or beer cheese soup here. Enjoy!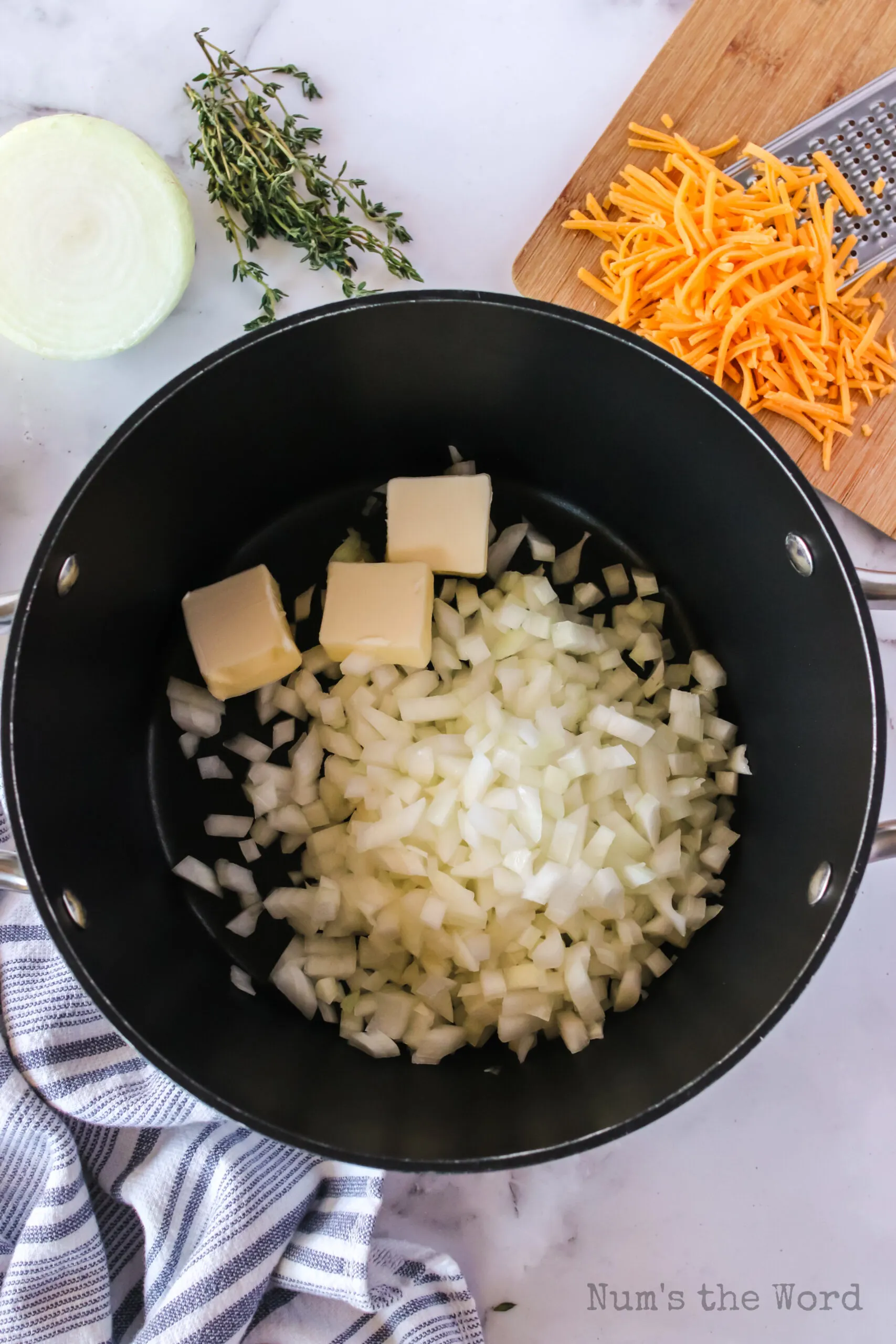 What Ingredients are in Onion Cheese Soup?
This onion cheese soup recipe is a favorite recipe around here! Serve with a crusty baguette slice and enjoy!
Butter: I prefer butter over oil for the rich flavor it gives to the soup.
Onion: Yellow onions, white onions, or even red onions would work in this soup.
Flour: All-purpose flour will thicken the soup. You could also try cornstarch or tapioca flour for gluten free options.
Milk: Whole milk or any other percentage will work as the flour thickens the soup.
Dry Mustard: This can also be called mustard powder and is available in most grocery stores.
Salt and Black Pepper: Adds your flavor base.
Thyme: Good for you but also delicious in your soup! Win win!
Chicken Broth: You could also use chicken stock or beef stock as well.
Cheddar Cheese: Use sharp cheddar cheese for the best flavoring with the onion.
Paprika: Optional but it makes a beautiful garnish.
Green Onions: Also optional. The kids leave them off but I love that dash of green on the top of the soup.
Pro Tips:
Add your own favorite mix-ins! Good options are: leftover chicken, croutons, bread cubes, bacon, or hot sauce.
You could also substitute vegetable broth or stock for a vegetarian soup.
Other favorite cheeses you could try are white cheddar, parmesan cheese, gruyere cheese, or Swiss cheese.
Cut onions small enough that you don't need an immersion blender to mix it all together.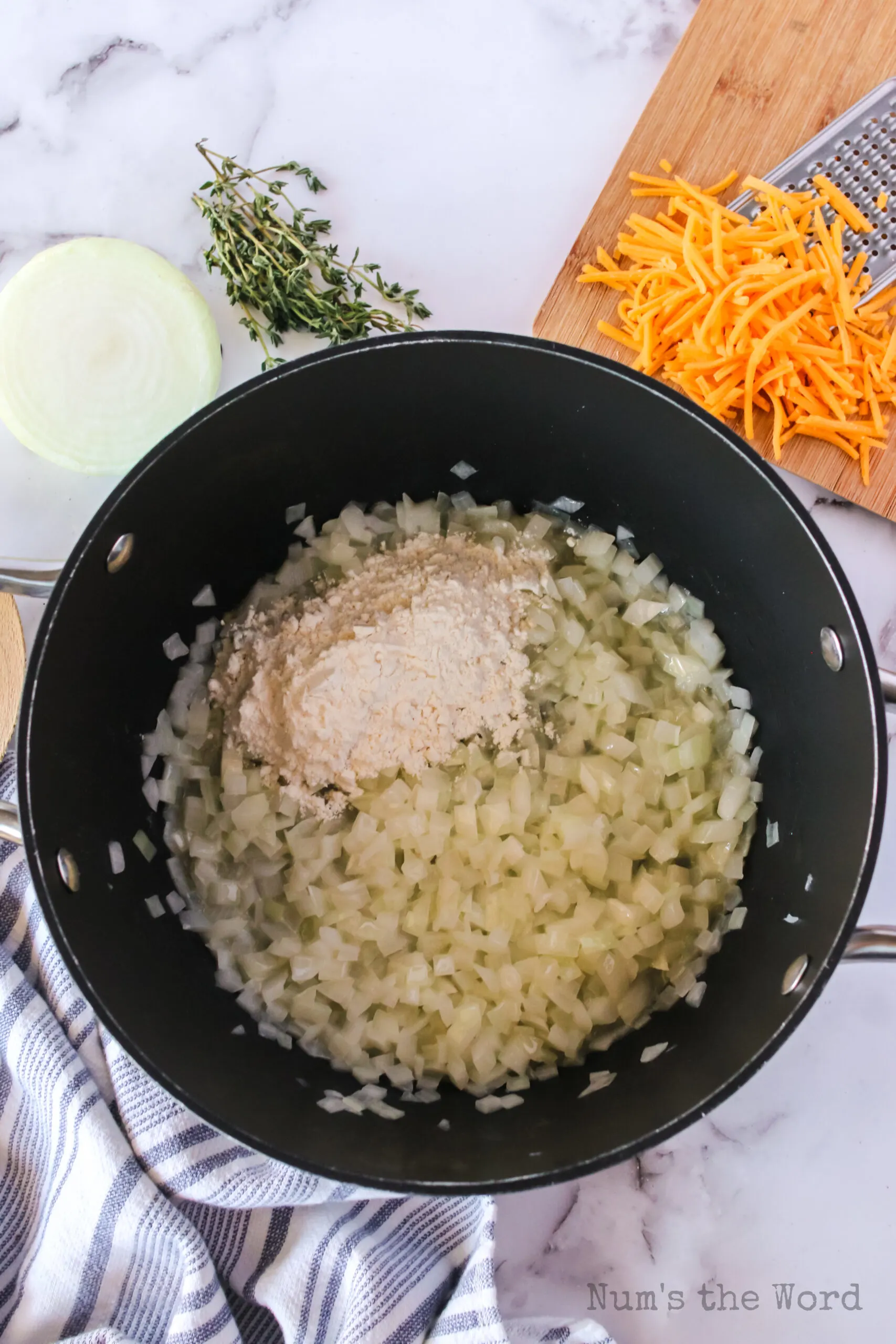 How to Make Onion Cheese Soup
Pull out your large saucepan and get ready to make this delicious savory soup recipe. See below for more detailed instructions.
Soften Onion: You don't necessarily need caramelized onions but don't skip this step. It's important!
Add Flour: Adding the flour before adding everything else will make sure it thickens the soup.
Mix Ingredients: Add the milk, mustard, salt, thyme, pepper, and chicken broth.
Cook: When the mixture has boiled and thickened, stir in your grated cheese and top with any garnishes.
Pro Tips:
Do not add all of the milk at once! The mixture will get very thick and then thin out. That's normal.
Don't add the cheese until the soup has thickened.
Melt butter before cooking the large onion so the onion cooks well!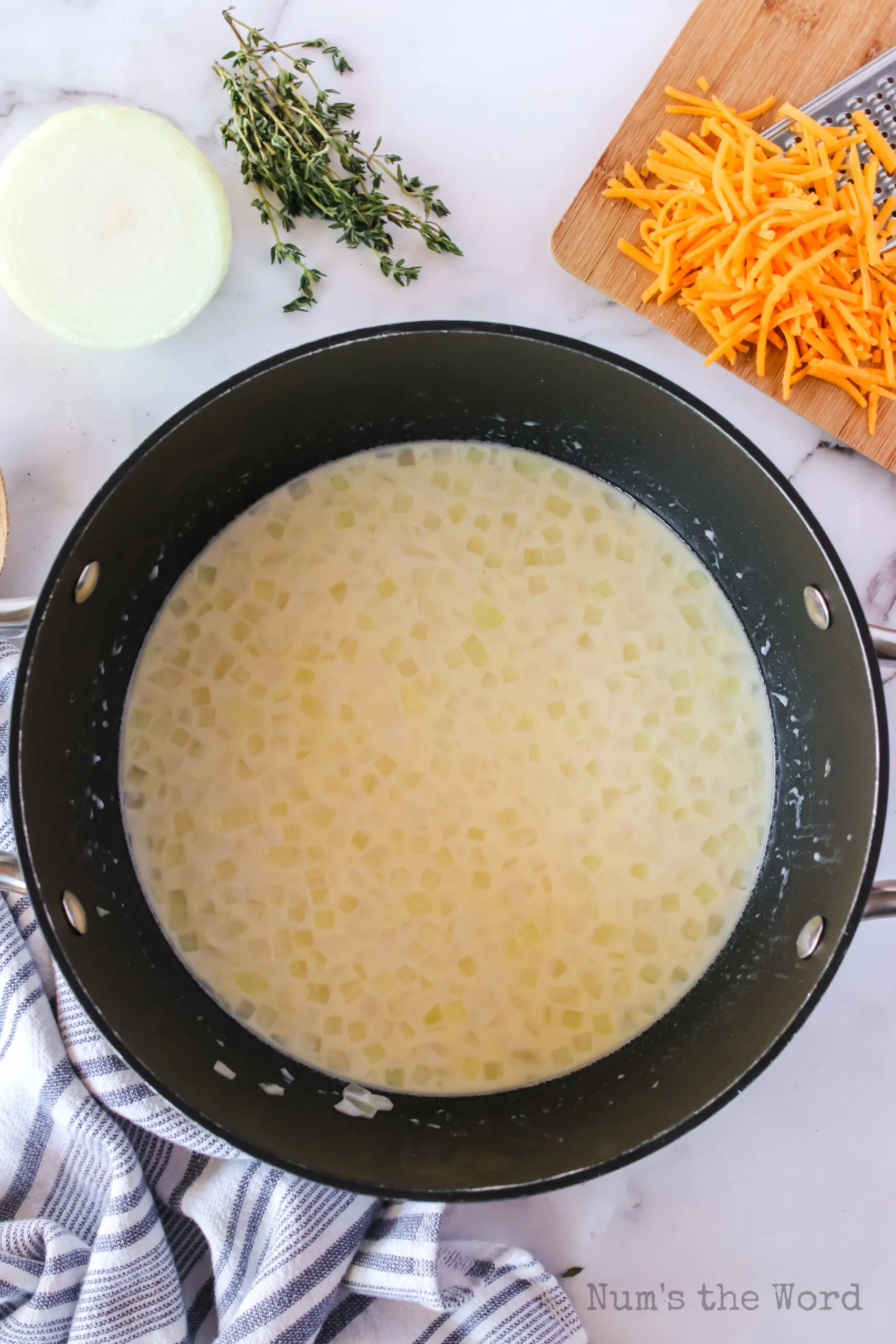 Can You Freeze Onion Cheese Soup?
Absolutely! Onion cheese soup freezes well and tastes great once it's been thawed.
Be sure to allow the delicious soup to completely cool to room temperature.
Then place it in a freezer safe bag or container. Label with date and name so it doesn't get lost in the freezer.
When you're ready to eat it, let it thaw in the fridge overnight and then reheat in the microwave or on the stove.
You'll need to stir as the milk will probably have separated a bit. That's normal when you freeze milk or milk products.
Pro Tip:
Don't add the cheese before freezing but add it after. That will help keep that cheese from separating and still have a great texture.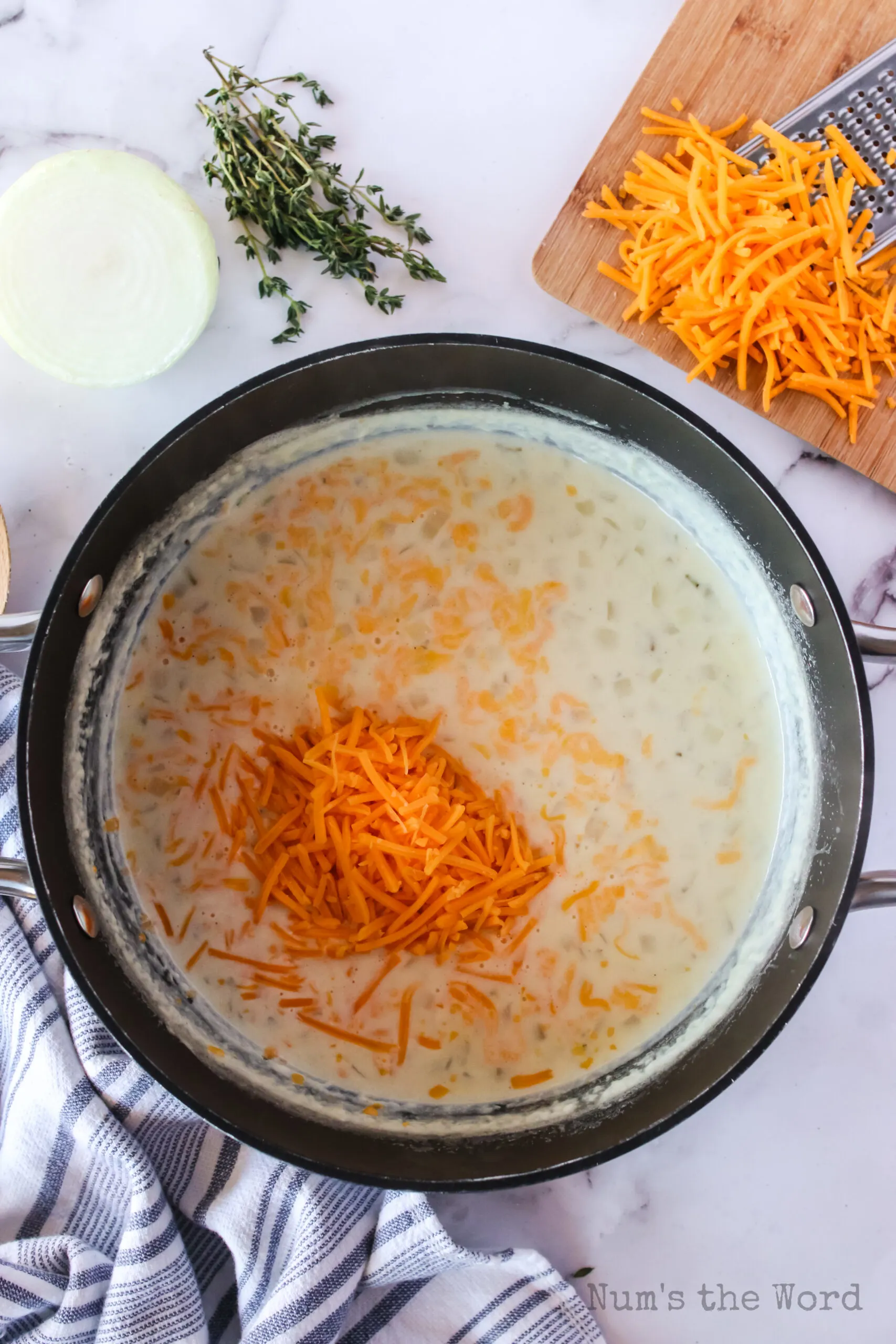 What to Serve with Onion Cheese Soup?
Whenever we serve onion cheese soup on its own, we always find ourselves hungry not long after!
That's because this simple soup is low calorie, low in protein, and low in carbs! Though high in flavor!
So we've learned to make it a complete meal, we always need to serve with something else.
Often we mix in rotisserie chicken or something simple but here's some more easy ideas to serve alongside.
Sandwiches: Salami and Cream Cheese Sandwich, Turkey and Cranberry Sandwich, or Philly Cheese Steak Sandwich are all good options!
Bread: Good dipping breads like BAsic Focaccia Bread, Easy Garlic Bread, or Italian Bread Bowls.
Meat: Protein will fill you up! Try Easy Pepper Steak, Baked Lemon Mustard Chicken or Air Fryer Chicken.
Salad: Soup and salad is a win! Try Pistachio Chicken Salad, Easy Pasta Salad, or BLT Salad.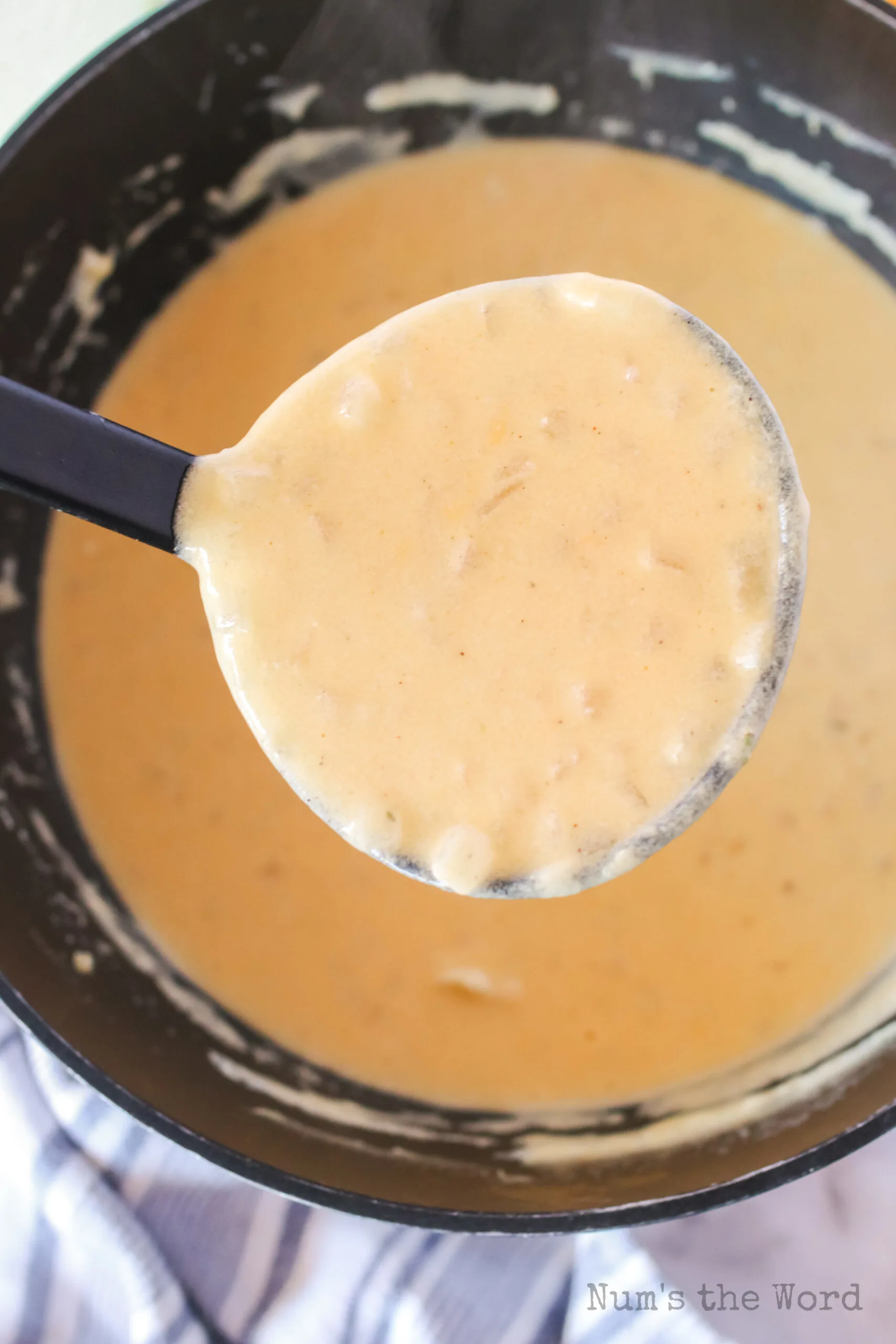 How to Store Leftover Onion Cheese Soup
Any leftover onion cheddar soup should be stored in the fridge.
The dairy shouldn't be left out in the heat for long periods of time as it'll quickly go bad.
Be sure to store in an airtight container to prevent bacterial growth and let the soup come to room temperature before storing.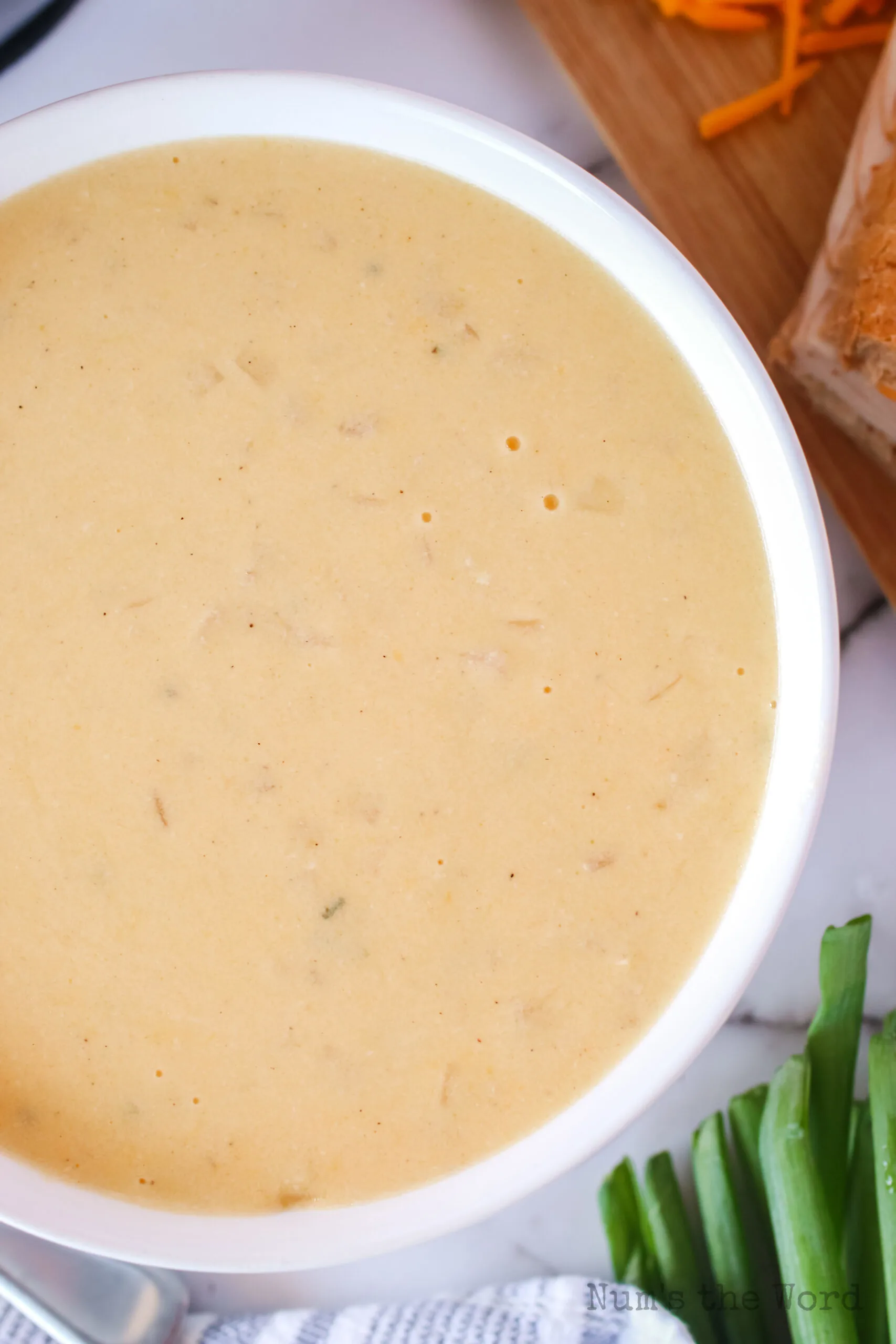 How Long Does Onion Cheese Soup Last?
The onion cheese soup will stay good both in the fridge and in the freezer. It'll keep it's sweet flavor when reheated too!
Fridge: Onion cheese soup will last up to 5 days in the fridge.
Freezer: The soup keeps well for up to three months when stored in the freezer.
How to Reheat Onion Cheese Soup
You can reheat this simple recipe of onion cheese soup in the microwave or on the stove.
If you microwave, do 30 seconds at a time, stirring between each cook time. Heat until heated through.
On the stove reheat over medium-high heat, stirring until warmed through.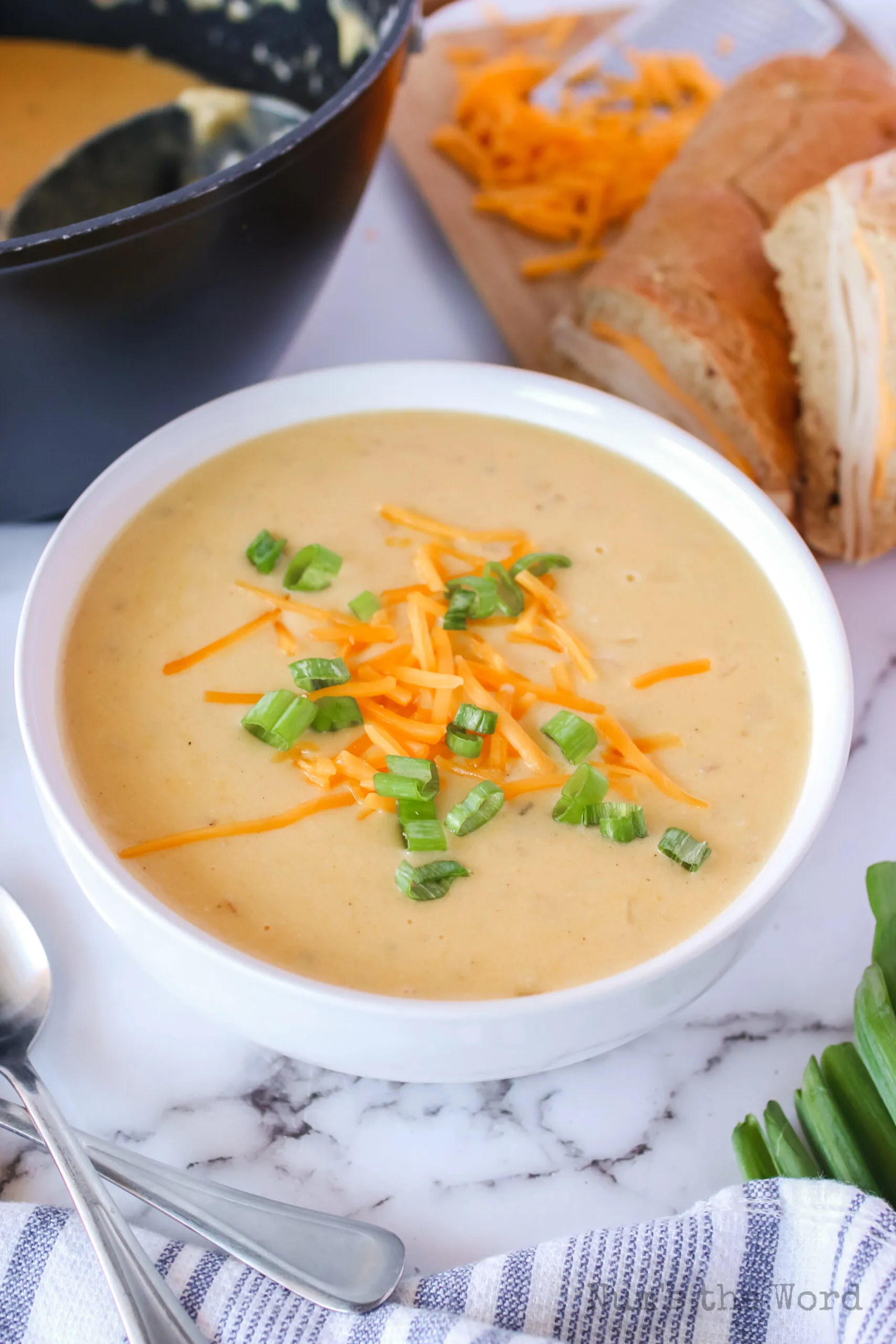 Can Dogs Eat Onion Cheese Soup?
No! Dogs definitely shouldn't eat onion cheese soup.
Cheese, flour, and cream can all be hard on a dog's body and difficult to digest.
But onions are actually toxic to dogs! All parts of onions, leaves, stems, the plant itself, the skin, etc. are toxic.
So if your dog eats this soup, be sure to talk to the vet if you notice any adverse symptoms.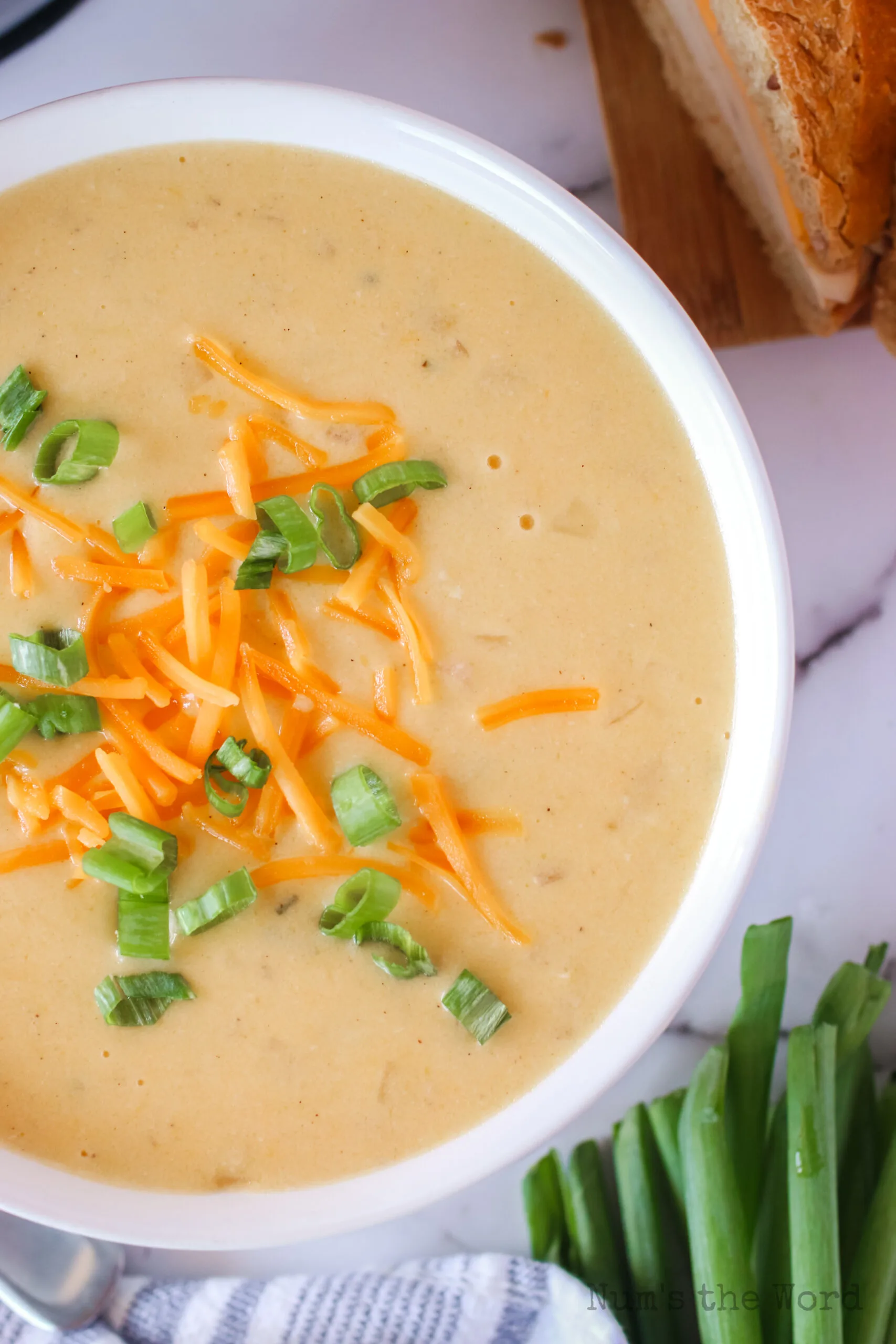 Can I Make Onion Cheese Soup Ahead of Time?
Yes! Onion cheese soup can be made up to 24 hours in advance.
I don't like to add the cheese until right before serving.
Since you already need to reheat the soup, you can add the cheese once reheated.
Just cook the rest of the soup as written, keep covered in the fridge, and then serve when you're ready.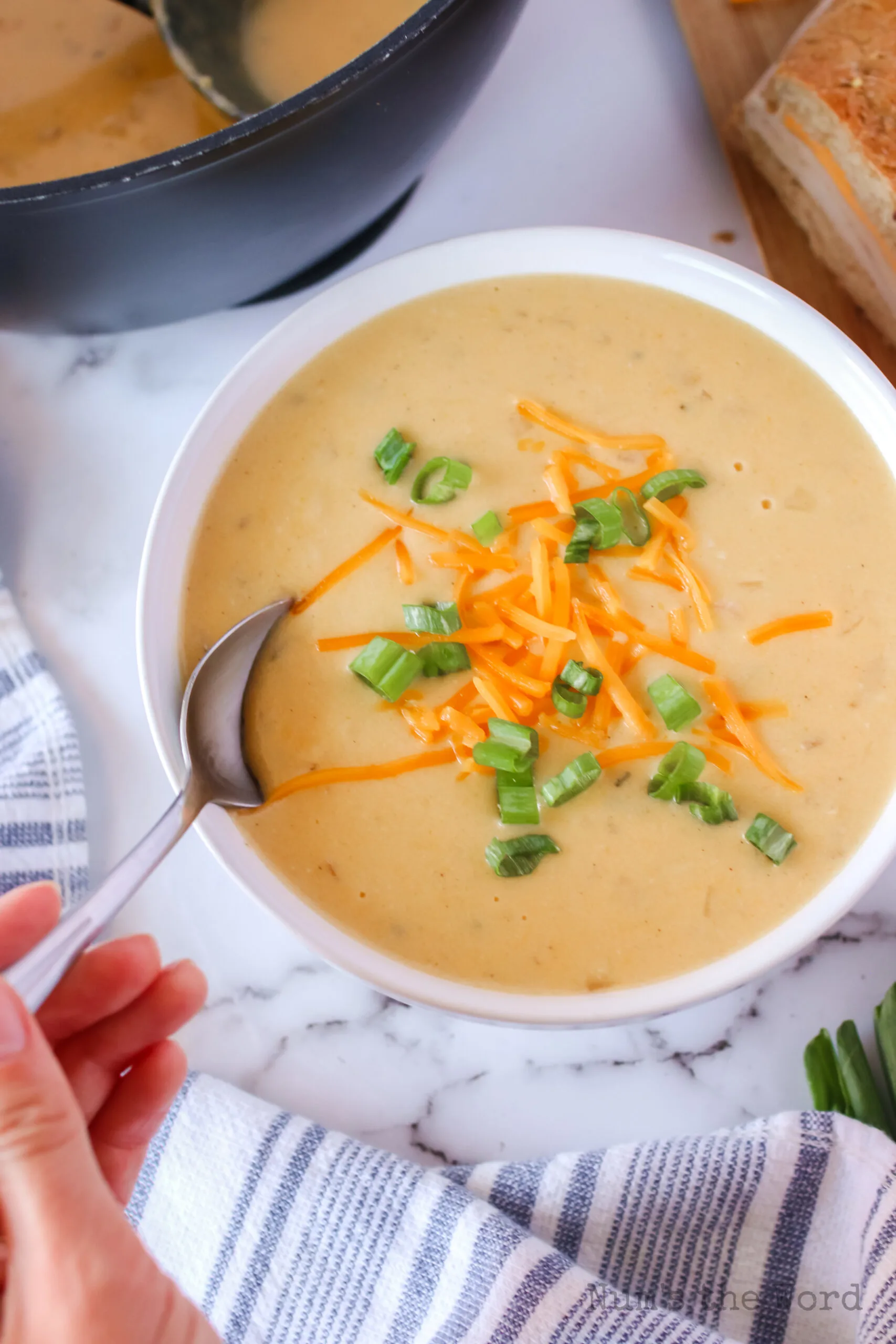 Onion Cheese Soup is a delightfully quick and easy soup that is full of flavor! Your whole family will enjoy it all fall and winter long!
Yield: 4 Servings
Onion Cheese Soup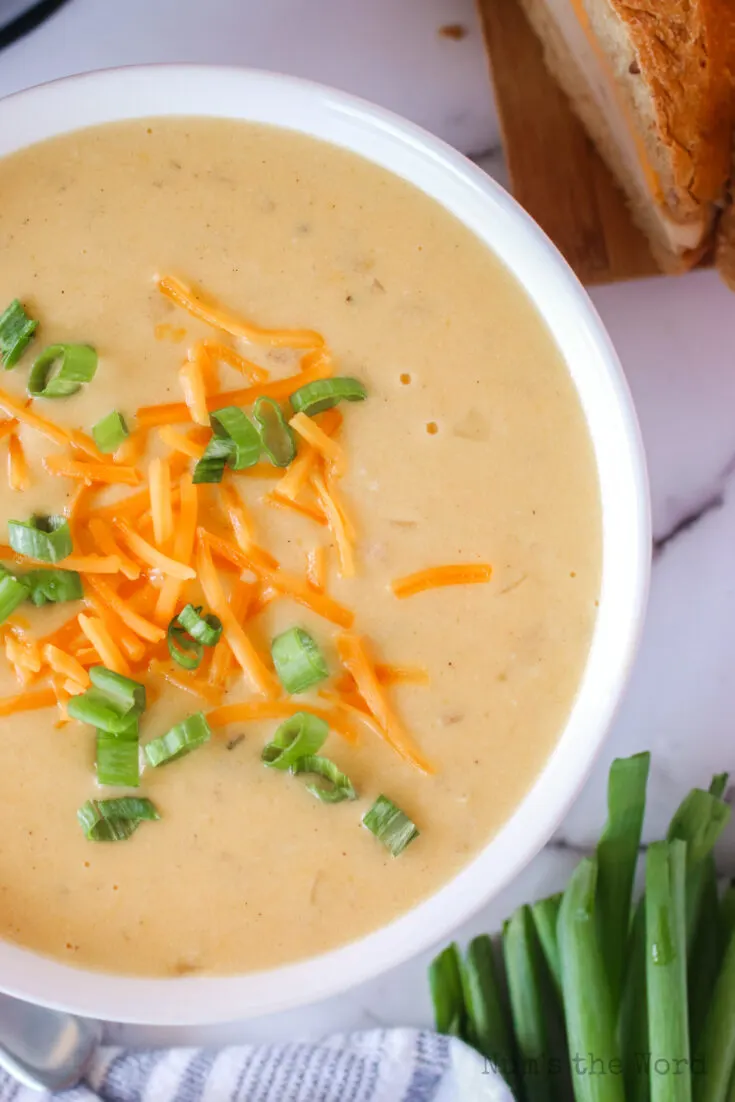 Onion Cheese Soup is the perfect soup to warm you up on a cool day! It's perfectly creamy, delightfully healthy, and full of flavor!
Ingredients
3 Tablespoons butter
1 large yellow onion, diced (approximately 1 cup)
3 Tablespoons flour
2 cups milk (any %)
1/2 teaspoon dry mustard
1/2 teaspoon salt
1/4 teaspoon thyme
1/4 teaspoon black pepper
1 (14.5 ounce) can chicken broth
1 package (10 ounces) Extra Sharp cheddar cheese, finely shredded
Paprika (optional)
Green onions (optional)
Instructions
In a large pot sauté butter and onion together until onion is soft and translucent.
Add flour and stir until all flour is absorbed by butter.
Slowly add milk 1/2 cup at a time, mixing well between each addition. Mixture will first get VERY thick, then thin out during this process. DO NOT ADD ALL THE MILK AT ONCE!
Once all milk has been added, add mustard, salt, thyme, pepper and chicken broth.
Bring mixture to a boil.
Cook for 10 minutes or until thickened.
Add cheese and stir until cheese is melted.
Top with additional cheese, paprika or green onions.
Notes
This soup is not a main dish soup. It makes an excellent first course or side to a sandwich or other dish.
If you want it as a side dish, I recommend adding some shredded chicken from a rotisserie chicken.
Nutrition Information:
Yield:
4
Serving Size:
1
Amount Per Serving:
Calories:

210
Total Fat:

14g
Saturated Fat:

8g
Trans Fat:

1g
Unsaturated Fat:

4g
Cholesterol:

41mg
Sodium:

668mg
Carbohydrates:

15g
Fiber:

1g
Sugar:

8g
Protein:

8g
Originally Posted: November 28, 2016
Photos & Text Updated: October 13, 2022