Cranberry Glazed Ham is the perfect addition to your holiday menu! Salty, sweet, tart, and crispy, it's cooked to perfection.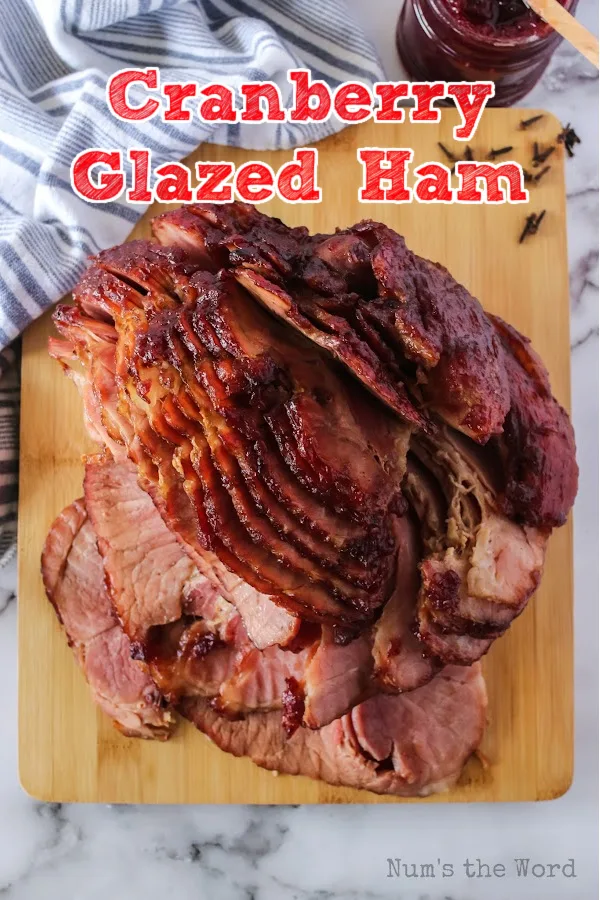 We all know cranberry sauce is frequently sitting on your holiday table, but did you know it makes a delicious glaze?
When topping a holiday ham with a tart cranberry glaze, you're in for a big treat.
I mean like show-stopping, hold-the-phone, why is this so dang delicious treat.
If you're intimidated by roasting ham, don't be!
A ham is actually a super easy holiday dinner.
And because it's also cost effective, it's one of the cheaper main dishes you'll put on the table too.
Plus this cranberry ham glaze recipe only calls for 6 ingredients!
You'll love, and probably be a little shocked, at how quick and easy it is to make the glaze too.
So don't plan on slaving over your stove this holiday season.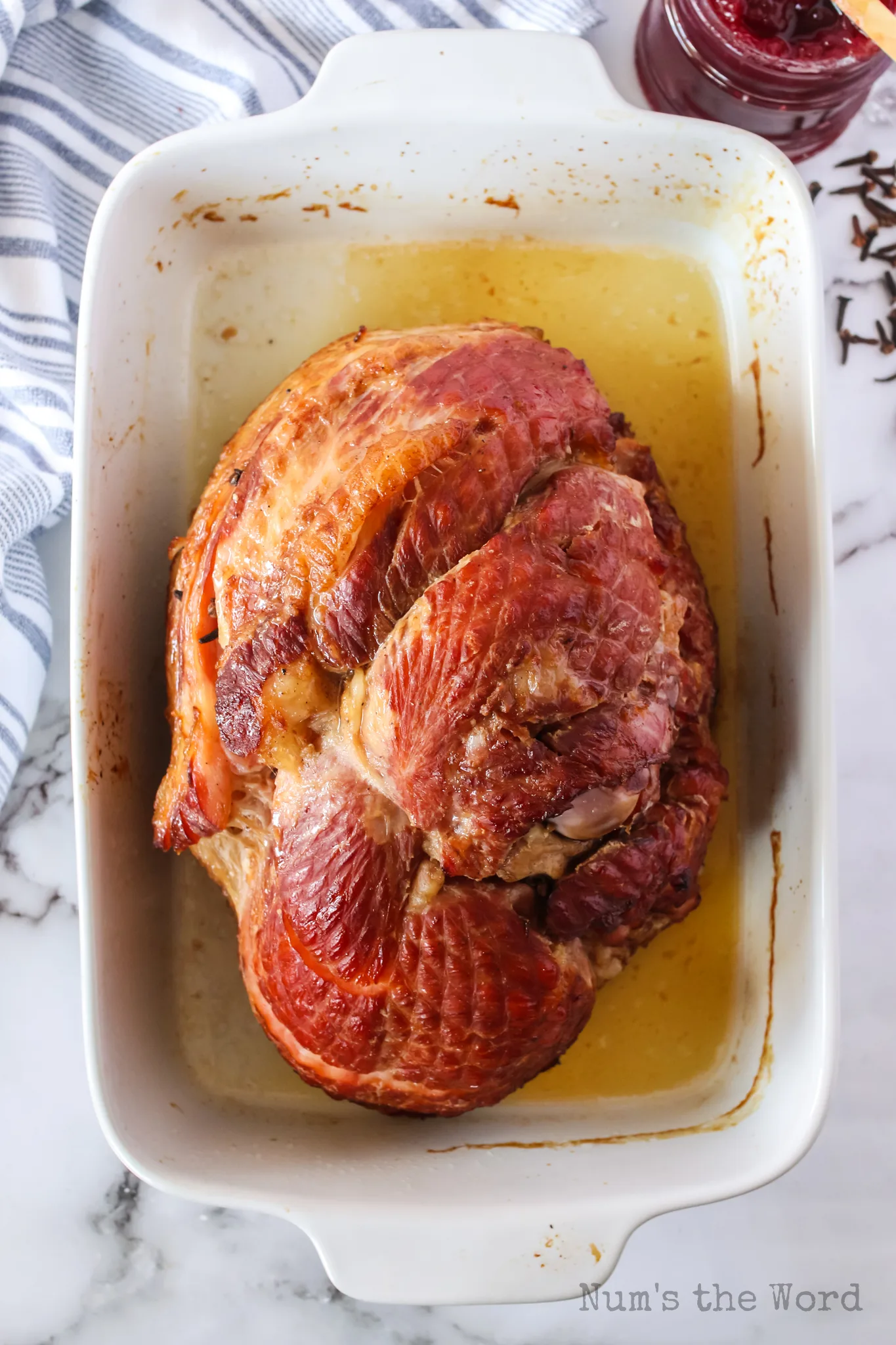 What Ingredients are in Cranberry Glazed Ham?
Here's the few, simple ingredients you'll need to make a cranberry glazed ham recipe.
Ham: You'll want a ham about 6-8 pounds for this simple recipe.
Cloves: Use whole cloves. They add a lot of flavor to the cooked ham.
Cranberry Sauce: Although you can find this all year round, it's much easier to find around Thanksgiving.
Brown Sugar: The brown sugar offsets the tartness of the cranberries and is a must.
Chicken Broth: You could substitute this with beef broth or vegetable broth if desired.
Dijon Mustard: The mustard adds just a hint of spiciness that goes really well with the other flavors.
Pro Tips:
Get a spiral cut ham! They are not only easier to serve but taste better as the glaze can run down each slice.
You can get a boneless ham if desired.
While making your shopping list, don't forget to add anything else you might need for Christmas dinner.
Whole-berry cranberry sauce is our favorite!
How to Make Cranberry Glazed Ham
You holiday meal has never been easier!
Prep Ham: You'll want to get rid of any seasonings that came with the ham and poke the cloves in all over the ham.
Bake: Keep the ham covered with aluminum foil to keep it from drying out while baking.
Cranberry Glaze: While the ham bakes, prep your delicious cranberry glaze in a small saucepan. Using medium heat, it should thicken slightly when it's done.
Bake: You'll want to top ham with the tangy glaze and let it settle into crisp awesomeness for the last bit of baking.
Pro Tips:
If there is a plastic plug that is where the ham bone is, just leave it in. Don't discard.
Try to get the sweet glaze in between each layer of ham for extra deliciousness.
Let the baked ham rest for 10 minutes before serving to cool down and meld the flavors.
Remove foil for the second bake to let the simple glaze harden.
Heat oven before you begin your baking time to make sure the moist ham bakes perfectly.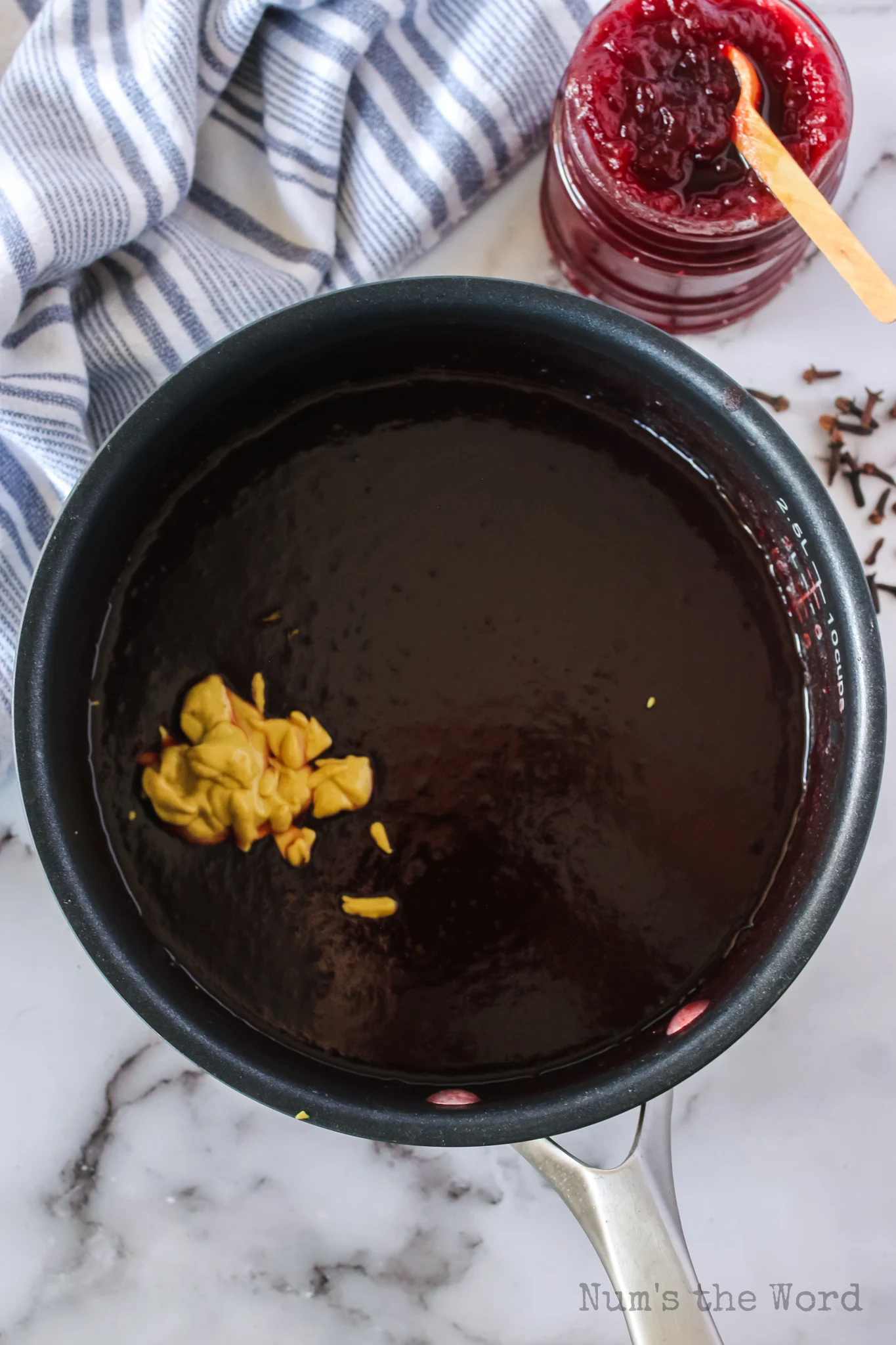 Does Cranberry Sauce Go with Ham?
The short answer to this is yes!
Cranberry sauce most often makes an appearance on the Thanksgiving table.
And for Thanksgiving, turkey is usually the meat of choice.
However, cranberry sauce also goes really great with ham, which often appears on a Christmas table.
Salty ham is succulent. Cranberries are tart and sweet. It's a perfect taste combination!
You may be surprised to learn, but they really are the perfect match.
I've even served this spiral ham recipe at Easter and had great success!
Serve any extra homemade ham glaze as a side to go on top of ham. It will go quick!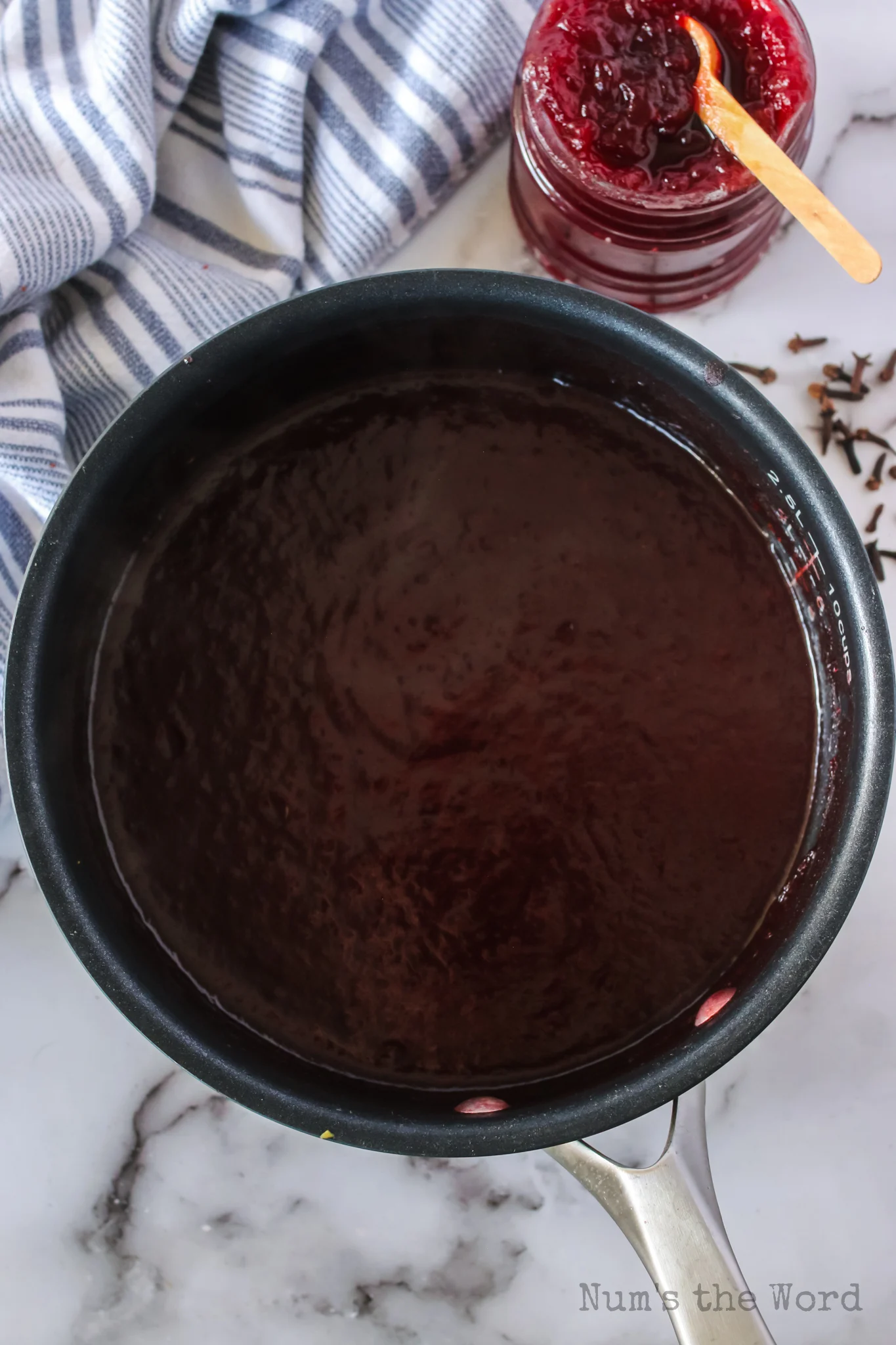 Can I Make Cranberry Glazed Ham Ahead of Time?
Sure thing!
When you've got so much to use your oven for on the day of, I know anything you can make in advance is a life saver.
Follow the directions to make the glazed ham up to 2 days before serving.
Then, on the day you want to eat it, simply reheat the ham.
It will take some time to reheat the ham, and you'll want to be sure to keep it covered.
Baking meat twice is a sure fire way to dry it out!
You can also serve the ham cold like on rolls or a slice of buttered bread.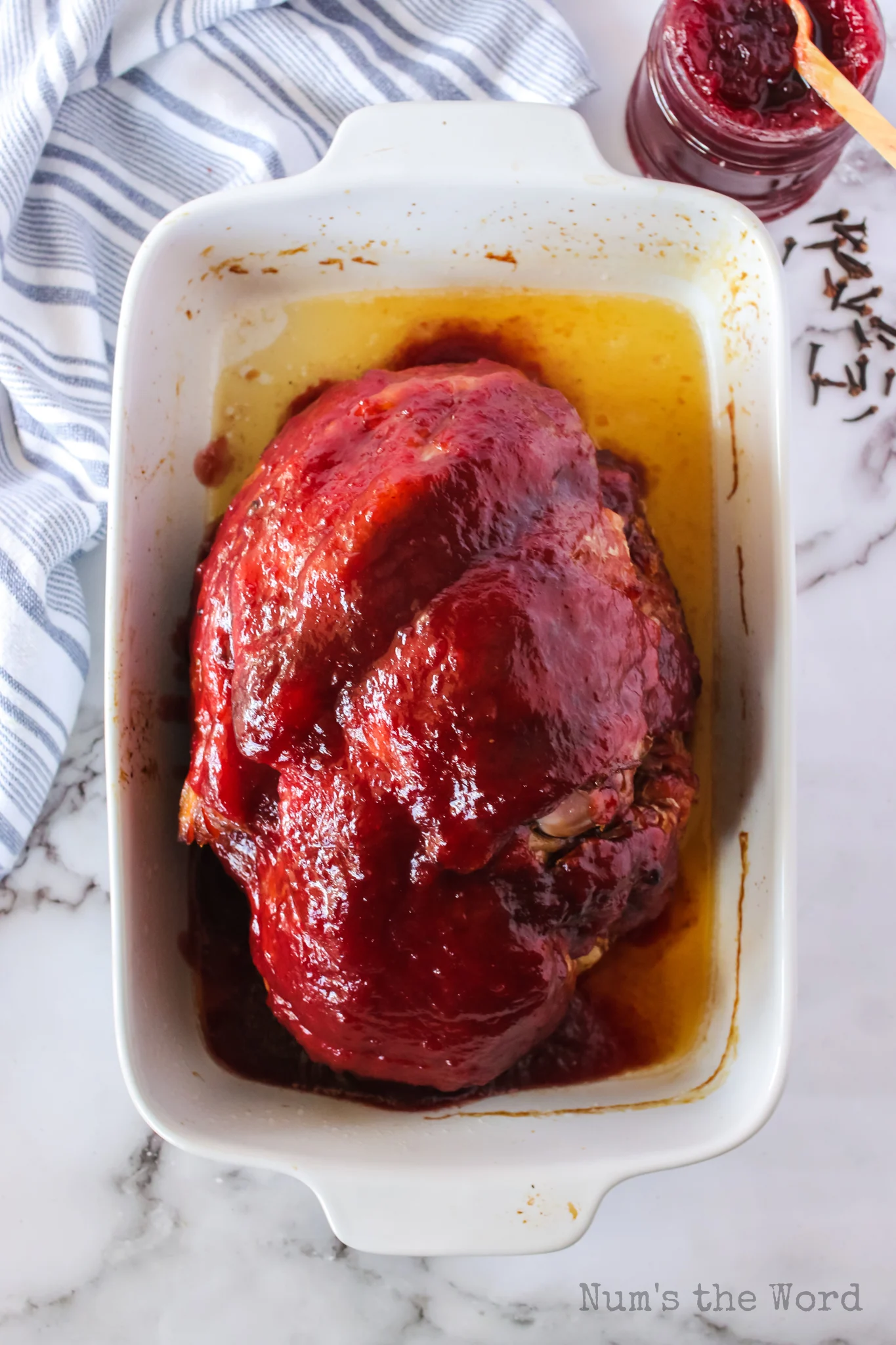 How to Store Leftover Cranberry Glazed Ham
Store any leftover cranberry baked ham in the fridge.
Be sure to place ham in an airtight container.
Ham can be safely eaten for up to 5-7 days. After that, it's best to toss it.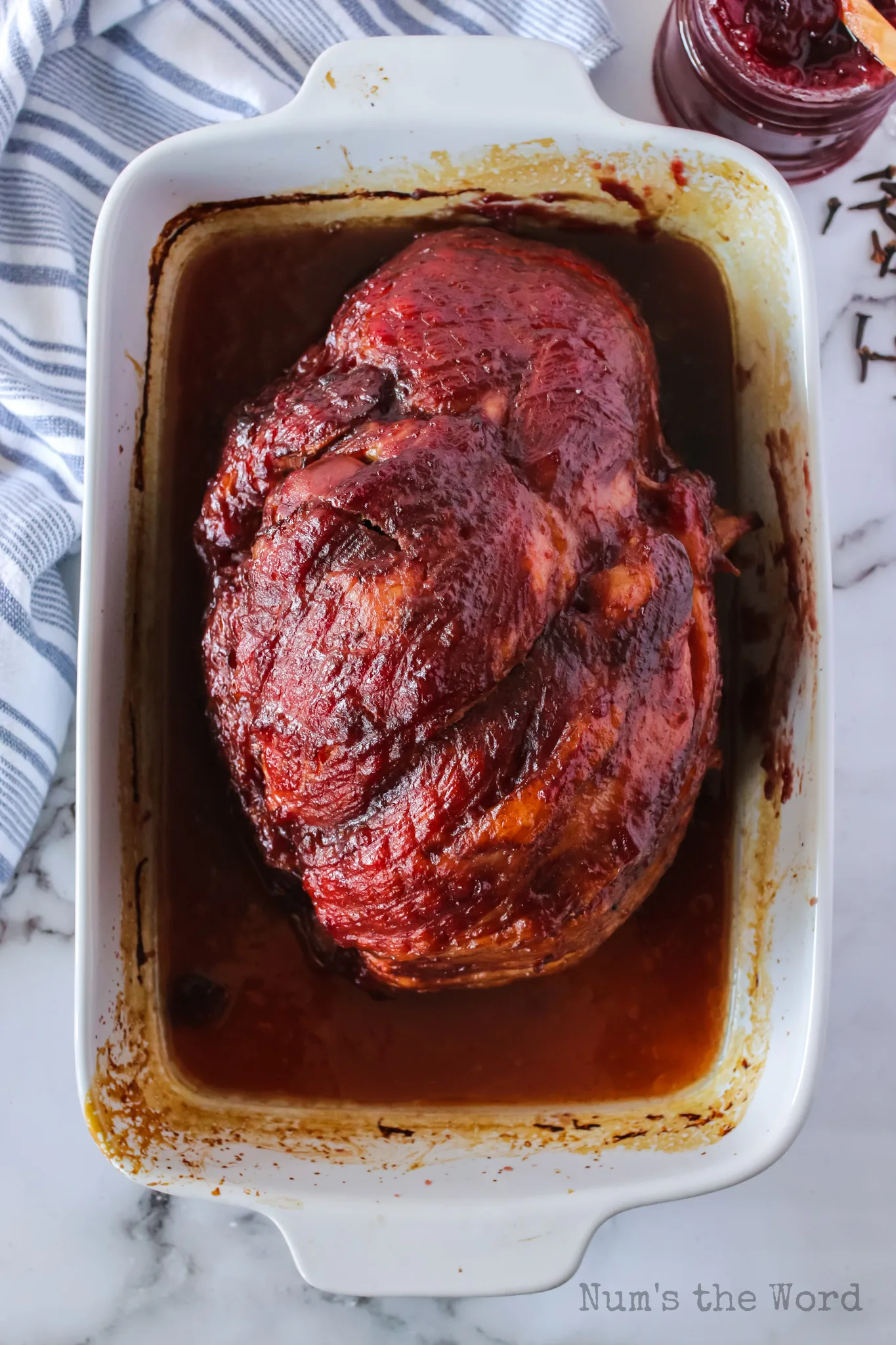 Can Dogs Eat Cranberry Glazed Ham?
Many of the ingredients in a glazed ham recipe are safe for dogs.
They can eat the Christmas ham itself, the cranberries, the cloves, etc.
However, sugar can be a problem.
It can cause all sorts of problems for dogs which have a difficult time processing it.
Also mustard seeds can actually be toxic for dogs and those are found in the Dijon mustard.
So it's safest not to feed the cranberry glazed ham to dogs.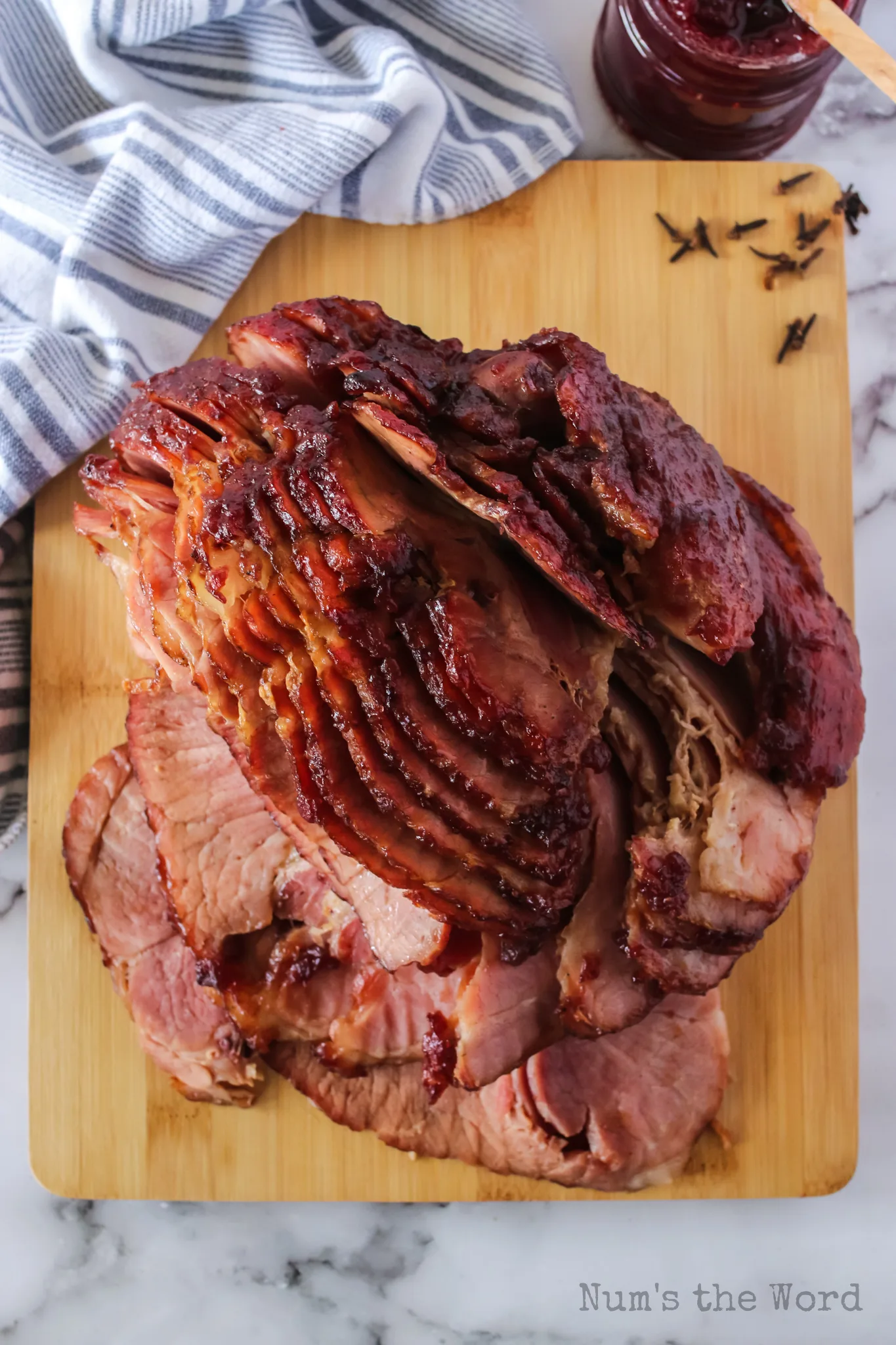 When to Serve Cranberry Glazed Ham
When not to serve cranberry glazed ham is a better question!
Of course, Thanksgiving, Christmas, New Years, and Easter, are all popular times to serve the ham.
Cranberries are in season in the winter so of course, cranberry flavored foods are popular then.
You can however find cranberry sauce in most grocery stores all year round.
So birthday parties, family gatherings, or any special occasion work too!
Feel free to serve the cranberry glazed ham whenever the mood strikes you!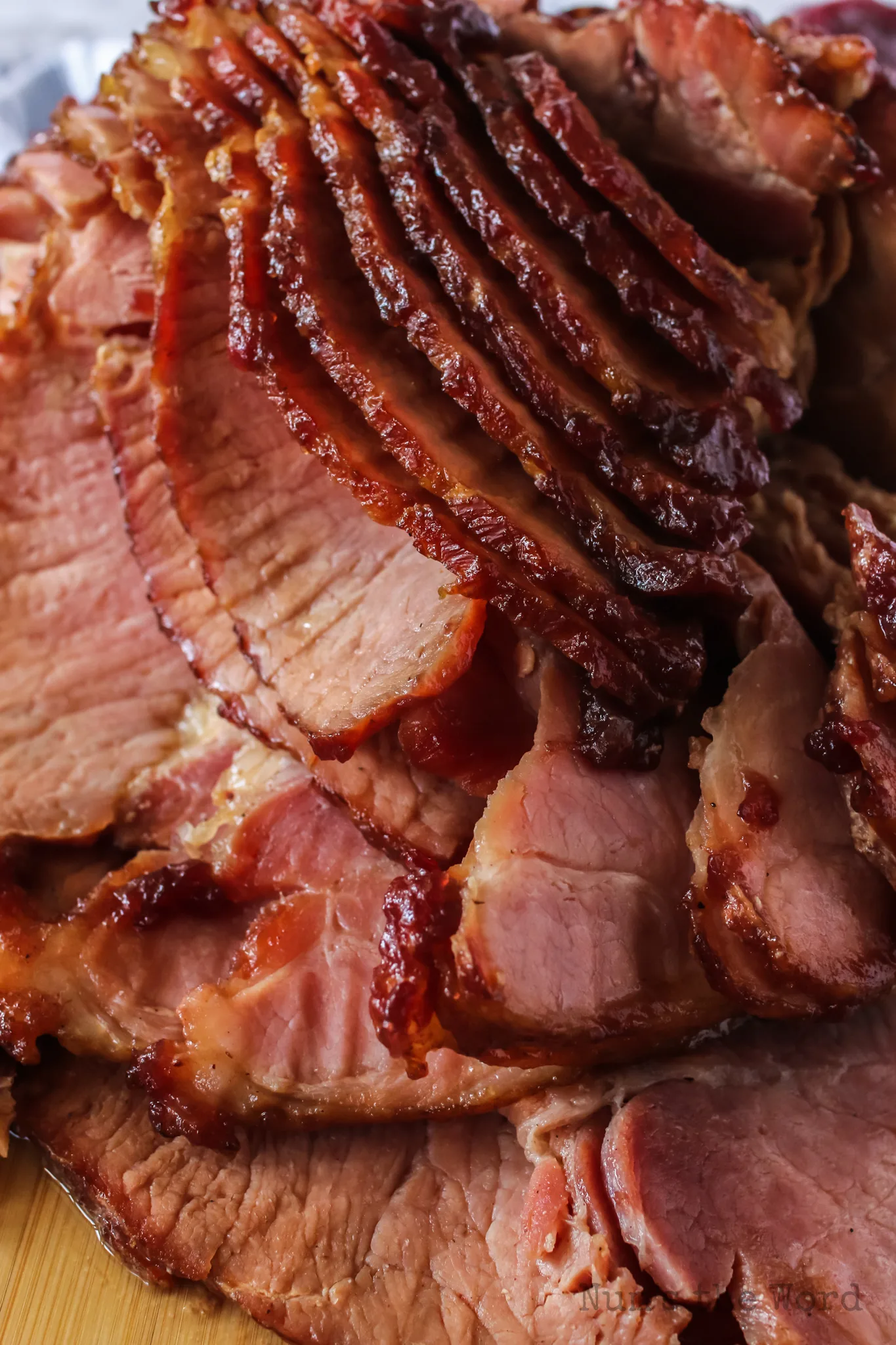 What to Serve with Cranberry Glazed Ham
Holiday staples are what comes to mind when serving this easy recipe!
Here are a few of our favorite side dishes.
And don't forget the best parts: Simple Desserts!
Having leftover ham slices to eat right out of the oven is never a bad thing either!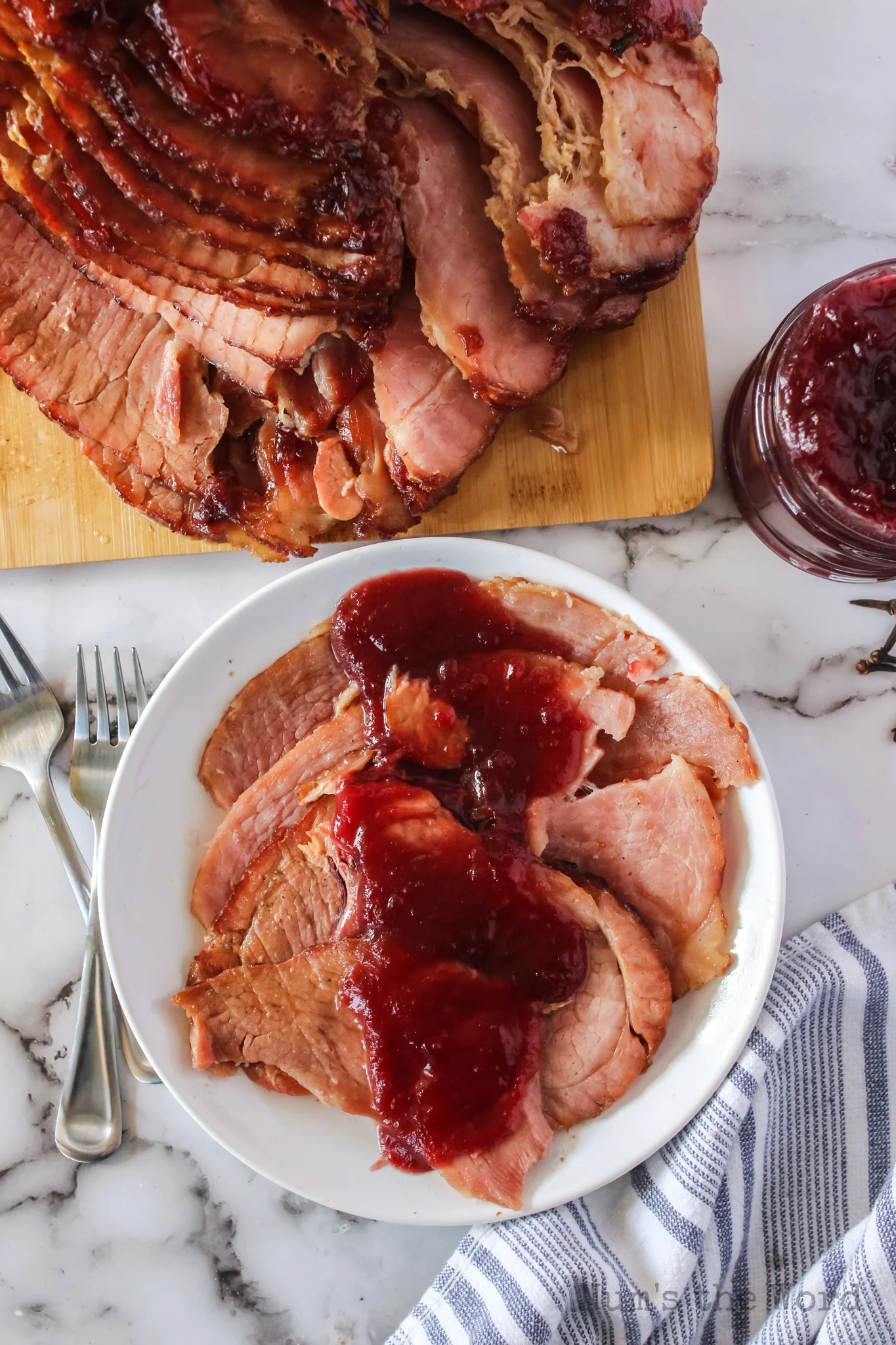 Cranberry glazed ham is a holiday classic! Bursting with delicious and complimentary flavors!
It's going to become a repeat in your house I'm sure!
Let me know what you think in the comments!
Yield: 12 Servings
Cranberry Glazed Ham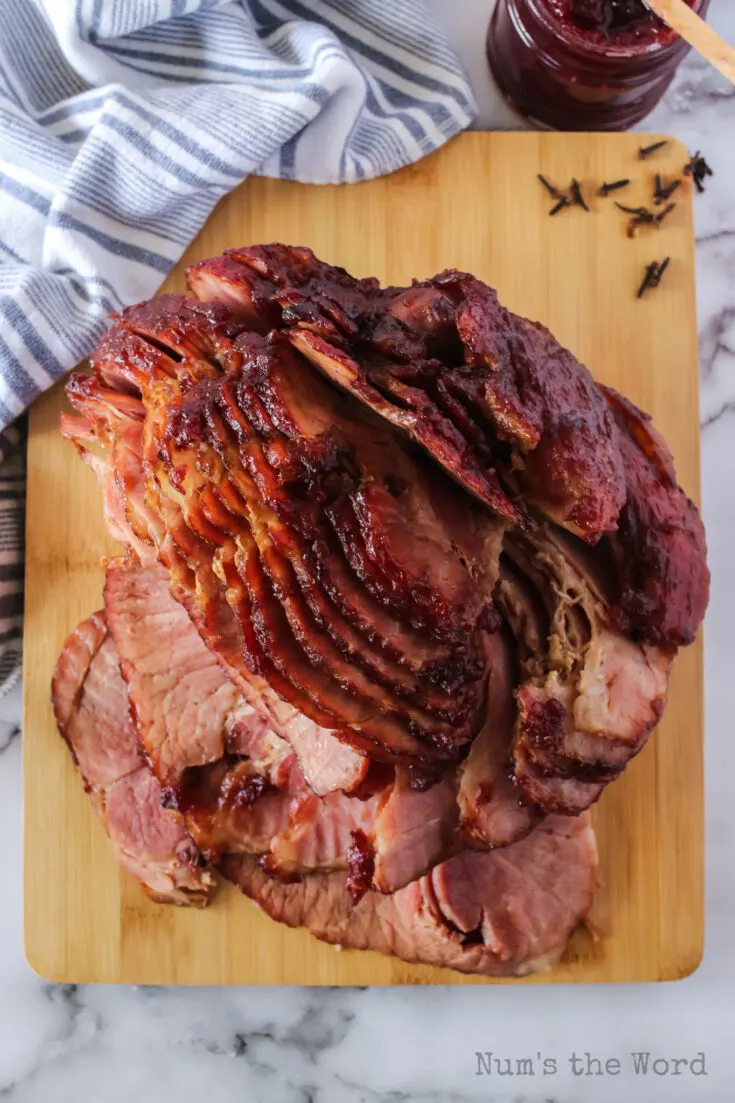 Cranberry Glazed Ham is the perfect addition to your holiday menu! Salty, sweet, tart, and crispy, it's cooked to perfection.
Ingredients
6-8 pound spiral cut ham
1+ Tablespoon whole cloves
2 (14 ounce) cans jellied whole cranberry sauce
1 cup brown sugar
1 cup chicken broth
3 Tablespoons Dijon mustard
Instructions
Preheat oven to 325*F
Remove ham from packaging and discard any juices or sauce that comes with ham.
Place ham in 9x13 casserole dish.
If there is a plastic plug that comes with your ham where the bone is - leave it in. Do not remove.
Gently poke whole cloves between the sliced layers every few inches apart.
Cover ham and dish with foil and bake for 1 ½ hours.
After 1 hour of baking, make your cranberry sauce.
In a pot add cranberry sauce, brown sugar and broth. Bring to a boil and stir regularly.
Once the mixture comes to a boil, turn heat down to simmer and cook for an additional 10 minutes. Remove from heat.
Cranberry sauce should have melted (no longer jelly chunks) and thickened slightly.
Add mustard and mix well.
Remove ham from the oven (after 1 ½ hours of cooking).
Gently remove the foil.
Pour half the sauce over the top of your ham, try to get it in between the layers.
Bake for 20 more minutes, uncovered.
Remove from the oven and let ham rest for 10 minutes before cutting it off the bone and serving with remaining cranberry sauce.
Nutrition Information:
Yield:
12
Serving Size:
1
Amount Per Serving:
Calories:

522
Total Fat:

16g
Saturated Fat:

3g
Trans Fat:

0g
Unsaturated Fat:

8g
Cholesterol:

194mg
Sodium:

3141mg
Carbohydrates:

29g
Fiber:

1g
Sugar:

25g
Protein:

68g