Frozen Chicken Strips in Air Fryer just make sense! Quick and easy, delicious and crispy, it's the perfect way to cook up a quick snack or meal!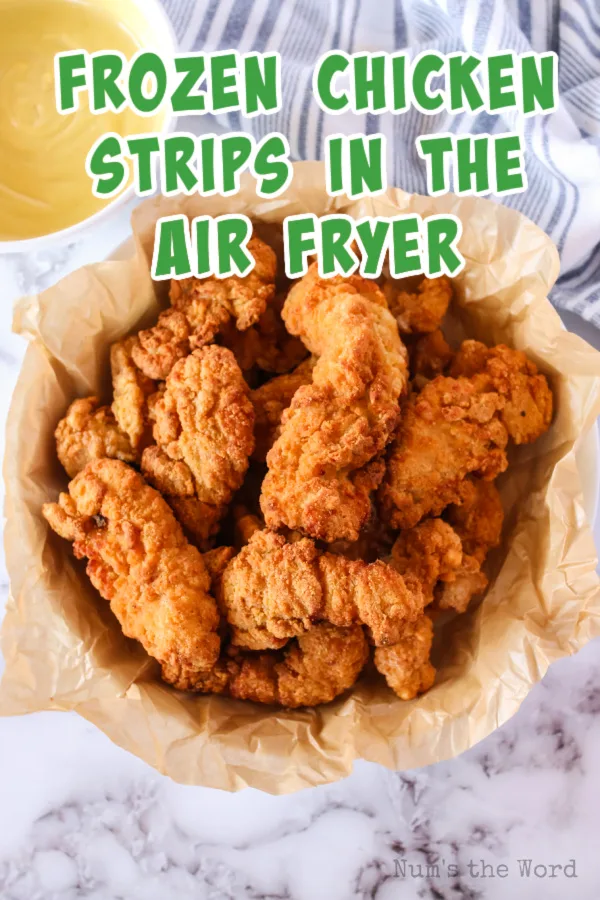 It doesn't really matter what brand of chicken strips you buy from the grocery store. They're all pretty stinking good.
And no wonder! Perfectly cooked white chicken surrounded by an irresistibly crispy outside? Who can resist that?
And when you pair it with the perfect honey mustard dipping sauce? Yeah, no one can resist chicken strips.
I love that cooking air fryer chicken strips takes less time than the other traditional methods. Hello fast food at home!
Chicken strips in an air fryer also use less oil than frying and therefore are way healthier too!
The air fryer frozen chicken strips always turn out perfectly crispy and golden. So this is a great way to show off your cooking skills for the in-laws.
And these frozen chicken strips air fryer are also a great snack, lunch, or dinner! And the entire family can enjoy them!
Plus, you don't have to wait for the oven to heat up! Which takes forever and in the summer? Not happening!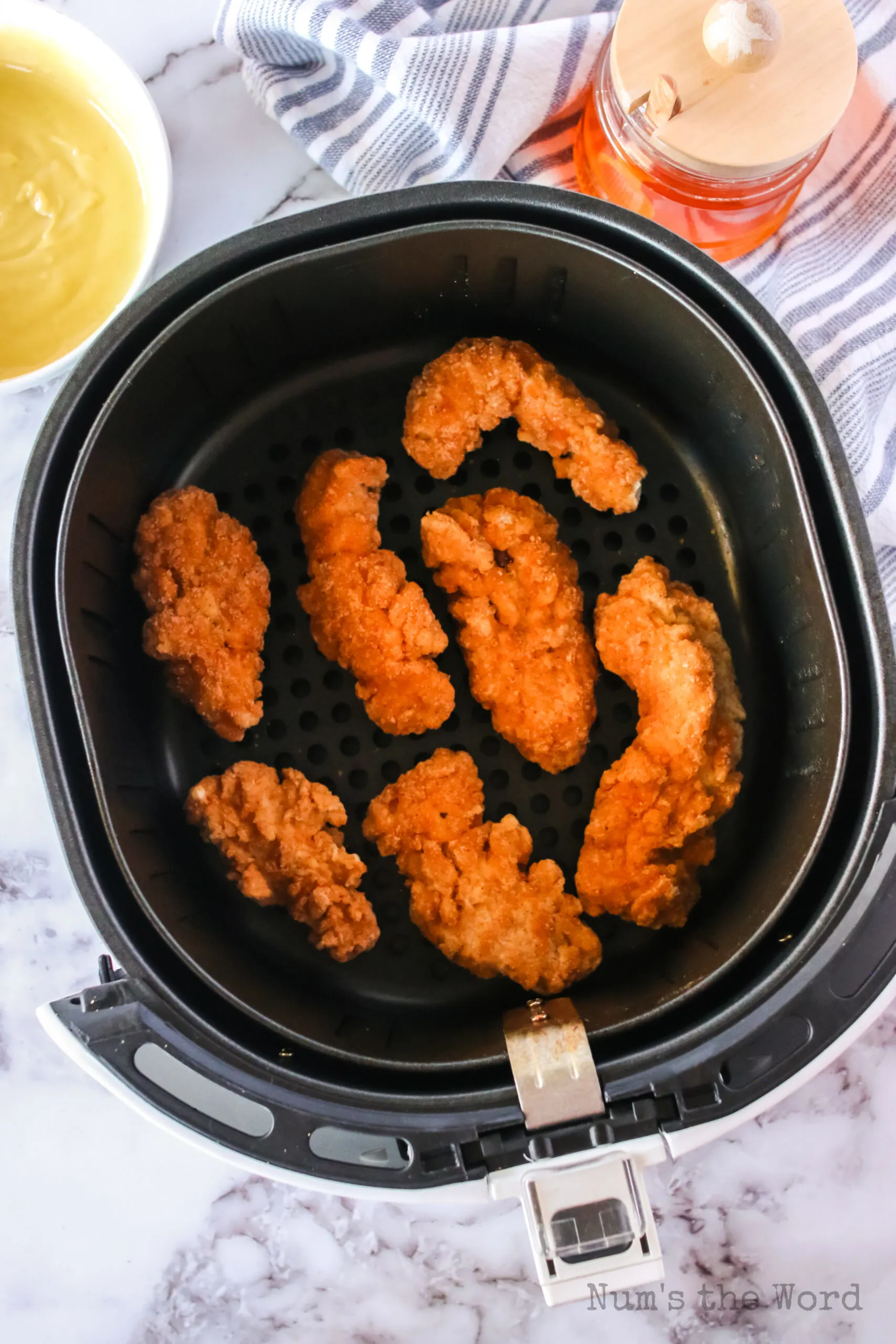 How to Make Chicken Strips in Air Fryer
There's not much to making frozen chicken strips in the air fryer but there are a few helpful things you'll want to know.
They don't need cooking spray. Often, things need to be sprayed to prevent them from sticking to the air fryer basket, but the breading doesn't stick, so skip that!
Single Layer. The chicken strips won't heat all the way through or get crispy outsides if you pile them on top of each other.
Larger chicken strips may take longer. They are usually around the same size so the timing is perfect. If yours are extra large, add an extra minute or two.
And that's about it! Crispy air fryer chicken tenders are such an easy meal!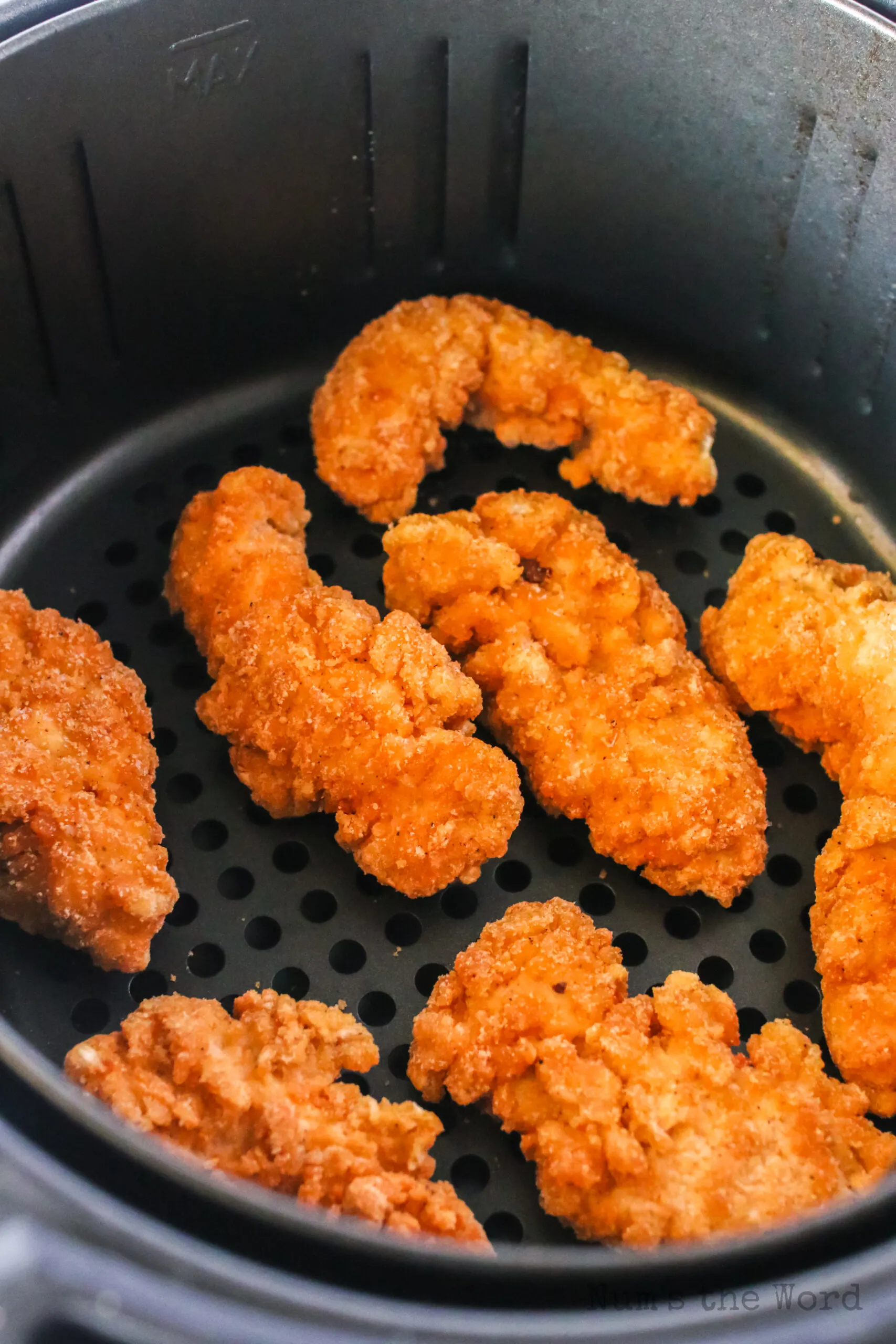 How Long to Cook Chicken Strips in Air Fryer
Frozen chicken strips in the air fryer have such a short cooking time!
If you're cooking anything else to go with your quick weeknight dinner, I recommend prepping in before hand or cooking it at the same time for best results.
Because once those chicken strips are done cooking, you'll want to dig right in. And since they take no prep time, well, you get the idea!
Pre-Cooked: Most frozen chicken strips come already cooked. If yours are, cook for 11 minutes! Done!
Uncooked: If your chicken isn't cooked, then add an extra 2 minutes at a time, checking the meat with a meat thermometer for doneness.
Pro Tip:
Chicken is cooked through when it reaches an internal temperature of 165 degrees F.
For cooked chicken strips, they'll be golden brown and heated through when done.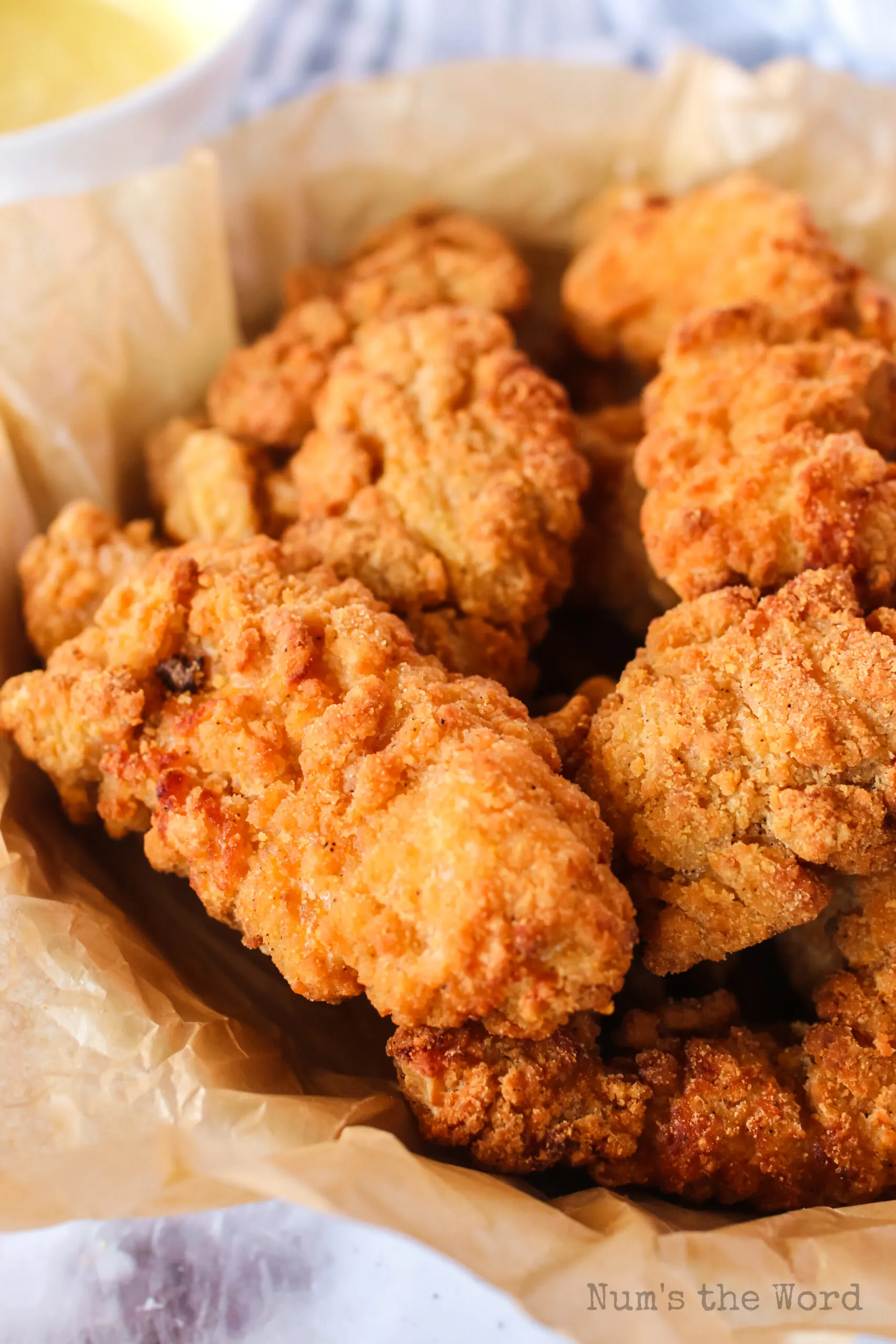 How to Reheat Chicken Strips in Air Fryer
I highly recommend reheating your leftover chicken strips in the air fryer. Microwaves are notorious for ruining the crispy outside on anything you stick in them.
And honestly, I think everything just tastes better coming out of that air fryer. You'll stick the crispy chicken tenders back in the air fryer at 350F.
And just cook them until heated through. That should take 3-5 minutes. Now it's time to dig in!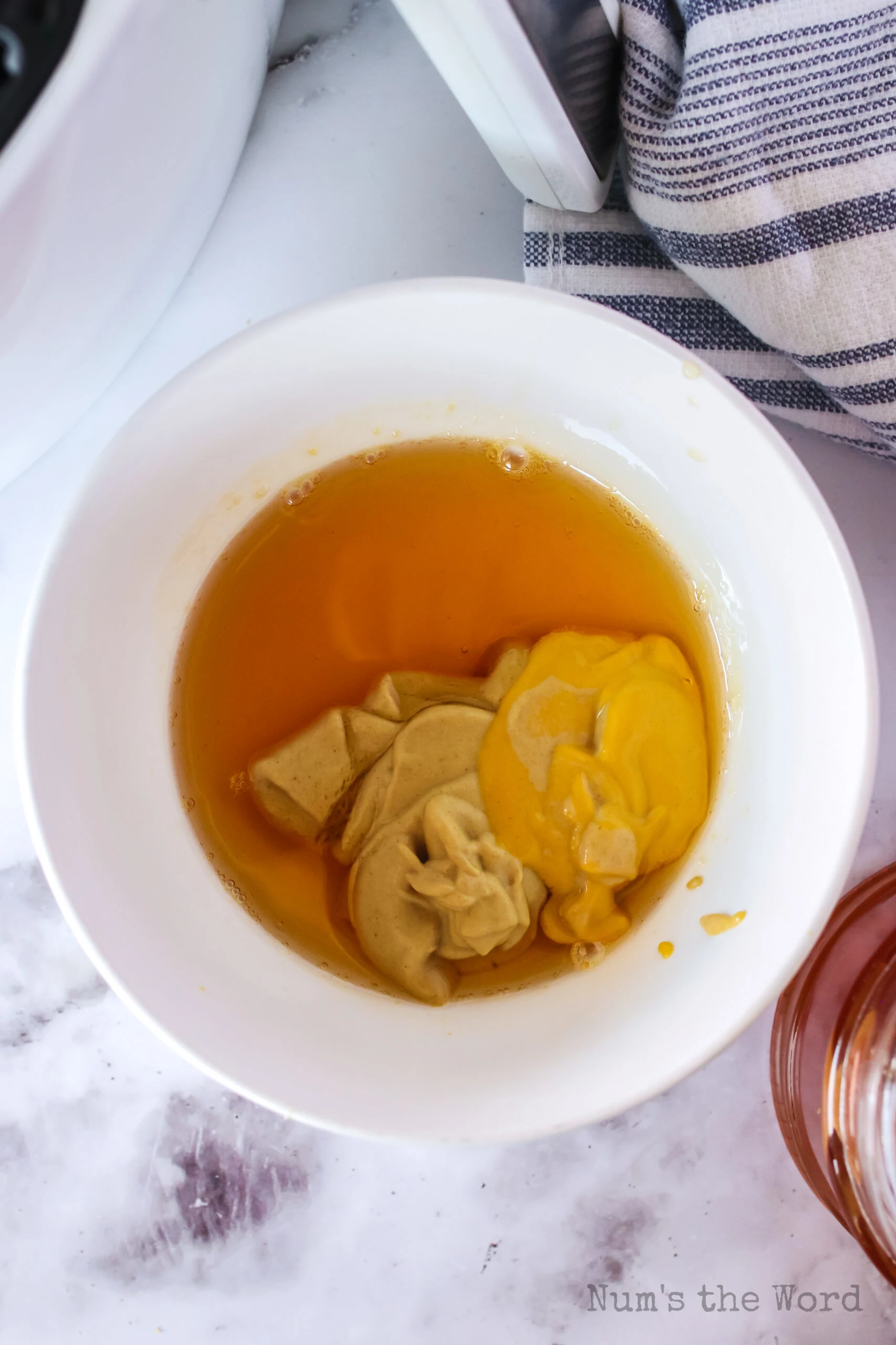 What Dipping Sauce to Serve with Chicken Strips
Oh my goodness! You have so many options when it comes to serving air fryer frozen chicken tenders.
Of course, my kid's favorite sauce is that classic ketchup. And if that's all you have, go for it! You'll still love them.
But if you want to go a step further, here's a list of favorite dipping sauce to serve with chicken strips.
Honey Mustard Sauce: See below for THE BEST recipe of honey mustard dipping sauce.
Ketchup: A classic. And one almost everyone always has on hand.
Mustard: Another staple in most kitchens, I know of some who really love their mustard. Try spicy mustard for a kick.
Mayo: Not usually served as a dipping sauce on it's own, but if you have run out of everything else, it's still an option.
Fry Sauce: If you live on the western coast, you have probably come across this. If not, try mixing ketchup and mayo. Instant fry sauce.
BBQ Sauce: Any of your favorite brand of BBQ sauce will work as a dipping sauce.
Ranch: Another classic for the kids. They love it on veggies, so why not on chicken strips?
Hot Sauce: If you're a spicy person, try dipping in hot sauce! You might be surprised how good it is.
As promised, here's the ingredients you'll need for that honey mustard sauce. Once you try it, you'll never want to stop eating it!
Lemon Juice
Honey
Dijon Mustard
Yellow Mustard
Mayonnaise
To make the honey mustard sauce:
Briefly cook honey and lemon juice together in the microwave.
Mix in mustards and mayonnaise.
That's it! It's so easy and delicious. Perfect for pairing with your frozen chicken strips in the air fryer.
What Goes Good with Chicken Strips?
Frozen chicken strips in the air fryer are so versatile and can be served with a variety of dishes.
Here's some of the most popular side dish options to make your chicken fingers into a complete meal.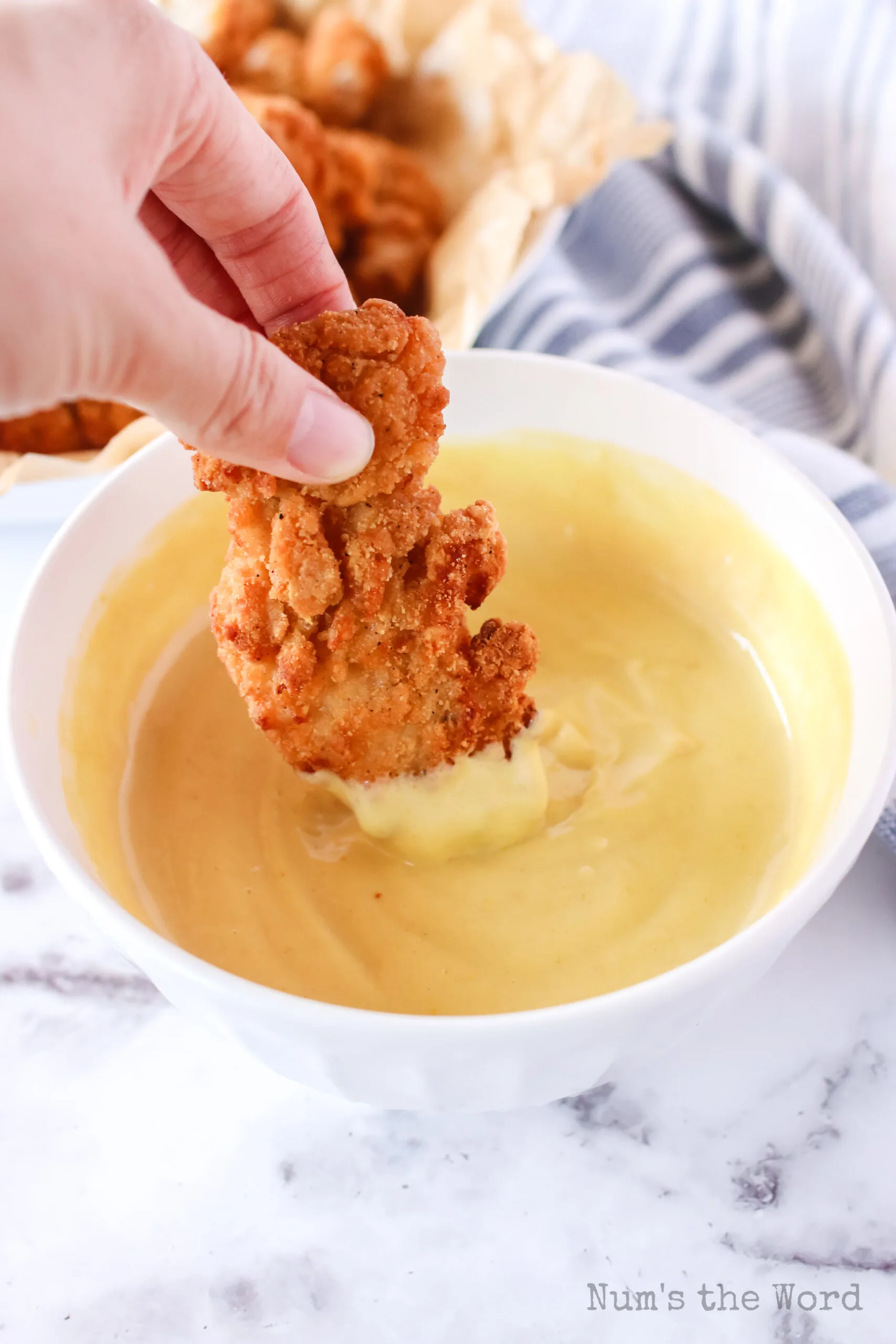 Are Chicken Strips Healthy?
There is probably a certain brand of chicken tenders that are healthier than different brands.
If you're worried about the getting healthy air fryer chicken tenders, scan their ingredient lists as you walk through the grocery store aisle.
The less ingredients, or the more ingredients you know how to pronounce, the better for you the chicken strips are.
The more ingredients, and the more ingredients you have no idea what they are, the worse the chicken strips are for you.
Chicken by itself is widely considered a pretty healthy protein. So it all comes down to that bread coating.
But breaded chicken strips don't have to be unhealthy either!
And you can even make homemade chicken strips if you're feeling adventurous.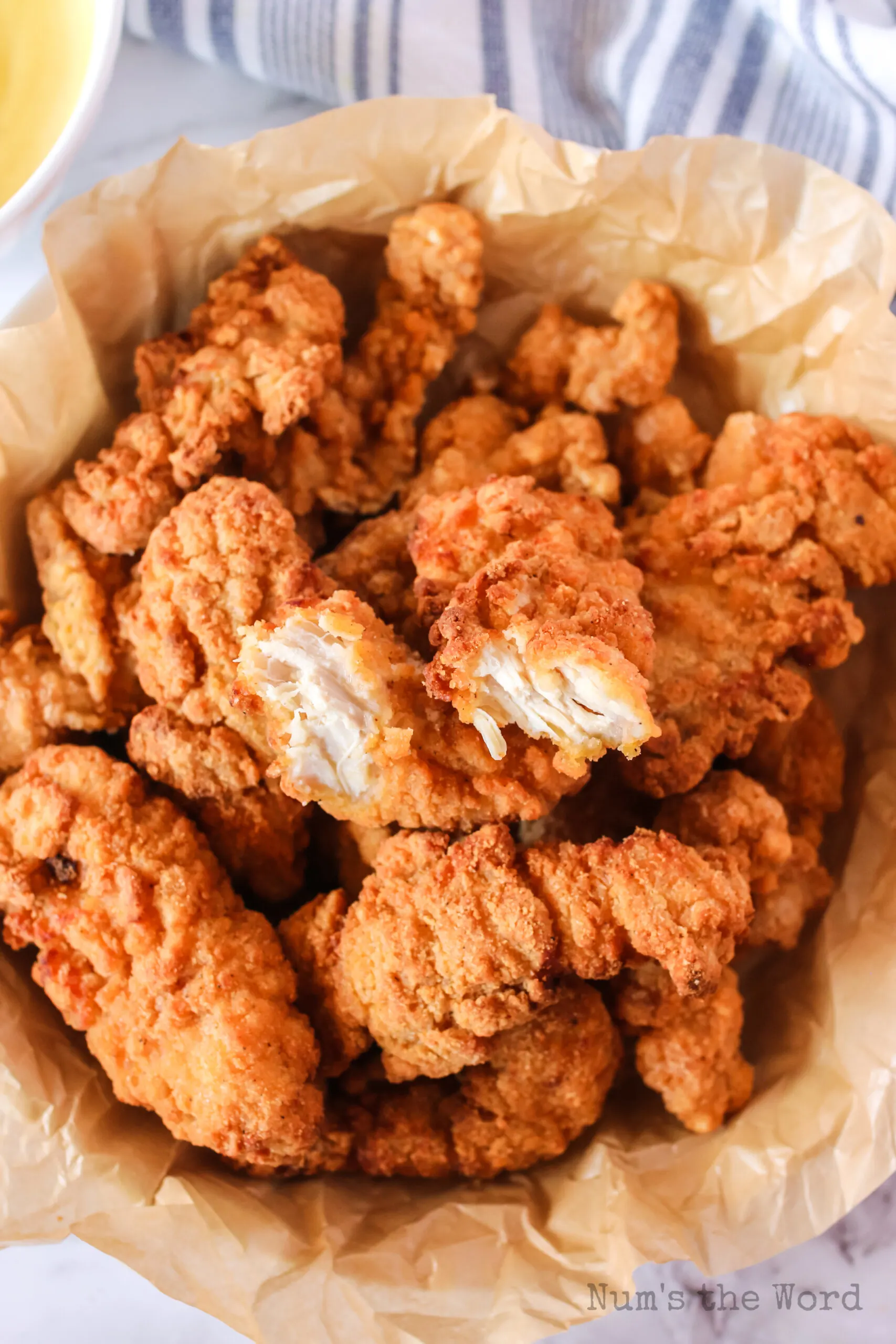 More Air Fryer Recipes You'll Love…
Frozen Chicken Strips in the Air Fryer are a quick and easy choice for any meal or snack.
They're crispy and delicious and the perfect way to get dinner on the table in a snap! Enjoy!
Yield: 2 Servings
Air Fryer Chicken Strips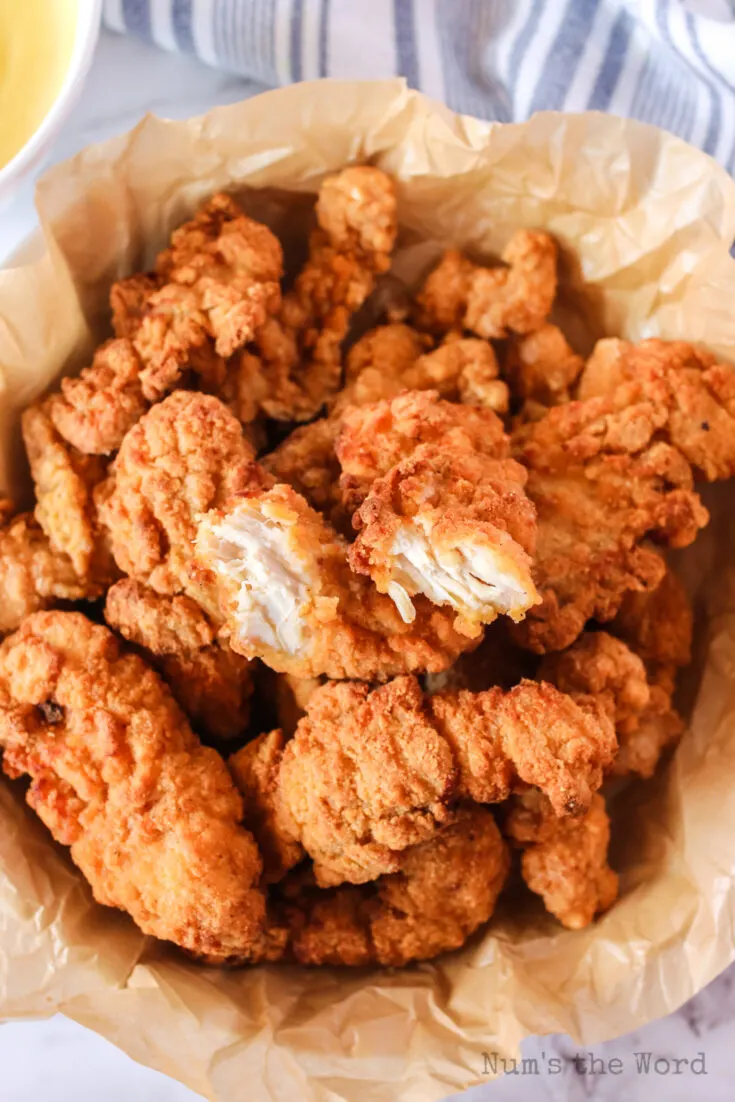 Frozen Chicken Strips in Air Fryer just make sense! Quick and easy, delicious and crispy, it's the perfect way to cook up a quick snack or meal!
Ingredients
2 teaspoons lemon juice
2 Tablespoons honey
2 Tablespoons dijon mustard
1 Tablespoon yellow mustard
1/2 cup mayonnaise
1 bag frozen chicken tenders
Instructions
Place lemon juice and honey in a microwave safe bowl.
Cook for 1 minute and stir well.
Add dijon and yellow mustard and mix well.
Add mayonnaise. Set aside.
Place 4-6 chicken strips in the air fryer basket - ensuring they don't touch.
Place basket in air fryer and turn to 390*F at 11 minutes. Cook.
Once cooked, serve with honey mustard dipping sauce.
Nutrition Information:
Yield:
2
Serving Size:
1
Amount Per Serving:
Calories:

509
Total Fat:

45g
Saturated Fat:

7g
Trans Fat:

0g
Unsaturated Fat:

37g
Cholesterol:

32mg
Sodium:

989mg
Carbohydrates:

23g
Fiber:

1g
Sugar:

18g
Protein:

5g