This Chocolate Zucchini Cake is a chocolate lover's dream! It's incredibly easy to make and a SUPER moist chocolate cake you can be proud of to serve to guests. Plus no one will guess there is zucchini hiding inside.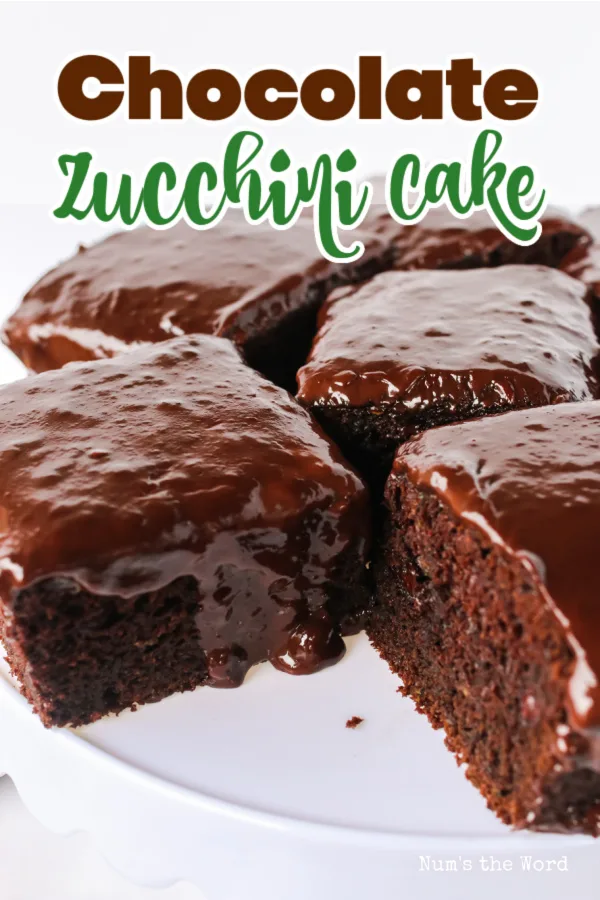 Your friends, family, and children will never believe there's 2 cups of shredded zucchini hiding inside this delicious cake! It's a great way to use up that garden fresh zucchini while making your chocolate moist cake.
If you've ever grown zucchini, you know zucchini plants tend to produce a LOT of zucchini. Bring in the abundance of zucchini recipes that everyone needs during zucchini season .
With my kids, any time I can manage to sneak a few extra veggies somewhere feels like a win to me!
But don't get to thinking that this recipe is just for hiding vegetables in — the zucchini serves a purpose!
Zucchini is a great way to add and maintain moisture in baked goods without drastically changing the flavor.
Though I will admit I'm happy to give my kids individual slices after school as a snack. As long as you don't tell them what the secret ingredient is, you're good!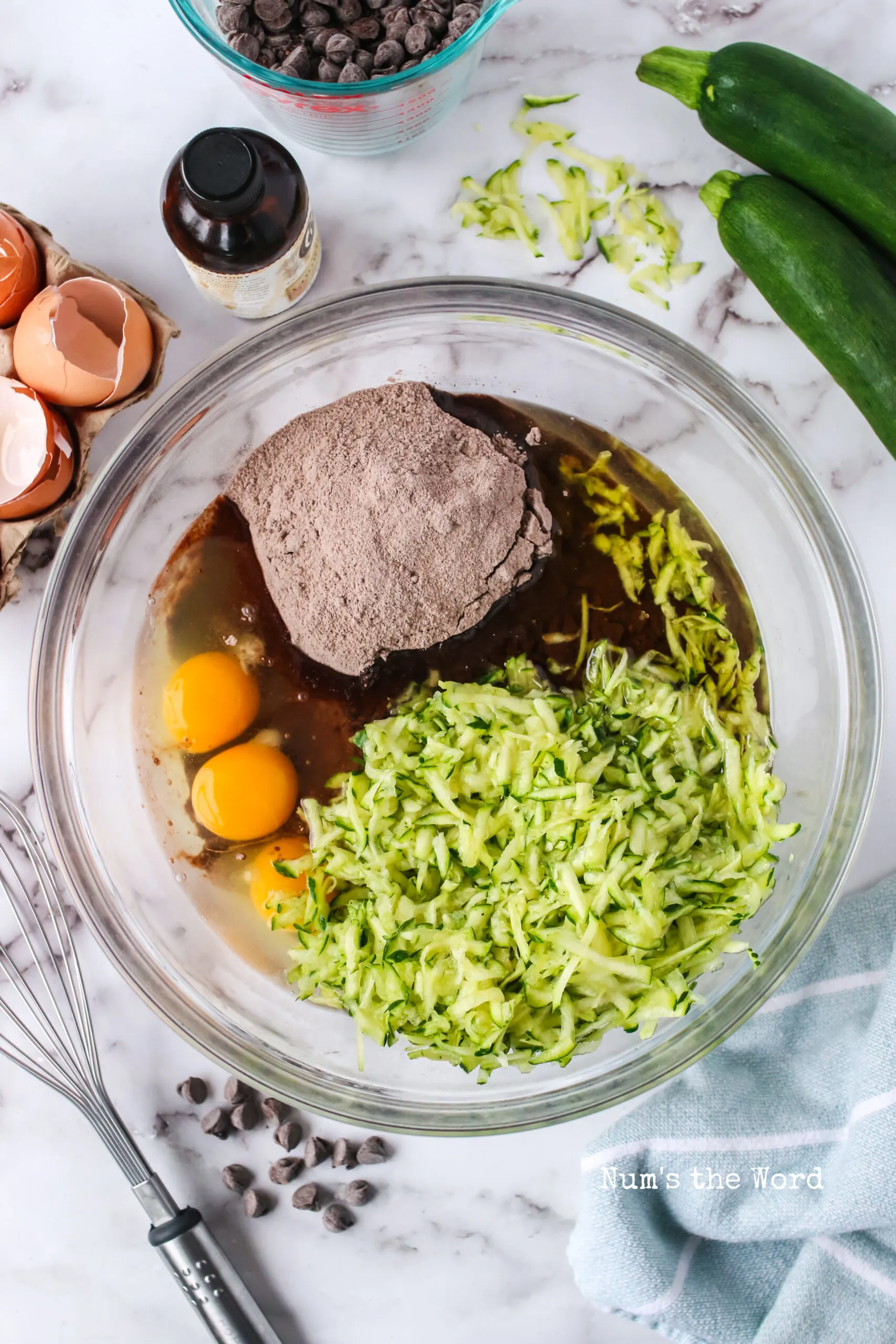 What ingredients are in Chocolate Zucchini Cake?
To make this chocolate lovers zucchini cake with chocolate chips you'll need the following ingredients:
Chocolate cake mix – I like to use Betty Crocker's triple chocolate fudge dry cake, but Devil's Food or your favorite variety and brand will work!
Instant chocolate pudding – adding pudding to cake mixes improves the texture and adds flavor!
4 eggs – eggs help the cake rise and add flavor and structure.
Zucchini – it wouldn't be a zucchini cake recipe without zucchini! Zucchini adds moisture and DOES NOT change the flavor of the cake! You'll need two cups of zucchini for this recipe.
Oil – cakes made with oil versus other fat sources are often more moist.
Vanilla extract – vanilla is a great flavor enhancer as well as addition to the cake itself.
Semi-sweet chocolate chips – I love the gooey pockets of chocolatey goodness you get with this chocolate chip zucchini cake! You'll need 1 1/2 cup chocolate chips for this great recipe.
Heavy whipping cream – I recommend topping your chocolate zucchini cake with a batch of our favorite chocolate ganache. Whipping cream and chocolate chips are all you need!
Pro Tip:
Some people think you need a decadent chocolate frosting. I recommend a simple chocolate ganache for this recipe.
Because we started with a rich chocolate cake mix, you do not need all purpose flour to make this recipe. In addition, you wont use brown sugar or white sugar.
You could use dark chocolate chips or chunks if desired.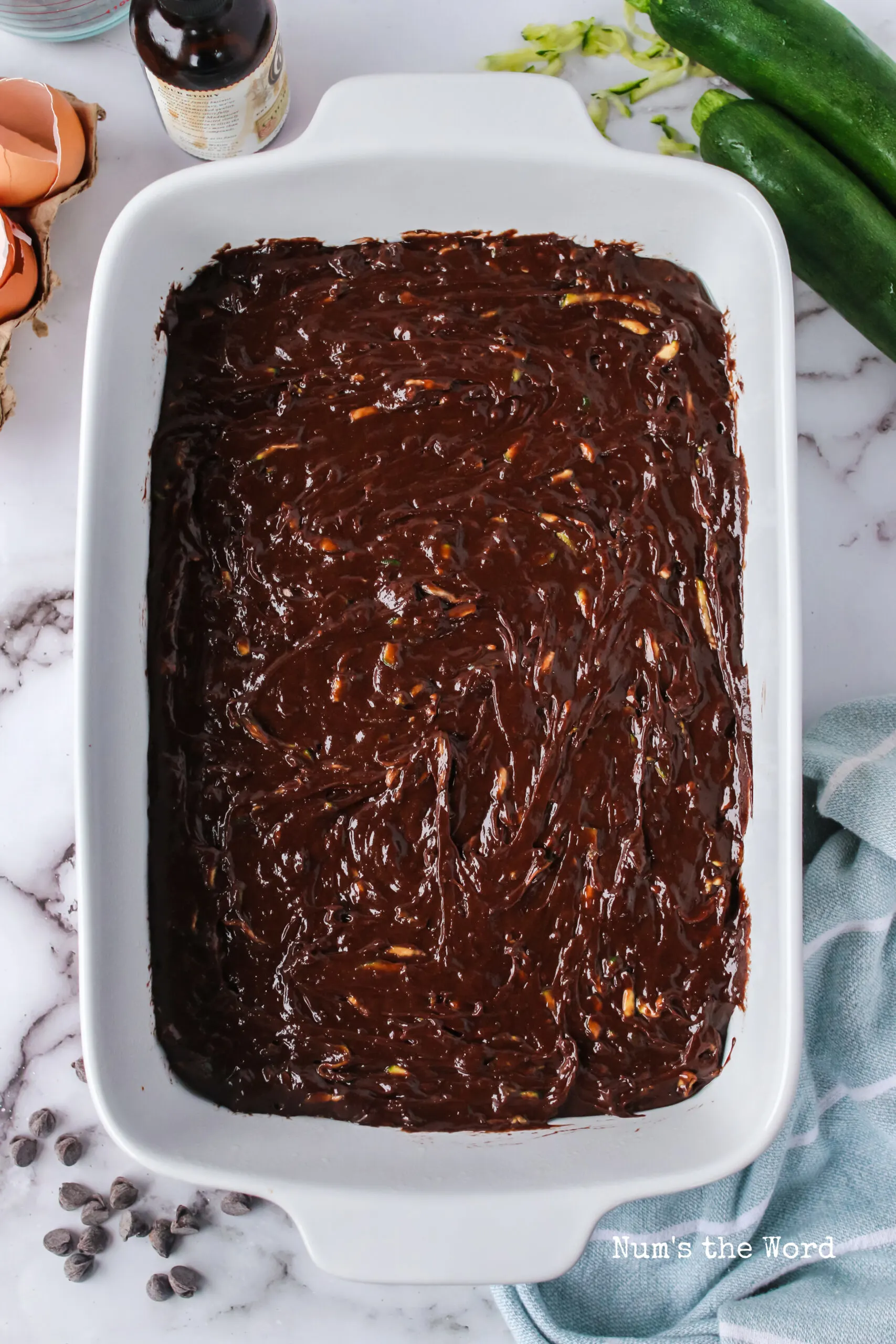 How to make chocolate zucchini cake?
Now that you've got all the ingredients you'll need to make this delicious chocolate cake, the next steps are pretty simple:
Preheat the oven and prepare a baking pan with nonstick spray.
Combine the dry ingredients and wet ingredients in a medium bowl and mix well.
Pour cake batter into your prepared cake pan or casserole dish.
Bake the cake until cooked through. Top should be springy and a toothpick inserted in the center should come out clean for best results!
Prepare the chocolate ganache while the cake cools.
Spread the prepared ganache over the cooled cake.
Serve and enjoy!
Pro Tip:
You can easily turn this into Chocolate Zucchini Bread by simply putting it into bread pans.
You can also turn it into cupcakes or muffins by placing the batter in muffin tins.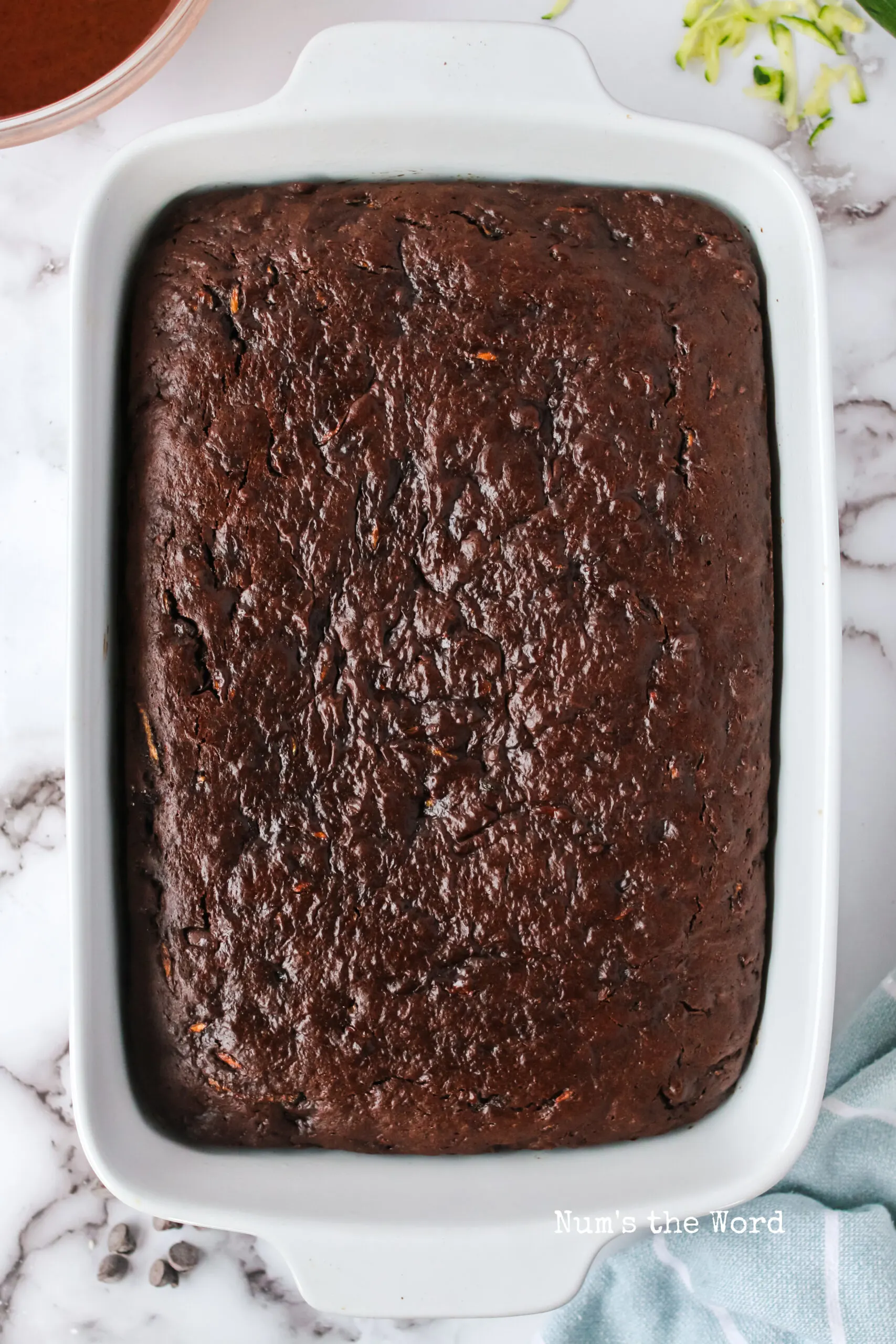 Can I add zucchini to chocolate cake mix?
Absolutely! As seen above, part of what makes this the BEST chocolate zucchini cake is the ease of using a cake mix and doctoring it up with a few household ingredients and pudding!
You can't beat the richness and moisture you'll get with the added zucchini. You also can't beat the ease of preparation when you use a box mix and add a few simple ingredients for the rich chocolate flavor without the extra work!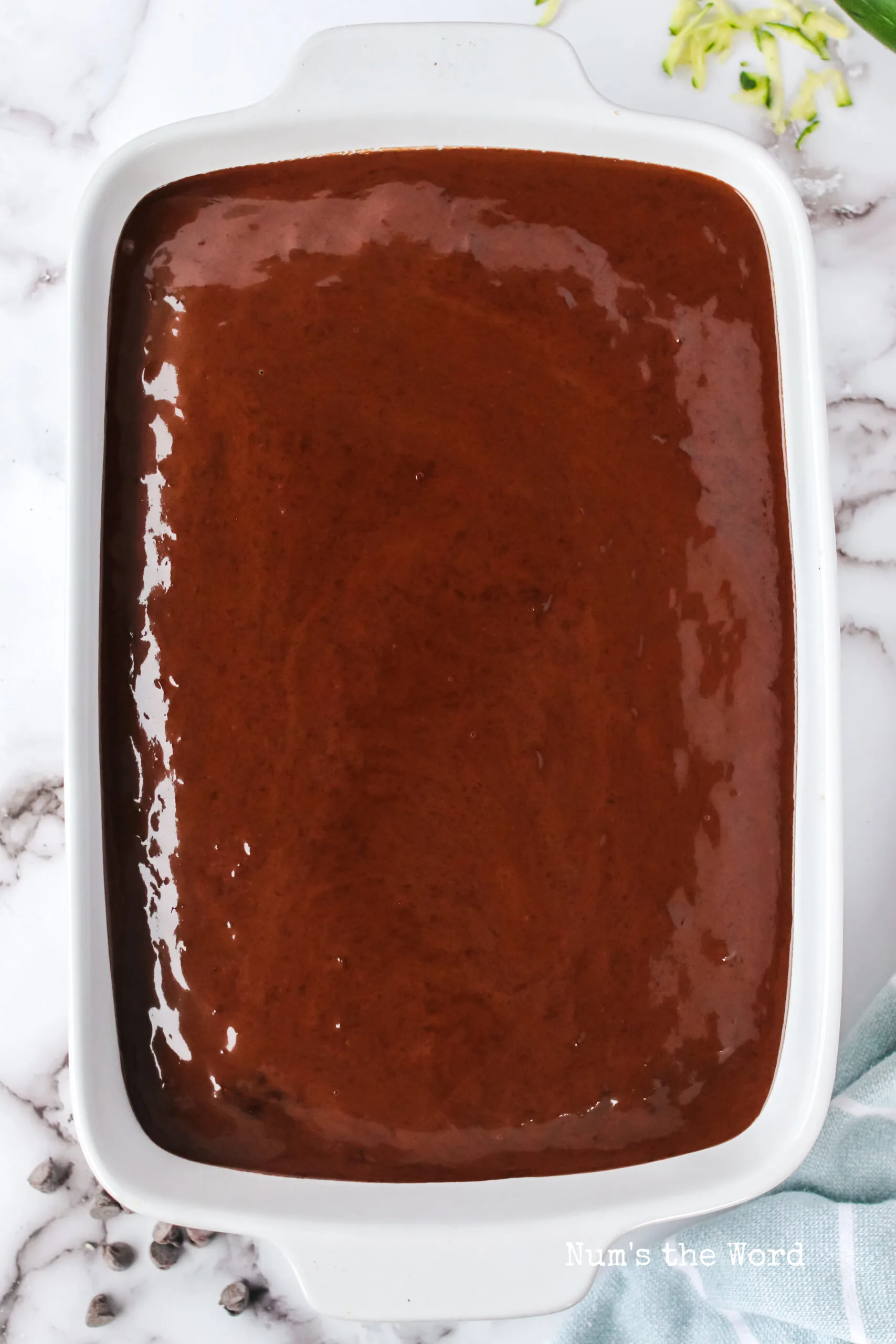 More doctored cake mix recipes: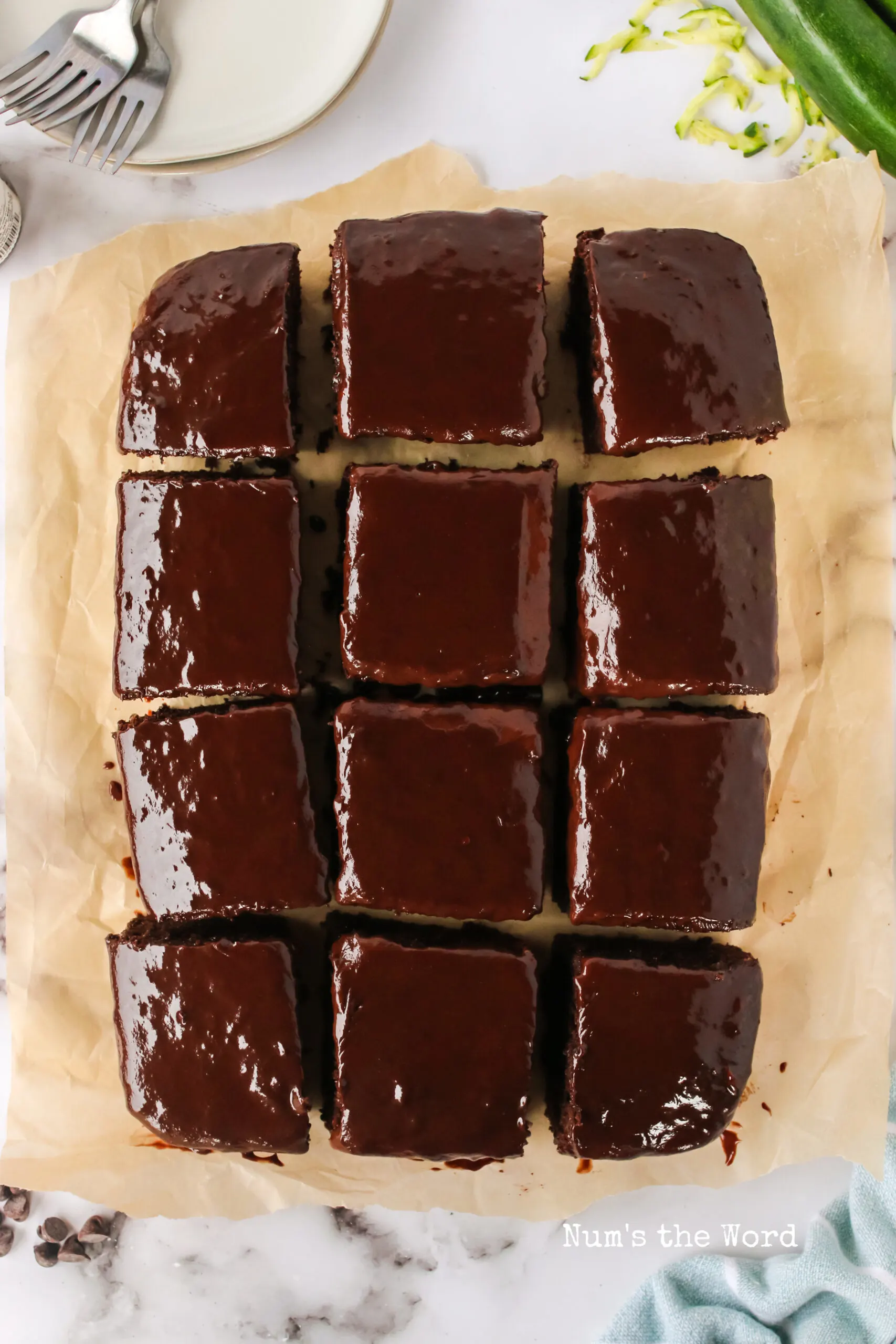 Why put zucchini in chocolate cake?
It may seem strange to add a garden vegetable to a cake, but there is some logic to it! Zucchini adds a lot of moisture (not to mention some nutrients) and helps to maintain the structure of the cake. Zucchini cake is also a great way to use up extra zucchini you have from your garden, and sneak in a few nutrients for picky kiddos (or adults)!
Does chocolate zucchini cake need to be refrigerated?
No, this zucchini cake recipe does not need to be refrigerated, but it will keep longer and stay more moist if you choose to store it in the fridge. But it's so delicious, it might not last long enough for it to matter!
While you can store this cake for 2-3 days at room temperature, you'll be able to store it for up to a week in the refrigerator. Pick the option that works best for you and your timeframe for finishing your yummy dessert!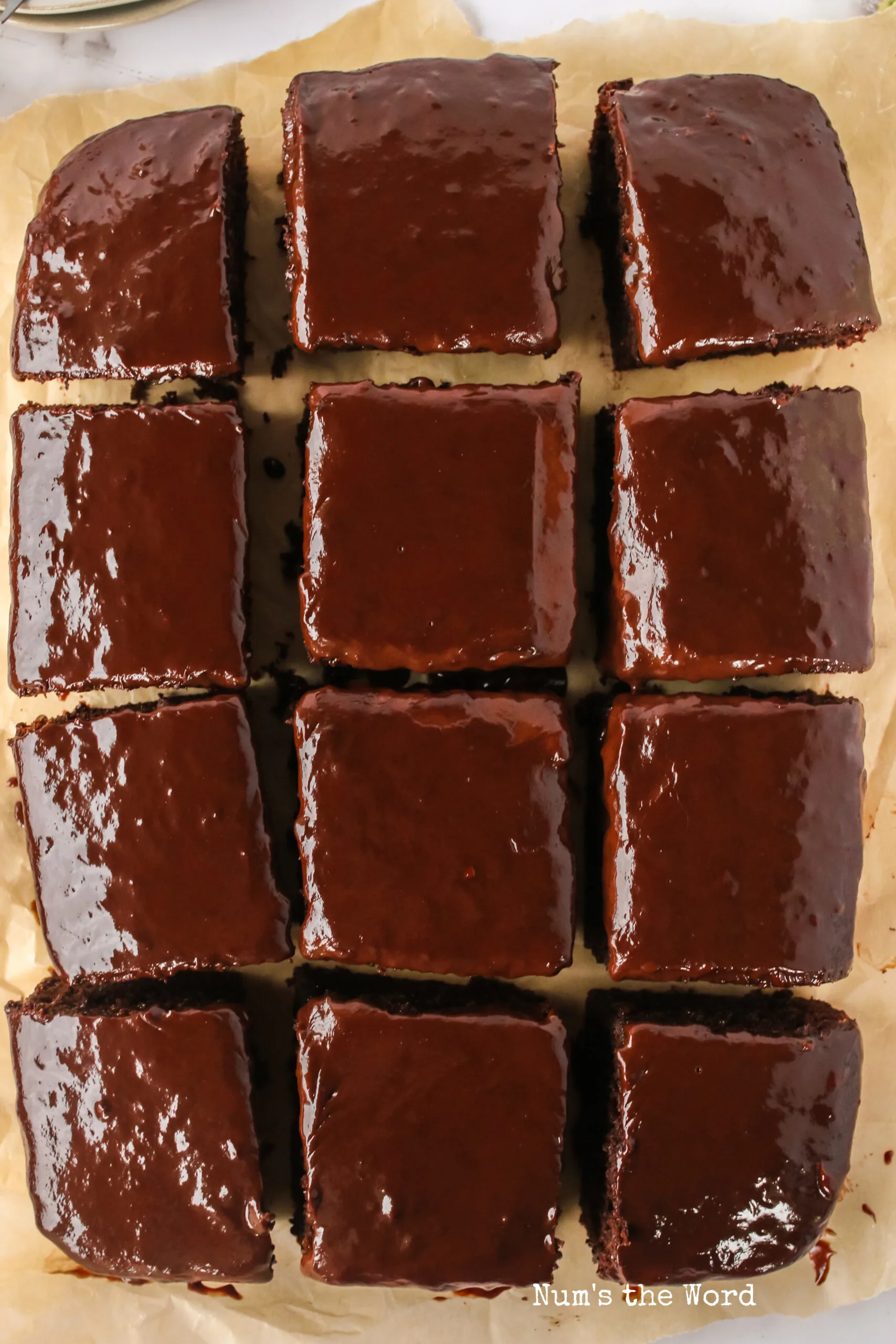 Can you freeze chocolate zucchini cake?
Definitely! In fact, if you want to make this cake ahead of time, or would like to make it layered instead of a sheet cake, or if you make it in a bundt pan, I recommend freezing it until you're ready to add the ganache.
Freezing the layers of a cake or a Bundt (wrapped in plastic wrap) makes them much easier to work with when it comes time to frost them. Not only that, but I think it keeps them even more moist, which when it comes to perfect chocolate cake that's a win!
I recommend freezing the cake without the ganache if possible. Prepare the ganache right before you want to serve the cake.
If you have too many leftovers, you can also freeze the frosted cake. I recommend freezing it in individual servings for easier thawing and snacking! Just let the frozen cake pieces sit out at room temperature for 15-20 minutes before you eat!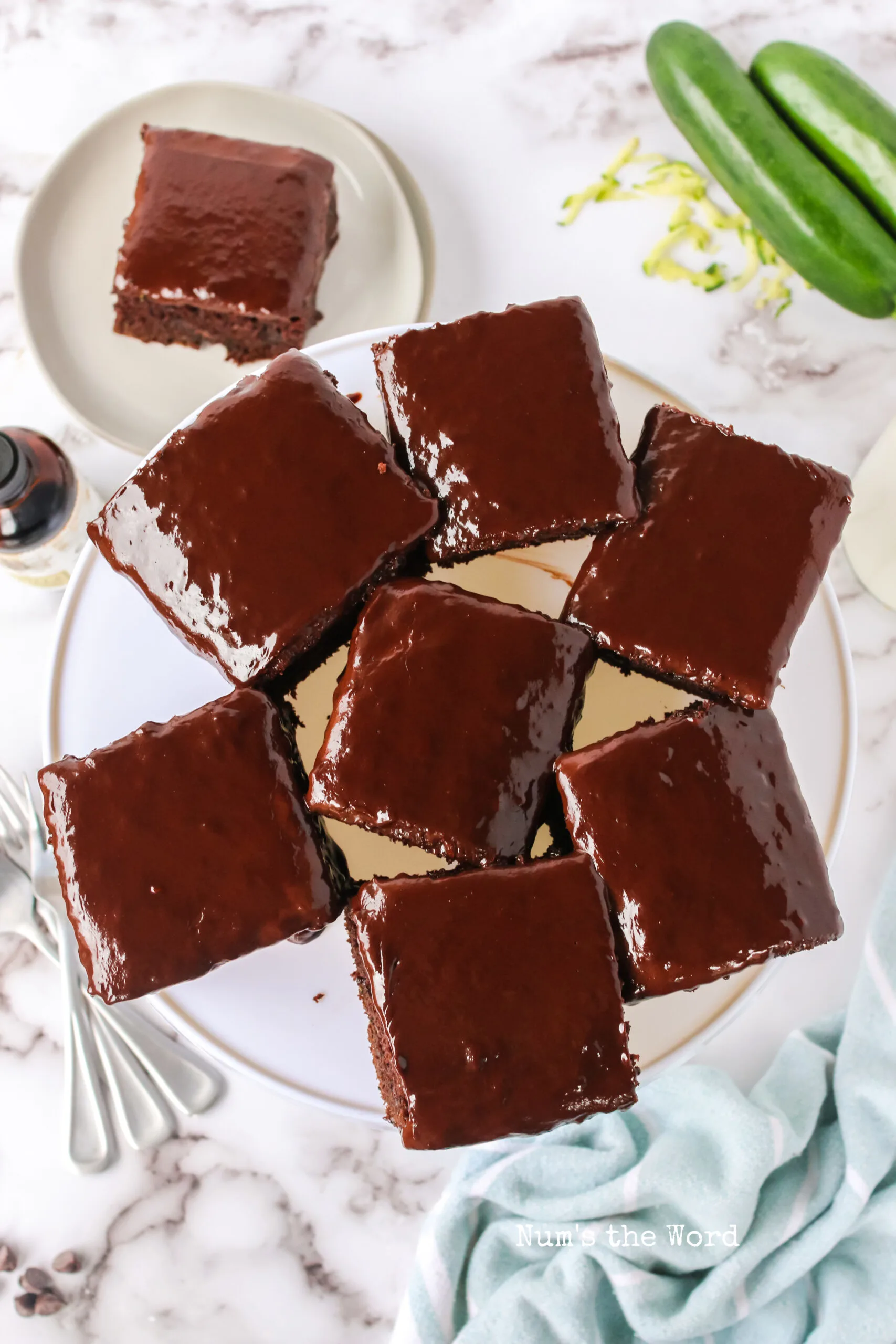 Is chocolate zucchini cake healthy?
Let's be real — it's still a cake. So no, it's not healthy. But it does have more nutrients than a regular chocolate cake would!
What to serve with chocolate zucchini cake?
This chocolate zucchini cake recipe is the perfect summer dessert. It's great for parties, entertaining friends or family, potlucks, baby or bridal showers, birthdays, and more. No one will ever know there's zucchini in the cake — you can't taste it and it's not even noticeable once the cake is cooked!
My family's favorite way to eat the best chocolate cake is with a tall glass of milk or a side of ice cream. Yum!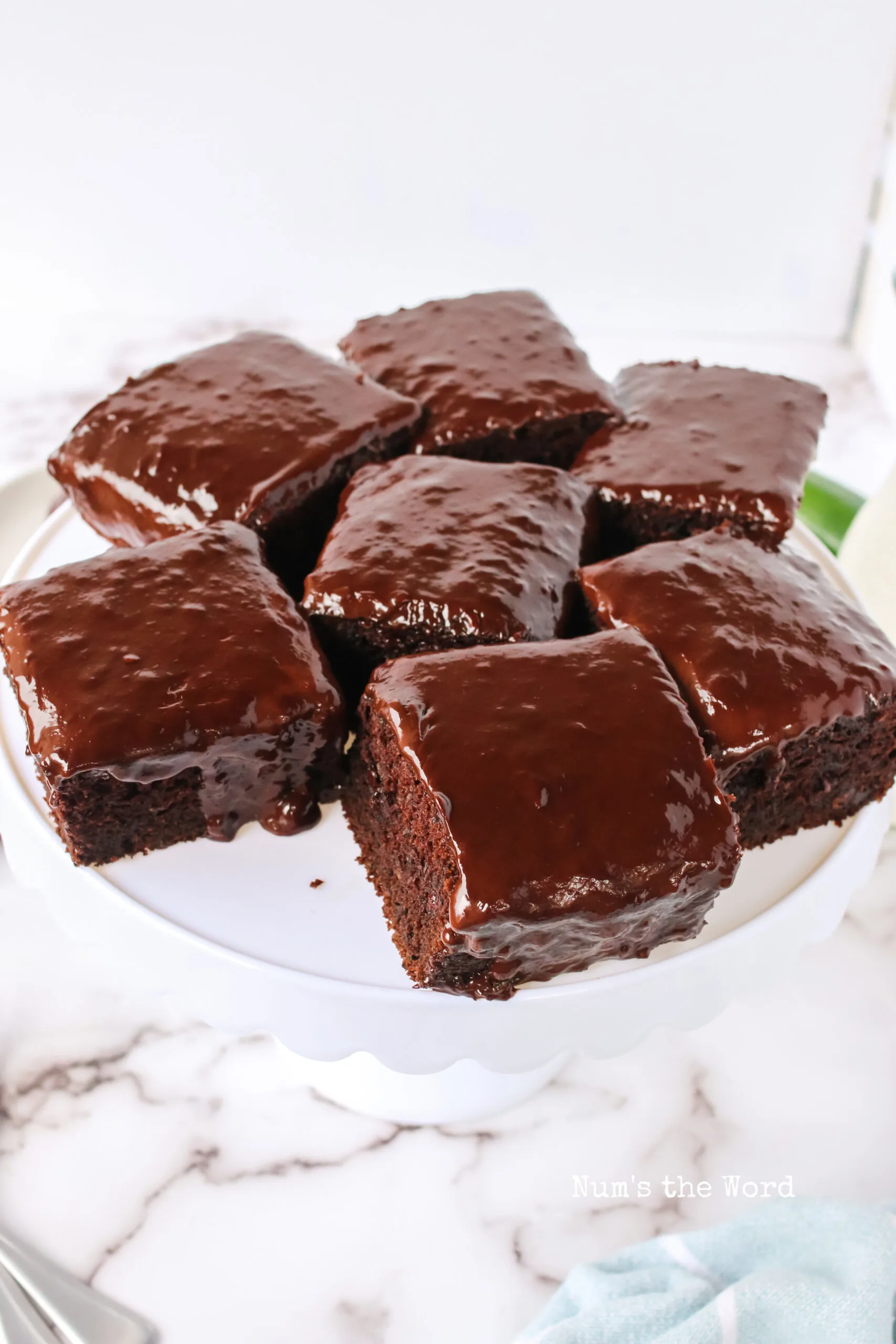 More chocolate recipes you'll love:
More cake recipes you'll love: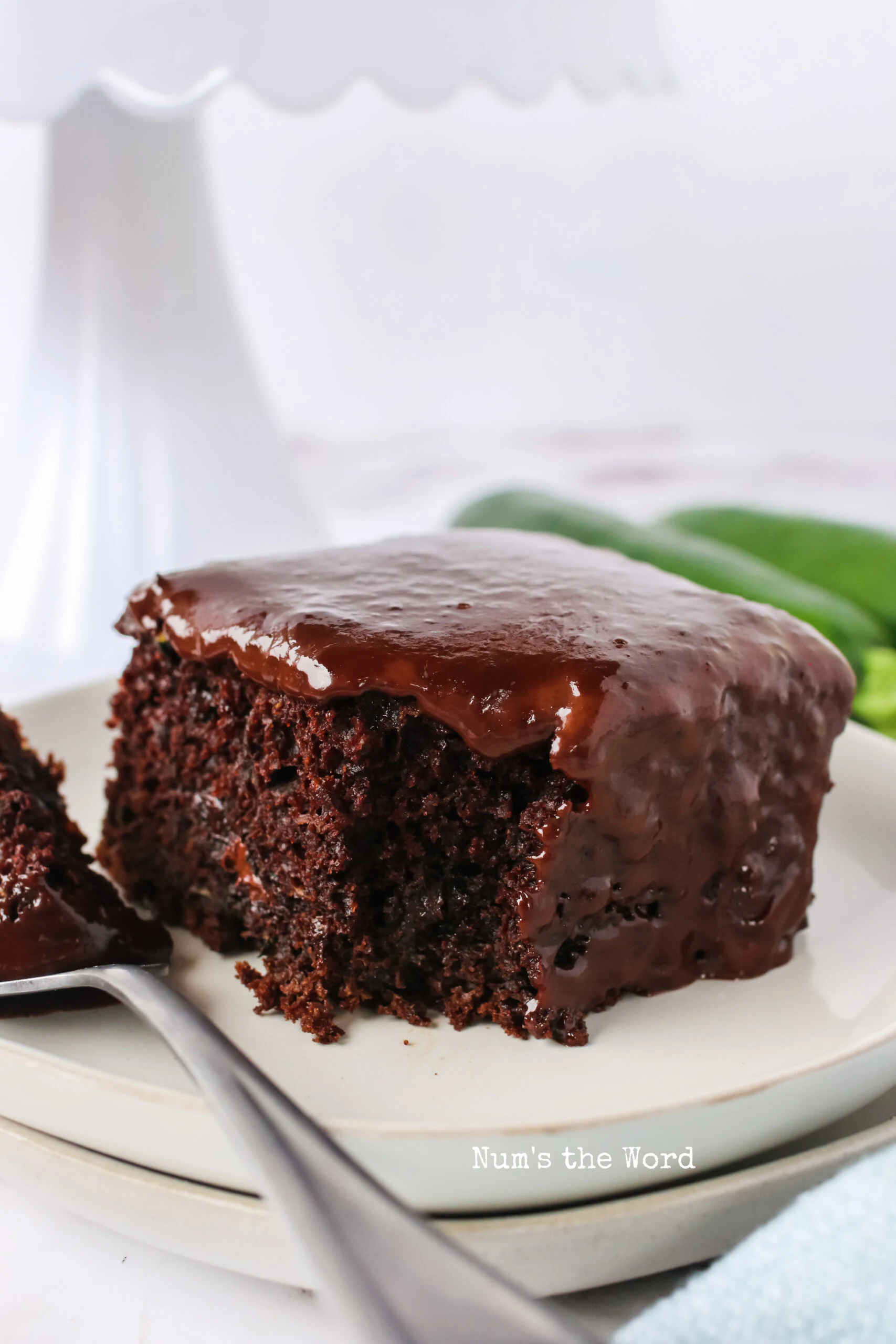 Whether you're looking for a way to use up a surplus of zucchini or you want to sneak a little nutrition into your kiddo's dessert or you just really, REALLY love zucchini, this is the recipe for you! It's a great dessert for parties, potlucks, picnics, or any summer event when the zucchini is ripe and plentiful. Enjoy!
Yield: 12 Servings
Chocolate Zucchini Cake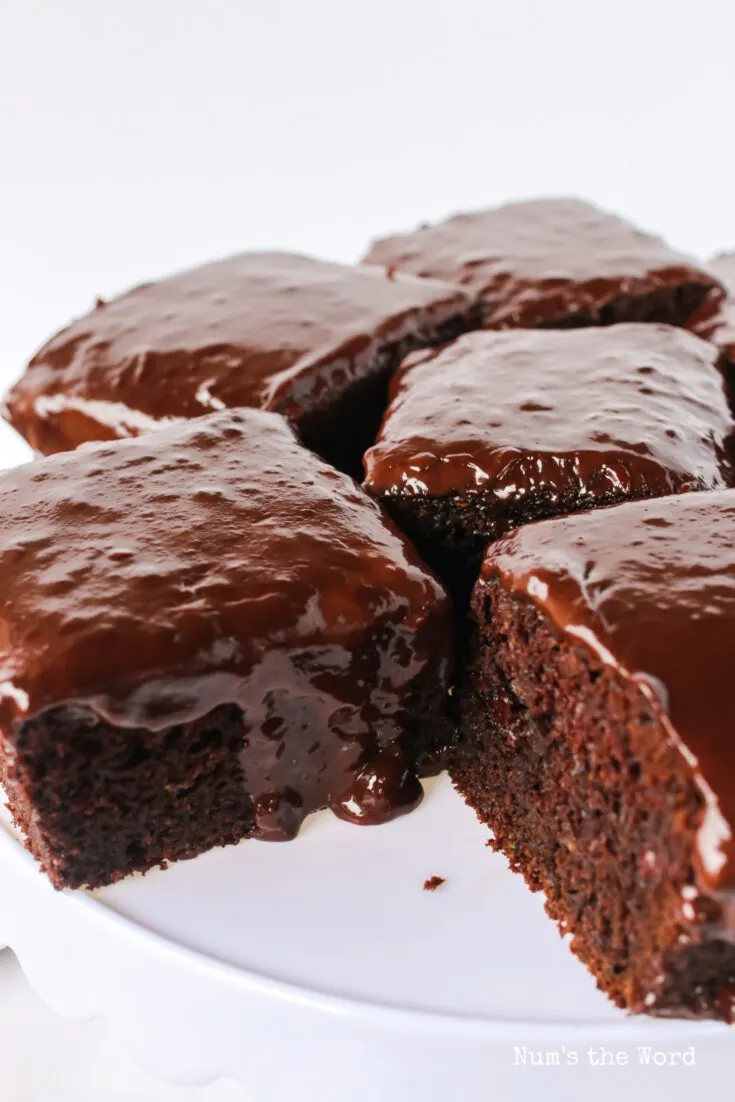 This Chocolate Zucchini Cake is a chocolate lover's dream! It's incredibly easy to make and a SUPER moist chocolate cake you can be proud of to serve to guests. Plus no one will guess there is zucchini hiding inside.
Ingredients
1 (15.5 ounce) chocolate cake mix
1 (5.9 ounce) box instant chocolate pudding mix (dry)
4 eggs
2 cups zucchini, shredded
3/4 cups vegetable oil
1 teaspoon vanilla extract
1 1/2 cups semi-sweet chocolate chips
1 cup heavy whipping cream
Instructions
Preheat oven to 350*F
Spray a 9x13 casserole dish with cooking spray. Set aside.
In a bowl combine cake mix, chocolate pudding, eggs, and zucchini, oil and vanilla. Mix well.
Add vanilla and ½ cup of chocolate chips.
Pour cake mix into prepared casserole dish and bake for 40 minutes or until an inserted toothpick comes out clean.
Remove and let cool.
As the cake is cooling, make chocolate ganache.
In a heatproof bowl, add chocolate chips and whipping cream.
Cook in the microwave in 20 second intervals, stirring well between each cooking session.
Continue to do this until the chocolate mixture is smooth and creamy.
Spread chocolate ganache over cake and cool completely.

Nutrition Information:
Yield:
12
Serving Size:
1
Amount Per Serving:
Calories:

498
Total Fat:

31g
Saturated Fat:

11g
Trans Fat:

1g
Unsaturated Fat:

18g
Cholesterol:

85mg
Sodium:

384mg
Carbohydrates:

54g
Fiber:

2g
Sugar:

32g
Protein:

6g