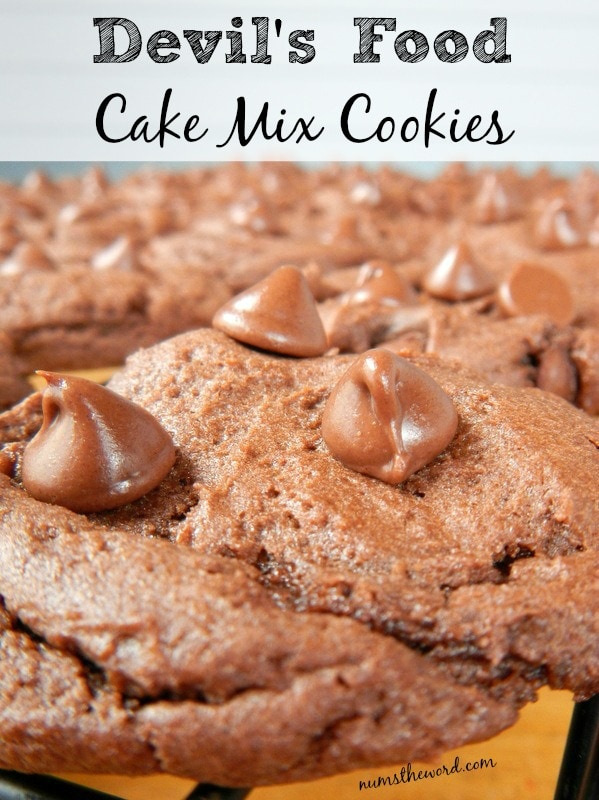 Once upon a time, a reader reached out to us and asked us if we had a recipe on our site for cake mix cookies. Sadly we did not. So what does a foodie do? Immediately make some of course! I whipped up these Devil's Food Cake Mix Cookies.
I figure if one person is asking, others might be thinking the same thing.
So here's the deal. These Devil's Food Cake Mix Cookies are soft, fluffy and stay that way for DAYS. They are unbelievably easy to make and taste fantastic.
In fact, thus far, I've yet to meet someone who didn't like these cookies. Every person who I had taste test them for me (and there were many!) all raved about them.
And the secret is that there are only 4 ingredient, one of which is a CAKE MIX.
Seriously, it doesn't get any easier than this. ANYONE can make these. ANYONE – which includes you.
These cookies are prefect for anyone who is in a pinch, doesn't typically bake or anyone who just likes soft cookies.
Give these a try and let me know what you think!
This post contains Amazon affiliate links as a free service to you!

Devil's Food Cake Mix Cookies
Ingredients
1 (18.75 ounce) Devils Food Cake Mix
1/3 cup oil
2 eggs
1 cup semi-sweet chocolate chips
Instructions
Preheat oven to 350*
Prepare a cookie sheet and set aside.
In a medium bowl combine cake mix, oil & eggs. Mix well.
Add chocolate chips and mix well.
Using a small cookie scoop, scoop out cookies onto prepared cookie sheet.
Bake for 8 - 10 minutes.
https://numstheword.com/devils-food-cake-mix-cookies/
Recipe adapted from: All Recipes
Items recommended for this recipe include…
Another Recipe We Think You'll Love…