This Belgian Waffle is light and fluffy on the inside but perfectly crispy on the outside! They taste great paired with both sweet and savory dishes!
All that syrup and all those deep pockets! YUM! This is a meal you'll inhale and feel full but just want to keep eating anyway.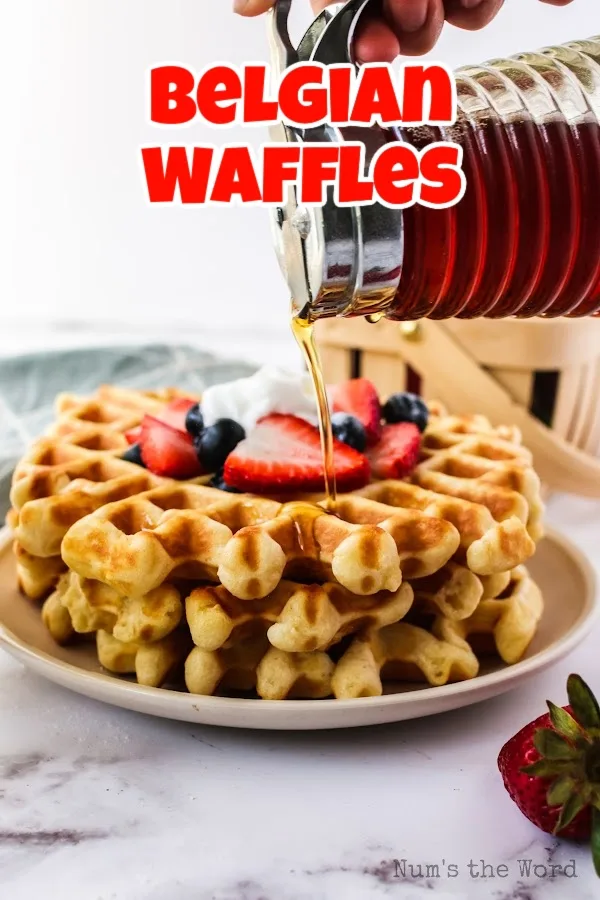 You'll love that Belgian waffles have simple ingredients. You probably already have everything you need on hand.
And this easy Belgian waffle recipe is just that! Easy! No complicated steps or fancy stuff allowed.
Of course, if you're making the best Belgian waffle recipe, it better be kid approved too. And you can bet this recipe is a huge hit with the kids!
Finally, these homemade Belgian waffles store really well! Which means you can have a quick and easy breakfast all week long!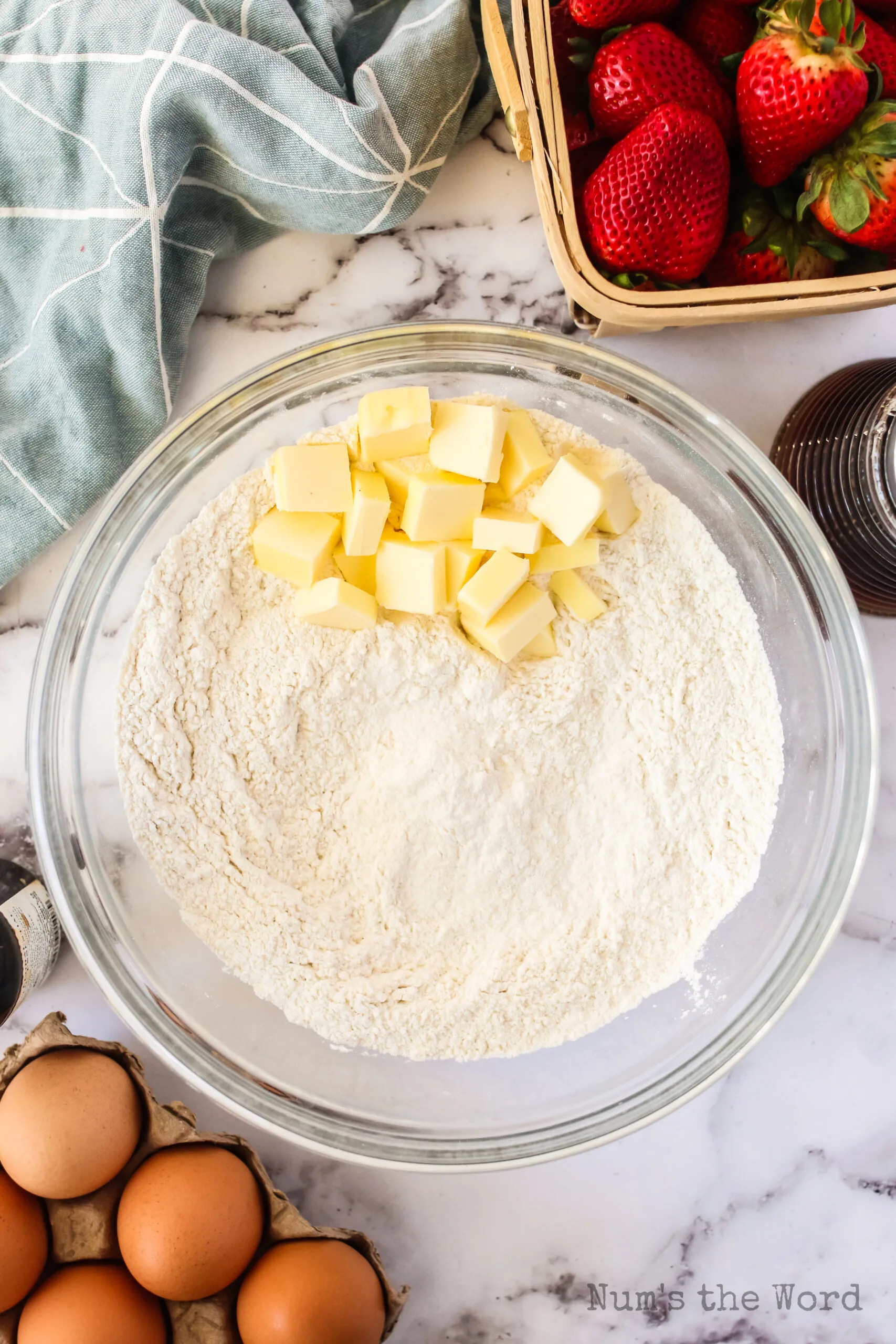 What is a Belgian Waffle?
The main difference between a Belgian waffle and a regular waffle is it's size. Belgian waffles are made on a specific waffle maker called a Belgian waffle maker.
It's a deeper waffle maker that allows your waffles to really expand. All those deep pockets are perfect for filling with maple syrup and your other favorite toppings.
Belgian waffle irons can be shaped in squares, circles, or rectangles.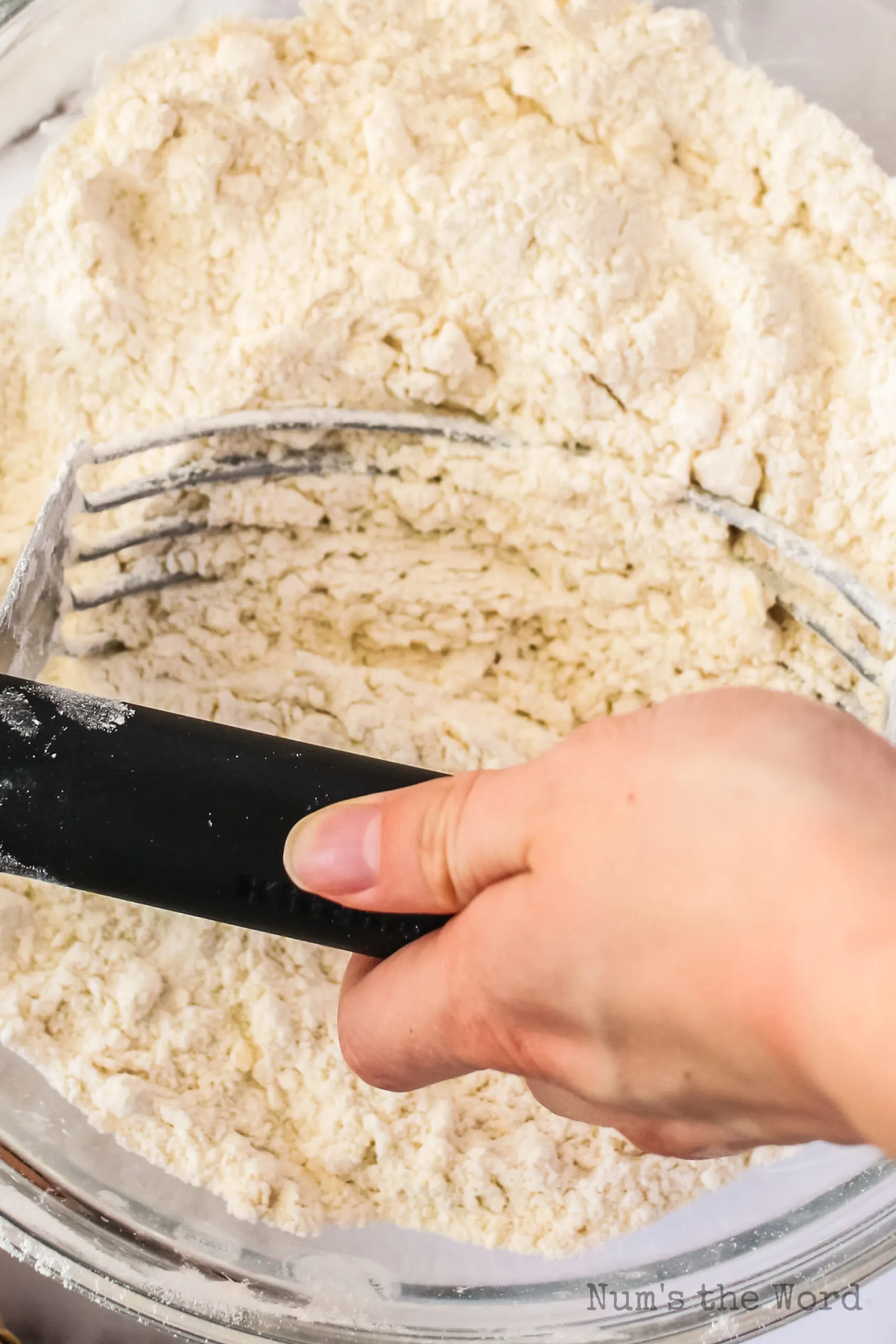 What Ingredients are in Belgian Waffles?
Get ready to grab some basic ingredients for this simple Belgian waffle recipe.
Flour: All purpose flour will help give your Belgian waffle the substance it needs.
Salt: The salt helps to bring out the flavor in the rest of the ingredients.
Sugar: A little sugar actually helps the golden waffles to crisp up on the outsides.
Baking Powder: Baking powder is what will help your Belgian waffle get that light and fluffy inside.
Butter: You'll want to cut your cold butter down to small pieces.
Milk: Any type of milk will work that you have on hand.
Vanilla: I love pure vanilla extract for its flavor!
Eggs: The eggs will hold everything together and also help the Belgian waffle mix to rise.
Pro Tip:
If you've got a large family, double the ingredients to make sure you've got enough batter for the best waffles!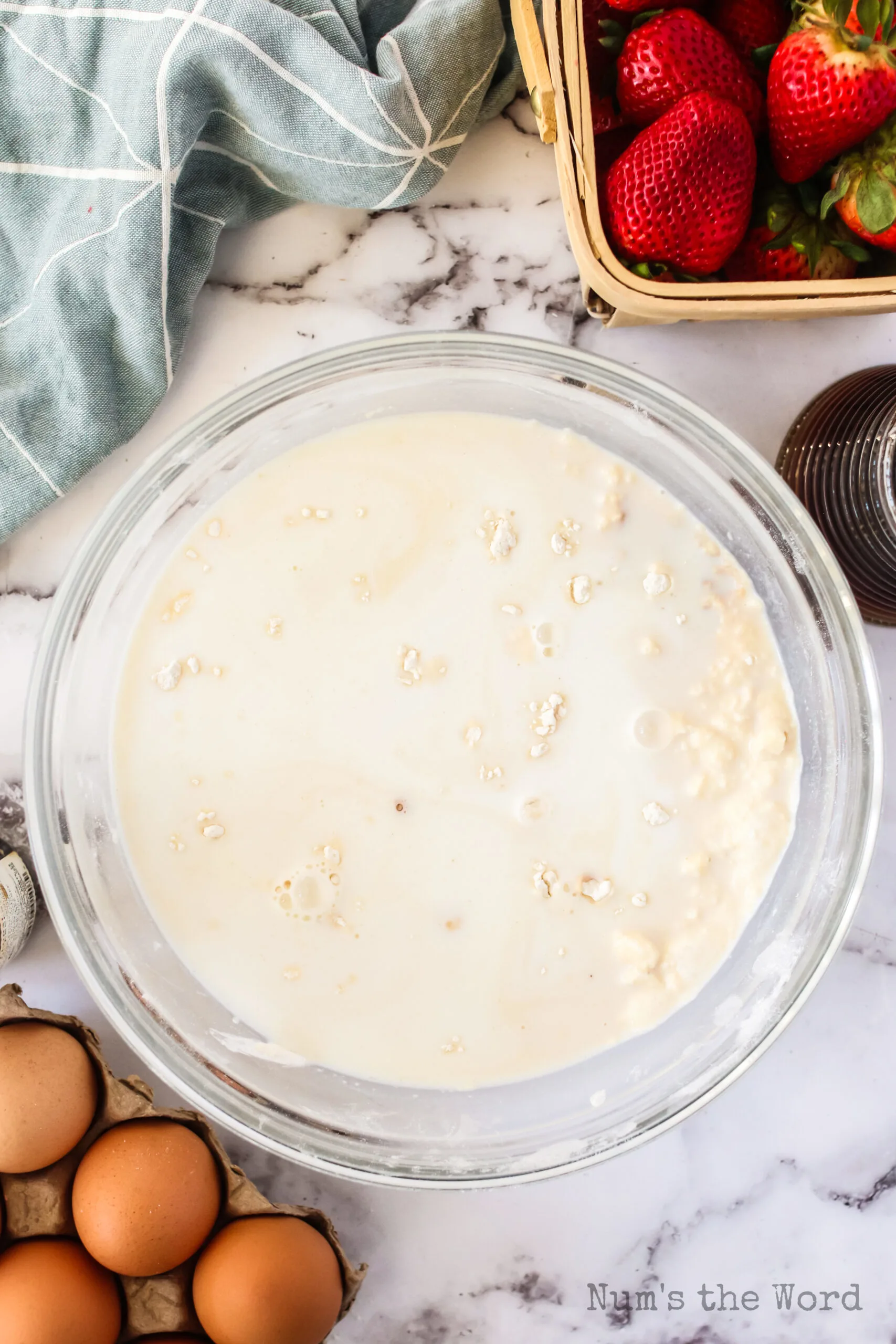 How to Make Belgian Waffles
Mix Dry Ingredients: Most recipes you mix the wet and add the dry but for a Belgian waffle you'll mix the dry first.
Add Wet Ingredients: It's easier to add all the wet ingredients if you use a pastry blender and mix in each ingredient well.
Cook: You'll want to cook the Belgian waffles in a hot waffle iron until golden brown.
Pro Tips:
How much Belgian waffle batter you need will depend on the size of your waffle iron. Usually between ⅓ – ½ cup will be needed.
If it's your first time cooking on the waffle iron, use less batter until you know how much you need.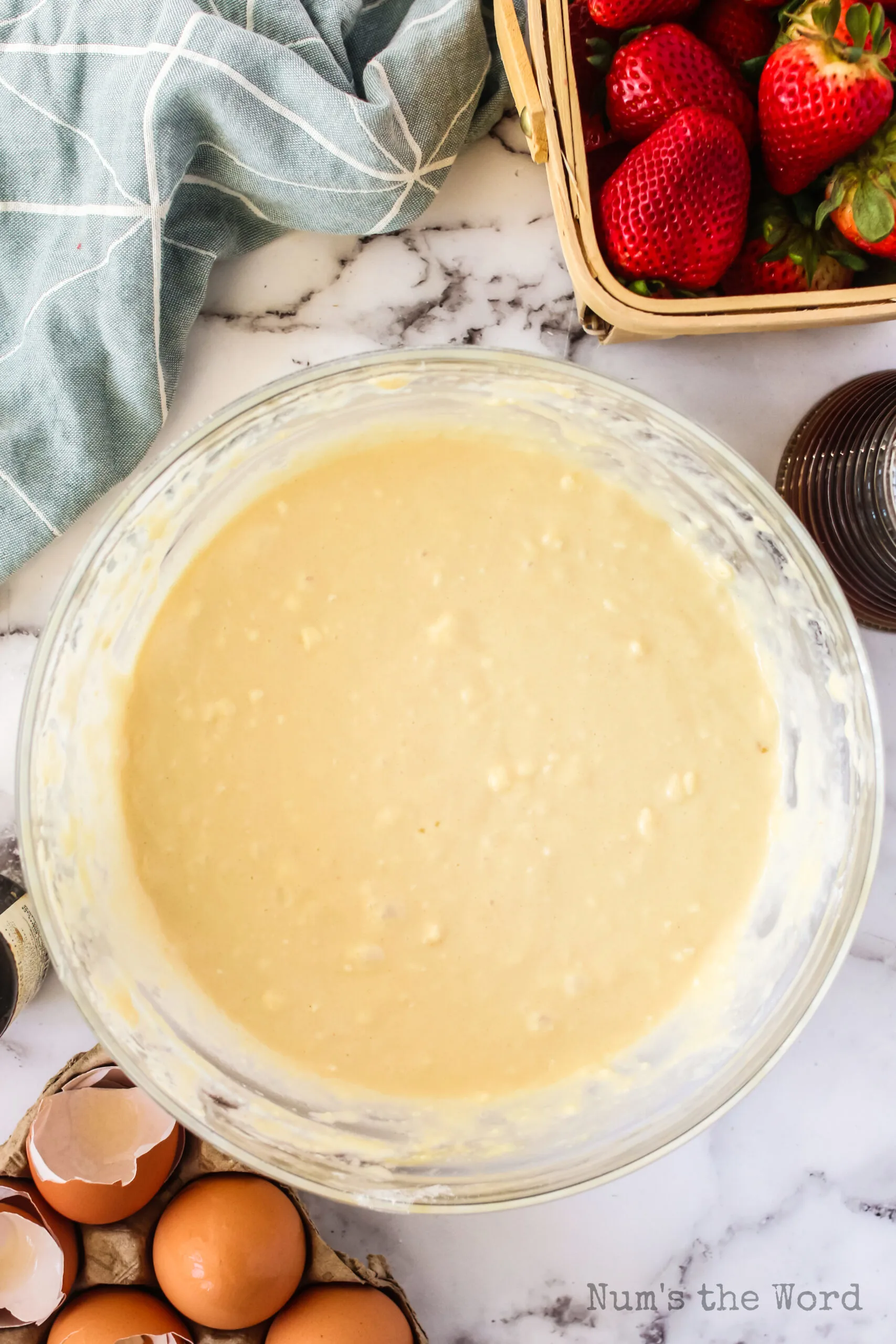 How to Keep Belgian Waffles Warm
Here's my favorite trick to keep your authentic Belgian waffles warm while you are cooking the rest.
Preheat your oven to its lowest setting. Once it gets there, you can shut it off.
Place a baking sheet in the oven with a wire rack inside.
The wire rack will keep air circulating under the waffles which keeps them warm and helps keep them crisp.
Pro Tips:
Open and shut the oven quickly when you add a fresh waffle to prevent heat from escaping.
Don't keep the oven on as it will continue to cook the waffles and make them too crispy.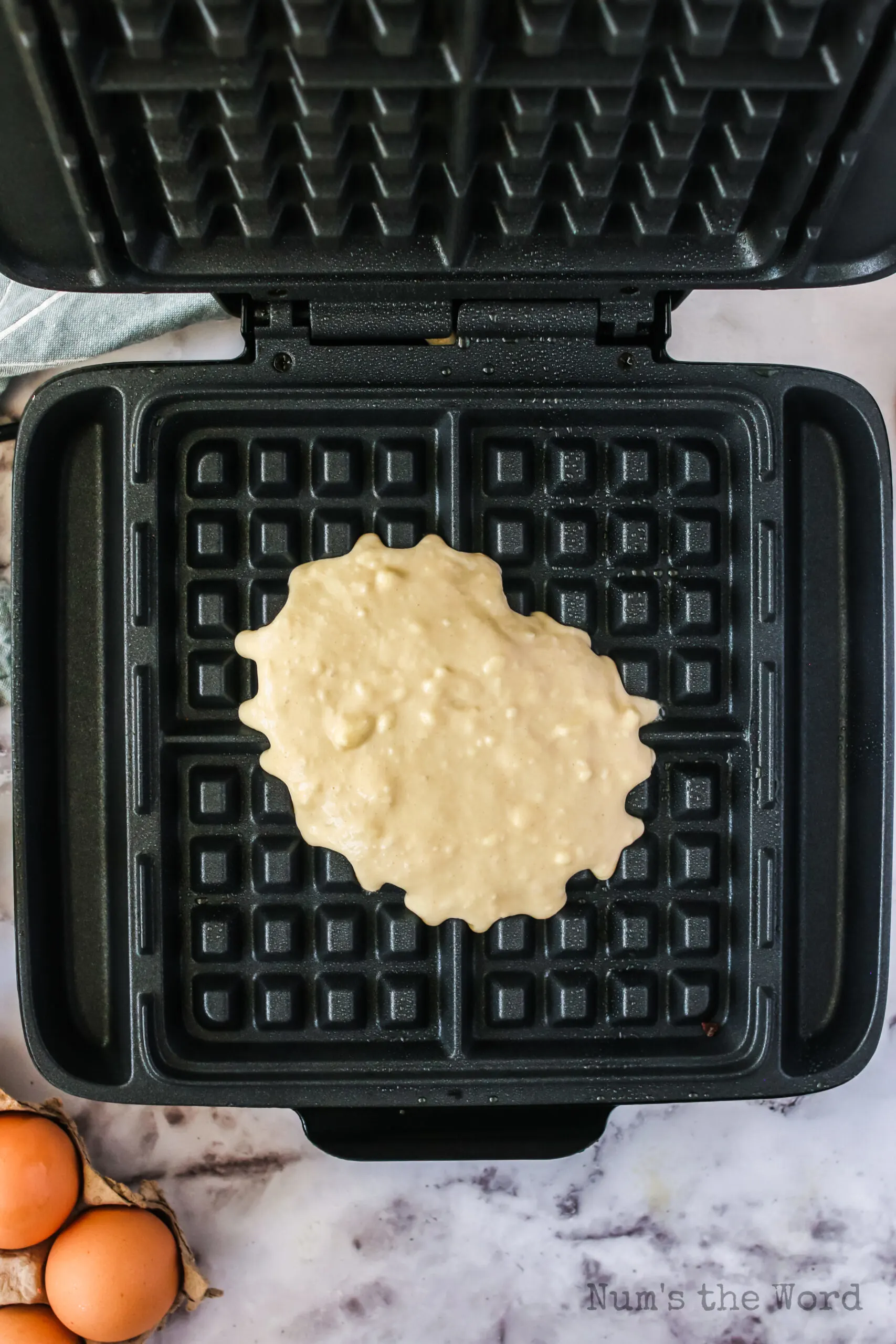 How to Clean Belgian Waffle Maker
First, allow the Belgian waffle iron to cool completely before beginning to clean up. In most cases, the waffle maker can then be wiped with a damp paper towel to clean up any spills.
As they are typically non stick waffle makers, it makes them easy to clean up. Dry thoroughly before storing.
If you have a very stubborn spot, just pour a small amount of cooking oil onto the drip and allow it to soak. The vegetable oil will soften the drip, making it easy for you to wipe right off.
If your Belgian waffle maker has removable plates, take them out of the waffle iron and clean with soap and water. Dry any removable plates completely before putting them back into the waffle maker.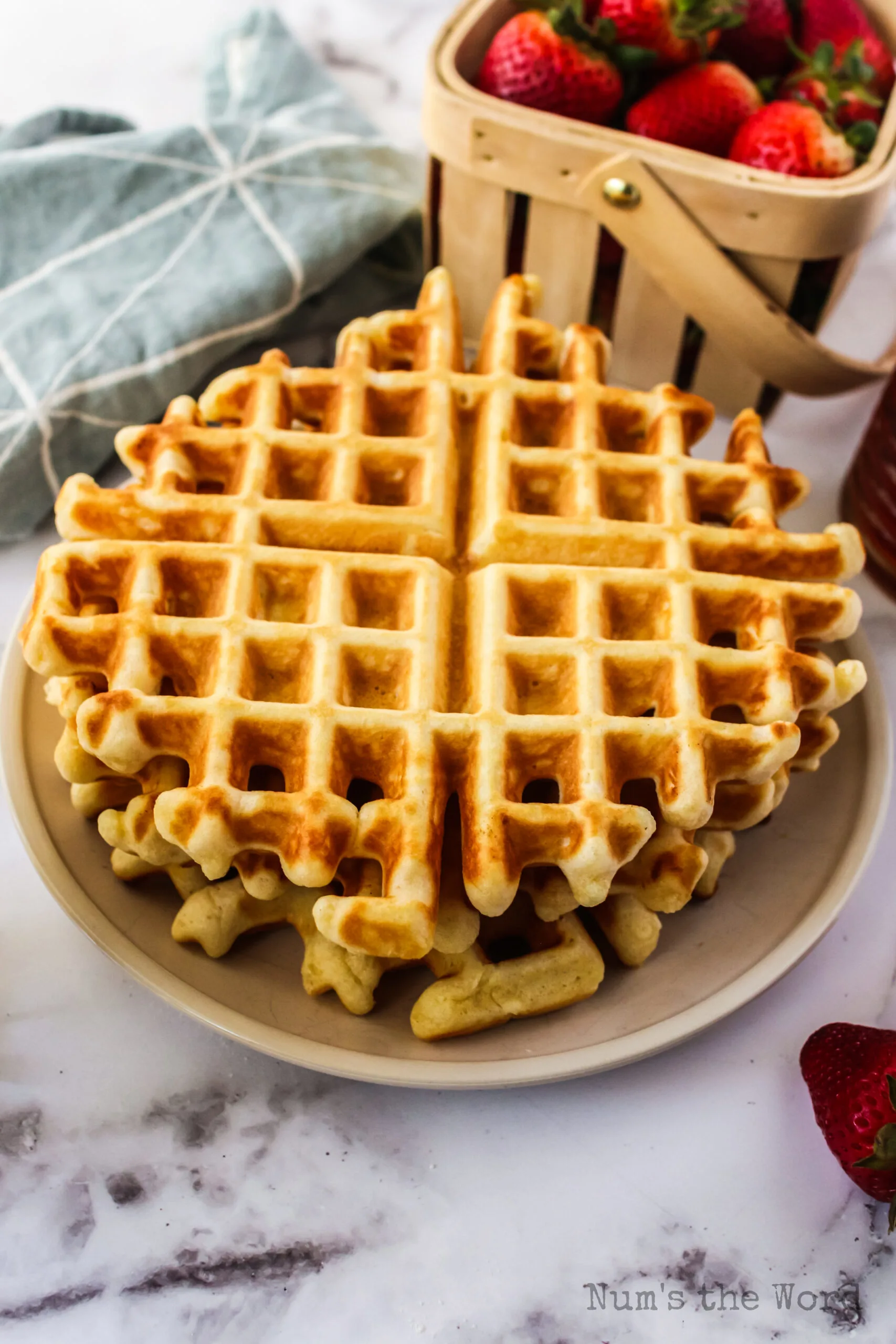 Are Belgian Waffles Vegan?
Good question! No, this Belgian waffles recipe is not vegan. Easy Belgian waffles call for milk, butter, and eggs, all of which are not vegan friendly.
You could substitute the milk for a nut milk such as almond milk. You could also substitute the butter for another fat such as margarine-though I'm not a huge fan of that flavor.
And eggs you could try an egg substitute such as flax eggs. I personally haven't tried these substitutions however and I'm not sure how the homemade waffles would turn out.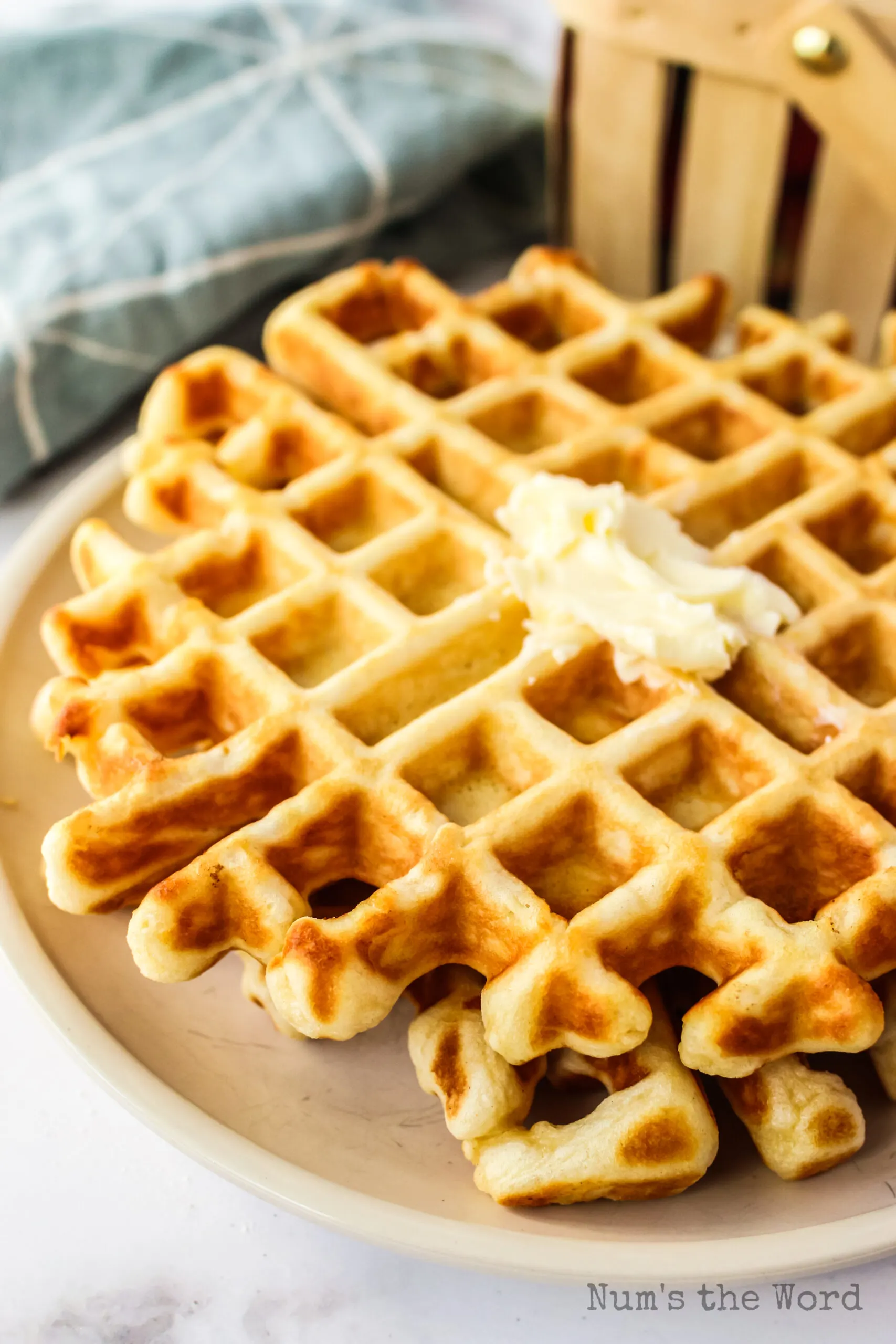 How to Store Belgian Waffles
You can keep any leftover Belgian waffles in your fridge or freezer. Be sure to allow the Belgian waffles to cool completely. Then place them in an airtight bag or container.
You can store the waffles in the fridge for up to 3 days and in the freezer for up to 3 months.
How to Reheat Belgian Waffles
You'll want to reheat the leftover waffles so that they maintain their crispness.
That means, the microwave is out as it will soften them and while they're still light and fluffy, you'll miss that crispy outside.
Instead, preheat the oven to 350 degrees and cover a baking sheet with parchment paper. Cook for 10 minutes or until heated through.
You can also take the Belgian waffles straight from the fridge or freezer to the toaster if your toaster is wide enough.
Just pop them in and you've got yourself a super quick breakfast!
Our personal favorite though is our toaster oven. Big enough to cook 1-2 waffles at a time and they come out yummy and crispy every time!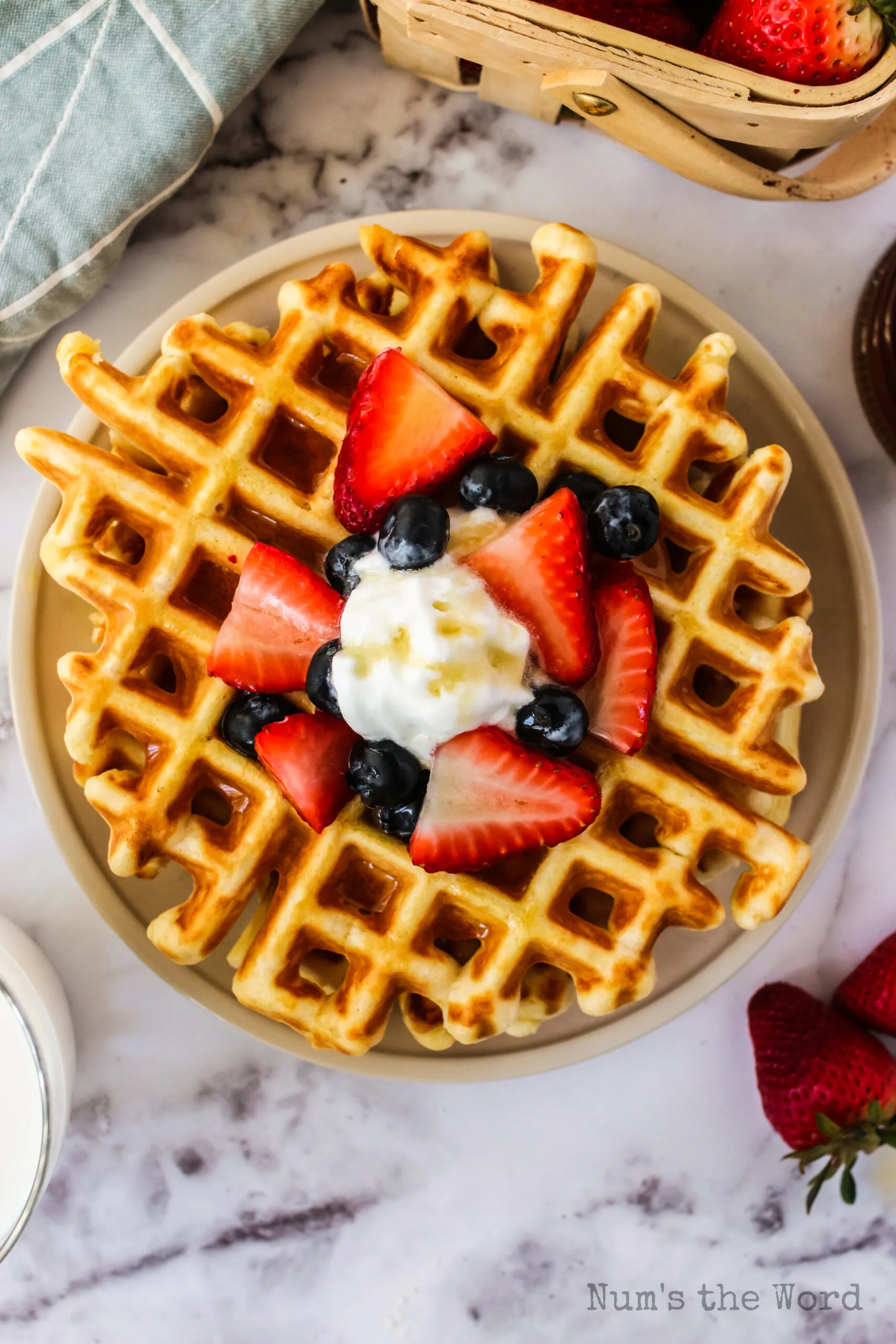 Belgian Waffle Toppings
Here's some delicious topping ideas for Belgian waffles!
Pure Maple Syrup
Fresh Fruit (Fresh strawberries or fresh berries)
Peanut Butter
Whipped Cream
Nutella
Ice Cream (This really is more of a dessert idea!)
Melted Butter
Sliced Bananas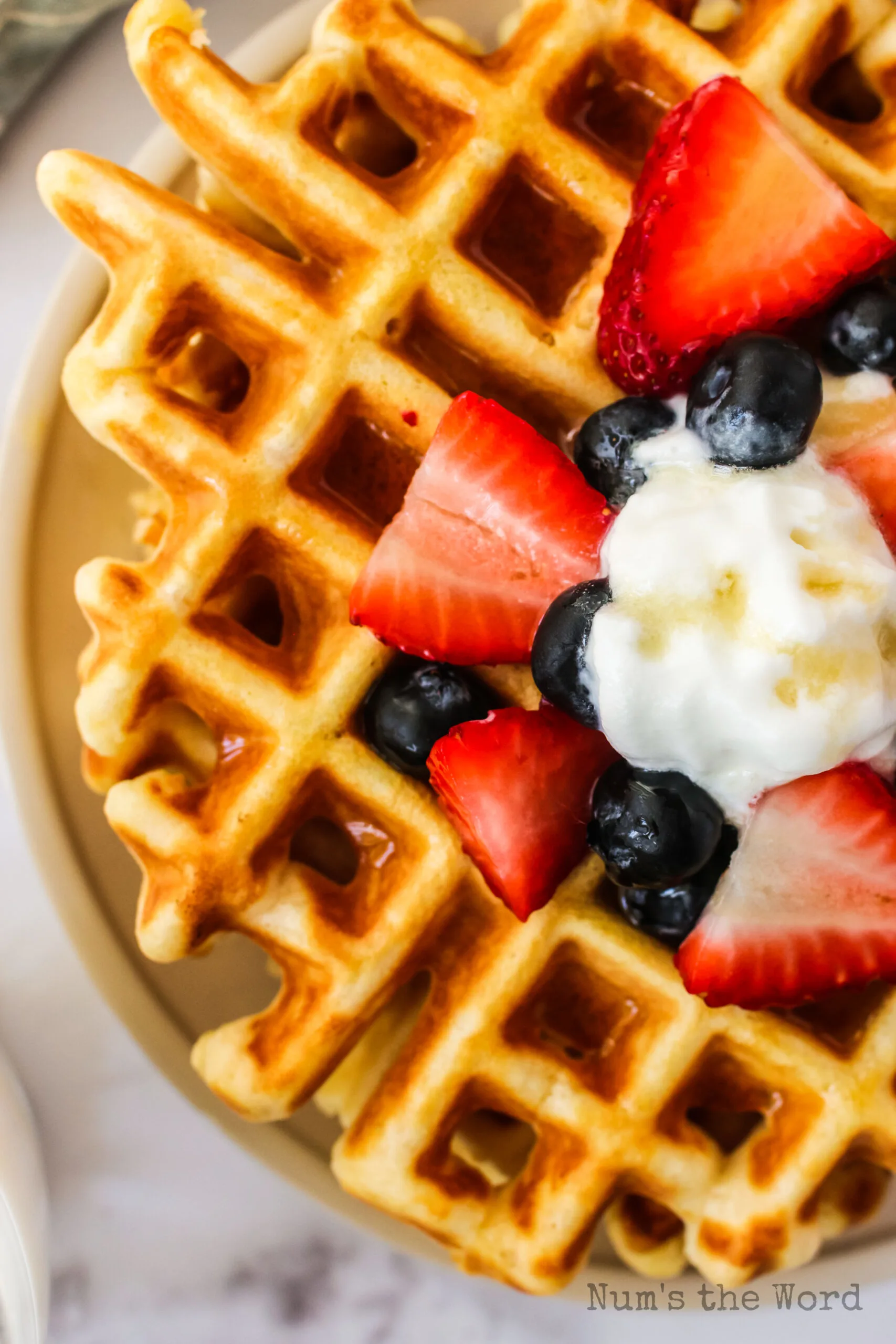 More Breakfast Recipes You'll Love…
Belgian waffles are a yummy and easy breakfast that is a crowd favorite! Whip up a batch this weekend and enjoy them all week for the most important meal of the day!
Yield: 4 Waffles
Homemade Fluffy Belgian Waffles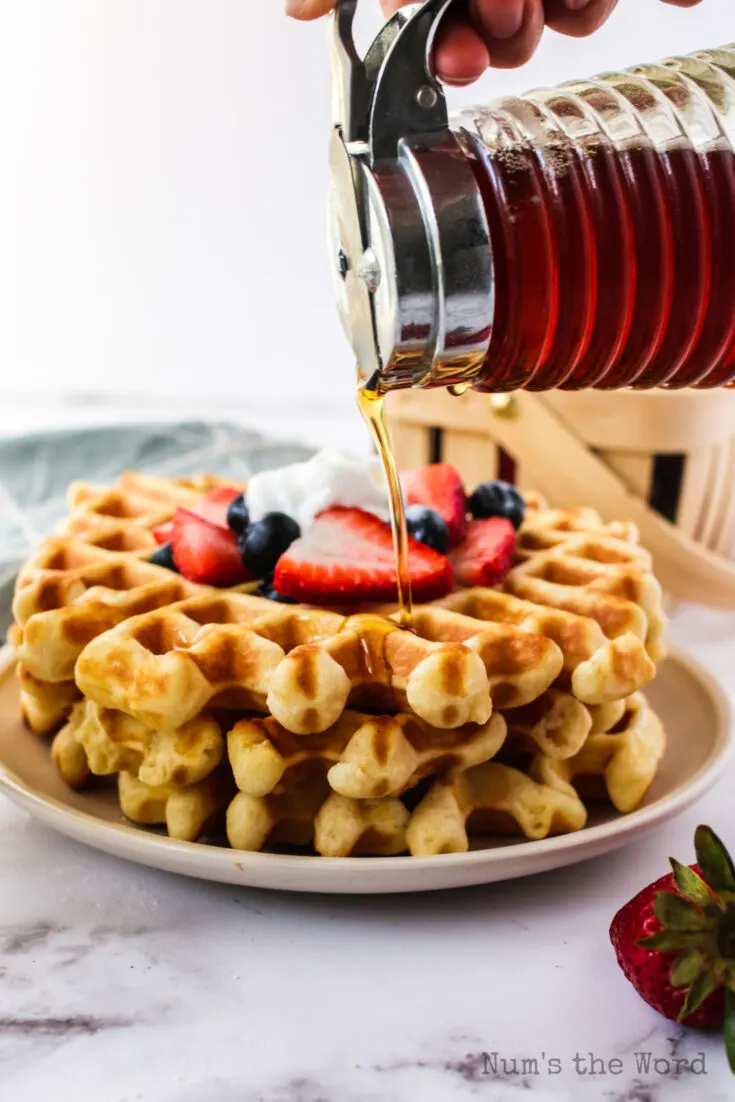 This Belgian Waffle is light and fluffy on the inside but perfectly crispy on the outside! They taste great paired with both sweet and savory dishes!
Ingredients
2 cups all-purpose flour
1 teaspoon salt
2 Tablespoons white sugar
4 teaspoons baking powder
6 Tablespoons butter, cold, cut into 1 Tablespoons chunks
1 1/2 cups milk
1 teaspoon vanilla extract
3 eggs, whole
Instructions
In a mixing bowl add flour, salt, sugar and baking powder. Mix well.
Add butter.
Using a pastry blender, mix butter and flour mixture until well blended and powdery.
Add milk & vanilla and hand mix.
Add eggs, one at a time, and mix well.
Preheat Belgian waffle maker.
Place ⅓ cup - ½ cup of batter in waffle iron and cook according to iron's directions.
Once cooked, serve with your favorite toppings such as fresh fruit, butter, syrup, whipped cream etc..
Nutrition Information:
Yield:
4
Serving Size:
1
Amount Per Serving:
Calories:

524
Total Fat:

24g
Saturated Fat:

14g
Trans Fat:

1g
Unsaturated Fat:

9g
Cholesterol:

197mg
Sodium:

1341mg
Carbohydrates:

60g
Fiber:

2g
Sugar:

11g
Protein:

16g