If you've never had Swedish pancakes, you'll quickly learn they are a cross between a pancake and a crepe. These are certain to become a family favorite for breakfasts, brunches and everything in between.
They're quick and easy to make with minimal cleanup because all you need to do to make the batter is throw the ingredients in a blender!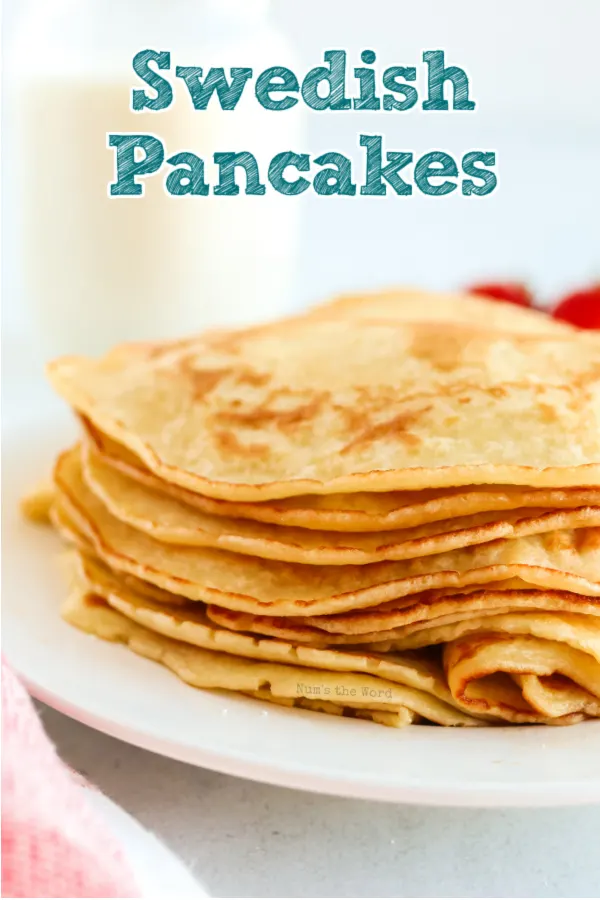 I love anything covered in fresh berries and slathered in fresh whipping cream, and these Swedish pancakes are the perfect canvas for both!
If you're looking to change things up, give these delicious Swedish pancakes a spot in your next breakfast, brunch, or brinner rotation! I'm sure your family will love them as much as we do.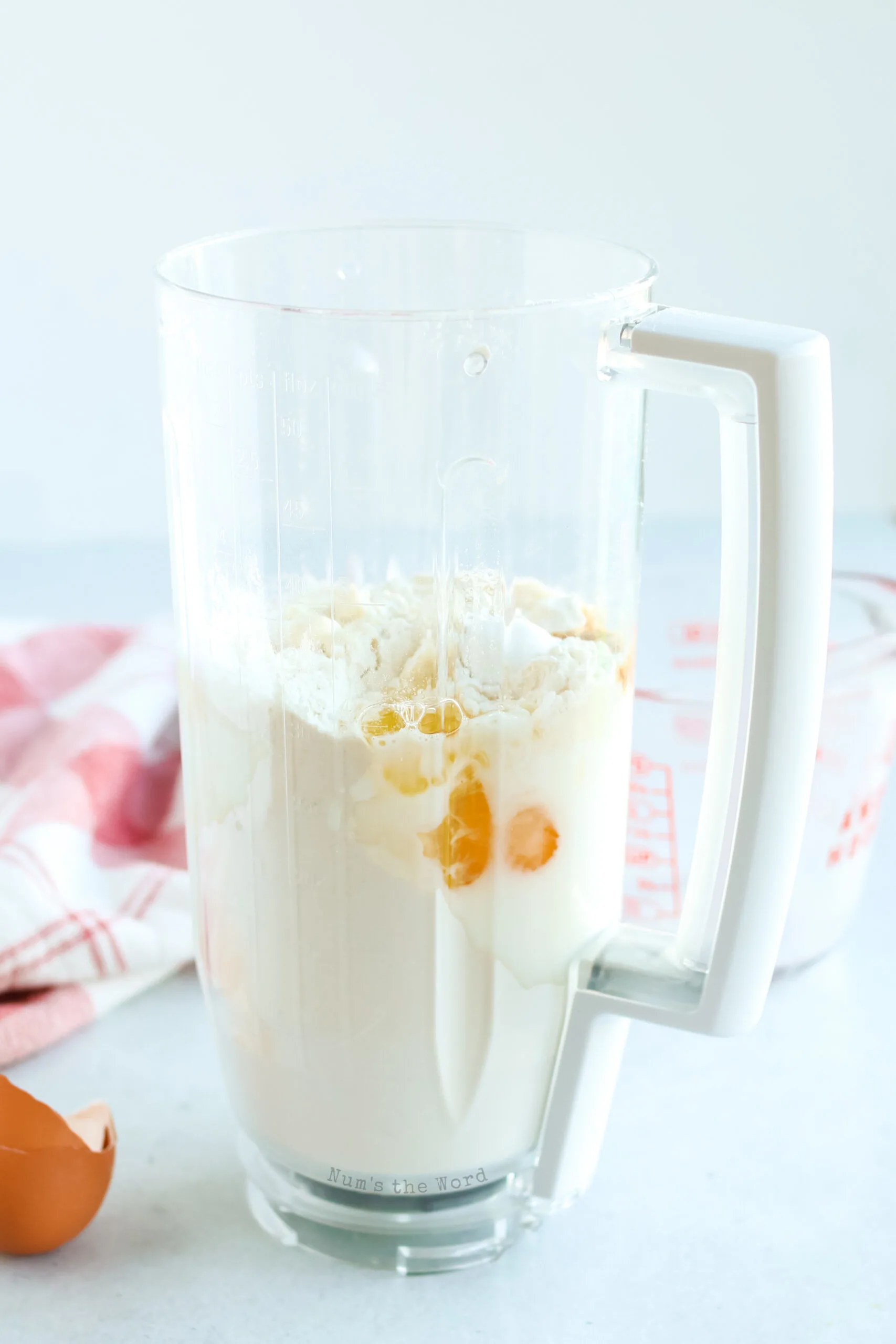 What are Swedish pancakes?
Swedish pancakes, or pannkaka, are most similar to crepes. They are flat, pan fried cakes that are slightly thicker than a crepe, but thinner and with much less leavening than a regular pancake.
Swedish pancakes have a higher milk to flour ratio than traditional American pancakes do.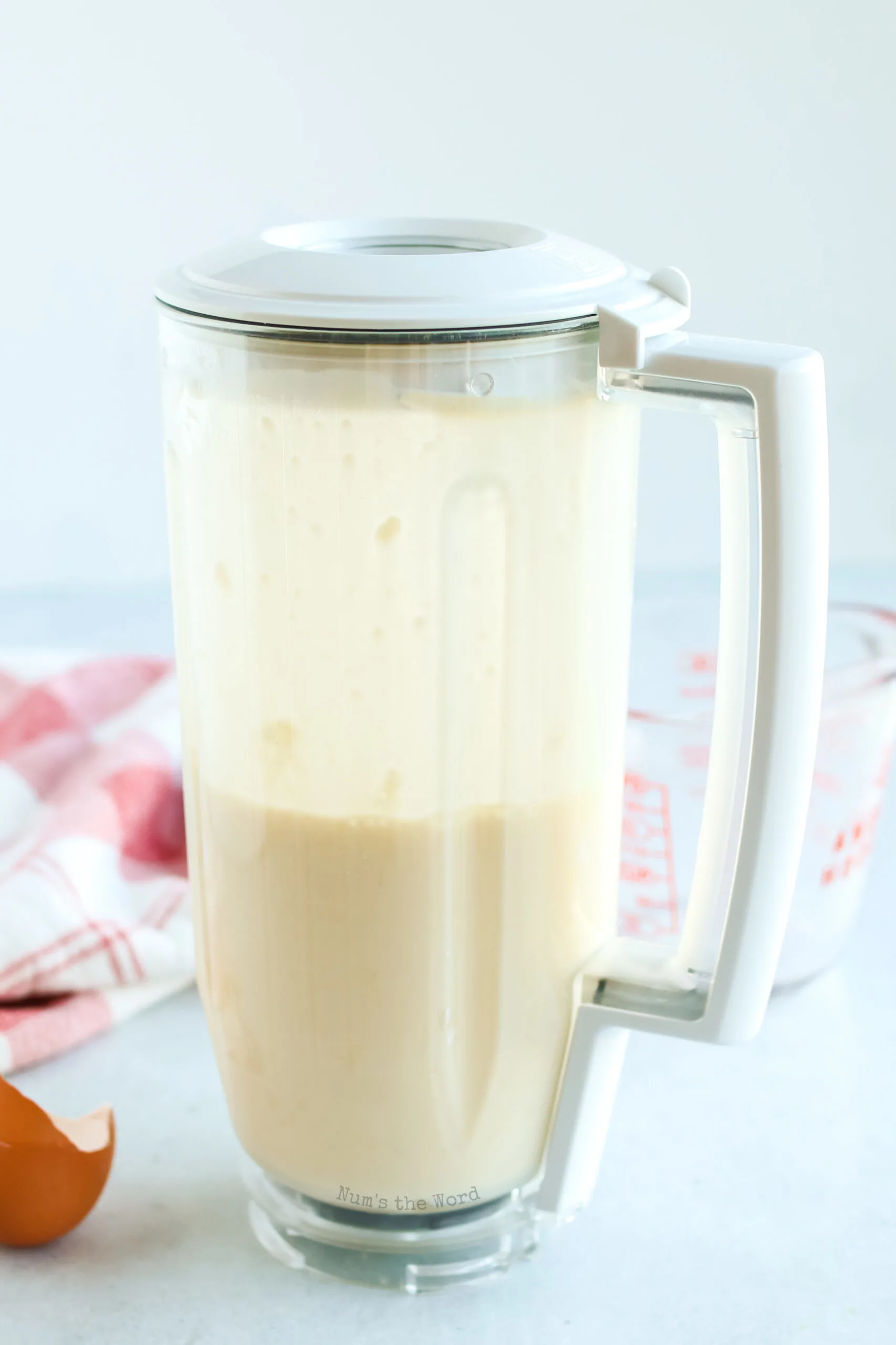 Are Swedish pancakes from Sweden?
Yes, this Swedish pancake recipe is a variation of what is commonly served in Sweden. However, in Sweden they wouldn't call their traditional pancake recipe "Swedish pancakes," just like we don't call our traditional pancakes "American -" or "United States pancakes."
Swedish pancakes are the American version of the Swedish "pannkaka."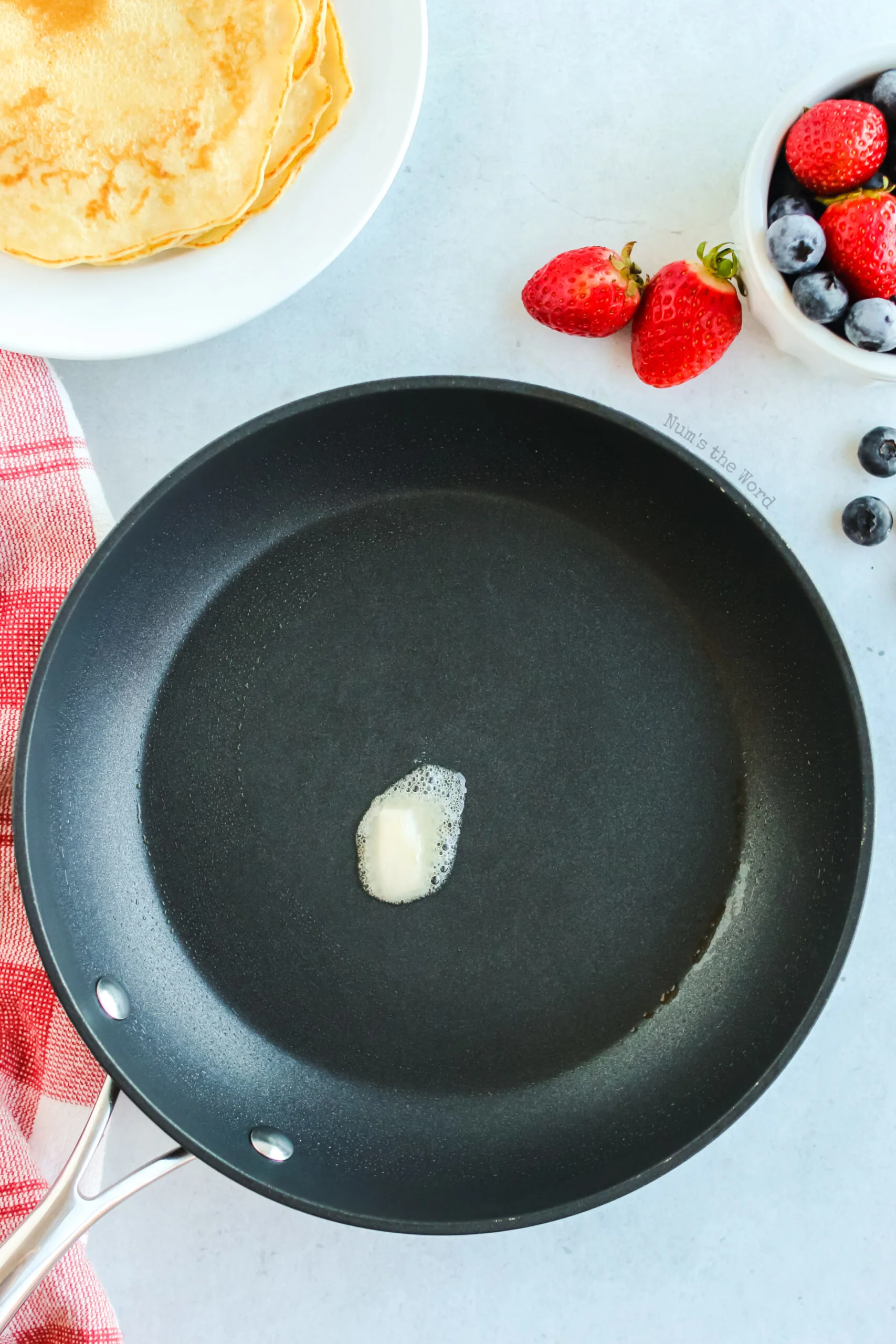 Are crepes and Swedish pancakes the same thing?
They are very similar. The Swedish pancake vs. crepes debate is difficult to declare because there is so much overlap between the two recipes. Bottom line, Swedish pancakes tend to be a little lighter and fluffier than crepes.
However, they don't hold up as well when using more liquid-y fillings. When cooked at home, both are done very similarly, but a crepe is a little more dense and chewy. Try both and pick your favorite!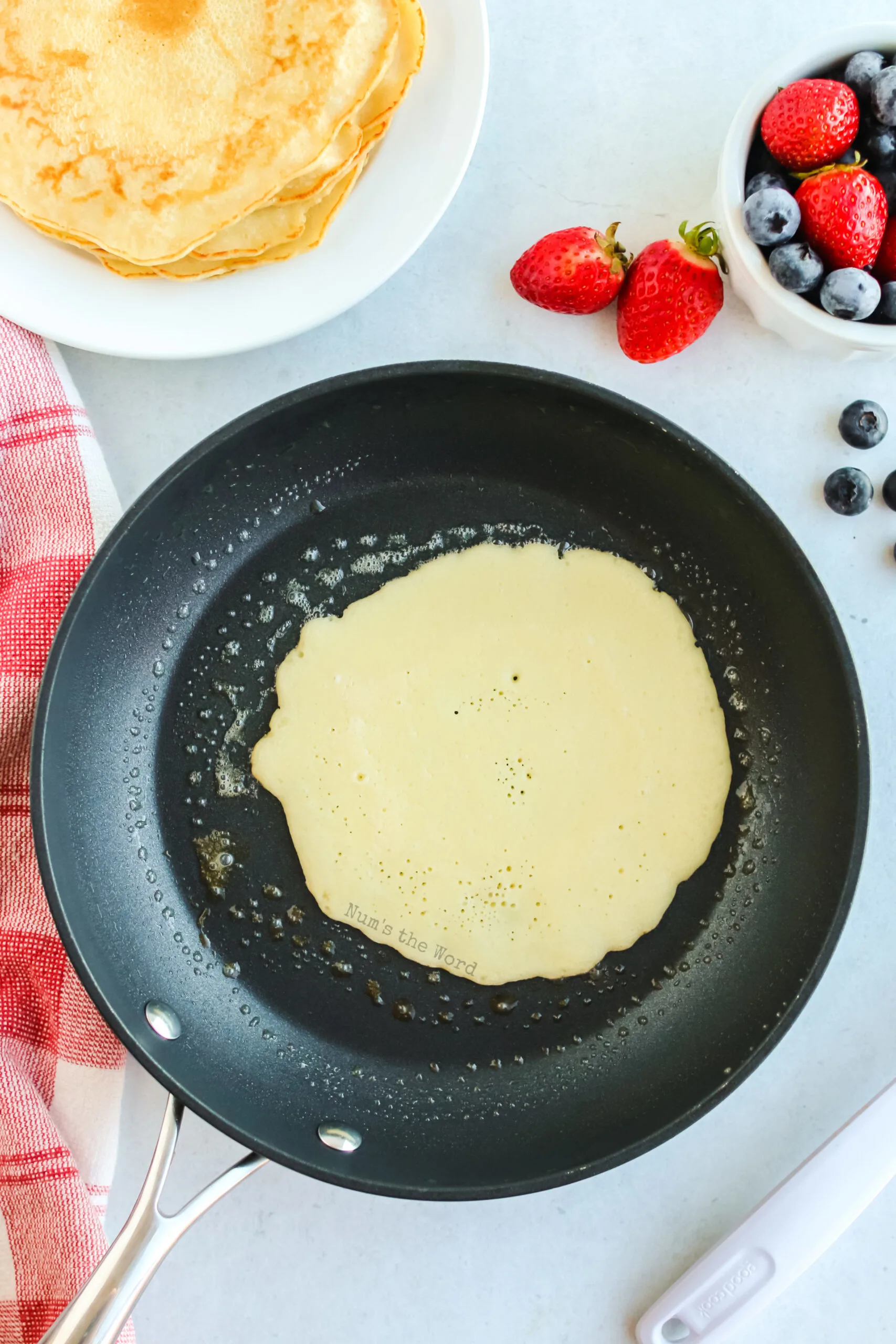 What ingredients are in Swedish pancakes?
Swedish pancake mix is a breeze to make! Simply combine the following ingredients in a blender until thoroughly combined. Batter will be very thin. Some might even call these blender pancakes!
Flour

– using less flour and more milk and eggs makes this easy Swedish pancake recipe lighter and fluffier than the similar crepe.

Milk

– there's quite a bit of milk in this recipe, which keeps the cooked pancake from becoming too chewy.

White sugar

– adds a hint of sweetness to your Swedish pancake batter.

Eggs

– eggs are the binding agent in the batter and also provide some of the signature fluffiness that makes these different than crepes.

Baking powder

– there are some competing opinions about whether leavening should be included in traditional Swedish pancakes, but we love the extra little

lift

using a little baking powder provides.

Vanilla

– vanilla extract enhances the sweet flavor of the batter and pairs nicely when the pancakes are topped with fruit or cream!

Salt

– helps make all the different notes of flavor

sing.

Butter

– you don't actually add this to the blender; use the butter to coat the frying pan before cooking the Swedish pancakes.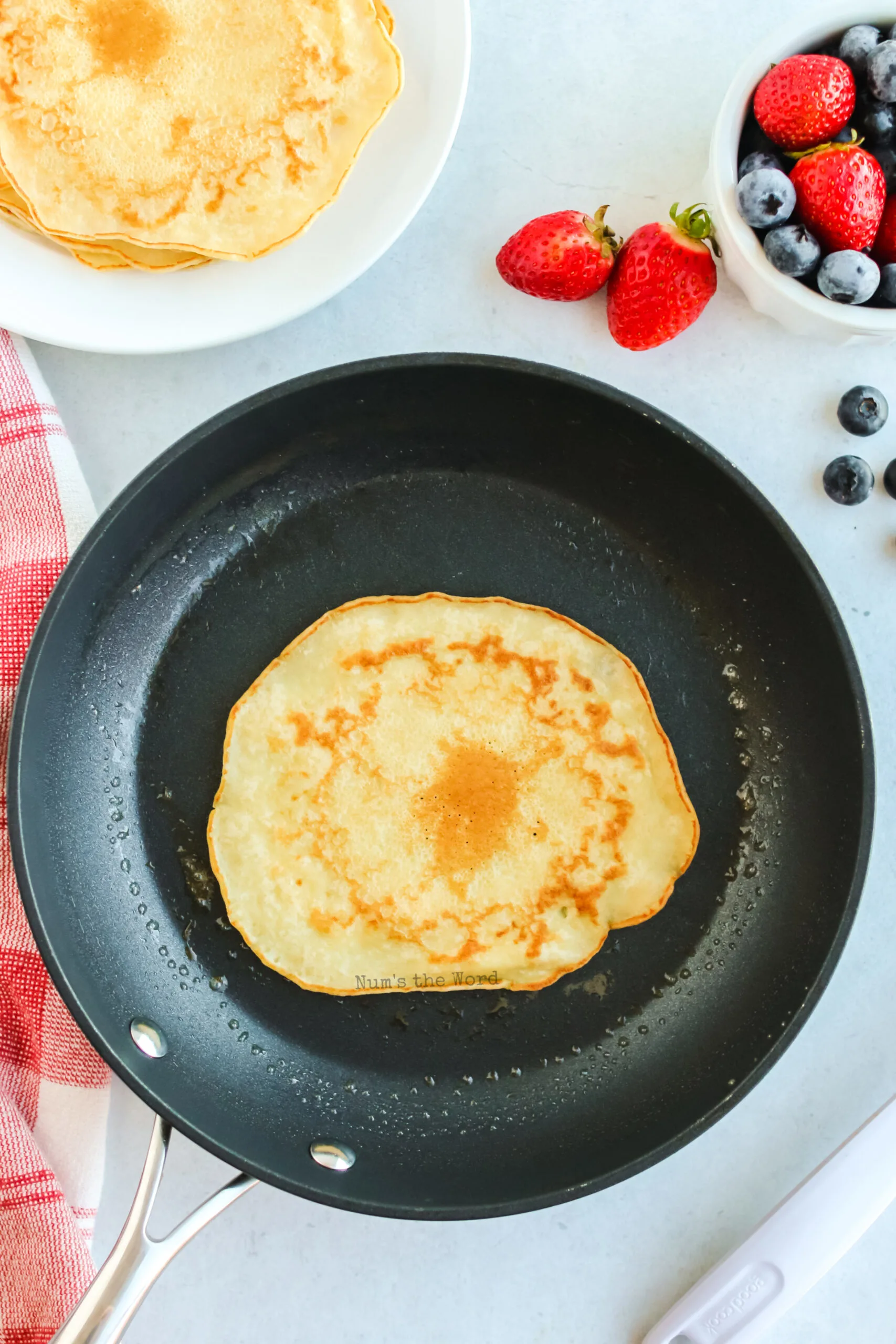 How to cook Swedish pancakes:
Part of what makes this the BEST Swedish pancake recipe is how simple it is to make! Especially when you utilize a blender.
After blending ingredients in a blender (or use an immersion blender in a pitcher or high-sided bowl) until smooth, heat an 8 inch skillet over medium heat.
Add a teaspoon of butter to the pan and swirl around to coat the entire bottom of the pan. Pour about ¼ cup of the pancake batter into the pan and swirl it around until it's evenly spread in a thin layer.
You can lift the pan and tilt it to make sure the batter spreads evenly before it sets.
Cook without stirring or moving until the batter has set and the edges begin to look golden, then flip the pancake and cook an additional minute on the other side.
Remove from the pan and repeat until the batter is gone. You can stack the Swedish pancakes without worrying about them sticking together.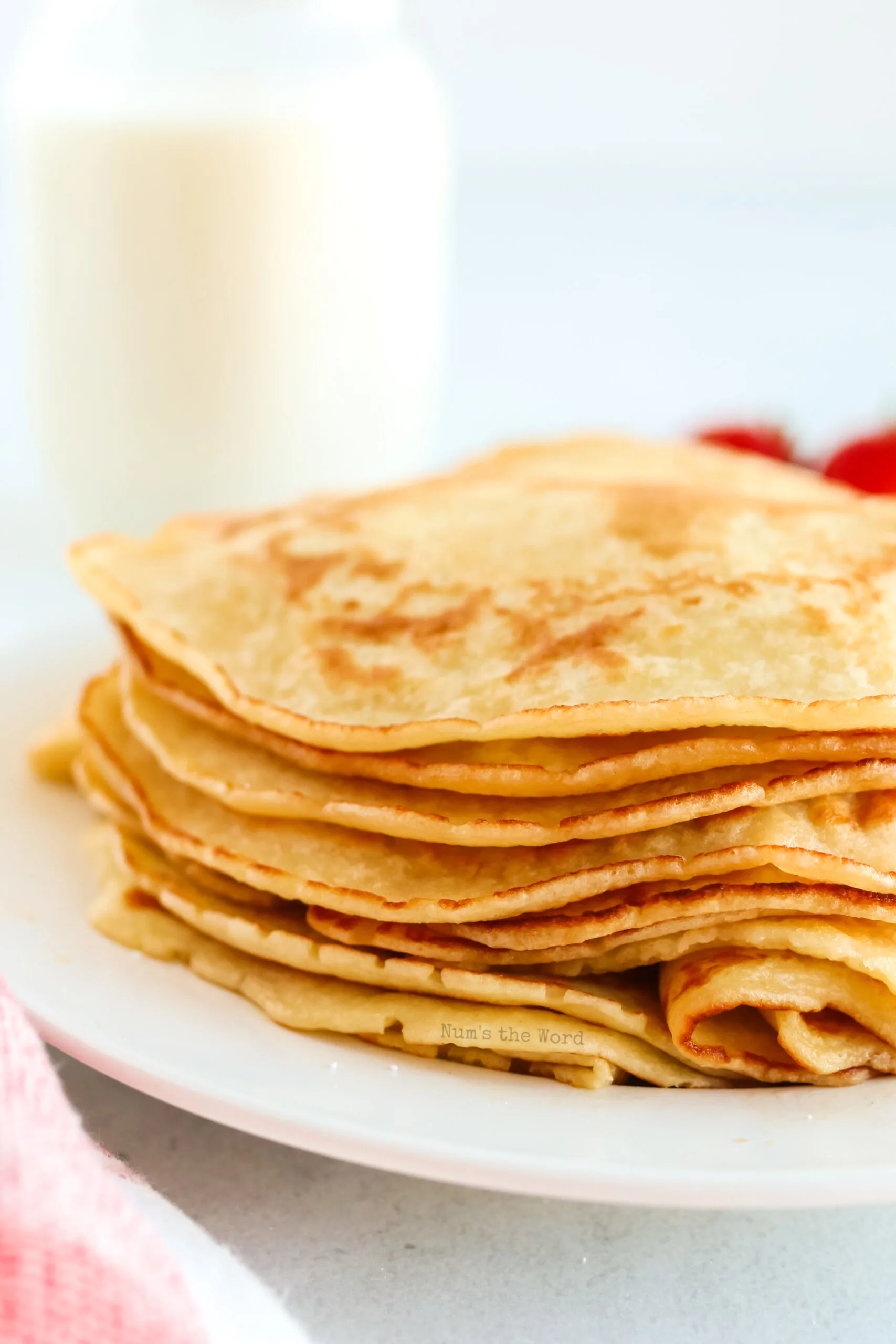 What to serve with Swedish pancakes?
Traditional Swedish pancakes are often served with fresh lingonberries or lingonberry jam. Don't worry, other fresh fruit or berries are a great option! Serve folded or rolled and topped with whipped cream.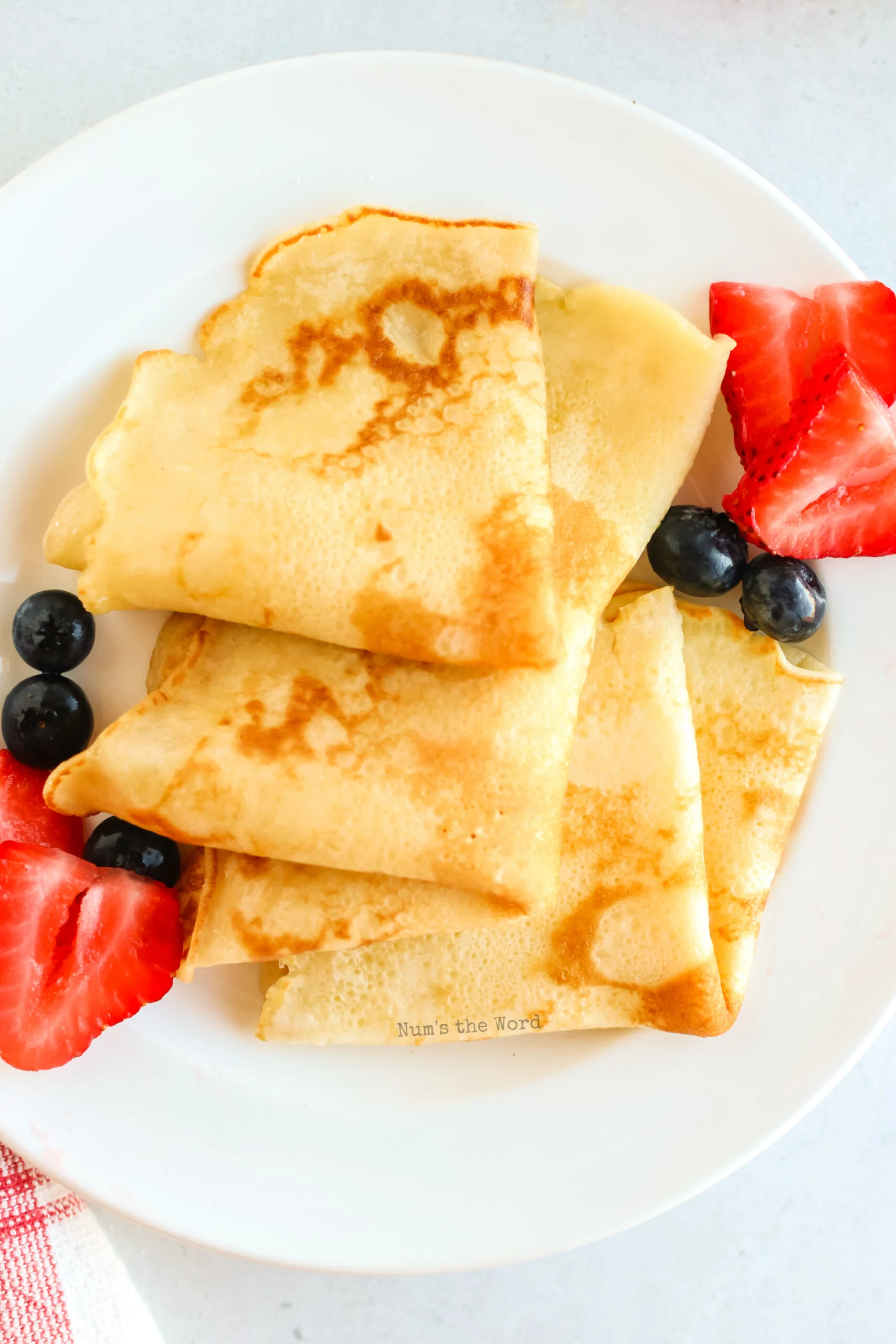 Are Swedish pancakes gluten free?
Swedish pancakes contain flour and are therefore not gluten free. I have not experimented with gluten free flours in this recipe, but if you do, I'd love to hear how it works for you!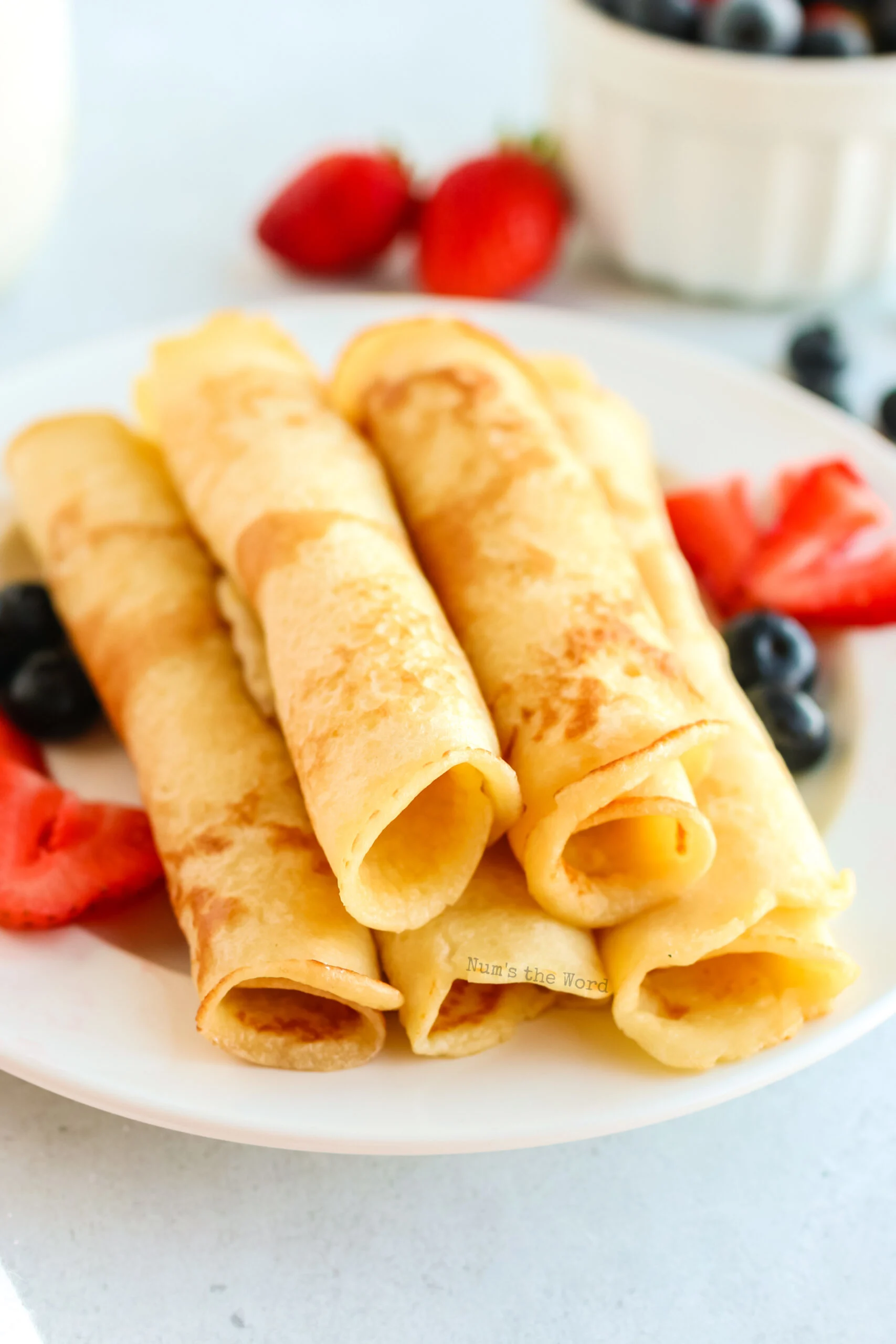 Can you freeze Swedish pancakes?
Absolutely, you can freeze Swedish pancakes! If you plan to thaw all the frozen pancakes at once, you can go ahead and freeze them in a stack in a freezer zipper bag.
Personally I recommend you separate the pancakes with a piece of waxed or parchment paper before storing them in a bag and freezing. This way you can enjoy them one at a time.
To thaw, simply remove from the freezer and place in the fridge the night before, or allow single-serve pancakes to sit at room temperature for 10-15 minutes before reheating.
Reheat your pancakes in the microwave for about 20 seconds or on a skillet over medium heat for about 30 seconds each side.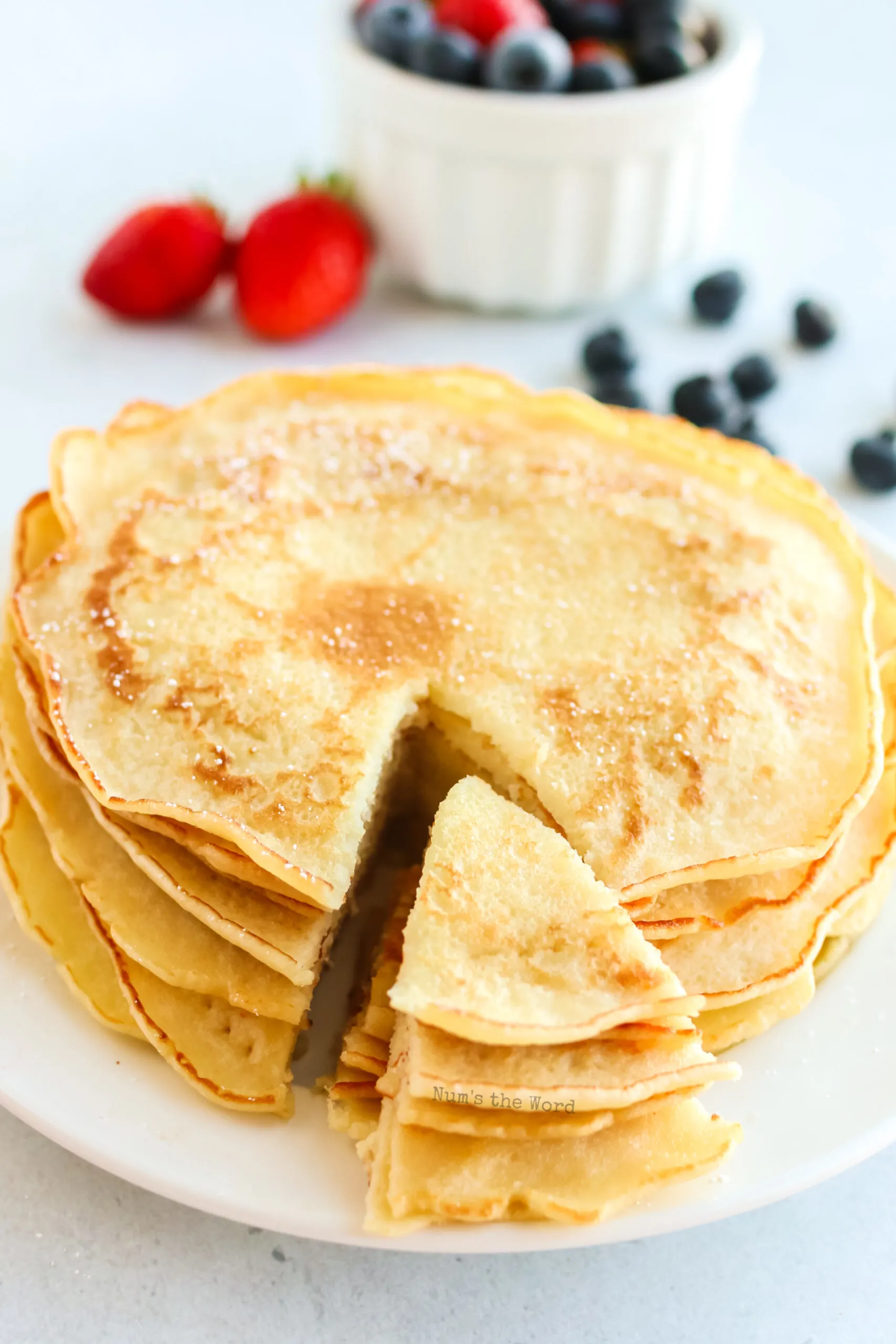 This easy and delicious Swedish pancake recipe is a great way to spice up your breakfast or brunch routine. Light and delicately sweet, your family will love this tasty twist on pancakes!
Yield: 6
Swedish Pancakes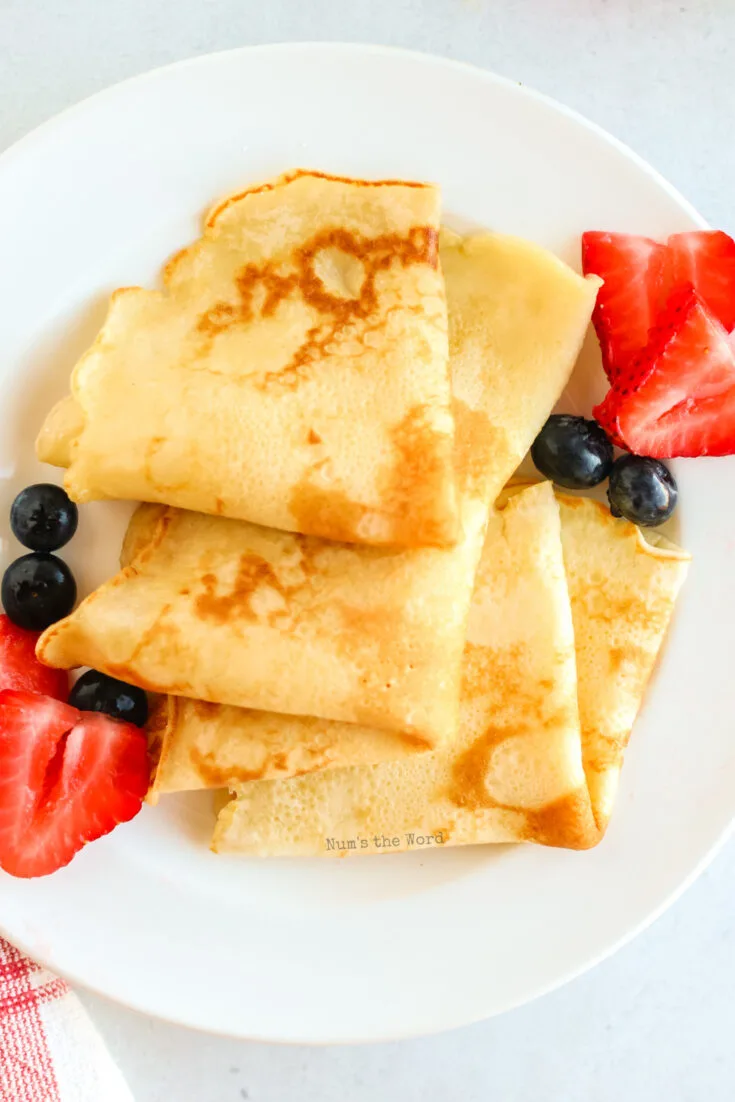 If you've never had Swedish pancakes, you'll quickly learn they are a cross between a pancake and a crepe. These are certain to become a family favorite for breakfasts, brunches and everything in between.
Ingredients
1 1/2 cups all-purpose flour
2 cups milk
1 Tablespoon white sugar
2 eggs
1/2 teaspoon baking powder
1/2 teaspoon vanilla extract
1/2 teaspoon salt
1/4 cup butter
Instructions
Add all ingredients except butter into a blender and blend until smooth. Batter will be very runny.
Heat skillet to medium heat.
Add 1 teaspoon of butter and melt, coating bottom of a small skillet.
Pour 1/4 cup of batter into skillet and swirl all around. Let pancake cook until edges begin to bubble.
Flip pancake and cook other side for 1 -2 minutes.
Pancakes can be stacked, rolled or folded into triangles.
Serve with favorite toppings.
Notes
Think of these as thick crepes. Add your favorite fillings such as fruit, cream cheese, honey, maple syrup, powdered sugar etc.
Nutrition Information:
Yield:
6
Serving Size:
1
Amount Per Serving:
Calories:

256
Total Fat:

11g
Saturated Fat:

6g
Trans Fat:

0g
Unsaturated Fat:

4g
Cholesterol:

89mg
Sodium:

345mg
Carbohydrates:

30g
Fiber:

1g
Sugar:

2g
Protein:

8g